Soon enough, the sounds of crackers and children's giggles is anticipated for the hallowing season of Chinese New Year (on 13 February 2021) as it marks the start to a joyous celebration.
Chinese New Year doesn't just signify the start to a new year for the ethnic Chinese, but it also paints a mark as a time for giving; be it in the form of traditional red packets (ang pows) or materialistic goods.
Not forgetting, but there's the act of giving which follows a strict etiquette. To help you go through the festival safely and free of unintentional offences, you may read more about them after our list of gift ideas.
Without further ado, here's our list of the best Chinese New Year gifts to give this Chinese New Year season!
What better ways are there to appease and sweeten the relationship with your clients than to gift them a treat of some delectable delicacies wrapped in red?
This gift set features three of Madeleine's Gourmet Selection's appetizing crunchy, chewy and creamy treats! Each hamper is packed with utmost care in an elegant gift box that comes with a gift card and a stunning pack of red ang pows.
---
To appease the elderly folks, their health is everything. That's why the Eu Yan Sang's Essence of Sea Cucumber is ideal as it's packed with nutritious ingredients that are easily absorbed by the body to aid in maintaining good health and well-being. As a plus, the essence is sourced from selected premium sea cucumbers.
This sea delicacy is known to traditionally enhance vitality, reduce fatigue and strengthen the body after illness or surgery. It's truly ideal to wish the recipient a long, healthy life.
---
Respect is everything and it plays a vital role especially when you marry into a new family. One of the best gifts that you can serve to your in-laws is tea. And nobody can go wrong with excellent tea sets.
This tea gift set features four teacups and two cans of purple cane tea leaves. It comes with a gift card for you to pen down a lovely message that you wish to convey to your in-laws. Beautifully wrapped with a ribbon, you'll definitely please your in-laws with this choice of a gift!
---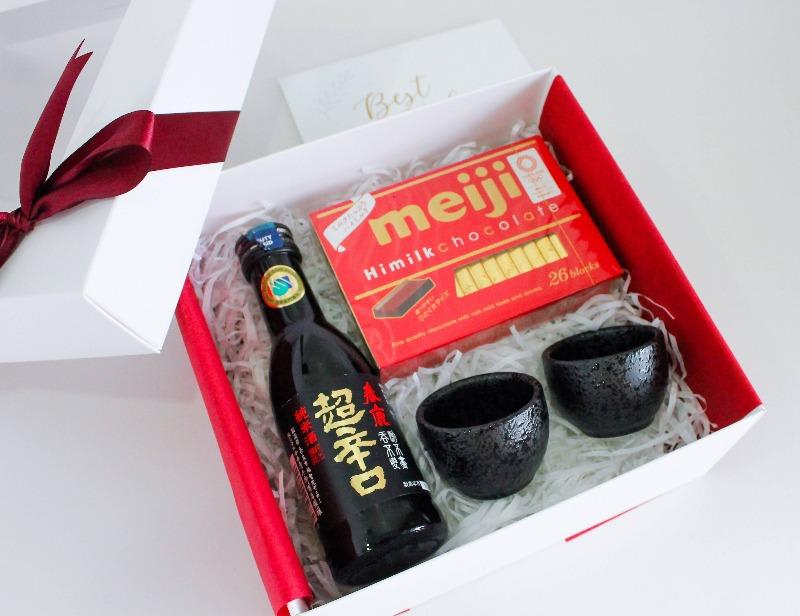 Don't just sift through the engagement duties of our bosses towards work and their competent obligations in securing us with jobs. How about showing them some appreciation with a Sugoi Sake Gift Set this Chinese New Year?
This gift set features a bottle of Ichinokura Sake and two Sake Cups. Besides, it also comes with 26 blocks of Meiji Japanese Chocolate. All these items are beautifully packaged in a gift box that comes with a gift card as well. The gift set will ultimately calm the stressful nerves of our bosses and help them feel more at ease.
---
Don't forget to wish your own parents a long, healthy life too!
For such important figures in your life, opt for this Eu Yan Sang Essence of Chicken with Ginkgo Biloba Extract, made from a selective range of fresh chicken and an extract of Ginkgo.
Ginkgo Biloba is known to be one of the medicinal herbs that reduce the loss of memory and social skills, as it's said to stimulate the blood circulation system and improve memory. It also neutralises free radicals that are linked with deterioration and aging of the brain and thus, helps to enhance thinking skills.
Better yet, the bottles of essences do not contain any artificial colouring, flavouring, caramel or preservatives. Instead, they are nourished with protein and amino acids. This healthy selection of a gift set is surely an ideal gift for our parents!
---
Oh, how we understand the tiresome days of our peers at work and how we enjoy the luxury of a sip of coffee to get through our mornings!
This mutual comprehension that we have with our colleagues certainly help pin us in place on knowing the right gifts to present this Chinese New Year. As such, a coffee gift box like this would be perfect!
In the box presents an insulated tumbler, a box of Essenso Super Coffee, Mini Dried Flower Bouquet, Pistachio Nuts, Mix Chocolates and a Hand Lettering Gift Card. Now anyone can beat snoozing away with this coffee gift starter to give them a kickstart to an energized morning!
---
The endearing sweet subtleties of the birth of a baby complies with the traditions of presenting New Moon gifts to the happy couple.
This gift box features a wooden pine box that is stuffed with a soft toy, a bathing toy duck, a pair of socks, a towel and a neck towel. The cuteness of a bundle will delight the hearts of the happy couple as well as the little fella!
---
It is an age-old saying that the more you give, the more you receive in return; in blessings, of course. So, what better way is there to feel more prosperous and bless your family and friends with luck this 2021, than to gift this fulfilling Chinese new year gift box set?
This set comes with a bottle of premium wine (Elegant Fee Merlot 2018), a packet of crispy nuts, a packet of chocolates and a packet of French rose tea. They are all packaged prettily in a wooden pine box to treat the eyes to a feast as well.
---
This 7kg of a hamper symbolises a theme of Longevity Fortune, where bundles of good treats are swaddled in a neat fashion.
Behold, your best Chinese New Year hamper features a 400g of exquisite-tasting honey, 6 pieces of whole dried abalone, some Chang Bai Shan wild ginseng and premium Japanese dried scallops. There's also a collection of Pu'er tea cake, American ginseng slices, Japanese shiitake mushroom, graded fish maw and even 10g of snow jelly
The hamper also contains a load of bird nest drinks that are fused with ginseng and rock sugar. Then there's also some chicken essence with ginseng and cordyceps. Finally, treat your tastebuds to the box of Alfredo milk and dark chocolate in the hamper. You will be pleased to note that this opulent hamper is neatly wrapped in a stunningly decorated embroidered basket.
---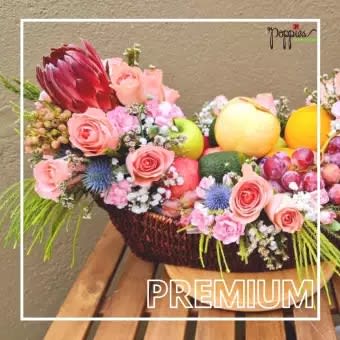 A perfect gift to our neighbours would be a bundle of sumptuous fruits. Gifting fruits to neighbours is surely a friendly and welcoming gesture to whom we wish to build a lasting and acquainted relationship with.
This fruit basket is not just packed with fructose goodness; it is also filled with lovely flowers, which is a win-win for those who love a floral arrangement to decorate the house with. The basket features imported Protea and peach roses along with imported fruits such as Australian avocados, Korean pears and so forth.
A gift card is also included in the basket to let you pen a lovely message to your neighbours.
---
Employees are the building bricks of every company. One of the ways to show them our gratitude is by honouring them with a specially curated premium gift set consisting a bottle of luxury wine and chocolates.
This gift set is compact with the choice to have either a bottle of Jacob's Creek or De Bortoli Family Selection of red wine. For the chocolates, the box consists of Beryl's tiramisu chocolate, a pack of pistachio, almond chocolates, Snickers chocolates and Mars chocolates.
Other than that, there's also a mug, dried flower bouquet and a personalized polaroid photo gift card that comes with an envelope to complete the look and convey your wishes.
---
One of the best luxury gifts to present for the Chinese New Year season would be this embodiment of a powerful ox figurine by Royal Selangor.
Royal Selangor's Ox figurine features an ox sculpted in pewter gilt with 24k gold, positioned to story the scene of it reaching the end of the Great Race. Surrounding it, are motifs of what mimics that of waves, rocks and clouds at the base that's made of porcelain, to which the figurine stands on.
If you do not know, the story of the Great Race trails back to the 12 Chinese zodiac's origins. Called upon by the deity Jade Emperor, each animal was allocated to a year in a 12-year cycle according to the order of whoever reaches the emperor first, with the final leg include crossing a river. The ox was the second after the rat.
---
If you'd like to personally pick a gift for your friends and loved ones, here are some ground rules to abide by when selecting and gifting during Chinese New Year.
1. Colours
Colours need to be given close attention to when it comes to gifts and the wrapping paper or bags in which the gifts are presented. The colour white should be avoided as it is associated with funerals along with the colour black as it symbolises death. Your best bet would be red, yellow and gold because they symbolise wealth and prosperity.
2. Numbers
The number four should be avoided when planning for gifts because this number symbolizes (sounds like the word) "death". Instead, the luckiest number among Chinese speaking communities is eight due to the fact that it sounds like "prosperity" in several Chinese dialects, so it's a number (and amount) that's ideal to gift.
Besides monetary values on a gift, gifting a set of fours should also be avoided, while a number of eight gifts in a set is likened to the idea of bringing good luck.
3. Give and Receive
Aside from the monetary value and the number of gifts to give, there are also other rules on giving and receiving these gifts. For instance, the act of giving and receiving gifts should be done with both hands. This shows respect and appreciation towards the giver and receiver.
Gifting money should always be as crisp and new as it comes. It shows a sign of disrespect if money is given in old and torn forms. Also, the gifts should always be presented to the eldest (most senior) in the family first, if it is to be given to a large group of people.
Last but not least, it is never polite to receive a gift and open it immediately in front of the giver. The receiver ought to express their gratitude upon receiving the gift first, and then open it in private later.
Disclaimer: The pricing shown is just a good indication of how much these products are worth. The prices could change based on the e-commerce promotions that are going on. If some of the products are not available, do email us at [email protected] Thank you!