A handheld blender, also known as an immersion blender or a stick blender, is a handy little device one can have in the kitchen. This portable gadget has a rotating blade or grinder on one end which is used to blend ingredients.
Compared to traditional blenders, immersion blenders are simple to use, doesn't take up much space, and is easy to clean. Besides making smoothies, they are also versatile for cooking such as puree-ing stews.
Fancying juice right now? With a convenient handheld blender, you can make one easily without having to bring out the big ol' bulky blender or mixer. If you're not convinced, here are more reasons to have an immersion blender:
Handheld immersion blender uses:
These versatile tools can be used to whip up a number of things. All you have to do is dip the bladed end into a mixture and create the following:
Smoothie/milkshake

- Mix up fruits, ice, and yogurt/milk together with an immersion blender to get a delicious blend of healthy drink. Most immersion blenders are also strong enough to crush ice, so no worries about that.

Eggs

- Not good at beating or whisking eggs? Why not use the handheld blender to do it for you? With the whisk attachment (which several options are packed with), simply put the tool into the eggs and voila, you get fluffy, evenly mixed eggs.

Soup

- A traditional way to make thick stews are to puree ingredients, and have them into soups. Now this task becomes a fun and effortless way with a stick blender. It'll have liquid and solid food becoming one as it blends ingredients together.

Sauce

- Following the same way as soups/stews, sauces can be extra delicious with a touch of homemade customisation. Just blend solid ingredients together and you can enjoy sauces with less or more viscosity to suit your taste.

Batter

- Love cakes and pancakes? Make them yourself with this useful friend in the kitchen. Whisking uses a lot of energy and batter requires a certain consistency to taste good in the final product. Well, no need to fret as the handheld blender (with a whisk attachment) will get you your desired, uniform batter mixture right in no time.
While the handheld blender does an amazing job at blending, mixing, and pureeing, it does require some moving around in the bowl, container, or pot to ensure even texture. But with this way, you do get control of how you would like the result of your dish or drink to be too.
More: Enjoy Instant Smoothies with These 7 Budget Hand Blenders
There are many brands out there with quality handheld blenders. Here, we have researched and identified 7 of them for you to choose from according to your needs.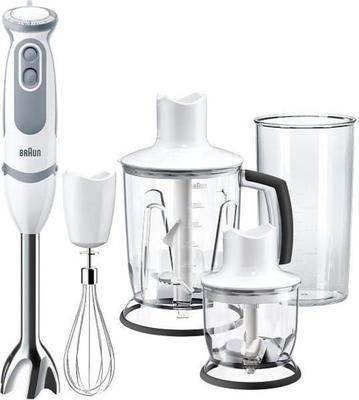 Braun MQ745 MultiQuick 7 Hand Blender
SGD 99.00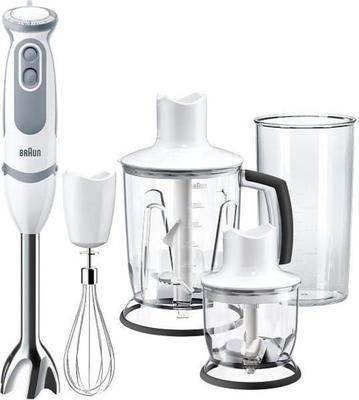 add_circle
Dishwasher-safe
add_circle
Very strong and powerful
add_circle
Large range of uses
add_circle
Comes with additional accessories - chopper, whisk, beaker
remove_circle
Plastic accessories are said to not be as durable
One of the best in the market, there is a reason why the Braun MQ745 MultiQuick 7 Hand Blender is so popular. Powerful and strong, it uses Smart Speed Technology where the stronger you grip the button, the harder it works for finer results.
Although available from such a low price point, the built and performance quality is definitely there. Aside from fruits and other solid ingredients, it is also good for crushing ice and is dishwasher-safe.
Not to forget that it comes with a series of accessories. This blender comes with a chopper, a beaker, and a whisk, all working together to bring you the ultimate all-in-one blending tool for all kinds of cooking. Thanks to that, it offers a large range of uses from chopping to blending to whisking. In fact, this tool is so robust that users have managed to grind even nuts and seeds with ease.
That said, while it has a sturdy and durable build made of stainless steel, the plastic accessories pale in comparison as they have been said to break easily. However, this blender still takes the top spot as it is a good match of price and power. Just opt for a glass or ceramic bowl if you have to grind hard ingredients.
---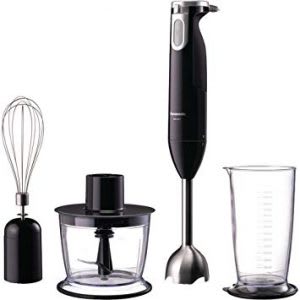 Panasonic MX-SS1BSP 3-in-1 Hand Blender
SGD 55.00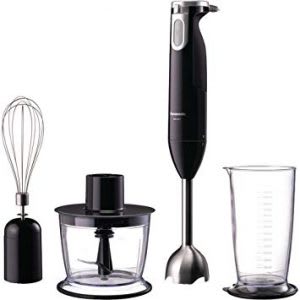 add_circle
Comes with additional accessories - chopper, whisk, beaker, wall fixture
add_circle
Detachable attachments for easy cleaning
add_circle
Dishwasher-safe
add_circle
Large range of uses
remove_circle
Not versatile with just 1 hand - Speed control is at the top of the blender and requires 2 hands to change the speed
remove_circle
Not good at hard blending
Hand blenders are not expensive tools. And if you'd like a simple and versatile tool, we recommend the Panasonic MX-SS1 Hand Blender. This ergonomically designed 3-in-1 immersion blender can blend, chop, and whisk with variable speed control. It even comes with a wall bracket for easy storage. To enhance its overall performance, the blender has two straight and two blending blades for efficient blending, specially useful for smoothies and fast dips.
The low part of the blender has detachable attachments which makes it easy for cleaning as well and is a favourite feature that's adored by many. Among users, a favourite accessory that comes with the blender is its whisk which is said to offer satisfactory results. Aside that, the blender also comes with a plastic beaker that works just like a mini food processor.
Although it is endorsed as a powerful blender, users have said that it is not for hard blending as they found that it does not chop up harder ingredients like nuts or ice effectively. However, it works well and quickly for other softer food, and users enjoy all components as a whole.
For the price, you do get a decent quality blender that is fairly powerful and is able to take care of the basics.
---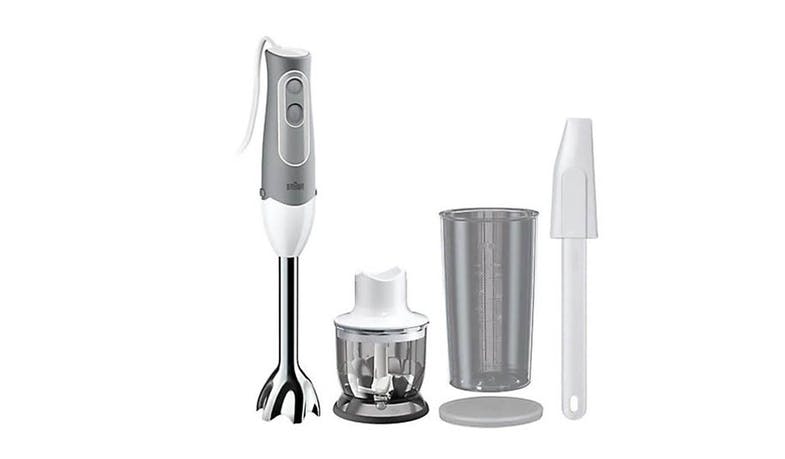 Braun MQ523 MultiQuick 5 Baby Hand Blender
SGD 109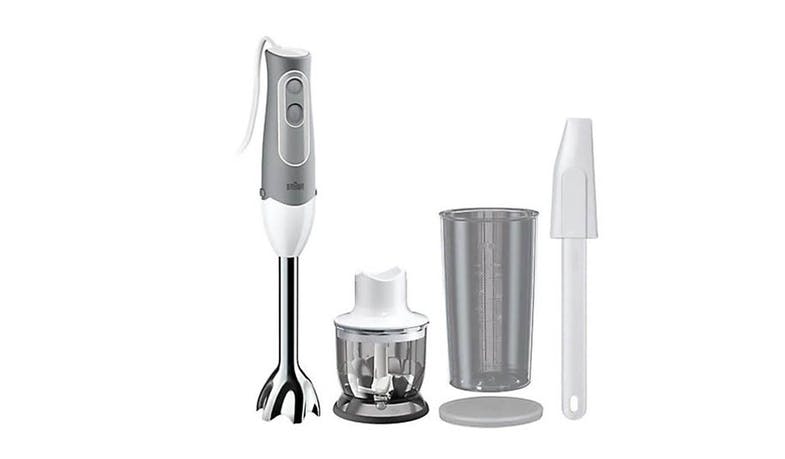 add_circle
POWERBell Plus Technology for smoother purees
add_circle
SplashControl Technology for easy cleanup
add_circle
One-handed operation speed control
add_circle
3 year warranty
remove_circle
May be easy-to-break
remove_circle
Complaints on motor failure
When it comes to making baby food, parents would want something that does the job swiftly and efficiently. In comes the Braun MQ523 MultiQuick 5 Baby Hand Blender. Now, most immersion blenders are already capable of making baby food, but the Braun MQ523 has a few tricks up its sleeves.
This ultra-lightweight blender has a 2-speed control which allows for food texture customisation according to your baby's age. And its accessories are BPA-free to protect your child's health.
Parents have gushed about how easy it is to use this blender and how fantastic it is at pureeing. They praised its one-handed operation functionality that allows them to multitask and look after their babies while providing well-blended food. Plus, the wand is bell-shaped to eliminate splashing. So it purees well while maintaining cleanliness overall. What a gift to busy parents.
As great as it is for baby food, it works just as fabulously for grown-ups. Smoothies, sauces, and soups, if it needs blending or pureeing, this is the blender for you.
---
KitchenAid 2-Speed Hand Blender KHB1231
SGD 98.00
add_circle
Good at pureeing
remove_circle
Have to use a little force to hold it down for good power
Designed with a soft-grip handle, the KitchenAid 2-Speed Hand Blender KHB1231 is made for comfort and ease of use. Equipped with a DC motor of 180W, it works with two speeds efficiently to quietly blend, puree, and crush. And the 700ml blending pitcher that comes with it is non-slip and made of BPA-free material, so it is safe to use.
With this blender, you will be able to make a multitude of creations like baby food, smoothies, and soups. It excels at pureeing, that users have used it to even out lumps in sauces and frosting. Many have also used it to thicken their soups and to make a good cup of decadent Bulletproof Coffee.
They do, however, comment on the usability being a little troublesome as a little force is needed to hold the blender down to ensure good blending power. But to make up for that small flaw, the blender does its job fairly quickly to reduce the strain. So all in all, it is a good blender recommended by many.
---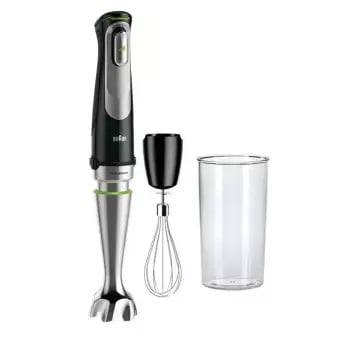 Braun MQ9005X Multiquick 9 Hand Blender
SGD 139.00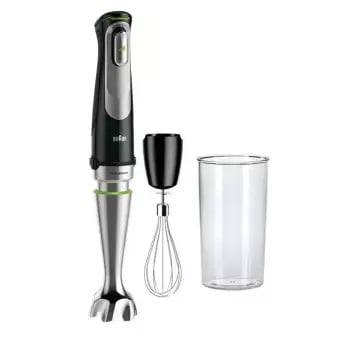 add_circle
Eco-friendly - works when you need it, and saving energy when not
add_circle
Dishwasher-safe
remove_circle
Accessories not easily available separately
remove_circle
Flimsy plastic parts
Promoted as the best blender for the hardest jobs, the Braun MQ9005X Multiquick 9 Hand Blender is a next generation immersion blender meant to do just about anything. With its unique ACTIVEBlades that moves up and down to blend the hardest foods with 40% less effort, blending has never been so easy.
Also, it has a flexible shaft that results in a 250% finer cut. Reviewers have tested blending a whole avocado to prove its sturdiness and power. Needless to say, even the avocado seed stood no chance against it. Not only that, but its anti-splash design is a fan favourite as the blender achieves perfect results onto liquid foods and drinks without making a mess.
The downside to it is the availability of its accessories. Should any of them be faulty, it is quite a hassle to look for replacements as Braun doesn't sell many of them separately. So, it is recommended to buy all that you need with the purchase of the blender.
---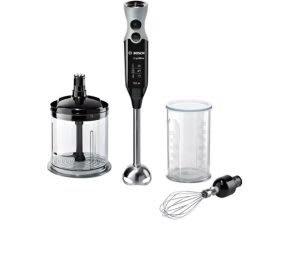 Bosch ErgoMixx Hand Blender
SGD 189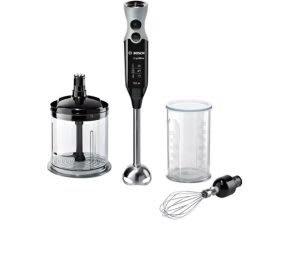 add_circle
Quality accessories
add_circle
Overall good performance as a blender
add_circle
Easy to operate
remove_circle
Not so good as a food processor
remove_circle
Mixed reviews about blades
Armed with 12 speeds, the Bosch MSM67190 Blender is here to make your life easier. It even has an additional turbo button for maximum power. Featuring a four-winged blade called QuattroBlade, they makes the blender a beast at pureeing, blending, and chopping. Partnered with multiple accessories such as a whisk and a jar, it is practically a series of kitchen appliances in one.
The most notable comment about this tool is that it works marvellously as a blender but does not quite measure up as a food processor. And the reason behind it appears to lie behind its blades as customers seem to give mixed reviews about them; some saying that they're very sharp, while the others saying that it's a little blunt to make foods like nut butters.
Nevertheless, it is a worthwhile purchase due to its accessories which have top-notch built quality. That and how easy it is to operate, allow users to overlook the minimal flaw of the blades. Many also enjoy how effortless the blender is in various tasks with its speed adjustments.
---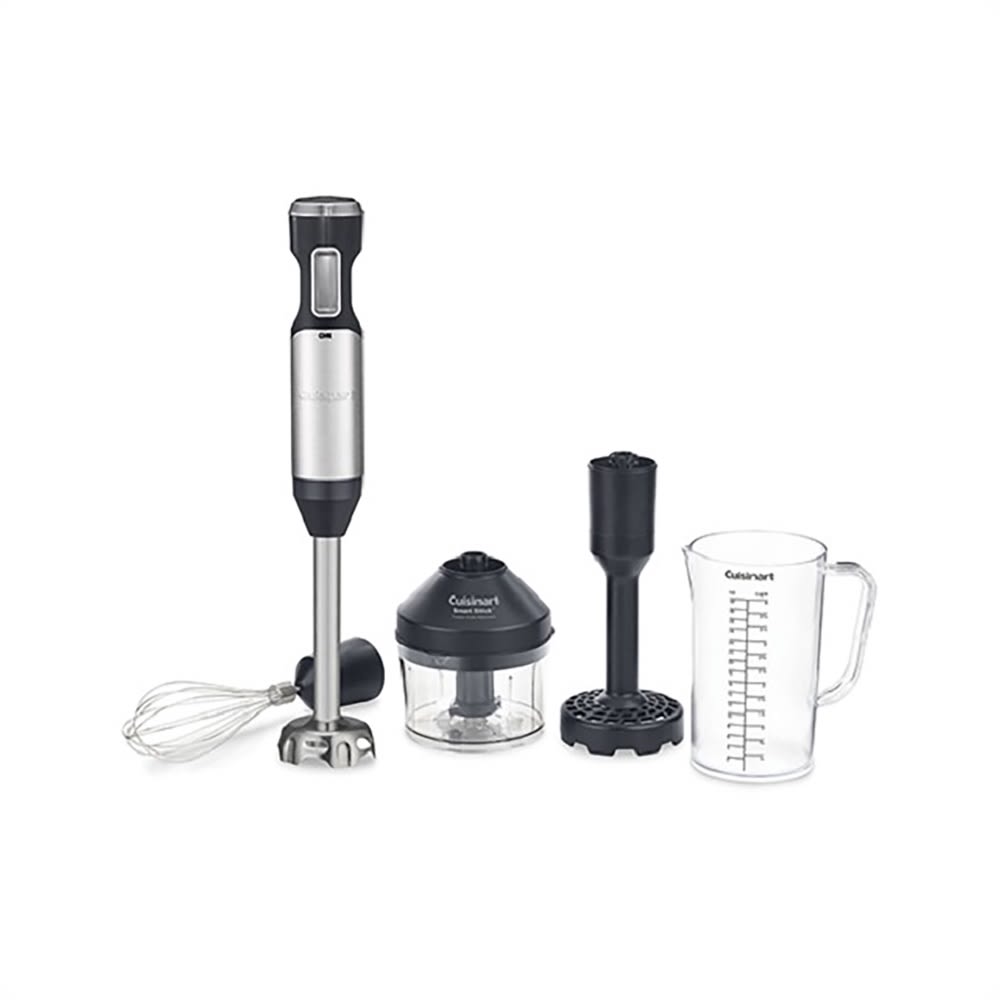 Cuisinart Smart Stick Hand Blender 750w (CSB-100C)
SGD 224.25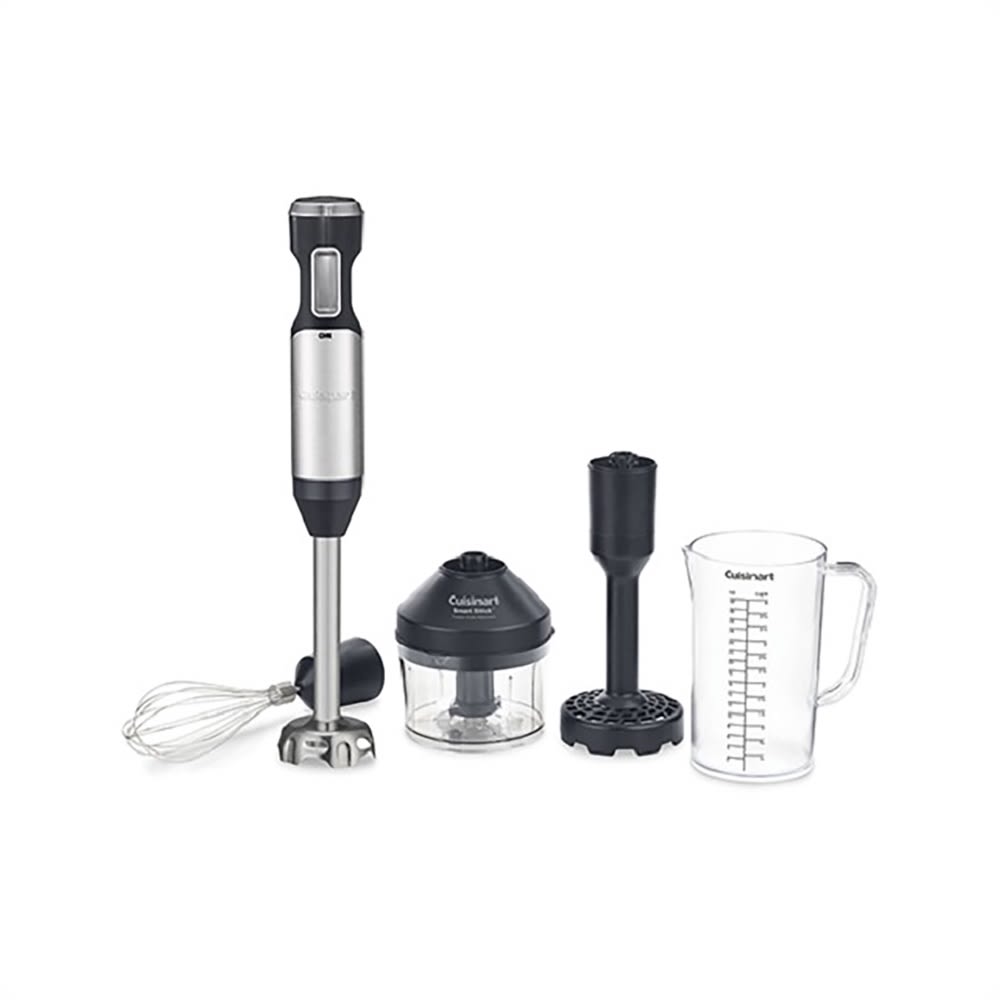 add_circle
Lock/unlock button for safety
add_circle
Many accessories
remove_circle
Blending head quite big
remove_circle
Not BPA-free
'More than just a hand blender' - That is what they say about this particular immersion blender. And the reason is obvious. With variable speeds and 700 watts of power, the blender comes with various premium attachments, with one of it being an uncommon accessory - a potato masher. This blender can do it all; whip cream, whisk eggs, shred cheese, and also chop nuts. There is almost nothing that this blender can't do.
One thing that touches on the negative side is the size of the blending head. While it has a bell shape and prevents splattering, it is on the bigger side and is unable to fit into smaller jars which can be a bit of a hassle if you wish for a quick blend for storage or single portions. Users do say though, that it is more suitable for heavy and harder blending, which could be why it is bigger and heavier.
Additionally, it has a lock/unlock feature for safety reasons, so it is safe to be used around children. However, it makes one-handed operations a teensy bit complicated as the unlock and blend buttons have to be pressed simultaneously for it to start blending again if you stopped it before.
Albeit its few shortcomings, we still recommend this immersion blender for its power and capabilities, and not to forget, its versatility and speed control.
---
Disclaimer: The pricing shown is just a good indication of how much these products are worth. The prices could change based on the e-commerce promotions that are going on. If some of the products are not available, do email us at [email protected] Thank you!