Preparing your meals is a horrifyingly long process. Think about it, you'll spend an hour preparing for what you'll eat within a matter of minutes! It certainly doesn't hurt to have the help of a food processor in the kitchen. Food processors are ideal for labor-intensive tasks in the kitchen such as making your own meatballs and such.
Food processor vs blender 
When it comes to picking the right weapon in the kitchen, you've got to first imagine what you want to tackle.  A blender is the better choice for liquids like smoothies and juices. Blenders were game-changers for making hollandaise and to puree vegetables. But for more laborious tasks such as pulverising cauliflower, making pastry batters or peanut butters, you'll need something a little more powerful. 
For kneading dough, chopping nuts and making textured dips, a food processor is exactly what you need. Armed with ridged and razor-sharp blades, food processors have become a kitchen essential for most chefs and bakers. Whether you need to chop, slice, shred, grind, or puree – we've got you covered with the best food processors in the market.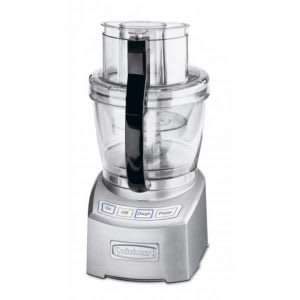 Check Cuisinart Elite Collection Food Processor price below:
add_circle
Three bowl system is useful for processing different quantities
add_circle
Dishwasher safe
add_circle
There is a dough setting which is designed to run at optimum processing speed for mixing and kneading dough. It performs well and copes with a large capacity.
add_circle
Easy to clean intuitive touch pad controls
remove_circle
The medium and mini bowls are fiddly and stiff to remove, especially when full of food.
remove_circle
There is no whisk attachment
remove_circle
The large bowl leaks through the lid on maximum capacity, despite its rubber seal
If all the chefs around the world banned together, they'd probably elect Cuisinart's 14-Cup Food Processor as a top-rated food processor ever. Why? For starters, it can be quite big in terms of capacity. It holds a large work bowl that can tackle up to 14-cups of sliced vegetables.
Powered with a 1300W motor, this powerful tool is great for processing meats and kneading bread dough at up to 1.13kg. Of course, you can also mix cake batter and cookie doughs of a bigger quantity (1.8kg and 1.59kg respectively).
This device has proven to be sophisticated down to the very detail; even the thickness options are marked on the slicing disks! Reviews reported great performance all round and how easy it is to keep clean. Its controls are super responsive with smooth operation, plus it is dishwasher friendly. So, if you don't mind the lack of a whisk attachment, then this kitchen essential is perfect for you.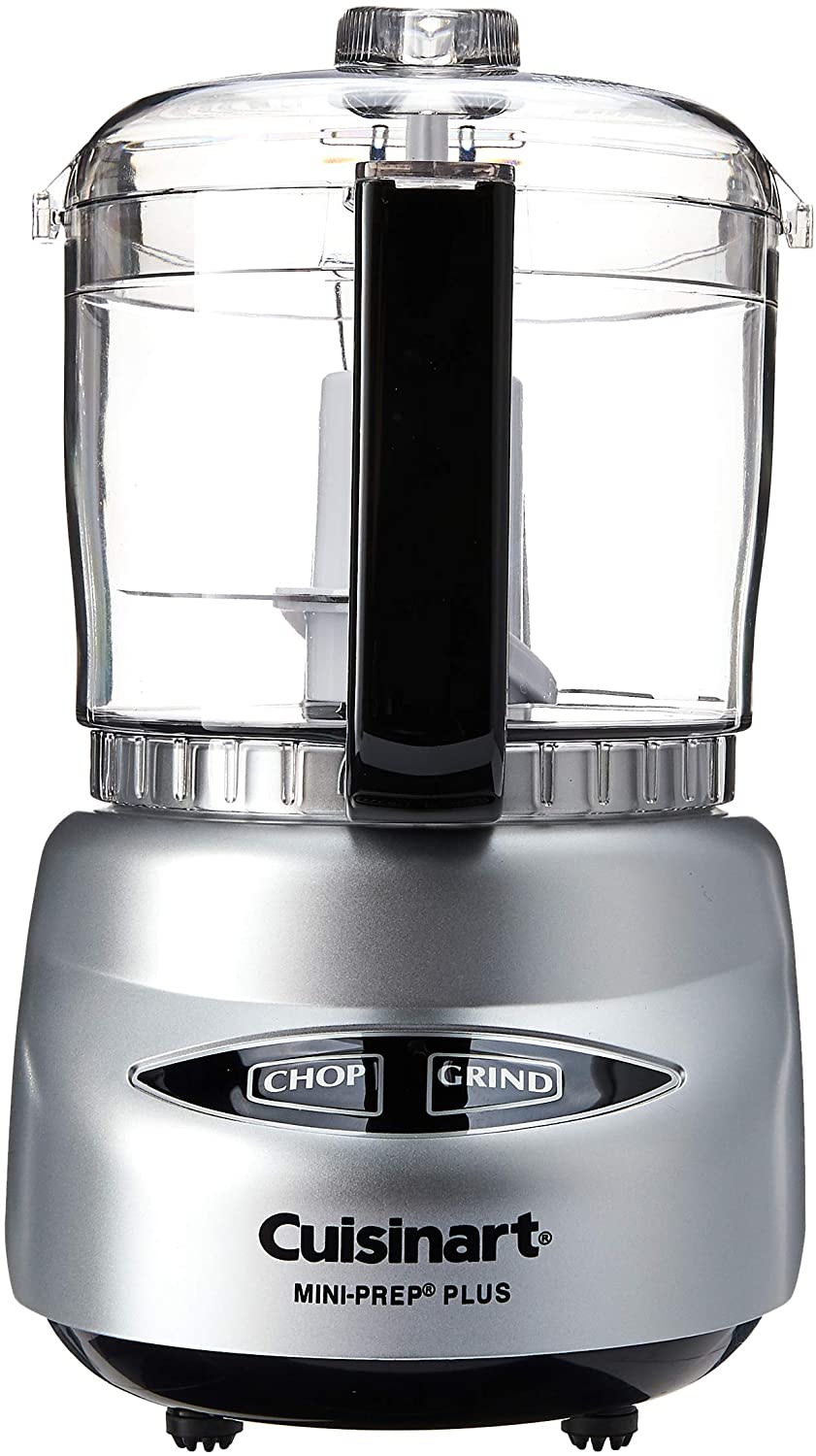 Check Cuisinart Mini-Prep Plus Processor DLC-2ABC price below:
add_circle
Small but powerful - great for a small party
add_circle
Reversible chopping and grinding
add_circle
Dishwasher safe
add_circle
Bisphenol A(BPA) free
remove_circle
Small size cannot handle larger capacities
remove_circle
May be loud when working
If you're looking for something not too fancy or large, then the Cuisinart Mini-Prep Plus Processor DLC-2ABCHK is worth considering. Though the motor isn't as powerful as its competitors, it's the optimal fit that can chop and grind without fail. 
This family-friendly processor will handle a working capacity of about 3 cups, which is nice for a small family. Although it is only equipped with 250 watts of power, its food prep performance is said to be strong, being able to slice, grind and minced vegetables and meats easily thanks to its very sharp blades.
As the processor's sharp blades make it suitable for grinding, it can handle grinding nuts as well. You should find the processor to be tough enough without struggling, but it will be loud when working. 
Well, you can look forward to the fact that the processor can do reverse grinding so no change in blades are needed, and that it's said to be easy to clean. That's because the bowl is BPA-free, so you won't have to worry about throwing it into the dishwasher. With its removable parts and easy-to-clean design, it's possible. 
For a bigger capacity processor, try the Cuisinart 14-Cup Food Processor.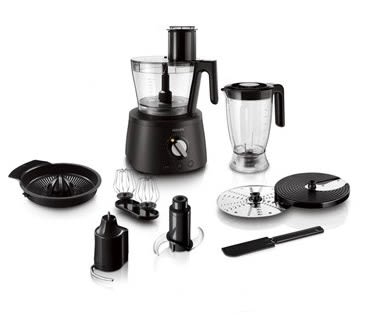 Check Philips Avance Collection Food Processor - HR7776/91 price below:
add_circle
PowerChop technology for superior chopping performance
add_circle
Innovative metal kneading hook for dough
add_circle
Double metal balloon beater
add_circle
Dishwasher safe
add_circle
XXL Discs for faster execution
remove_circle
Leaking while blending is a common issue
Bakers love the Philips Avance Collection Food Processor for its innovative metal kneading hook for dough. The device features a PowerChop technology, where many pastry masters have commended on for its powerful chopping performance. This technology enables a great performance that's combined with its stainless steel blade's right angles, shapes, and the right inner bowl that'll chop through soft and hard ingredients nicely.
The food processor comes with 12 speeds and about 28 accessories, one of which is a dough hook. But don't just stop at dough though; Philips also includes a double metal balloon beater for prepping a quick egg mix. One thing is for sure, that cake lovers will find the Philips Avance a very handy tool in the kitchen for all kinds of food prep.
We also highly recommend the food processor for its XXL Discs accessories which offers speedy execution. These discs measure up to 18cm for a variety of larger ingredients. On top of that, the XL blender jar and bowl are built for a larger-than-usual working capacity at 2.4L for dry and wet. And the cherry on top is that it comes with a neat blade unit for blending and mixing cake batters. It's not an all baker's gear; the Avance comes with a citrus press for fresh juice as well as a reversible disc for convenient shredding.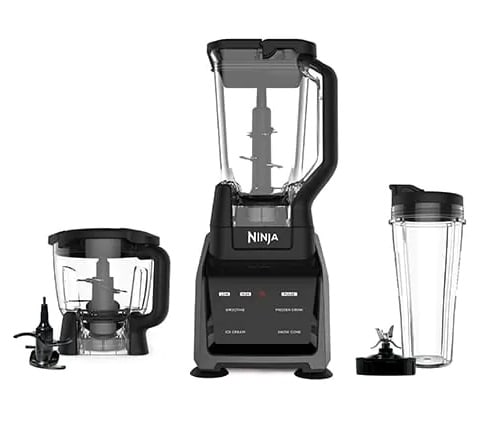 Check Ninja Blender Food Processor IntelliSence System (CT682) price below:
add_circle
Smart Vessel Recognition
add_circle
Utilizes Pro Extractor Blades assembly, which is solid and durable
add_circle
12 Smart Programs (Auto-recipes)
add_circle
Dishwasher safe
add_circle
Bisphenol A(BPA) free
remove_circle
Not recommended for hot fluids
remove_circle
Less durable due to plastic
The idea of an all-in-one solution for your meal prep needs might come at a higher price, but it'll sure be worth the value! Ninja offers a device that doubles up as both a food processor and a blender, running on an intelligent system. 
With the tap of a touchscreen, this super versatile precision processor will come in handy to mix, chop, puree, and even makeup to one pound of dough. Ninja has also captured the eyes of many chefs with its Auto-Spiralizer, which offers two different pasta-style blade disc (for household favourites like fettuccine and sphaghetti). This will let you slice vegetables into noodles shape.
Reviewers especially love the built-in Smart Vessel Recognition, which they were most intrigued by the 12 Smart Programs that offers chef-designed automatic recipe creations. Moreover, the processor displays an automatic menu of Smart Programs accordingly to what vessel it's attached to.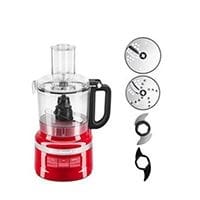 Check KitchenAid 7 Cup Food Processor 5KFP0719 price below:
add_circle
Easy to clean with smooth finishes and rounded transitions make parts and accessories effortless to clean
add_circle
Compact design and easy to store as it has in-bowl storage and reduced a footprint
add_circle
Leak-resistant work bowl
add_circle
Dishwasher safe
remove_circle
Small size cannot handle larger capacities
When 3.5 cups capacity isn't enough, there's always KitchenAid's 7-Cup Food Processor – the perfect middle ground for small-time chefs. This smaller food processor is loved for being easy to clean and its solid built quality, being made with a leak-resistant work bowl. Users who are meal prepping out of a small apartment found the compact design to be great for their space-saving needs. 
It's not only all about the compact size though. Its 2-in-1 feed tube located on the lid can process foodstuff of a variety of shapes and sizes. So, with the KitchenAid 7, you can slice up everything from tomatoes, cheese, and brinjals and more with its multi-purpose blade and reversible medium slicing/shredding disc. For those aesthetic salads, it also carries a small pusher that features an oil drizzle opening for emulsifying dressings as well as sauces.
The common remark about this sturdy-performing processor was that they were happy with the number of chopping speeds available.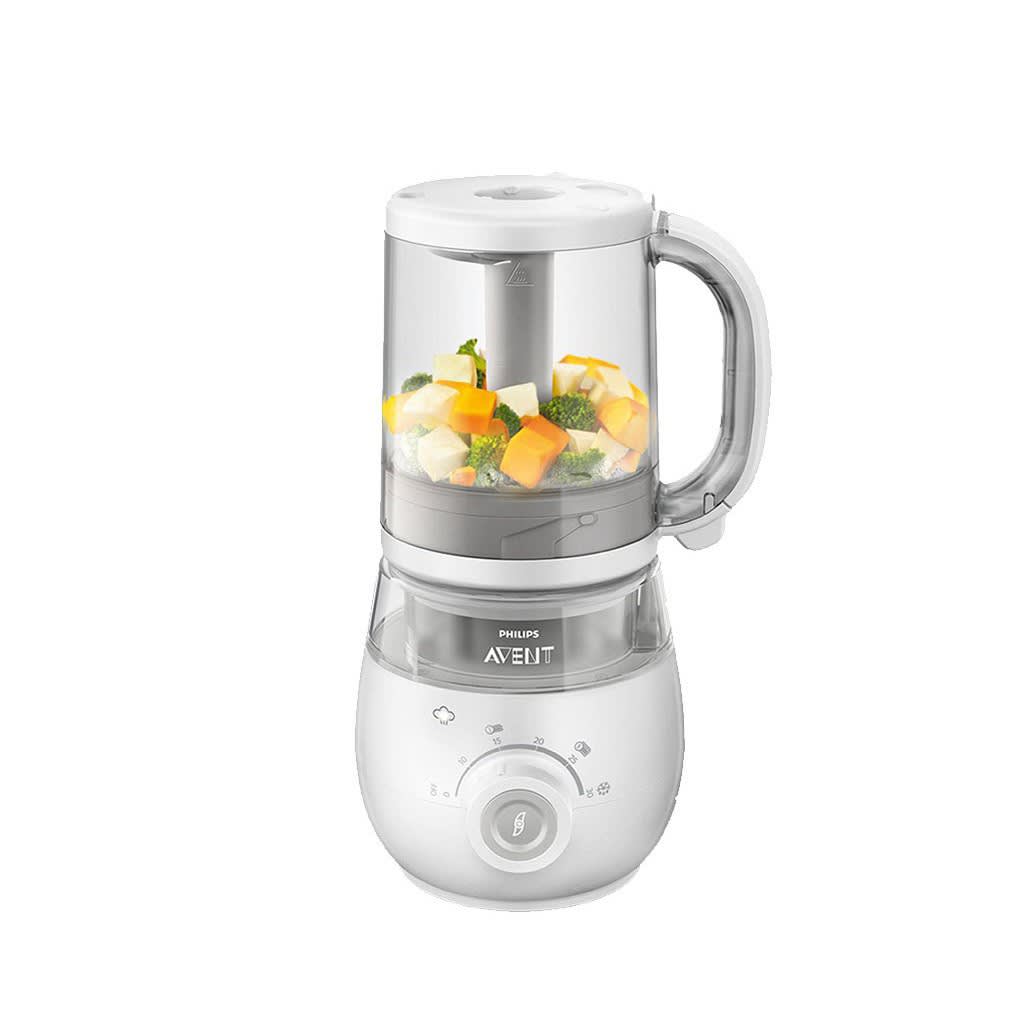 Check Philips Avent 4 In 1 Healthy Baby Food Maker price below:
add_circle
Multi-purpose. Can be used to steam, blend, defrost, and reheat meals
add_circle
Large capacity
add_circle
Powerful blender to puree and blend meat, fish, and fruits
add_circle
Includes recipe book
add_circle
Dishwasher-safe
remove_circle
Water collects in the base during washing
remove_circle
Food trapped in parts that cannot be disassembled
Philips Avent 4-In-1 Healthy Baby Food Maker is a lifesaver for parents. Reviews speak of the effortless nutritious baby meals it makes. Though we don't recommend it for the noise, but it's a great option for busy parents. 
For health-conscious parents, this model of Philips presents a unique way of cooking food for your little one. As steaming is among the healthiest ways of processing baby food, this this food processor ensures that ingredients are cooked evenly by letting steam circulate upwards from the bottom. 
Built with a beep alert notification, it can prepare up to 4 meals with its 1000ml jar and ping you when it's done. When it comes to cleaning, reviewers reported a peace of mind as all components were dishwasher safe. 
Aside steaming food, the versatile food processor can also blend, defrost and reheat. This food processor is truly an all-rounder that is also for the budget-conscious, health-savvy parents.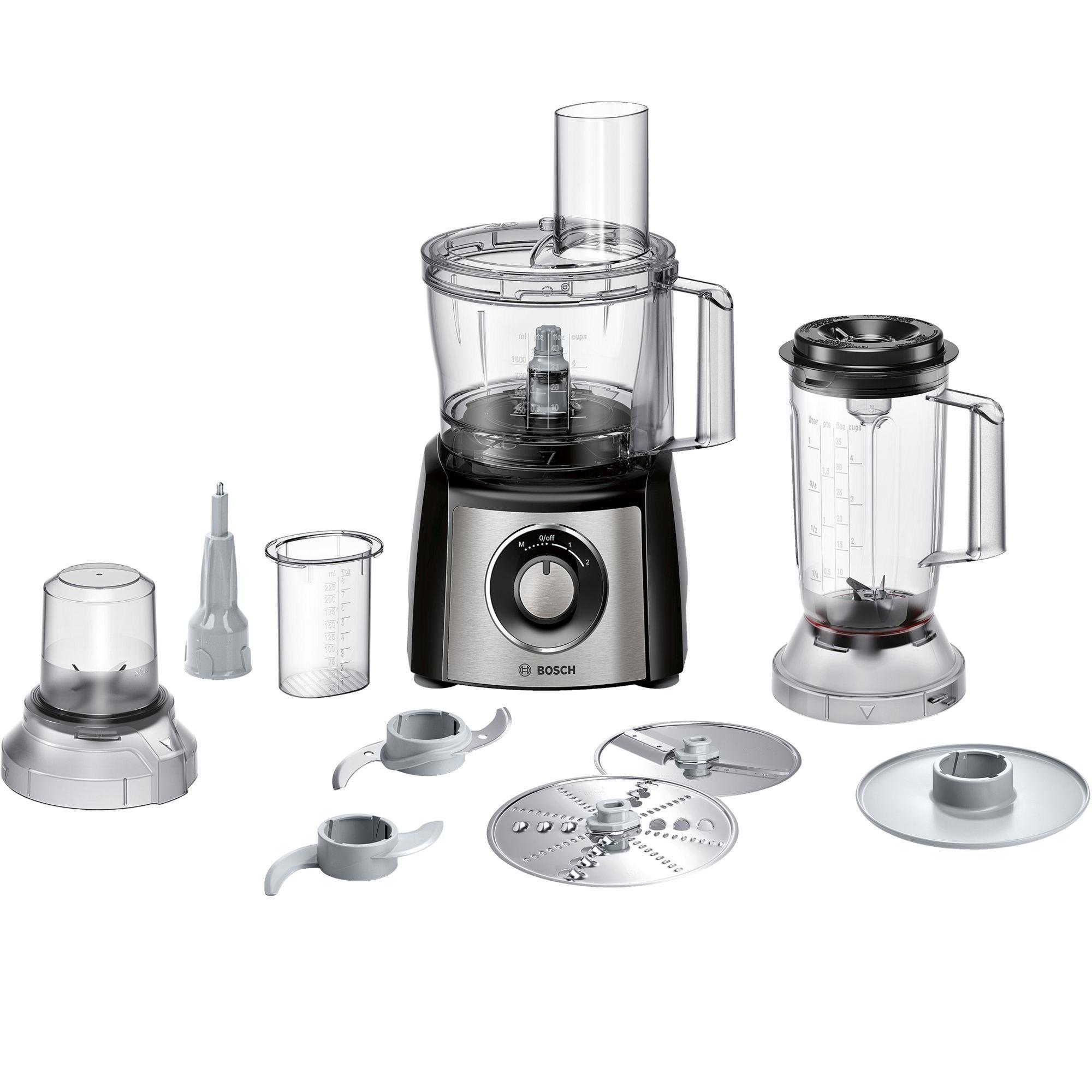 Check Bosch MCM3501MGB Compact Food Processor price below:
add_circle
Large capacity
add_circle
Very little wastage when using grating and slicing attachments
add_circle
Easy to assemble
add_circle
Motor and controls are easy to clean
add_circle
Dishwasher safe
remove_circle
History of issue with motor
remove_circle
Less durable due to plastic
remove_circle
Lid of the Blender is quite difficult to operate
remove_circle
Difficult to store according to the 'smart storage' feature
remove_circle
Whisk doesn't aerate cream very well
When it comes to value, Bosch's MCM3501MGB been said by many as the very best, delivering up to 50 functionalities in a single machine. This processor is easy to assemble for newbies in the kitchen as it can handle a large 2.3L capacity. 
Thanks to its built-in non-slip feet, the processor is a rather sturdy piece of kitchenware to hold onto. There's also a small gap between the lid and the top of the slicing blades which reduces food wastage. 
That's not all; it boasts 'smart storage' features whereby all the attachments and accessories can be stored in the bowl! As a finishing touch, this model of Bosch has a brushed steel exterior to match its impressive functionalities.
Though we don't recommend it for aerating creams, it does a good job of grating, slicing, blending and cutting up food. However, some users say that it might be an issue if you're looking to chop up nuts very evenly with this processor.