Whether you're working at the office or stuck in a very long gaming session, it is no secret that a good and comfortable chair can make spending long hours glued to a chair much easier. An ergonomically designed chair works wonders in keeping your body comfortable by taking the pressure off your spinal cord and helping to maintain a good posture.
When it comes to chair design, lumbar support is extremely vital. The best chairs have built-in support that aligns your forearms, lower back, neck, and head in correct positions to reduce back pain as well as prevent work-related musculoskeletal disorders.
In this article, we will discuss the top best ergonomic chairs you can buy now to help you get a healthier back.
How to choose an ergonomic chair?
While looking for the best ergonomic chair, here are a few factors that need to be taken into consideration:
Seat Height
Most office chairs come with adjustable height with an easy-to-use pneumatic adjustment lever. This ensures user have his or her feet flat on the floor with their thighs in a horizontal position, and arms even with the length of the desk or table in front of them. With the right adjusted seat height, you get to experience optimal, balanced support for your lower back, buttocks and thighs.
Lumbar Support
Lower back support in an ergonomic chair is one of the most important factors to consider. Our lumbar spine curves inward naturally, and sitting for long hours without proper support will eventually lead to slouching and back strains. This is why it is important for each user to have a suitable fit of their ergonomic chair with proper lumbar adjustment so their lower back's inward curvature is well supported.
Seat width and depth
An ergonomic chair should have a seat that is wide and deep enough to support anyone comfortably. The standard width is approximately 17 to 20 inches while the depth of the seat should be deep enough for users to sit with his or her back against the backrest. There should also be approximately 2 to 4 inches between the back of the knees and the edge of the seat.
add_circle
Personalized adjustments
add_circle
95% Recyclable
remove_circle
Hard to assemble
With years of research, Herman Miller's "health positive" Embody Chair is designed to quickly adapt to your body's posture for better back and spine health. This premium office chair features an exoskeleton backrest that follows the natural curvature of your back to provide constant support.
Meanwhile, its seat is also made with 4 layers of advanced materials that can adapt to the shape of your body for better blood circulation. This means you won't have to constantly shuffle in your chair just to get comfortable again.
If you have long legs, fret not as this ergonomic chair comes with an adjustable seat depth to ensure your thighs will never be left dangling regardless of your body size. Made with renewable energy and is 95% recyclable, the Embody Chair is not only amazing for one's health, but it is also great for our environment.
---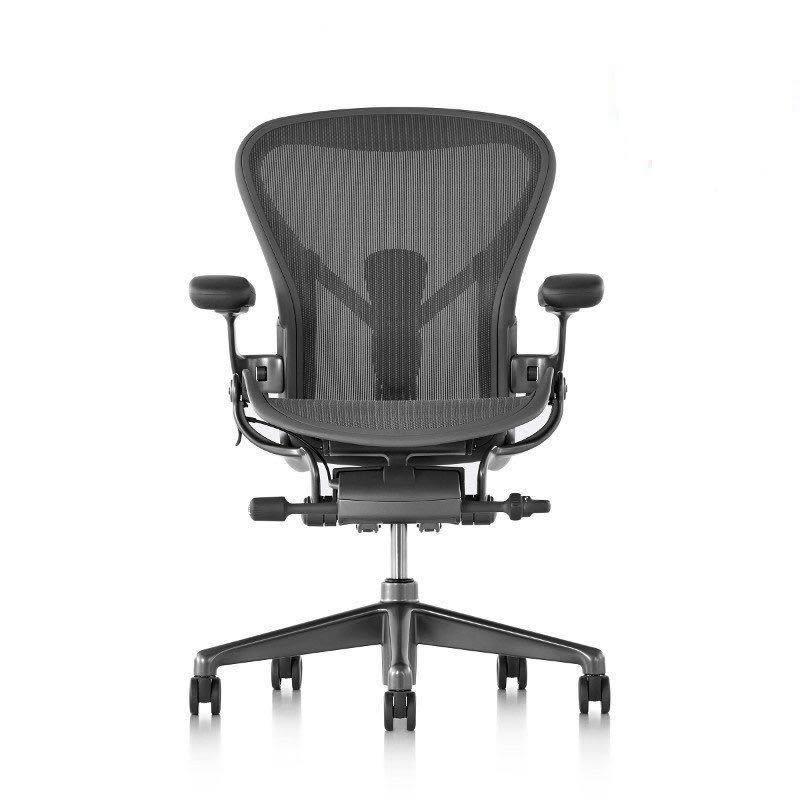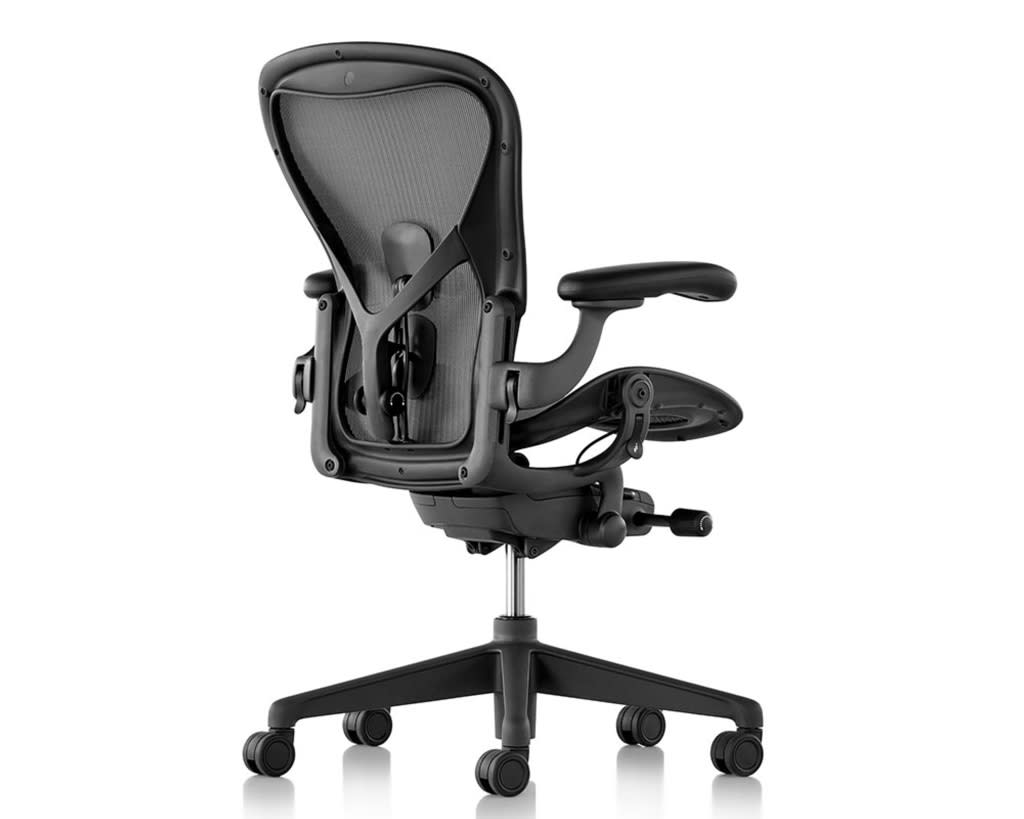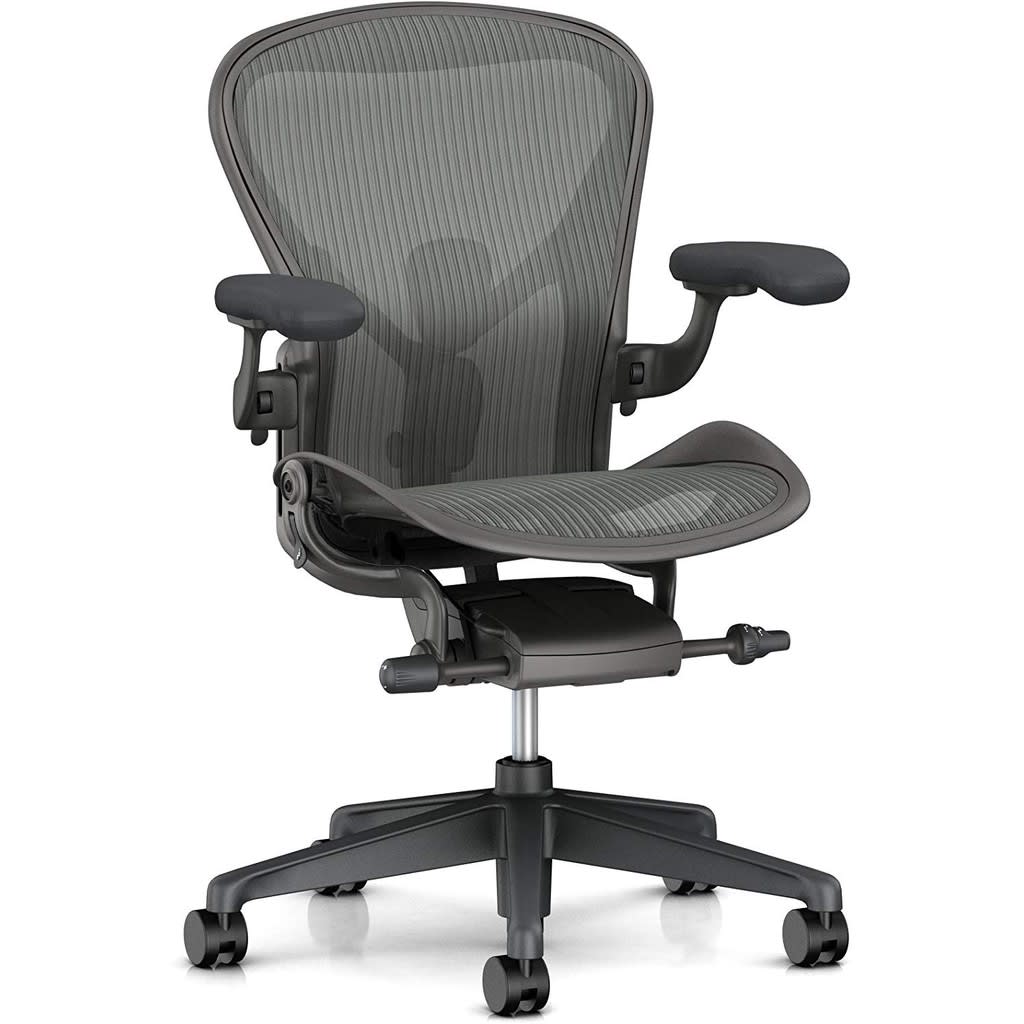 add_circle
Comfortable arms with nice recline function and forward seat tilt
add_circle
Rated for 24/7 use
remove_circle
Can feel the frame on seat and back
remove_circle
No seat depth and back height adjustments
remove_circle
Limited color options
Designed by Bill Stumpf, the Aeron Chair is an iconic office chair that's made with 8Z Pellicle fabric. It also has eight zones of tension to support users right where they need it without heating up.
The chair is made with PostureFit SL technology to match the natural S-shape of the spine and a forward tilt function. Those features are then put together and beautifully constructed an office chair that provides crucial back support to keep you comfortable through many hours of office work in various sitting positions. Like most Herman Miller Chairs, users are pretty happy to find it as comfortable as even more premium options.
Additionally, the Herman Miller office chair can even tilt backwards to provide proper lumbar support as you lean back for a good stretch. With top-of-the-line materials and a palpable quality, this high-end office chair effectively helps you reduce back pains as well as stress levels to stay productive all day.
If you don't mind the lack of soft cushioning, you can opt for the Sayl's Chair (next on the list), also by Herman Miller. It's cheaper and also brilliantly ergonomic.
---
add_circle
Cradle to Cradle Silver Certified
add_circle
90% Recyclable
add_circle
Y-Tower inspired by engineering of suspension bridges
add_circle
Ventilated elastomere back for air circulation
remove_circle
Not suited for larger sized people
Herman Miller Sayl Chair's distinctive design adopts the engineering principles of a suspension bridge by delivering the most with the least amount of materials. This ergonomic office chair comes with a striking contemporary design thanks to its elastic, net-like back to make it appear frameless.
However, the chair is more just good-looking. We're impressed with the Sayl's 3D Intelligent back comprises of the Y-Tower and ArcSpan which moulds to your back as you stretch and move, striking a healthy balance between support and freedom. This technology enables the chair to be built with as little materials as possible.
Herman Miller's affordable Sayl ergonomic office chair is a unique option that is easy to assemble and does wonders for the posture. While it lacks advanced adjustment features, it does a great job of ensuring perfect comfort while adding a unique visual touch to any workspace. Might we say that this is also a good alternative to the Aeron Ergonomic Chair.
---
add_circle
Excellent back support
add_circle
Can support up to 200kg
add_circle
Breathable mesh back
remove_circle
Require assembly
remove_circle
No seat depth adjustment
If you want the excellent adjustability of the Aeron chair but with a much lower price tag, then the UMB Reclinable Ergonomic Chair Q52 is simply your best bet.
With adjustable armrest and up to 135 degrees tilt, the Q52 has an added support over the Aeron with its headrest for a complete back support. Featuring an ergonomic design with mesh back, the Q52 chair can be counted on to support both your lower and upper back through long hours at the office.
Additionally, the UMD office chair even comes in a sturdy frame that can support weights of up to 200kg to suit those with a bigger build. UMD Reclinable Ergonomic Q52 office chair even comes with free installation and assembly to help you save plenty of time and money.
With that price tag, don't expect it to hold out as long as the Herman Millers. However, they do just as well and will last a couple of years if you take care of them well.
---
add_circle
Durable material and design
add_circle
Optimum comfort with 18 reclining positions
remove_circle
No adjustable arm rest
remove_circle
Bulky design
If you have the budget and space at home, you definitely shouldn't miss the La-Z-Boy Harmony Recliner Chair. Crafted from the finest materials and a 4-sided unibody frame, this durable recliner provides complete support for your entire body as you kick back for a movie marathon.
The Harmony's back and footrest operates independently with a total of 18 different positions for you to choose from. It can even go to a flat supine position to offer ultimate comfort as you enjoy a quick afternoon nap.
This recliner utilises an easy-to-use lever for quick recline while its lumbar support system ensures good posture and optimum comfort as you lounge in the recliner. Put your feet up on your new La-Z-Boy Harmony Recliner and you'll understand what we're talking about - complete relaxation onto the entire body after a long day at work.
---
add_circle
Great for posture alignment
add_circle
Effective for lower back pain
add_circle
Adjustable height
remove_circle
Some may not like the design
remove_circle
Long assembly time
Honestly, there is not a lot of kneeling ergonomic chairs. However, we pick this one by DRAGONN over its popular competitor, SLEEKFORM, due to its higher rating.
This kneeling chair hits all the right notes in terms of ergonomics and design to make it a safe bet for anyone who wants to enjoy a comfortable, adjustable kneeling chair. Featuring a 90-degree seating angle and really thick kneepads, the chair keeps you from tilting too far forward while you're working away in ergonomic comfort.
Despite the small profile, this sturdy kneeling chair can support up to 113kg. And within its small frame, is an adjustable base lets you achieve the most suitable angle to keep your back perfectly straight and your core engaged as you work. The caster wheels even feature locks to make sure your chair stays right where you want it to.
---
add_circle
Supportive padding that is not too stiff
add_circle
Spill-resistant leather
add_circle
Flexible armrests for optimum comfort
remove_circle
Hard armrests
remove_circle
No height adjustment on head pillow
Secretlab Omega is one of the most well-made chairs you can find for gaming. You don't just sit on this computer chair; you become one with it. Between the velour head pillow and a memory foam lumbar support cushion, every part of the Omega chair is designed to mould itself around you. That way, it'll offer the best comfort possible and it is even adjustable in anyway which your back and shoulders will thank you for.
While it does feel a little firm at first, the cushion will soften and get more comfortable over time. Comfort and durability take center stage here as Secretlab's premium gaming chair offers you the ergonomic support you need for many hours of gaming. The premium materials used to make this chair, along with its fine construction in the chair and the wheelbase, promises several years of comfort.
---
Disclaimer: The pricing shown is just a good indication of how much these products are worth. The prices could change based on the e-commerce promotions that are going on. If some of the products are not available, do email us at [email protected] Thank you!