As many of us are more computer-bound, it is undeniable that prolonged sitting has become a nuisance and an actual pain in the butt, literally.
In this case, having a good chair can help with that issue. And recently, gaming chairs have become the go-to chairs for not just gamers, but also white-collar workers.
Although gaming chairs tend to be expensive, they offer a level of ergonomic comfort, support and durability. Moreover, such chairs are progressively becoming ergonomic-based without sacrificing aesthetic nor build quality.
In fact, gaming chairs are not just an "overpriced" fad. Some now consider them as a workspace essential.
Don't know where to start? We are here to help! After meticulously going through review after review, here are some of the best gaming chairs in Singapore that we think you should look into.
Table of Contents:
---
8 Best Gaming Chairs in Singapore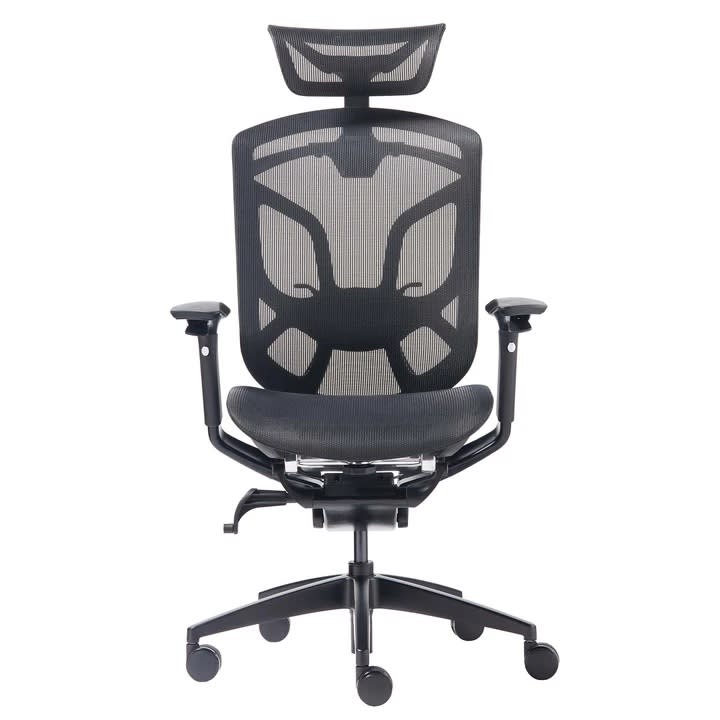 add_circle
Very ergonomic; many adjustment points
add_circle
Mesh seat and backrest; highly breathable
add_circle
High quality material and build quality
Why it's Our Top Pick:
"This gaming chair offers the best ergonomics among the rest in the list, with one-of-a-kind features that you cannot find in other products. Its science-backed designs are also jointly created with healthcare professionals, so the Starship will be sure to keep your body well-supported.
An interesting thing is that German automotive industrial robots are brought in to aid in each unit production, hence the top-notch build quality and precision. This means a boost in durability."
Features:
The Starship features 3 directional armrests and three notch level adjustments for its integrated lumbar support. Uniquely, users can conveniently adjust backrest recline as well as chair height via pedals at the bottom of the armrests themselves! Moreover, seat depth and headrest can be customised according to the user's height and body build for the best comfort possible.
Performance:
Among the high quality materials used are the three layers of DuPont's thermoplastic poly elastomer that makes up the Martiangear KryptoMesh™. Having a mesh seat and backrest meant that ventilation is no issue. Not only that, but they offer great pressure distribution and strength to withhold mesh conformation even after long-term usage.
---
add_circle
3D backrest for spinal protection
add_circle
Memory foam lumbar and headrest support
add_circle
Available in two variants; leather and fabric
add_circle
Long-lasting quality materials
Back pain resulting from bad body posture is driving more people to seek a chair with adequate spinal support. One chair that is capable of granting such support is the BLACKWOLF Alpha Reaper Series. Wave goodbye to back aches and say hello to comfort!
Features:
The 3 directional ergonomic backrest is one of the highlights of this gaming chair. It is designed for maximum spinal support, including the cervical, thoracic and lumbar regions. Additionally, cold fusion foam makes up the headrest and lumbar pillows that come along with the chair without any extra costs.
Performance:
The Alpha Reaper is available in two variants; one with leather upholstery and the other with fabric coveralls. Both variants are of the same price, but each has an advantage over the other. Fabric tends to be more breathable whereas leather is easier to clean. Either way, the materials used are of fine grade and are bound to last for a good while.
---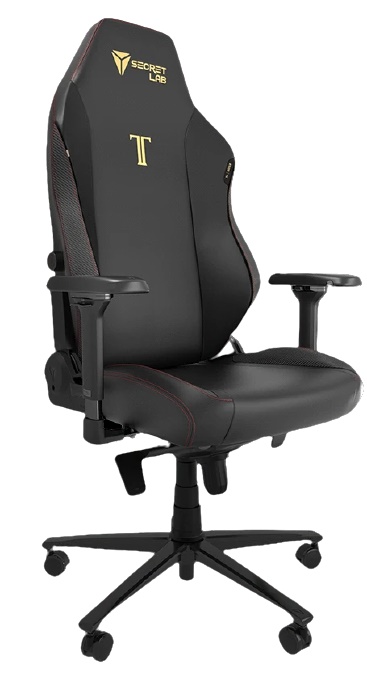 add_circle
Magnetic CloudSwap™ replacement system for armrest top
add_circle
Soft PU-coated default armrest top
add_circle
4D armrests; can cater to those with extra wide shoulders
remove_circle
Quite pricey
When we talk about gaming chairs, there is no way of avoiding Secretlab; a reputable company known for their stellar-performing and ergonomic gaming chairs. The Secretlab TITAN Evo 2022 Series is the latest to join their lineup, and we think it probably has the best adjustable armrests out there.
Features:
The TITAN Evo 2022 has full-metal four-directional armrests, allowing users to position their arm supports accordingly. By default, the top of the armrests comes with soft PU cushions. But if you prefer a different material, you can swap them! With its magnetic CloudSwap™ replacement system, personalising your armrest top will be a jiffy.
Performance:
The 4D armrests can cater to those with extra wide shoulders, who may find discomfort in chairs with non-adjustable armrests. Such armrest flexibility is also generally important for all users as rigid supports can cause muscle strain and fatigue; especially common problems for heavy computer users.
---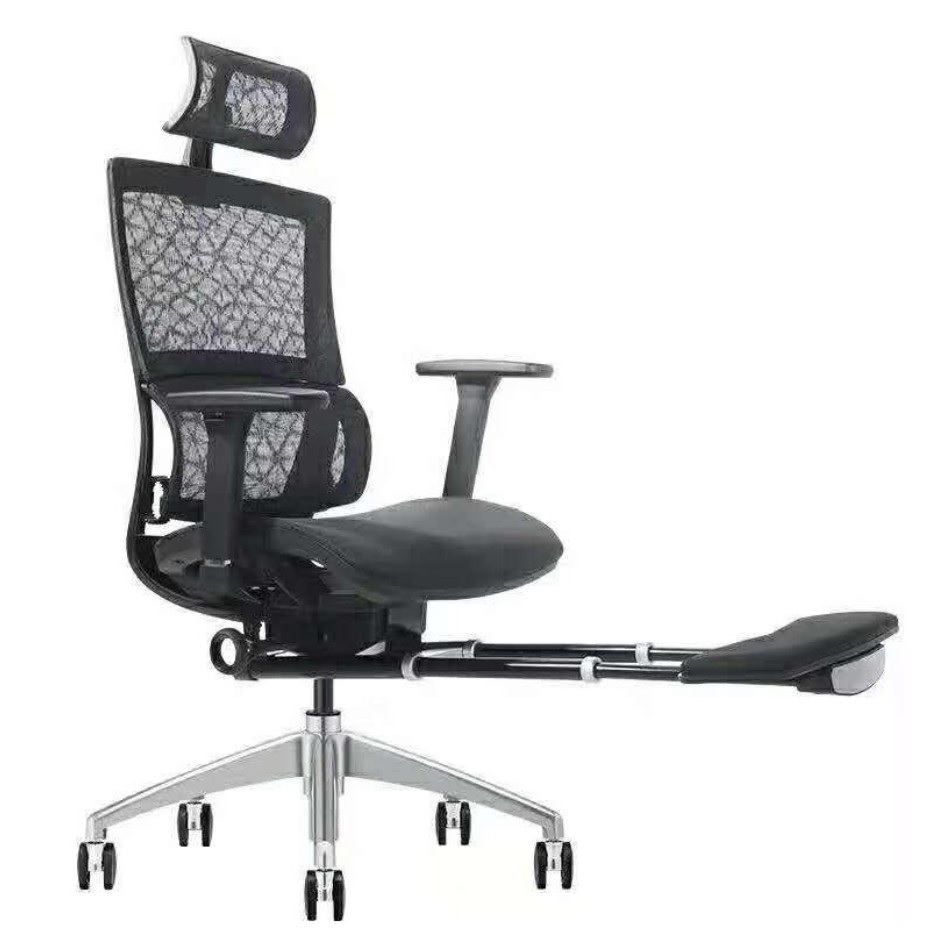 add_circle
Length of footrest can be adjusted
add_circle
Adjustable headrest, backrest and 4D armrest positioning
add_circle
Wide footrest cushion
add_circle
Steel base is heavy-duty; stable despite having to support feet
remove_circle
Footrest comes at a higher cost
remove_circle
Non-adjustable lumbar support
Looking for a comfortable yet ergonomic gaming chair that can accommodate your feet? Look no further than the UMD High-Back Full Mesh Ergonomic Office Chair. You can opt to not have the footrest included, but if you have the extra cash and leg room to spare, we'll say to go for it!
Features:
Besides its possible headrest and 4D armrest adjustments, the office chair also enables adjustment for the length of the footrest. Such adjustments are vital for users to achieve optimal positioning which will not only boost comfort but also productivity. As a bonus, built-in lumbar support is present too, though it is non-adjustable.
Performance:
The wide design of the footrest cushion offers users the chance to stretch their legs after a long period of working or gaming. Such design works well with the stable, heavy-duty steel base, as users can position their feet to their liking without worrying about losing their balance. The adjustable backrest only further bolsters the lounging experience.
---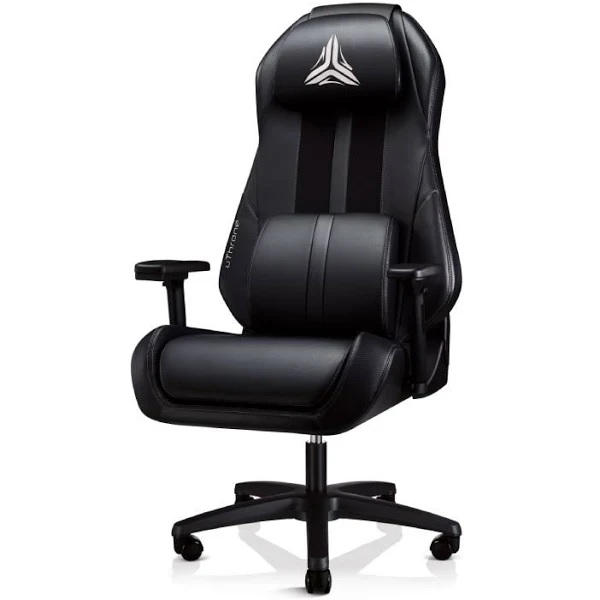 add_circle
Realistic massaging features
add_circle
Concealed control panel
add_circle
Memory foam neck and lumbar pillows
add_circle
Reclines up to 145°
add_circle
Built-in Bluetooth speakers
remove_circle
Very expensive
Fancy a massage chair as well as a gaming chair? Why not get both in one product? Introducing the OSIM uThrone Gaming Massage Chair! Yes, it sounds outlandish, but this gaming massage chair might just be what you need.
Features:
The uThrone is fitted with OSIM's V - Hand™ massage technology that replicates realistic massage techniques. It has 360° rollers to reach a users' neck, shoulder and lumbar areas.
Moreover, the massaging features can be programmed from a concealed control panel on the right armrest. This removes the hassle of having a separate remote control and unexpected switches from button mishits.
Performance:
Not only does the chair relieve tense muscles but it also reduces the chances of strains in the first place. With the ability to recline up to 145° as well as the presence of a memory foam neck and lumbar cushion, users will be pleased with the level of comfort it provides.
Furthermore, the uThrone also comes with a set of immersive Bluetooth speakers for premium sound quality.
---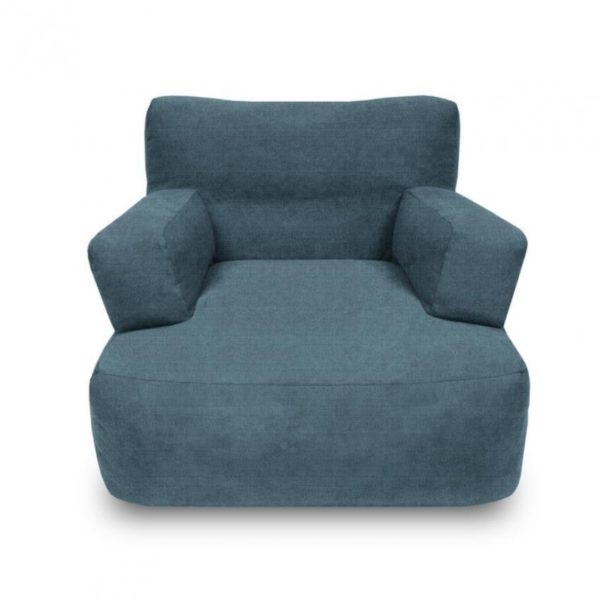 add_circle
Elegant; blends in well with other furniture
add_circle
Available in 9 colours
add_circle
Produced with high quality materials
add_circle
Lightweight; easy to store
add_circle
Adaptable to any sitting position
Bean bags are arguably not designed for gaming, but having a bean bag as a gaming chair is favourable for console gaming. They usually have no seat constraints to limit your position during gaming. So if you are considering getting one, you should go for the elegant Flabber Bean Bag from Zest Livings.
Features:
Available in 9 colours, the Flabber Bean Bag is sure to strike a match with the rest of your furniture. Made entirely out of fine quality polyester fabric, it is generously filled with high quality styrofoam beans, making it lightweight and easy to move as well as store when not needed.
Performance:
Users can sink and relax into its squishy back as they prepare for an intense console gaming session. Moreover, the bean bag is easily adaptable to any sitting situation to brace users as required. Take note that the bean bag can be a bit too bulky for some, especially for those who love to game in their own bedroom.
---
add_circle
Built-in speakers contribute to optimal surround sound
add_circle
Multi-game mode can be activated with other X-Rockers
add_circle
Audio bass tone sync via vibration motors for full-body sensation
add_circle
Compatible with most gaming consoles including Xbox and Playstation
add_circle
Full backrest and headrest support; good for lounging
remove_circle
Very expensive
remove_circle
Supports users up to 125kg only
An optimal surround sound is necessary to truly engage ourselves in a game. But having speakers close by will take up valuable desk space. Whereas putting them too far apart will affect audio quality. The X Rocker Pro Series H3 Gaming Chair can resolve this conflict via its integrated speakers.
Features:
A myriad of audio support comes with this chair, such as a cocktail of four forward-facing speakers, ported power subwoofers and audio force modulation technology within.
All of the features mentioned helps to guarantee a complete fixation towards the user's desired content such as adventure and action games. Users can even connect multiple chairs for a highly immersive, multi-game mode session.
Performance:
The Pro Series H3 also features vibration motors that can synchronise with a user's audio bass tones to generate a satisfactory, full-body sensation as you lounge on the chair. Being compatible with an array of gaming consoles, such as Xbox and PlayStation, gamers will be able to utilise this gaming chair to its maximum potential.
---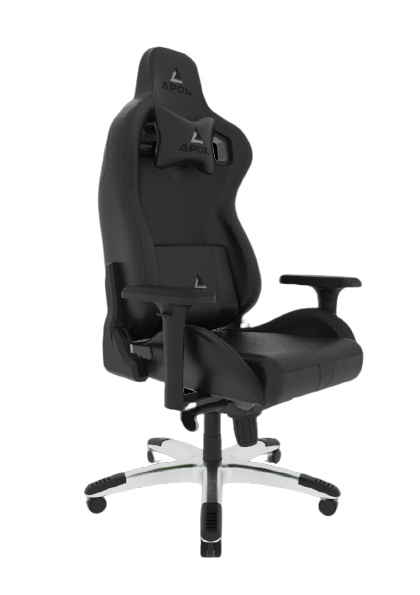 add_circle
Dedicated neck and lumbar support
add_circle
Unbelievably soft and bouncy seats
add_circle
Full-length 165° backrest recline function
Waking up with a stiff neck is the last thing you would want in the morning, and the realisation of going through your day without any neck support is forever daunting. We reckon that the APOL Kraken can be your saving grace.
Features:
Here, Kraken showcases APOL's CloudTech™ Foam technology as well as their signature Memory Foam Head and Lumbar Pillow. The former consists of tightly-packed cells that produce seats with an incredibly soft and bouncy sensation, while the latter is designed for the utmost relief alongside comfort at the neck and lumbar region.
Performance:
Having a dedicated technology towards neck and lumbar support shows how much APOL upholds the importance of spinal health.
As comfort is accommodated, your concentration and thus, productivity levels should increase. With the aid of a comfy seat, 4 directional armrests and 165° backrest tilt, this chair is poised to boost gaming performance and keep neck stiffness at bay.
---
How Do Gaming Chairs Make a Difference?
Gaming chairs have an edge over regular chairs in many areas, particularly in user comfort and gaming performance.
Comfort
They address the former through typically adjustable supports at specific areas of the body. Because you'll be typically seated for long hours, a padded base is crucial.
For example, a thick, padded seat secures comfort for the legs and buttocks whereas a contoured backrest with neck plus lumbar support protects the spine from improper alignments.
Back support
Additionally, gaming chairs tend to feature a backrest recline function unlike most office chairs which have fixed backrests. With gaming chairs, users can set the backrest to their desired tilt tension as many times as they would like, keeping their back, abdominal and leg muscles active. Back strains will also be something of the past.
Proper armrests placement
Other than that, gaming chair armrests are usually adjustable to grant personalised support to the arms, enabling comfortable hand placement. This also creates sufficient support to relieve some burden on the spine.
Proper hand placement is key to a smooth gaming performance too! With uninterrupted blood circulation that can arise from bad body posture, gamers will be able to fully focus on the game ahead. The ergonomics of your chair can influence your gaming performance greatly without you even realising it.
---
In conclusion, gaming chairs are way more flexible and posture-friendly compared to standard office chairs. We personally think that gaming chairs are worth the investment, as office chairs simply do not match up to a gaming chair's level of adjustability and comfort, especially for gaming.