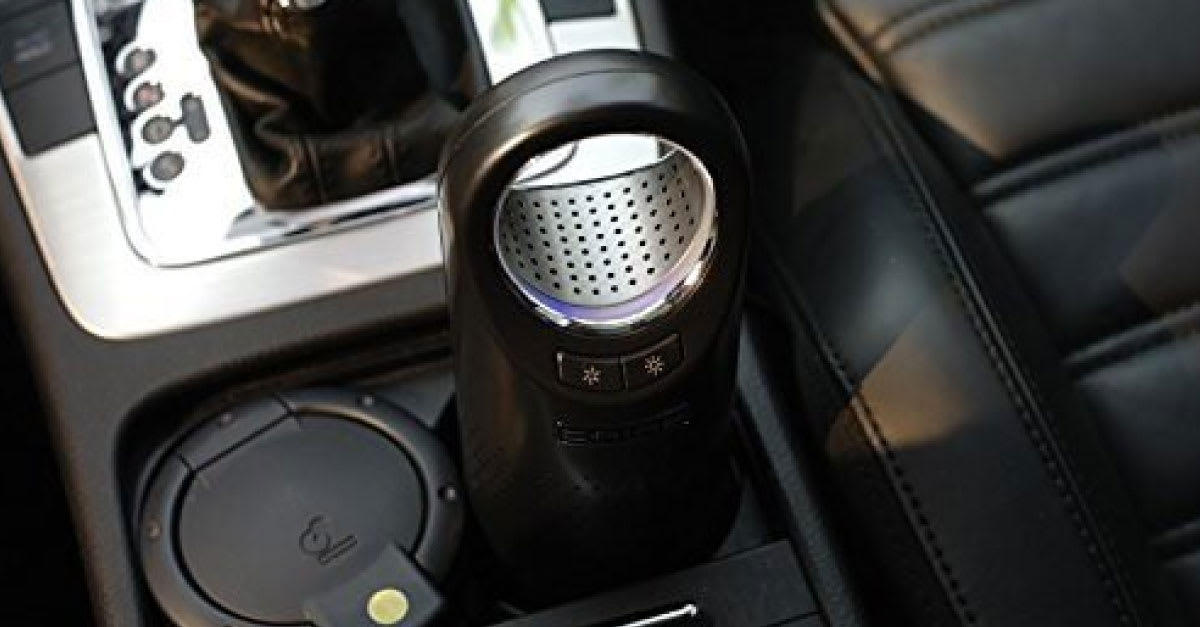 Hate pungent smells that linger in your car? You can get rid of them with car air purifiers. Car air purifiers leave your car smelling fresh and clean. Besides leaving your car smelling fresh and clean, they also keep bacteria, dust, pollen and other forms of contaminants at bay. Does it tickle your fancy? Try these car air purifiers to keep odour away.
1. Philips GoPure CP100 Airmax Car Air Purifier
Best for smokers
Price from RM599.00
Get rid of second-hand smoke's harmful effects with the Philips GoPure CP100 Airmax Car Air Purifier. Featuring a 3-Stage Filtration Technology, it can banish anything from dust to airborne nicotine.
Convenient installation is another added benefit. It comes with multiple mounting accessories and a power cord which enables you to mount it anywhere from the dashboard to the trunk.
3 people added this to their wishlist
2. Coway Personal & Car Air Purifier AP0111LI
Best car air purifier and ionizer
Price from RM349.00
Coway's Car Air Purifier is unique, for it is a purifier that doubles as an air ioniser. Furnished with a bipolar ioniser, it eliminates allergens in the air and wipes out both pungent odours and hazardous gases – all within 10 minutes. Coway's team has also designed this baby to be small; it can fit in a cup holder.
4 people added this to their wishlist
3. Sharp Personal/Car Air Purifier With Plamacluster
Best car air purifier with USB
Price from RM366.00
Sharp has designed a car air purifier that's USB powered. Literally, any USB port can be used to power up this beast. Why is it a beast? Answer: The Turbo airflow mode is capable of releasing Plasmacluster at twice the speed of standard airflow mode. This feature will deodorise your car in a split second!
3 people added this to their wishlist
4. Honeywell Car Air Purifier (Move Pure - HAPC15)
Best car air purifier with HEPA filter
Price from RM469.00
Get a breath of fresh air with the Honeywell Car Air Purifier. Honeywell has equipped this unit with double layers of activated carbon filter and also a state-of-the-art HEPA filter. This one-of-a-kind combination allows it to remove hair, fine dust, airborne contaminants, cigarette smoke and odour from rancid leftover food.
5. Mi Car Air Purifier (USB Car Charger Version)
Best car air purifier with charger
Price from RM319.00
Xiaomi has added a twist to its ever-popular smart car air purifier; it now comes with a USB car charger, so feel free to charge it in your car.
That's not all. For such a reasonable price, you'll also get dual fans included in the unit which purifies the air in your car within 7 minutes.
6. HAMINGO Car Super Ion-Ozonizer Air Purifier
Best budget ozone purifier for car
Price from RM61.60
What makes this product different from the rest? Aside from its affordable price (of course!), this product from HAMINGO produces ozone. FYI, Ozone is effective when it comes to killing mould and ridding your car of any stench.
HAMINGO has also designed this product to be user-friendly. Just plug it into the cigar lighter socket, and you're all set!
4 people added this to their wishlist
7. Sharp IG-HC1
Best small/compact car air purifier
Price from RM550.00
Another amazing car air purifier from Sharp has made the list - the Sharp IG-HC1. It's an extremely compact product, with dimensions of 76mm x 20mm x 44mm.
Not only is its compactness a highlight, but it also ionises the air in your car which helps to increase air humidity (Huzza, no more dry skin!).
More: Breathe Better Air with These 5 Air Purifiers Available in Malaysia
Disclaimer: The pricing shown is just a good indication of how much these products are worth. The prices could change based on the e-commerce promotions that are going on. If some of the products are not available, do email us at [email protected] Thank you!