Recently, another dashcam video made its rounds on social media. It showed an impatient driver trying to skip traffic by veering to the opposite lane, only to get involved in a head-on collision with another vehicle.
While these videos are entertaining to watch (so much so that there is an entire YouTube channel dedicated to dashcam videos captured across Malaysia), it opens our eyes on how dangerous the roads can be despite how careful we are as drivers.
Probably the most important thing a dash cam can do for you is that it settles the "he said, she said" dilemma when the two or more parties involved in an accident are quick to play the blame game.
More: Checklist: 10 Must-Haves For Every Malaysian Car Owner
---
Does a dashcam work when the car engine is turned off?
Dashcams start recording automatically once the ignition is turned on and will stop the moment the engine is off. Higher-end models have a parking mode which lets the camera record while the engine is off but needs to be either powered by an external battery pack or a hardwire installation into a fuse box. Unfortunately, those that operate on just a cigarette lighter cable won't be able to run parking mode.
---
11 Best Dash Cams in Malaysia
Garmin Dash Cam 56

Xiaomi 70Mai Pro

Thinkware U1000

Blueskysea B1W

Transcend DrivePro 550

Vantrue N2 Pro

GOQ D208

Blackvue DR750S-2CH

VIOFO A129 Pro Duo Dash Cam

Tyrants Titanium Motorcycle Pro Dash Cam

SENA 10C Pro Headset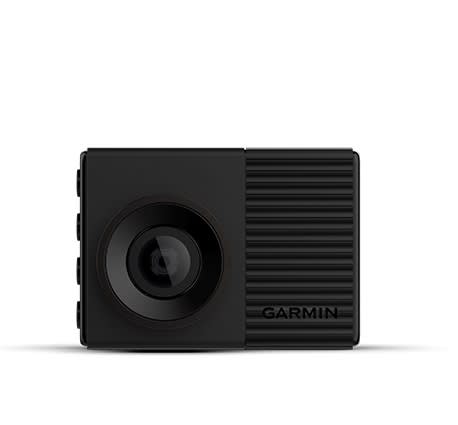 add_circle
Great mid-range option
add_circle
Excellent video quality
add_circle
Many types of driver alerts available
add_circle
Useful voice control feature
remove_circle
Uses a battery instead of capacitor which makes it less suitable for hotter climates
remove_circle
Driver alerts have false positives
remove_circle
Event detection may be slightly sensitive
As a mid-range option in Garmin's Dash Cam Series, the Garmin Dash Cam 56 gives you the best bang for your buck in terms of the price and features that it offers. Firstly, the Dash Cam 56 records with an impressive video resolution of 1440P with a 140 degrees field of vision.
Something to note is that most dash cams come with 120 – 140 degrees field of vision which is fairly sufficient. Some units offer 180 degrees, but this ultra-wide lens tends to produce a distorted, fish-eye effect whereby license plates also appear to be less clear in the footage.
In terms of its build, the unit is compact and its chassis is only slightly larger than its 2″ LCD screen. This makes for discreet mounting in your vehicle, so it does not obstruct your view when you're driving.
By default, the Dash Cam 56 uses a sensor to detect a possible incident and automatically saves the video footage before, during, and after the detected event. The video footage will be stamped with the time, date, and location of the event that's quite nifty for police reports. However, a handful of users have reported that the event detection can be a little too sensitive and is often triggered unnecessarily. Unfortunately, it is also not possible to adjust the sensitivity of the event detection in the settings.
A huge selling point of this device is its ability to provide "driver alerts". This includes a forward collision and a lane departure warning system, as well as "Go" alerts. Unfortunately, subscriptions for the useful Red Light and Speed Camera alerts are not available in Malaysia. While these driver alerts are highly regarded by most owners, some users turn them off as false positive alerts are known to occur.
---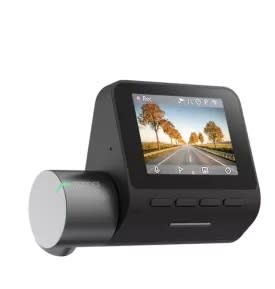 add_circle
Unobtrusive design
add_circle
Tried-and-trusted by many users
add_circle
Excellent video quality especially during daytime
add_circle
Budget-friendly option
add_circle
Has voice control
remove_circle
GPS module only available as a separate purchase
remove_circle
Other cameras have better night performance
remove_circle
Uses a battery instead of capacitor which makes it less suitable for hotter climates
Xiaomi dominates Malaysia's dashcam market as evident from the popularity of the Mi Starvis 1S Dashcam, the XiaoYi Yi, and especially the 70Mai Pro. Thousands of 70Mai Pros have been sold on both Lazada and Shopee and they are rated a near-perfect 4.9/5 by users.
As highlighted by many users, the installation and setup process is so straightforward that you may not even need to refer to the user manual. Some users also appreciated that the unit is small enough to be installed away from the driver's line of sight.
Additionally, you can download the 70Mai app to connect the camera over Wi-Fi. This means that you can watch the video footage on your phone in real-time as well as transfer and share video clips.
The camera records videos in 2592 x 1944 pixels which is a high enough resolution to read license plate numbers of the vehicles around you. Like the Garmin 56, the lens has a 140-degree field of view which is sufficient to catch the action on the road.
Its low light performance is also impressive thanks to its Sony IMX335 sensor and wide aperture. However, night footage may reveal some halos around light sources like headlights and street lighting.
The 70Mai Pro does not come with a capacitor but a 500mAh Li-polymer battery instead which means it is not suitable for hotter environments. On the plus side, as long as the battery is charged, the camera can switch to Parking Surveillance Mode to enable recordings when motion is detected while the car is switched off. Lastly, we have to praise its voice control which lets users give verbal commands to take a still photo, record video, or turn the screen on or off.
---
More: You Can Turn Your Smartphone Into a Dash Cam With These 8 Apps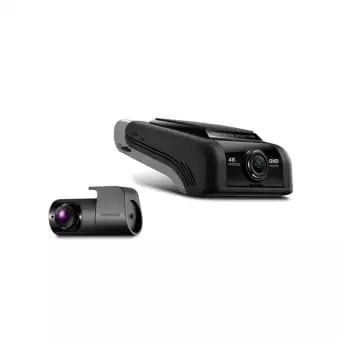 add_circle
Excellent video quality for both front & back cameras
add_circle
Excellent night performance
add_circle
Impressive parking surveillance and road safety systems
If you're looking for one of the best dash cams on the market right now, look no further than the Thinkware U1000. It checks all the boxes for the perfect dash camera at a premium price.
First of all, the front camera can record in either full 4K at 30 FPS or be dropped to 2K at 60 FPS. The former setting records in incredible crystal-clear, movie-like quality while the latter option is a better fit for capturing license plate numbers while vehicles are in motion. Bear in mind that 4K footage files will require a larger capacity memory card. On the other hand, the rear camera records in full 2K which is a rare find among rear cameras.
The combination of its useful parking mode and impeccable night vision gives you some peace of mind when your car is parked at night. Its parking mode ensures that the camera only starts recording when there is a collision or any detected motion around the car. Alternatively, you can enable the time-lapse mode so the camera records continuously at a lower frame rate.
For 24/7 connectivity and control, you can connect your mobile device to the U1000 with its built-in Wi-Fi via the THINKWARE Cloud app. With this app, you'd get to view the videos remotely, change the camera settings, download video footage to your mobile device directly, and enable push notifications.
True to its premium price tag, the U1000 is equipped with a built-in GPS. This means that the video footage is stamped with accurate coordinates and the speed of the car. Another plus point is that the dashcam is powered by a capacitor instead of a battery so it can withstand the heat and the cold a lot better.
---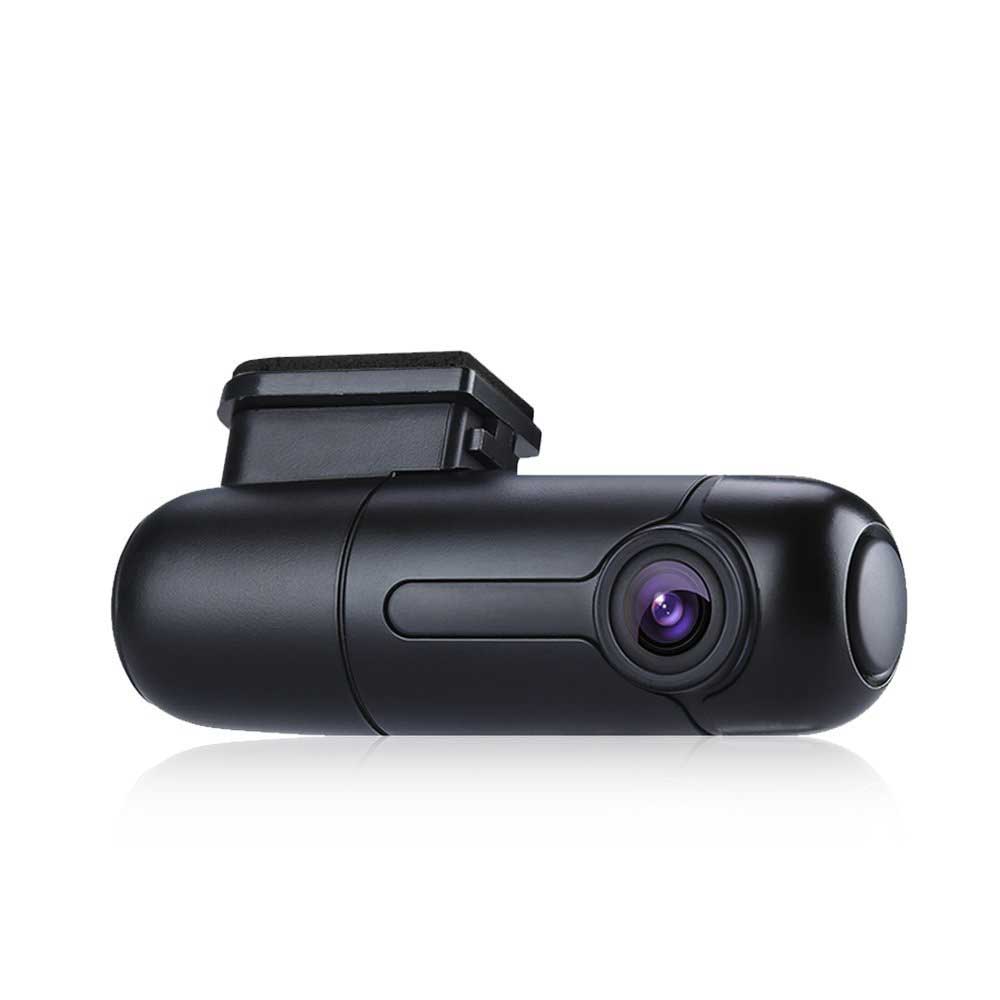 add_circle
Stealthy design
add_circle
Versatile 360 degree rotatable camera body
add_circle
Uses a capacitor so it handle heat better
remove_circle
Built-in Wi-Fi may have connection issues
remove_circle
Poor number plate legibility under certain lighting
Unlike most of the dash cams featured here, the Blueskysea B1W does not have an LCD screen that results in a slim and compact form. This contributes to the camera's stealthiness to avoid drawing attention from passersby. Due to the lack of screen, however, you wouldn't be able to watch videos on the dashcam. You'd need to transfer the videos from the memory card to a phone or computer via Wi-Fi and watch the videos there.
However, dashcameras.net reports that this dash cam's Wi-Fi speed was relatively slow and their experience was marred by not only frequent disconnections but also difficulties with reconnecting. Do take note that the camera settings configuration is also done via Wi-Fi by using a compatible smartphone app.
On top of its 150-degree wide-angle view, the B1W has a 360° swivel design which allows the camera to be fully rotated around its lateral axis. This means you can easily turn it to record what's happening inside the car.
The B1W records at a decent 1080P and the video quality is good in the daytime while it's only average at night. As shown in this video, you can clearly see what's happening on the road, but the quality is a little blurry in certain areas and you can't always read the license plates.
This unit uses dual capacitors instead of a lithium battery. As capacitors are better at handling higher temperatures, the camera won't overheat or turn off, making it this the safer choice for our hot Malaysian weather.
---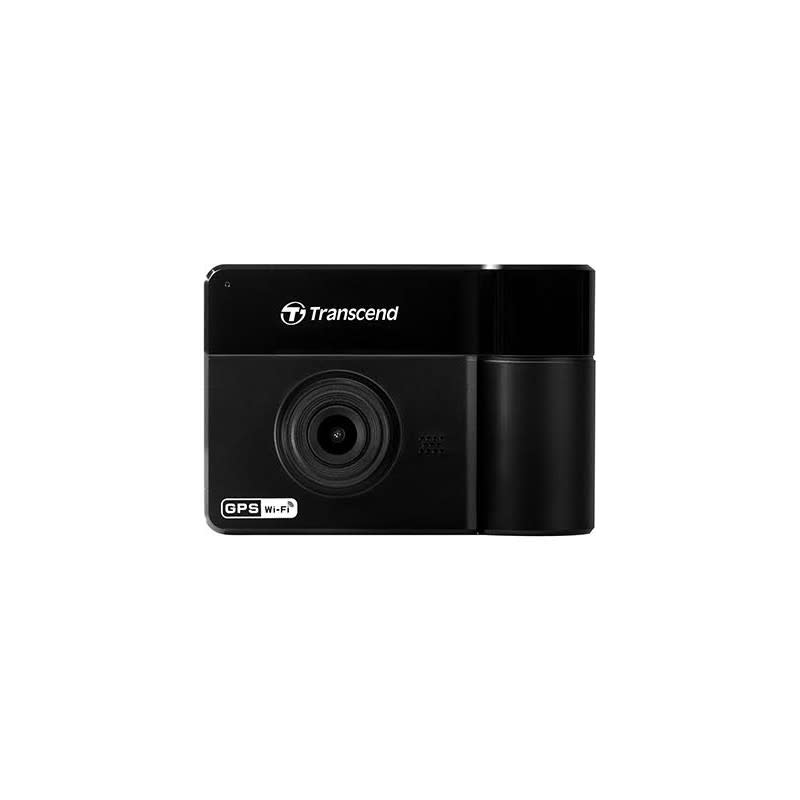 add_circle
Reliable interior recording
add_circle
Affordable price
add_circle
Infrared lights for low light recording of car interior
remove_circle
Decent daytime recording but poor night performance
At first glance, the Transcend DrivePro 550 looks like a normal point-and-shoot camera. A close inspection of the unit would reveal a second camera unit that can swivel up to 180-degrees. The first camera has a 160-degree viewing angle lens and it can record at 1080p while the second camera records at 720p with a 110-degree viewing angle.
Based on most reviews, the main camera gets the job done, but the quality isn't particularly amazing. Plate numbers are readable within a few feet of the vehicle but beyond that and the plates are much harder to decipher. Regrettably, outdoor night footage is nothing to shout about.
The second camera, though, is a game-changer in terms of the protection it can offer to drivers working for ride-hailing services like Grab. It does not have the best video quality but it's good enough to make out faces and can record at angles that may be left unnoticed by standard cameras.
Grab drivers will have additional peace of mind if they are wary about picking up passengers at night or if they need to absolve themselves from cases that involve lost belongings. Moreover, this rear-facing camera automatically switches on the infrared mode whenever it detects low light conditions. With features like these and its affordable price tag, it's clear to see why the DrivePro 550 is dubbed as the "best taxi cam".
Just a heads up, Grab allows drivers to purchase their own camera instead of their recommended Eagle-i CVR dashcam but the purchase is at the discretion of the driver. As a word of advice, do put up signs to inform passengers that the ride is being monitored for their safety purposes.
---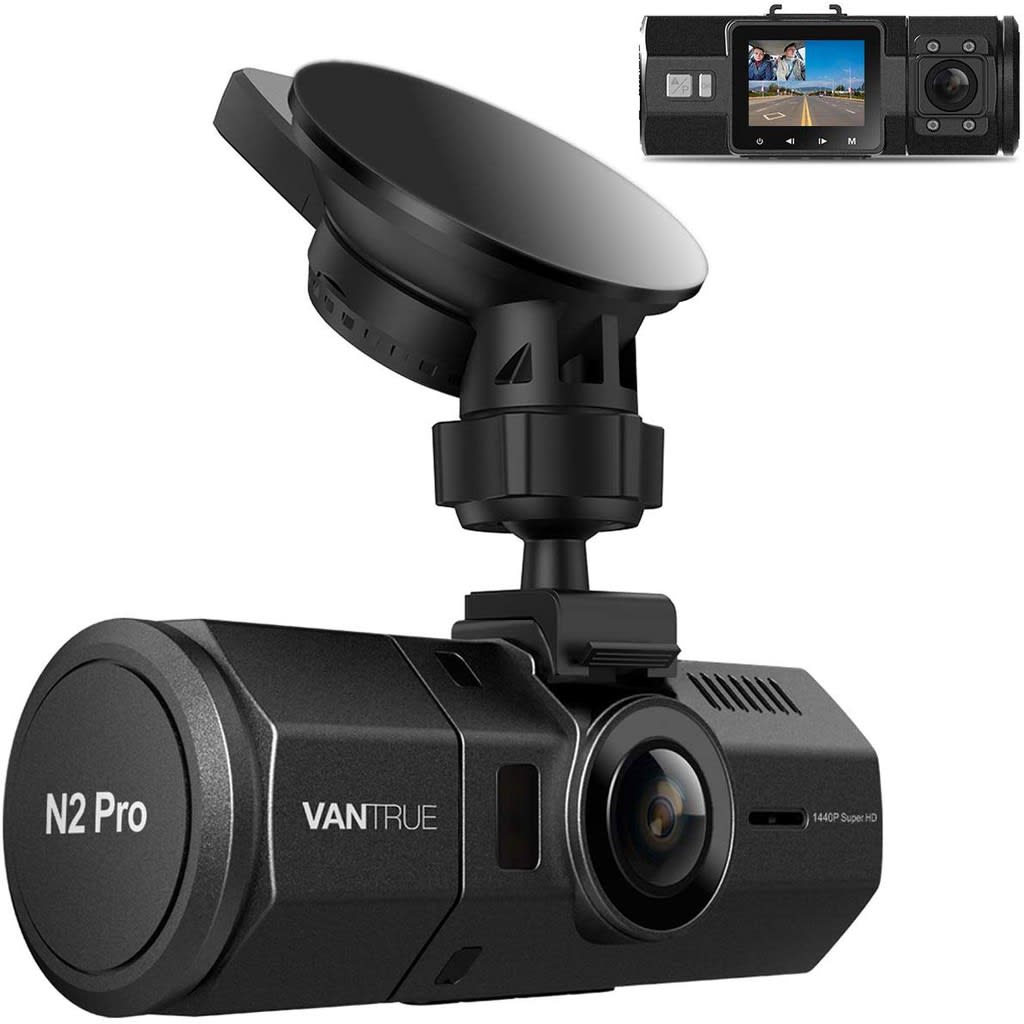 add_circle
Great front and interior recording quality
add_circle
24-hour parking mode provides additional protection
add_circle
Infrared lights for low light recording of car interior
remove_circle
Night recording is not very sharp
If you're looking for a step up in video quality from the run-of-the-mill dual dash cams, then the Vantrue N2 is just one of the few dash cams on the market today that offers full HD video on both the front and interior facing cameras.
You can choose to record from either the forward camera only at 1440P or the front and rear cameras at 1080P each. The image quality of the front camera which features a wide 170-degree field of view produces images with good colour and contrast for both day and night footage.
The rear camera has a 140-degree field of view which is wide enough to fit the people in both the front and rear seats into the frame. Additionally, there are four infrared LED lights surrounding the rear camera lens that illuminates the cabin in dark conditions. A tiny nitpick of this feature is that these LEDs produce a grayscale image rather than a coloured one.
On to the incredibly useful 24-hour parking mode that uses motion sensors to detect activities occurring in front of or behind the car. Once the sensors are triggered by motion or collision, the camera switches on to start recording. The downside to this parking mode is that the camera requires a permanent power supply to be active due to the limits of its 250 mAh battery. To circumvent this issue, you'd need to fork out more cash for either an external battery pack or a special hard-wiring kit to connect the N2 Pro to the car battery.
---
More: Feel More Secure on the Road With These 7 Dual Dash Cams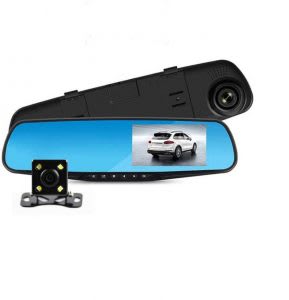 add_circle
Very affordable price
add_circle
Decent daytime recording
add_circle
Useful reverse mode
remove_circle
Not suitable for night recording
If you want a simple, no-fuss dual dash cam with Full HD video recording, the GOQ D208 is a great option to consider. Unfortunately, the sub RM100 price means that you'd have to compromise on certain features like the lack of a built-in Wi-Fi and a GPS tracker.
For what it's worth, the D208 is equipped with the essentials like a motion detection sensor which enables the camera to automatically record when there is movement in front of the lens while the car is in standby mode. Moreover, there's also a reverse system that shows rear camera footage on the LCD screen of the dashcam whenever the car is in reverse – super useful for reverse parking.
Its front camera can either film in 1080P or 720P at 25 frames per second, and its rear camera has a resolution of 640 x 480 pixels at 25 FPS. Video quality is decent enough, but it pales in comparison to the more expensive options.
Many users on Lazada also expressed their disappointment at its night recording quality, so it's best to avoid this dash cam if you do a lot of night driving. As the rear camera is installed in the vicinity of the license plate, it's great that it has an IP67 waterproof rating for durability.
---
More: Have Worry-Free Journeys with These 8 Affordable Dash Cams Under RM150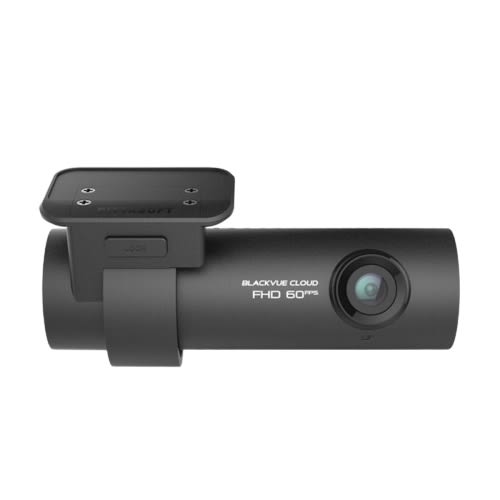 add_circle
Excellent day and night video quality from both front and rear cameras
add_circle
Parking mode has plenty of features
add_circle
Great cloud connectivity
remove_circle
Quite expensive
Parking Mode is an essential feature if you would like your dashcam to record any possible vandalism or car door dings of your parked car while the engine is off. Blackvue has its Parking Mode all figured out with the high-quality, two-camera DR750S-2CH.
This dashcam supports two different modes: Motion & Impact Detection mode as well as a Time-Lapse mode. In Motion & Impact Detection mode, motions are detected by an image sensor while impacts are picked up by a G-sensor. A one-minute video recording is created that starts a few seconds before the triggering of any of these sensors.
Alternatively, for the Time Lapse mode, the camera switches to recording at a reduced frame rate of 1 FPS, resulting in a time-lapse video. This translates to a recording of more than 27 hours of footage on a 16GB microSD card for a dual-channel model at the highest (Extreme) quality setting.
Both front and rear cameras are 360-degrees rotatable and use the same Sony STARVIS 2.1MP sensor, with both camera resolutions maxed out at 1080P and 60 FPS. Its 139-degrees horizontal field of view is wide enough to capture most of your surroundings, but it creates a slight fish-eye distortion. The 60 FPS makes video buttery smooth while colour reproduction is well-saturated and natural-looking for the most part. Night videos are also stellar and way ahead of most of the similarly priced dash cams.
BlackVue has also included its cloud service, Blackvue Over the Cloud, for this dash cam. This cloud technology has many neat features like viewing the camera's recording in real-time on your phone and enabling push notifications. There's also free cloud storage included if you run out of storage space on the SD card or if you need to transfer recordings across devices. Black Over the Cloud also has an integrated speaker and microphone to allow two-way voice communication between the camera and your mobile device through the app.
---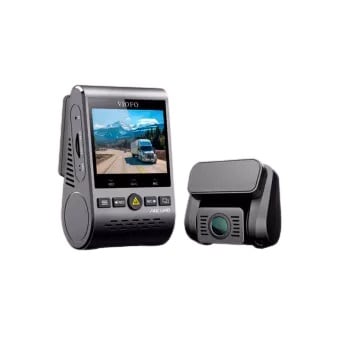 add_circle
Top of the line 4K recording on front camera
add_circle
Impressive rear camera quality and night vision
add_circle
Has built-in WiFi and GPS
remove_circle
Lacks in advanced cloud capabilities and parking mode features
remove_circle
4K UHD chunks out tons of storage space
Night vision is the Achilles' heel in the dashcam business as most brands seem to only get daytime recording right. The key to a superior night performance is that the camera needs to have a resolution of at least 1080P and an image sensor that does a proper job of processing low light setting.
The VIOFO A129 Pro Duo Dash Cam ticks both boxes as its front Sony Exmor R 8MP sensor records in glorious 4K UHD while the rear Sony Starvis 2MP image sensor records at 1080P FHD. Both these sensors ensure crisp day video and good night vision quality.
The A129 Pro Duo utilizes Super Night Vision technology which minimizes noise and blurring. Additionally, the camera software has a Wide Dynamic Range feature which lets the camera accurately sense colours in very bright and very dark conditions. If there's any criticism to be made for its night performance, it has to be the tendency of the flare from headlights and streetlights to block out fine details like those seen on license plates.
A cool feature is that the camera also has built-in overheat protection. This means that if the temperature of the chipset rises above the maximum operating temperature of 65°C, it will shut down automatically to avoid heat damage. Like some of the dashcams listed here, this unit uses a capacitor instead of a battery, ensuring durability during hot days and cold nights.
---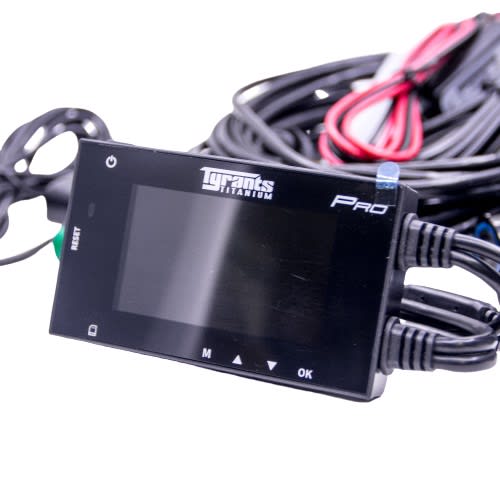 add_circle
Has app support and GPS tracker
add_circle
Lens, cable and wired remote are waterproof
add_circle
Decent daytime performance
remove_circle
Night video fails to impress
remove_circle
Battery is not as durable as a capacitor
Like dashcams for cars, a motorcycle dashcam provides visual evidence if an accident were to occur. In a more optimistic scenario, it is also great at documenting the scenery during a road trip. The Tyrants Titanium Motorcycle Pro Dash Cam is a dual-channel dashcam that has a forward-facing camera as well as a secondary camera that records footage from the rear of the bike – both record at 1080p.
Based on this video, the quality is good enough to identify license plates but its clarity is a hit-or-miss for fast-moving vehicles. It struggles during night recordings since flares from headlights and streetlight obscure the plates.
For its build quality, the camera lens, cables, and wired remote have IP67 waterproof ratings to brave the elements of strong weather. One drawback is that the DVR unit is not waterproof, so it is recommended to be placed under the seat.
Its other features include a loop recording to overwrite the recording once the memory card reaches its limit, so you won't need to think about swapping it out for a new memory card. It also has app support for downloading photos and videos, sharing media across platforms, and adjusting the dash cam's settings. Additionally, it has a built-in GPS to track your route and give you information like the total distance travelled and your average speed.
A common misconception about motorcycle dash cams is that they're powered by themselves. These types of dash cams have either a battery or capacitor, but its sole purpose is to save the last video file when you turn the bike off.
A proper dashcam like the Tyrants Titanium Motorcycle Pro Dash Cam is hardwired into the bike to automatically start and stop recording with the engine. If we were to scrutinize the choice of battery or capacitor, we're slightly disappointed that this particular dashcam went with a battery as it isn't as good at handling high heat.
---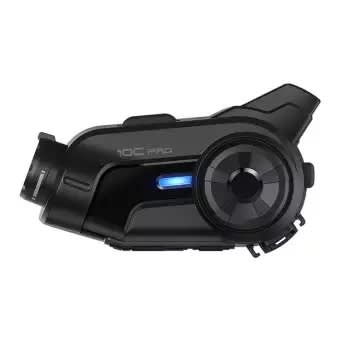 add_circle
Four-way intercom is a great and fun communication tool
add_circle
Great battery life and charging speed
add_circle
Excellent video quality
remove_circle
Intercom connection with devices from other brands is a little iffy
remove_circle
On the pricier side
The SENA 10C Pro Headset may be on the higher end of some people's budgets, but that's with good reason. This unit shoots 2K videos in QuadHD (1440P at 30 FPS or 1080P at 60 FPS) at a resolution of 3.7 megapixels and a 16:9 aspect ratio. Its 135-degree field of view works great for a helmet-mounted camera and it is recommended that you set the resolution to 1080P at 60 FPS as this seems to produce the smoothest videos.
An impressive feature of the camera is its intercom capability via built-in Bluetooth for up to four riders within 1.6 km away. Although it has universal compatibility, Jim Pruner from webBikeWorld found that the 10C Pro generally prefers connecting with SENA devices rather than other brands. The four-way intercom system allows for easier communication among riders especially if you're part of a motorcycle convoy. What's more, you can share music which the other riders as well!
As for its battery life, you should expect over two hours of usage with a camera setting of 1440P at 30 FPS. A full charge should give you about 17 hours of battery life if you restrict yourself to only listening to music, making phone calls, and music sharing with three other riders. If you have a long enough cable, the camera can also be charged while in use or you can shut it off and it will take about 3.5 hours to be fully topped off.
---
Unfortunately at the end of the day, while dash cams may be helpful to protect you through the consequences of reckless drivers, it may not be enough. Ensuring that your car is well-insured will go a long way, especially as we can never be too careful about these things.
With Sureplify, you can now browse through multiple auto insurance packages to find one that suits your needs and budget best. Have the entire process completed from search, purchase to delivery all in one go as well. Car insurance made simple indeed!
How to Choose the Right Dash Cam for Your Car
It all depends on the purpose of the dashcam; whether you want it as a fancy decorator or to capture interesting Instagram Stories-worthy footage. There is plenty of range on the shelve to choose from. Consider the size, memory space and lens angle that you prefer before purchasing — the best way is to measure your dash before getting them from the online store.
Check the lens carefully
If you are using it for casual recording, then opt for one with HD 720p. To record accidents for insurance claims, then you should get one with HD 1080p or 2K resolution. These three resolutions can capture faces, licence plates and even the car models, provided the angles are right.
Do you need a mount?
You can opt for a cam with a mount, provided your dash is spacious enough to house it. Besides, most dash cams come with mounts. Also, go for the ones without mounts if you drive a smaller car. These types are best when you lay them on your dashboard. However, you can always buy a separate mount if you ever need it.
Night vision is crucial if you often drive at night
This feature is especially useful if you often drive at night. Standard cameras might not catch clear videos compared to those with this feature. You cannot rely on street lights and headlights from other cars, hence why the night vision will come in handy when there's a need to record an accident.
Conclusion: So, is a Dash Cam Worth It?
A good quality dash cam which is equipped with top-of-the-line features comes with a hefty price tag. So, you may question if it's even a worthy investment.
Video footage from a dashcam could potentially aid in tracking down a license plate number, help you give a more accurate breakdown of the sequence of events for police reports, or pave the way for an easier insurance claim. There are also some dash cams that make driving easier as they offer advanced features like automatic motion detection, lane-change and red-light notifications, built-in GPS systems as well as wide-angle lenses.
An obvious downside of a dashcam is that may be a little distracting to some drivers. So, you should install your dashcam right behind your rearview mirror to minimize blocking the driver's field of view. Another con is that most dash cams have very conspicuous designs so they may be a target of theft.
At the end of the day, having a dashcam won't magically prevent unwanted vehicular events from occurring. But, it gives you some peace of mind to know that it's ready to back up your account of an event if something unwanted does happen. As the positives of having one outweigh the negatives, protect yourself from unfair blame with one of our recommended dash cams above.
Disclaimer: The pricing shown is just a good indication of how much these products are worth. The prices could change based on the e-commerce promotions that are going on. If some of the products are not available, do email us at [email protected] Thanks!