Recently, another dashcam video made its rounds on social media. It showed an impatient driver trying to skip traffic by veering to the opposite lane, only to get involved in a head-on collision with another vehicle. 
While these videos are entertaining to watch (so much so that there is an entire YouTube channel dedicated to dashcam videos captured across Malaysia), it opens our eyes to how dangerous the roads can be despite how careful we are as drivers. 
Probably the most important thing a dash cam can do for you is that it settles the "he said, she said" dilemma when the two or more parties involved in an accident are quick to play the blame game.
More: Checklist: 10 Must-Haves For Every Malaysian Car Owner
The Best Dash Cams in Malaysia 2023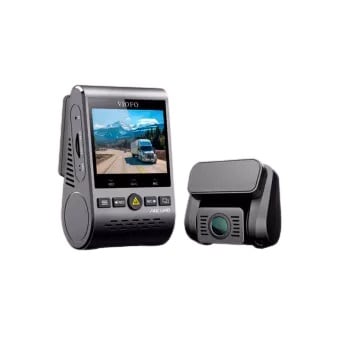 Check Viofo A129 Pro Duo Dash Cam price below:
add_circle
Top of the line 4K recording on front camera
add_circle
Impressive rear camera quality and night vision
add_circle
Has built-in WiFi and GPS
remove_circle
Lacks in advanced cloud capabilities and parking mode features
remove_circle
4K UHD chunks out tons of storage space
Night vision is the Achilles' heel in the dashcam business as most brands seem to only get daytime recording right. The key to a superior night performance is that the camera needs to have a resolution of at least 1080P and an image sensor that does a proper job of processing low light settings. 
Features:
VIOFO's A129 Pro Duo Dash Cam ticks both boxes as its front Sony Exmor R 8MP sensor records in glorious 4K UHD while the rear Sony Starvis 2MP image sensor records at 1080P FHD. Both these sensors ensure crisp day video and good night vision quality. 
The A129 Pro Duo utilizes Super Night Vision technology which minimizes noise and blurring. Additionally, the camera software has a Wide Dynamic Range feature which lets the camera accurately sense colours in very bright and very dark conditions.
A cool feature is that the camera also has built-in overheat protection. This means that if the temperature of the chipset rises above the maximum operating temperature of 65°C, it will shut down automatically to avoid heat damage. Like some of the dashcams listed here, this unit uses a capacitor instead of a battery, ensuring durability during hot days and cold nights.
Performance:
If there's any criticism to be made for its night performance, it has to be the tendency of the flare from headlights and streetlights to block out fine details like those seen on license plates. 
Check Xiaomi 70mai Dash Cam Pro Plus A500 price below:
add_circle
Has IPS display for superb viewing angles
add_circle
Great low light performance
add_circle
Has very useful features such as auto event recording & speed and location recording
remove_circle
No voice control which was something other models in the series have
Xiaomi dominates Malaysia's dashcam market as evident from the popularity of the Mi Starvis 1S Dashcam, the XiaoYi Yi, and especially the 70Mai series. The 70Mai Pro has been sold on both Lazada and Shopee and they are rated a near-perfect 4.9/5 by users. Now, Xiaomi has upgraded the Pros to bring you the Xiaomi 70Mai Pro Plus.
Features:
Aside from maintaining a small body size which eliminates the chances of it being a distraction to the driver, a step up to the 70mai Pro Plus is its 2-inch IPS display which offers better viewing angles compared to the TN display in the Pro version.
Yes, you can download the 70Mai app to connect the camera over Wi-Fi. This means that you can watch the video footage on your phone in real-time as well as transfer and share video clips.
This car camera records videos in 2592 x 1944 pixels QHD which are a high enough resolution to read license plate numbers of the vehicles around you. Not to mention; the lens has a 140-degree field of view which is sufficient to catch the action on the road. 
The Xiaomi 70mai Dash Pro Plus has been blessed with great low light performance thanks to its Sony IMX335 sensor and wide aperture. However, night footage may reveal some halos around light sources like headlights and street lighting.  
Additionally, the Pro Plus has some upgrades from the usual 70mai Pro such as built-in GPS, auto time calibration, time-lapse photography and automotive event recording.
Performance:
The 70Mai Pro comes with a car charger so it's easy to maintain in terms of its battery life. With features like 24-hour surveillance, speed and location recording as well as Parking Surveillance Mode which enables recordings when motion is detected while the car is switched off; this dashcam is rich with features!
Unfortunately, it doesn't have voice control which was something the Pro model has. 
More: You Can Turn Your Smartphone Into a Dash Cam With These 8 Apps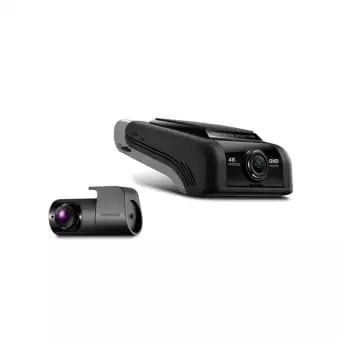 Check Thinkware U1000 price below:
add_circle
Crisp video footage on both front & rear
add_circle
Useful parking mode
add_circle
Plenty of extra features
remove_circle
The size of the front camera is conspicuous
If you're looking for one of the best dash cams on the market right now, look no further than the Thinkware U1000. It checks all the boxes for the perfect dash camera at a premium price. 
Features:
First of all, the front camera can record in either full 4K at 30 FPS or be dropped to 2K at 60 FPS. The former setting records with incredible crystal-clear, movie-like quality while the latter option is a better fit for capturing license plate numbers while vehicles are in motion. Bear in mind that 4K footage files will require a larger capacity memory card. On the other hand, the rear camera records in full 2K which is a rare find among rear cameras. 
For 24/7 connectivity and control, you can connect your mobile device to the U1000 with its built-in Wi-Fi via the THINKWARE Cloud app. With this app, you'd get to view the videos remotely, change the camera settings, download video footage to your mobile device directly, and enable push notifications.
Performance:
The combination of its useful parking mode and impeccable night vision gives you some peace of mind when your car is parked at night. Its parking mode ensures that the camera only starts recording when there is a collision or any detected motion around the car. Alternatively, you can enable the time-lapse mode so the camera records continuously at a lower frame rate. 
True to its premium price tag, the U1000 is equipped with a built-in GPS. This means that the video footage is stamped with accurate coordinates and the speed of the car. Another plus point is that the dashcam is powered by a capacitor instead of a battery so it can withstand the heat and the cold a lot better.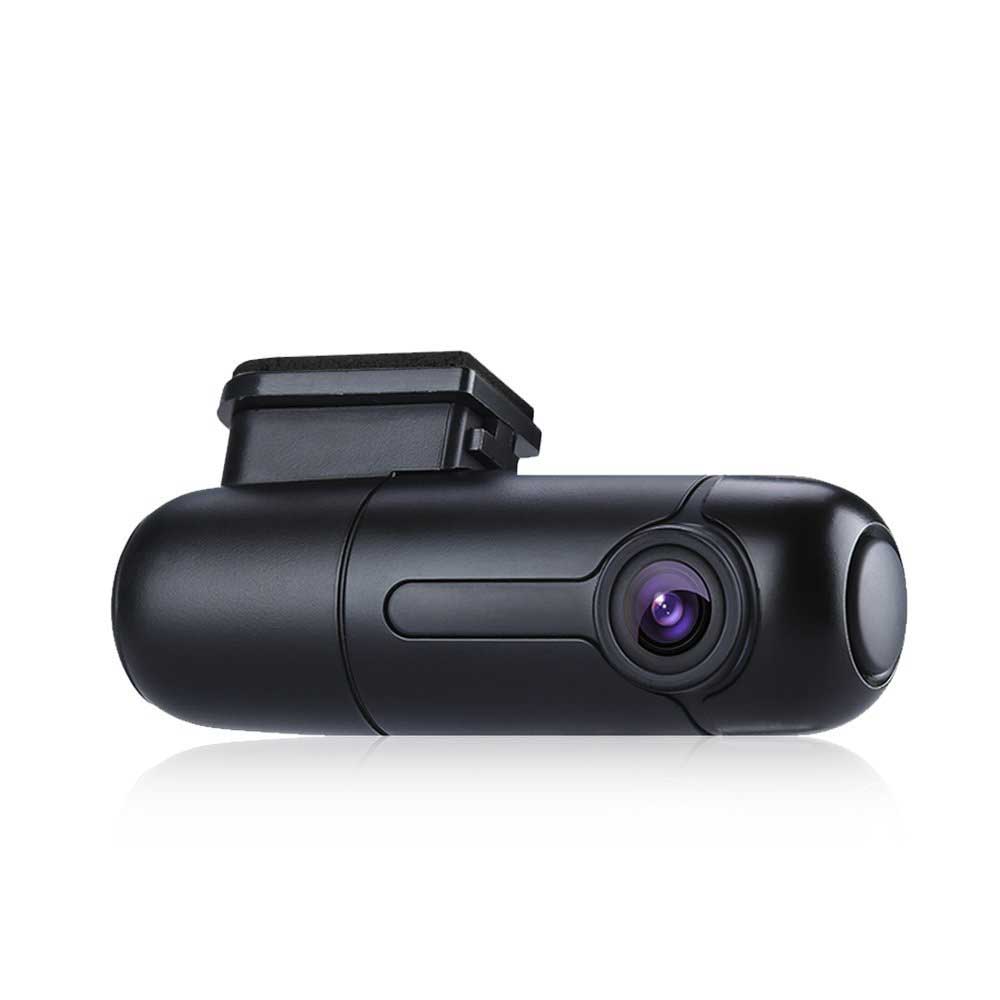 Check Blueskysea B1W price below:
add_circle
Stealthy design
add_circle
Versatile 360 degree rotatable camera body
add_circle
Uses a capacitor so it handles heat better
add_circle
Very affordable
remove_circle
Built-in Wi-Fi may have connection issues
remove_circle
Poor number plate legibility under certain lighting
In the market for a discreet dash camera for your car? You'll want to check out the Blueskysea B1W dash camera.
Features:
On top of its 150-degree wide-angle view, the B1W has a 360° swivel design which allows the camera to be fully rotated around its lateral axis. This means you can easily turn it to record what's happening inside the car. 
The B1W also records at a decent 1080P and the video quality is good in the daytime while it's only average at night. As shown in this video, you can clearly see what's happening on the road, but the quality is a little blurry in certain areas and you can't always read the license plates.
This unit uses dual capacitors instead of a lithium battery. As capacitors are better at handling higher temperatures, the camera won't overheat or turn off, making it a safe choice for our hot Malaysian weather.
Performance:
Unlike most of the dash cams featured here, the Blueskysea B1W does not have an LCD screen that results in a slim and compact form. This contributes to the camera's stealthiness to avoid drawing attention from passersby.
Due to the lack of screen, however, you wouldn't be able to watch videos on the dashcam. You'd need to transfer the videos from the memory card to a phone or computer via Wi-Fi and watch the videos there. 
dashcameras.net reports that this dash cam's Wi-Fi speed was relatively slow and their experience was marred by not only frequent disconnections but also difficulties with reconnecting. Do take note that the camera settings configuration is also done via Wi-Fi by using a compatible smartphone app.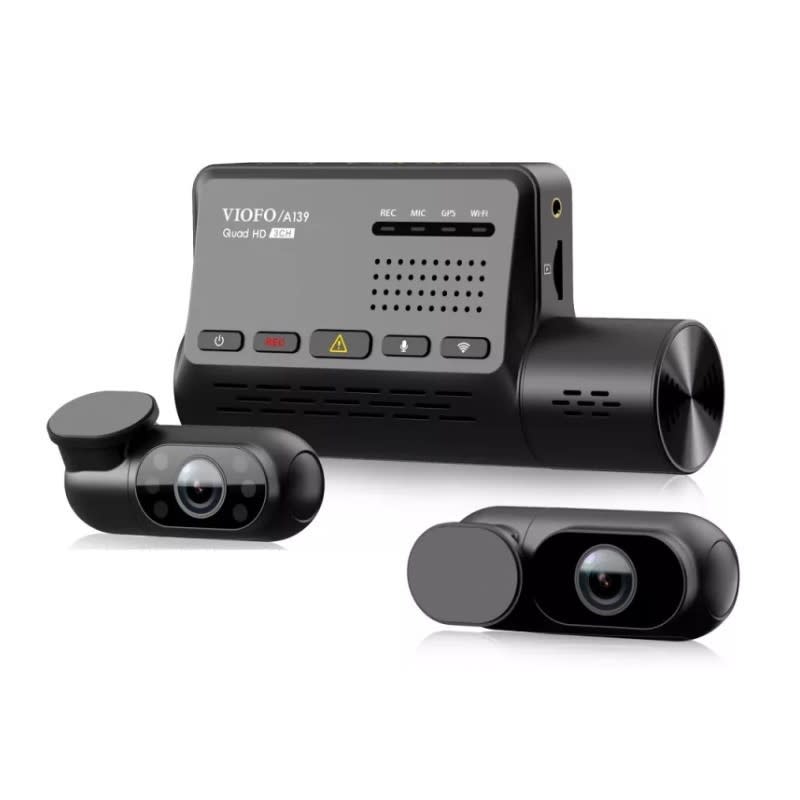 Check Viofo A139 3 Channel Dash Cam price below:
add_circle
Three bodies for more varied placement options
add_circle
Great night mode
add_circle
Stealthy design
remove_circle
No onboard display
remove_circle
Only 2K recording
A three channel dash cam is almost essential for any Grab or taxi drivers looking for an ease of mind when transporting their passengers. Any mishaps that occur, whether in front, behind, or even within the car, can be recorded and used as proof.
Overview
The Viofo A139 3 Channel Dash Cam comes with three cameras; one to be placed in front, one in the rear, and one directed at the car's interior. Recording at a 2K resolution, the front facing camera produces sharp videos, while the rest of the camera records at 1080p. 
Each of the cameras come in three separate bodies, allowing more flexibility in your placement. They are also equipped with a Sony Starvis sensor, meaning that not only are the cameras sharp, but they also work in a variety of lighting conditions. 
There are also parking features on the cameras. For instances, the cameras will either turn on if they detect an impact or continuously taking a time lapse when the car is parked. In terms of battery, the cameras uses a USB-C cable for charging, but the new proprietary connecting cable for the interior and rear cameras isn't compatible with older Viofo models
Performance
Thanks to the Sony Starvis sensor, the recordings produced are sharp and clear, in both day and night. Although not as sharp as a 4K dashcam, the three cameras will be consuming a lot of storage in a rather short amount of time, so opting for a 2K resolution is ideal, especially for a rideshare driver who'd spend most of their time driving. 
However, the lack of an onboard screen for the dashcams is an obvious weakness, though the recordings can be accessed through the use of an app. It isn't really anything to write home about, but compared to other dashcam apps, it's decent.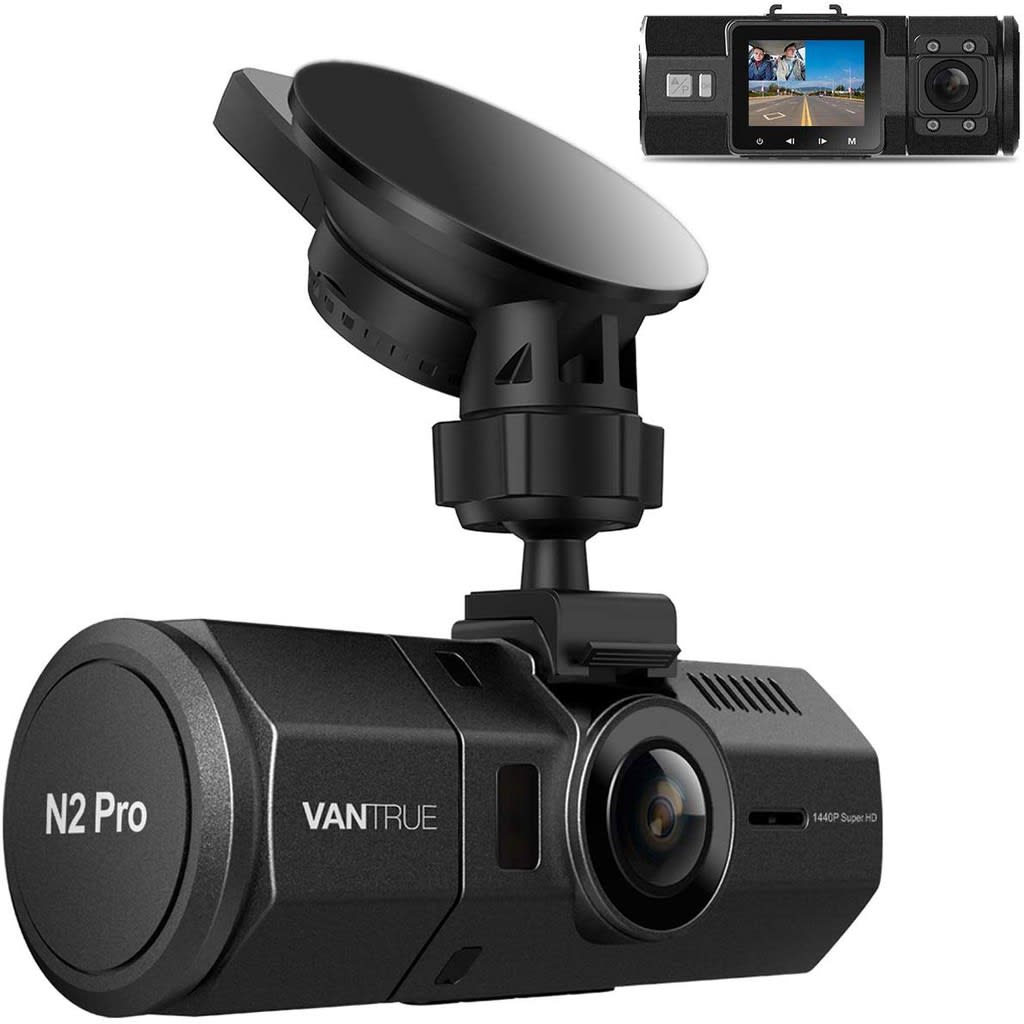 Check Vantrue N2 Pro price below:
add_circle
Great front and interior recording quality
add_circle
24-hour parking mode provides additional protection
add_circle
Infrared lights for low light recording of car interior
remove_circle
Night recording is not very sharp
If you're looking for a step up in video quality from the run-of-the-mill dual dash cams, then the Vantrue N2 is just one of the few dash cams on the market today that offers full HD video on both the front and interior facing cameras. 
Features:
You can choose to record from either the forward camera only at 1440P or the front and rear cameras at 1080P each. The image quality of the front camera which features a wide 170-degree field of view produces images with good colour and contrast for both day and night footage. 
The rear camera has a 140-degree field of view which is wide enough to fit the people in both the front and rear seats into the frame. Additionally, there are four infrared LED lights surrounding the rear camera lens that illuminates the cabin in dark conditions. A tiny nitpick of this feature is that these LEDs produce a grayscale image rather than a coloured one.
Moreover, it has an incredibly useful 24-hour parking mode that uses motion sensors to detect activities occurring in front of or behind the car. Once the sensors are triggered by motion or collision, the camera switches on to start recording.
Performance:
The downside to its parking mode is that the camera requires a permanent power supply to be active due to the limits of its 250 mAh battery. To circumvent this issue, you'd need to fork out more cash for either an external battery pack or a special hard-wiring kit to connect the N2 Pro to the car battery.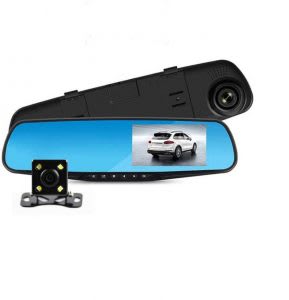 Check GOQ D208 Dual Camera Dash Cam price below:
add_circle
Very affordable price
add_circle
Decent daytime recording
add_circle
Useful reverse mode
remove_circle
Not suitable for night recording
If you want a simple, no-fuss dual dash cam with Full HD video recording, the GOQ D208 is a great option to consider. Unfortunately, the sub RM100 price means that you'd have to compromise on certain features like the lack of a built-in Wi-Fi and a GPS tracker.
Features:
For what it's worth, the D208 is equipped with the essentials like a motion detection sensor which enables the camera to automatically record when there is movement in front of the lens while the car is in standby mode. Moreover, there's also a reverse system that shows rear camera footage on the LCD screen of the dashcam whenever the car is in reverse – super useful for reverse parking. 
Its front camera can either film in 1080P or 720P at 25 frames per second, and its rear camera has a resolution of 640 x 480 pixels at 25 FPS. Video quality is decent enough, but it pales in comparison to the more expensive options. 
Performance:
Many users on Lazada also expressed their disappointment at its night recording quality, so it's best to avoid this dash cam if you do a lot of night driving. As the rear camera is installed in the vicinity of the license plate, it's great that it has an IP67 waterproof rating for durability.
More: Have Worry-Free Journeys with These 8 Affordable Dash Cams Under RM150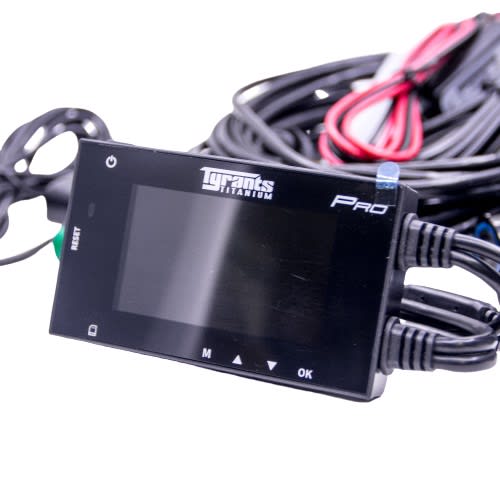 Check Tyrants Titanium Motorcycle Pro Dash Cam price below:
add_circle
Has app support and GPS tracker
add_circle
Lens, cable and wired remote are waterproof
add_circle
Decent daytime performance
remove_circle
Night video fails to impress
remove_circle
Battery is not as durable as a capacitor
Like dashcams for cars, a motorcycle dashcam provides visual evidence if an accident were to occur. In a more optimistic scenario, it is also great at documenting the scenery during a road trip. As such, fellow motorists can opt for a reliable option like the Tyrants Titanium Motorcycle Pro Dash Cam
Features:
This model is a dual-channel dashcam that has a forward-facing camera as well as a secondary camera that records footage from the rear of the bike – both record at 1080p. 
For its build quality, the camera lens, cables, and wired remote have IP67 waterproof ratings to brave the elements of strong weather. One drawback is that the DVR unit is not waterproof, so it is recommended to be placed under the seat. 
Its other features include a loop recording to overwrite the recording once the memory card reaches its limit, so you won't need to think about swapping it out for a new memory card. There's also app support for downloading photos and videos, sharing media across platforms, and adjusting the dash cam's settings.
Additionally, it has a built-in GPS to track your route and give you information like the total distance travelled and your average speed.
A common misconception about motorcycle dash cams is that they're powered by themselves. These types of dash cams have either a battery or capacitor, but their sole purpose is to save the last video file when you turn the bike off.
Performance:
Based on this video, the quality is good enough to identify license plates but its clarity is a hit-or-miss for fast-moving vehicles. It struggles during night recordings since flares from headlights and streetlights obscure the plates. 
A proper dashcam like the Tyrants Titanium Motorcycle Pro Dash Cam is hardwired into the bike to automatically start and stop recording with the engine. If we were to scrutinize the choice of battery or capacitor, we're slightly disappointed that this particular dashcam is made with a battery as it isn't as good at handling high heat.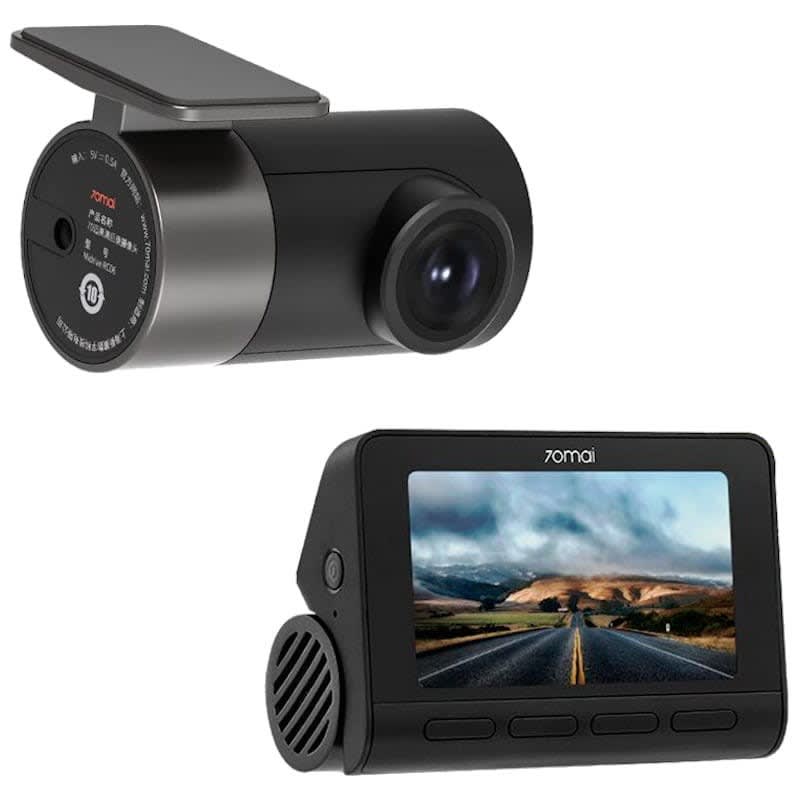 Check 70mai A800S + RC06 price below:
add_circle
Affordable price for a front and rear dash cam
add_circle
Sharp 4K video on the front cam
remove_circle
Rearview camera only records at 1080p
The 70mai A800S dash cam already allows for some really sharp 4K recording, but paired with the 1080p RC06 rear camera, they make a killer pair.
Overview
Recording at a crisp 4K resolution, the A800S uses the Sony Starvis sensor to capture detailed videos in both bright and dark lighting. The size is a bit bigger than your generic dash cam, but due to the unique shape of the device, it blends well into the front view window. There is a 3 inch screen on the device, as well as a built-in GPS.
The RC06 rear view camera is an optional accessory for the A800S. It is powered by a Fullhan processor and has a Galaxycore sensor. While its 1080p footage isn't the sharpest but compared to other rear view cameras, it is more than acceptable. 
Performance
70mai's A800S is a dash cam that isn't exactly tiny, but it won't stick out too much on the front of your window either. The electrostatic sticker on the device allows for easy removal and reattachment without leaving residue on the glass. 
There is parking mode that auto records whenever it detects an impact on the vehicle. In addition to this, there is also an app available for your smartphone to instantly download the video onto your device for easier viewing.
Installed into the cam is Advanced Driver-Assistance Systems, or ADAS, which is a security feature that helps drivers detect their surroundings and notifies with warnings when it comes to traffic dangers. In practice, however, several users mentioned that the detection is flimsy and is better left turned off instead. 
Top 3 Best Selling Dashcams in Malaysia - March 2023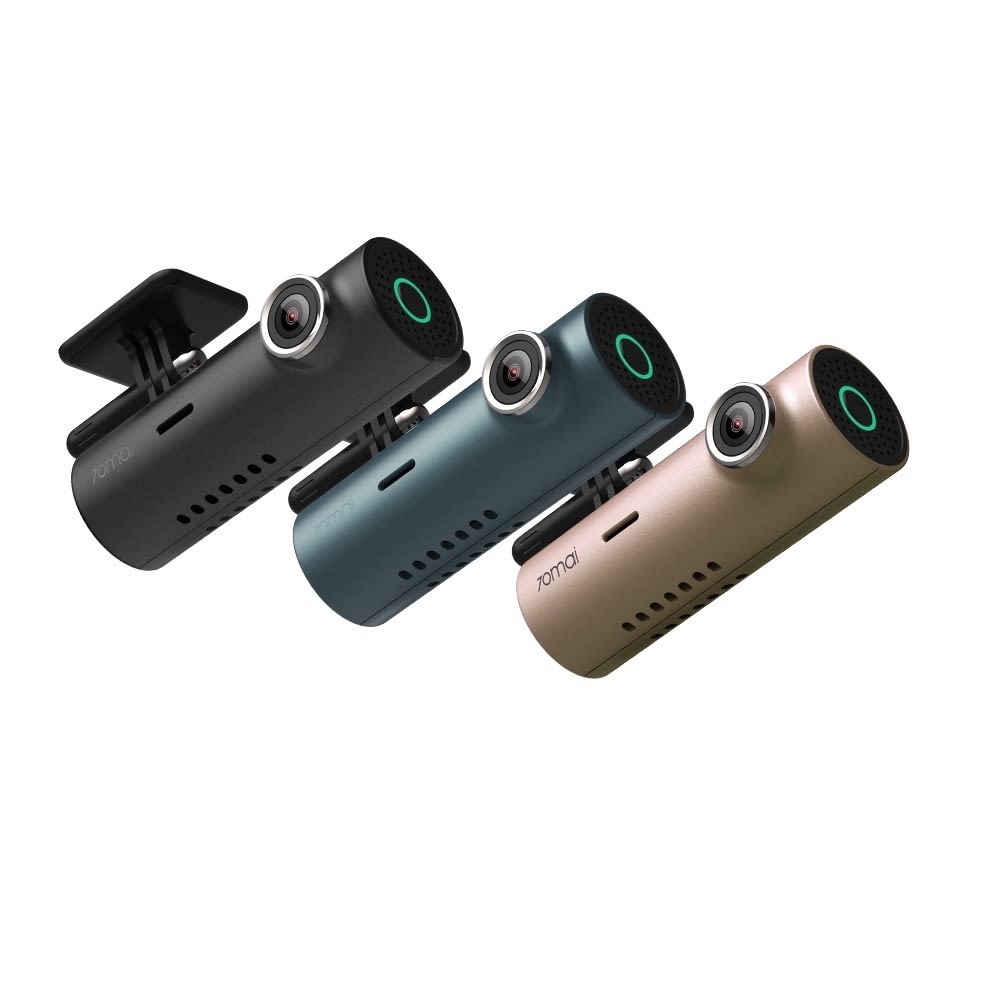 Check 70mai Dash Cam M300 price below:
add_circle
Great, slim design
add_circle
Wide field of view of 140 degrees
add_circle
A number of colour choices to fit your aesthetic
remove_circle
No onboard screen
Overview
Shooting at a max resolution of 2304x1296, the 70mai M300 ensures sharp, crisp footage that can easily let you see all the necessary info you need. With a wide field of view of 140 degrees, as well as its superb night vision mode; all of those mean that the dashcam can capture every part of the action.
Details
App control with real-time preview and the ability to download footage to device

140 degree field of view to cover all three lanes of traffic, and more

24 hour parking surveillance mode for constant security
Who is this for?
One of the biggest selling points of the M300 comes from its multi-varied option for colour. 
You can choose the right colour to fit the aesthetic of your interior, whether that is Black, Navy, or even Rose Gold. It's a capable little machine in a pretty body, which is perfect for anybody that doesn't want to sacrifice their car aesthetic for the sake of a dash cam.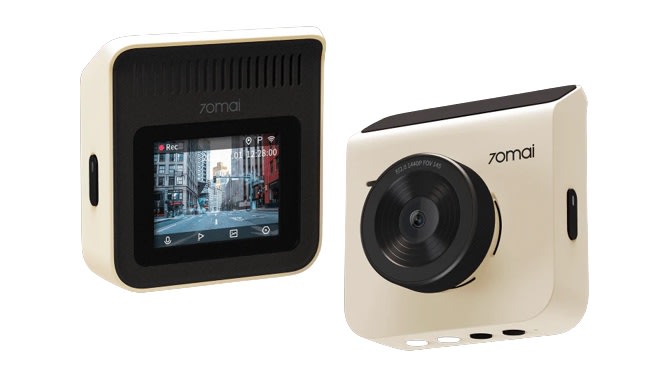 Check 70mai A400 price below:
add_circle
Sharp 1440p resolution
remove_circle
No adjustability for stand
Overview
The 70mai A400 records in a solid QHD resolution, capturing every essential detail with ease. The 2-inch IPS panel allows you to view the recording at any time, but you can still use your phone and download footage straight to it through its proprietary app.
The wide aperture lens allows for greater night vision mode, while its WDR technology adjusts the color and image to prevent it from overexposing or underexposing.
Details
Enhanced night vision with the F2.0 aperture

24 hour parking surveillance

Seamless rear cam support
Who is this for?
The A400 almost looks like a toy with how small the size is. Even so, it still has a solid 2-inch IPS panel, something most dashcams of this size lack. It's great for people who don't feel like they want a lot of viewing space taken up when they're driving. Unfortunately, the A400 could only have achieved this size by removing an adjustable stand, meaning there's no room for adjustability once you place it.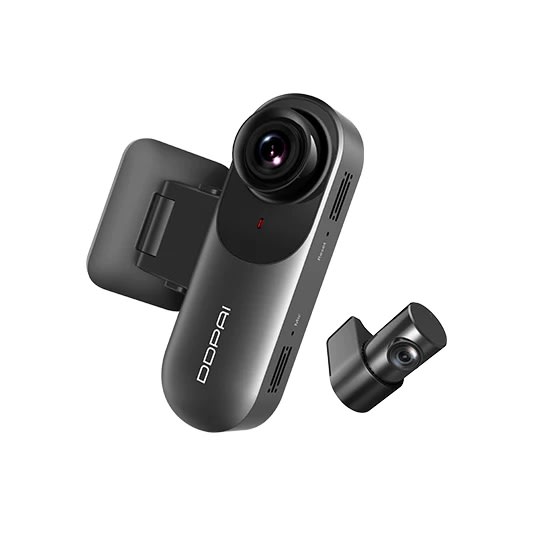 Check DDPai Dash Cam Mola N3 price below:
add_circle
Accurate GPS function
add_circle
2560x1600 resolution at 30fps
remove_circle
Bit pricey due to the GPS function
Overview
The Mola N3 has one thing separating it from a lot of other dash cams out there; its GPS capability. 
With it, you can accurately track your location and use it to help you navigate through the streets, as well as recording your driving routes and speed. It certainly helps to have the most information possible when it comes to your dash cams. 
Beyond that, there's a pretty solid dashcam attached to it as well. It records at a detailed 2560x1600 resolution at 30fps, with a wide angle field of view of 140 degrees. There's also an infrared night vision mode for low light conditions, as well as a 24 hour parking monitor.
Details
Wide F1.8 aperture lens for enhanced low light performance

Precise GPS capability

HISILICON Chipset
Who is this for?
A GPS on a dash cam is definitely a niche feature, but for anyone that needs one, you certainly can't go wrong with the DDPai Mola N3. With solid accurate tracking, as well as being a superb dashcam overall, it's hard not to recommend this to anyone looking for a dashcam with GPS.
---
Comparison Table for Best Dash Cams in Malaysia
Product Picture

Product Name
Viofo A129 Pro Duo Dash Cam
Xiaomi 70mai Dash Cam Pro Plus A500
Thinkware U1000
Blueskysea B1W
Viofo A139 3 Channel Dash Cam
Vantrue N2 Pro
GOQ D208 Dual Camera Dash Cam
Tyrants Titanium Motorcycle Pro Dash Cam
70mai A800S + RC06
Specialty
Best value - 4K dash cam with good night vision
Best-selling dash cam on Lazada & Shopee
Best premium dash cam
Best mini dash cam for car
Best 3-channel dash cam - greatfor Grab/rideshare drivers
Best premium, high-end dual dash cam with parking mode feature
Best budget, below RM100 dual dash cam - with FHD 1080p
Best motorcycle dashcam
Best front and rear dash cam
GPS
Built-in mount
Built-in
Built-in
None
Built-in mount
Mount sold separately
None
GPS Antenna Location Recorder
Built-in
Resolution
4K UHD + 1080P FHD
1944p QHD
4K UHD + 2K QHD
1080p FHD
2K 1440p QHD + 1080p FHD + 1080p FHD

Dual: 1080p

Single front: 1080p or 1440p

1080p FHD + VGA 480p
1080p + 1080p
4K UHD
Storage
Micro SD up to 256GB
Micro SD up to 128GB
Micro SD up to 128GB
Micro SD up to 64GB
Micro SD up to 256GB
Micro SD up to 256GB
Micro SD up to 32GB
Micro SD up to 256GB
Micro SD up to 128GB
Sensor
Sony Exmor R 8MP Sensor (Front) + Sony Starvis 2MP Sensor (Rear)
SONY IMX335
Sony Exmor R 8MP CMOS (Front) + Sony Exmor R CMOS 5MP (Rear)
Novatek GM8135S + Sony IMX323
Sony Starvis
Sony Sensor
-
-
Sony IMX415 CMOS
Product Links
---
FAQ:
- What is the best position for a dashcam?
There are a few factors when taking into account where to place your dashcam. 
The first thing we need to ask when placing it, is does it obstruct the driver's view? This generally means we should place it either on the passenger side of the window, or on the top corner of the driver's seat. It allows the driver to have a clear view of vision without a massive camera obstructing his view.
The second factor is to look at the dash cam itself. If the dashcam has a dual camera, meaning it records both the front of the car and its interior, then we can't place it in front of the rear view mirror. 
If it is a two or three channel dash cam system, the long cables that connect the other cameras to the main dashcam might be a distraction for the driver. This means placing it near the top of the car, where the cable can be hidden in the car's lining. 
Viewing angle has to be considered as well, as the wide field of view of a dashcam can mean you might be capturing more of your car's hood than the road. This is especially true for dashcams without an onboard screen, as there is no way to know what is actually being captured without going through the dashcam's app to see. 
For motorcycles, there isn't really anywhere to put a dashcam other than the front and back of your bike. New buyers might worry about leaving these dash cams out in the open and exposed to the elements but they are actually designed with this in mind. This makes them tougher, more resistant to water, and shockproof, especially when compared to their car counterparts.
---
- Does a Dashcam Work When the Car Engine is Off?
Dashcams start recording automatically once the ignition is turned on and will stop the moment the engine is off. Higher-end models have a parking mode that lets the camera record while the engine is off but needs to be either powered by an external battery pack or a hardwire installation into a fuse box. Unfortunately, those that operate on just a cigarette lighter cable won't be able to run parking mode. 
---
- How to Choose the Right Dash Cam for Your Car
It all depends on the purpose of the dashcam; whether you want it as a fancy decorator or to capture interesting Instagram Stories-worthy footage. There is plenty of range on the shelves to choose from.
Consider the size, memory space and lens angle that you prefer before purchasing — the best way is to measure your dash before getting them from an online store.
Check the lens carefully:
If you are using it for casual recording, then opt for one with HD 720p.
To record accidents for insurance claims, then you should get one with HD 1080p or 2K resolution.
These three resolutions can capture faces, licence plates and even car models, provided the angles are right.
Do you need a mount?
You can opt for a cam with a mount, provided your dash is spacious enough to house it. Besides, most dash cams come with mounts.
Also, go for the ones without mounts if you drive a smaller car. These types are best when you lay them on your dashboard.
However, you can always buy a separate mount if you ever need it.
Night vision is crucial if you often drive at night:
This feature is especially useful if you often drive at night. Standard cameras might not catch clear videos compared to those with this feature.
You cannot rely on street lights and headlights from other cars, hence why the night vision will come in handy when there's a need to record an accident.
---
Conclusion: So, is a Dash Cam Worth It? 
A good quality dash cam that is equipped with top-of-the-line features comes with a hefty price tag. So, you may question if it's even a worthy investment. Here's what we think.
Video footage from a dashcam could potentially aid in tracking down a license plate number, help you give a more accurate breakdown of the sequence of events for police reports, or pave the way for an easier insurance claim.

There are also some dash cams that make driving easier as they offer advanced features like automatic motion detection, lane-change and red-light notifications, built-in GPS systems as well as wide-angle lenses.

An obvious downside of a dashcam is that may be a little distracting to some drivers.

So, you should install your dashcam right behind your rearview mirror to minimize blocking the driver's field of view.

Another con is that most dash cams have very conspicuous designs so they may be a target of theft.
At the end of the day, having a dashcam won't magically prevent unwanted vehicular events from occurring. But, it gives you some peace of mind to know that it's ready to back up your account of an event if something unwanted does happen.  As the positives of having one outweigh the negatives, protect yourself from unfair blame with one of our recommended dash cameras for cars above.
Note: Try Sureplify, where you can browse through multiple auto insurance packages to find one that suits your needs and budget best. Have the entire process completed from search, and purchase to delivery all in one go as well. Car insurance made simple indeed!
---
Related articles