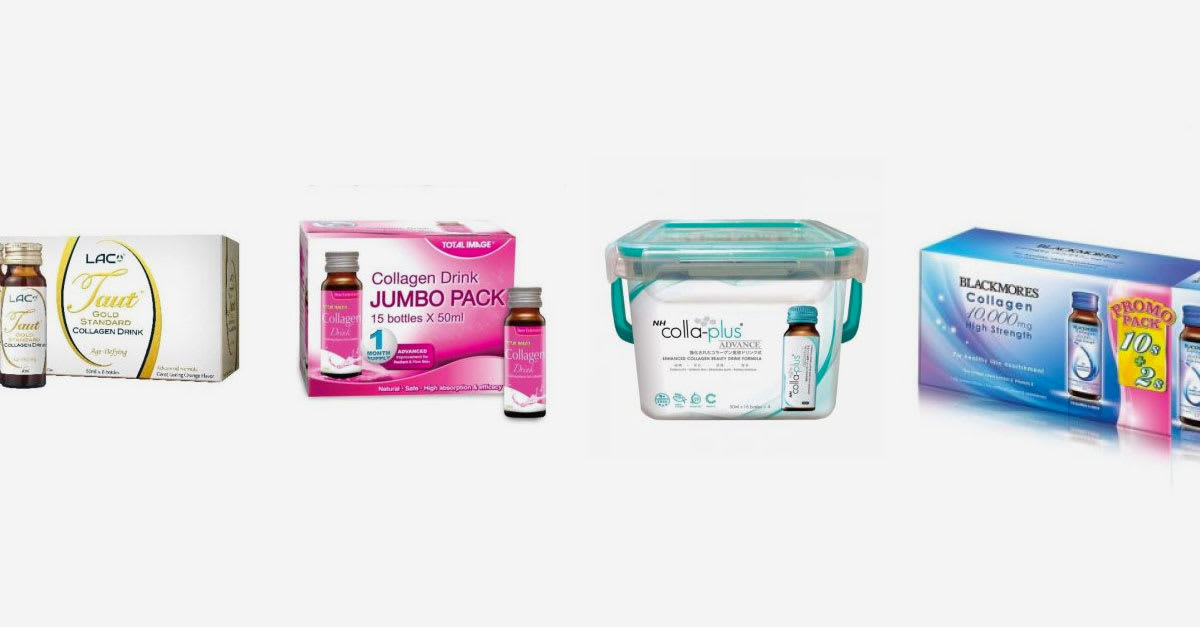 Collagen is a type of protein found in our body which gives our skin the youthful glow and elasticity that we love. Unfortunately, as we age, the production of collagen depletes. Cosmetic procedures can help boost collagen back to our bodies, but a more feasible method would be consuming collagen drinks!
By consuming collagen, it can directly provide your body with the essential amino acids it needs to repair connective tissues of the skin and help kickstart the production of collagen again. Looking to have beautiful and firm skin? Check out this list of the top collagen drinks available on the market!
9 Best Collagen Drinks in Malaysia 2019
Kinohimitsu Japan Collagen Diamond 5300 Drink

BEAUXLIM Collagen Mix with Pomegranate

BLACKMORES Collagen 10000mg High Strength

LAC Taut Collagen Drink

Total Image Collagen Drink

Kinohimitsu Collagen Active

Meiji Amino Collagen Powder Premium

Kinohimitsu Beauty Drink

NH CollaPlus Advance
Best hydrolyzed collagen from Japan
Price from RM177.00
Hydrolysed collagen, also known as collagen peptides, are more easily absorbed by your body compared to collagen. The Collagen Diamond 5300 Diamond Drink contains collagen peptides with a shorter molecular structure for better absorption. It helps to promote collagen production and reduce the appearance of wrinkles and skin dryness.
11 people added this to their wishlist
Best collagen plus vitamin C
Price from RM64.99
The BEAUXLIM Collagen Mix with Pomegranate can give you an instant vitamin C fix. Packed with punicalagins, this pomegranate-derived peptide is high in antioxidants, vitamin C and D to protect and repair your skin from sun damage.
10 people added this to their wishlist
Best fish collagen for skin
Price from RM95.12
This collagen drink from BLACKMORES uses a high-quality fish collagen extraction technique to provide your skin and body with the nourishment and protein it needs, without the fishy taste! It also contains grape seed extract and vitamin E to promote skin regeneration and fight free radicals for a youthful glow.
6 people added this to their wishlist
Best collagen facial with hyaluronic acid
Price from RM223.76
For youthful and hydrated skin, the LAC Taut Collagen Drink is your best bet. It's made with collagen derived from fish, shark cartilage extract, hyaluronic acid and vitamins to moisturise the skin from within. The rich content of amino acids helps to repair and restore the skin barrier to reveal youthful skin.
3 people added this to their wishlist
Best collagen drink for joints
Price from RM89.90
Packed with 5000 mg marine fish collagen, the Total Image Collagen Drink reduces the appearance of fine lines, saggy skin and undereye bags to promote a youthful outlook. By consuming it long term, it will also strengthen the quality of your hair, nails and joints!
3 people added this to their wishlist
Best collagen supplements for skin and hair
Price from RM39.90
Dealing with brittle nails, split ends and dull skin? The Kinohimitsu Collagen Active is a sugar-free collagen drink that fixes that! Formulated with marine collagen, camu-camu and wheat dextrin, this drink will give you radiant and healthier looking skin and stronger hair.
9 people added this to their wishlist
Best amino collagen with protein
Price from RM153.00
Raved and hyped by many beauty enthusiasts, the Meiji Amino Collagen Powder Premium is your shortcut to beautiful and young skin. It's packed with amino acids and protein like marine collagen, arginine, coenzyme Q10 and hyaluronic acid to restore the skin's vitality and fight aging!
5 people added this to their wishlist
Best collagen drink for whitening
Price from RM88.00
Get young and bouncy skin with Kinohimitsu Beauty Drink. Infused with perilla seed extract, malic acid and silk protein, this marine collagen drink effectively delivers firmer and brighter skin. This vitamin C packed drink will lighten scars, hyperpigmentation and uneven skin tone!
7 people added this to their wishlist
Best marine collagen
Price from RM120.75
The NH CollaPlus Advance is made and fortified with 6000 mg of marine collagen, Phyto cell and sea buckthorn concentration to improve the appearance of the skin. It boosts the skin repairing process and skin regeneration for a firm and supple skin due to the high content of antioxidants. It also brightens the skin's complexion and scars to reveal a fairer skin tone.
4 people added this to their wishlist
Disclaimer: The pricing shown is just a good indication of how much these products are worth. The prices could change based on the e-commerce promotions that are going on. If some of the products are not available, do email us at [email protected] Thank you!