There is no questioning the importance of having a refrigerator in every household. It is a sizeable investment so choosing the perfect one is not a decision that should be taken lightly. However, just like almost every other appliance, there are one too many brands to choose from. You're in luck, though, because we've done the research and found the top 10 refrigerators of the year worth taking a look at.
What types of fridges are there on the market?
Top-Freezer Refrigerators
Top-freezers are the most common fridge type in most households. This type offers the most storage for its size and costs the least. However, since the freezer is at eye level, frequent bending is required to access the contents of the refrigerator.
Bottom-Freezer Refrigerators
As the name suggests, bottom-freezers refrigerators are the opposite of their top-freezer counterparts. They keep refrigerator items within easy reach, but you may need to bend or squat to access the freezer. As this fridge type makes it easier to reach essentials, it is the better choice for those with elderly persons in the household.
French-Door Refrigerators
French-Door refrigerators have two doors standing side by side that open out from the middle to reveal the refrigerated compartment. Because of this layout, the freezer is located at the bottom of the unit. Many French-door refrigerators also have smart technology, making these the popular choice for those with more budget to spare.
Side-by-Side Refrigerators
Side-by-side refrigerators have doors that swing out sideways. Unlike French door refrigerators, which feature a horizontal freezer compartment underneath the large doors, the side-by-side models are split in half with the freezer located to the left of the fridge. Side-by-side options are ideal for narrow kitchens but are the least space-efficient inside.
Compact Refrigerators (Mini Fridge)
This smaller refrigeration unit provides individuals with a great degree of portability at the expense of many basic functions. We wouldn't recommend purchasing a mini-fridge for your home unless it's for your room or if you're a student living away from your parents.
Built-in Refrigerators
Though not as common as freestanding fridges, built-ins are the go-to for those renovating their home for a more custom look. Built-ins align with the kitchen cabinetry so it does not protrude from them, which results in a clean, sleek, and high-end appearance.
Now that you have an idea of the various styles and configurations that a refrigerator may feature, check out our picks of some of the best refrigerators that will meet your needs.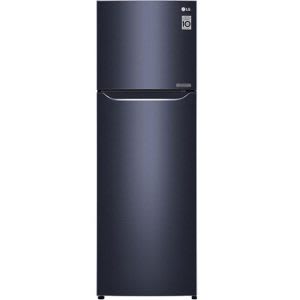 add_circle
Fast and even cooling
add_circle
Energy-efficient
add_circle
Long duration of compressor warranty
remove_circle
Other cheaper options available for the same capacity
The LG GN-C372SXCC does not hold back when it comes to its cooling prowess. In a conventional fridge, it is typical for the doors of a compartment to be at a warmer temperature compared to the inner part. LG DoorCooling+ bridges the gap between the temperatures of these two areas so that your stored items are evenly and quickly cooled.
As the freshness of food items hinges on a steady temperature, it's important that the fridge's temperature doesn't fluctuate often. This unit's LINEAR Cooling ensures that temperature fluctuation never exceeds ±0.5 degrees Celsius so that freshness will never be a concern.
To be honest, for its 330L capacity, there are cheaper options on the market. Nevertheless, this 2-door refrigerator by LG proves its money's worth by offering an inverter linear compressor that uses fewer components than a conventional compressor, hence generating lesser noise.
What we probably love most about this refrigerator is its 5-star rating for energy efficiency, so expect to save a ton on your energy bill! There's also a one-year general warranty and 10-year compressor warranty to boot. Most bang for your buck indeed.
---
add_circle
Plenty of compartments
add_circle
Features-galore
add_circle
Inverter compressor
add_circle
Energy-efficient
remove_circle
Shorter warranty considering price
Large families may gravitate to the Sharp SJF858VMBK as it offers generous space for storing food items as well as plenty of designated compartments. Its fridge section features a pillarless design so you get to store wide items of up to 78 cm without any hindrance.
The fridge's exterior features an elegant design that would be a great addition to any kitchen. Furthermore, it utilises J-Tech Inverter Technology which claims to save energy by up to 77%. This means great savings in your electricity bills!
Its ActiFresh Hybrid Cooling Technology helps prevent excessive dryness, uneven cooling, and also overcooling so that your food stays fresh at all times. There are also two fresh room compartments with the Extra Cool Mode that can reach temperatures of 0 to 2 degrees Celsius – perfect for enjoying a chilled drink or some cold fruit. Besides, express freezing allows you to make ice cubes in as quick as 93 minutes, which is much faster than conventional freezers.
Unfortunately, the general warranty is only for one year while there is no information on the duration of the compressor warranty.
---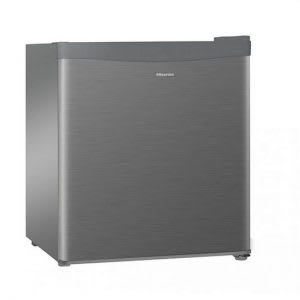 add_circle
Compact size Very affordable price
add_circle
Very affordable price
add_circle
Reasonable length of warranty considering price
remove_circle
Unadjustable shelves
remove_circle
No freezer compartment
The Hisense 60L Mini Fridge Mini Bar RR60D4AGN's compact size makes it very suitable to keep snacks and drinks cool in your dorm room, office, or bedroom. But, do keep in mind that this fridge isn't a good pick if you cook often as it doesn't have a large enough capacity.
This fridge operates at less than 45dB, which isn't too noisy but is within the typical noise range (32dB to 47dB) for refrigerators. If you're planning to place this unit in your bedroom, this might be something you'd want to consider. On the contrary, the fridge stands on height-adjustable legs for easier height modification.
Something to take note of is that there is no designated freezer compartment. You'd have to manually adjust the temperature accordingly by using the adjustable thermostat. This is the only way to convert the fridge into a freezer. Moreover, the shelves are not adjustable so it might be a challenge to make the most of its 60L capacity.
A little bonus is that this mini-fridge comes with a lock and key for privacy. Perfect if you have self-assertive roommates or colleagues that help themselves to your food and drinks. For the most part, this mini bar has received rave reviews from the hundreds of users on Shopee and Lazada.
---
add_circle
Plenty of compartments
add_circle
Features-galore
add_circle
Inverter compressor
add_circle
Energy-efficient
remove_circle
Shorter warranty considering price
French door refrigerators are laden with lots of fancy features, but at a cost. If you have a larger or more flexible budget to spare, consider The Hitachi R-W720P7M. It makes excellent use of its 586L space with smart configuration of the shelves and drawers, making it easier to keep your groceries organised.
Furthermore, it has a large capacity vegetable compartment with Moisture-Guard affixed on top to maintain the moisture levels of vegetables. There's a Fresh Select compartment too that lets you switch between Vegetable Mode (5 degrees Celsius) and Dairy/Meat Mode (1 degree Celsius).
Its impressive layout and capacity aside, this unit has plenty of high-end features as well. The upper-left door has a sleek, flat glass control panel to adjust its settings. It also has a child lock to prevent accidental setting changes on the refrigerator's control panel. Other perks include a tank-type water dispenser that is easily accessible via the front of the fridge, as well as a moveable ice tray in the freezer.
To top it all off, its powerful inverter compressor pulls double duty by thoroughly cooling every inch of the refrigerator while managing the amount of chilled air being delivered to the right compartments for energy conservation.
---
add_circle
Large capacity
add_circle
Features-galore
add_circle
Inverter compressor
add_circle
Longer than average warranty
remove_circle
Crisper does not have humidity control
The Hisense RS686N4AWU 620L Side by Side Inverter Fridge Refrigerator is host to a generously sized fridge and freezer. It also boasts some impressive features such as an auto-defrost that ensures no ice buildup in the fridge to preserve the freshness of your stored food items.
The Twin Cooling system cools both the freezer and fridge separately so you don't have to worry about the mixing of odours between these sections. Another feature we love is its Holiday function. If you're a frequent traveller or someone who's always out and about, this function that increases the temperature of the fridge a few degrees higher while maintaining the freezer at the same temperature. This helps in cutting down on energy costs. Bear in mind that they are limits to what you can keep inside the fridge and that Hisense advises that you remove all perishables before switching this mode on.
Thanks to the inverter technology that this unit runs on, the temperature inside is stabilized to prolong its life. Unfortunately, this fridge's crisper does not have humidity control to store fruits and vegetables at optimum conditions. For its price, this should be an essential feature, at the very least.
---
add_circle
Three different cooling features to keep food fresh, moist, and longer-lasting
add_circle
Ample refrigerator and freezer space
add_circle
Affordable price
remove_circle
Reports of high electricity consumption despite inverter technology
As a general guide, it's recommended that a family of 3 to 4 should have a fridge with a capacity of 350-530L. The Samsung SAM-RT32K5O52DXME, with its 410L gross capacity, hits the sweet spot of being right in the middle of that range so it's roomy enough to accommodate everyone in the household.
Its Multi Flow feature does wonders for temperature evenness throughout the refrigerator, especially during the times that the door is open. Moreover, this top-freezer refrigerator from Samsung utilizes Twin Cooling Plus Technology to prevent air transition between the fridge and freezer so odours from the fridge cannot permeate and taint the foods stored in the freezer.
This unit provides you with flexible storage options as you can opt to convert your freezer into a fridge whenever you need more space. You can also switch off the fridge or freezer compartments to save energy. Furthermore, there are plenty of features inside the freezer like a convenient twist ice maker and a cool pack to protect your food from spoilage in the event of a power outage.
In terms of energy-efficiency, the refrigerator has a respectable 3-star energy rating. However, a couple of users have mentioned that it isn't one of the more energy-efficient fridges.
---
add_circle
Many refrigerator and freezer features
add_circle
Larger capacity freezer compartment
add_circle
Contains a large capacity Optimal Fresh zone for storing meat and fish
remove_circle
Low refrigerator capacity despite higher price
remove_circle
3-star energy rating despite inverter technology
With the bottom-freezer configuration of Samsung RB30N4050B1/ME, the fridge compartment is at eye-level, so that you wouldn't need to bend down to access items in the fridge. This is especially great for households with the elderly or people suffering from mobility issues. Its 315L capacity is a fair amount for households with 3 to 4 people, albeit less than what is typically recommended.
This refrigerator is powered by a digital inverter compressor that can automatically adjust its speed depending on 5 levels of cooling demand. This means it takes less energy to operate, minimizes noise production, and reduces wear and tear for more durability. Despite using inverter technology though, the refrigerator is only rated with an average 3-star energy rating.
With All-Around Cooling, every item on every shelf and in every box is ensured to remain uniformly chilled. Moreover, its activated carbon deodorizer filters the air inside the fridge to eliminate bad smells. A cool bonus is that the fridge has an Optimal Fresh Zone for meat and seafood storage so they stay fresh for twice as long without needing to freeze them.
The bottom freezer consists of an adjustable shelf and a drawer to provide you with ample room to store your frozen foods. There's also a moveable ice maker which allows you to dispense ice cubes with a simple twist of the ice tray.
---
add_circle
Digital temperature control
add_circle
Respectable 3-star energy rating considering price
add_circle
Very affordable price
remove_circle
Non-inverter compressor
It's the norm for young couples to shop about once a week for groceries, especially if they don't cook too often at home. Therefore, the preferable choice would be a refrigerator like the Midea 2 Door 192L Refrigerator MD-232V which has adequate space to hold a week's worth of vegetables, meat, and fish. One user on Shopee commented that the freezer is quite large considering the size of the fridge which makes it "very handy for frozen food storage".
This fridge has two glass shelves, with its veggie box cover acting as a third shelf to give you ample storage space while the door bins allow you to hold 2L bottles. With its multi-airflow system, cool air circulates throughout the entire refrigerator evenly to help keep the stored food fresh and moist.
You also have precise control over its temperature of 0 - 15 degrees Celsius using the digital control panel. In addition to that, it uses green ion deodorizer technology to remove unpleasant odours from the fridge while keeping the flavour and fragrance of food fresh.
Its respectable 3-star energy rating is backed up by a user on Shopee who mentioned that "electricity consumption is low". On the other hand, some users felt misled by sellers who advertised the gross capacity of 230L rather than the net capacity of 192L.
---
add_circle
Very energy efficient
add_circle
Minimalist design
remove_circle
Lack of many basic features such as an ice maker and interior LED lighting
remove_circle
Reports of freezer cover breakage and burnt bulb
Are you a single man looking to add a simple but good-looking fridge to your home? The minimalist Hisense Fridge RR196D4ABM is perfect for any modern-day bachelor's pad. It has a gross capacity of 170L consisting of two shelves, a vegetable crisper (the cover doubles as another shelf), three door baskets, an egg tray, and a freezer compartment.
Furthermore, this refrigerator is rated 4-stars in terms of energy efficiency so it will cost less to run it, for better savings in electricity bills. The compressor that runs the fridge operates quietly so it shouldn't cause a ruckus in the middle of the night especially if you place the fridge in your bedroom or guest room.
The unit comes at a very affordable price tag, but at the expense of not being equipped with features like an ice maker, moisture control, deodorizer, and special compartments for its freezer section.
There are varying accounts of the fridge's durability. On one hand, a user happily commented that he has been using the fridge for over a year with no problems. On the other hand, a few users have commented that the refrigerator light bulbs keep burning out. This may be due to the semi-automatic defrost feature that melts the frost in the refrigerator section, causing an accumulation of water in the unit. A couple of users also found the freezer cover to be quite flimsy and not very durable.
---
More: Conveniently Keep Cold Drinks Close With These 8 Mini Fridges
add_circle
Affordable price
add_circle
Sleek and modern design
add_circle
Long warranty of 2 years
remove_circle
Temperature range heavily dependent on room ambient temperature
remove_circle
Single zone chiller not suitable for different types of wines
If you're just starting to get into wines, you should probably know the importance of getting a wine fridge to store your bottles. Not only do you get to adjust its temperature to better suit your wine, you also get to store and display them properly too.
The Pacifica PTW10 Raphael is a tabletop, freestanding wine chiller that can fit up to 12 Bordeaux bottles of wine. Due to its compact size, it doesn't take up too much counter space, making it perfect for storage at home especially if you're just starting to collect wines. If you're an avid wine connoisseur, though, then it would be best to invest in a bigger wine chiller with more elaborate features and a larger capacity.
This unit is a single zone cooler, which means that every bottle of wine is cooled at the same temperature. So, it's not great if you'd want to cool different types of wine (red and white) at the same time.
The fridge's temperature can be adjusted between 10 to 18 degrees Celsius and is maintained consistently with a thermostat that can be set via the LCD panel. However, bear in mind that the actual temperature range this cooler can achieve is heavily dependent on the room ambient temperature.
---
More: Here's How You Can Prolong Food and Drinks in Your Refrigerator
How To Choose the Ideal Refrigerator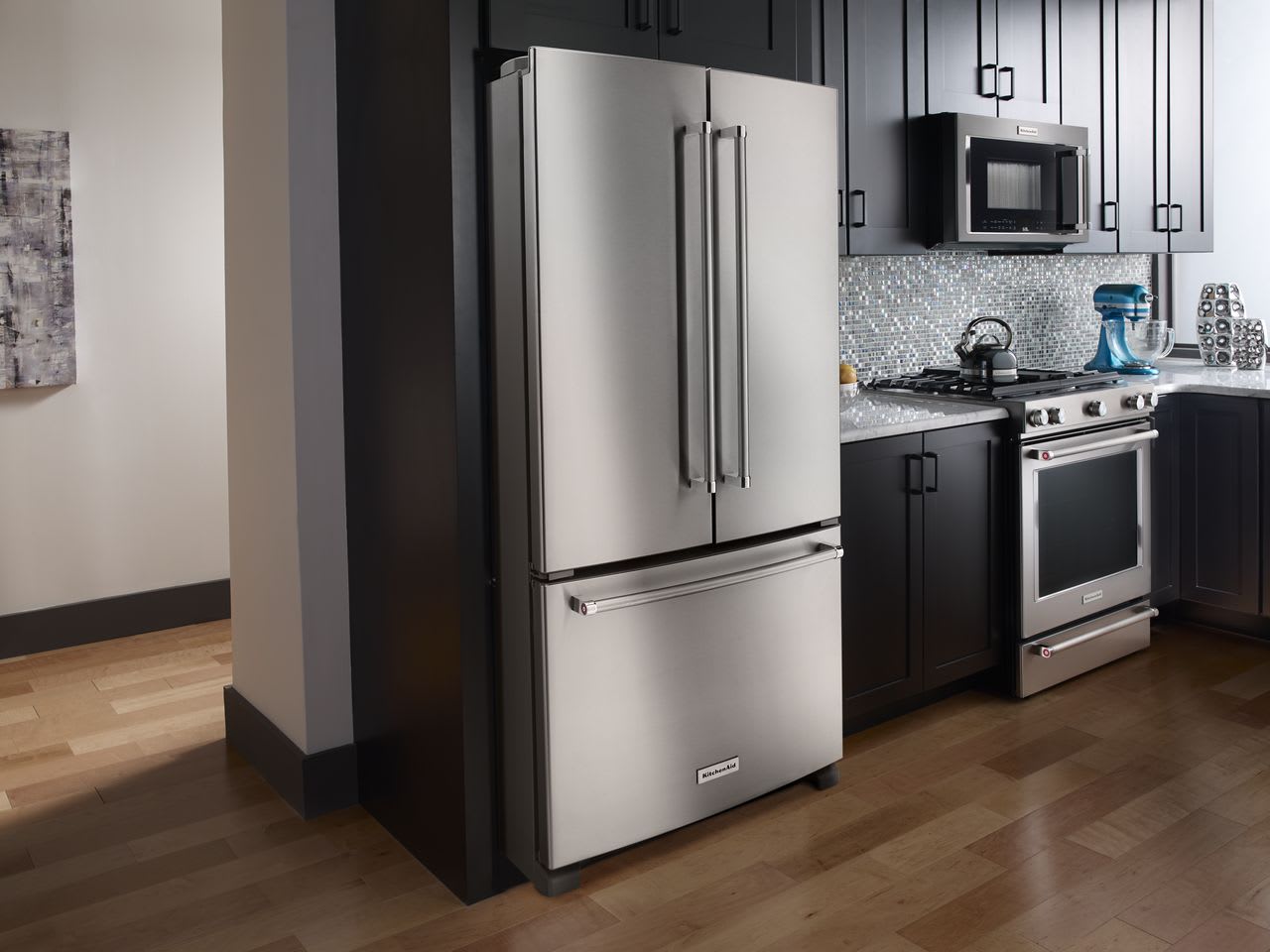 Consider the size of your household
Estimate the amount of storage you'll need, including the number of people living at home who need refrigerator space as well. The smaller your fridge is the lesser energy and electricity you'll consume in a month.
Also, consider the amount of storage you'll need for both the freezer and refrigerator section. If you don't require much space in a freezer, then opt for a one-door fridge; it has a high percentage of refrigerator space and smaller freezer space. Otherwise, opt for an equal size of fridge and freezer space.
Measure the size of your kitchen
If you have an open space in the kitchen, then you're advised to get big refrigerators. If you have limited space, then you should go shopping with your measuring tape. First, get the measurement of your kitchen space that you wish to place your new fridge. Match the refrigerator of your choice at the store with the measurements you took at home. Result: no space wastage in your small kitchen.

Quick Tips for Fridge Shopping in Malaysia
Gross vs. Net Capacity in Fridges
When shopping for fridges, one of the factors to consider is fridge capacity. Many probably don't know this, but some appliances like fridges have gross and net capacity. The former is the total volume of the refrigerated space. Net capacity, on the other hand, is the refrigerated space available once the structural features (like shelves and door bins) of the fridge have been taken into account.
Manufacturers often advertise the gross value as the capacity instead of the more accurate net value. Hence why, upon delivery, some customers get caught off guard by the smaller-than-expected capacity of the fridge. To avoid disappointment, always check the product specifications for the fridge's net capacity.
Poor Delivery Service and Handling
The problem with buying big home appliances online, is that you risk receiving damaged goods, albeit minimal ones. While doing our research on fridges, we came across tons of reviews on Lazada and Shopee complaining about how badly some courier services handled their fridges. From not moving the fridge into the kitchen to receiving dented ones, this is something you should consider when purchasing from marketplaces like these.
With that being said, even if you walk-in to a brick-and-mortar appliance store to purchase a big fridge, they'd still have it delivered to your home but via their in-house delivery team. They usually have more experience handling bigger items so there'd probably be less mishandling of your goods.
Conclusion
In short, it's crucial to purchase a fridge that meets your expectations no matter the budget. If you have a large family of 7 to 8 people and plan to purchase a small capacity fridge of 300L that costs around RM1,500 just because it's within your budget, you'd probably end up with not enough space in the fridge and more stressful days ahead.
Find out how much of a capacity you'll need, set a budget, then start looking. Remember that buying a fridge is a long-term investment, so get one that's energy saving, a trusted brand, and has a good warranty period. Hope we've given enough tips to help you make the right choice!
More: Cut Electricity Costs Easily With These 10 Energy Saving Refrigerators
Disclaimer: The pricing shown is just a good indication of how much these products are worth. The prices could change based on the e-commerce promotions that are going on. If some of the products are not available, do email us at [email protected] Thank you!