The washer dryer combo is a versatile all-in-one washing machine that you may want to spice up your laundry. It's basically a regular front-loading washing machine and a regular dryer that takes the clothes from washed to rinse then dry.
What's nice is that you don't have to worry about sunny or rainy days no more as we've lined up some latest, nicely picked and priced models for you to review and get your hands on! So go on and have a look at the 10 best washer dryer combos listed below.
add_circle
Good value for washer dryer combo
add_circle
Is gentle on delicate fabrics
add_circle
Has a quick-wash mode to save time
remove_circle
A little bulky
The Samsung Washer Dryer Combo WD70J5410AW/SP with Eco Bubble is able to save you a huge amount of energy when washing large loads thanks to its bubble technology.
Features:
This washer has Eco Bubble technology to clean your clothes effectively as well as the eco drum clean feature that cleans without the use of harsh chemicals. The machine also has the support of digital inverter technology to deliver you with efficiency, minimal noise and long-lasting performance.
Also, their bubble soak button gives your clothes a thorough soak in bubbles to get rid of stubborn stains. Plus, if there's no time for the dryer, you have an air wash option that leaves your clothes sanitized and fresh without the use of any water or detergent, if you need to freshen up your clothes that is.
Performance:
Users are all in praises as their laundry is made easier with this simplified combo!
Washing capacity: 7kg

Dryer capacity: 5kg

Dimensions (WxDxH): 600x850x550mm
---
add_circle
Uses smart technology
add_circle
Faster washing time
add_circle
Connectible to Wi-Fi
add_circle
Has a steaming function to help reduce wrinkles
remove_circle
Slightly pricey
There's a reason why the LG AI Direct Washer & Dryer FV1450H2B is a favourite among many - it comes with smart intelligence!
Features:
This sleek and stylish design will automatically detect the softness and weight of the fabric, then select the optimized washing pattern, with the help of AI. While it aims to get rid of allergens and reduce wrinkles, it also does the washing in about 39 minutes via its TurboWash™ 360, simultaneously only consuming about 28% of energy.
Also, you are free to operate it remotely anywhere… with the help of Wi-Fi-connectivity. Thanks to this combo, laundry time is saved to half and there's potentially lesser damage on your fabrics.
Performance:
Perfect for a modern home, users have only one problem with this model; it's a very pricey model to swallow.
Washing capacity: 10.5kg

Dryer capacity: 7kg

Dimensions (WxDxH): 600x850x565mm
---
More: 8 Washing Machines to Keep Your Clothes Clean and Fresh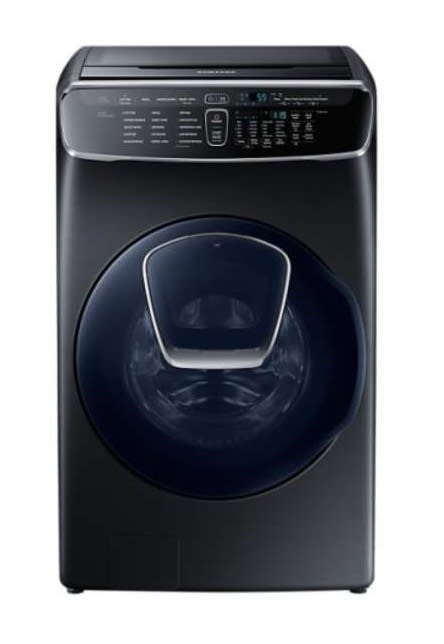 add_circle
Ergonomically designed
add_circle
Has a large capacity
add_circle
Has a child lock option
remove_circle
Very expensive
With 2 washers and an additional door in this all-in-one machine, the ergonomic design by the Samsung Front & Top Load Combo with FlexWash saves you from all the back-bending you do.
Features:
Their FlexWash™ technology lets you put multiple loads into one laundry cycle. This is made possible with their Eco Bubble™ technology that turns your detergent into bubbles so that it can quickly penetrate any fabric and remove dirt easily.
If that is not enough, your clothes will feel and smell fresh all day long thanks to the Airwash technology that uses super hot air to deodorize and sanitize your clothes as well as bedding.
Performance:
A flexible and expensive treat of a combo, users with a large family benefit very much from this model.
Washing capacity: 21kg

Dryer capacity: 12kg

Dimensions (WxDxH): 686x1192x864mm
---
add_circle
No over-washing
add_circle
Removes up to 99% of germs and allergens
add_circle
Gentle on wool fabric types
add_circle
Smart sensor is used
remove_circle
On the noisier side
Reasonably priced, there is no over-washing with this washer-dryer machine. Instead, you are treated to a reduction of wear and tear with the Electrolux UltimateCare 700 Washer Dryer EWW7024FDWA.
Features:
This Electrolux model has an AutoSense technology that is able to adjust the time, water and energy consumption depending on your load size. Said technology also works to prevent the wear and tear of your garments.
Gentle enough on hand-wash woolens, its drying process has a feature called VapourCare mode and Vapour Refresh cycle that provides you with less wrinkling and easy ironing.
Performance:
Users often claim that this particular model is affordable compared to others and has great water efficiency. That means a controlled water bill!
Washing capacity: 7kg

Dryer capacity: 5kg

Dimensions (WxDxH): 850x600x575mm
---
More: Keep Your Clothes Stainless with These 8 Best Top Load Washing Machines
add_circle
Has an eco-silence mode
add_circle
Has a reload button for when to add or take out clothes between washes
add_circle
Has a child-proof lock
add_circle
Has a drum clean system for more gentle washing
A washer-dryer is usually noisy and can disrupt the peace at home when you require silence but the Bosch Washer Dryer WVG30462SG is quiet enough. Even your baby won't notice it.
Features:
As you're left undisturbed with their EcoSilence Drive™ technology, you'll be pleased with their efficient wash & dry in 1 go which is just under one hour. With their AutoDry sensor technology, it automatically knows when your load is perfectly dry, by constantly measuring the humidity while protecting your clothes from overheating.
All you have to do is choose the suitable program and set the optimal setting for the types of clothing in your load.
Performance:
Both powerful and gentle, users who love to do chores at night have mentioned that the noise does not cause any disturbance.
Washing capacity: 8kg

Dryer capacity: 5kg

Dimensions (WxDxH): 85.0x60.0x59.0mm
---
add_circle
Fit for a large family
add_circle
Has drum clean mode for easy maintenance and durability
add_circle
Has an express mode for urgent washes
Great for families who often do multiple washes, the Toshiba Washer Dryer TWD-BJ120M4M is a front load washer dryer that can withhold a capacity of 11kg wash and 7kg drying load.
Features:
This Toshiba model was built with the GreatWaves technology to conserve energy consumption and to ensure better fabric colour preservation. It gives you the assurance that your clothes and linens are taken care of with gentleness.
Plus, with their SenseDry mode, the drying process is made easier and safer as it stops immediately when the clothes are completely dry.
Performance:
A generous tip from most users is that when you are in need of clean clothes, all it takes is 12 minutes with the machine's express wash mode option!
Washing capacity: 11kg

Dryer capacity: 7kg

Dimensions (WxDxH): 595x615x850mm
---
add_circle
Affordable range
add_circle
Super water flow systems
add_circle
Separates fabrics accordingly
remove_circle
On the heavier side
The Midea MFC80-DR1400 Washer Dryer is an easy choice for when you need your chores to be done at a specific timing. That's because its timer and sleep modes will be able to plan your day and night accordingly.
Plus, it's an affordable choice if you're on a budget.
Features:
This machine has an innovative three super water flows technology.
There's Bump+flow to handle stubborn stains from red wine or fruit juices. Then there's Water+flow which has the feel of a hand wash effect to lessen the wear and tear of clothes and linens.
Finally, Flush+flow eases your burden of washing and drying thick cotton or padded clothes that wouldn't last a minute in a normal washing machine.
Performance:
Midea is a very conscious purchase for many users who claim that this budgeted beauty does the job just as nicely as any other top-notch model.
Washing capacity: 8kg

Dryer capacity: 6kg

Dimensions (WxDxH): 850x595x470mm
---
add_circle
Has 16 different programs to select from
add_circle
Compact enough for an apartment setting
add_circle
Child lock mode is reliable
remove_circle
Slightly pricey
If you're living in an apartment and require a washer dryer that is space-conscious, the Beko Front Loader Washer Dryer WDA105614 is a perfect choice.
Features:
With a maximum spin speed and 16 different preset programs to choose from, you have the choice to choose the preferred mode for your load.
You also don't need to worry about your precious woollens getting shrunk or damaged as their Woolmark Apparel Care regulates the drum movements to care for your clothes. And thanks to their brushless motor design, it gives room for lower sound levels and higher durability.
Performance:
Worry not if you have kids as users have mentioned that the child lock protection function works like a charm!
Washing capacity: 10.5kg

Dryer capacity: 6kg

Dimensions (WxDxH): 84x60x67mm
---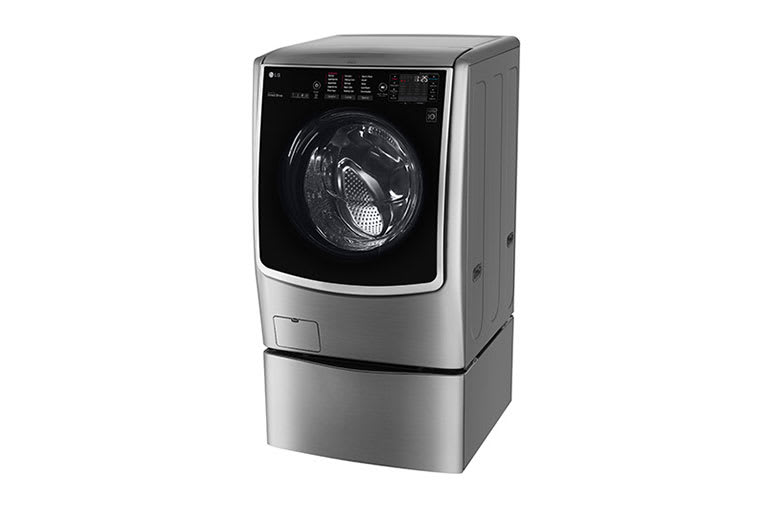 add_circle
Very large load capacity
add_circle
Suitable for large families
add_circle
Comes with a mini washer
add_circle
Delicate on cottons and woollens
remove_circle
Bulky and expensive
By far the largest washer and dryer we've come across; the LG Front Load Combo Washer Dryer with TrueSteam LG-F271HTWV has not one but two high-efficiency Inverter Direct Drive Motors which allows for enhanced washing performance!
Features:
There's less noise produced due to its inverter DD technology that uses fewer moving parts-which in return reduces the machine's vibration and enhance its durability. Plus, their TrueSteam technology activates allergy care to defeat invisible allergens. With the Steam refresh function, it reduces wrinkle and odour in 20 minutes. Finally, the Steam Softener™ softens your clothes with pure water!.
Performance:
An interesting fact? LG's TwinWash™ is a washing solution that has doesn't exist in many other washing machines. You can now do two loads of laundry in just 49 minutes, simultaneously.
Washing capacity: 21kg

Dryer capacity: 12kg

Dimensions (WxDxH): 700x835x990mm
---
add_circle
Made for heavy-duty washing
add_circle
Easy to move around
add_circle
Fast washing mode in just 49 minutes
The Panasonic Washer Dryer NA-S106G1 is a heavy-duty free-standing washer dryer that you can just place anywhere at home.
Features:
Built with an Active Foam System, it lets out a high-density foam that delivers optimum washing performance in just about 49 minutes;- a technology made for a faster washing cycle.
Meanwhile, with ECONAVI technology, water temperature is detected together with the wash load amount and laundry material in order to adjust operation and save energy, water as well as time by eliminating unwanted waste.
Performance:
A user-friendly design that is straightforward and easy to use, there's also a child lock mode; an added bonus for users with young kids.
Washing capacity: 10kg

Dryer capacity: 6kg

Dimensions (WxDxH): 596x560x845mm
---
---
How do I choose a washer-dryer?
Although there is an alternative choice to place a washer above the dryer on front-loading machines individually, a single-unit combination is still a better choice. To give you a better understanding of how to choose one properly, we have some tips that you can look out for before buying.
Undoubtedly, a combo is more expensive when compared to the conventional washing machine and dryer, with each unit being bought individually. However, the price difference can be reasoned out with the fact that combos ultimately use less water, energy and detergent. So the best choice here is to weigh out your options and have a pick at the safer bet for you.
Bear in mind that capacity plays a big part here if you have a large family. You'll need to find the largest model which fits in your home yet, is according to your budget. On the other hand, smaller load capacities are great for individuals. All in all, good observation is needed here.
Warranties and Guarantees
Most appliances usually have a one-year warranty. However, a washer dryer combo is regarded as a high-quality levelled product and thus, there are many different components covered as any one of those could become faulty or damaged within that year.
So a one year warranty is a standard term but you may be able to extend this in some circumstances, say up to 5 years sometimes. For that reason, do be sure to understand the terms and conditions of the product before final purchase.