Laptops can be cumbersome, particularly if you are one of those digital nomads who often work remotely in cafes and co-working spaces. This brings us to Windows tablets, which serve as good alternatives to laptops or those who want to make a switch from Android tablets.
They are lightweight and more flexible than Windows laptops, with some even designed as detachable 2-in-1 hybrids. And yes, they operate on the latest Windows 10 Home/Pro or 11 just like Windows laptops or PCs.
So, if you are looking to shop for one, check out our list of 7 best Windows tablets in Malaysia. Our list of reviews is complete with specs and short descriptions ranging from cheap and budget-friendly to high-end varieties.
Table of Contents
List of best Windows tablets in Malaysia
Differences between Android and Windows tablets
7 Best Windows Tablets in Malaysia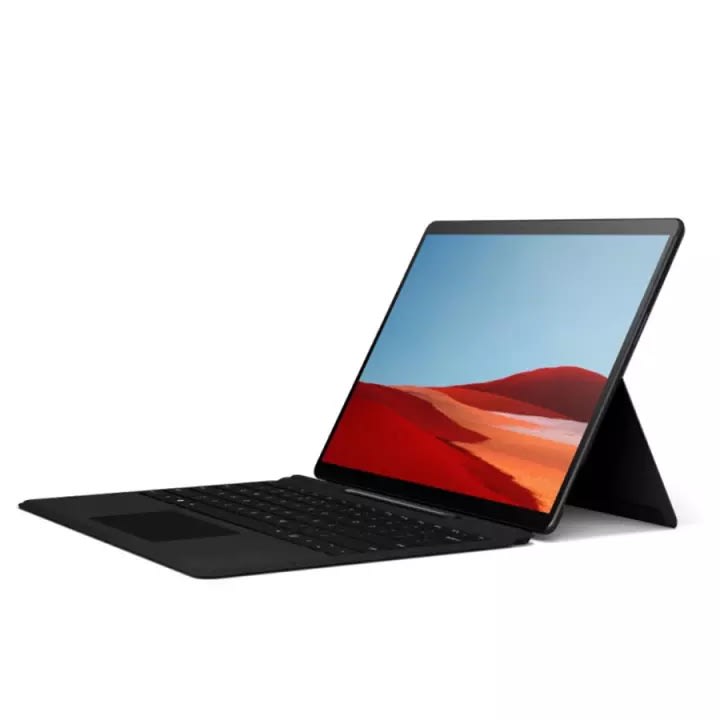 add_circle
Fantastic display
add_circle
speedy processor
add_circle
responsive stylus
remove_circle
Battery life could have been better
Why It's Our Top Pick:
"This is the one tablet that can literally replace your laptop and rivals the iPad Pro.
The sleek yet lightweight Microsoft Surface Pro X packs a punch with a vibrant 13-inch display and runs on a fast processor made suitable for multitasking. It also comes with a swappable SSD and a comfortable, pen-like stylus".
Features:
The Microsoft Surface Pro X features a larger-than-usual 13" PixelSense display with slim bezels on both left and right sides and a 2880 x 1920 resolution. It has a 10 point multi-touch screen with a maximum brightness level of 450 nits.
This tablet utilises the Microsoft SQ1 processor with 8GB of RAM and 128GB SSD. The latter is removable, where you can swap it with a bigger SSD capacity of up to 512GB. Other highlights include a nano-SIM slot, a dual-camera setup that combines a 10MP rear & 5MP front-facing shooter and a bundled black Microsoft Surface Pen.
Performance:
Most users who bought the Microsoft Surface Pro X appreciated its sizeable screen, offering them adequate space for better productivity. The processor loads fast and is good enough for general multitasking, namely opening multiple Chrome tabs, streaming videos and running Office applications.
Moreover, the Microsoft Surface Pen is responsive and feels like you are holding a normal ballpoint pen. Battery life, however, is decent at best and manages to last around 5-8 hours, depending on your usage. Not forgetting; display is sharp too, complete with excellent colour reproduction and optimum brightness level.
---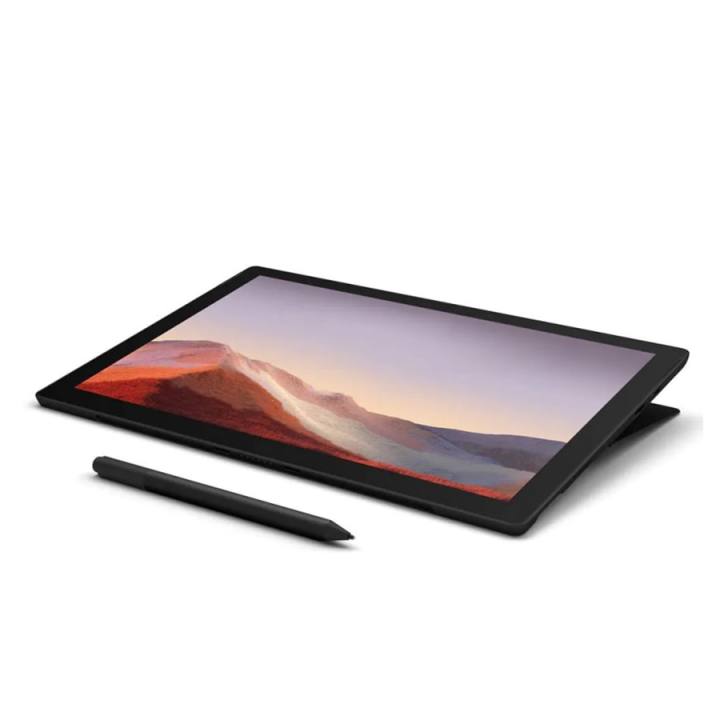 add_circle
Powerful processor
add_circle
vibrant display
add_circle
long-lasting battery
If you prefer a Windows tablet capable of handling heavy-duty tasks like editing photos and videos, you can't go wrong with the high-end Microsoft Surface Pro 7.
Features:
The Microsoft Surface Pro 7 features a 10th-generation Intel i5 processor with a minimum of 8GB + 128GB and up to a 16GB + 512GB combo. It has a large 12.3" PixelSense display in a 2736 x 1824 resolution and a Windows Hello sign-in option.
Performance:
According to most reviews, this tablet packs enough processing power to run your photo/video-editing app smoothly and other similar demanding tasks. The tablet's display looks great too, and is complete with a good battery life, lasting around 8-10 hours on a single charge.
---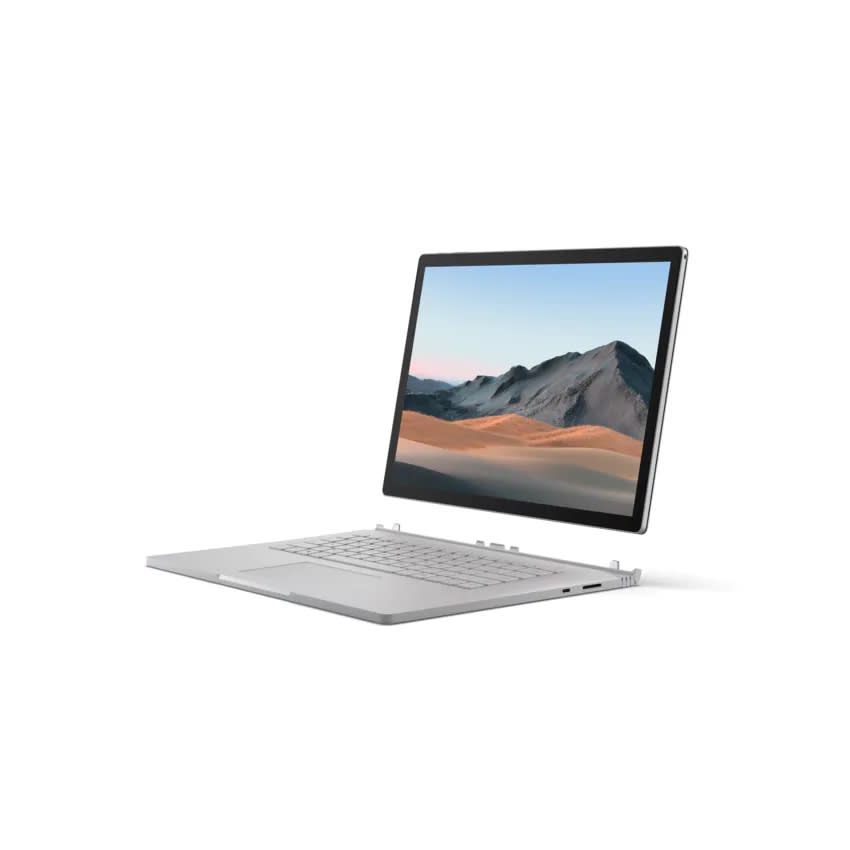 add_circle
dedicated graphics card for gaming
add_circle
powerful processor
add_circle
Amazing battery life
remove_circle
32GB of RAM might be overkill for normal users
If you don't mind splurging, the premium Microsoft Surface Book 3 offers more than just a Windows tablet. There's a hinge where you can detach or attach the touchscreen easily and use it as a laptop.
Features:
The Microsoft Surface Book 3 sports a large 15" PixelSense display in a 3240 x 2160 resolution. It also comes equipped with an Nvidia GeForce GTX 1660 Ti Max-Q graphics card and operates on a 10th-gen i7 processor. You also get 32GB RAM and internal storage of 1TB SSD.
Performance:
Users can take advantage of the tablet's larger screen and its 3:2 aspect ratio for better productivity. With a display that looks vibrant and is complete with punchy colours and sufficient brightness levels. The keyboard, in the meantime, is comfortable to use.
Of course, its dedicated GTX 1660 Ti Max-Q graphics card is an additional plus for gaming purposes. With 32GB of RAM coupled with the i7 processor, this means you have little problem using the Microsoft Surface Book 3 for heavy multitasking. It has a solid battery life too, lasting around 7-11 hours, depending on your usage.
---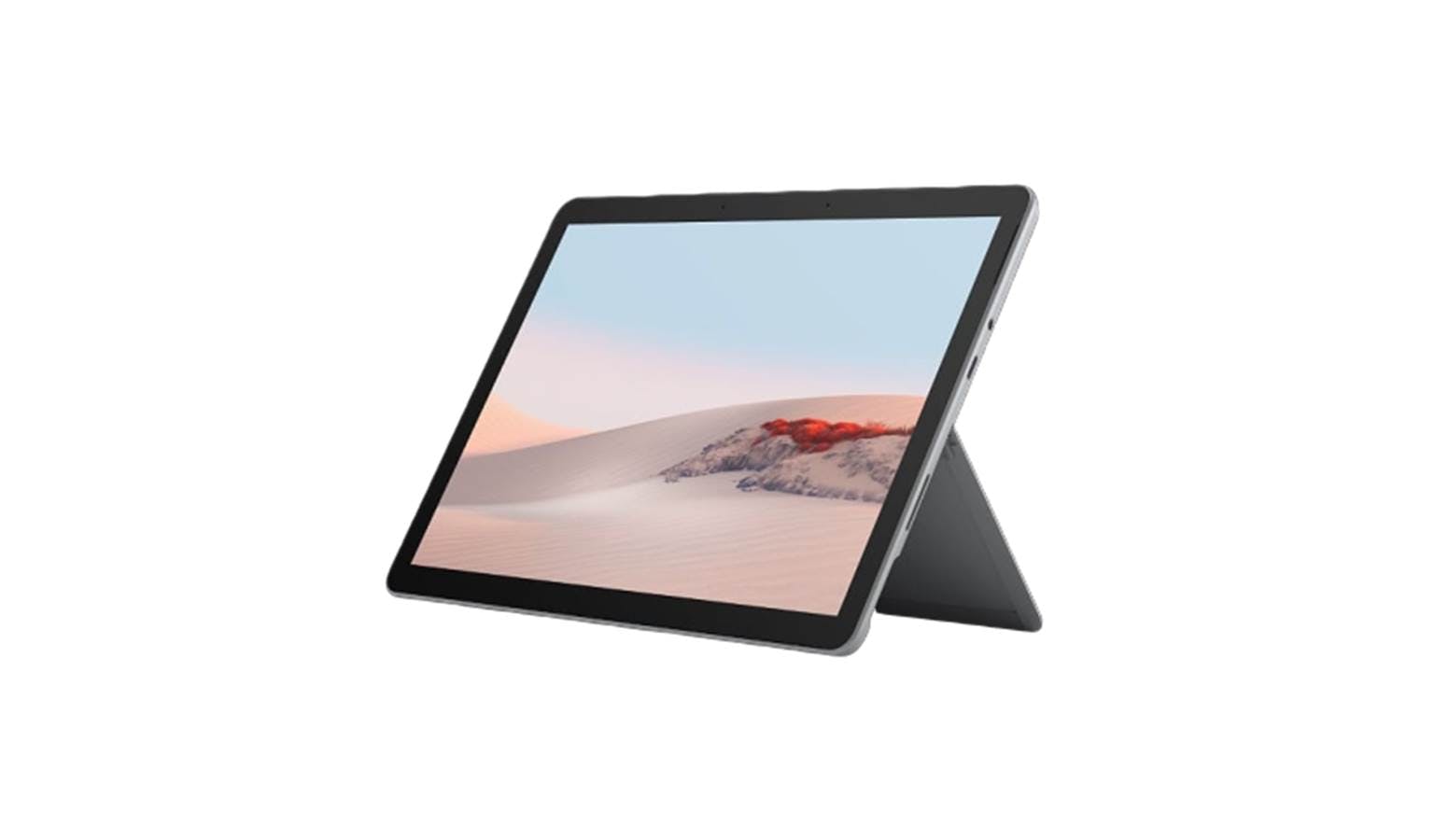 add_circle
Excellent display
add_circle
good for general multitasking
add_circle
comfortable Type Cover keyboard
remove_circle
Average cameras
remove_circle
not suitable for heavy-duty tasks
Here's a Microsoft Surface Go 2, where you don't have to purchase the keyboard a.k.a. Type Cover separately since it comes as a bundle.
Features:
Some of the highlights that you can expect from the Microsoft Surface Go 2 includes a 10.5" PixelSense display at 1920 x 1280 resolution with Corning Gorilla Glass 3 screen protection, an 8GB RAM + 128GB SSD and a Windows Hello face authentication feature.
You also get a dual-camera setup including 8MP rear and 5MP front-facing shooters and a pair of Dolby-enhanced stereo speakers. Finally, the bundled Type Cover is a compact-sized keyboard, complete with Windows keys and dedicated buttons such as media controls.
Performances:
The Microsoft Surface Go 2 is blessed with a gorgeous display and offers great colours, thanks to its 107% of the sRGB spectrum. It handles general multitasking well like running built-in apps and opening multiple Chrome tabs. However, don't expect this to be a tablet workhorse for operating graphics-intensive apps or software.
The Type Cover keyboard feels comfortable to type on too, even though the touchpad looks a little too small to get used to. Camera performances are average while the Dolby-enhanced audio sounds loud and crisp enough for built-in stereo speakers.
---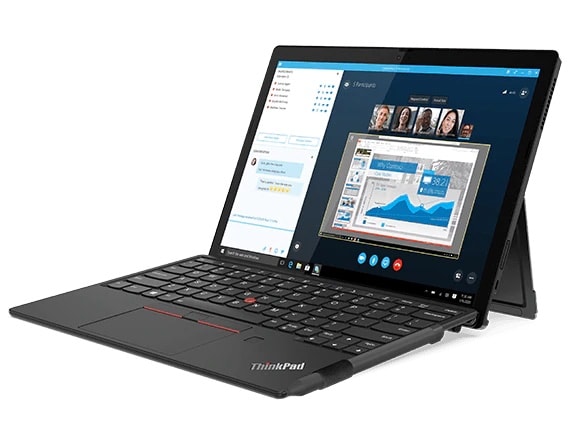 add_circle
powerful processor
add_circle
solid build quality
add_circle
tactile keyboard
add_circle
long-lasting battery life
remove_circle
Thick bezels
remove_circle
limited ports
Here's the business-centric tablet or more specifically, a 2-in-1 laptop from the popular Lenovo ThinkPad series.
Features:
True to its name, the Lenovo ThinkPad X12 Detachable can be separated from its keyboard to be used as a tablet and vice versa. The tablet itself weighs around 760g which is a little heavy as a standalone tablet. But know that when it attaches to a keyboard, the overall weight is only about 1.1 kg.
The basic specs for the Lenovo ThinkPad X12 Detachable come equipped with the latest 11th generation of Intel i3 processor with 8GB RAM and 256GB SSD storage. It sports a 12.3" FHD+ display with a Gorilla Glass 5 screen protection. There's also an 8MP rear and 5MP front-facing cameras.
Performances:
According to most reviews, the Lenovo ThinkPad X12 Detachable's magnesium-alloy build quality feels durable to the touch. Its FHD+ display is sharp and colourful and has a decent peak brightness level of up to 376 nits, making it ideal for outdoor uses even on a sunny day. The bezels, however, are noticeably thick and looks annoying.
The keyboard works like a charm, complete with tactile feedback and good key travel. Moreover, the trackpad is well-sized and responsive enough to the touch. Performance-wise, the Lenovo ThinkPad X12 Detachable is good for general multitasking such as running the Office apps and browsing multiple Chrome tabs. Battery life is just as great, lasting around 9-11 hours, depending on your usage.
---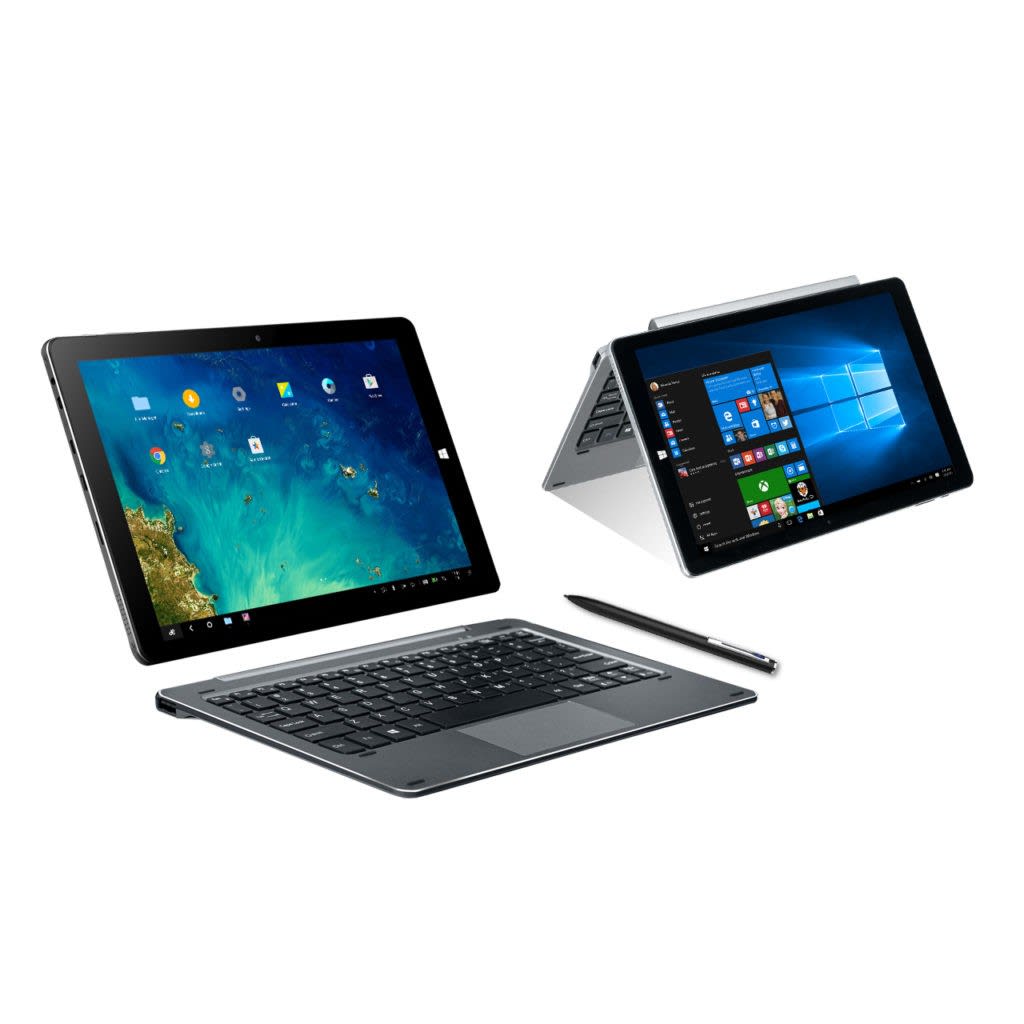 add_circle
Slim & lightweight design
add_circle
Premium outlook
remove_circle
Poor battery life
Looking for an affordable tablet? Well, here's one for you from CHUWI Hi10 X, where you can own it for under RM1500.
Features:
The CHUWI Hi10 X sports an entry-level, quad-core Intel Gemini N4120 with integrated Intel UHD graphics. It comes with 6GB of RAM and 128GB of eMMC internal storage. Display-wise, you get a 10.1" IPS screen at 1920 x 1200 resolution while the dual cameras include a 5MP rear and a 2MP front-facing shooter.
Performance:
Despite its budget-friendly price, the CHUWI Hi10 X has an overall premium feel to it, thanks to its full metal unibody design. The tablet is also slim and lightweight at under 600g. Though it's equipped with an IPS display, it's gorgeous with colours look amazingly vibrant. Battery life, however, lags miserably at lasting just four hours long.
---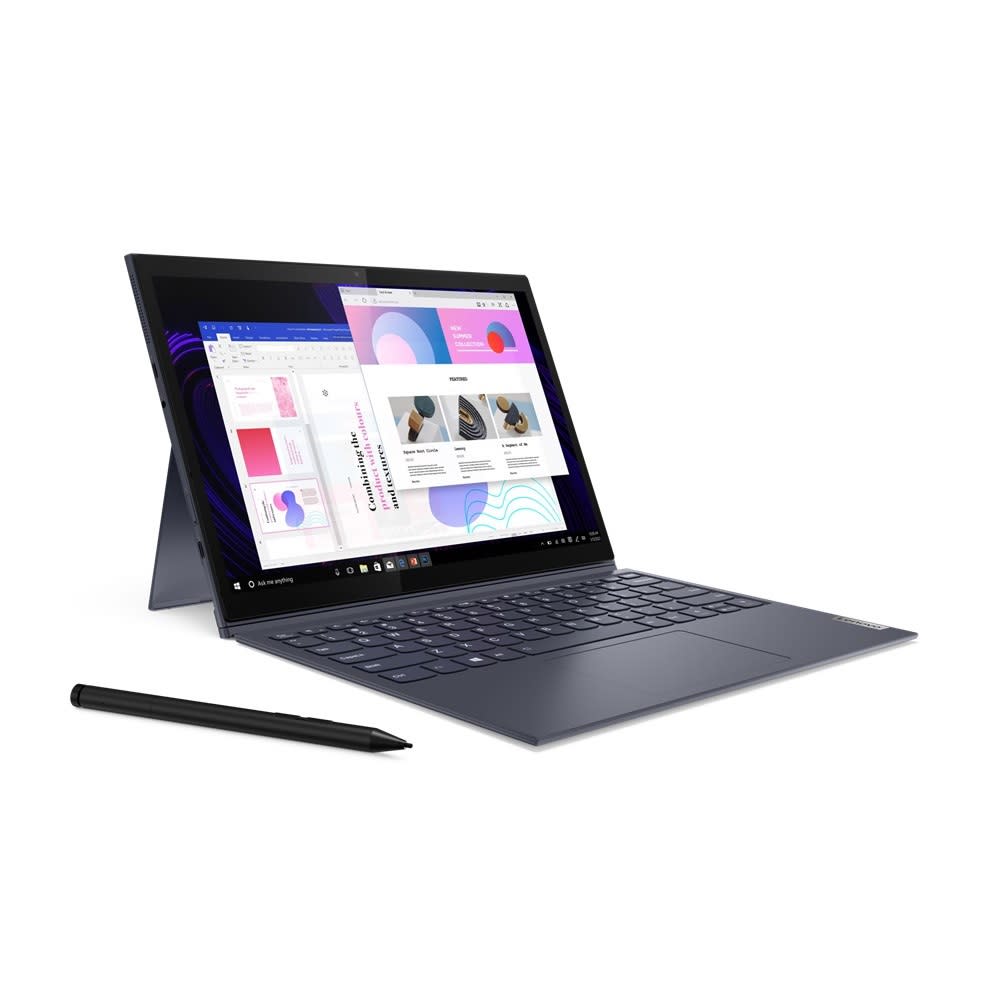 add_circle
Good for general tasks
add_circle
Well-spaced & comfortable keyboard
remove_circle
Not suitable for heavy gaming
Want the best of both worlds of a laptop or a tablet? The Lenovo Yoga Duet 7i offers just that.
Features:
This machine runs on the latest 11th-gen i5 processor with 8GB of RAM and 512GB SSD. It sports a 13" WQHD display with Corning Gorilla 3 screen protection and has a detachable backlit keyboard. The device also comes with dual 5MP cameras on the front and back.
Performance:
The Lenovo Yoga Duet 7i's larger display is among the highlight here, where its WQHD resolution looks sharp and colourful. Its IPS panel offers satisfactory viewing angles too for your entertainment needs. And not forgetting, the keyboard is comfortable with well-spaced keys while the touchpad feels responsive.
In terms of overall processing power, the device feels good enough for everyday tasks like opening multiple Chrome tabs and running Office apps. At best, the Lenovo Yoga Duet 7i can handle casual gaming since this 2-in-1 hybrid isn't primarily built for gaming purposes. Camera performances are decent for say, Zoom video chats.
---
---
What are the differences between Android tablets and Windows tablets?
There are generally three types of tablets available in the market. The list includes Android, Windows and Apple (iPads). But let's talk about the former two, where we focus on the differences between Android and Windows tablets instead.
Android Tablets
Just like Android smartphones, tablets that run on the same OS have the benefits of downloading both free and paid apps via Google Play.
These said apps can be anything from games to art & design, e-books, business tools and messaging/communication, just to name a few.
Android tablets also come with a different range of prices from budget-friendly to high-end options.
This is a particular advantage that Android tablets have since the Windows varieties are generally costlier by comparison.
Other highlights you can get from Android tablets including ease of use and the freedom of customisation such as themes and widgets.
Windows Tablets
While Windows tablets aren't as popular as the Android varieties, they do have their few advantages.
They function like smaller and portable Windows laptops and they are generally good for multitasking.
Compared with Android options, some Windows tablets have larger displays available up to 15.6 inches.
As the recent generations of Windows tablets have been vastly improved, their productivity capabilities are much greater than most Android tablets.
Related articles: