Nobody can deny that an innovative idea can shine bright when you take your inspiration elsewhere. More often than not, that literally means being in a new environment.
Constantly rooted to the same place, whether it's under your own roof or under the stale lights of your office can create a dull moment. This, in turn, will cause you to feel less inspired and motivated. It'll be difficult to optimise your best potential at your skillsets.
Thanks to the demand for coworking spaces, many are mushrooming throughout the capital KL city and Klang Valley. An idea that used to be unheard of, you can now seek solitude in an entirely new environment that's catered to help boost your creativity for study or work.
Many of these coworking spaces provide not only the setting of a vibrant office environment but also basic human needs such as private meeting rooms, snacks and drinks.
Looking for inspiration to help you work through your latest upcoming projects? Browse through our list of choices for the best coworking spaces in Kuala Lumpur.
Table of Contents
---
12 Best Co-Working Spaces in KL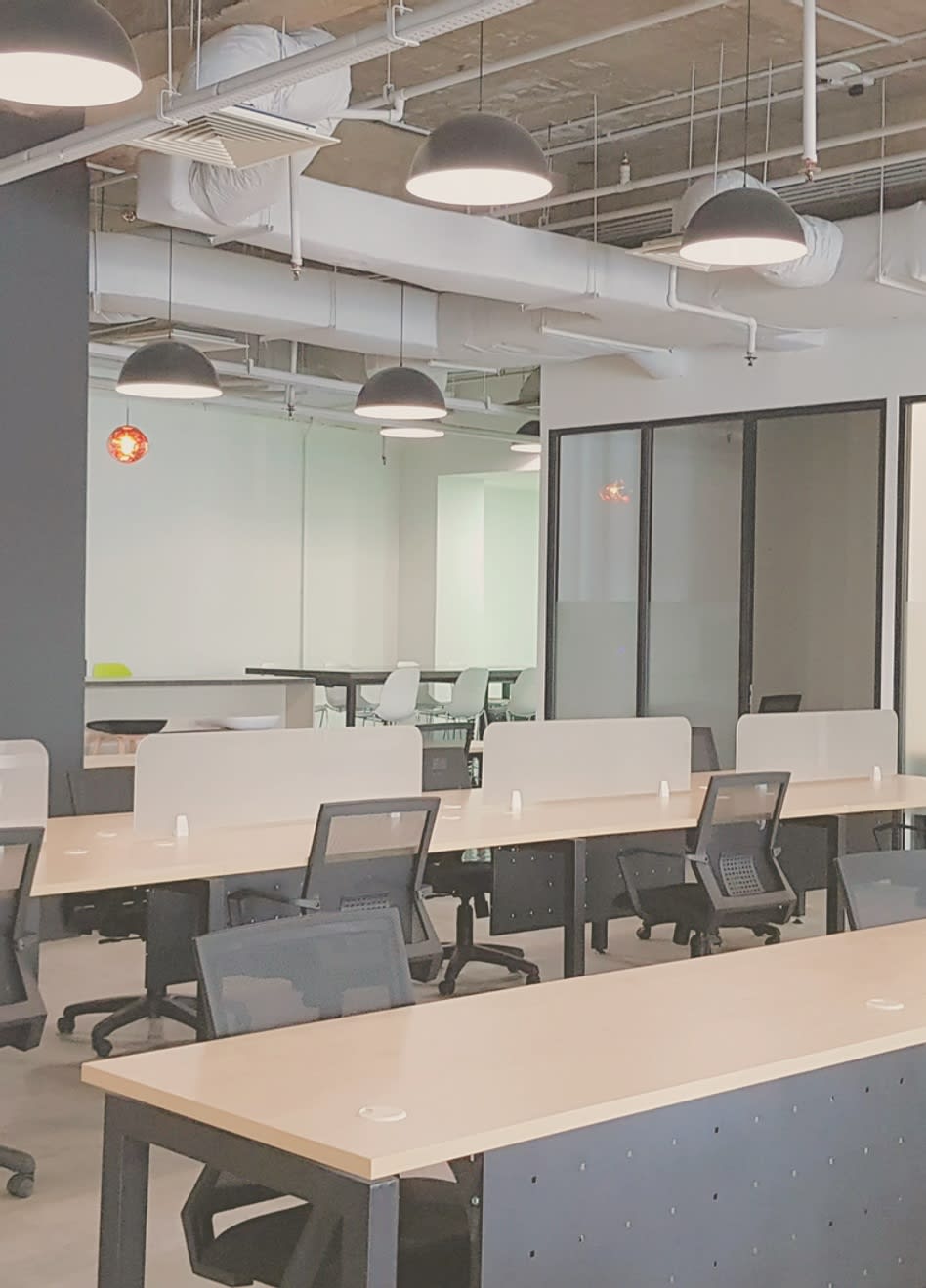 Address: BIZCO Coworking Space, Ground floor, Menara TKSS 206, Jalan Segambut, 51200 Kuala Lumpur
Contact Number & Email: Call 012 3811611 or Email

[email protected]

for more inquiries

Price: From RM 200 per pax
With its structured state-of-the-art facilities and networking prospects, BIZCO identifies itself as one of the preferred coworking spaces for the likes of freelancers. From private offices to coworking desks, its list of amenities is sure to attract you into choosing them for your work ventures.
BIZCO's customised workspace alternatives and in-house services provide a great advantage for freelancers. Not forgetting; start-ups with flexible schedules would also find this affordable coworking space conducive for their projects.
Customer Review:
"BIZCO is a cosy and functional coworking space that is just right for freelancers and SMEs alike. Their price point is very budget conscious yet they did not skim out on features and services.- Joseph T."
---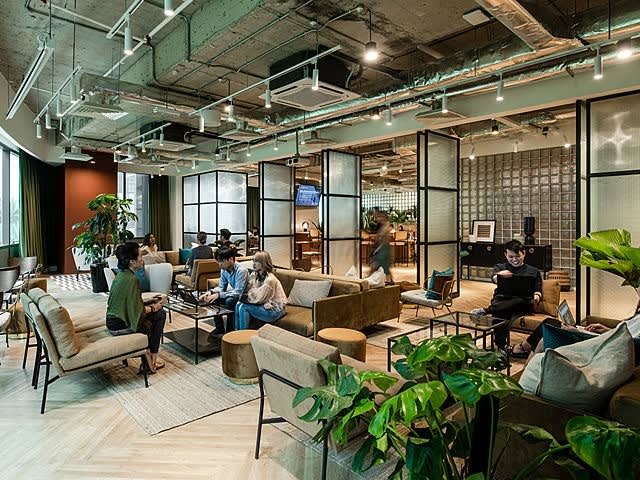 Address: Level 16-1, MZ 12, Wisma Uoa Damansara II, 6, Changkat Semantan, Bukit Damansara, 50490 Kuala Lumpur, Wilayah Persekutuan Kuala Lumpur
Contact Number & Email: Email

[email protected]

for more inquiries

Price: N/A
Since 2013, Venuerific is known to be the largest event venue booking platform in South-East Asia! Venuerific is your delectable treat to an endless list of venues for your next corporate event.
Its user-friendly platform lets you easily search and book for your venue in no time. Did we also mention that the platform hosts a wide selection of Asia's best restaurants and extraordinary places like mansions, yachts and private islands? All you have to do is just browse through its list of venues and get in touch with the listed partner venues who will guide you to your next step.
Customer Review:
"Easy to use website to find a suitable venue.- Steven Tan"
---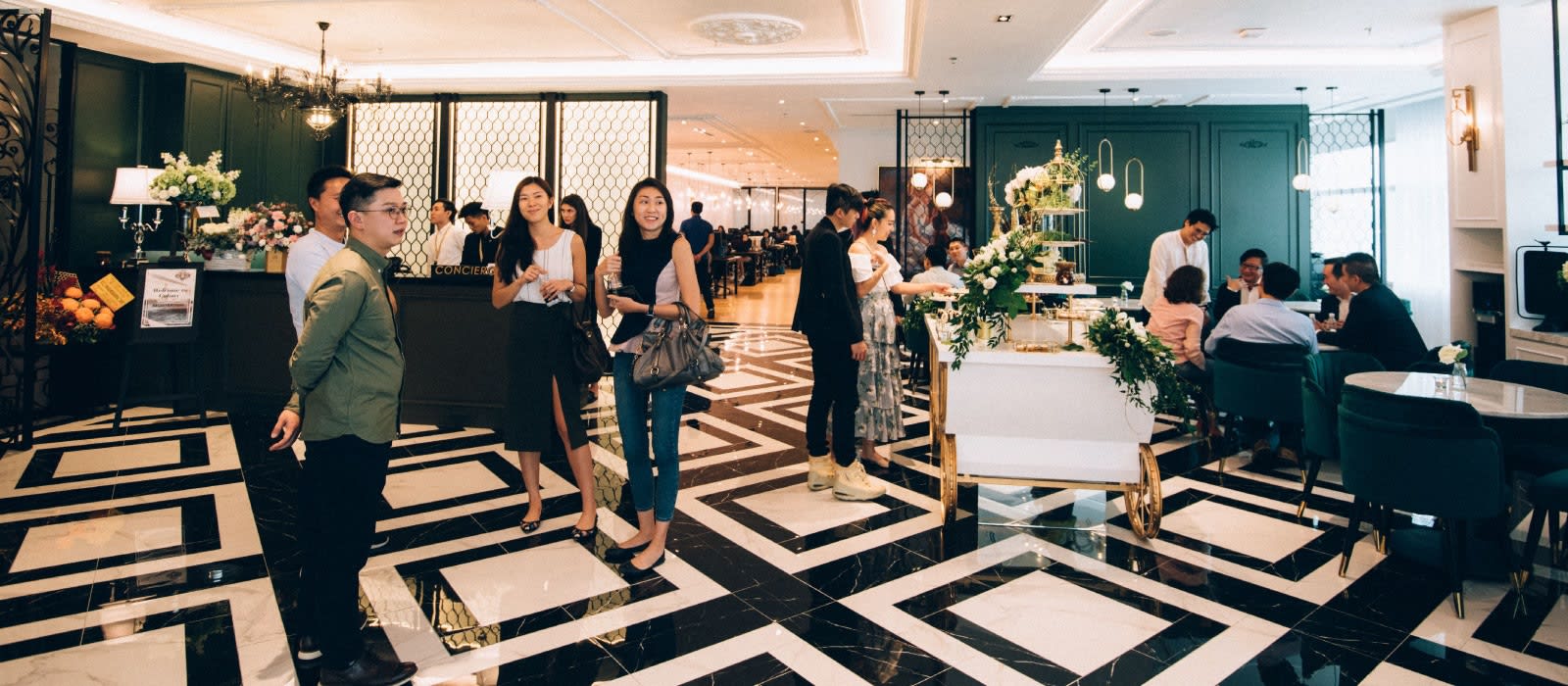 Address: Colony Space Eco Sdn Bhd, Levels 16-20, Boutique Office (B-01-D), Menara 2 (Pillar 11), Kl Eco City, No.3, Jalan Bangsar, 59200 Kuala Lumpur
Contact Number & Email: Call 03 7735 5337/018 213 8086 or Email

[email protected]

for more inquiries

Price: From RM 410 per month
Fancy yourself working in a fun and accommodating work environment? You have come to the right place. Colony is equipped with beautiful serviced office spaces and world-class amenities to cater to your needs.
A mundane working lifestyle is often a cause of employees dreading their time at work. This issue is what Colony aims to combat.
Inspired by one of the most established labour markets in the world - Silicon Valley, Colony's serviced offices and sophisticated facilities are designed as such to offer you a vibrant yet professional setting.
Customer Review:
"Had a catering event with Colony. Great people, comfortable work place and strategic location for gathering.- Wendy Wong"
---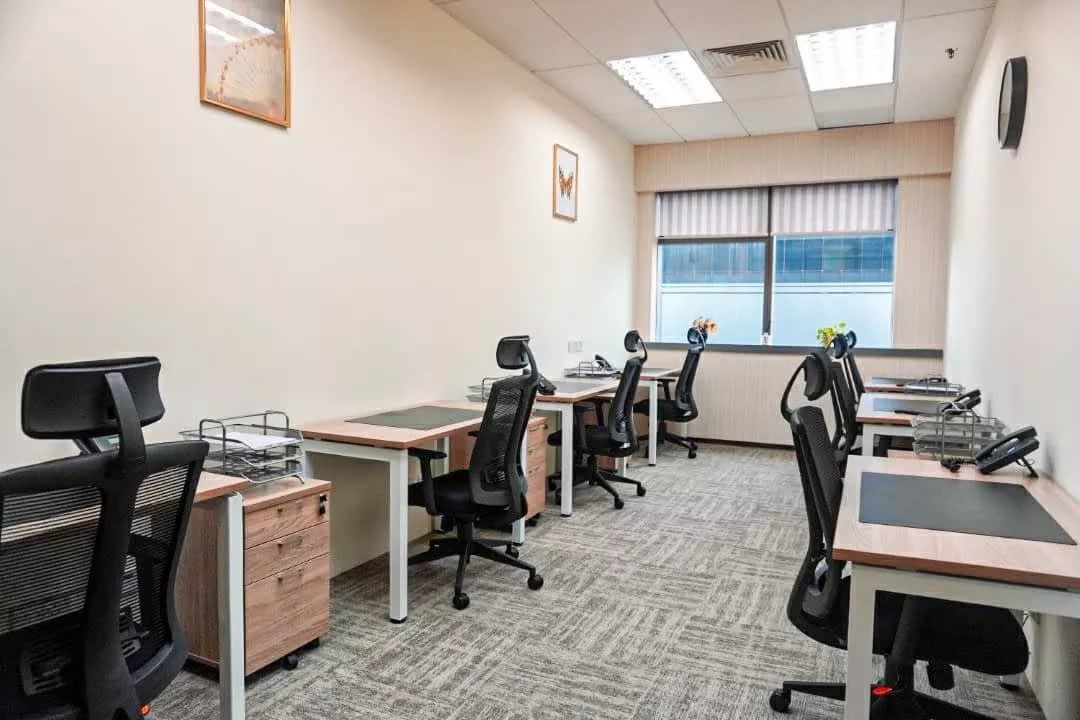 Address: 1-23-5, Menara Bangkok Bank, Berjaya Central Park, Jalan Ampang, 50450 Kuala Lumpur
Contact Number & Email: Call 03 2181 6026/ 017 807 0800 or Email

[email protected]

for more inquiries

Price: From RM 80 per hour
Located in the centre of Kuala Lumpur, NOVUX has attracted clients from all over the world. Its strategic location and high-security surveillance provide comfort and assurance for entrepreneurs and businesses alike.
NOVUX' list of serviced and virtual offices would have you pinning for a work-life that is more flexible and balanced. Its affordable pricing also makes NOVUX a worthwhile coworking space that is compact yet offers high-end facilities. To top that, one can enjoy a treat to its free beverages served at the pantry which overlooks a great view of skyscrapers.
Customer Review:
"Professional reception, person in charge, strategic and awesome location for business. Recommended for starter business. - Chris To Tan"
---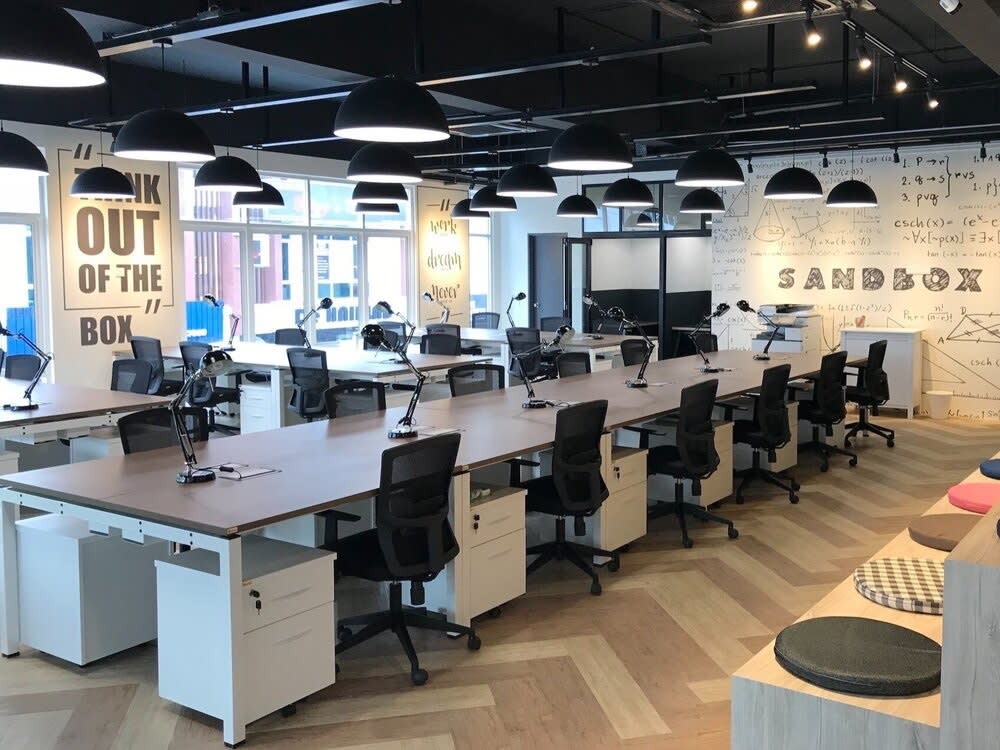 Address: 22-1 Jalan Radin Bagus 3, Sri Petaling, 57000 Kuala Lumpur Malaysia
Contact Number & Email: Call 012 326 7533 or Email

[email protected]

for more inquiries

Price: From RM 380 per pax
Sandbox Space creates a conducive environment for both individuals and teams of various sizes. Hot desks or event spaces for rent? Yes, Spacebox Space has got them!
Their range of coworking plans includes hot desks, dedicated desks and office suites. The best part is that these plans are offered at affordable prices! With their 24/7 access, high-speed internet and full office amenities, you wouldn't want to miss out on booking a slot at Sandbox Space!
Customer Review:
"Very great place to work especially for team meeting, comfortable and peaceful environment and the facilities provided is a top notch.- Nik Aiman"
---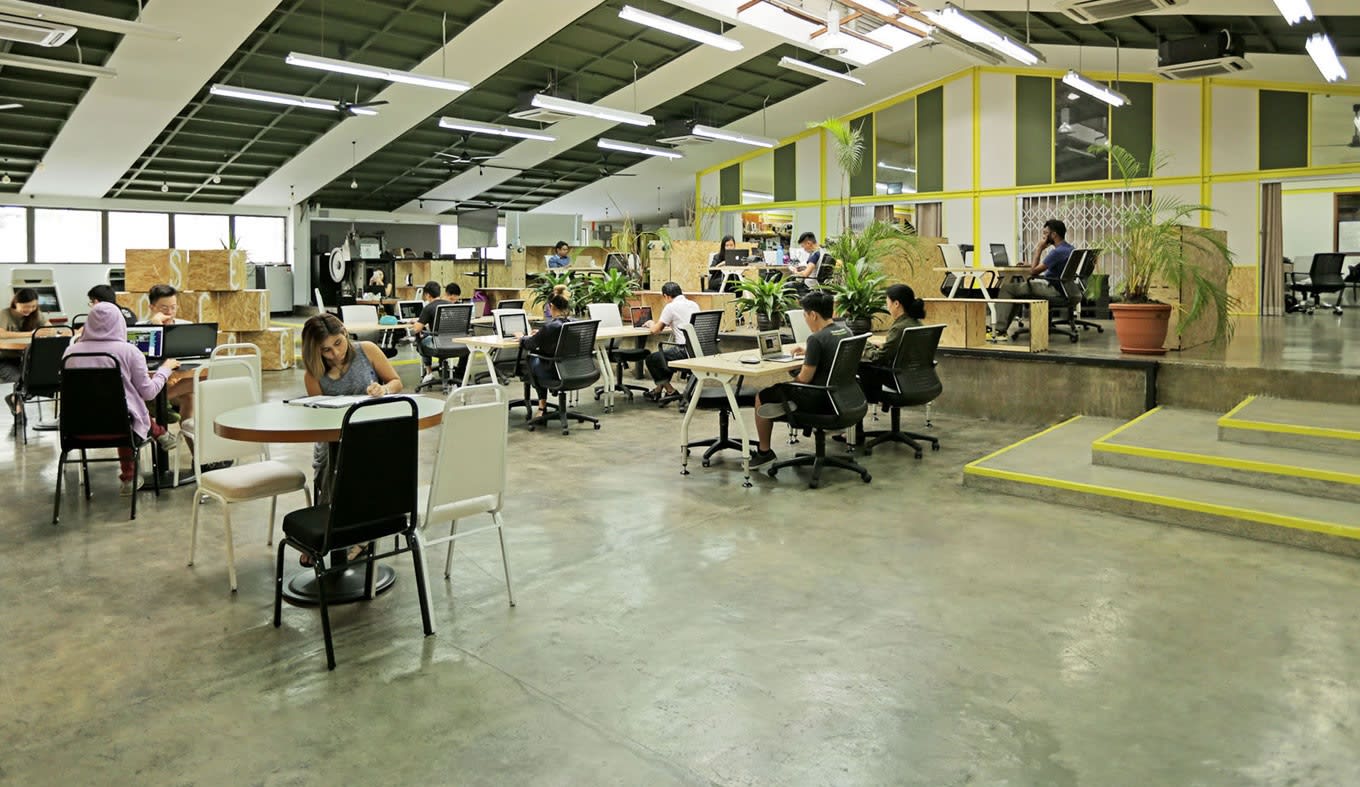 Address: 29, Jalan Riong, 59100 Kuala Lumpur, Malaysia
Contact Number & Email: Call 03 2726 2726 for more inquiries
Price: From RM 550 per month
UnionSPACE is the first coworking space to be awarded as the Digital Hub in Malaysia. Along with their selected food choices, it's no wonder that many big parties and tech events want to host their events at UnionSPACE.
This coworking space offers an array of workspaces such as serviced offices, dedicated desks and flexible desks to cater to individuals and teams of up to 50. Meticulously designed and comfortably furnished, UnionSPACE creates a great environment for you or your teams to work easily. Let's not forget that UnionSPACE also offers flexible contracts to suit your needs.
Customer Review:
"Great place to work from, well run and a good atmosphere for start-ups as well as creative companies.- Adam Mathews"
---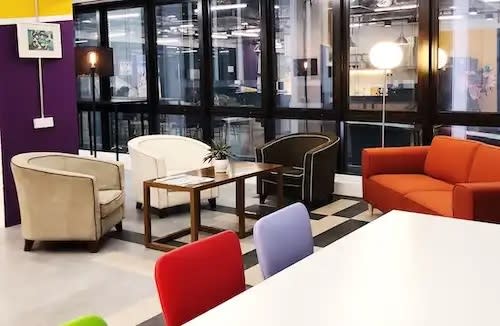 Address: Level 6, Fahrenheit Office Tower, Jalan Gading, Bukit Bintang, 55100 Kuala Lumpur, Malaysia.
Contact Number & Email: Call 03 8408 2010 or Email

https://paperandtoast.com/contact-us/

for more inquiries

Price: N/A
PAPER+TOAST has certainly thought well when looking for the best place to open their very first coworking space, which is KL's heart of vivid inspiration - Bukit Bintang! With a mission to encourage collaboration among different spectrums of people, PAPER+TOAST sets a path to create an engaging community.
The company hosts various communities from start-ups to government agencies. Their co-working spaces of hot desks, private desks and private offices encourage a boost in work productivity. And for a complete proper working experience, PAPER+TOAST also comprises event spaces, meeting rooms, pantry and phone booths.
Customer Review:
"Spacious co-working space, High Speed WiFi, optional lockers, comfortable prayer rooms, 24/7 access, VERY near to Pavilion Bukit Bintang. Totally recommended. - Hasan Fahmi"
---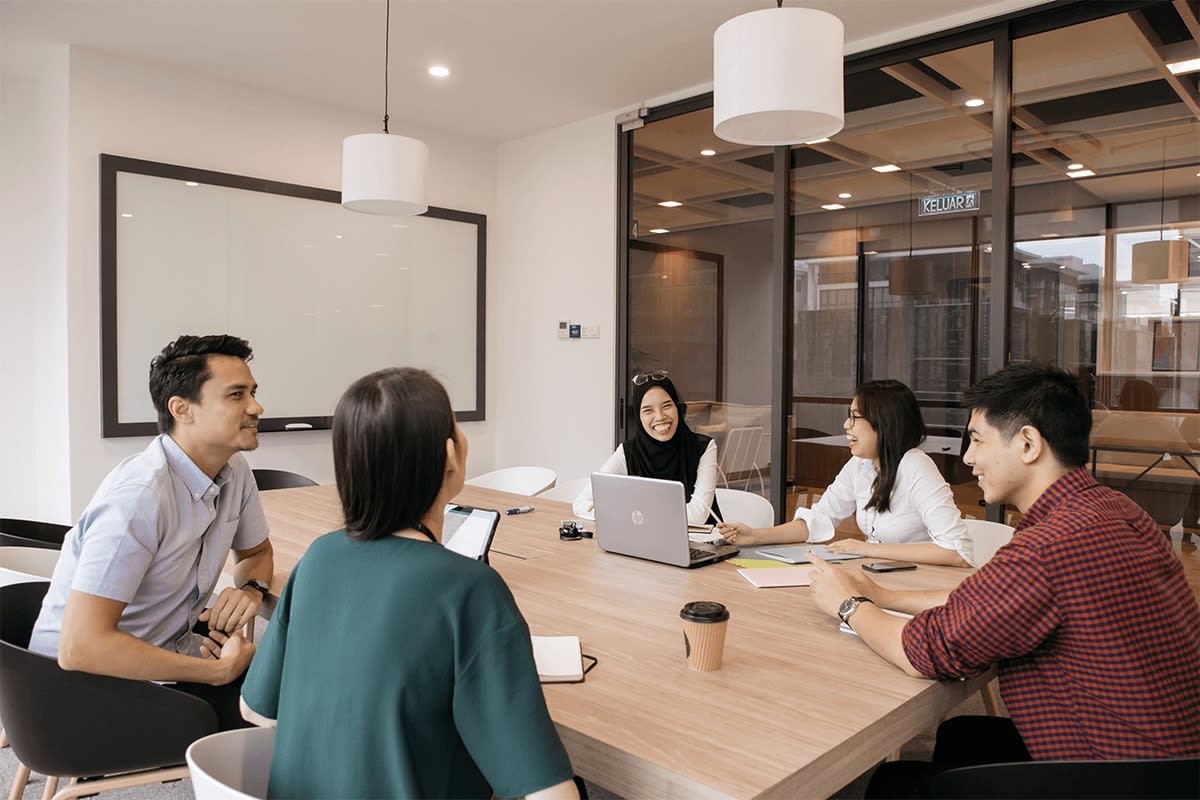 Address: Level 8, Vertical Corporate Tower B, Avenue 10, The Vertical, No. 8, Jalan Kerinchi, Bangsar South City, 59200 Kuala Lumpur, Malaysia
Contact Number & Email: Call 03 2242 0321/03 2242 0315 or Email

[email protected]

for more inquiries

Price: From RM 300 per month
If you are looking to experience working in a chic and modern setting, Komune Co-working is the spot! They have many well-connected office locations throughout Kuala Lumpur. And each of them is never short when it comes to projecting a beautifully designed and comfortable work environment.
Their list of plans ranges from single desks to private offices, complete with the use of facilities and amenities. Komune Co-working's spaces are sure to rouse and spark creativity as well as ideas. All of the ingredients you need for a productive result are right here!
Customer Review:
"Cosy working space with plenty of power outlets. Love the wood furniture and comfort lighting.- Liew CF"
---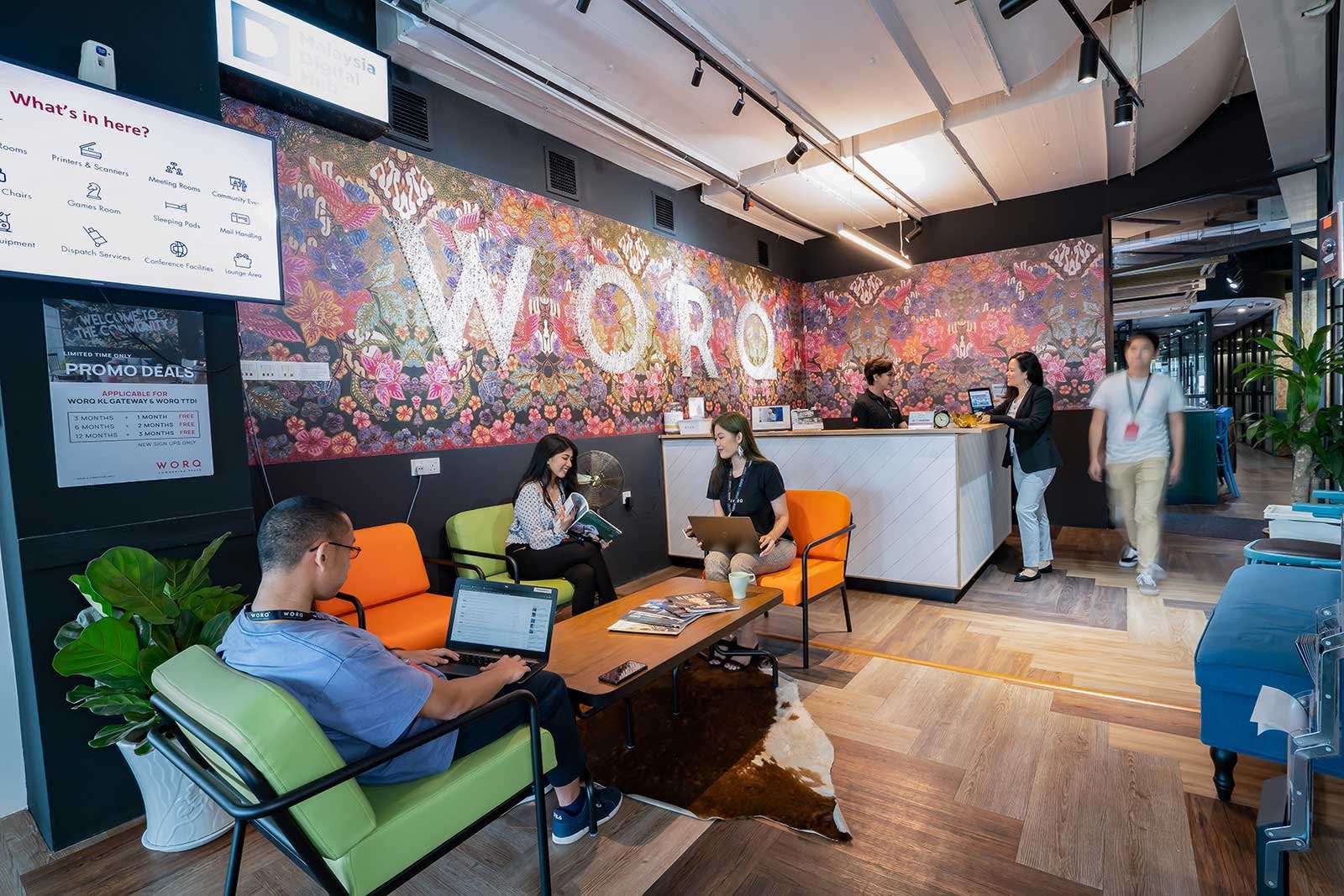 Address: Unit 1.02, Glo Damansara, No. 699, Jalan Damansara, 60000 Kuala Lumpur
Contact Number & Email: Call 010-767 6704 or Email

[email protected]

for more inquiries

Price: From RM 400 per month
Nestled within the heart of Kuala Lumpur, WORQ provides a Flexi-lease office with a hyped business community. You can expect your productivity to grow thanks to a leveraged community right here at WORQ.
As a certified Malaysian Digital Hub by MDEC, WORQ's strategic location has earned the team a competitive advantage amongst the other coworking spaces. Traffic is far less from your worries as WORQ is located next to the TTDI MRT station too. Is your energy drained from working too hard? Fret not! There are quaint restaurants located nearby for you to take a break too.
Customer Review:
"I highly recommend WORQ for any start-ups or individuals. Great place to work.- Zumry Mohamed"
---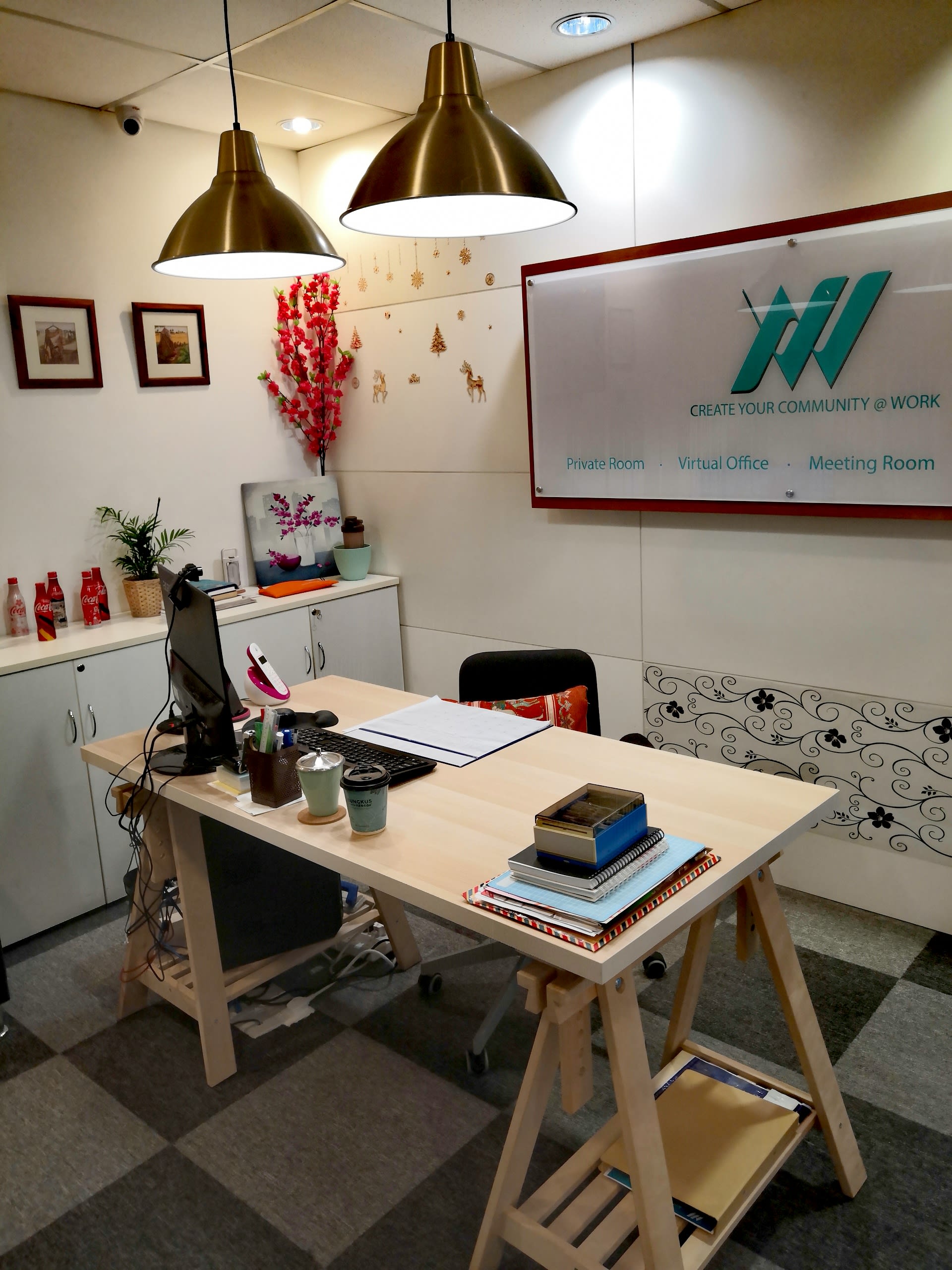 Address: Block B2-Level 3A-Unit 13A, Publika Solaris Dutamas, No 1, Jalan Dutamas 1, Mont Kiara, 50480 Kuala Lumpur, Malaysia
Contact Number & Email: Call 03 6419 9343 or Email

[email protected]

for more inquiries

Price: From RM 50 per day
Optimising on a unique shared serviced-working space, Alpha Works KL welcomes all as they support start-ups, social enterprises and growing businesses.
Aside from its space, Alpha Works KL offers a range of services such as start-up services, marketing event support and digital marketing strategies to benefit their clients. Its convenient location also makes Alpha Works KL an upside when it comes to accessibility.
Besides, their very own dedicated desk plan offers all the basic essentials you would want in your very own personal office. You get the likes of your own cupboard, post-its accessories and internet access. Get cosy as you work towards achieving your dreams here.
Customer Review:
"Great location with awesome service to meet my day -to-day business needs.- John, SME Business Owner"
---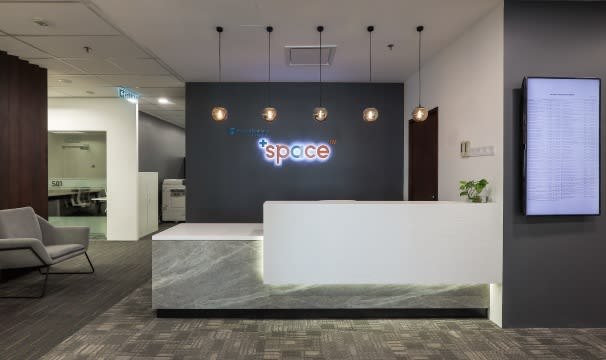 Address: Level 21, Mercu 3 No. 3, Jalan Bangsar KL Eco City, Bangsar, 59200 Kuala Lumpur
Contact Number & Email: Call 03 2202 6633 or Email

[email protected]

for more inquiries

Price: From RM 599 per pax
PlusSpace is moulded from Russell Bedford Malaysia, which is an integrated financial and business consulting service company. The company did not intend to just set a coworking space, but also as a hub to host their business services.
PlusSpace's connectivity to financial, retail and entertainment hubs enables you to work in a space that meets most of your business needs. Its design along with its facilities will be sure to help you feel more motivated as you work with your peers.
One can choose from PlusSpace's range of office suites to hot desks that fit your business size and budget.
Customer Review:
"Clean space, friendly staff, fast WiFi :) - Hanson Grant"
---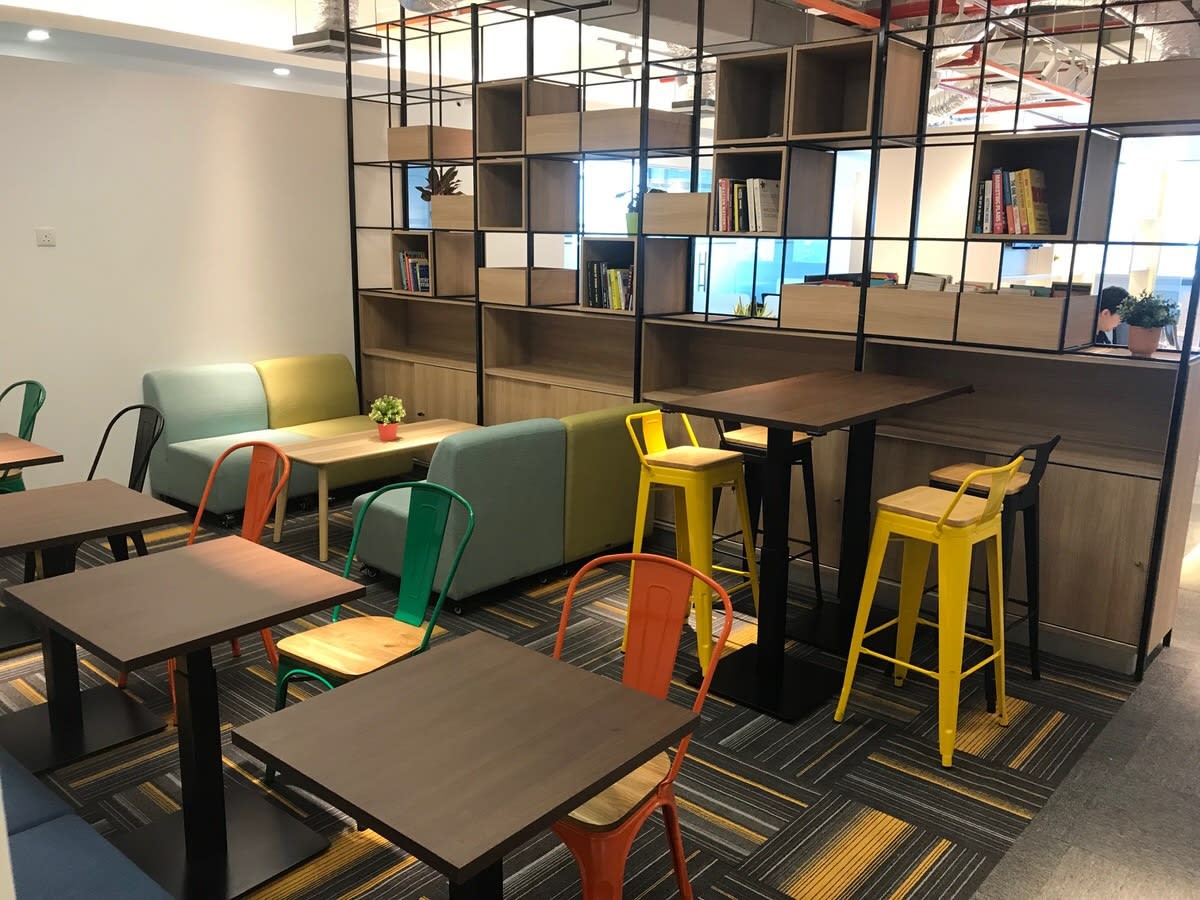 Address: GRAND HOPE MARKETING SDN. BHD., BO1-A-09, Menara 2 KL Eco City, 3, Jln Bangsar 59200 Kuala Lumpur
Contact Number & Email: Call 03 2391 9855/011 1543 1162 or Email

[email protected]

for more inquiries

Price: From RM 20 per day
Triune has served a multitude of clientele thanks to its varying and affordable co-working space packages. Whether it is just to serve 2 individuals or a team of 100, Triune can accommodate all your needs.
They are also able to fulfil Changing requests thanks to their quick wit at modifying venue turnarounds with their modular and movable furniture. Their fully-equipped venue also features a full suite of audio and visual tech to house all of your presentation and recording needs.
As a one-stop business solutions provider, Triune offers a range of corporate service packages along with venue credits. These credits are redeemable for meeting rooms, co-working day passes and even conference rooms at Triune Centre KL.
Customer Review:
"Best place to be at, great community, host is amazing, great environment! Strongly recommended! - Hubert L."
---
---
Are Co-Working Spaces Worth It?
The virus pandemic has made coworking spaces the new frontier of flexible and remote working options. Due to the feeling of being cooped up at home, this creates the desire to work elsewhere as a means of escape to a new environment.
So, the question is, are coworking spaces worth it? Certainly!
Coworking spaces provide a great environment to suit individual as well as company demands and needs. They offer lucrative packages, well-furnished spaces and engaging networks so integration and communication can easily take place. These spaces, with no doubt, help boost motivation and work quality amongst people, especially for lone workers and freelancers.
However, the lack of private space and often costly packages can serve as a bit of a disadvantage. Still, most of these coworking spaces are equipped with private rooms. As more people yearn for a flexible working environment, coworking spaces are continuing to prosper. Besides, they also create a community of engaging and inspiring members.
---
Related Service Recommendations