You may know your cat well, but how well do you know about cat nutrition? Similar to humans, your cat's nutritional intake is extremely important as it will determine its physical appearance as well as the quality of life.
There are multiple brands out there offering cat foods at affordable prices, such as Royal Canine, Purina, and Cindy's Recipe. These products can mostly be found online, perhaps with many contradictory reviews.
Here we review a comprehensive list of cat foods, with various categories such as canned cat food, adult cat food, and cat food for healthy skin and fur.
---
View this post on Instagram
---
Top 11 Cat Food Brands in Malaysia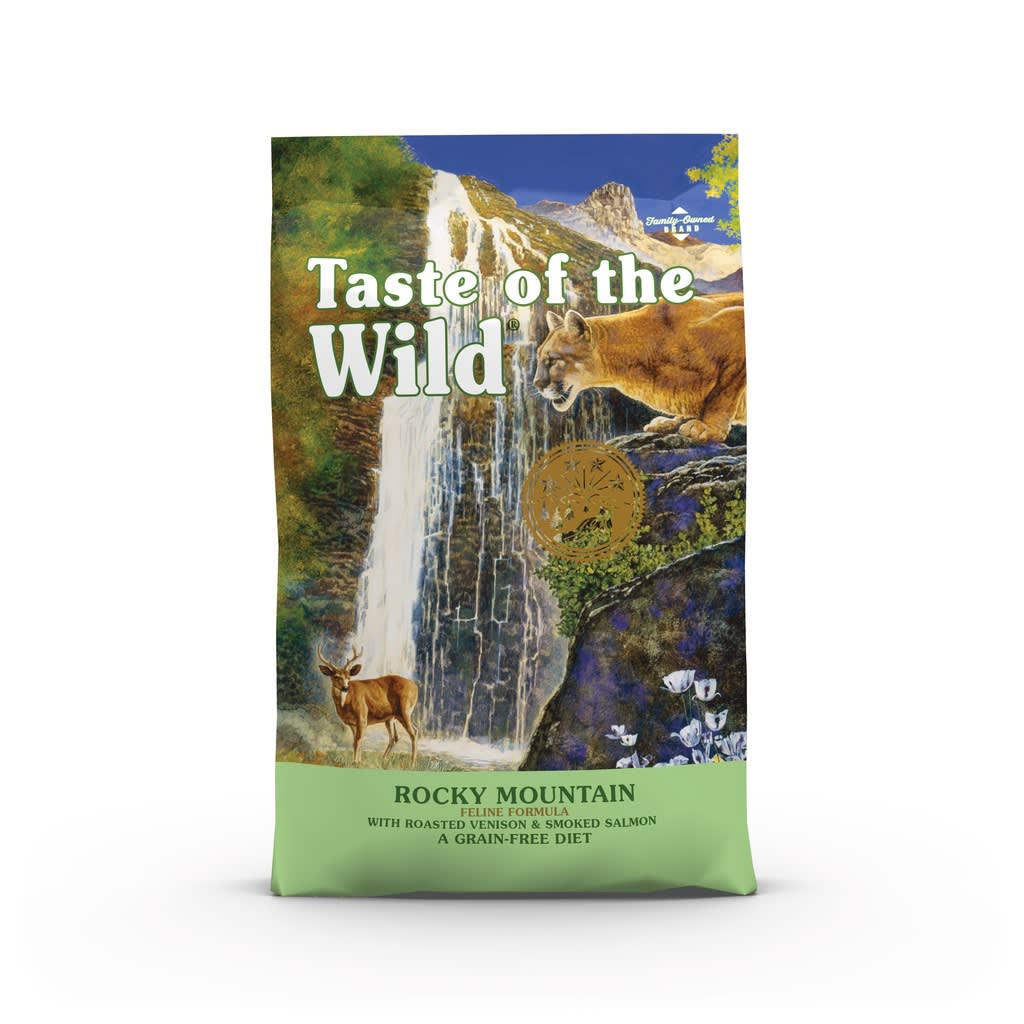 Check Taste of the Wild Cat Food price below:
add_circle
Suitable for cats of all ages to consume
add_circle
Ready to serve
add_circle
Not time-consuming
Why is it our top pick
Taste of the Wild has established itself as a reputable pet food brand and one of the reasons is its substantial 42% protein and 18% fat content. When cats are fed high-carbohydrate diets, they tend to consume more to obtain the essential nutrients they require, often leading to weight gain and compromised health. 
With such elevated levels of protein and fat in Taste of the Wild cat food, you can expect your cats to gain the right nutrition for their growth and well-being without overfeeding them. 
Overview
Want to feed your cats a well-rounded diet? Indulge your feline friend with Taste of the Wild Cat Food, which is a nourishing blend that caters to all ages. 
With a remarkable 42% protein content derived from a harmonious mix of chicken meal, roasted venison, smoked salmon, ocean fish, and plant-based sources, this recipe delivers both nutrition and a delectable meaty flavour for optimal vitality.
Details:
High Protein content (42%) and unique flavours

Viables Probiotics for a healthy digestive and immune system

Balanced nourishment that suits all types of cats

Omega fatty acids to support cat's overall appearance

Promotes heart and eye well-being
Who is this for?
Taste of the Wild Cat Food stands as a versatile choice suitable for a spectrum of cat lovers; it is carefully crafted to deliver tailored nourishment at every life stage, making it an ideal choice for households with sprightly kittens and wise senior felines alike.
And as if that's not enough – it is also a great match for cat owners who prioritise a balanced and protein-rich diet to support their furry companions' overall well-being.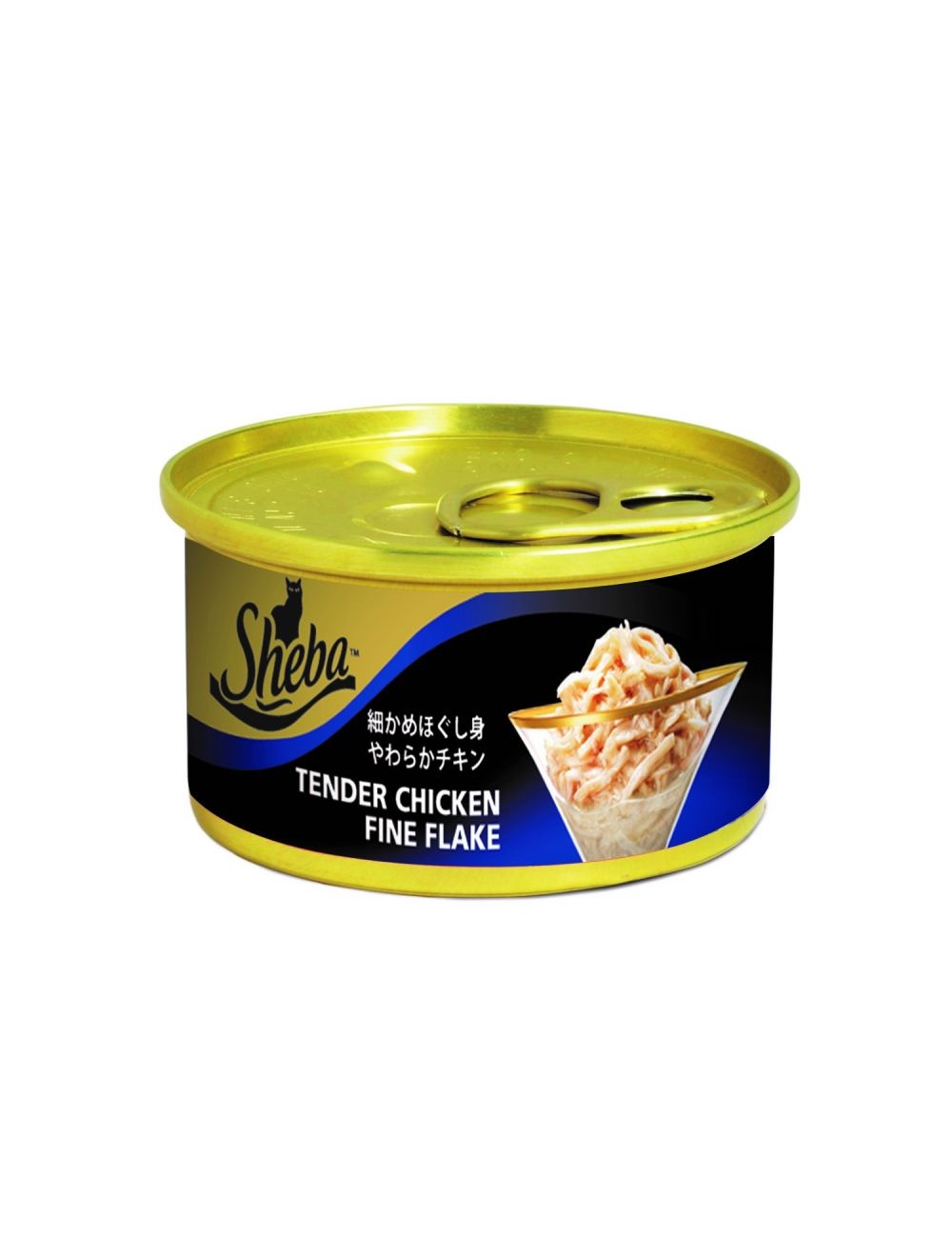 Check Sheba Canned Cat Wet Food price below:
Overview
It's important to let your feline indulge in some wet food whenever possible as it is usually made to fit and nourish the cat's digestive system better. And when you're able to, you can't go wrong with Sheba's Canned Wet Food for Cats, a popular brand among locals, Sheba's Canned Wet Food for Cats come in various flavours such as chicken breast and salmon. 
Whatever choice of protein you choose, each type is made with the best natural ingredient quality possible, and retains a texture that has smooth pieces, each filled with gravy. For example, the Canned Tuna and Salmon variant contains just salmon, white fish, thickening agents and water.
Details
Made with the finest ingredients to offer a premium, nutritional meal

Retains flavours that suits a stubborn cat's appetite

Texture is of chunky meat pieces with gravy
Who is this for?
If you're new to feeding your cat a wet food diet, or just want to satisfy your feline's appetite without sacrificing their health and nourishment, give the Sheba's Canned Wet Food a try. Coming in various flavours, each bite your cat takes is also a win for their health and for your assurance.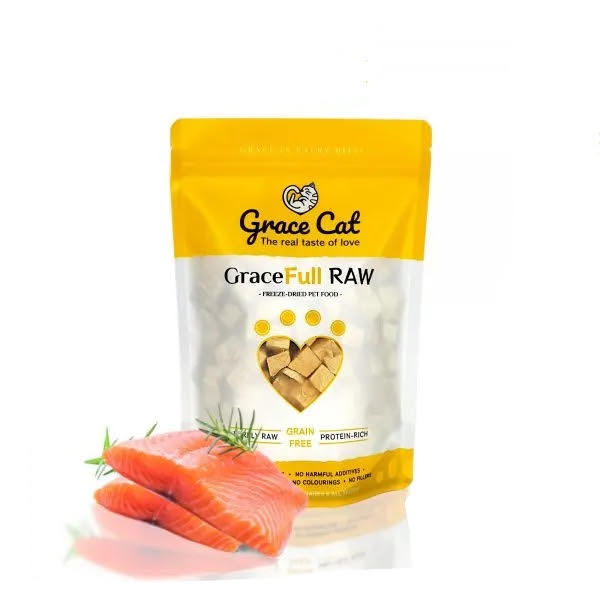 Check GraceFull Raw – Salmon price below:
add_circle
No artificial colorings and preservatives
remove_circle
Not a complete diet
Which cat doesn't love fish? The Grace Cat GraceFull Raw freeze-dried pet food in salmon flavour is the perfect hassle-free meal for your cat. Through the use of freeze-dried technology, this ready-to-serve treat is fresh and flavourful!
The high meat, high protein content is exactly what your cat needs in its daily diet. It also guarantees to boost your cat's immune system, build stronger muscles, improve digestive health, and so much more.
Moreover, designed as a booster, the GraceFull Raw – Salmon can be fed as a daily treat or as an appetite enhancer for your cat. This will ensure that your cat's daily diet is filled with plenty of good protein.
Protein: 75.35%
Fat: 13.1 %
Fibre: 0.8%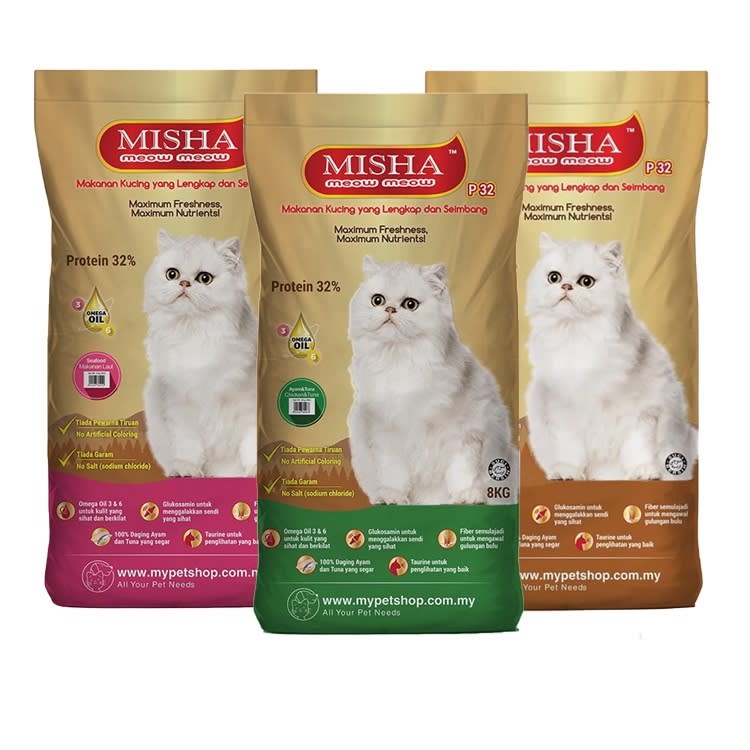 Check MISHA Dry Cat Food price below:
add_circle
No added sodium chloride
add_circle
No artificial colouring added
add_circle
Wallet-friendly
Overview:
Misha Dry Cat Food is another well-liked low-cost option for the greatest cat food. This one has a significant proportion of protein (32%) and fat (15%) and is produced from meat and fish. You can test out each of the three flavours—chicken & tuna, ocean fish, and seafood—to determine which one your pet loves.
Additionally, it contains a lot of vitamins, including vitamins A through B12, taurine, DL-methionine, and Omegas 4 and 6. Salt has not been added in its blend as they can be toxic to cats. This cat food option can be a wise choice if money is scarce but you don't want to compromise quality.
Protein:

32%

Fat:

15%

Fibre:

4%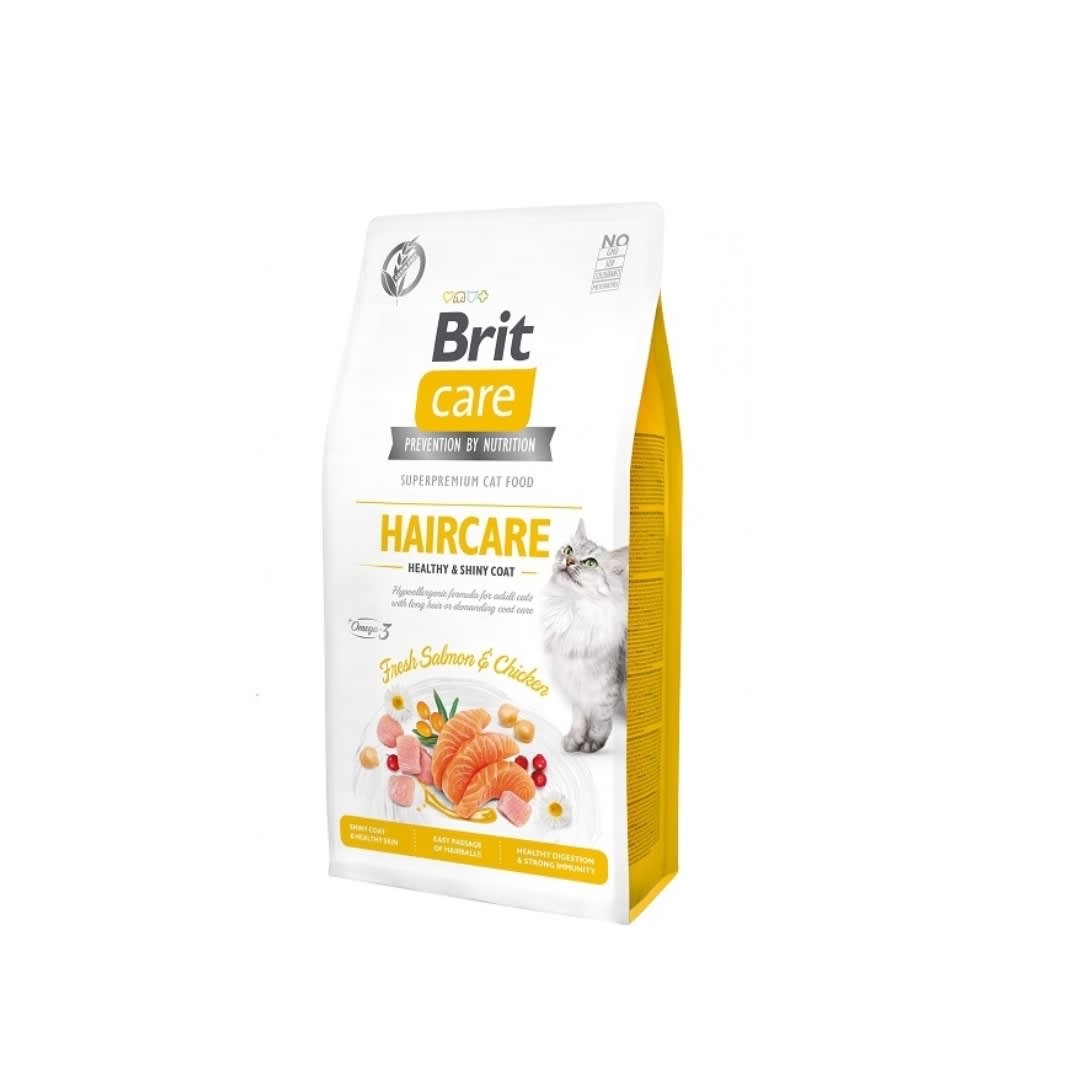 Check Brit Care Grain-Free Cat Food 2KG price below:
add_circle
No food colouring
add_circle
No preservatives
add_circle
Contains probiotics and prebiotics to aid in digestion
Overview
Do you want to nourish your beloved cat with a grain-free delight and culinary canvas unmarred by rice, barley, or oats? Come and step into the world of Brit Care Grain-Free Cat Food, where holistic well-being comes to life. 
Beyond sustenance, this cat food is a declaration of your unwavering care infused with purpose to showcase your dedication. This grain-free delicacy translates to higher protein and reduced carbs, a boon for indoor cats seeking wholesome nutrition.
Details
Packed with wholesome ingredients like salmon and linseed

Rich in probiotics and prebiotics for a digestive harmony

Abundant fibre content to maintain a healthy body weight

A formula that boosts protein and reduces carbohydrates

No addition of artificial colours and preservatives
Who is this for?
Brit Care Grain-Free Cat Food appeals to cat owners who view their pets' nutrition as an extension of their love. More so if their furry little companions are active indoor cats seeking a diet rich in protein and low in carbs. 
With its digestive support, hairball control, and absence of grains and artificial additives, this cat food resonates with caring owners who aim for a healthier and more holistic approach to their cats' nutrition.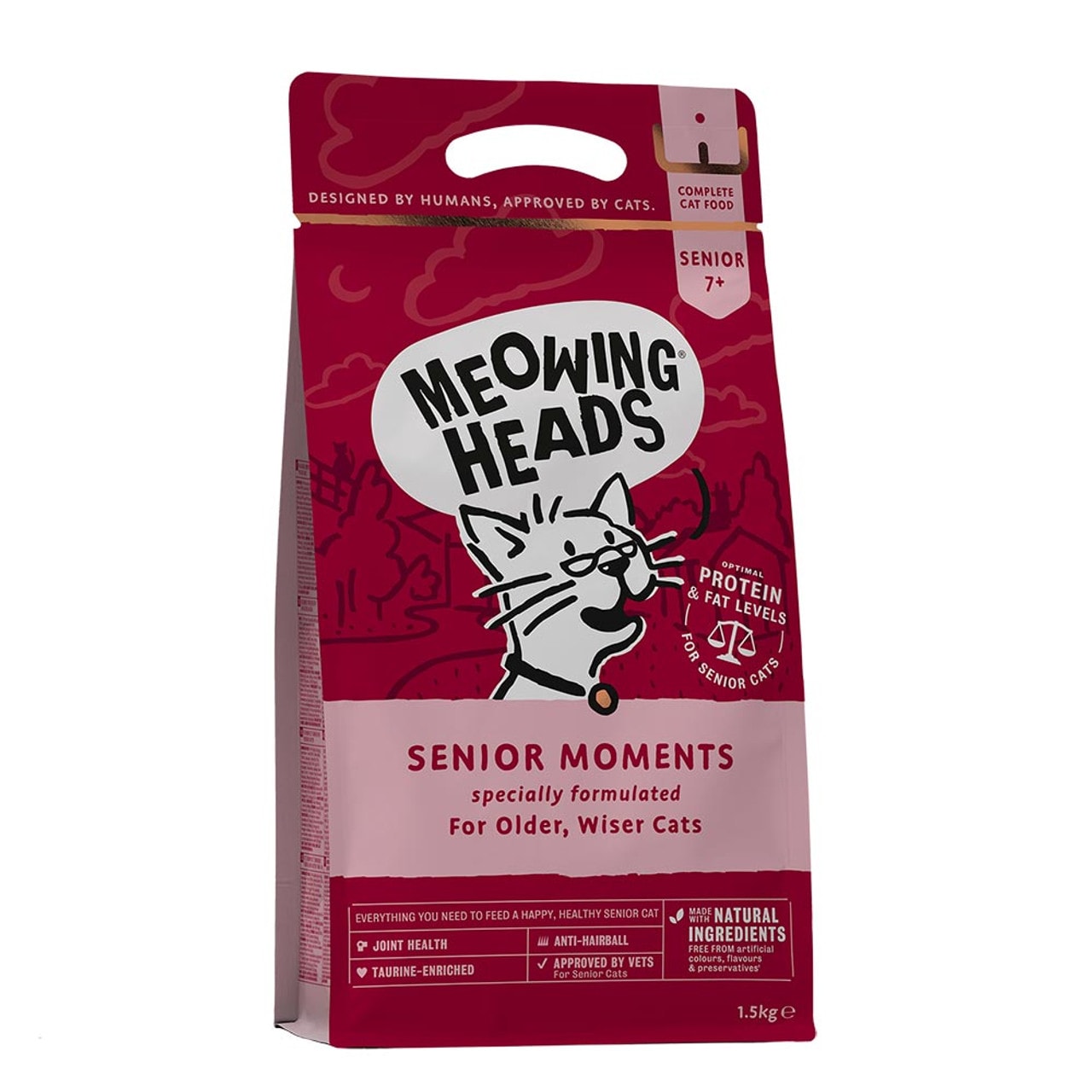 Check Meowing Heads Senior Moments (Chicken And Salmon) price below:
add_circle
Optimal protein & fat levels for senior cats
add_circle
Free from artificial colours, flavours & preservatives
add_circle
Improves joint health
Overview
For older cats, not only is nutritious food intake important but even the amount of nutritional ingredients in it plays a huge role in ensuring their health. Meowing Heads, known for pet food varieties with nutritional fulfilment in focus, made Senior Moments befitting to senior cats' needs.
Made of chicken and salmon, the Meowing Heads' Senior Moments is formulated with only natural ingredients. Alongside an enriched taurine level for better heart condition, the dry food also consists of sweet potato, dried fish and cranberry.
Details
Made with natural ingredients, including chicken, salmon, and sweet potato

Contains 40% of protein, 14% of fat, and 4% of fibre

Approved by vets for senior cats
Who is this for
While the dry kibbles have an anti-hairball effect on your cat's digestive system, it is also made to help improve your older cats' joint health.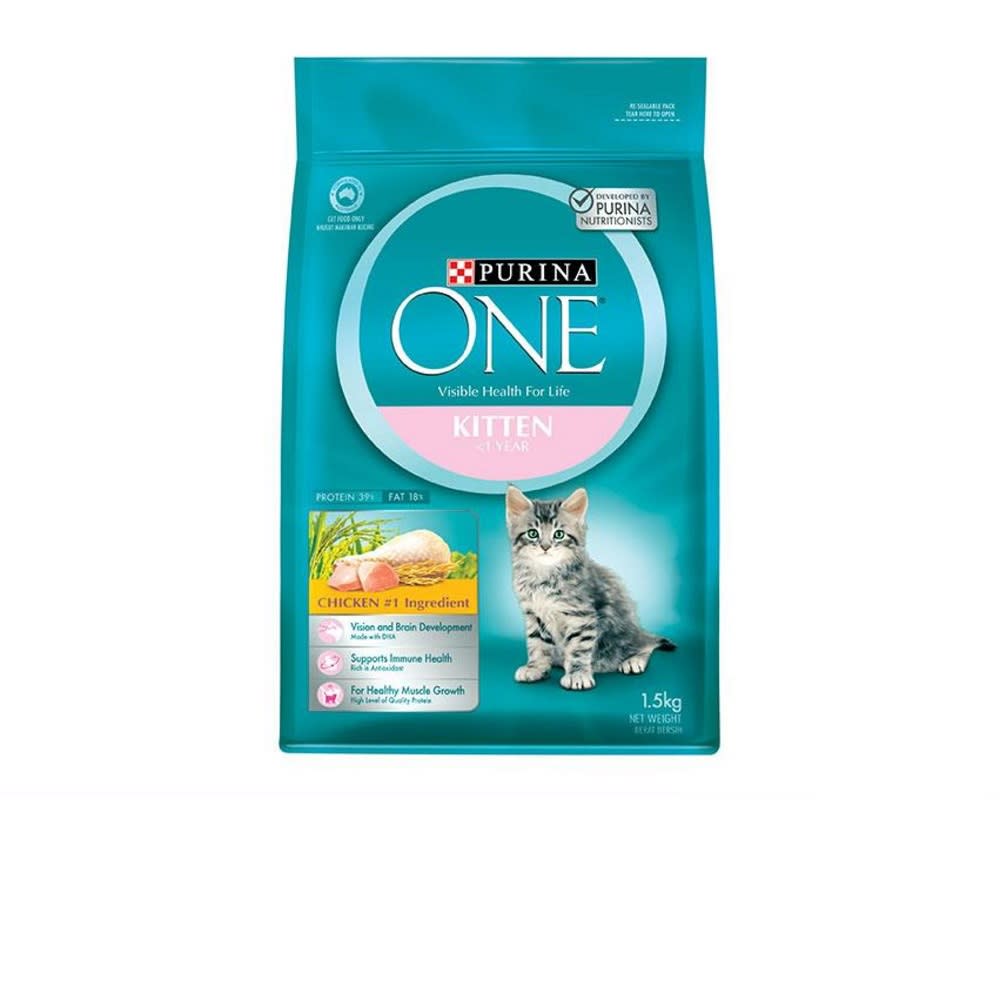 Check Purina One Kitten Food with Chicken 1.5kg price below:
add_circle
Supports vision and brain development
add_circle
Supports healthy muscle growth
add_circle
Supports the immune system
add_circle
Said to be easily accepted by fussy cats
Overview
Cradling a new kitten in your family can be full of energy and life, yet the worry for their young, vulnerable health is only natural. Here is where Purina One Kitten Food with Chicken comes to the rescue, providing expert nutrition for a vibrant start.
Specially formulated with higher levels of protein, calcium, magnesium, and iron, it is a nutritional powerhouse that your growing kitten needs given that it supports robust muscle development and overall growth in cats below 1 year of age.
Details
Features IMMUNE DEFENCE PLUS+ as its first line defence

Optimal levels of vitamins for a complete growth support

Irresistible and wholesome flavour to delight your cat's palate

No added artificial flavours, colourants or preservatives

Visible transformation seen as early as 3 weeks
Who is this for?
If you're a cat parent embracing the joy and responsibility of raising a kitten, Purina One Kitten Food with Chicken is designed with your young fur ball in mind. 
This formula provides the optimal blend of nutrition and taste to fuel your kitten's growth, energy, and thriving health. Offer your kitten a nourishing beginning to life with each delectable bite.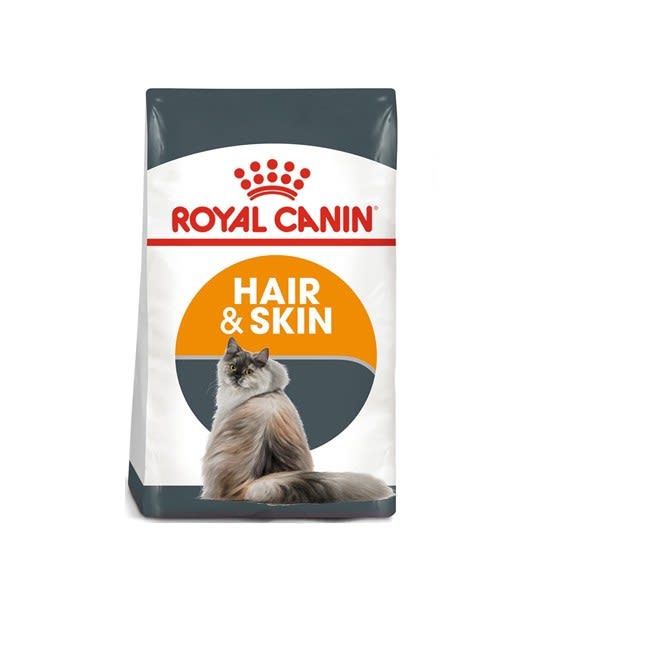 Check Royal Canin Hair and Skin Original 1kg price below:
add_circle
High in amino acids
add_circle
Strengthens the skin barrier
add_circle
Promote hair growth
Overview
Just like humans, certain cats contend with sensitive skin and hair loss. If this sounds familiar, fret not – the solution lies in Royal Canin Hair and Skin Original. Engineered to foster skin cell renewal, this cat food is your ally in addressing these concerns.
A balanced nutritional profile enriched by Omega 3, Omega 6, soy, fish oil, B-vitamins, zinc, and copper, this formula fortifies the skin barrier. In a mere three weeks, expect your cat's skin to visibly glow and their coat to flourish.
Details
Contains essential omega-3 and omega-6 fatty acids

Encourages robust hair growth and skin rejuvenation

Enhances the skin's protective function as well as beauty

Helps maintain optimal hair strength and density

Clinically proven to noticeable changes within 21 days of usage
Who is this for?
Royal Canin Hair & Skin Original is tailor-made for cat owners who care deeply about their cat's well-being. If you're looking to enhance your feline companion's skin health and coat condition, this mixture is your solution. 
Whether your cat is long-haired or short-haired, the nourishing blend of nutrients in this cat food will help them deal with their sensitivity and shine like never before.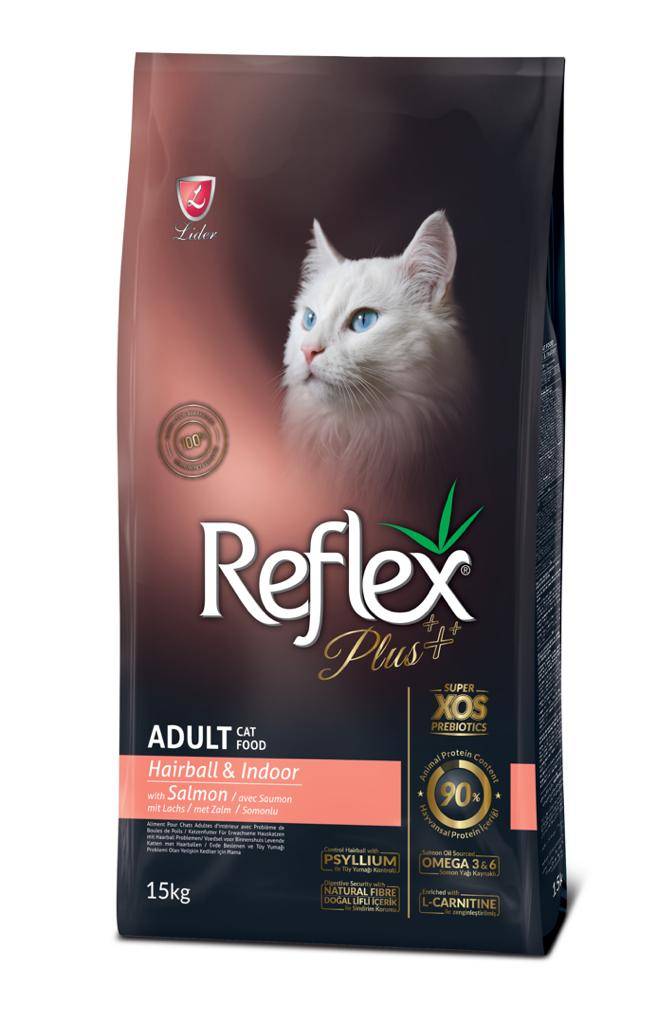 Check Reflex Plus Anti-Hairball Adult Cat Food price below:
add_circle
Provides balanced nutrition
add_circle
Promotes healthy skin and coat
add_circle
Prevents hairball formulation
Overview:
Reflex Plus is a cat food that has been specially created to suit the nutritional demands of long-haired indoor cats and support the health of their skin and coat. This cat food has natural fibre and psyllium to help with hairball prevention.
To help with weight control, it also contains l-carnitine, so you don't have to worry about overfeeding your cat. The high protein content of this cat food comes from premium animal products, and it also contains necessary vitamins, minerals, and omega 3 and 6 for the healthiest possible kitty.
You shouldn't be concerned about the cat's digestion because this cat food contains exceptional prebiotics called xylooligosaccharides (XOS) to support the cat's digestion.
Protein:

34%

Fat:

14%

Fibre:

5%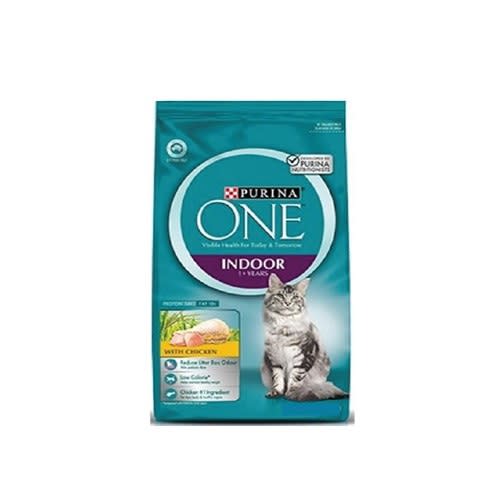 Check Purina One Adult Indoor Dry Cat Food 1.5kg price below:
add_circle
Reduces litter box odour
add_circle
Maintains healthy weight
add_circle
Controls hairball formation
add_circle
Contains max levels of fibre
Generally, indoor cats require less energy and thus require lower carbohydrate intake. The Purina One Adult Indoor Dry Cat Food was crafted with indoor cats in mind. 
Owing to the sedentary lifestyles practised by most indoor cats, it can be easy for them to be over the target weight. With that, this formula will greatly help your cat in regulating its body weight. 
Containing high fibre content, this formula for house cats help to limit hairball formation. Additionally, it contains prebiotic fibres that reduce odour from the litter box. 
Protein

: 34%

Fat

: 13% 

Fibre

: 7%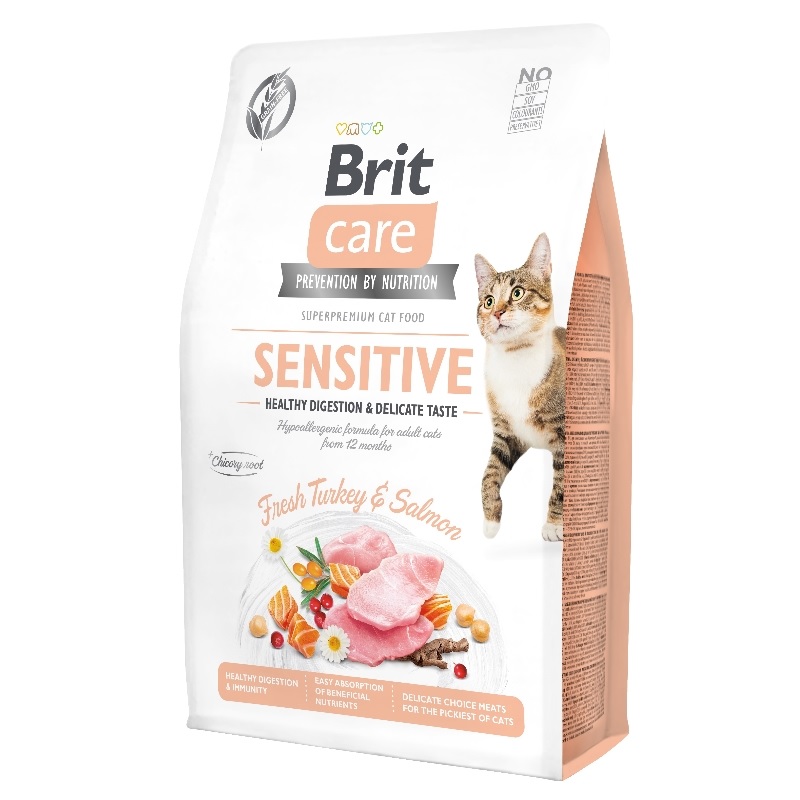 Check Brit Care Grain-Free Sensitive Cat Food price below:
add_circle
Highly digestible
add_circle
Fresher home environment
add_circle
Promotes kidney and urinary tract health
Overview
Want a solution that lets you rest easy, knowing your cat's delicate tummy is in good hands? Say hello to Brit Care Grain-Free Sensitive Cat Food, a cat food which offers more than just a meal—it's a promise of well-being and all-around contentment.
Emphasising a boosted immune system through probiotics and prebiotics, this pack is filled with flavour richness and grain-free goodness. Your cat is sure to enjoy each bite, which ensures efficient and thorough nutrient absorption, supporting your cat's overall health.
Details
Comes with the flavours of its premium meat selection

Promotes healthy digestion and immune function

Supports kidney and urinary tract health

Reduce stool odours and maintains a fresh environment

No colourants, preservatives, GMOs, or soy 
Who is this for?
Brit Care Grain-Free Sensitive Cat Food is the purr-fect choice for adult cats with sensitive digestion and finicky eating habits. If your cat's tummy requires extra care or if you're simply dedicated to providing a delectable yet nourishing diet, this composition is set to harmonise with those needs. 
From bolstering digestion to enhancing overall health, it is a choice that fits the requirements of cats deserving of both the finest care and culinary delight.
FAQ:
- What should be in your cat's food?
Proteins
Protein is the number one nutrient that your cat requires. When looking at the list of ingredients in cat food, be sure to look out for named protein sources, such as chicken, turkey, lamb, salmon, tuna, sardine, etc. Secondary sources of protein may be organs, such as chicken liver, chicken kidneys, and the likes. 
Fats
Like proteins, fats are another important source of energy that your cat needs, providing two times with the amount of energy found in protein and carbohydrates. Fats are essential in transporting nutrients and other minerals across cell membranes. Generally, most cats need about 20-24% fat in their daily food intake. 
Fibre
Although cats are mainly carnivorous creatures, they do require moderate levels of fibre. Fibre is extremely important in a cat's diet as it helps to move food through its digestive tract. In particular, fermentable fibre such as beet pulp is beneficial for the intestinal lining, facilitating better digestion without excessive stool and gas. 
Minerals
It's important for minerals such as calcium, iron, zinc, phosphorus, and potassium to be present in your cat's diet, as they help in bone formation and regulate enzymes. There is no universally-accepted mineral requirement for cats, but minerals help your cat's body to function optimally. 
---
Related articles