You may know your cat well, but how well do you know about cat nutrition? Similar to humans, your cat's nutritional intake is extremely important as it will determine its physical appearance as well as the quality of life.
There are multiple brands out there offering cat foods at affordable prices, such as Royal Canine, Purina, and Cindy's Recipe. These products can mostly be found online, perhaps with many contradictory reviews.
Here we review a comprehensive list of cat foods, with various categories such as canned cat food, adult cat food, and cat food for healthy skin and fur.
add_circle
Has 12 different flavours
add_circle
Natural wild ingredients used
remove_circle
Low fibre and fat percentage
Cindy's Recipe is a brand that makes all-time tasty recipes which cats just can't get enough of. In particular, the Cindy's Recipe Favourite Wild Caught is a favourite choice, coming in a hearty serving size of 400 grams, which makes it ideal for owners with multiple cats.
The Favourite series features 3 kinds of fishes (tuna, sardine, and mackerel, all wild-caught), in 12 distinct recipes which will make your cats satisfied.
Also, you can be assured that your felines will get plenty of protein, since it contains 13% protein and only 1% fat.
Protein

: 13%

Fat

: 1%

Fibre

: 1%
---
add_circle
Provides balanced nutrition among protein types
remove_circle
Contains food colouring
If your cat prefers dry food over wet food, then the Fancy Feast Chicken, Turkey & Vegetable would be a great choice. Since it includes vegetables, which is uncommon in most cat food, it offers complete and balanced nutrition for adult cats in the form of delicious crunchy kibbles.
The ingredients include meat and poultry, tuna, whole-grain corn, whole-grain wheat, corn protein, and palm oil. This recipe is further enhanced by adding vitamins, minerals, organic acids, and amino acids.
The best thing about it is that it's super crunchy. Just make sure to store it in a cool, dry place.
Protein

: 30%

Fat

: 15%

Fibre

: 5%
---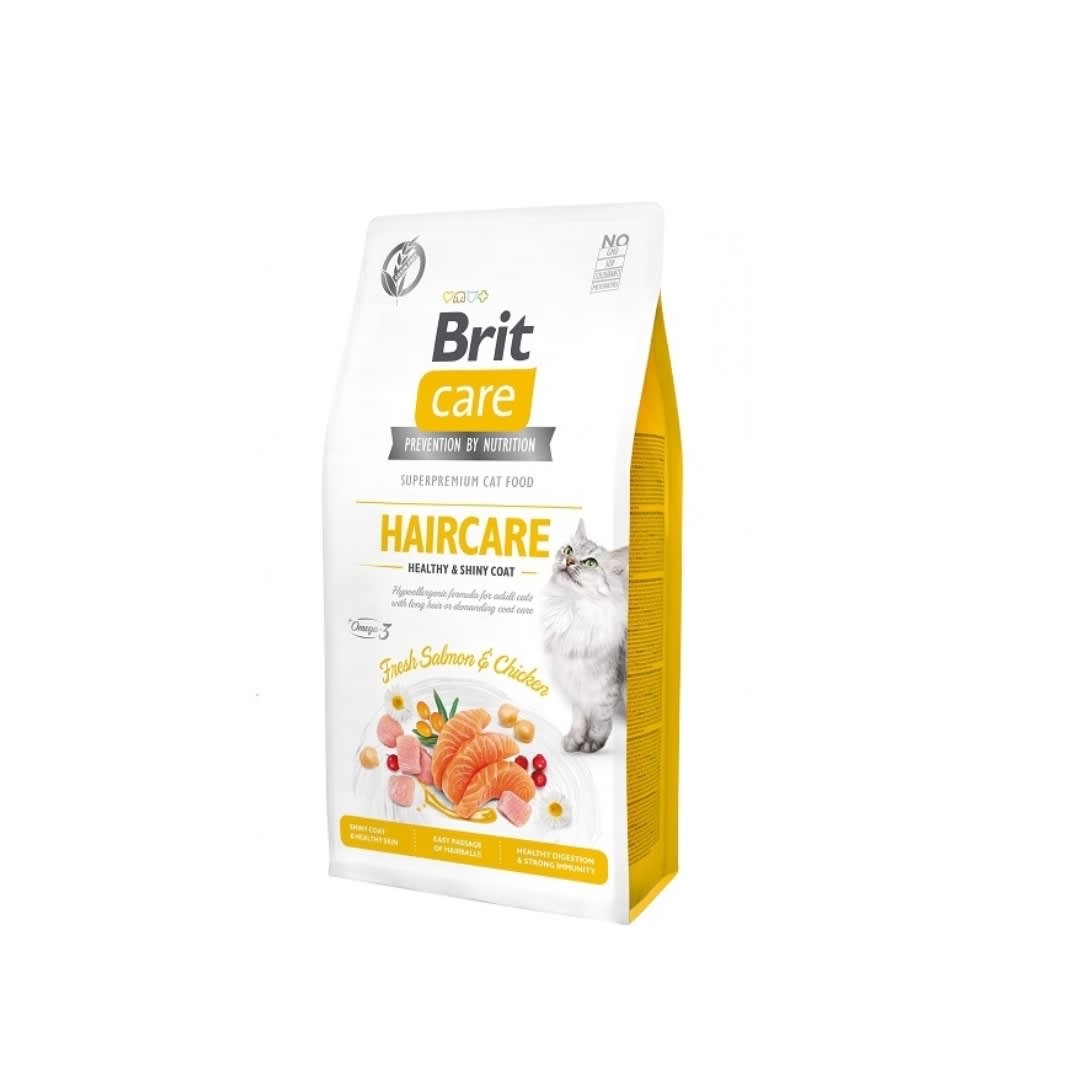 add_circle
No food colouring
add_circle
No preservatives
add_circle
Contains probiotics and prebiotics to aid in digestion
Grain-free cat food is basically cat food that is free from grains such as rice, barley, and oats. One of the benefits of grain-free food is that it contains more protein and less carbohydrates, making it ideal for indoor cats.
Introducing the Brit Care Grain-Free Cat Food, containing fresh salmon, chicken, and linseed, which are natural sources of omega 3 and omega 6 fatty acids. It contains lots of fibre, which help facilitate the passage of hairballs and regulate body weight.
The best part is that it's fortified with probiotics and prebiotics, which promote healthy digestion.
Protein

: 31%

Fat

: 16%

Fibre

: 4%
---
add_circle
Increases appetite in ageing cats
add_circle
Helps in urinary and renal health problems
add_circle
Suitable for sensitive teeth and gums
Senior cats, which are cats over 12 years of age, require specific nutrition. At this phase of a cat's life, cellular ageing speeds up and urinary health problems develop, which is why the Royal Canin Senior Ageing 12+ cat food was created.
The cat food contains complex antioxidants that stimulate appetite, develops a healthy ageing complex in your cat, and help combat urinary and renal health problems.
The recipe consists of 30% protein, 19% fat, 5.2% crude ash, and 4.7% crude fibres. All in all, it's created especially for cats in their golden years of life.
Protein

: 30%

Fat

: 19%

Fibre

: 4.4%
---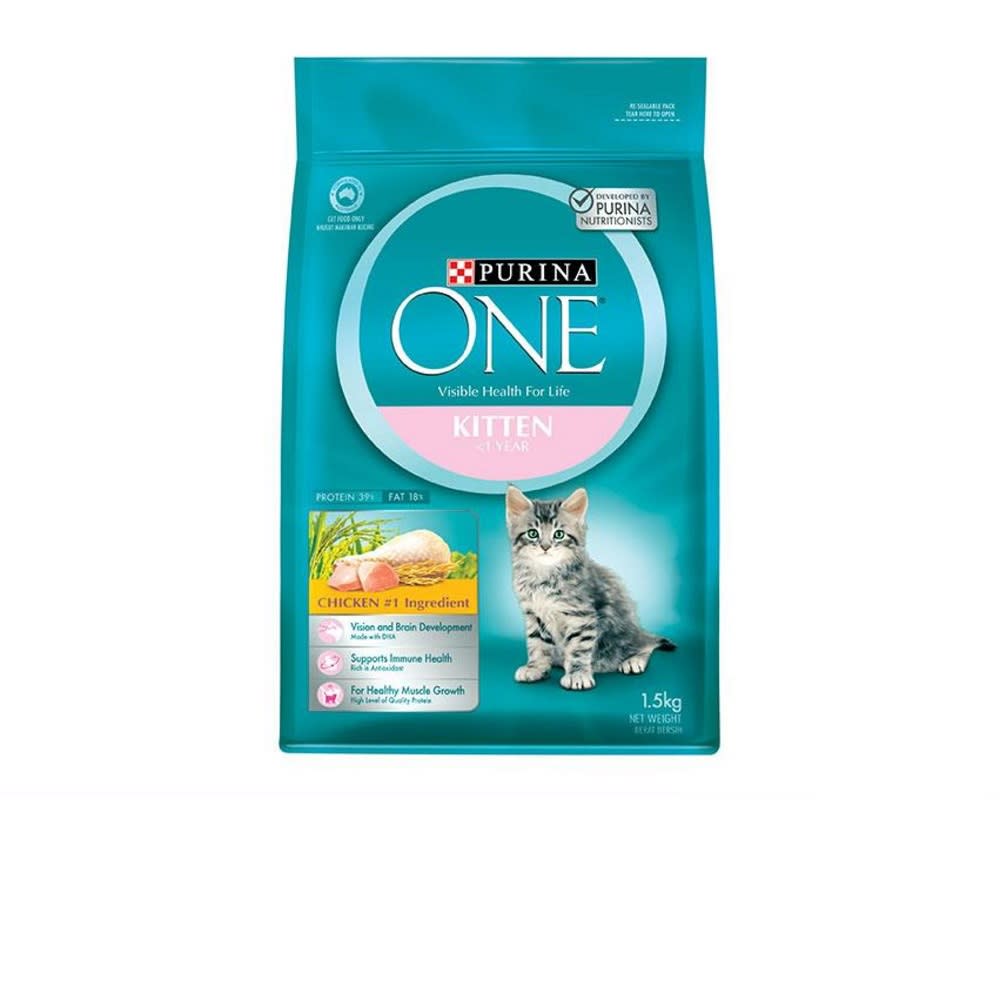 add_circle
Supports vision and brain development
add_circle
Supports healthy muscle growth
add_circle
Supports the immune system
add_circle
Said to be easily accepted by fussy cats
Kitten food is specially formulated with higher levels of protein, calcium, magnesium, and iron, which are important for proper growth. The Purina One Kitten Food with Chicken is suitable for cats below 1 year of age, as it's made from real chicken and high-quality protein sources that support healthy muscle development.
Additionally, it consists of wholegrain wheat, a source of fibre for good digestion, as well as wholegrain corn, a source of natural carbohydrates that will keep your kitten energetic.
The best part? Its recipe is known to be tasty so that even fussy kittens can be satisfied. It's recommended that you gradually introduce it to your kitten at 3-4 weeks of age.
Protein

: 39%

Fat

: 18%

Fibre

: 3%
---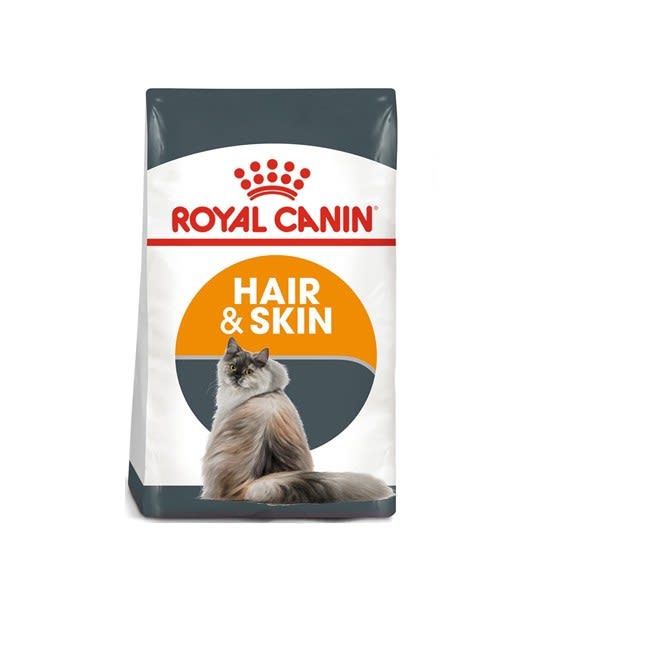 add_circle
High in amino acids
add_circle
Strengthens the skin barrier
add_circle
Promote hair growth
Like humans, some cats have sensitive skin and suffer from hair loss. Worry not, because the Royal Canin Hair and Skin Original is here to support skin cell renewal.
As balanced nutrition is a key factor in maintaining healthy skin and hair, the recipe is fortified with Omega 3 and Omega 6 fatty acids, which help improve hair condition. Additionally, the formula contains soy, fish oil, B-vitamins, zinc, and copper, all of which helps support the skin barrier.
Trust us when we say that your cat's skin will be visibly healthier and shinier after just 3 weeks.
Protein

: 33%

Fat

: 22%

Fibre

: 5%
---
add_circle
Provides balanced nutrition
add_circle
Promotes healthy skin and coat
add_circle
High in protein content
remove_circle
High in carbohydrates
The Molly Cat Adult Chicken & Anchovy - Hairball Control not only promotes healthy and shiny hair but also promotes a healthy digestive system by facilitating the removal of hairballs.
Consisting of 39% chicken protein, the formula is also known to support muscle structure. Other key ingredients include Baldo rice, maize, refined chicken oil, anchovies, krill, chicken liver, and anchovy oil. From this list, you can see that it is extremely high in animal proteins.
To sum up, it's a value buy, especially if your cat is suffering from hairball blockage.
Protein

: 33%

Fat

: 16%

Fibre

: 2.8%
---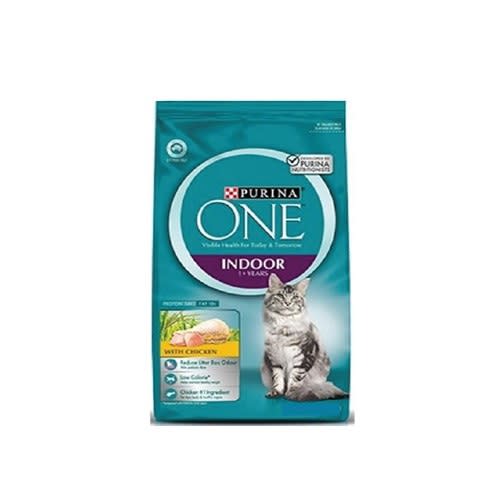 add_circle
Reduces litter box odour
add_circle
Maintains healthy weight
add_circle
Controls hairball formation
add_circle
Contains max levels of fibre
Generally, indoor cats require less energy and thus require lower carbohydrate intake. The Purina One Adult Indoor Dry Cat Food was crafted with indoor cats in mind.
Owing to the sedentary lifestyles practised by most indoor cats, it can be easy for them to be over the target weight. With that, this formula will greatly help your cat in regulating its body weight.
Containing high fibre content, this formula for house cats help to limit hairball formation. Additionally, it contains prebiotic fibres that reduce odour from the litter box.
Protein

: 34%

Fat

: 13%

Fibre

: 7%
---
add_circle
Promotes kidney and urinary tract health
add_circle
Reduces litter box odour
The Brit Care Lilly Sensitive Digestion Cat is recommended for adult cats with sensitive digestion or who have problematic digestive systems. Due to its easily digestible nutrients and grain-free formula, it ensures efficient and complete absorption for all your cat's food intake.
Not only that, but it consists of probiotics and prebiotics, which are known to promote healthy digestion by boosting your cat's immune system.
Other main ingredients include turkey and salmon which are rich in flavour, sea buckthorn which supports urinary tract health, and Mojave yucca which limits stool odour.
Protein

: 32%

Fat

: 16%

Fibre

: 1.5%
---
What should be in your cat's food:
Proteins
Protein is the number one nutrient that your cat requires. When looking at the list of ingredients in cat food, be sure to look out for named protein sources, such as chicken, turkey, lamb, salmon, tuna, sardine, etc. Secondary sources of protein may be organs, such as chicken liver, chicken kidneys, and the likes.
Fats
Like proteins, fats are another important source of energy that your cat needs, providing two times with the amount of energy found in protein and carbohydrates. Fats are essential in transporting nutrients and other minerals across cell membranes. Generally, most cats need about 20-24% fat in their daily food intake.
Fibre
Although cats are mainly carnivorous creatures, they do require moderate levels of fibre. Fibre is extremely important in a cat's diet as it helps to move food through its digestive tract. In particular, fermentable fibre such as beet pulp is beneficial for the intestinal lining, facilitating better digestion without excessive stool and gas.
Minerals
It's important for minerals such as calcium, iron, zinc, phosphorus, and potassium to be present in your cat's diet, as they help in bone formation and regulate enzymes. There is no universally-accepted mineral requirement for cats, but minerals help your cat's body to function optimally.
Disclaimer: The pricing shown is just a good indication of how much these products are worth. The prices could change based on the e-commerce promotions that are going on. If some of the products are not available, do email us at [email protected] Thank you!