Happy paws, happy family. Cliched, but it is true. As parents, we tend to worry about the food that they are gobbling away. Is it enough? Is it too much? Does it taste good? Not to mention that depending on their age and health, dogs may require different nutrients to sustain their lifestyle.
Now, you can rest easy with our list of excellent, nutrient-rich dog foods that would be perfect for your furkids.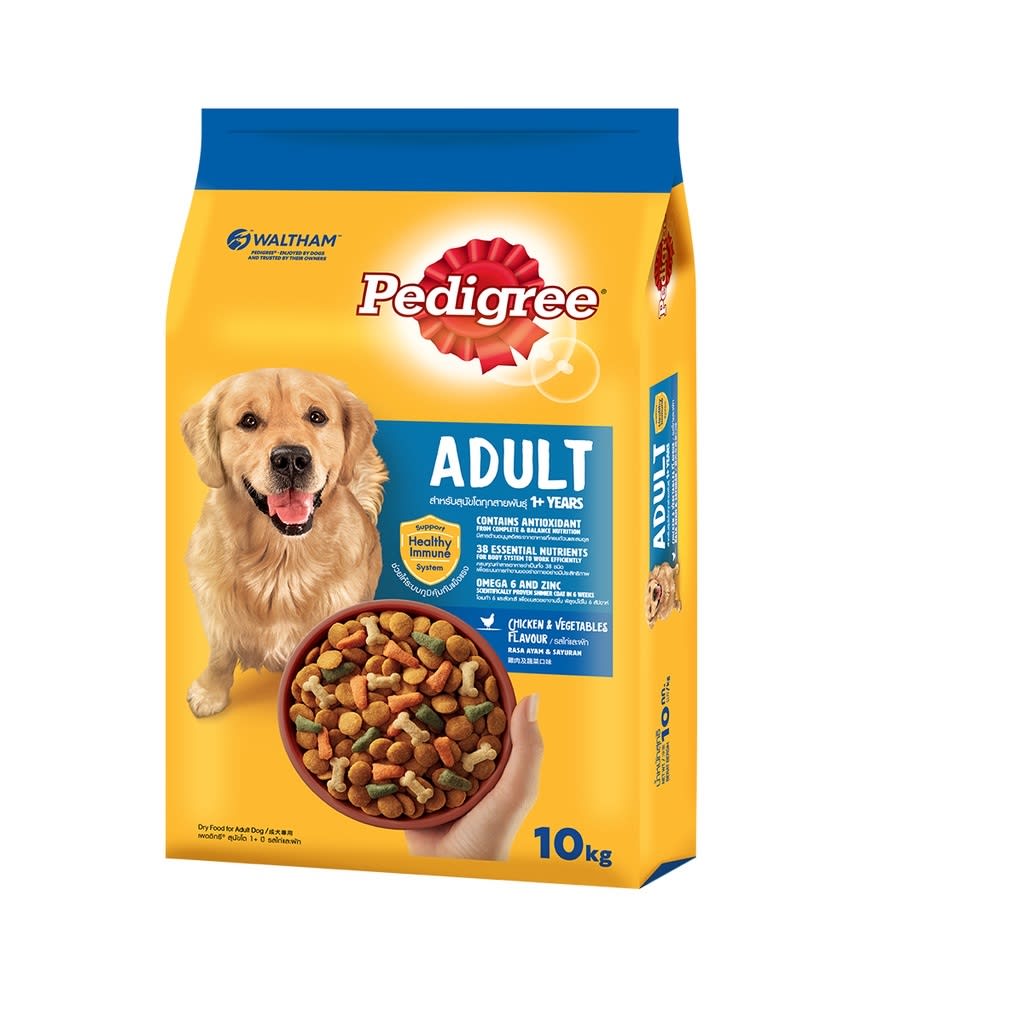 Check PEDIGREE Dog Food- Adult Dog Dry Food in Chicken & Vegetable Flavour price below:
add_circle
Good for dental health
add_circle
The kibble design is suitable for chewing
remove_circle
Dogs may not always prefer to eat dry food
Overview
The very definition of a balanced and wholesome meal is PEDIGREE Adult Dog Dry Food. Thanks to the crispy kibbles that are packed with tantalising flavours of chicken and veggies, the dogs will be in the kitchen within a split second.  It has the right mix of cereals, chicken, soybeans, carrots, and peas which are essential for their natural growth. Therefore, a couple bowls a day will provide your dog with the nutrition they require, and the highest quantities of vitamin E antioxidants will keep their immune system strong at all ages!
Details:
Contains a unique blend of Linoleic acid and Zinc - provides your dog healthy skin and lustrous coat in 6 weeks 

High-quality protein sourced from meat and cereal – to build strong muscles

Scientifically formulated to promote good digestive health

Contains dietary fibre from vegetables and cereals 

Incorporated with calcium and phosphorus for strong bones and teeth
Who Is This For?
PEDIGREE Dog Food will assist your adult dogs to maintain strong muscles, firm stools, good skin and coat, strong bones, and cheerfulness all day! Your dog needs all the energy and nutrition they can get as an adult to continue living life to the fullest. If you have a senior dog, give it a try because your dog deserves all the happiness in the world!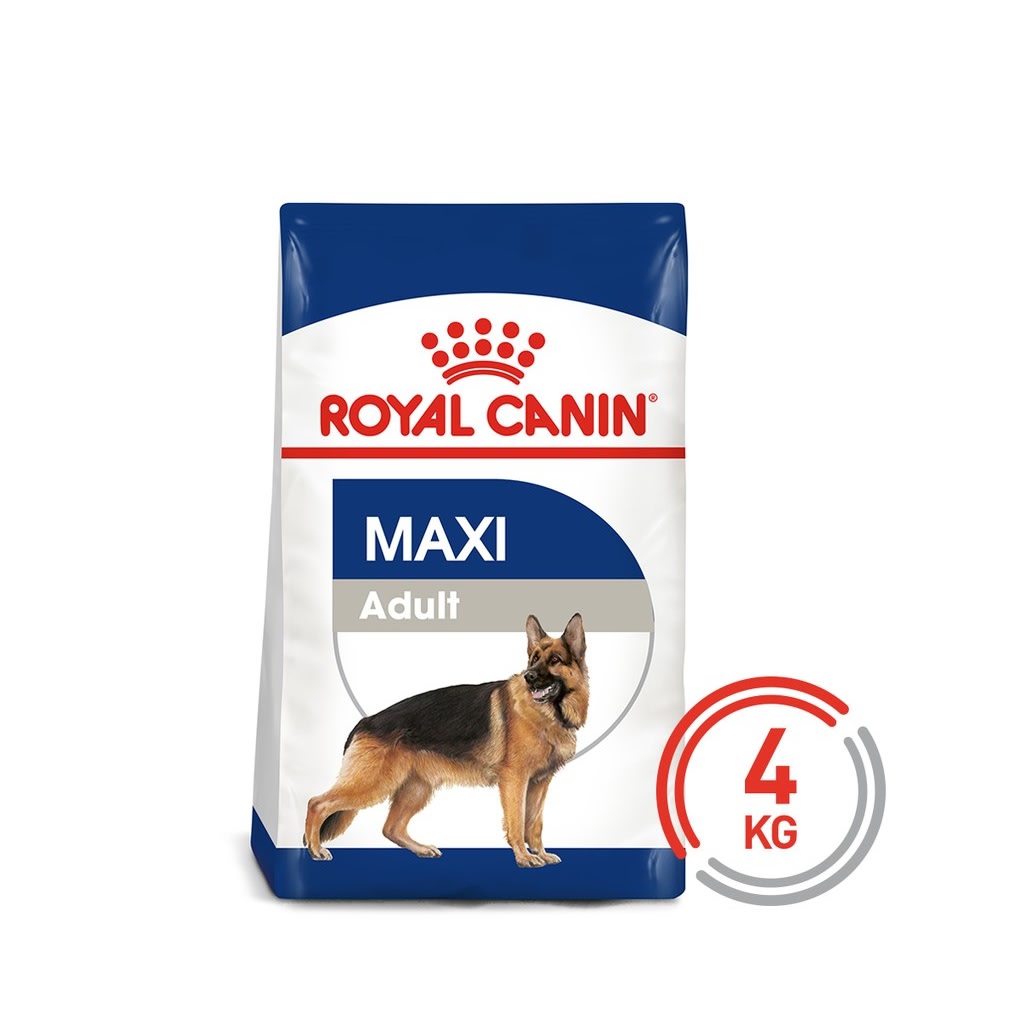 Check Royal Canin Maxi Adult Dry Food price below:
add_circle
The small sized kibbles make the chewing process easy
add_circle
It fits all breeds of large dogs
Overview
Bones and joints can be especially delicate in giant dogs. The wear and strain your dog may experience owing to its size makes preserving the health of its joints essential. In that regard, Royal Canin Maxi Adult Dry Food specifically attends to such concerns.
Omega-3 fatty acid-rich Royal Canin Maxi Adult Dry Food is always able to improve and care for your dog's luxurious coat. Not to mention, the special blend has a balanced amount of nutritional fibre and exceptionally high-quality protein. Your dog will quickly come to love these little kibbles that are bursting with nutrition and enticing flavour!
Details
Helps promote optimal digestibility thanks to an exclusive formula including very high-quality proteins and a balanced supply of dietary fibre.

Satisfies the appetite of large breed dogs thanks to carefully selected raw materials.

Helps support large breed dogs' bones and joints placed under stress.

Enriched with Omega 3 fatty acids (EPA-DHA) and Omega 6 fatty acids (Borage oil) to help support healthy skin and coat vitality.
Who Is This For?
Gigantic dogs also have enormous appetites. A larger breed of dog has different nutritional needs than a smaller breed, so it's important to give them a balanced diet that takes into account the dog's size and other specific sensitivities. 
As a result, this specifically made dog food is appropriate for large dogs who are 15 months of age or older and weigh between 26 and 44 kg as adults.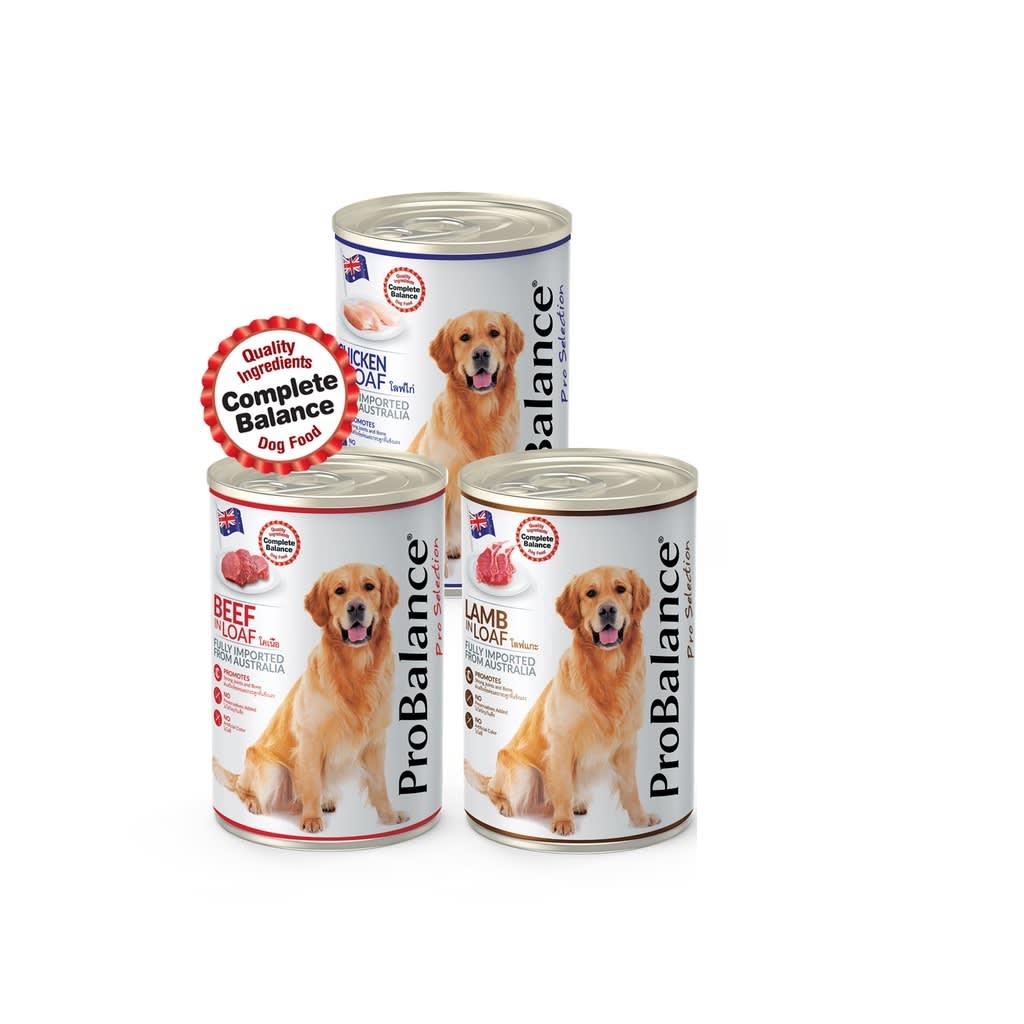 Check Probalance Adult Wet Food- Loaf Series Chicken price below:
add_circle
Able to store the food easily since it comes in a can
add_circle
May not be suitable for dogs that are allergic to chicken meat
Overview
Dogs are known to have a big heart for their humans. Do you want to protect their enormous heart? Go get some Probalance Adult Wet Food-Loaf Series Chicken, which is specially designed to keep their heart healthy!
The best lean meat meal you can give your dog is chicken. Chicken meat is high in protein, which aids in the development of strong immunity as well as overall body mass and muscle. Probalance Adult Wet Food-Loaf Series Chicken contains chicken essence that is essential for a healthy heart; it aids in blood vessel circulation and helps to control homocysteine levels in the body, an amino acid that can cause cardiovascular disease. 
Details:
Shelf life up to 24 months

Ingredients: meat and meat by-products (derived from chicken, beef and lamb), cereal, vegetable protein, gels, salt and sodium nitrite, oligosaccharide, glucosamine, chondroitin, water.

No preservatives added

No artificial colour added
Who Is This For?
If your dog is getting older, it's time to pay more attention to their vital organs. In this case, it is their heart because, believe it or not, their selfless heart can become ill as well. So, if you have an adult dog who has the energy of a toddler who has eaten candy, this would be beneficial to keep their heart healthy!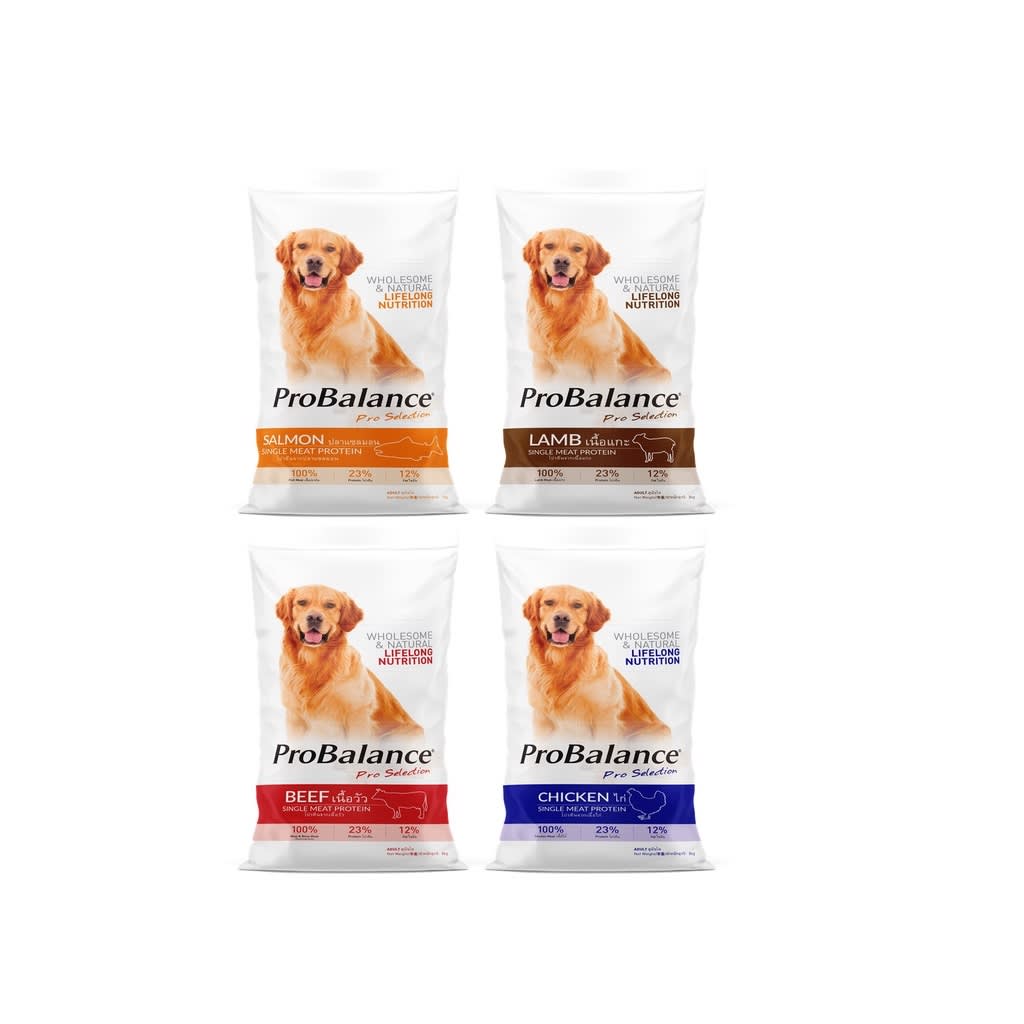 Check ProBalance Single Source Meat Dry Kibble Dog Food for Mature & Adult Dogs- Salmon price below:
add_circle
Available in four different flavours
add_circle
Provided with resealable bag
remove_circle
Must constantly be stored in cool and dry place for longer shelf life
Overview
Salmon is high in omega-3 fatty acids, which help the immune system, reduce inflammation, and keep your dog's coat looking shiny and healthy. ProBalance Single Source Meat Dry Kibble Dog Food is an expert on the subject!
ProBalance, which contains 23% protein per serving, aids in strong muscle growth, improved digestion, healthy fur and skin, and enhanced cognitive abilities. It is specially formulated with essential vitamins and minerals to ensure a strong immune system. It benefits both the brain and the liver, as well as the gums!
Details
Contains essential fats- high Omega-3 & Omega-6 fatty acid helps maintain a luscious coat

Glucosamine & Chondroitin - Essential for strong joints and healthy bones with additional anti-inflammatory properties to improve general bone health.

Fructo-oligosaccharide (FOS) -- Helps support healthy digestion.

Green Tea Essence - Helps improve the immune system, brain & liver functions and promotes healthy gums.
Who Is This For?
It serves as a perfect alternative for dogs with meat allergies. Since it is packed with nutrients and vitamins, owners do not have to worry about their dogs not having sufficient nutrients. Adult dogs who love salmon would absolutely have the time of their life with ProBalance Single Source Dry Food.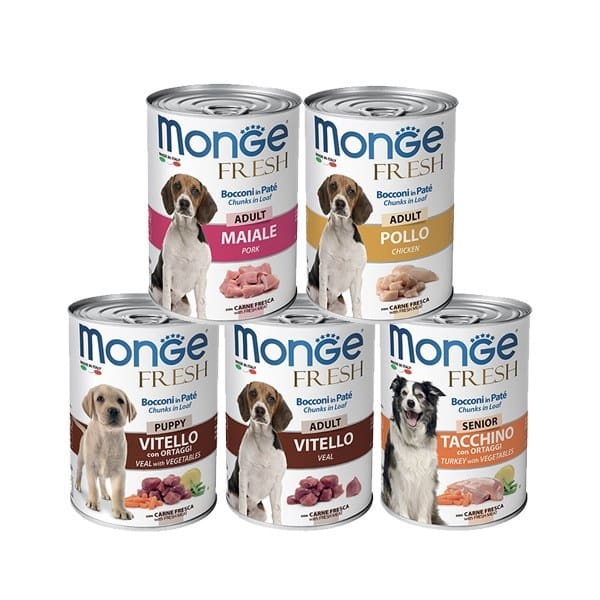 Check Monge Fresh Canned Food For Dogs price below:
add_circle
Suitable for all size dogs
add_circle
Has variety of flavours to choose
remove_circle
Dogs with allergy may not be able to enjoy the food
Overview
Monge Fresh is the ideal combination of delicate loaf and delectable, crunchy portions. It has developed a special texture that allows the food to be chewed easily. Made with essential ingredients such as fresh meat, this pure blend is highly digestible, making it suitable for senior dogs who have digestive issues. 
Not to mention, it also contains vegetables, which are an excellent source of carbohydrates for daily energy as well as natural dietary fibres, making Monge Fresh Canned Food For Dogs the best meal for your senior dogs!
Details
100% Made in Italy

Cruelty-free

Low in sugar 

No dyes or preservatives

Chunks cooked in the oven, steam cooked pate

Ideal for small dogs and as a treat for bigger dogs
Who Is This For
Canned food is a convenient option for the owners. It is easy to store, so owners only need to scoop it out when needed. Bonus point if you have senior dogs because Monge Fresh Canned Food would be a simple and delicious treat for them!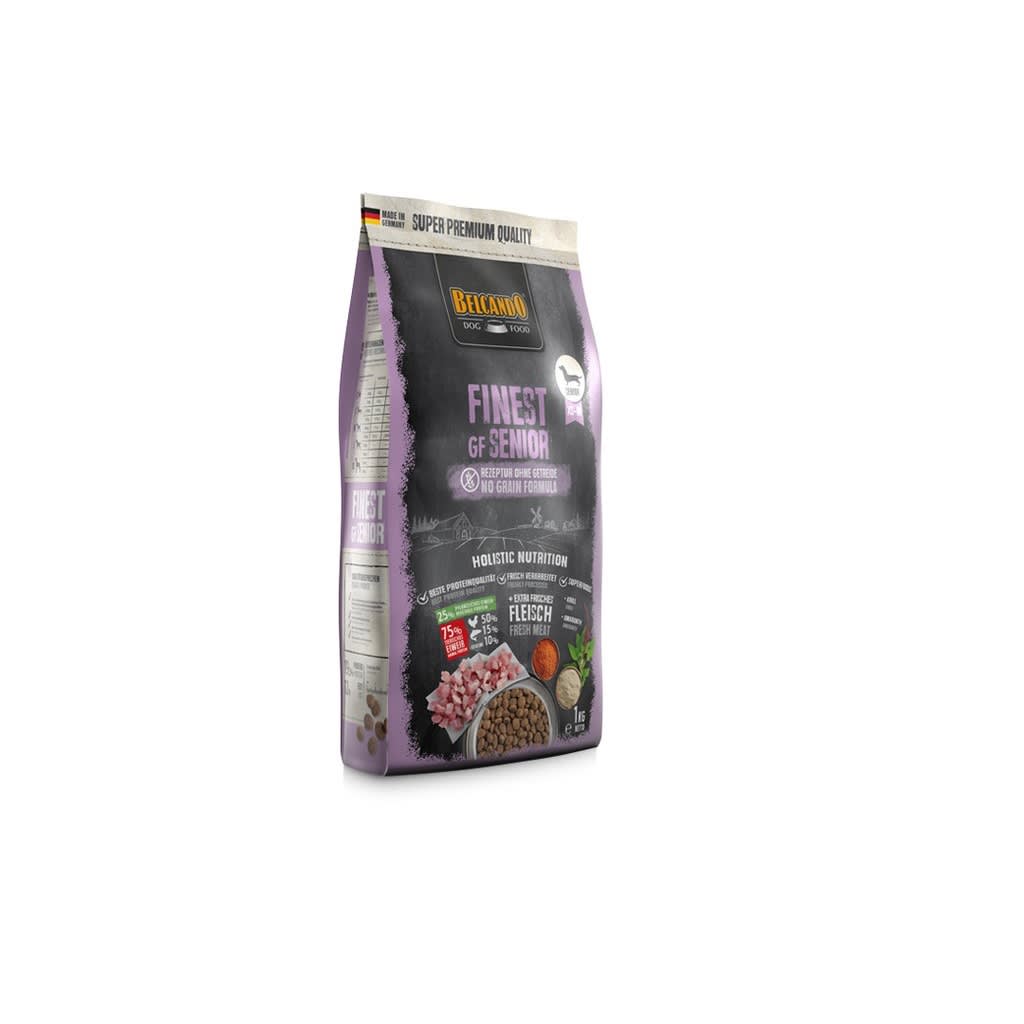 Check Belcando Dog Food-Finest Grain Free Senior Dry Food price below:
add_circle
Easily digestible
add_circle
Suitable for less active dogs too
remove_circle
Less affordable
Overview
Belcando Dog Food-Finest Grain Free Senior Dry Food, unlike most kibbles, is free of cereals, soy, and milk products, making it suitable for dogs who are sensitive to grains. The kibbles are encased in an ideal blend of high-quality poultry meat, amaranth, and nutrient-dense krill, ensuring that every bite is a crunch fest for the dogs. Belcando Dog Food-Finest Grain Free Senior Dry Food has a special sauce effect when mixed with water, giving the dogs a delicious taste. Even picky dogs will enjoy eating this!
Details:
Promotes the formation of cartilage in the joints and helps to prevent joint problems with gelatin/collagen hydrolysate.

Strengthens your dog's immune system with cell wall components (beta-glucans) from natural yeast.

Cold pressed grapeseed flour provides active cell protection
Who Is This For?
Senior dogs are prone to grain sensitivity, which can result in red, itchy skin and hair loss, along with infections as well. So, Belcando Dog Food-Finest Grain Free Senior Dry Food is the best option for their daily meals. Itchy skin and infections are no longer a source of concern for you! Your senior dogs will enjoy their meals just like any other puppy.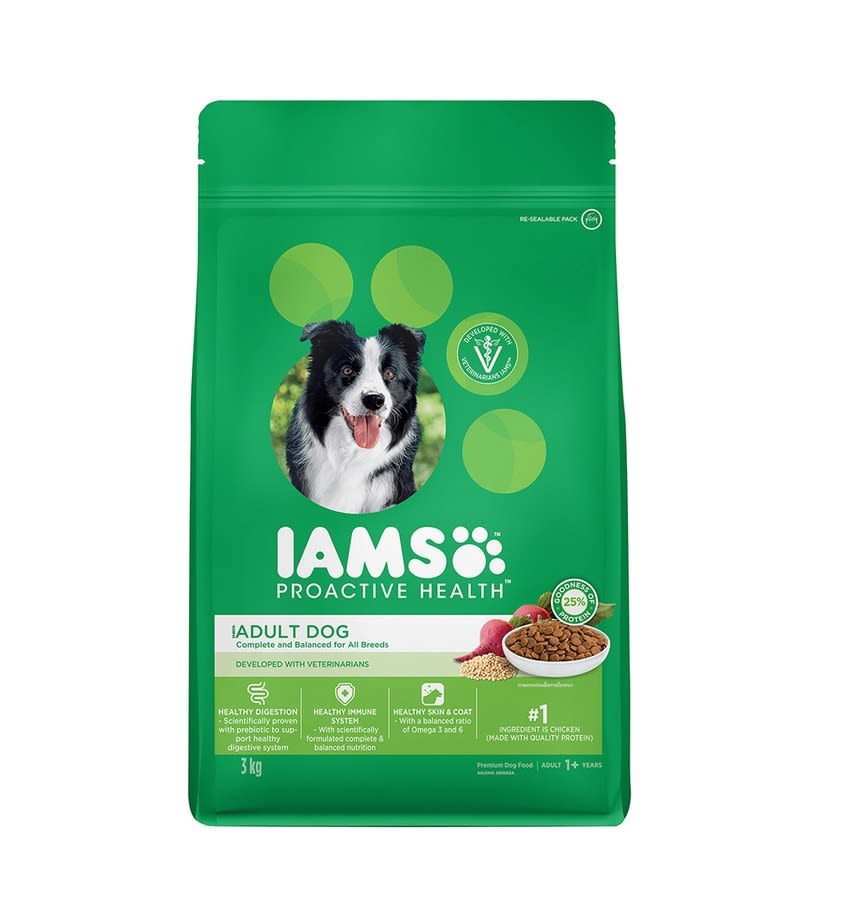 Check IAMS Proactive Healthy Dog Food price below:
add_circle
Suits all types of dogs
add_circle
Accommodates dogs that are 1 year and above
remove_circle
Contains preservatives
Overview
Your dog's digestive health is directly related to their immune system. Prebiotics are indigestible dietary fibres that feed the beneficial intestinal bacteria to maintain a healthy digestive system. To leverage the benefits of probiotics, IAMS has created a healthy dog food with prebiotic fibre that is suitable for dogs with digestive issues.
Aside from supporting and maintaining their digestive system, IAMS Proactive Healthy Dog Food also assists their immune system and their healthy coat. It is a whole package!
Details
Contains a unique antioxidant-rich formula that helps boost the natural defence system for adult dogs

Precisely crafted recipe of high-quality ingredients, including vitamin B6

 

Contains essential minerals for strong bones

The crunchy kibble texture provides daily dental care support, helping to keep your dog's teeth healthy and clean
Who Is This For?
Do you have a dog who constantly ignores his food? Or do they have difficulty defecating? It could be due to their poor digestive system, in which case IAMS Proactive Healthy Dog Food is highly recommended! It can strengthen your dog's immune system, so they don't get sick so often, while providing them with delicious and nutritious food!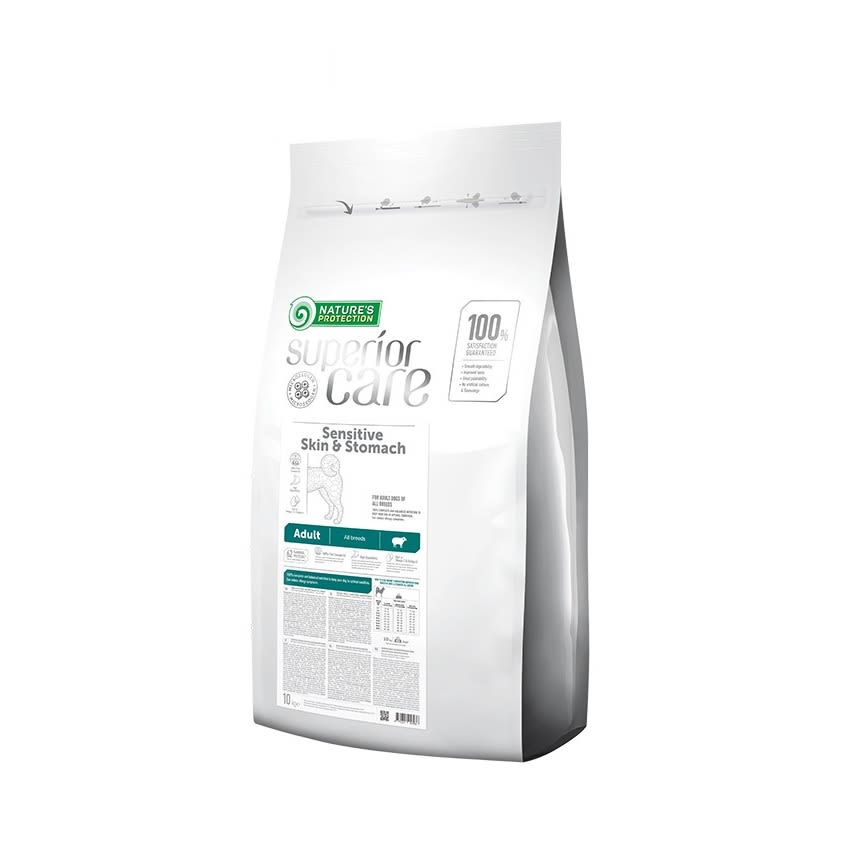 Check Nature's Protection Sensitive Skin & Stomach Adult Dog Food (Superior Care Series)- Lamb price below:
add_circle
Best suitable for adult dogs
add_circle
Has a higher shelf life
Overview
Many breeds, including Golden Retrievers, Labrador Retrievers, Dalmatians, and others, are thought to be susceptible to skin and stomach allergies based on reported cases of various types of allergies. Nature's Protection Sensitive Skin & Stomach Adult Dog Food (Superior Care Series)-Lamb is an excellent choice for dogs who frequently experience the aforementioned issues. It also contains high-quality lamb for easy digestion and is free of wheat gluten and maize, making it ideal for allergic dogs with sensitive digestive systems. 
Details
Shelf life up to 24 months

Consists of Omega-3 and Omega-6 fatty acids – for healthy skin and shiny coat.

Contains yucca extract, prebiotics and natural fibre –to ensure perfect intestinal activity.

Enriched with the exclusive constituent "Macrogard", which can ensure appropriate brain cells, nervous system as well as intestinal tract performance.
Who Is This For?
This is highly recommended for those that constantly suffer due to skin and stomach allergies. Due to their allergies, it is difficult and worrying to find appropriate for dogs with these conditions. Since Nature's Protection Sensitive Skin & Stomach Adult Dog Food has all the nutrients and vitamins encased in each kibble, you can relax and enjoy watching your dogs live a happier and healthier life!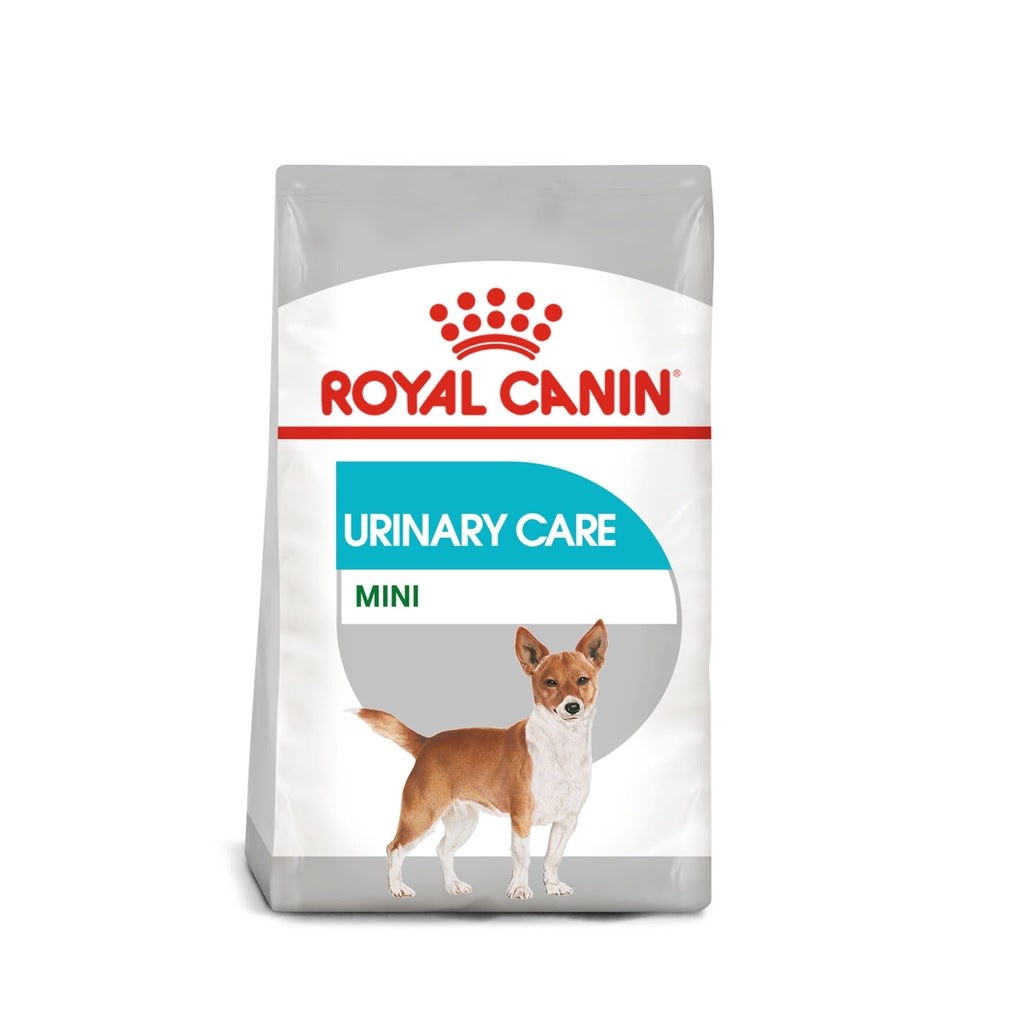 Check Royal Canin Mini Urinary Care Adult Dog Dry Food price below:
add_circle
It suits the mini sized dogs that does not drink enough water
add_circle
Comes in a resealable bag for easy storage
Overview
Small dogs typically consume smaller amounts of water, resulting in concentrated urine. So, nutrition comes into play in maintaining a healthy mineral balance and keeping urine diluted.
The best solution is Royal Canin Mini Urinary Care Adult Dog Dry Food, which has an advanced nutritional formula that has been shown to help keep urine diluted and to support a balanced mineral content. The success of Royal Canin Mini Urinary Care Adult Dog Dry Food has been independently verified through scientific testing. This product tested positive for a 21% increase in urine dilution, so don't just take our word for it!
Details
Ingredients: Maize flour, dehydrated poultry protein, animal fats, rice, hydrolysed animal proteins, vegetable protein isolate*, wheat, maize, maize gluten, chicory pulp, minerals, egg powder, vegetable fibres, cellulose powder, marigold extract (source of lutein).

Combined dry and wet formula together 
Who Is This For?
This kibble is specially designed to make your dog drink more water. If you do have mini dogs that often do not drink an adequate amount of water, then try this out! It would be a better choice to keep them hydrated and healthy.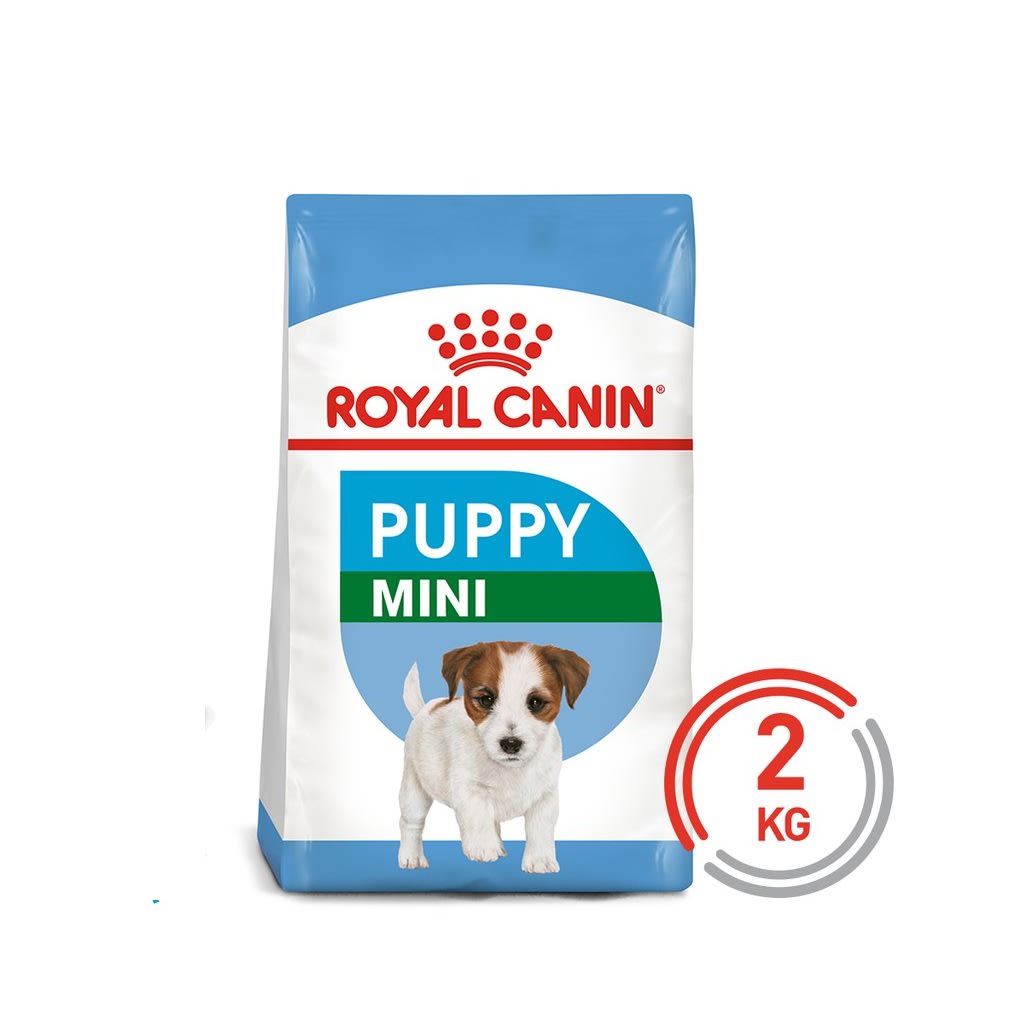 Check Royal Canin Mini Puppy Dry Dog Food price below:
add_circle
Accommodates all breeds of puppies
add_circle
Kibbles made to be apt with puppies-easily chewable
remove_circle
Only apt for 2 to 10 months old puppies
Overview
Inhaling every food visible is a puppy's common trait. However, this does not imply that they are receiving adequate nutrition. Thanks to Royal Canin Mini Puppy Dry Dog Food, no puppy is ever going to be neglected, food-wise.
The inclusion of protein and prebiotics, which maintain a healthy digestive system, would be critical for the puppy to have a healthy relationship with food. Accompanied with easily chewable and small kibbles, their meal times will not be very messy either. 
Details
Made for small breed dogs (adult weight up to 10kg) from the age of 2 to 10 months old

Promotes good dental health and provides support for the puppy's natural defences.

Formulated with an exclusive combination of nutrients (L.I.P proteins and prebiotics) to support digestive health and a balanced intestinal flora which contributes to good stool quality. 
Who Is This For?
All puppies are welcome to try Royal Canin Mini Puppy Dry Dog Food, regardless of whether it is an active or shy puppy. Since young dogs require more nutrients for their growth and healthy lifestyle, it is highly recommended that they are introduced to such food at a young age.
FAQ
- What are some key nutrients that your dog needs?
Your dog needs six essential nutrients in its food:
Fat

– Protects internal organs, regulate body temperature, and promotes system health.

Protein

– Generates energy and provides the body with the materials it requires to build muscles and bones

Carbohydrates

– The main source of energy for your dog

Vitamins

– Necessary for growth and health maintenance. Different vitamins have different functions. 

Mineral

– For bone and cartilage formation, hormone regulation, oxygen flow, nerve and muscle function. 
The amount your dog needs differs in its size and age, so make sure you consult a professional before changing foods. 
Important Note: Please check with your veterinarian before changing your dog's diet, as you will need to make sure that it is not allergic or sensitive to any ingredients. After switching foods, do keep an eye on your dog's wellbeing and activity levels. Consult a veterinarian as soon as you notice anything abnormal.  
Related articles: