We get how unbeatable and uncomfortable the Malaysian heat can be. It's best if you have a way of cooling down naturally, right? Air conditioners can be downright expensive and very power (electricity) consuming. But their 'sister', the air cooler, is a cheaper, energy conscious option that's great for everyone and the earth.
Down below listed are some amazing types of air coolers that will fit your every concern, be it the right size, price and even portability. Have a look for yourself at these 10 best air coolers in Malaysia.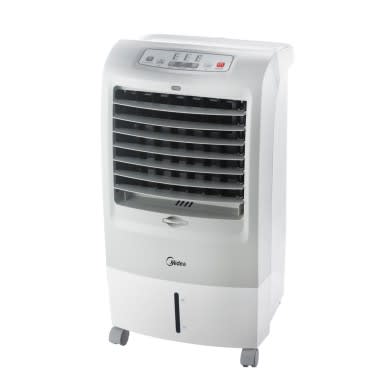 add_circle
Built-in ionizer LED display
add_circle
Large water tank
add_circle
Multifunctional use
add_circle
Comes with a remote control
remove_circle
Weight is on the heavier side
The Midea MAC-215F Ionizer Air Cooler is unlike any other. Designed to imitate a natural breeze rather than the normal icy effect, it also functions as a fan, purifier and humidifier.
Features:
With a built-in ionizer to provide you clean and fresh air, its water tank capacity comes up to a smashing 15L and only consumes about 60W of power; able to cool your room faster than the average fan. The water capacity as well as timer lasts up to 7 hours. And with the multi-functional fan, its cooling capability is perfect for a medium-sized room.
Performance:
A user's favourite of this air cooler? It comes with an aroma box that lets you infuse pleasant aromatic scents all day long.
Air Volume: n/a

Capacity: 15L
---
add_circle
3-in-1 function
add_circle
Wheels makes it easy for move around
add_circle
Has an ice compartment
add_circle
Has 4 speed options
add_circle
Strong air flow
remove_circle
On the pricier side
The Honeywell CL25AE Indoor Portable Evaporative Air Cooler is one that is very energy conscious. You consume about 235W of power altogether using it. Operating as both a fan and an air cooler, it works to reduce temperature through water evaporation.
Features:
This air cooler lets you control the water flow to regulate fine moisture output and can be moved around the house easily. With a remote control, energy saving timer, ice compartment and an alarm to notify when water is low, this Honeywell model stays true to its energy-efficiency feature.
Additionally, the 4-speed fan feature helps it to cool up to 250sqft worth of space.
Performance:
Perfect to beat the gruesome heat, users are happy to spend a few extra bucks for this conscious model which has proven effective in cooling their area.
Air Volume: 850m3/hr

Capacity: 25L
---
add_circle
Budget-friendly
add_circle
Small and compact
add_circle
Not energy consuming
add_circle
Travel-friendly
remove_circle
High speed option will not let it last for long hours
Need an air cooler to travel with? Check out the Arctic Air Portable Air Cooler that only needs a power bank or a USB port to instantly cool you down.
Features:
Designed for compact spaces like an office, this cooler works with the minimum, breezy temperature to keep you cool. It weighs less than a kg, making for easy travels anywhere. Also, worry not as its 500ml water tank can provide you with a full day's worth of cooling down… if you keep it on low speed that is.
Performance:
Affordable, portable and equipped with a water mist spraying technique; these are just some of the features praised by users online for its simplicity in operation.
Air Volume: n/a

Capacity: 500ml
---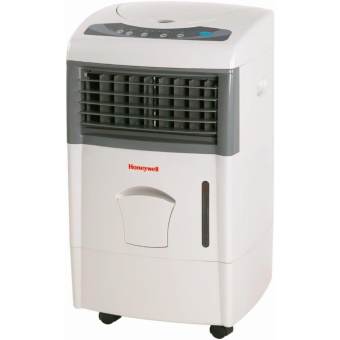 add_circle
Comes with a remote control for easy operation
add_circle
Has a 0.5 - 7.5 hour shut-off timer function
remove_circle
On the pricier side for its capacity
remove_circle
Small coverage area
Air coolers can be very energy consuming, what with keeping it on all day long to beat the heat. However, with the Honeywell CL151 Air Cooler, known for its low consumption feature, you can now say goodbye to those huge electric bills!
Features:
Functioning with a five-speed fan setting, it only uses about 126W of power; a much smaller fraction than a normal air cooler or an air conditioner consumes to keep you cooled down. Also remote-controlled and a wheeling advantage, you can move it from room to room and adjust the temperature without needing to keep moving towards the unit.
Performance:
Users adore this Honeywell model for not burning a hole in their pocket thanks to its power-consumption level, and is regarded as a steal compared to other brands.
Air Volume: 350m3/hr

Capacity: 15L
---
add_circle
Fit for apartments/condominiums
remove_circle
A little noisy from the 3rd speed and up
If design is your concern, then the Sharp Air Cooler PJA200TVB is the one you should consider. With a super sleek and modern all-black design, this beauty proves to be much more than just a pretty design.
Features:
This cooler aims to keep you and your room cooled down with a constant airflow of 750m3/h air volume and adjustable fan speeds that keep you within the comfort zone. With adjustable wind modes from normal to natural and sleep, you are able to set a timer for up to 8 hours.
Plus, the air cooler's portable handle and smooth wheels make it easy to move about.
Performance:
Compact and personal, users love the fact that this black beauty fits every room setting in the house.
Air Volume: 750m3/h

Capacity: 20L
---
add_circle
Large water tank
add_circle
Has a built-in ionizer
add_circle
Powerful motor power
remove_circle
On the heavier side
Need an air cooler that does not require frequent refills? Well you're just in luck as the Honeywell Air Cooler TC30PEUI was built just for that. A powerful cooler among many other models, its 120W of motor power can deliver a continuous airflow of 800m3/hr.
Features:
Its speciality is its water tank which can hold up to 30 litres of water. For your convenience, there's also a smart alarm that notifies you whenever the cooler is running low on water. With a built-in ionizer and 3 speed variable, you also have durable wheels to let you move the unit around easily.
Performance:
Albeit slimmer than the others, users have claimed that the cooler is heavier than usual in size, weighing about 8.9kg.
Air Volume: 800m3/h

Capacity: 30L
---
add_circle
Large water tank
add_circle
A quiet cooler
add_circle
Very powerful cooler
add_circle
Has wheels to move around freely
remove_circle
Does not contain a dust filter
A noisy air cooler can disturb a good night's sleep and it won't do you any good, so why not give this Firenzzi 42L Air Cooler FAC-1848 a try? You'll surely sleep like a baby after this.
Features:
With a noise level of 55-65dB, the cooler works well in a medium to large area. It is also build with honeycomb cooling pads that are thick, efficient and easier to maintain. Plus with it's twin turbo centrifugal fan, you'll have unlimited air volume all day long, with a 12-hour timer to notify you.
Performance:
Besides the easy control and access to the cooler with a touch screen panel and remote control, users mentioned that it is also easy to remove the water tank for cleaning.
Air Volume: 4500m3/h

Capacity: 42L
---
add_circle
4-in-1 function mode
add_circle
Affordable and portable with wheels function
add_circle
Has a touch screen or remote control option
add_circle
Built with honeycomb cooling pad ( Ideal for cooling mode)
add_circle
Energy saving with a non-compressor system
remove_circle
On the heavier side
Finding an air cooler for when you're really hot or cold? Well, Selamat's Mind Galaxy Black Air Cooler is the multifunctional appliance that will aid you on a rainy day to a very sunny one.
Features:
The 4-in-1 oscillating features is inclusive of air cooling, fan, purifying and humidifying mode, giving you a satisfying breeze all day long. Also, with a large water capacity of 20L that can last up to 2 days, it also has a non-compressor system that is energy efficient, helping you to save about 90% of cost compared to your conventional air conditioner. And for your preference, there's 4 fan speeds to choose from.
Other benefits to choosing this for your bedroom includes the remote control and 8 hour timer for your mobility convenience. Moreover, the touch screen panel lets you read its operational stats easily.
Performance:
With so many features at such an appealing price point, this option is also a great addition for those who needs a straightforward air cooler without all the extra frills. It's also easy to place in any part of your room.
Air Volume: 850m3/h

Capacity: 20L
---
add_circle
Has a remote control
add_circle
Has multi filters including HEPA
add_circle
Contains dual water tank for efficiency
remove_circle
Not very portable friendly
The Selamat Mind Air Purifying Cooler has quite the beneficial design for your home. Easy to set up and operate with its touch screen panel and remote control, this 8-hour timer-controlled cooler has a several functions up its sleeve.
Features:
This purifier is designed with a 4-stage filtration and cooling system, inclusive of a HEPA filter to ease you off any allergens, bacteria and virus in return for a healthier air system. Despite the average 20L tank capacity, its dual water tank system allows it to operate efficiently for 48 hours straight without any refills.
Performance:
As Malaysia's first 2-in-1 HEPA air purifying air cooler, this unit has gathered satisfactory reviews as an all-rounder, claimed by most users. For its tank capacity, this beauty is also budget-friendly for many too.
Air Volume: 425m3/h

Capacity: 20L
---
add_circle
Fit for large spaces
add_circle
60L water tank capacity
add_circle
Automatic water refilling system
add_circle
3 wind speed function
remove_circle
Not fit for a compact-sized home
A highly recommended air cooler for bigger spaces such as an office, an event space or even outdoor events; this is is the Morgan 60L MAC-COOL10A.
Features:
A very cost-effective air cooler, this tiny 'giant' is able to cover about an area as big as 900sqft. Operative at a reasonable power of 220W, it is perfect to cool down even an open space, thanks to its automatic water refilling system. Say what?
Well, as long as it's connected to a water supply, its built-in circuit triggers the water flow to ensure continuous cooling and comfort. And with a tank capacity of 60L, you can be assured that you can cool your space down for a long time without much interruption.
Performance:
On the whole, this unit promises a simple and basic air cooler that meets your daily expectations. While it's not an actual affordable unit, the longevity of its operation makes it quite a good value air cooler.
Air Volume: 425m3/h

Capacity: 60L
---
How do I choose an air cooler?
Buying an air cooler now, during a pandemic is definitely a wise solution. It is both economically and environmentally friendly, which are important factors to consider in this day of age. As simple as they may be, picking the right cooler can be a little confusing.
There are many options in the market and many factors to consider before buying one. Don't worry, we've distinguished a few important tips to help you figure it out.
Fan speed is important when you want to buy an air cooler. When you have options for regulating speed, you are provided with a better cooling effect and less noise depending on the time of the day you want it on.
The type of cooling pad in an air cooler affects its cooling abilities, working to absorb and prevent water found in surrounding hot air from evaporating. So, it's important to know how thick or thin the cooling pad is.
You have 2 options to choose from: honeycomb cooling pads and aspen wood wool cooling pads, both of which have their own strengths and weaknesses. But whichever you choose, remember that a cooler pad should have a thickness of about 90mm for minimal performance.
Think of it this way; the larger the water tank, the longer the air cooler can run. If you have a large space that needs cooling down, it is essential to have an air cooler with a big tank that fits for your everyday use.
On average, residentially based air cooler should preferably have a tank of 20-30 litres of capacity whereas a commercially based air cooler should have one that is within 40-120 litres.
More air conditioner recommendations:
Disclaimer: The pricing shown is just a good indication of how much these products are worth. The prices could change based on the e-commerce promotions that are going on. If some of the products are not available, do email us at [email protected] Thanks!