During this online era, computer work is now engraved in every job requirement out there and typing skills have become a selling point for employees looking for a job. With the importance of typing for work, entertainment or any other purpose, a keyboard is as important to us as water is important to fish. However, with hundreds of keyboard brands out there, how would you find the right one for your typing needs? 
Although this may differ for certain users, mechanical keyboards are known as the best type of keyboard for typing, gaming or general usage. This is because mechanical keyboards are more solid and durable, and the keys are built on separated switches, so typing is much more comfortable and responsive.
Based on our research and consumers' reviews, we have compiled some of the most popular keyboards that are known for their quality and reputation as the best of the best mechanical keyboards for typing. Keep in mind that this list is tailored for those who type, so if you are looking for a multipurpose or gaming keyboard, do refer to our other articles on it.
---
Table of Contents
---
Are mechanical keyboards better for typing?
Generally, the answer is yes. Most typists prefer to type on mechanical keyboards because of how they are designed compared to membrane keyboards. Mechanical keyboards have individual switches for each key, which itself is already an advantage as this allows for more customisation, is easier to repair and in most cases, are more durable. 
The main reason why many people use mechanical keyboards is that individual switches allow for more comfortable typing and gaming. Individual keys make it harder for typos and are more responsive, which allows for faster typing. However, if you are the minority that prefers membrane keyboards, you might want to give some of the mentioned mechanical keyboards a try as it enhances your typing experience overall.
---
7 Best Mechanical Keyboards for Typists in Malaysia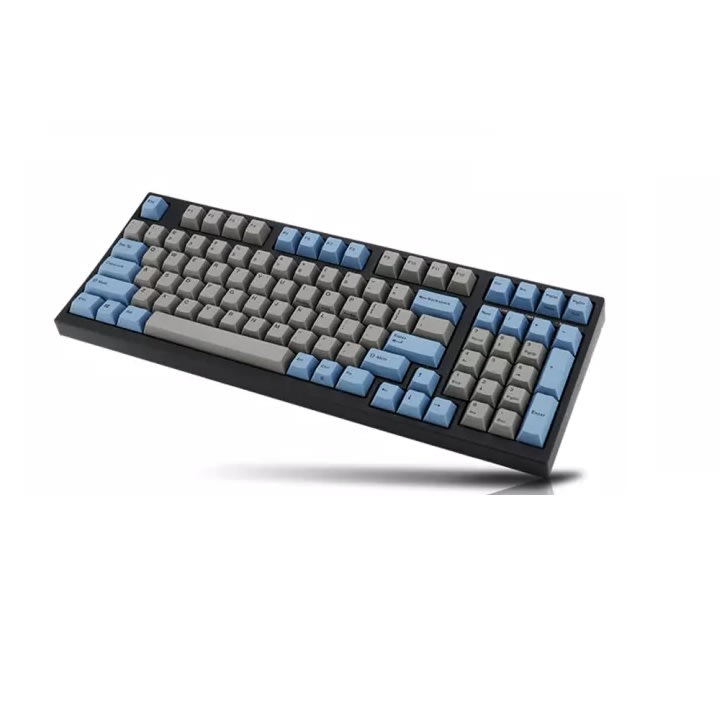 Check Leopold FC980M price below:
add_circle
Value for money, Durable, Compact for a full-sized
remove_circle
No RGB, No media keys
Why It's Our Top Pick:
The brand "Leopold" may not be familiar to most mechanical keyboard users, but rest assured this keyboard is top of the line for typing. It is our top pick for best mechanical keyboards for typists as it has some of the best keycaps, compact size for a full-sized keyboard and is very durable.
Features:
The design is stylish and the colours give a premium look. Despite it being a full-sized keyboard with a number pad, it is quite compact at around 40 centimetres long, so it fits quite well on any table. It comes with a long USB power cable, allowing you to use the keyboard from a longer distance. There is also a pair of rubber feet to adjust the keyboard's height according to your preference.
Paired with CherryMX switches, the main selling point of the keyboard is its double shot smooth keycaps that increase its durability and makes your typing experience enjoyable. The quality of the frame is very good and sturdy, so the keyboard won't easily move when you type. It also supports N-key rollover and the keys are easily removable.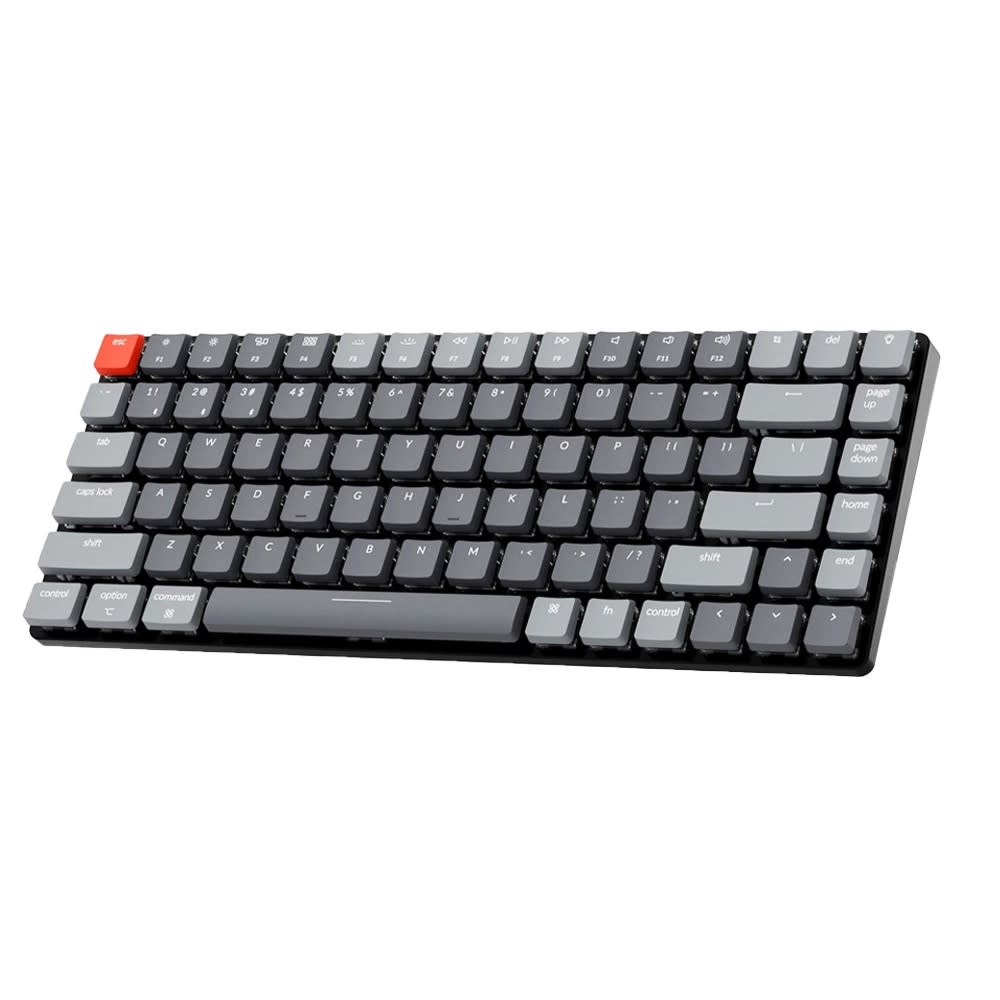 Check Keychron K3 Ultra-slim Wireless Mechanical Keyboard V2 price below:
add_circle
Low-profile design and switches, Compact design, Hot-swappable keys, Compatible with Mac & iOS, Wireless
remove_circle
No number pad
Looking for a compact typing keyboard for your small desk? Look no further.
Features:
Keychron is another underrated brand that delivers top-notch keyboards at affordable prices. The K3 V2 is a super-compact keyboard at 30 centimetres and only weighs less than 500 grams. Its dimensions make it easy to fit in any bag and are less space-consuming. It is the ultimate keyboard for users that like a low-profile option, especially with Low Profile Keychron or Gateron Optical switches that make typing noises unnoticeable. 
An upgrade from the V1 is the addition of a pair of rubber feet to adjust the height of the keyboard. Keychron also further reinforced the keyboard's structure, making it more durable and sturdier. Furthermore, for true keyboard enthusiasts, there is an option to buy the hot-swappable variant which makes it easier to replace switches and customise the keyboard.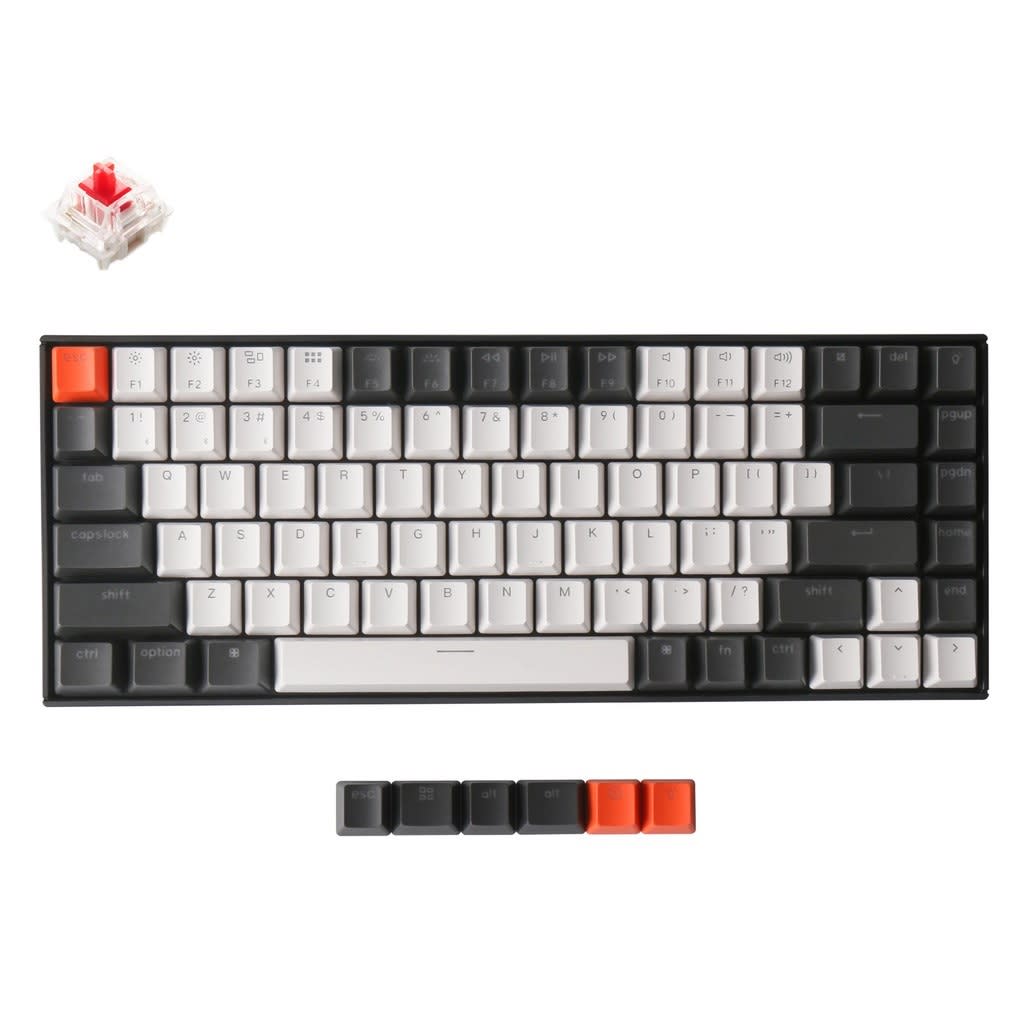 Check Keychron K2 Wireless Mechanical Keyboard price below:
add_circle
Supports Mac and iOS, Affordable, Compact, Wireless, Good battery life with RGB
remove_circle
No number pad
Switch between your Windows and iOS devices hassle-free!
Features:
A common problem that all Mac or iOS users face is that many keyboards don't support their devices, so they have to connect to another software or buy another dedicated keyboard. Keychron is here to help you as their keyboards are not only compatible with Mac and iOS, but it also comes with keycap layouts for both operating systems. 
Besides that, the keyboard is also wireless with good battery life and supports both wired and wireless connections. The size of the keyboard is very compact, given it is an 84-key TKL keyboard and comes with red, blue, and brown CherryMX switches. Not to mention its durable aluminium frame and the option to have RGB.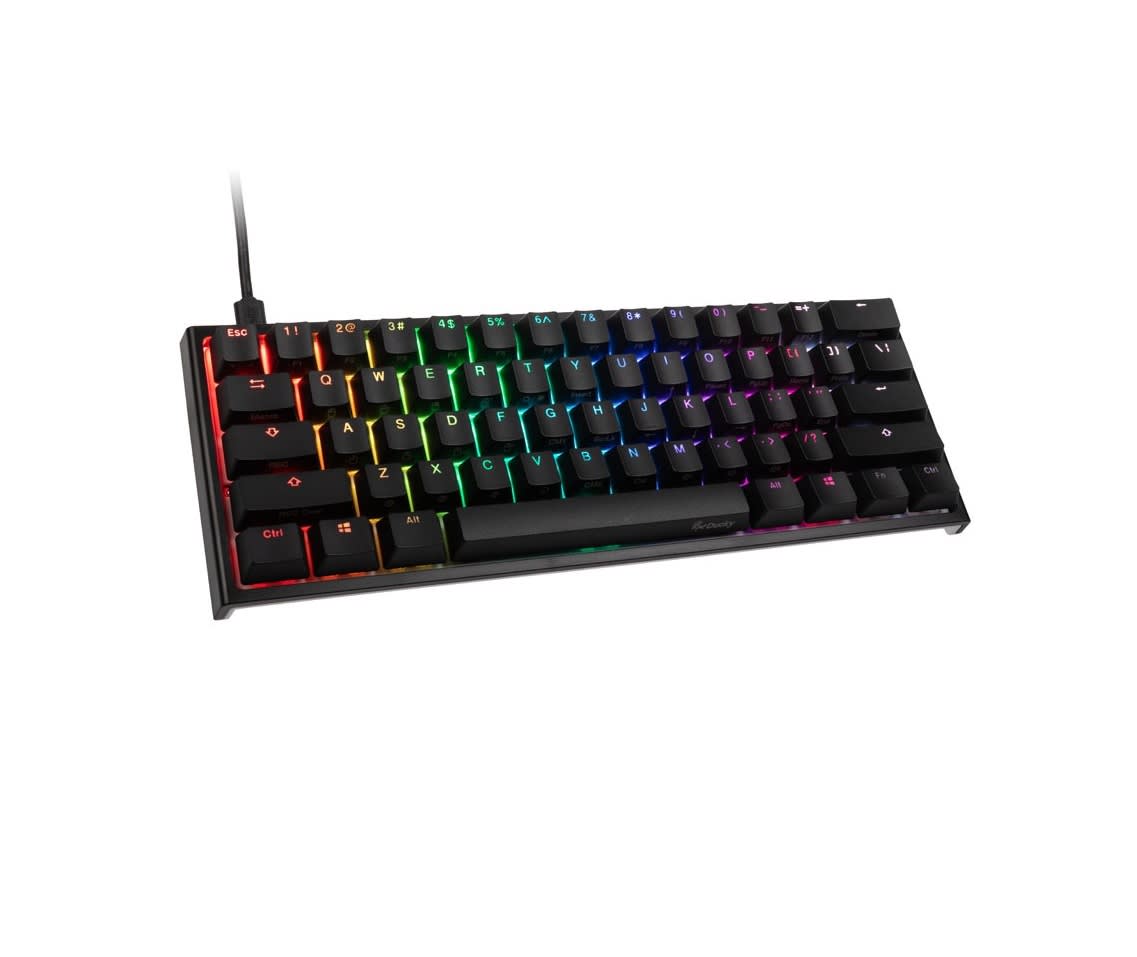 Check Ducky One 2 Mini V2 price below:
add_circle
Very good keycaps
remove_circle
No number pad and arrow keys
Looking for a more premium option? Ducky is very famous for selling high-end mechanical keyboards with high quality.
Features:
The Ducky One 2 Mini V2 is a 60% CherryMX mechanical keyboard. This means its size is 60% of a full-sized keyboard and has only 62 keys as there are no number pad nor arrow keys. Many users nowadays prefer smaller sized keyboards such as 60% or 65% keyboards as the number pad and arrow keys are barely utilised and they value tablespace more. 
The One 2 Mini V2 is a LED RGB keyboard with many lighting modes. It also has 3-level adjustable feet and a detachable USB cable which is very convenient. Most importantly, the keycaps are PBT Double Shot keycaps which provide users with better durability and a more enjoyable typing experience. Ducky even gifts customers a set of 10 additional coloured keycaps for customisation.
Check Royal Kludge RK61 price below:
add_circle
Affordable mechanical gaming keyboard
add_circle
Compact and small-sized
add_circle
Good switch feel
remove_circle
No rubber feet
This is one of the best keyboards for typing that comes at a ridiculously cheap price tag. 
Features:
The RK61 is a 60% wireless mechanical keyboard that comes with CherryMX or Gateron switches. Not only is it super compact and suitable for small desk spaces, but it can also fit into any bag seamlessly. If you don't like RGB functions, you have the option for a single colour backlight keyboard, which may be your cup of tea if you prefer a low-profile and professional keyboard. 
Connecting the keyboard is simple with the option of a USB, 2.4G wireless or Bluetooth. The keycaps are nothing fancy but are good enough if you're not a professional typer. Overall, a very decent mechanical keyboard that is wireless nonetheless given the price range of less than RM200. 
If you prefer the keyboard in other sizes, you can check out the other models such as the RK84 (TKL) or RK71 (70%).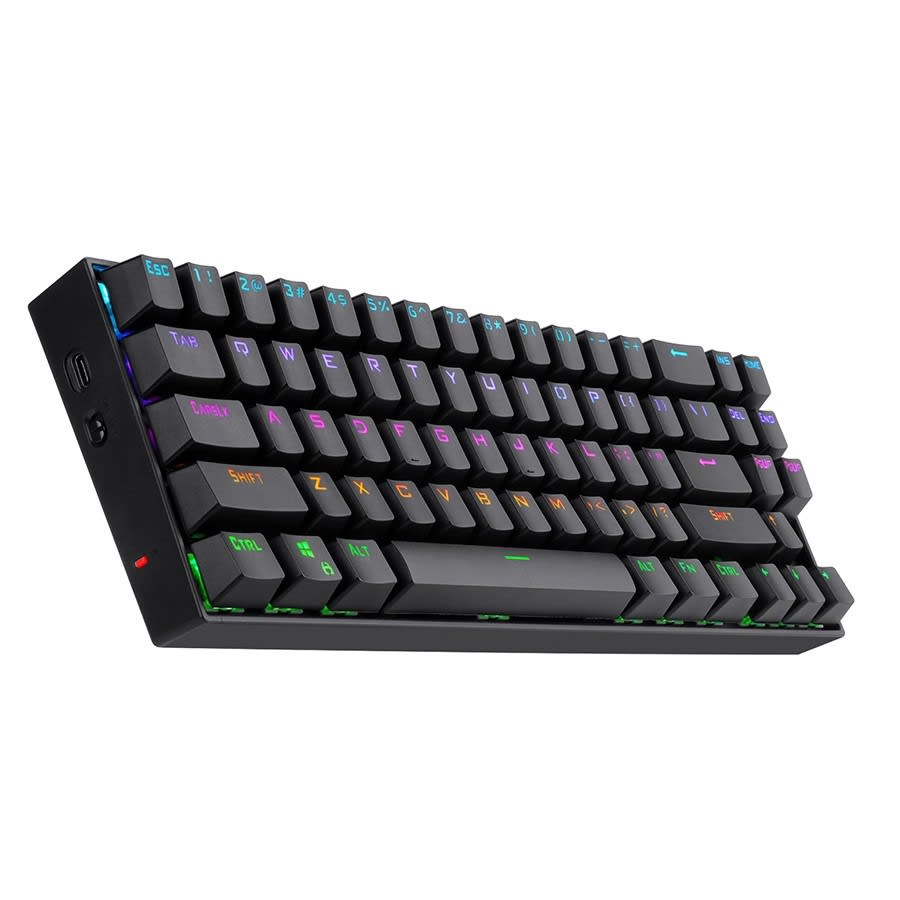 Check Redragon Deimos K599 price below:
add_circle
Compact, Cheap, Wireless, Hot-swappable switches
remove_circle
Only one switch option, RGB is dim
There are already many excellent wireless keyboards on this list, but we chose the Redragon Deimos K599 as best wireless keyboard as it is a super budget friendly option.
Features:
If you didn't already know, Redragon dishes out quality mechanical keyboards for typing and gaming at very low prices. The Deimos K599 is a wireless mechanical keyboard that can be connected via 2.4G dongle or Type-C cable. Its battery life is decent, and it even comes with RGB lighting effects but are quite dim. This is a 65% keyboard which makes it very compact and even comes with rubber feet.
The main selling point of the keyboard is its switches which are the Outemu Red Switches. Let me tell you, these switches are super stable and pre-lubed as well, giving you a very enjoyable typing experience. However, this keyboard only comes with one switch option, so if you prefer other switches, customising it yourself is a good shout as it is a hot-swappable keyboard.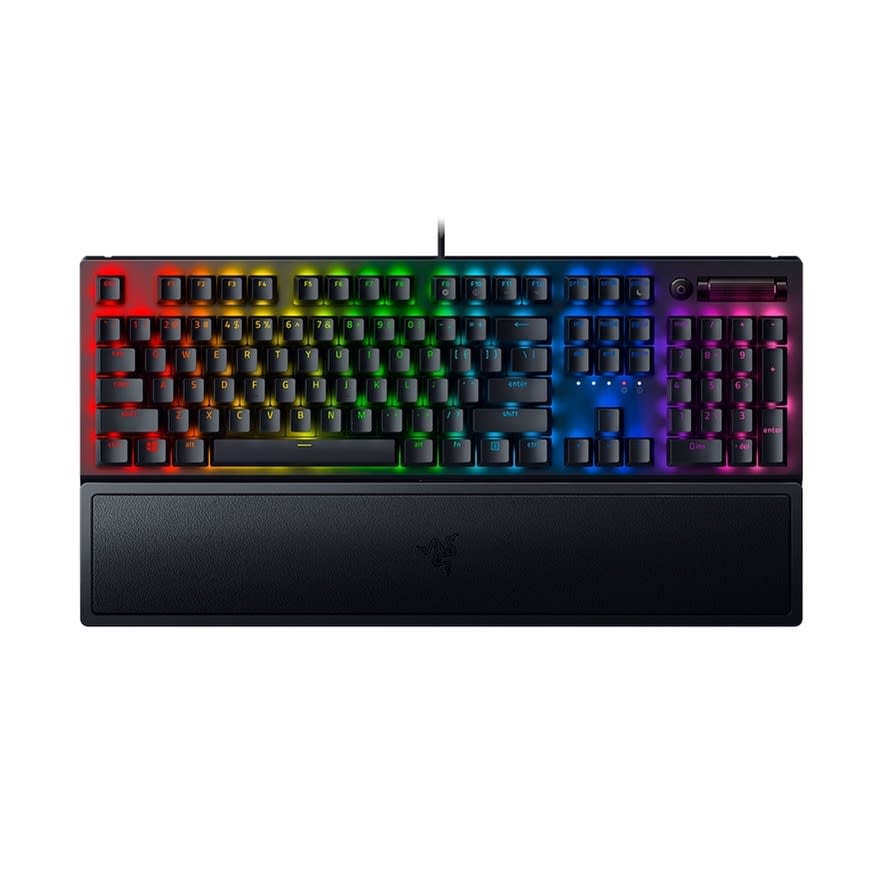 Check Razer Blackwidow V3 price below:
add_circle
Ergonomic wrist rest, Programmable roller wheel, RGB is good
The Razer Blackwidow series keyboards are well-known for being one of the best keyboards for general use. Razer's latest release – the V3 – has gotten a huge upgrade. 
Features:
Some typists prefer their keyboards to be loud and clicky as it is more immersive for them when typing. The Razer Blackwidow V3 is a very good mechanical keyboard for typing and gaming. It comes with Razer mechanical switches, but the Razer Green Switches are what we're looking at for a clicky, tactile typing experience. 
Coming in three different colour variations, the Blackwidow V3's design is aesthetically pleasing. The Transparent Switch Housing RGB also makes the keyboard look very pretty. Its keycaps are good, with DoubleShot ABS keycaps that are durable and help for smoother typing. The best part is that this keyboard comes with an attachable ergonomic aluminium wrist rest with a clear matte finish that reduces wrist fatigue and prevents carpal injuries.
---
Related: