During this digital era, keyboards are more than just a computer peripheral; They are a way of communicating and expressing ourselves on the Internet. In a world where the majority of people have their own devices being either a desktop or laptop, a keyboard is undoubtedly one of the most important hardware for every computer user.
The question can be asked: Why not just use a regular, cheap keyboard? Well, buying a suitable keyboard is very important as it not only can increase productivity in the form of typing speed and reducing input errors, but it is also important to avoid many disorders caused by high usage of the computer such as carpal tunnel.
Whether it is for work, programming or to climb the ranks in your favourite online games, we have compiled a list of the best keyboards from various categories to help you choose the right keyboard. 
---
Table of Contents
---
What are the different keyboard switches?
If you are new to keyboards, one thing that is sure to confuse you is the difference between various switches. If you didn't already know, all mechanical keyboards have individual switches for each key which make for many advantages such as more comfortable typing and more. It is important to find a keyboard with the correct switches as it does affect the user experience.
The most commonly used switches are CherryMX switches which are used in many mainstream keyboard brands such as Corsair, Keychron and more. 
Razer on the other hand uses their own switches (Razer switches) while Steelseries also use their own switches. Other more uncommon switches include Outemu and Kailh switches that are mainly used for customising mechanical keyboards. 
With the different brands in the market, one thing in common is that all switches are divided into these main categories: silent, linear, tactile and clicky switches. They are named differently for each brand, but the main question you need to ask yourself when buying a keyboard is which among the four do you want to buy. 
If you mainly use your keyboard in the office, then silent switches would be ideal. If you mainly game, linear or clicky keyboards are widely used by gamers. Tactile switch keyboards are good for typists or general use but it is ultimately down to personal preference. Make sure to do your own research and get the correct switches when shopping for a keyboard.
---
11 Best Keyboards in Malaysia
---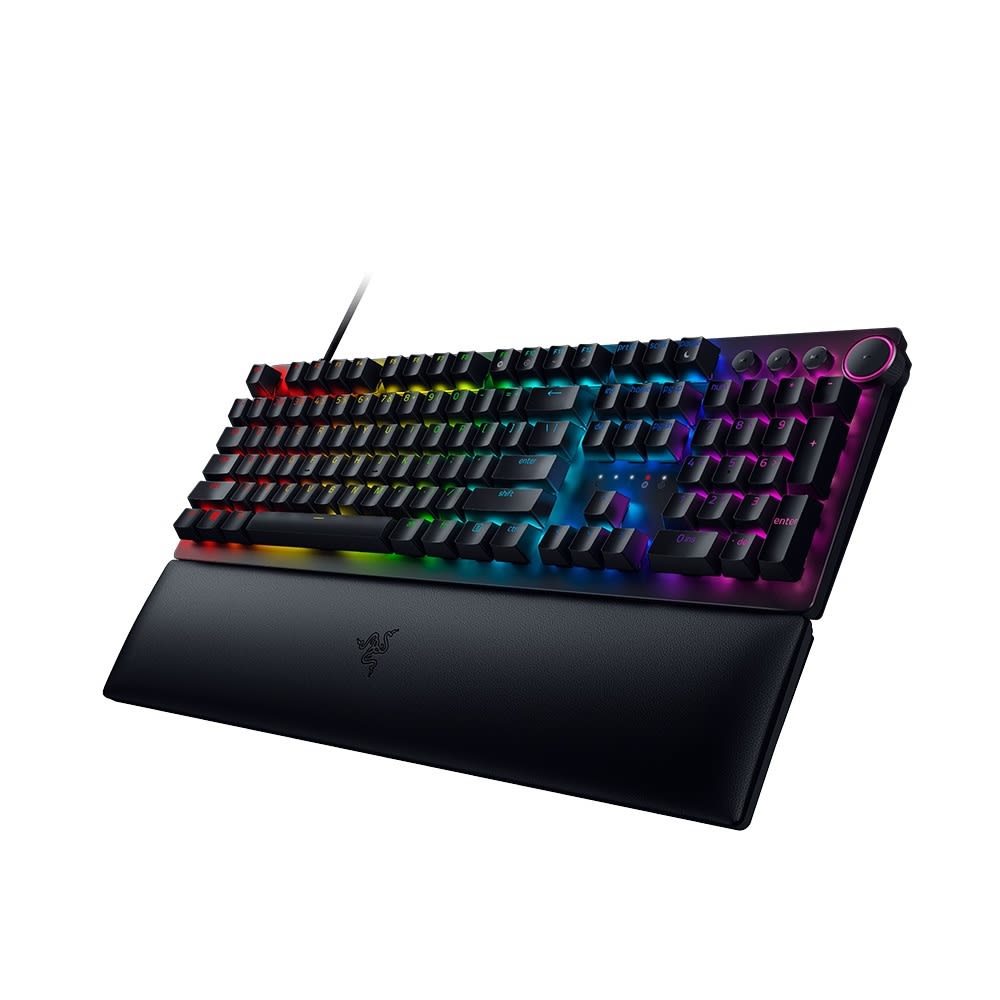 Check Razer Hunstman V2 price below:
add_circle
Near-zero input latency, Responsive switches, Extra digital dial with media keys, Ergonomic wrist rest
If you are even slightly invested in games, the Razer Hunstman V2 optical gaming keyboard will definitely ring some bells. The reason why this keyboard is on top of our list is it is not only one of the best for gaming, but it even works wonders for typing, work, school, etc. This keyboard works wonders and will last you very long as it is durable and high-quality.
Features:
The Hunstman V2 is a premium option for gaming keyboards but is regarded by many as the best gaming keyboard you can get by far. It is very responsive and has near-zero input latency, ensuring the fastest response which is vital for many FPS and MOBA games. Besides, the keyboard comes with two options of Razer Optical Switches - Linear and Clicky which make for both smooth keystrokes and crisp, tactile feedback.
As expected, the keyboard uses DoubleShot PBT Keycaps which are a million times more durable and comfortable to type on than regular keycaps. Other features of the Hunstman V2 include a sound dampening foam to reduce pinging noises, a multi-function digital dial with media keys and the iconic ergonomic wrist rest for better wrist support.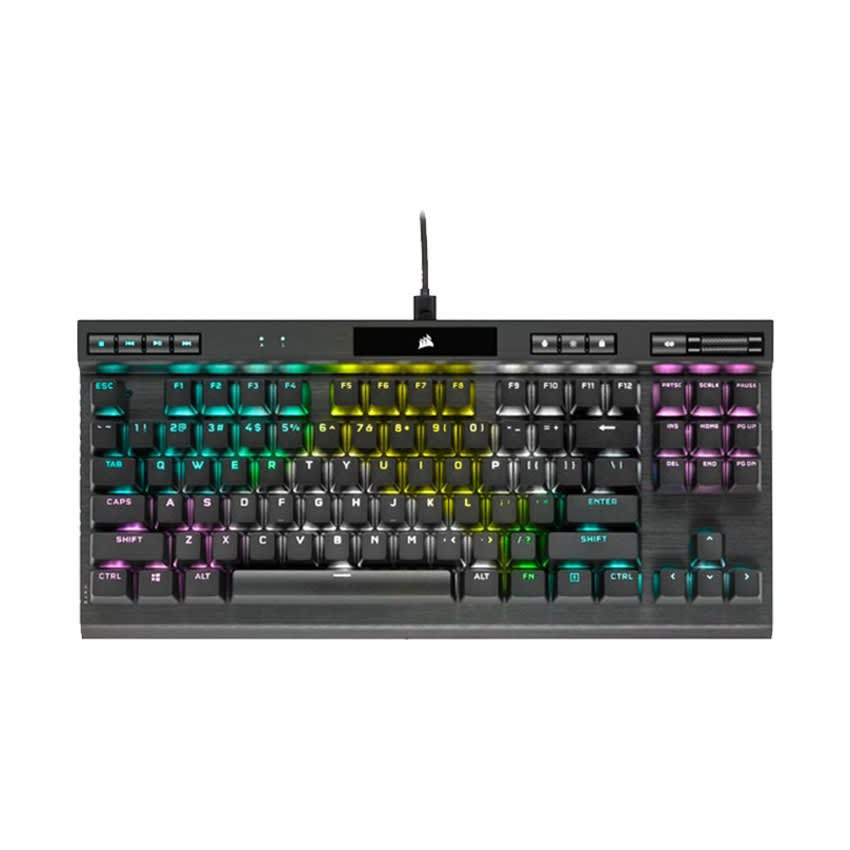 Check Corsair K70 TKL Champion Series price below:
add_circle
Tournament mode switch
add_circle
Low input delay
add_circle
Fast response switches
remove_circle
Only one switch option
Next on our list is a great gaming keyboard if you are looking for a tenkeyless (TKL) option.
Features:
The Corsair K70 TKL Champion Series is a more compact performance gaming keyboard that is built for the best gamers. Used by several players in the professional gaming scene, the keyboard features a durable aluminium frame that comes with a tournament mode switch for even better performance.
It comes with durable PBT DoubleShot keycaps which as mentioned before, is really comfortable and good to type on. The keyboard only comes with the option of one switch - the CherryMX Speed Silver switches which provide fast response times with short actuation distances. Finally, its Axon Hyper-processing Technology allows the keyboard to register inputs faster with little-to-no delay.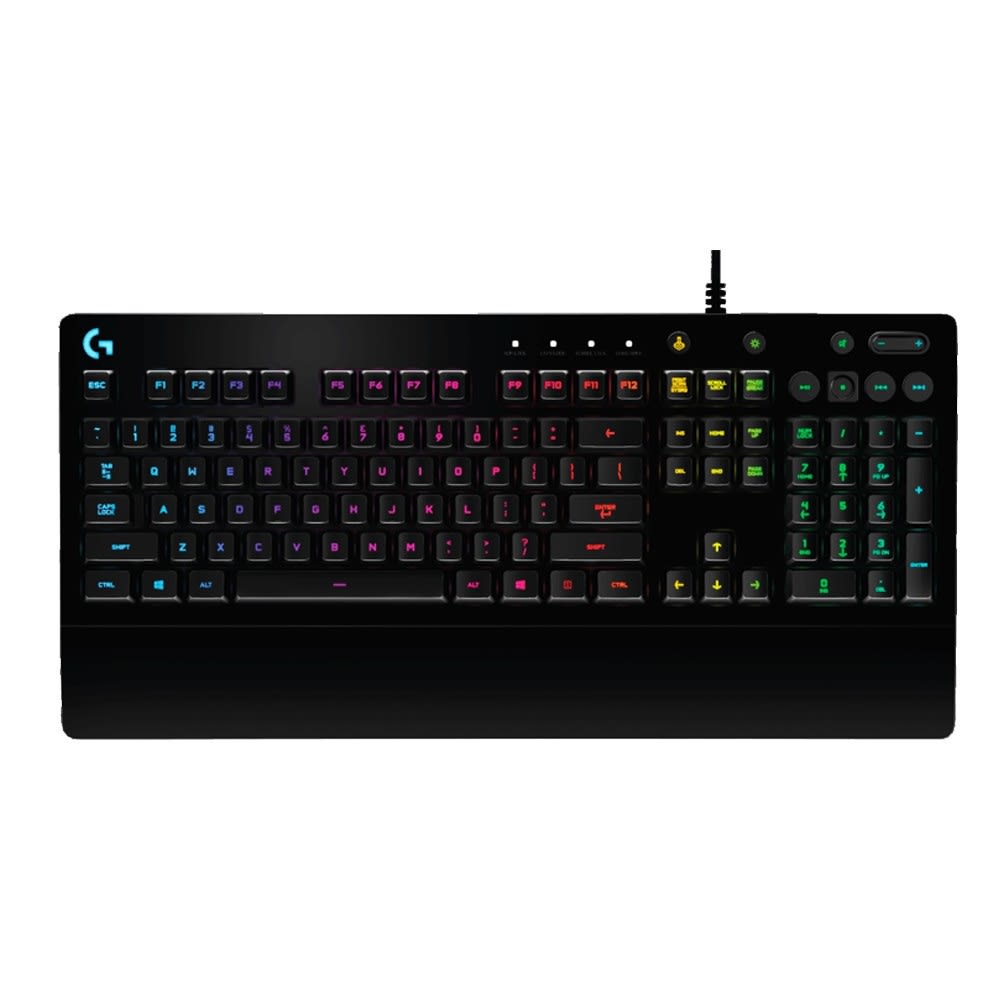 Check Logitech G213 Prodigy price below:
add_circle
Cheap, Good performance for a membrane, Nice RGB, Media control buttons, Spill-resistant
remove_circle
Membrane, Palm rest is integrated
Prefer a membrane keyboard over the mainstream mechanicals? No problem, the G213 Prodigy is one of the best in the market right now.
Features:
Although the choice between mechanical and membrane keyboards are a no-brainer, some users do prefer membrane keyboards (usually for general use only). The Logitech G213 Prodigy is an RGB gaming keyboard that features gaming-grade performance in a membrane keyboard. Built for gamers, it comes with Lightsync RGB customizable via Logitech G Hub and other useful features.
The keyboard is very durable and spill-resistant tested to a 60ml liquid rating, so it isn't completely gone after an accidental spill of your coffee. It also comes with an integrated palm rest and rubber feet, as well as media control buttons. If you are willing to sacrifice the smoothness of a mechanical, the G213 Prodigy is a really good shout.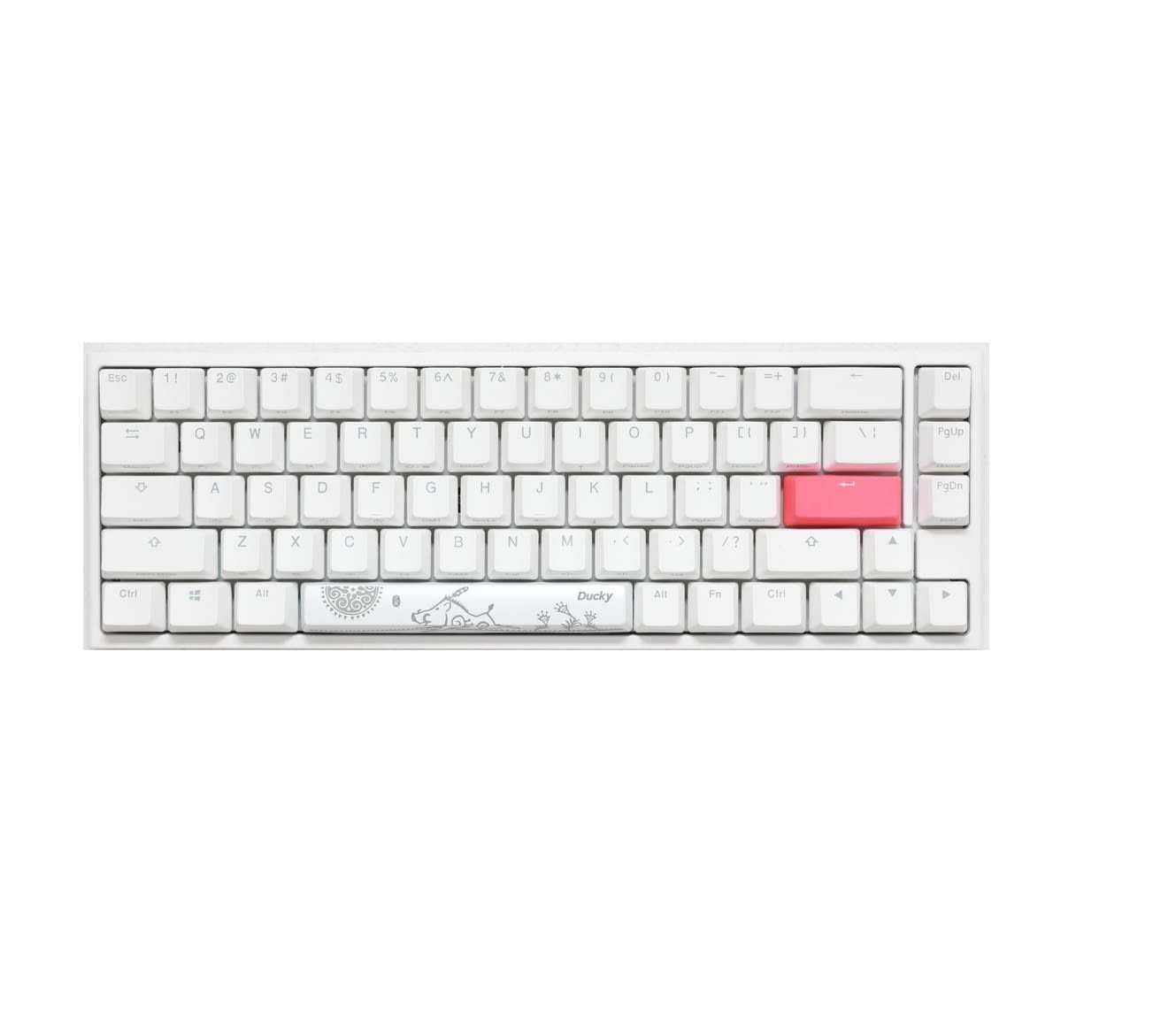 Check Ducky One 2 SF price below:
add_circle
Compact, Great keycaps and switches, Nice RGB
remove_circle
Slightly expensive, No number pad
If you don't have any extra table space for a full or normal-sized keyboard, the Ducky One 2 SF will fit perfectly on any desk. 
Features:
Small yet powerful, the Ducky One 2 SF is a compact 65% mechanical keyboard that is built for typers but is generally good for anyone struggling with table space. It comes with a petite bezel design which features a sleek frame and colours that match any type of keycaps. DoubleShot PBT Keycaps are of course included for a more reliable and seamless typing experience.
Compactibility and mobility is really the middle name of the One 2 SF as it has a detachable USB cable and a slim, 65% design that is easy to fit in any bag to carry around. There are two 3-level adjustable rubber feet and very nice RGB light effects which are always nice to have. The best part is it doesn't even sacrifice any functionalities for its compact size.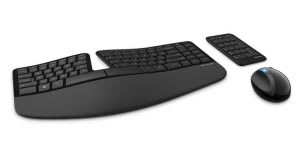 Check Microsoft Sculpt Ergonomic Keyboard price below:
add_circle
Ergonomic, Reduces pain on wrists and arms
remove_circle
Expensive, Not suitable for gaming
Mainstream keyboards don't feel comfortable for you? You might want to try an ergonomic keyboard that is designed for long-term comfortable usage. 
Features:
Many computer users nowadays especially those who work and have a high workload use their keyboards for extended periods of time which can take a toll on their physical health and cause pain. The Microsoft Sculpt Ergonomic Keyboard is built on advanced ergonomic principles with a split layout that ensures your wrists and forearms are comfortable.
It comes with a cushioned palm rest for wrist support and its layout is designed with an arc that follows the curve of your fingertips. This allows for natural typing and wrist and arm positioning, which reduces wrist pronation and other physical disorders. Keep in mind that the keyboard is sold along with an ergonomic mouse and number pad from Microsoft.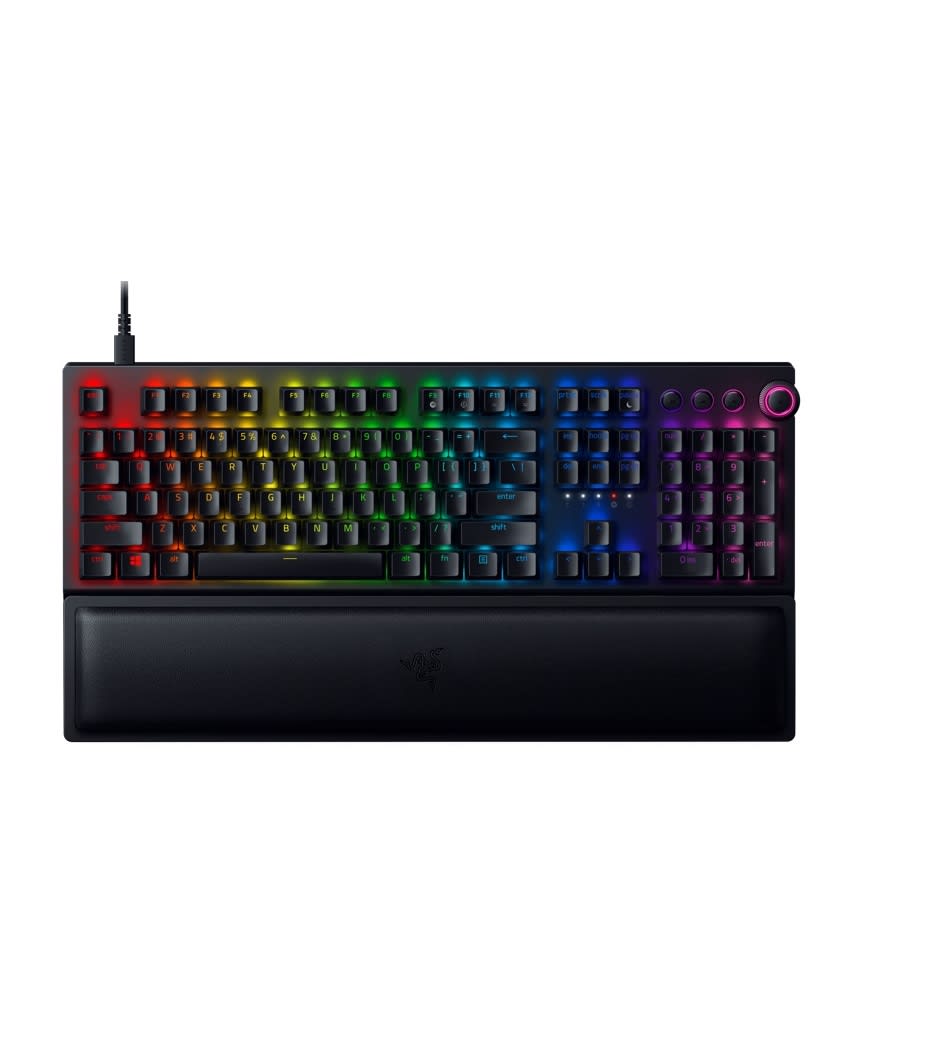 Check Razer Blackwidow V3 Pro price below:
add_circle
Connecting is easy
add_circle
Low latency and responsive
The newest addition to the Razer Blackwidow family, the Blackwidow V3 Pro is a wireless powerhouse that brings your gaming experience to the next level.
Features:
Having a wireless keyboard or any peripheral for that matter is an advantage for gamers as they are not hindered by a wire or cord. The Razer Blackwidow V3 Pro is an excellent choice if you are looking for a performance gaming keyboard or a keyboard for general usage. It connects wirelessly with Razer Hyperspeed - Razer's most advanced wireless connectivity which ensures low latency and high responsiveness.
The keyboard can also be connected via USB cable or Bluetooth, where switching between connectivities is as easy as a flick of a switch. With Razer Green or Yellow switches, gaming or typing is an enjoyable experience as one provides satisfying tactile feedback when gaming while the latter allows for silent, smooth keystrokes when typing. Other features include DoubleShot ABS keycaps, Digital Dial with media keys and the iconic leather wrist rest.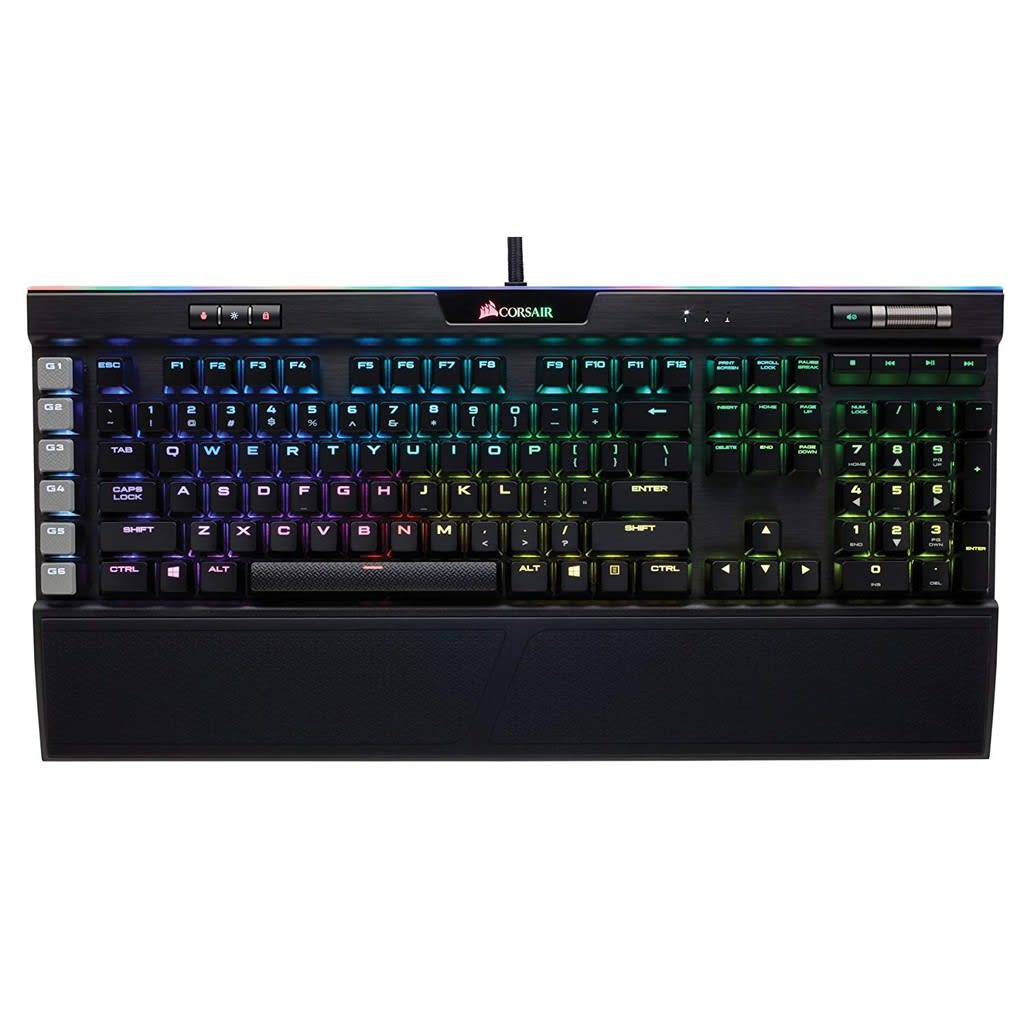 Check CORSAIR K95 RGB PLATINUM Mechanical Keyboard price below:
add_circle
Programmable macros, Compatible with stream deck, Durable keycaps, Media controls
remove_circle
Expensive, Bulky
Do you like to program your most-used software and apps on macros for easier access? Or are you an upcoming streamer that needs a streaming deck to stream better? This keyboard may have an intimidating price, but is a very good option for you.
Features:
The Corsair K95 RGB Platinum XT is a mechanical keyboard that comes with the whole package, including macro keys that are compatible with Elgato Stream Deck Software. If you are an upcoming or aspiring streamer, a stream deck is a useful tool that helps you manage your stream more effectively. The keyboard not only is compatible with the most widely used stream deck software, but it also makes it super easy to use and access programs.
Besides the stream deck, the keyboard is overall a great keyboard with stylish RGB, super durable keycaps and the choice of three CherryMX switch variants - Brown, Blue or Speed. The keyboard registers different profiles if you're feeling a different vibe and even comes with a leather palm rest for wrist support.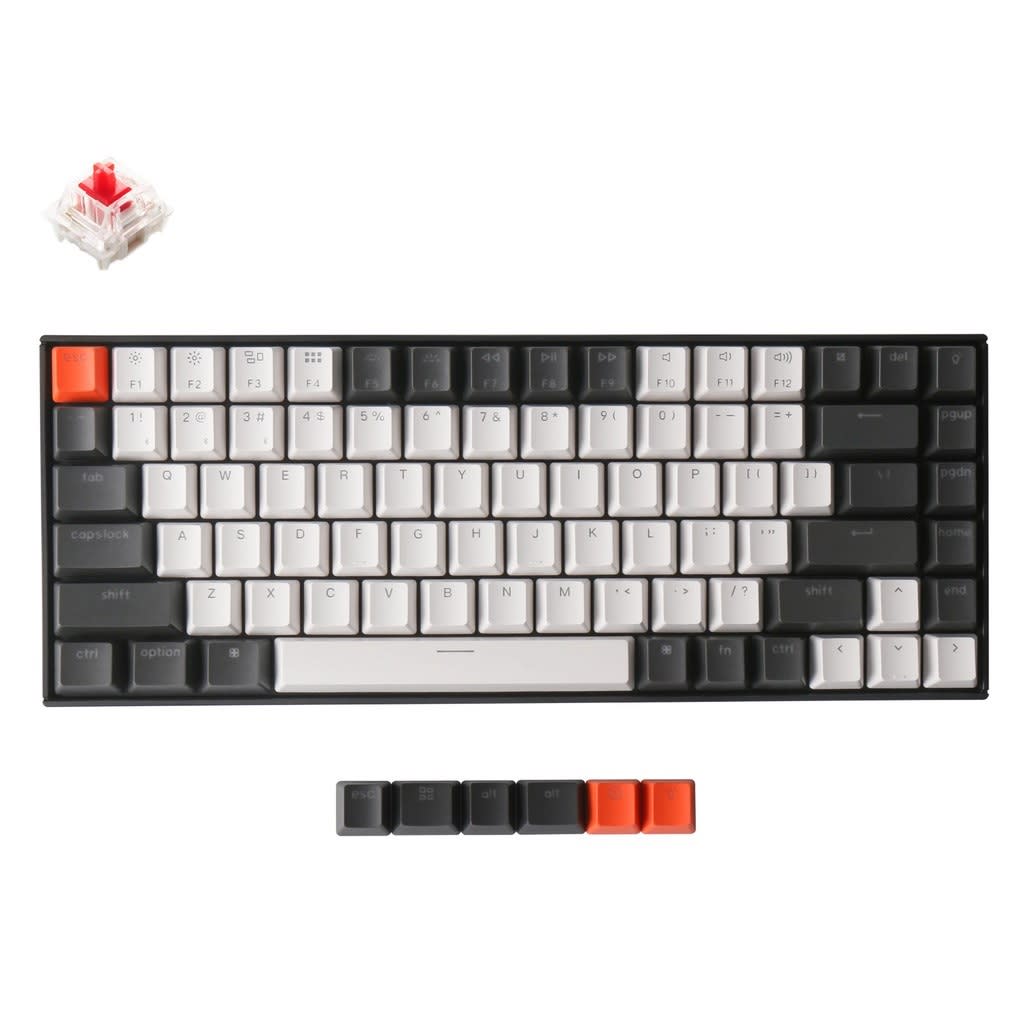 Check Keychron K2 Wireless Mechanical Keyboard price below:
add_circle
Supports Mac and iOS, Affordable, Compact, Wireless, Good battery life with RGB
remove_circle
No number pad
A common problem that all Mac or iOS users face is that many keyboards don't support their devices. The Keychron K2 Wireless is not only compatible with said devices but makes connectivity much simpler.
Features: 
Long gone are the days where you have to buy a dedicated keyboard for your iOS device. The Keychron K2 Wireless Mechanical Keyboard is compatible with all devices, including Windows and iOS and even has layouts for both operating systems. Switching between Windows and iOS is also simple as all you need is to replace the cable with the correct one.
Besides that, it is also wireless with good battery life and supports both wired and wireless connections. The size of the keyboard is very compact, given it is an 84-key TKL keyboard so it saves some table space. The keyboard comes with red, blue, and brown CherryMX switches and keycaps that are comfortable to type on.
Check Royal Kludge RK61 price below:
add_circle
Affordable mechanical gaming keyboard
add_circle
Compact and small-sized
add_circle
Good switch feel
remove_circle
No rubber feet
This keyboard is for those who are looking for a decent keyboard for multiple uses but don't want to spend too much.
Features:
The RK61 is a 60% wireless mechanical keyboard that comes with CherryMX or Gateron switches. It is compact and fits seamlessly into small desks. If you prefer a low-profile and professional keyboard, it comes with a white colour backlit variant without RGB lighting. Being a wireless keyboard, it is also suitable for gamers.
Connectivity is easy as a piece of cake, with the keyboard supporting USB, 2.4G wireless and Bluetooth. Given that it is a budget option, the keycaps and switches are good enough if you aren't a professional. If you prefer the keyboard in other sizes, you can check out the other models such as the RK84 (TKL) or RK71 (70%).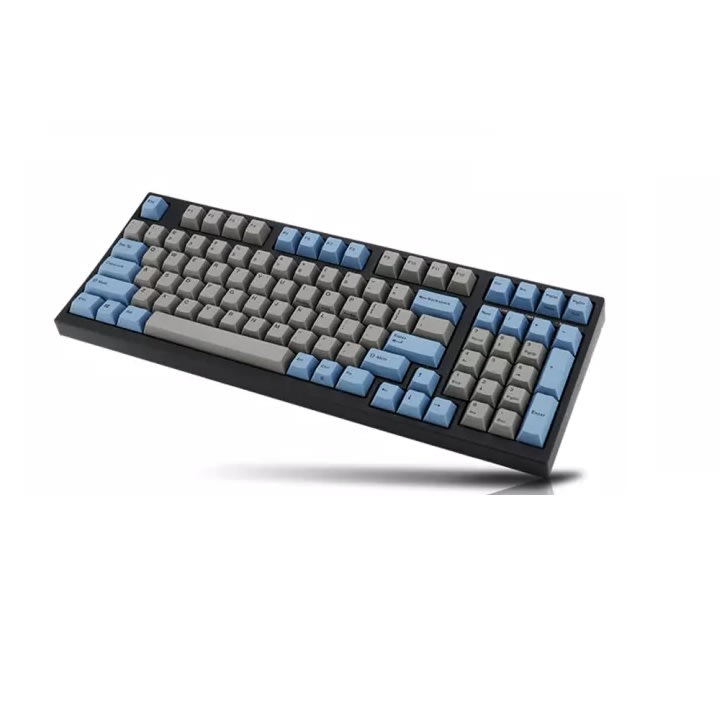 Check Leopold FC980M price below:
add_circle
Value for money, Durable, Compact for a full-sized
remove_circle
No RGB, No media keys
Although there are many good options for full-sized keyboards on this list, the Leopard FC980M is also up there with the best in the market.
Features:
Built specifically for typers, the keyboard comes with amazing keycaps that are smooth and durable. The perks of a full-sized keyboard like this are for students or workers that frequently use the number pads for assignments or reports. Despite it being a full-sized keyboard with a number pad, it is quite compact at around 40 centimetres long, so it fits quite well on any table.
It comes with a pair of rubber feet to adjust the keyboard's height and has a sturdy aluminium frame. The main selling point of this is of course the keycaps and switches (CherryMX) so this keyboard may be more suitable for general use or for work, though gamers could still consider this keyboard.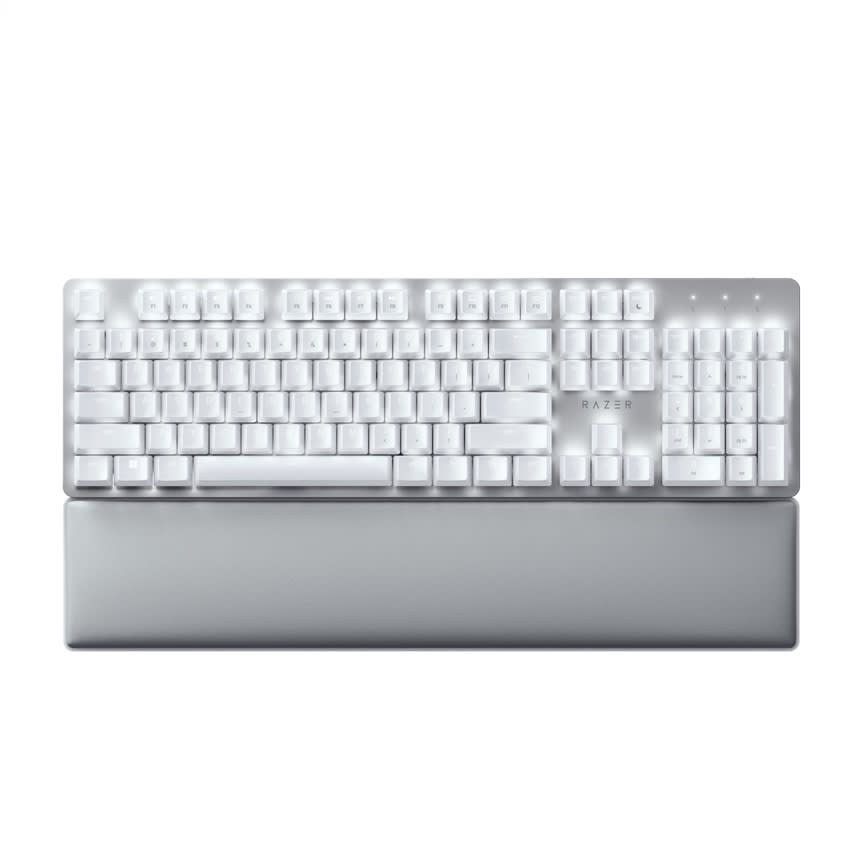 Check Razer Pro Type Ultra price below:
add_circle
Full-sized keyboard, Wireless, Silent switches, Ergonomic keycaps, Good battery life
remove_circle
Expensive, Bulky
There are many excellent keyboards on this list that can be considered as "the best for typing". However, if you really want to treat yourself or spend extra long hours typing and working, the Razer Pro Type Ultra is the true endgame for utmost productivity. 
Features:
The Razer Pro Type Ultra is a wireless keyboard designed specifically for workers that spend a lot of time typing or doing computer work. This premium keyboard will surely put you ahead at work as its overall design and features not only help boost productivity but will definitely catch the attention of your colleagues (or superiors). 
The design is sleek and elegant, while the white backlit keys make it appropriate to bring to work. Its mechanical switches come with sound dampening foam which allows you to have the comfort of typing on a mechanical without the excess noise. The keycaps are super smooth and are ergonomically designed, ensuring the most enjoyable typing experience you can dream of. 
It also comes with a cushioned wrist rest that is ergonomic and provides wrist support to avoid fatigue. Finally, it supports many connectivities, including Razer Hyperspeed wireless connection with excellent battery life that can last you the whole day.
---
Related articles: