Gaming peripherals are the things that make or break a gamer as good hardware not only help you improve your skills, but also gives you an advantage in many games such as FPS or MOBA games. Gaming keyboards arguably play a huge role for PC gamers because the keyboard input's accuracy is crucial in all games.
Finding a suitable gaming keyboard for your main games can take you to the next level and drastically improve your gameplay. If you're still stuck with that plain, laptop keyboard that frequently registers wrong inputs, it is time to invest in a new gaming keyboard for a better gaming experience.
Here are the best gaming keyboards you can find in the market as of the year 2023 to help you find the perfect keyboard.
---
Best Gaming Keyboards in Malaysia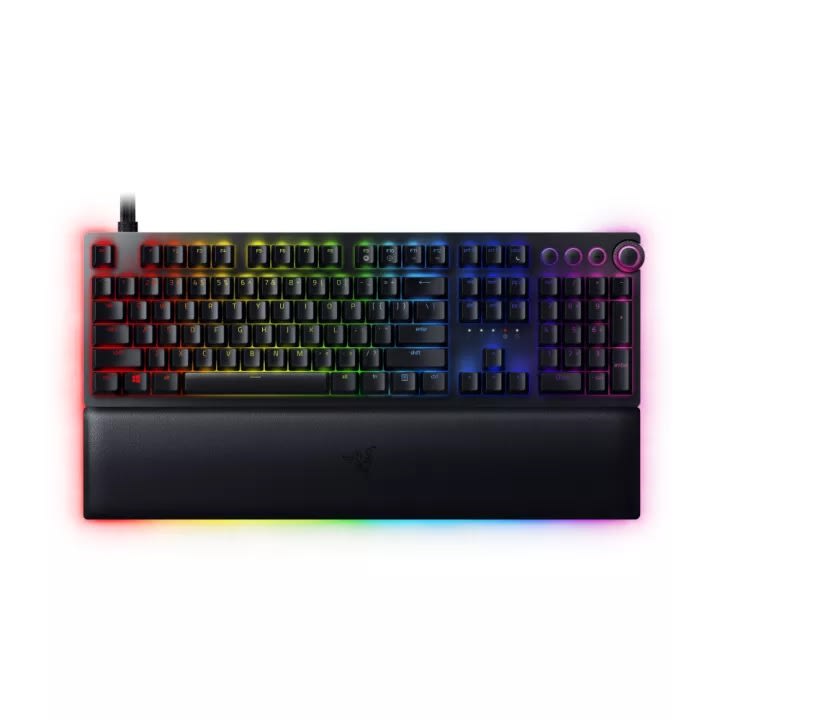 Check Razer Huntsman V2 price below:
add_circle
Near-zero input latency
add_circle
Responsive switches
add_circle
Extra digital dial with media keys
add_circle
Ergonomic wrist rest
It takes a lot to be considered the best of the best, and the Razer Huntsman V2 has what it takes. This premium mechanical gaming keyboard is the best for gaming of all sorts and even works for other uses such as work, school or typing. This high quality, durable option makes it the number one gaming keyboard on our list. 
Features:
The Huntsman V2 is popular among the gaming community as one of the best gaming keyboards. Its high responsiveness and near-zero input latency make it every gamer's wet dream as the fastest response is crucial in competitive games such as FPS or MOBA games. The Linear Razer Optical Switches give you a silent but smooth gaming experience while the Clicky switches are for those who prefer a crisp, tactile experience.
With PBT DoubleShot keycaps, typing or gaming on this is smooth and durable as the keys won't wear out easily. The keyboard also comes with sound dampening foam to reduce excess noise coming from the keyboard that may distract you. Other features include a multi-function digital dial with media keys and of course, an ergonomic wrist rest for better wrist support.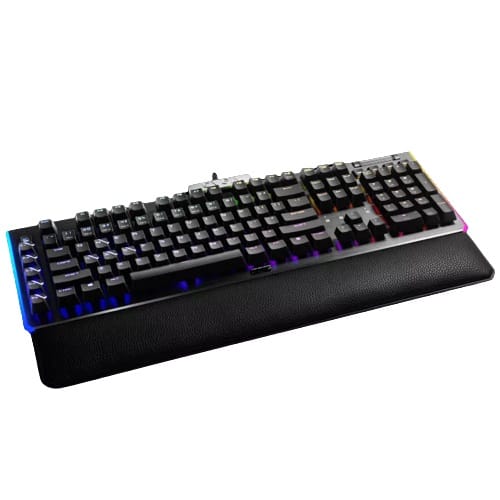 Check EVGA Z20 price below:
add_circle
Cheaper than premium brands
add_circle
Great design and RGB lighting
add_circle
Has macro keys
remove_circle
Build is large and bulky
A relatively underrated brand in the gaming community, this EVGA gaming keyboard wins the best full-sized keyboard on our list because of its many useful features, as well as its unique design.
Features:
Among many great full-sized keyboards out there, the EVGA Z20 is (in our opinion) the best as it offers the most advanced gaming experience with multiple features and technology. Its EVGA Time-of-flight Sensing System is a proximity sensor that detects movement of the keyboard's system to enter sleep or awake mode, a feature that is rarely seen in popular keyboard brands.
With a 4K Hz Report Rate, it offers the lowest response time with high precision in inputs to ensure a pleasant gaming experience. The keyboard comes with 4D bump keycaps for WASD and macro keys, as well as an RGB lightbar which makes the keyboard's design stand out from other keyboards. Other features include five customizable macro keys, multimedia keys with volume control and audio jack compatibility.
Check ASUS ROG Azoth price below:
add_circle
Comes with OLED screen with customizable animations
remove_circle
Quite expensive
Overview
The ROG Azoth keyboard lets you customize not only the keycaps but also the RGB lighting of the keyboard so, you can match it to suit your setup. This 75% gaming keyboard has a gasket mount design and a cushion-mounted feel when you type. 
The most prominent feature is its OLED display which lets you monitor the keyboard's status, such as if Caps Lock is on, the keyboard battery level, and others. It also comes with a customizable three-way control knob that allows quick settings adjustments!
ASUS ROG Azoth Specifications
Connectivity:

USB 2.0 (TypeC to TypeA), Bluetooth 5.1, RF 2.4GHz

Dimensions:

326 x 136 x 40mm

Weight:

 1186g

Cable Type:

2M USB type A to C braided cable

OS:

macOS® 10.11 or later, Windows® 11

Lighting:

RGB

Colour: Gunmetal
Who is it for?
If you like to switch up your keyboard game every now and then, the ROG Azoth is for you. It comes with the tools you will need to customize the keyboard from inside to out, including the lighting! This keyboard's OLED screen also allows you to display custom animations, and the three-way knob allows you to make quick settings adjustments.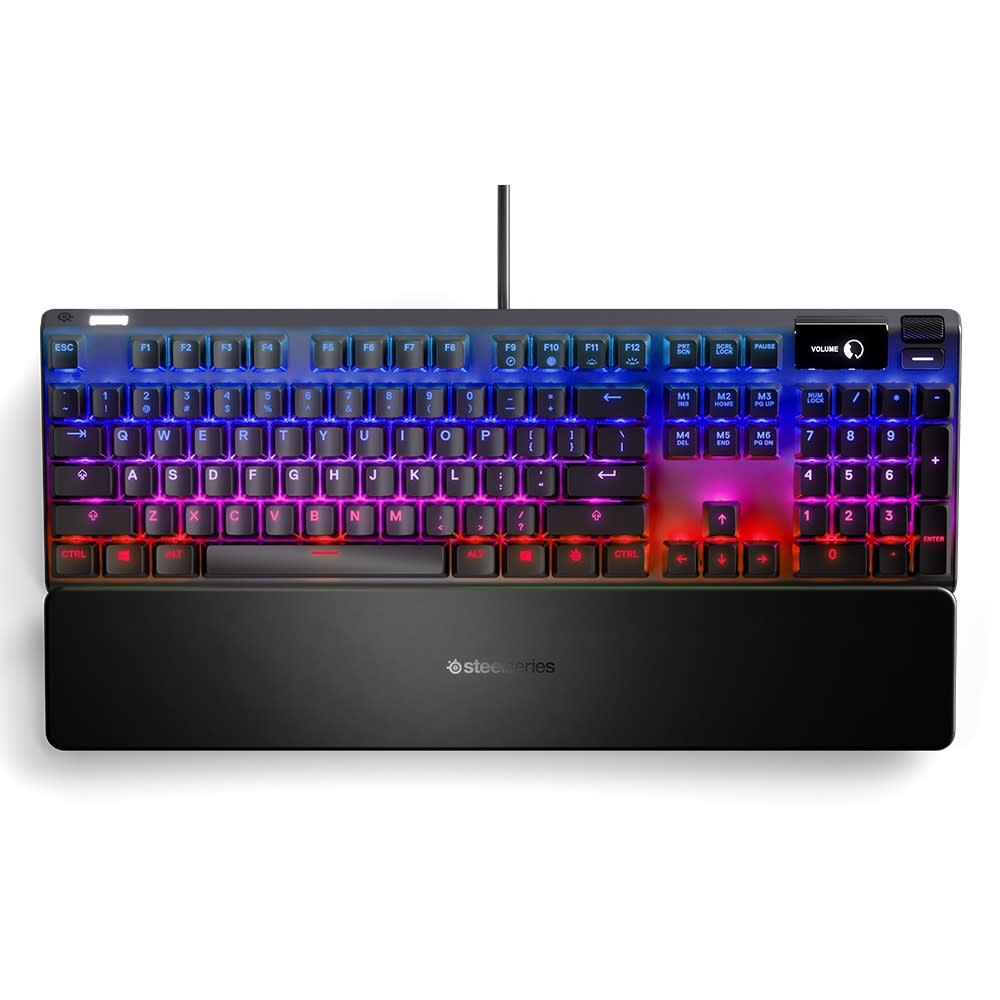 Check Steelseries Apex Pro price below:
add_circle
Adjustable switches
add_circle
Dynamic per-key RGB
add_circle
Many personalisations options
With such an intimidating price tag, surely this keyboard performs well, right? The answer to that is yes, this keyboard is the best for the FPS games genre (one of the most popular genres) and is even recommended by professionals.
Features:
This keyboard has many aspects that make it stand out from other brands in the market. For starters, the Apex Pro comes with Steelseries OmniPoint Switches which have significantly faster response, actuation, and more durability. The mechanical switches on this keyboard are adjustable which means that depending on your usage preference and habits, the actuation distance changes, a feature not commonly seen in today's keyboards.
One cool part of the design aspect is an OLED Smart Display on the top right of the keyboard which displays useful information for adjusting settings, changing profiles, and checking for updates. Customisation seems to be the name of the game as macros, actuation distance and prism effects can be saved into profiles so that you can find the best settings for different games. 
Other features include a durable aluminium frame, a premium magnetic wrist rest for more comfortable usage, dedicated multimedia keys and dynamic RGB illumination. Overall, a very endgame keyboard for those hardcore gamers with a huge budget.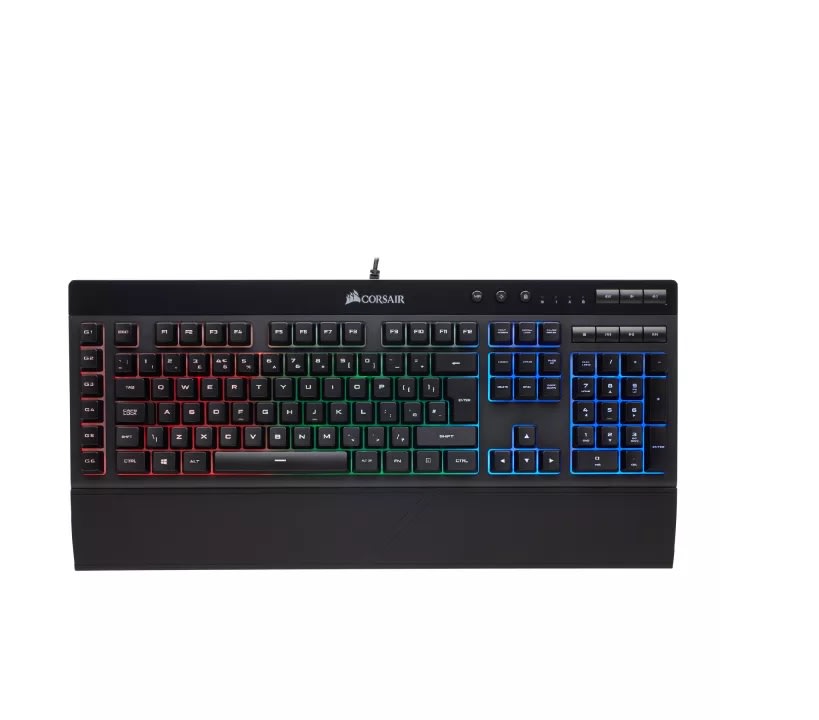 Check Corsair K100 price below:
add_circle
Fully customisable macros
add_circle
Great RGB lighting
add_circle
Ergonomic wrist rest
A Massively Multiplayer Game (MMO) is a game that involves open-world exploration paired with strategic and sophisticated gameplay that typically require many keys and macros for the best gaming experience, which is why the Corsair K100 is made for MMO games.
Features:
In terms of design and gameplay, the Corsair K100 is second-to-none as this stunningly designed keyboard is an absolute powerhouse. Design-wise, The K100 comes with a durable aluminium frame paired with dynamic per-key RGB lighting with many profiles. Its AXON Hyper-processing Technology enables 8x faster keypress inputs paired with optical key switches that offer hyper-fast input and a low actuation distance.
The main feature of the keyboard is its macros and control options. An iCue Control Wheel allows users to take control over lighting, switching between applications, multimedia control and more. Macros on the other hand, are fully customisable and can even be programmed with Elgato Stream Deck software. These features are useful for MMO gamers but are also huge for streamers or Youtubers as the macros can be a big help.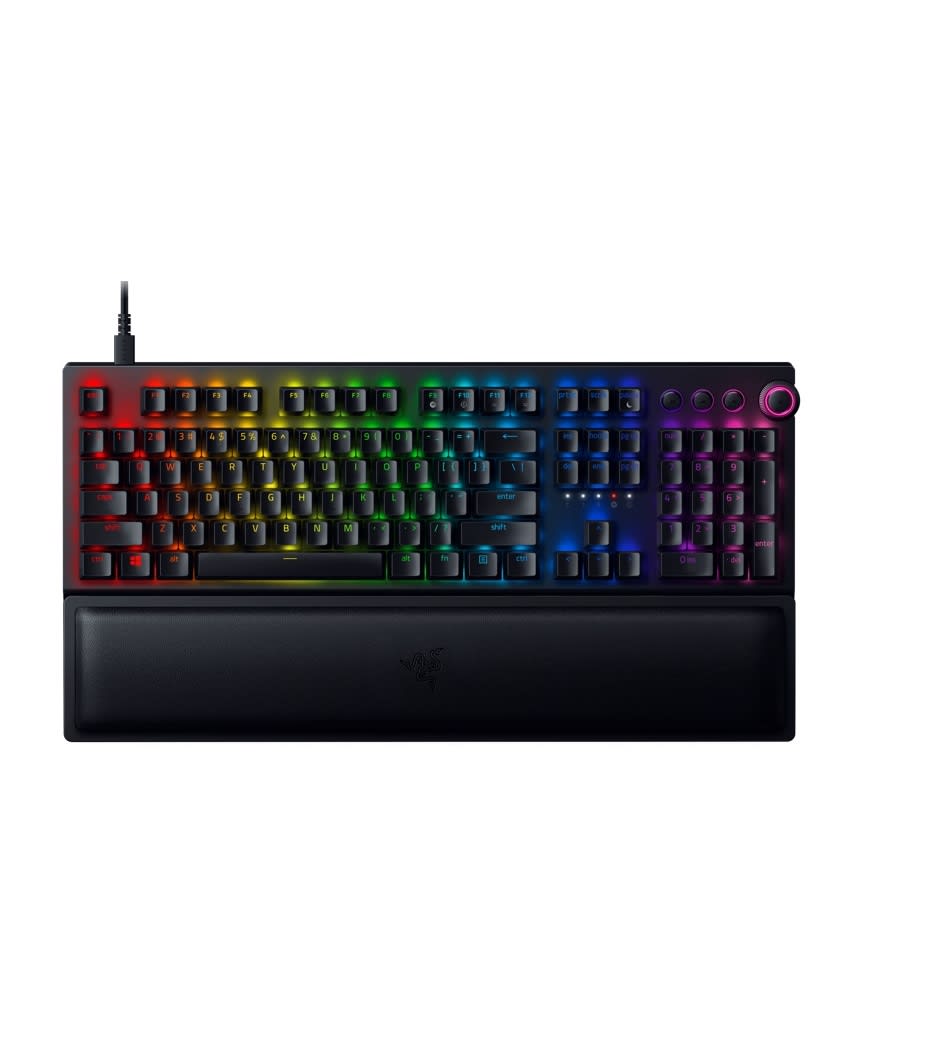 Check Razer Blackwidow V3 Pro price below:
add_circle
Connecting is easy
add_circle
Low latency and responsive
A wireless keyboard is always an advantage for gamers as you aren't limited by a wire or cable. Among many wireless keyboards that are available, the Blackwidow V3 Pro is the one we recommend.
Features:
The Razer Blackwidow V3 Pro is an all-rounded keyboard that is not only suitable for gaming, but also work, school, and more. Connectivity on this thing is a no-brainer as the keyboard can connect to your PC via Razer HyperSpeed, USB cable or Bluetooth. Users can also switch between connectivity and devices with a flick of a switch.
The keyboard comes with Razer Green and Yellow switches with the former providing satisfying tactile and clicky feedback and the latter providing silent, smooth keystrokes when typing or gaming. It is very responsive and has near-zero latency, so the gaming experience is seamless and enjoyable. Other features include DoubleShot ABS keycaps, Digital Dial with media keys and a leather wrist rest.
Check Royal Kludge RK61 price below:
add_circle
Affordable mechanical gaming keyboard
add_circle
Compact and small-sized
add_circle
Good switch feel
remove_circle
No rubber feet
The RK61 is a good and affordable mechanical keyboard that performs in various aspects. Although it isn't exactly built for gamers, it performs well for gaming, typing and general usage altogether.
Features:
The RK61 is a 60% wireless mechanical keyboard that comes with CherryMX or Gateron switches. Being a wireless keyboard, it is also suitable for gamers. It is compact and fits seamlessly into small desks, so you won't need to worry about hitting your mouse during intense gaming sessions. 
If you prefer a low-profile and professional keyboard, it comes with a white colour backlit variant without RGB lighting. Additionally, connectivity is easy as a piece of cake, with the keyboard supporting USB, 2.4G wireless and Bluetooth. The keycaps and switches are pretty good for a mechanical keyboard at that price but aren't the best if you are looking for premium quality. 
If you prefer the keyboard in other sizes, you can check out the other models such as the RK84 (TKL) or RK71 (70%).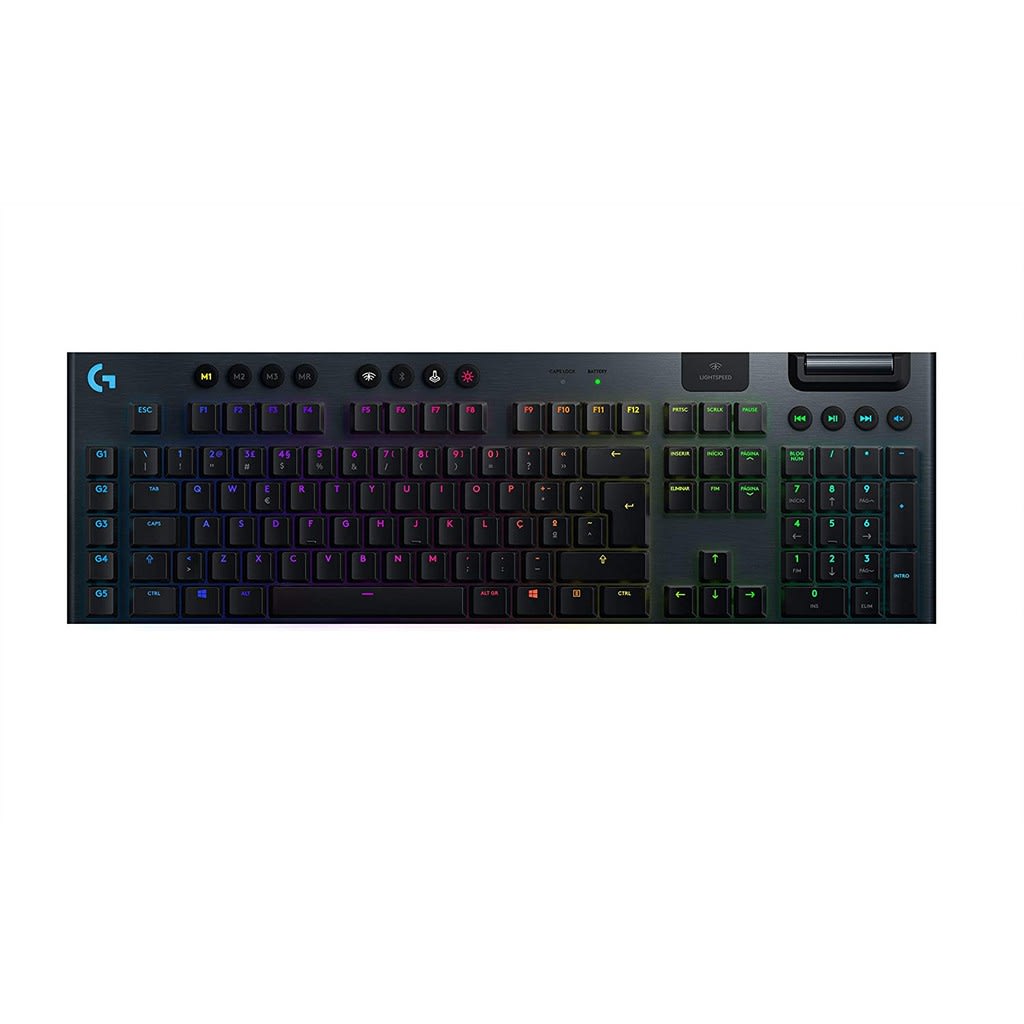 Check Logitech G913 price below:
add_circle
Low-profile switches
Looking for a gaming keyboard but dislike the sound of clicky, tactile keys on most keyboards? The Logitech G913 Lightspeed is the right keyboard for those who prefer a low-profile gaming keyboard.
Features:
The G913 Lightspeed features high-performance, low-profile GL mechanical switches that provide the performance of traditional switches but at half the height. Said GL switches are durable, responsive, and accurate to ensure an enjoyable gaming experience. It still comes with 3 switch options - Clicky, Tactile and Linear, but low-profile users would prefer Linear switches.
Besides the low-profile switches, the keyboard also packs a punch in other aspects. Its Lightspeed connectivity is fast and easy to connect with input delay so little no one will notice. The keyboard is also built incredibly thin for a gaming keyboard, so it is quite mobile and fits in a bag easily. Other features include dedicated media controls, long-lasting battery life and amazing Lightsync RGB.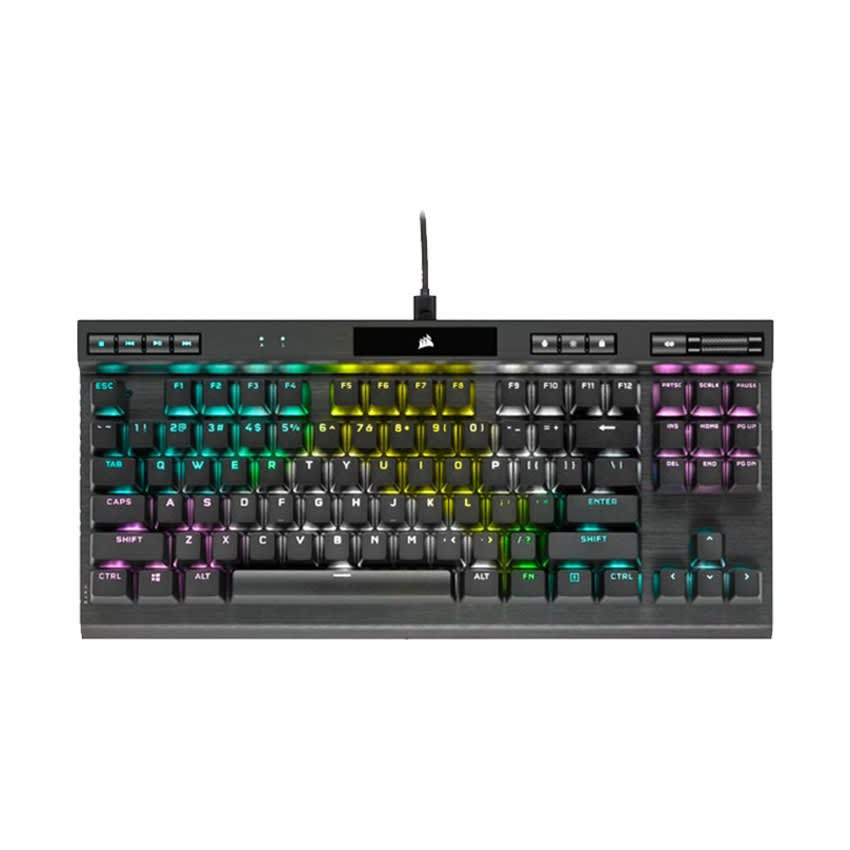 Check Corsair K70 TKL Champion Series price below:
add_circle
Tournament mode switch
add_circle
Low input delay
add_circle
Fast response switches
remove_circle
Only one switch option
TKL keyboards are keyboards that come without a number pad, hence minimising their dimensions, making them more suitable for gamers with smaller desks. The Corsair K70 TKL is one of the best TKL keyboards you can find for gaming and is even used by professional gamers.
Features: 
The Corsair K70 TKL Champion Series is a more compact performance gaming keyboard that is built for the best FPS gamers. The keyboard features a durable aluminium frame that comes with a tournament mode switch for even better performance. Tournament mode swaps to static backlight and disables accidental macro activations to help you focus on your ranked games.
It comes with durable PBT DoubleShot keycaps which are durable and comfortable to type on. Axon Hyper-processing Technology allows the keyboard to register inputs faster with little-to-no delay. Finally, the keyboard comes with the option of one switch - the CherryMX Speed Silver switches which provides fast response time with short actuation distances.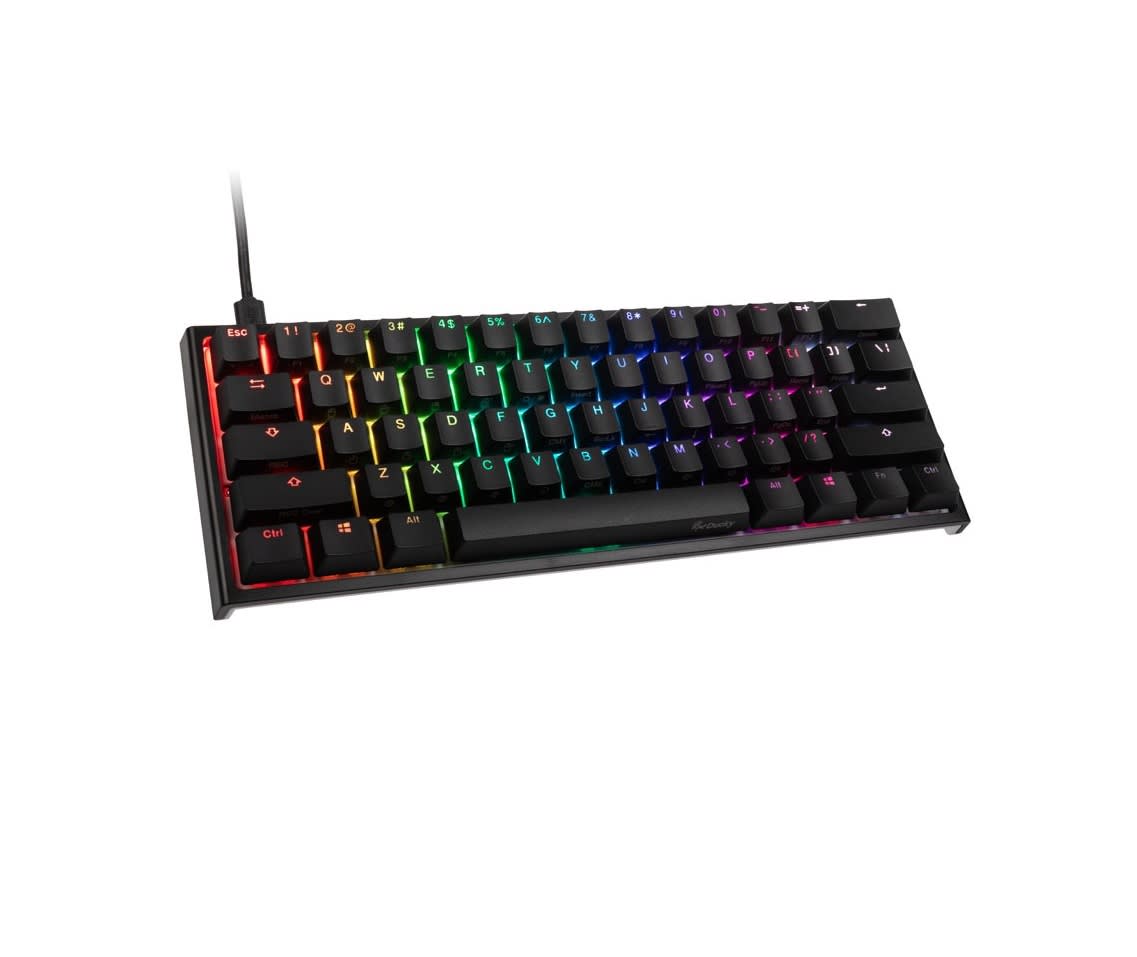 Check Ducky One 2 Mini V2 price below:
add_circle
Very good keycaps
remove_circle
No number pad and arrow keys
Ducky One 2 Mini is one of Ducky's most popular mechanical keyboards that combines compactness with performance, creating a keyboard perfect for gamers struggling with mouse space and needing a smaller keyboard. 
Features:
The Ducky One 2 Mini V2 is a 60% CherryMX mechanical keyboard. This means its size is 60% of a full-sized keyboard and has only 62 keys as there are no number pad or arrow keys. However, if you don't mind losing a few keys, this compact keyboard will save you desk space, which is huge especially when playing FPS games on low mouse sensitivity.
The keyboard comes with many lighting modes from RGB to single-colour backlit. It also has 3-level adjustable feet and a detachable USB cable which is very convenient. Most importantly, the keycaps are PBT DoubleShot keycaps, which provide users with better durability and make it more comfortable to game on. Ducky even gifts customers with a set of 10 additional coloured keycaps for customisation.
Read also: Best Wireless Mechanical Keyboards in Malaysia
---
FAQ
- What is the average cost of a gaming keyboard?
There is no definite price for a gaming keyboard. It all depends on your preferences, which include brands, software, and type. For the most part, any membrane keyboard should be adequate enough, while mechanical keyboards may provide a better grip in gaming. Preference aside, the average cost of a mechanical gaming keyboard in Malaysia is roughly around RM200 - RM400, while membrane keyboards are usually much cheaper, with options starting from as low as RM30.
---
- How to Pick a Keyboard
There are multiple types of keyboards, but essentially they are split into two simple types - membrane and mechanical. While most enthusiasts swore by mechanical keyboards, technologies on membrane had significantly improved over the years. If you are unfamiliar, the information below will help keep you up to speed.
Membrane Keyboards
Membrane keyboards are typically lighter, cheaper, and much quieter, but the typing experience doesn't feel as good, and it registers each press slightly slower.
That's fine for general office work but during an intense shoot-out, you will be at a disadvantage. Then again, there are membrane switches that have been customised for gaming - and the membrane keyboards here all feature custom switches.
That aside, membrane keyboards generally do not last as long compared to mechanical switches. Don't let that fool you, though, as Cherry MX claims their switches last around ~50 million keystrokes, and that will take around 40 years to wear out. Membranes typically last around 20 million, so do your math.
Mechanical Keyboards
Mechanical keyboards were the first types of keyboards ever used, and are still considered one of the best types of keyboards today. It is much faster, and it feels much better to type on and generally lasts much longer. Yes, it probably has more RGB too.
It comes in three distinct flavours: linear switches that are buttery smooth, tactile switches that give you a "bump" when pressed, and clicky which are the same as tactile, but produces a clicking sound. If you are really interested, here's a pretty good guide to differentiate all of them. Do note that clicky switches may be very annoying to people around you, so don't say we didn't warn you.
Gaming vs. Typing
Not all keyboard switches are made equal. Some are more tuned for gaming but might not work as well for typing. Having sensitive switches like Razer's might be great for FPS, but the same switch might trigger more typos than you'd like. If you need both game and type, as a general rule of the thumbstick to less sensitive switches like Cherry MX brown or red.
Software
Gaming keyboards from major brands are also usually customisable via their companion software, which allows you to customise the lighting (RGB, sigh) as well as some or all the keys on the keyboard.
Most might also have macros, which allows you to execute several keypresses, with just a press of one key, like pressing F1 to execute 'ctrl+shift+del'. You can probably manage different profiles, which means you get to set dedicated settings for different games or software - which can be extremely useful even outside of gaming.
Ultimately, we recommend that you stick to one brand, especially when you do not have a monster of a PC, as having too much software may have an impact on your gaming performance.
Razer
Razer's Synapse software is extremely popular, and while it is not the easiest to use, I can say it generally works for what you want to achieve. It also works pretty well with MSI's Mystic Light, so if you have a full MSI PC setup, you easily sync the lighting of your PC with the rest of your peripherals. I've not tried it yet, but I also know that it syncs with Philips Hue if you're looking to do a crazy light show.
Overall while it works, the UI is not as intuitive as the rest. Additionally, Synapse lacks MacOS support at the time of writing, which is frustrating because while it works with my Macbook Pro, the lack of support means I am unable to customise the keyboard.
Logitech
Logitech has recently moved all their new peripherals to their new G Hub software, with a modern UI and many more options to customise. Functionality wise, their screen sampler RGB to me, is one of the best forms of RGB implementation, and I can easily customize all the macros and features without fiddling with too many options.
Well, at least, when it works as intended. The software is known to have some bugs, with many users complaining about how the app would not start up, or having their profiles wiped out after a software update. Logitech also lacks the 3rd party support that Razer has, or the extensive range of products that Corsair has, so their RGB implementation is also the most limited.
Corsair
Aside from the standard peripherals, Corsair also produces a large range of PC components such as RGB enabled PC fans, cases, and even RAM or SSD modules. That means it is super easy to go Corsair and have an RGB light show without having to sync each component manually.
UI-wise it is also pretty acceptable (we prefer GHub's design), and it's generally easy to customize your profile specific to each application or game. Like Razer, iCue also syncs with Philips Hue to work with all your smart Philips lightings. The only caveat is that there are reports that the software triggers the anti-cheat system on some games.
Third-Party RGB Software
If you already have peripherals from multiple brands and you want an easy time to sync your lighting, you're in luck. We have recently discovered several third-party software that supports most of the popular peripherals and can easily sync their lighting without much headache. You should check out the JackNet RGB or Project Aurora.
---
Related articles: