No one can live without the use of our legs but we often overexert them without realizing it. A massage helps to reduce inflammation and swelling that occurs when we're on our feet for long hours daily. This is especially so if you like to work out or wear those heels that make you feel so powerful. 
Leg massagers are not just for your legs! Massaging the muscles improves circulation in our bodies which regulates the organs as well as our mental health. There are many brands out there with massagers designed to target specific muscles or the entirety of your legs. We have reviewed our favourites for our readers below.
---
Table Of Contents
---
Top 10 Leg Massagers in Malaysia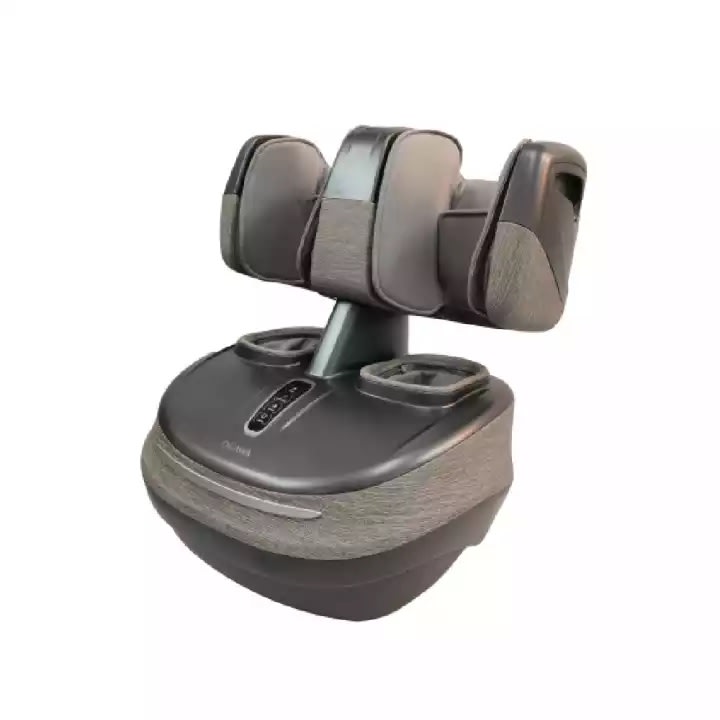 Check OGAWA Omknee 2.0 price below:
add_circle
Detachable component for different body parts
Why It's Our Top Pick:
"Older people would benefit from a leg massager to get rid of joint pains. The Omknee is designed with a detachable upper component that can be used for your legs or arms, with a foot massager as its bottom component. You and your family members can take turns using it while catching up with each other."
Features:
While the bottom component is a massager for your foot, the detachable component is for the shin, thigh, knees, calves, and arms. As it's detachable, you can enjoy a massage at the office, on the bed or anywhere you like; plus it's rechargeable. 
Testimonies:
This product is popular among the elderly and families as it's versatile and can be used on various body parts. Its pressing massage technique is suitable for getting rid of swelling and muscle tiredness.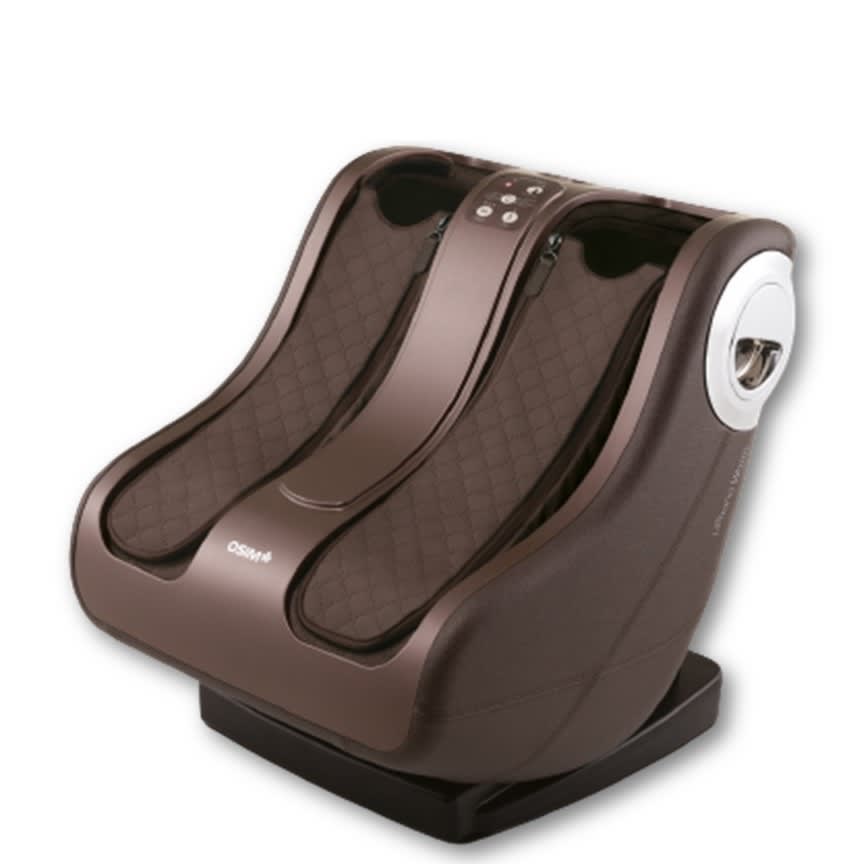 Check OSIM uPhoria Warm Leg Massager price below:
add_circle
Warmth therapy
add_circle
5-in-1 massage
Restless leg syndrome (RLS) is the feeling of discomfort on the legs, which can only be relieved if you move – an annoying symptom especially if you want to sleep or relax. Some studies have shown that heat therapy and a massage can help relieve some of the symptoms of RLS. Osim's warm leg massager is just what you need as it comes with heat therapy too.
Features:
You can get 5 different massages with this machine – Tui-Na for the calves, squeeze massage for the whole leg, a reflexology roller feature for your feet, vibration, and warmth therapy. The angle of the massager and the calf width is also adjustable to fit snugly to the leg, depending on the intensity they prefer.
Testimonies:
Users love that they can get such versatility with just one machine, and it feels like a full leg massage akin to those Thai reflexology massage parlours. The addition of heat therapy is welcomed as it loosens sore muscles and is perfect for cooler days.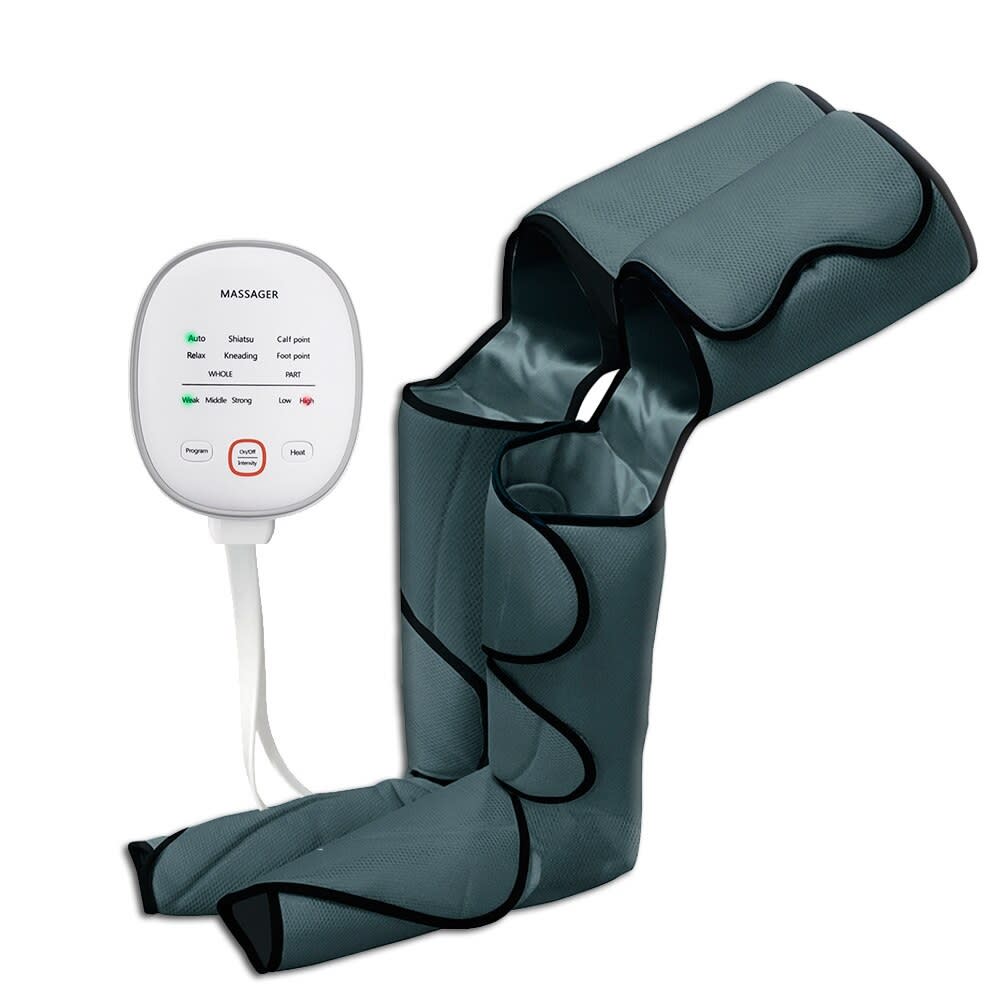 Check BIOSKIN Leg Air Compression Massager price below:
add_circle
Covers your whole leg for a 360° massage
add_circle
Comes with heat function
Our lymphatic system is part of the body's first line of defence. It works like an MRT, but not only does it transport antibodies and lymphocytes to the blood, but it also removes excess waste. However, when your lymphatic system is blocked or damaged, it causes a buildup of fluids in your soft body tissue – leading to swelling in your arms or legs.
At times like this, a leg massager may help release the buildup of fluid and ease swelling. Note that lymphedema is a sign of more serious diseases, and a leg massager won't cure the swelling.
Features:
Bioskin's wraparound components massage your entire leg with air compression and heat. There are three different intensities and a heat setting ranging between 37°C to 60°C.
Testimonies:
This device aids in the reduction of pain, especially on rainy days. Some people use it to get rid of cellulite although the device is not marketed for that. It is mainly used for relaxation as it provides comfort and warmth.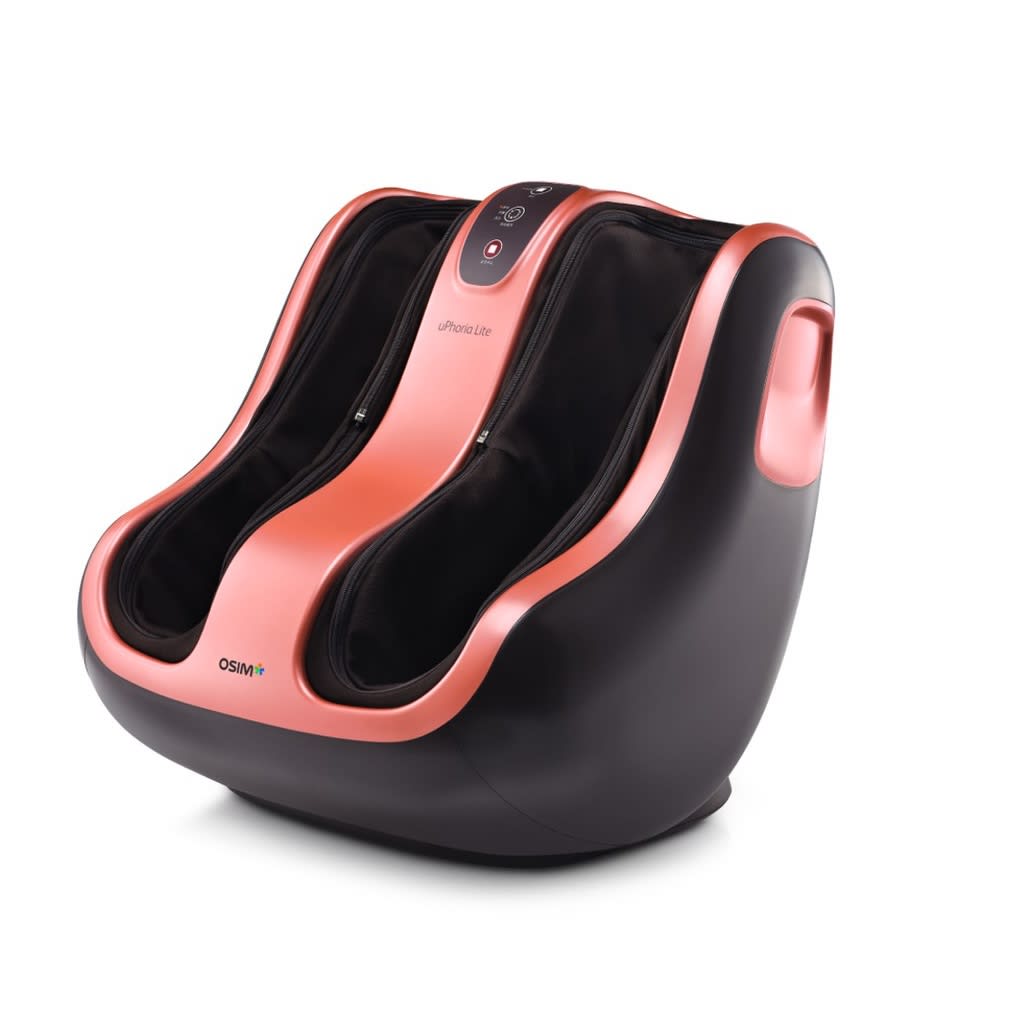 Check OSIM uPhoria Lite Leg Massager price below:
add_circle
Good massaging techniques
Diabetic patients or people who have experienced injuries and severe trauma may be affected by neuropathy, where your nerves are damaged or can no longer work which results in feelings of numbness, or tingling. More severe symptoms include muscle weakness or even pain.
A massage can soothe the pain and reduce pressure on your nerves caused by tense muscles.  
Features:
Osim's uPhoria Lite is portable and has 3 functions: Tui-Na, squeeze and knead, and roller reflexology massage – covering practically the entirety of your legs. The fabric covering can be removed and washed after usage.
Testimonies:
This massager has received many good reviews, and it is commonly bought for the elderly though a lot of younger users also enjoy its massage techniques. The lightweight quality also makes it very easy to move around or store.
More: Give Your Tootsies a Treat with These 8 Foot Massagers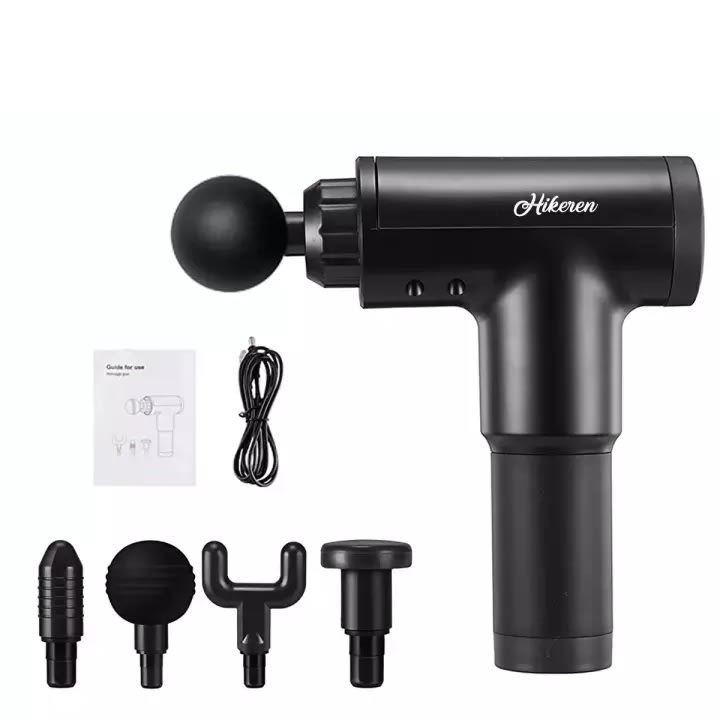 Check Hikeren Malaysia Muscle Massager price below:
add_circle
Versatile – can be used on various parts of the body
add_circle
Sturdy and portable
One of the most debilitating issues affecting the legs is pain – whether caused by age, injury, sports, or improper footwear. Get a leg massager and don't let pain get the better of you!
This device is called a fascia gun, and it comes with 4 different heads depending on where you intend to focus the massage. It operates sort of like a pile driver, with repeated motions on one part of your body to release tense muscles.
Features:
With 4 different heads and 6 different speeds, it can be used on tense leg muscles after a workout or even your back after a long time sitting down. It has an intelligent control chip that can detect its speed and output power, making it very user-friendly.
Testimonies:
This is a product that is beloved by gym-goers and sports lovers who bring it along with them so that they can relax their muscles after their routine. Users found that the device on its own is very sturdy with a vibration strong enough for a deep tissue massage.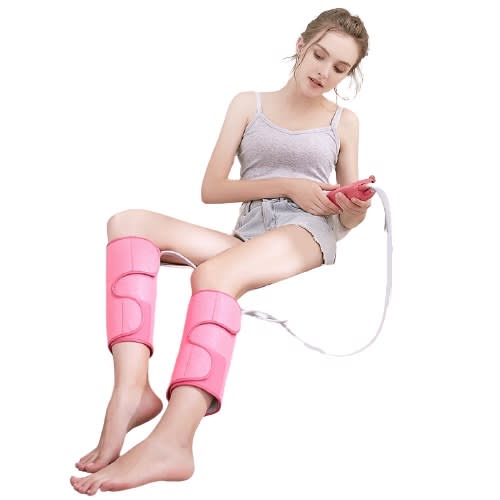 Check JINKAIRUI Multi-function Leg Massager price below:
add_circle
Combines air compression and heat therapy
An air compression massager works on a repeated kneading method, just like how a masseuse usually does when you go to the spa. While nothing beats the skill and experience of a real-life masseuse, an air compression leg massager is second best when you need a short session daily to ease any soreness. The Jinkairui hits the spot with their wraparound leg massager
 which is suitable for use on the legs, feet, or arms.
Features:
It has 3 heat settings, and the speed of the massager is also adjustable with the built-in remote. The air compression squeezes and releases the muscles in a repeated motion.
Testimonies:
The three settings (strong to weak) combined with the heat setting are great for daily use, and it helps to reduce water retention in the legs. It is also handy that the massager is adjustable with the Velcro straps for a better fit.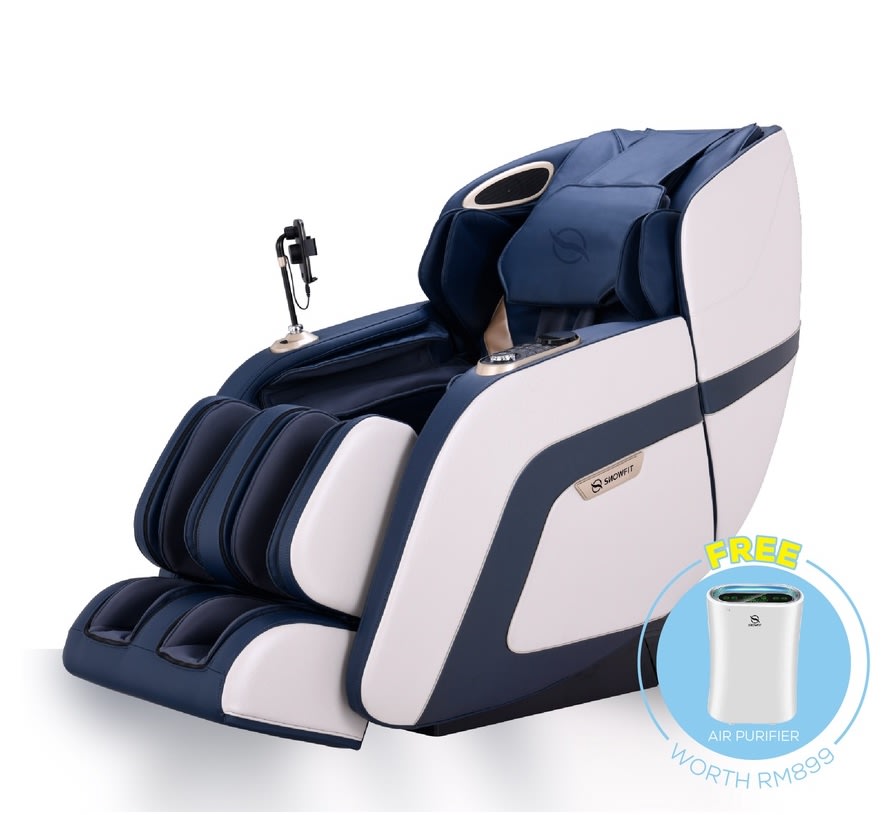 Check SNOWFIT Romeo Zero Gravity Smart Massage Chair price below:
add_circle
Full body massage
add_circle
Comes with music therapy and charging ports
remove_circle
Might be difficult to get up from the chair – especially for older people
Our back and legs tend to ache as we age. It is fair to say that it's because we use those body parts 24/7, even when we're asleep! This is why there is merit in getting a massage chair, which covers all the problem areas in one go with such ease.
Fall into peaceful slumber as you enjoy a relaxing massage on the SNOWFIT Romeo Zero Gravity Smart Massage Chair. 
Features:
You can get 5 modes of massage on this chair – kneading, knocking, sync, tapping, and Shiatsu. If you don't know which to choose, pick from one of the 9 modes of massage for a specially curated session. Want to drown out the world? Go forth with their music therapy to calm your mind. This chair is also designed with body fit technology to fit the rollers snugly on your body figure and comes with heat therapy.
Testimonies:
This is a futuristic massage chair that relaxes the body and mind.
The only issue some customers have is that it is difficult for the elderly to get up from it as it does not revert to its original position after usage, nor does the leg area curve to a 90° angle for easy dismounting.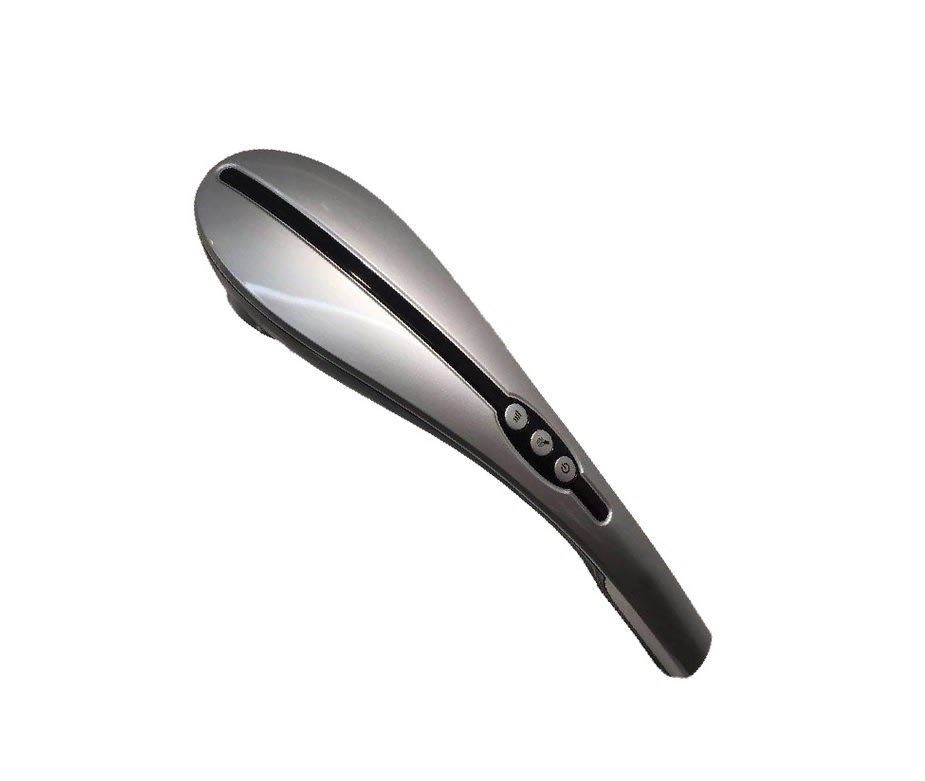 Check SNOWFIT SnowArm+ Rechargeable Handheld Electric Massager price below:
add_circle
Target specific problem areas
remove_circle
Quite heavy
Sometimes, it's handier to have a portable leg massager. It is easy to store, is space-conserving, and you can bring it everywhere with you! Snowfit's portable massager can be used on the legs, neck, back, and arms – even on your head.
The product is also marketed as a slimming device for stubborn fat on your body. It is also wireless so you can charge the product at home and bring it out.
Features:
Users can get 6 different modes of massage and 5 different heads, suited for the whole body. The speed is also adjustable to 6 different ranges, and it comes with a charger for quick charging.  
Testimonies:
It is a well-functioning machine and is useful to target specific parts of the body. Some users find that the massager is a tad heavy, which makes it tiring for them to hold onto after some time. However, it is well-suited for those who may want to bring it with them to the gym or the office.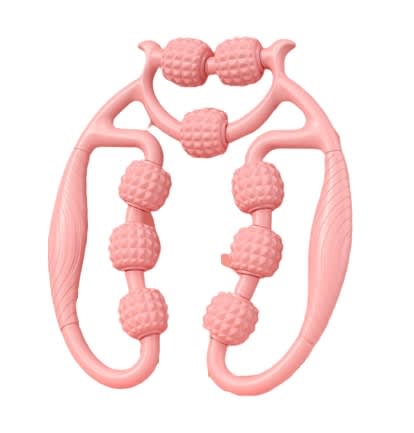 Check Leg meridian dredging massager price below:
add_circle
Can be used for legs, neck, and shoulders
The steep price of most leg massagers comes from partly the automated functions of the machines. If you take away that component, you can still get a good leg massage – through manual labour. This product is recommended for sportspeople before and after a workout to stimulate blood flow and activate the muscles. By doing so, your body will heal faster and prevent injuries.
Features:
Gym goers find this incredibly helpful before and after a workout, as it is akin to using foam rollers for a warmup and cooldown routine. It may not be that suitable for the elderly as it does require manual usage, though it may constitute a low-level exercise for them.  
Testimonies:
It is so easy to use – just put your leg in between the rollers and push it up and down for about 10 minutes.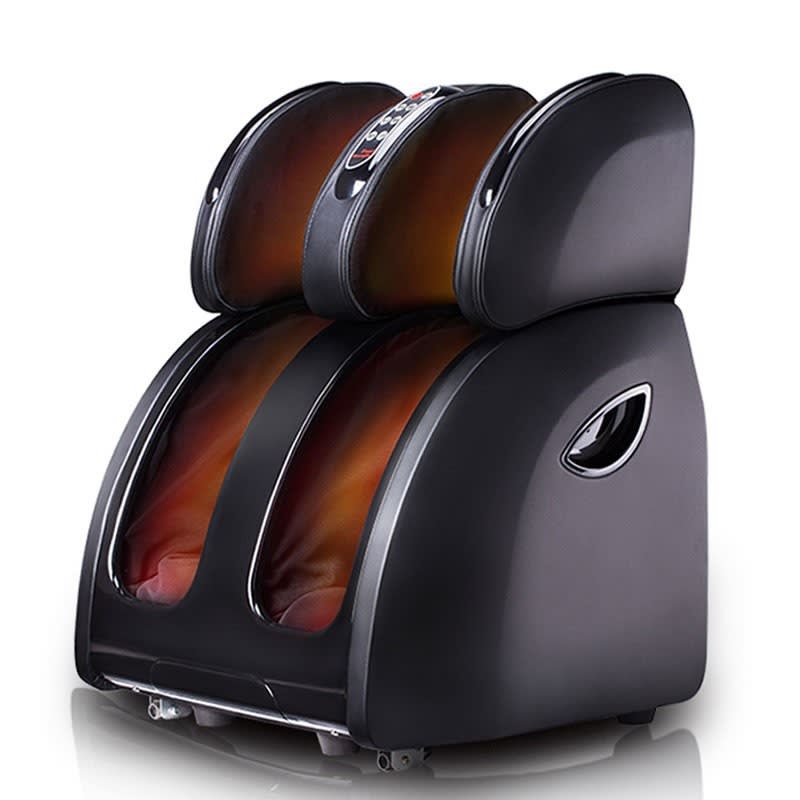 Check JINKAIRUI Electric Vibrating Foot Massager price below:
add_circle
Customizable massage
add_circle
Also massages the entire leg
What better way to reward yourself after a hard day of work than with a full leg massage and a nice cup of your favourite drink at home? This all-encompassing massager provides a kneading and vibrating massage experience with scrapping at the bottom of your feet and rubbing at the top. Sounds lush!
Features:
The massager has 3 massage intensities and 6 different modes for you to target specific parts of your legs or all of them at once. 
Carbon fibre heating is available as an optional mode. The machine is designed to operate silently and the fabric covering can be removed for washing.
Testimonies:
It is a very easy-to-use machine, as you can select the modes on the control panel itself. Because it covers the entirety of the user's legs, it is a very worthwhile buy, unlike some massagers that only focus on one part of the legs. That being said, the settings can be customized to only massage one area if the user prefers it.
---
What are the benefits of a leg massager? 
There are different kinds of massages one can get from a leg massager – rolling, kneading, vibration, and compression, etc. These techniques are sometimes combined for a more effective session. Revitalizing the muscles stimulates the circulation system in your body as well, ensuring that your lymphatic system can effectively remove waste from your body while also reducing swelling and inflammation. 
Aside from speeding up recovery, leg massages help prevent injuries, too. If you are an athlete or a workout junkie, your active lifestyles mean you exert those leg muscles so frequently that they may not have time to heal. Getting a leg massage a few times a week can help speed up the healing process to counteract overexertion. Plus, you save money because you don't have to visit a masseuse.
---
Are leg massagers effective?
On this topic, we remind readers that leg massagers are not a cure. If you have chronic leg pain caused by a serious health condition, you are advised to go to a doctor for treatment. That being said, less serious issues like sore muscles or restless leg syndrome can be eased by a good massage.
Any reduction of pain is also good for one's mental condition. No one wants to go about their day experiencing soreness whenever they move, and pain also discourages exercise and distracts one from their fitness progression or daily tasks. A leg massager is your best friend in this regard. 
Related Article