Colombian songstress, Shakira, is a woman who defies age with such youthful skin glow. The "Hips Don't Lie" singer credits her reason for not donning much make up is due to her taking great care of her skin with vitamin C serum, among the rest. 
Vitamin C serums have taken the beauty world by storm thanks to its beautifying and proven-worthy benefits! This vitamin is noted to be a vital skincare ingredient and powerful antioxidant that prevents fine lines. It stimulates collagen and brightening your complexion by restricting the formation of any excess pigment. 
It also protects your skin against detrimental free radicals and other environmental stressors. Ever since then, vitamin C serums have become an obligatory skincare-must-have in every girl's skincare routine. In fact, it caused a wide variety of vitamin C serums to bombard the shelves of most and every skincare line. 
This type of serum has undoubtedly grown in varying formulas that range from; acne-prone, hyperpigmentation, oily, dry, sensitive and anti-aging.  
Yet, after applying vitamin C serum, it is advisable to apply hyaluronic acid right after, to bolster the skin's barrier and lock in the moisture. But, fret not. The many innovations of vitamin C serums in the market these days have incorporated hyaluronic acid in the serums as well, so it is able to give a 2-in-1 benefit at the same time! 
If you are convinced, let's delve into the varying types of vitamin C serums out there in the market that will suit your varying needs.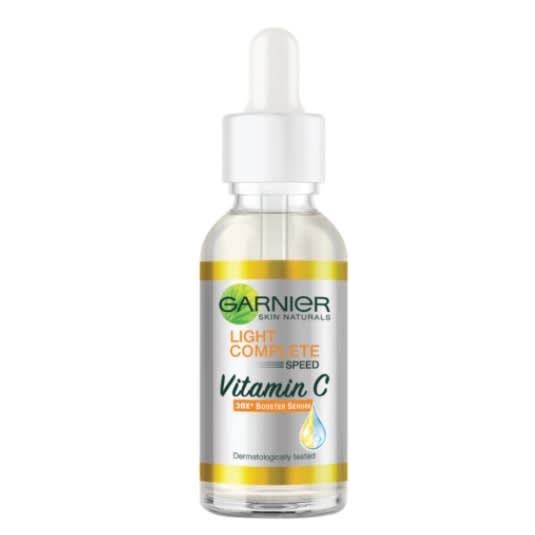 Check Garnier Light Complete Vitamin C Booster Serum price below:
add_circle
Fast absorbing
remove_circle
Contains fragrance which might not be suitable for sensitive skin
This affordable beauty gem commits to giving you a brighter and spotless skin.  Thanks to its the brand's serum innovation, it has the power of 30x vitamin C concentration and Japanese Yuzu lemon. 
The serum is lightweight in texture and works well to lighten dark spots and acne marks. It is also clinically proven to reduce the sizes of dark spots by 30% in just 4 weeks! Rest assured that you will be waking up to a smoother, brighter and translucent skin!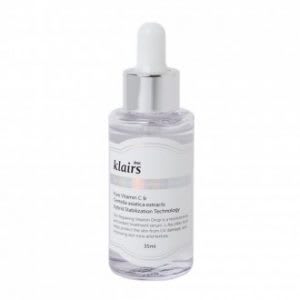 Check Dear, Klairs Freshly Juiced Vitamin Drop price below:
add_circle
Vegan friendly
add_circle
Stable vitamin C formula
add_circle
Suitable for sensitive skin
add_circle
Suitable for all ages
remove_circle
Oxidises fast (especially due to transparent bottle)
This Korean vitamin C serum is compact with naturally effective ingredients that are safe and non-irritating for the skin. Its freshly juiced vitamin drop energizes and rejuvenates your skin, all thanks to its pure vitamin C essence. 
Designed with 5% vitamin C concentration, this is quite a gentle serum even for those with sensitive skin and should not cause any irritation. The formula also contains 5% of L-Ascorbic Acid that is not only a proven antioxidant, but it protects the skin from UV damage and destructive free radicals as well. 
Additionally, the serum evens out skin tone, tightens pores, brightens the skin and fades away pigmentation. Been fretting over dull-looking skin and enlarged pores? Well, this is your safest bet to combat those skincare woes!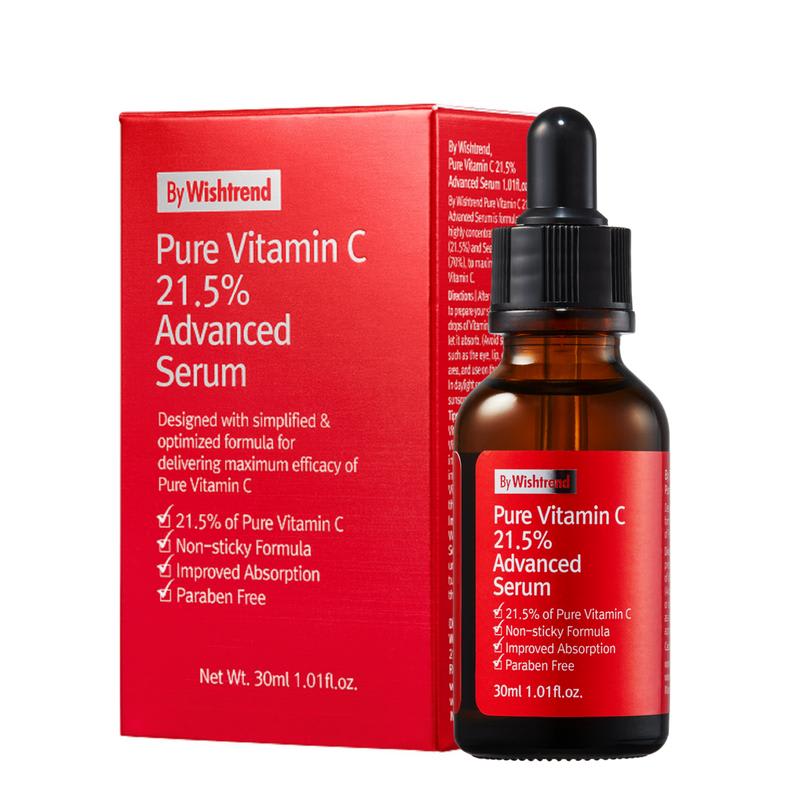 Check By Wishtrend Pure Vitamin C21.5 Advanced Serum price below:
add_circle
Free of paraben, sulfate, alcohol and silicone
add_circle
Fragrance-free
add_circle
Brightens skin well
remove_circle
Unreliable packaging to protect the serum
Another Korean gem; this Pure Vitamin C21.5 Advanced Serum is amped up with an upgraded formula which promises greater hydration and absorption without any sticky feeling. 
This formula has been simplified from the Original Pure Vitamin C20 Serum of 29 ingredients to only 10 vital ingredients in this new formula. It works to restore balance, replenish and retain moisture in the skin thanks to its 21.5% concentration of pure vitamin C. 
The Pure Vitamin C21.5 Advanced Serum even contains a 20% concentration of ascorbic acid. If you must know, many users of this product have seen an improvement in their acne scars and other blemishes! Definitely worth the try!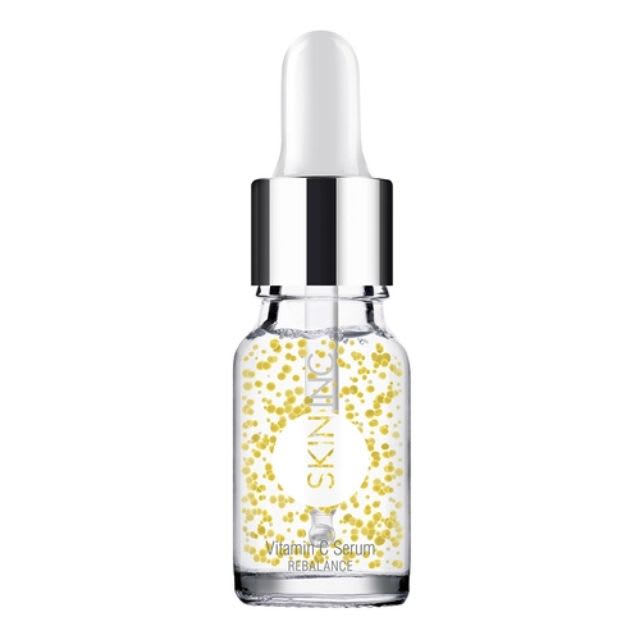 Check Skin Inc Vitamin C Serum price below:
add_circle
Good for hydration
add_circle
Reduces acne scars
add_circle
Smoother skin texture
remove_circle
Small size of packaging
For those who suffer from oily skin, we understand that it is a tough game to play because we have to be extremely picky with a face serum. While serums can be oily, one that does not cause the skin to be any oilier than it already is good enough!
Well, Skin Inc's Vitamin C Serum helps to reduce fine lines and wrinkles, and the size of pores. With that said, it is able to balance the excess oil. 
The uniqueness of this serum is that it is packaged in a clear bottle which isn't good for lowering the risk of Vitamin C oxidisation. But its active ingredient is enveloped in seaweed that protects it from light and oxidation, whilst simultaneously ensuring the stability and potency of the ingredients. 
Aside from being filled with vitamin C, vitamins such as B6 and E are also present to brighten and even out the skin tone. Both vitamin C and E are antioxidants, thus protecting the skin from pollution. 
The vitamin B6 on the other hand, decreases the secretion of sebum and minimizes pores. It is also beneficial in treating inflammatory pimples. Its humectant-rich glycerine inclusion serves as a base to offer lasting hydration as well.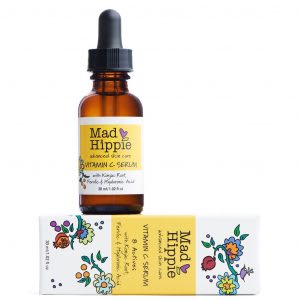 Check Mad Hippie Vitamin C Serum price below:
add_circle
Free of paraben, sulfate, alcohol, silicone and fragrance
add_circle
Non-irritating for skin
add_circle
Vegan certified
remove_circle
Does not contain L-ascorbic acid
Say hello to a more radiant and younger looking skin with Mad Hippie Vitamin C Serum! This award-winning vitamin C serum has been Mad Hippie's signature skin brightening serum. It evens out skin tone to exude that luminous skin glow and radiance that we are all yearning for. 
Fuelled with both vitamin C and E, they provenly act as antioxidants to eradicate the effects of environmental pollutions and reduce the skin's aging process. And of course, vitamin C is in itself an effective skin booster that reduces the appearance of discolourations and wrinkles. 
Other proven-worthy antioxidants found in this serum are ferulic acid, grapefruit, chamomile, clary sage and konjac. They work to protect the skin's barrier that neutralizes free radicals and ensuring a lasting smooth, soft and healthy complexion. Better yet, the hyaluronic acid and glycerine composition in this serum retains moisture to hydrate the skin's surface.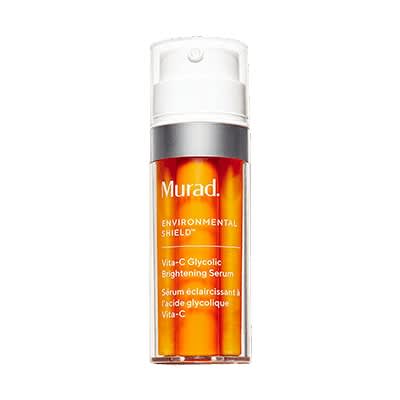 Check Murad Vita-C Glycolic Brightening Serum price below:
add_circle
No fragrance and artificial colours
add_circle
Suitable for oily to dry skin
remove_circle
Not suitable for sensitive skin
remove_circle
Very pricey
Among the various well-known benefits of vitamin C serums, is that its role as a potent antioxidant. It can prevent visible skin damage such as hyperpigmentation, dullness and uneven skin tone. And such a serum to make that a reality is Murad's Vita-C Glycolic Brightening Serum. 
Its one-of-a-kind vitamin C complex enhances L-ascorbic acid stability and potency to brighten the skin. The glycolic acid in it exfoliates the skin to remove dead and dull skin cells to boost the efficiency of vitamin C to penetrate better into the skin's surface. 
Composing the content of the glycolic acid, is a type of alpha hydroxy acid (AHA), which will be your secret to overcoming hyperpigmentation. 83% of participants have noticed a more bright and radiant-looking skin after just 4 weeks! Hesitate no more and snatch a bottle right away!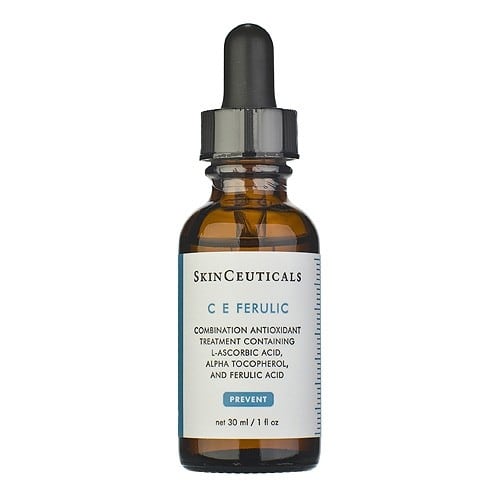 Check SkinCeuticals C E Ferulic price below:
add_circle
Suitable for all skin types
add_circle
Brightens skin
Experience the generosity of SkinCeuticals C E Ferulic in delivering vitamin C right through the top layer of your skin without upsetting your skin's protective barrier. Dermatologically-recommended, the serum serves as a holy grail of being the gold-standard vitamin C serum. Its 'feather-like' texture does not deny its efficacy on the skin. 
Its stable formula is all thanks to its 15% composition of L-ascorbic acid that is water soluble. The serum also contains a pH level that is higher compared to its other competitors in the market. This assures you that you will not need to worry of facing the distress of skin redness or sensitivity when applying this serum.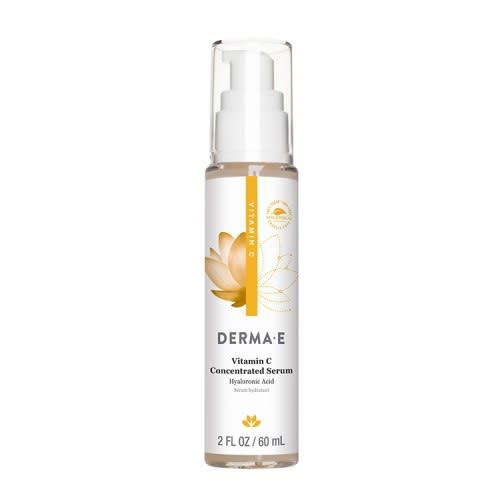 Check Derma E Vitamin C Concentrated Serum price below:
add_circle
Brightens skin
add_circle
Boosts collagen health
add_circle
Gluten and soy
remove_circle
Doesn't go well with makeup
Owning a vitamin C serum that is packed with hyaluronic acid as well? A BIG YES! This saves you the hassle of having to own and apply a vitamin C serum and a hyaluronic acid serum, one after the other. 
Derma E Vitamin C Concentrated Serum boosts collagen and minimizes the appearance of fine lines and wrinkles. It even works to even out uneven skin tone. The addition of hyaluronic acid in its formula moisturizes your skin deeply whilst protecting it from environmental stressors and signs of ageing. 
Besides, the aloe vera extract and vitamin E helps to diminish visible scars in due time! Definitely a total package worth considering!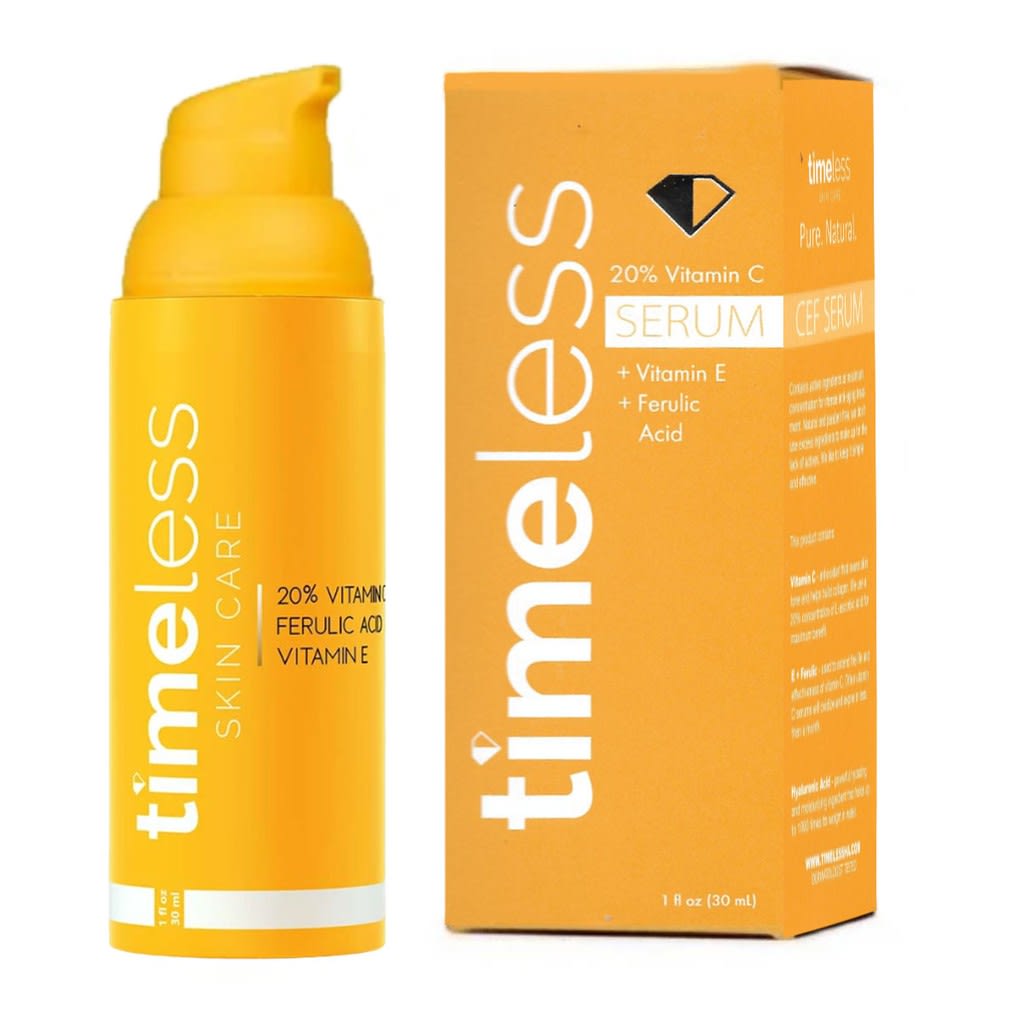 Check Timeless 20% Vitamin C + E + Ferulic Acid Serum price below:
add_circle
Free of GMO, paraben, fragrance and dye
add_circle
Contains tocopherol and ferulic acid
add_circle
Vegan-friendly
add_circle
Extra gentle on the skin
remove_circle
Oxidizes fast thus
remove_circle
Needs to be kept in the fridge
The Timeless 20% Vitamin C + E + Ferulic Acid Serum has proven to effectively lighten dark spots in weeks. Yes, all of that at such an affordable steal!
This water-based serum contains a recipe of 20% active form of vitamin C (L-ascorbic acid), vitamin E (alpha tocopherol) and ferulic acid. They all help to boost the biological advantage in renewing the skin's luminosity and combat multiple signs of skin aging. It also contains hyaluronic acid and panthenol (vitamin B5) to significantly restore hydration and strengthen the skin's barrier. 
The highly-concentrated serum enhances the skin's radiance to illuminate its natural translucent glow. At the same time, it protects the skin from future discolourations caused by environmental stressors. You can bet that any appearance of spots, post-acne marks, fine lines, wrinkles and any other imperfections will be visibly reduced.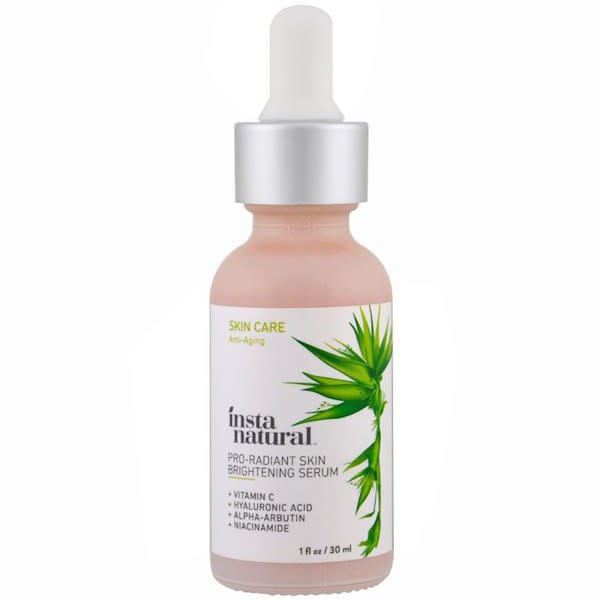 Check InstaNatural Pro-Radiant Brightening Serum price below:
add_circle
safe for all skin types
InstaNatural Skin Brightening Vitamin C serum contains a higher concentration of vitamin C (20%) that certainly functions well in reducing the appearance of stubborn wrinkles and deeper creases. 
This serum has garnered many positive reviews on its anti-aging benefits. It is compact with 22 age-defying ingredients that fight blemishes on the skin's surface, among other common signs of aging. Therefore, the formula is quite a powerhouse and works well on all skin types. 
Its smooth and fast-absorbing application does not irritate nor cause a burning sensation to the skin. Moreover, the concoction of its other effective ingredients such as vitamin E, rosehip, argan, carrot seed and sea buckthorn oil, inhibits future damage to the skin from skin aggressors.
Not convinced enough to get or choose a vitamin-powered serum? Let's squeeze into some juicy benefits of vitamin C serums (pun intended). 
1. It is totally safe for most skin types 
Vitamin C is safe to be used together with other skincare active agents, such as alpha-hydroxy acids, retinol, and SPF. Most people are able to use vitamin C topically for a long period of time without facing any negative reactions. 
2. It is hydrating
Vitamin C contains a hydrating ingredient known as magnesium ascrobyl phosphate. It reduces transpedidermal water loss, thus enabling your skin to retain moisture. 
3. It is brightening 
Pigmentations are reduced with the help of vitamin C as well. Your skin will experience a smoother surface; one with a youthful glow. 
4. Minimizes redness
Vitamin C also has shown to treat a wide variety of inflammatory skin conditions. It minimizes redness thus, creating a more even complexion. 
5. Boost collagen production 
Collagen is a protein that is known to decrease in due course as we age. The result of this can cause fine lines and wrinkles to form. Yet, vitamin C is known to boost collagen production to prevent the appearance of fine lines and wrinkles.
---
More beauty recommendations:
Disclaimer: The pricing shown is just a good indication of how much these products are worth. The prices could change based on the e-commerce promotions that are going on. If some of the products are not available, do email us at [email protected] Thank you!