Living in a tropical country has its perks, but heat is not one of them. And although wall-mounted or centralized air conditioning units are fairly common here in Malaysia, it could be too much of an investment for some. Thankfully, portable air conditioners exist.
---
8 Best Portable Air Conditioners in Malaysia
Acson MOVEO 1.0 HP Portable Air Conditioner A5PA10C

Midea MPH-09CRN1 1.0 HP Portable Air Conditioner

Pensonic Air Conditioner PPA-109

Elba 1.0 HP Portable Air Conditioner EPAC-A4010D(WH)

MEC Iport G9000 1.0 HP Portable Air-conditioner

MORGAN MAC-091 Feather Lite 1.0 HP Portable Aircond

AUX Portable Air Conditioner (1.5HP) AM-12B4-LAR1-EU

Midea MPF-12CRN1 1.5 HP Portable Air Conditioner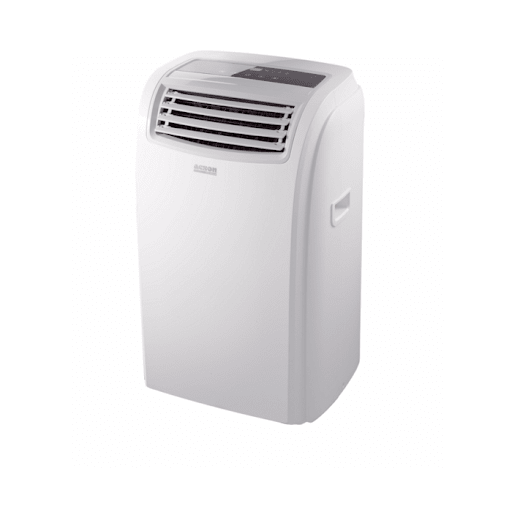 add_circle
Touch screen panel
add_circle
Comes with touch screen panel
add_circle
No manual drainage required
add_circle
Has wheels attached
Acson was established in 1984 and is Malaysia's first local air conditioner brand. Back in 2006, the brand was acquired by Daikin and today, continues to manufacture high quality, Malaysian-made products.
Operating on 1.0 horsepower, or 10,000 BTUs, it can effectively cool down an area of 450+ square feet. That's about the size of a small room or bedroom and is probably not very ideal for a larger area like the living room.
No Timer
Funnily enough, it doesn't have a timer feature, which happens to be one of the most basic features of a portable air conditioner. That aside, it does come with a 3-fan speed mode for comfort and a power failure memory system to safeguard the unit.
But Still Getting a Thumbs Up
Although this unit's design isn't the best-looking, it wins in the practicality department. Not only does it have wheels for easier moving, the Acson MOVEO A5PA10C also comes with a set of installation accessories for your convenience. Just follow the instructions in the manual and you're all set.
---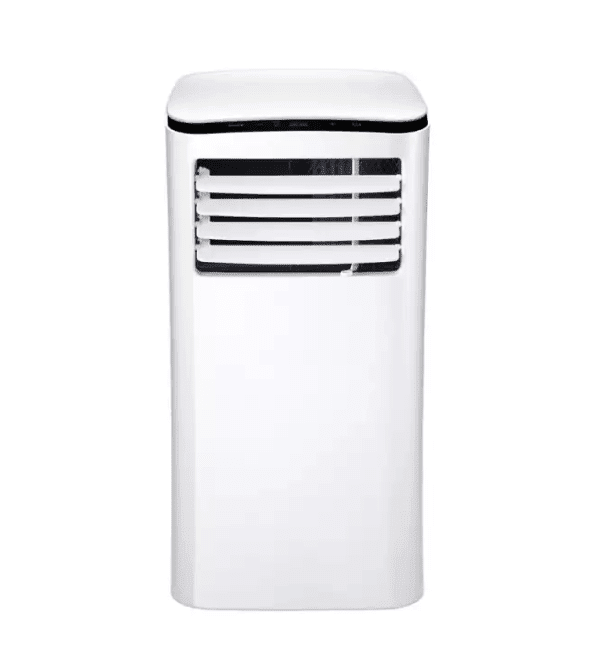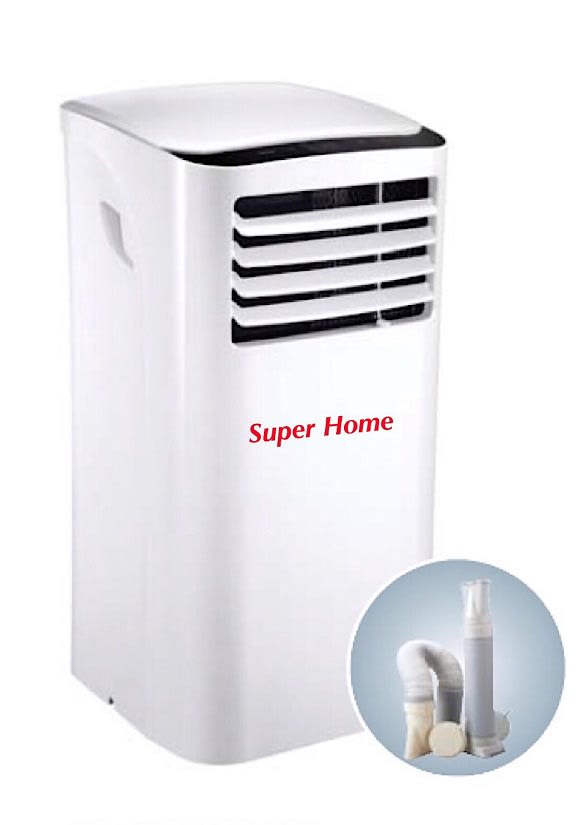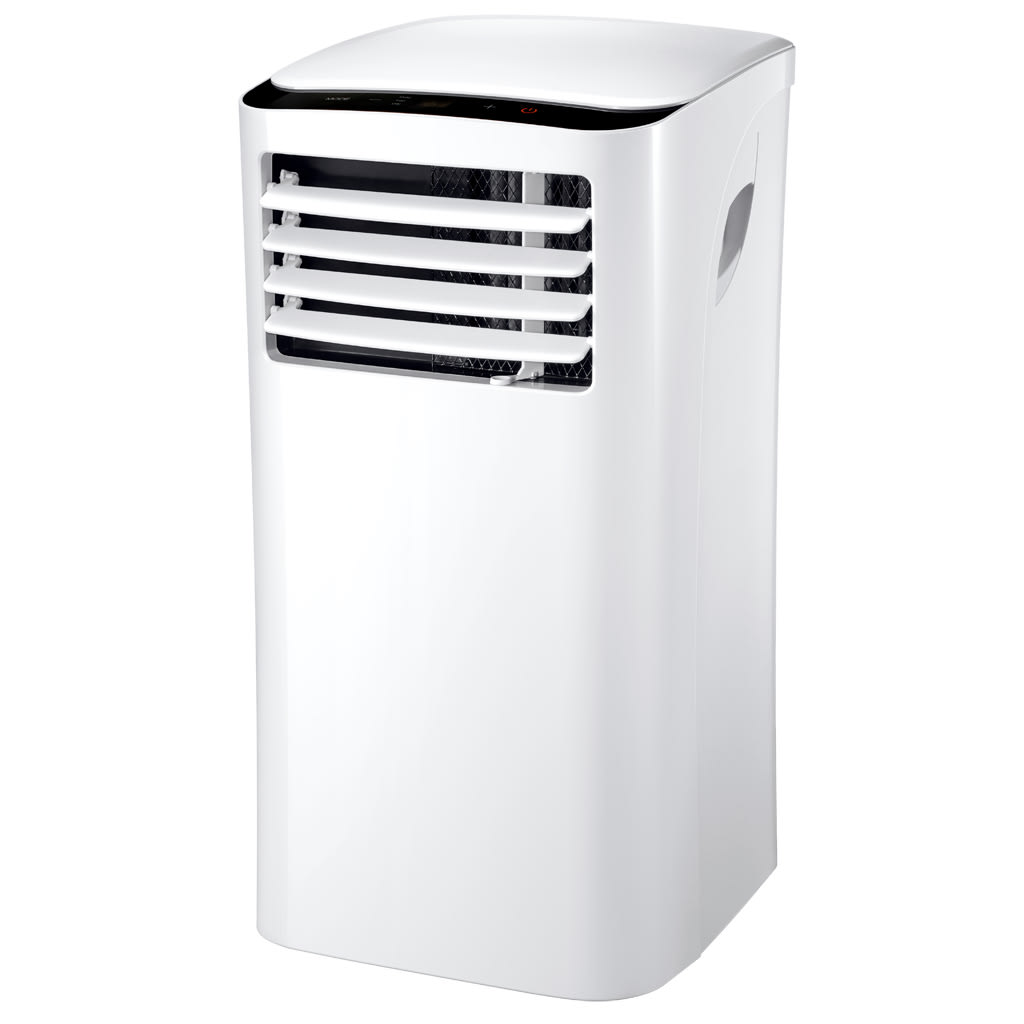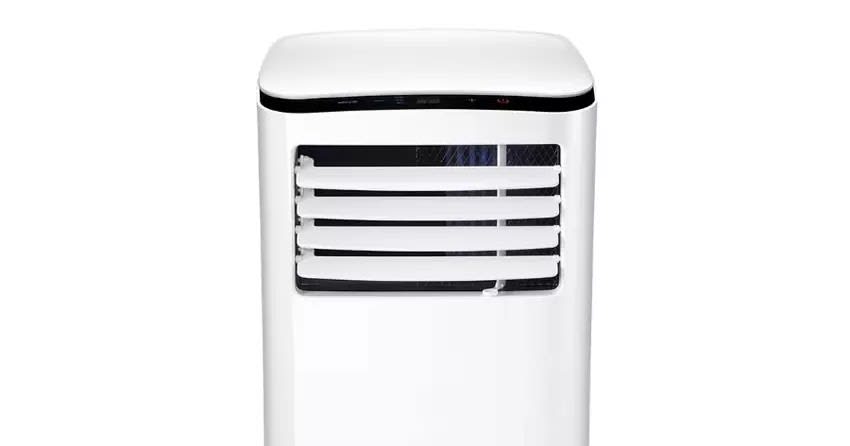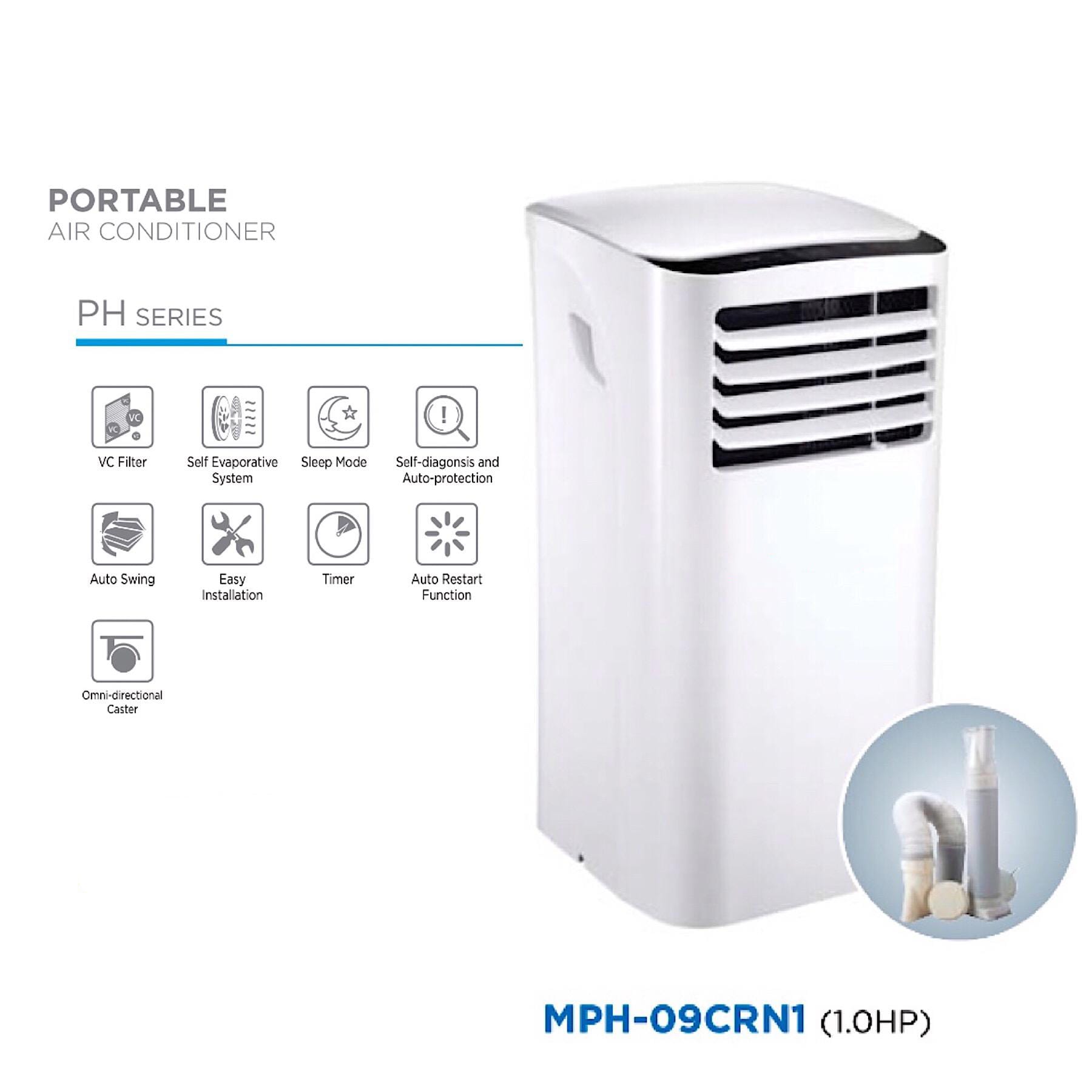 add_circle
Self-evaporative system
add_circle
Silver ion filter
remove_circle
May be a little noisy for some
Midea is one of those brands you frequently come across while browsing for home appliances on Lazada or Shopee, but they're there for a reason. Not only are their products affordable, they're made of decent quality as well. If you've done enough research, you would find that this particular model is probably one of the most purchased portable air conditioners on Lazada.
The Midea MPH-09CRN1 comes with all basic the basic features a portable air conditioner would have such as a timer, sleep mode, and an auto restart auto function. It also has a self-evaporative system so that you won't need to manually empty an outside container of collected water (this usually happens with air coolers). Though, it would be good practice to check on the bucket every once in a while.
Silver Ion Filter
This air cond uses Silver Ion Filter technology that effectively kills bacteria, or at least, prevents bacterial activity within the area, keeping you and your loved ones safe.
A Little on the Noisier Side
However, a number of reviews pointed out that this air conditioner can be quite noisy because of its compressor. Something to consider if you're planning on using this appliance during bedtime.
---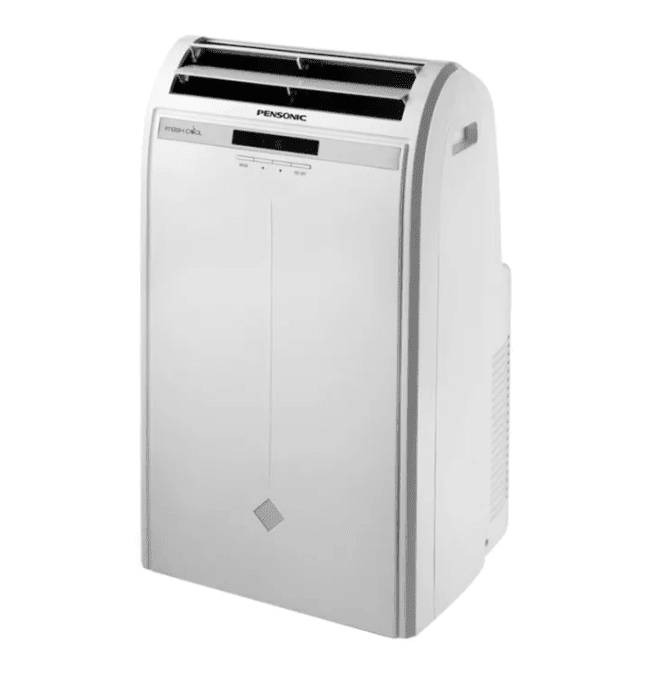 add_circle
Vertical auto swing & airflow
remove_circle
Uses non-inverter technology, which may rack up the electricity bill
remove_circle
Is quite an old model (2016) and may be difficult looking for spare parts (if needed)
remove_circle
Weighing in at 36kg, it's one of the heavier units on the market
Not to be confused with the Japanese brand Panasonic, Pensonic is in fact, a local Malaysian brand founded in Penang, 1965.
Like the Midea unit, this AC operates on 1.0 horsepower or 9000 BTUs, and can cover up 300+ square feet of space. Its vertical auto swing and airflow feature helps to properly disperse airflow throughout the room, ensuring that the cool air isn't entirely focused in only one direction.
Humidifier Feature
One of the things we love about this portable air conditioner is that it has a dehumidifier function. In case you're not familiar, dehumidifiers help to decrease the humidity level in areas with high moisture levels. Especially in tropical countries like ours, excessive humidity in a room can cause mold to form on clothes and furniture, making it an absolute nuisance.
Uses Non-Inverter Technology
However, the Pensonic PPA-109 uses a non-inverter technology, which is less cost effective than an inverter air-conditioner. Inverter technology is newer and uses much less energy compared to a non-inverter air-conditioner too, resulting in a much less shocking electricity bill. This may be something you would want to consider before making the purchase.
Besides the special features mentioned above, it has pretty much all the other basic functions a portable air-conditioner needs including sleep mode and memory function, timer setting, and a self-diagnosis function. It also comes with a 1-year local manufacturer warranty, but it would be best to confirm with the online seller or outlet you're purchasing from.
---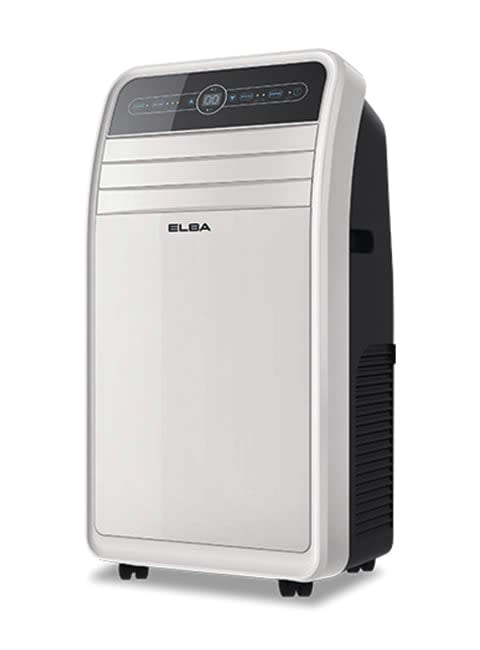 add_circle
Lightweight at only 22kg
add_circle
Integrated rotating casters
add_circle
Front panel LCD display
remove_circle
No special functions like dehumidifiers or special filter technology
It's about time we arrive at a non-Asian brand. Elba, an Italian brand that started off as family business in 1950, officially registered under said name in 1964. Today, they're well-known for top quality kitchen appliances alongside a variety of home appliances as well.
To be honest, the features on the Elba EPAC-A401D are nothing to shout about. It has the basic functions most portable ACs have including a 24-hour timer and fast-cooling function. And like the Morgan Mac-091, it has wheels intact. Although, its wheels are integrated and rotating ones, making it even easier to transport around.
The Lightest on this List
This unit doesn't have any dehumidifier function nor any special kind of filter. However, it is one of the lightest portable air conditioners on the Malaysian market. So, not only does it come with integrated rotating casters, but it's also light (only 22kg!), making this the best pick if you're looking for an AC that you might need to move around more frequently.
---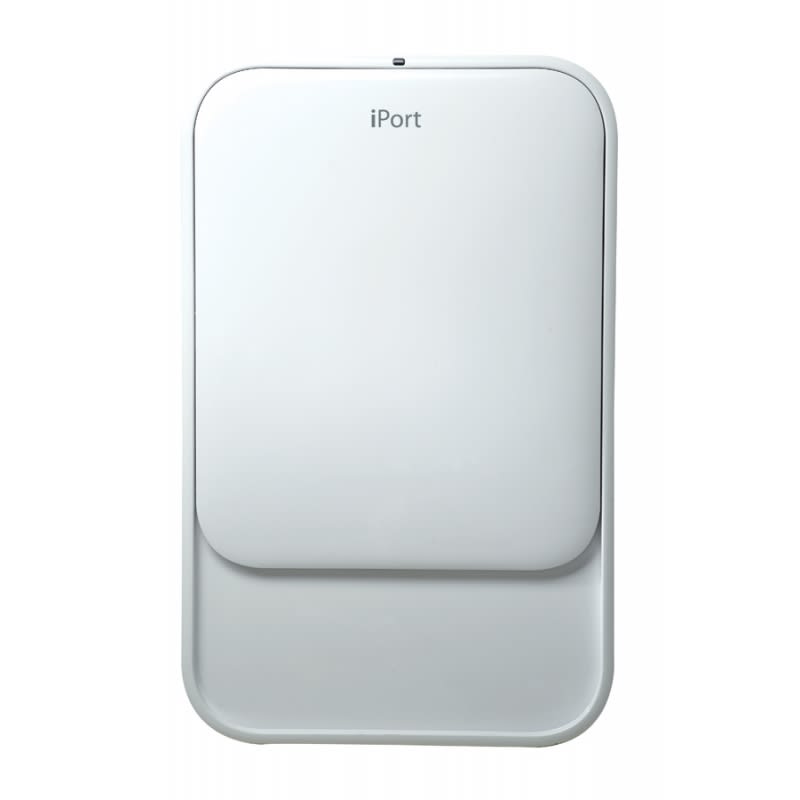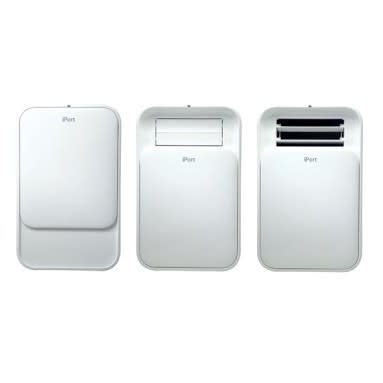 add_circle
Sleek, Slide-to-Open design
add_circle
Self-evaporative system/no bucket design
add_circle
Follow Me Feature
If you've never heard of MEC, it's probably because they only specialize in air-related home appliances like air conditioners and air purifiers. They're under Fiamma, the same group that brings you more well-known home appliance brands like Elba, Braun and Faber.
Although the MEC Iport G9000 isn't the cheapest portable air conditioner listed here, we do believe it would be the best value for money purchase thanks to the many features that come along with it. Like some of the brands mentioned here, it comes with a no bucket design and uses a self-evaporating system so that you wouldn't need to drain all that excessive water. It also comes with a flexible installation kit that is designed to fit most standard horizontal and vertical windows.
Besides the usual features most portable ACs have, like auto swing and a washable filter, it has another two features we find particularly useful: Slide-to-Open and Follow Me Feature.
Slide-to-Open
Now, besides having the best design among the other units listed here, it also has this Slide-to-Open feature. When it's turned off, its sliding panel is closed to protect the blades and inside of the AC from collecting dust. Once the unit is switched on, the front panel will smoothly slide open for the AC to do its job.
Follow Me Feature
Yes, you can actually have cool air blown in your direction with this feature. The remote control has a built-in temperature sensor that sends a signal to the AC every 3-minutes, prompting the unit to direct cool air towards you. Just make sure that you place the remote control close to you when you have this feature turned on.
---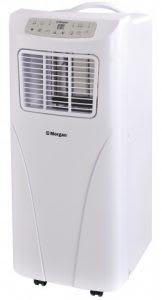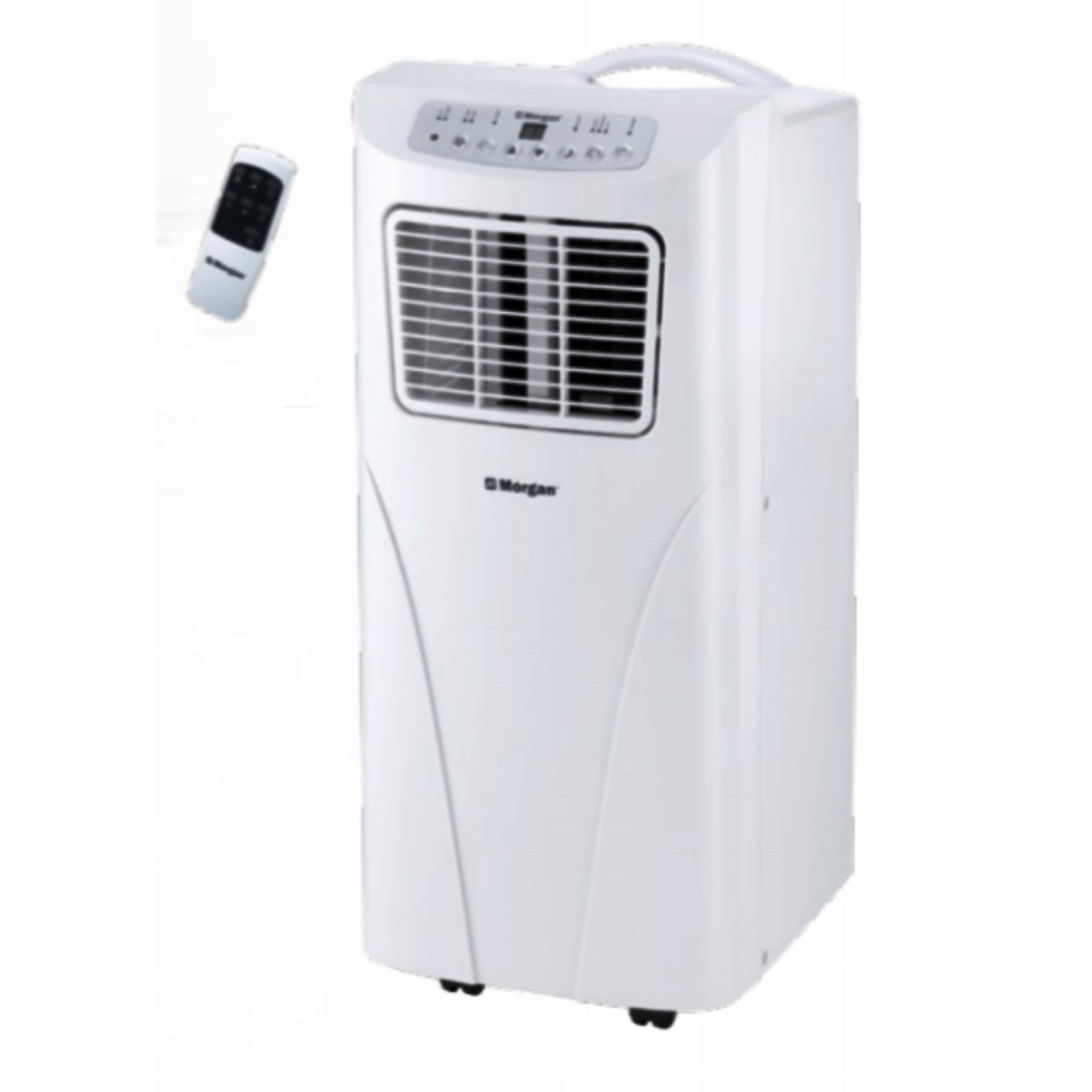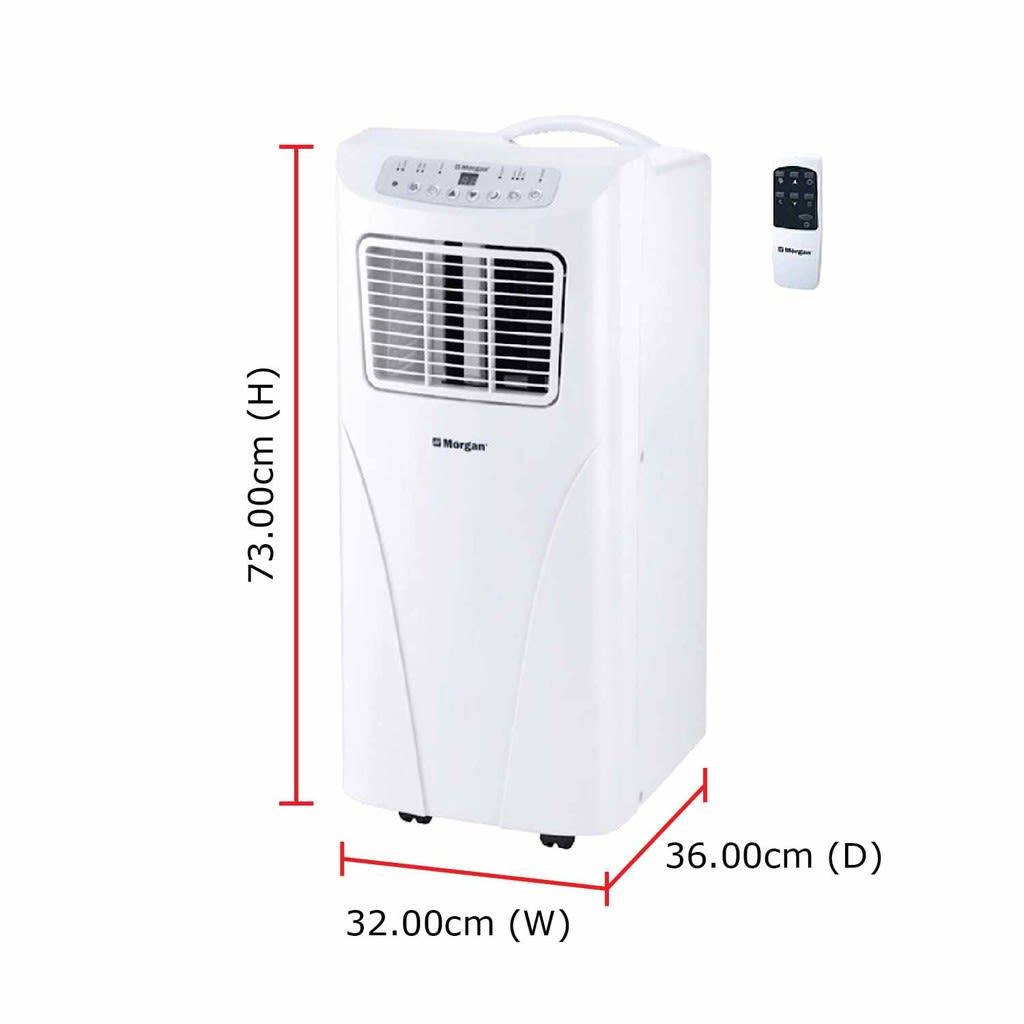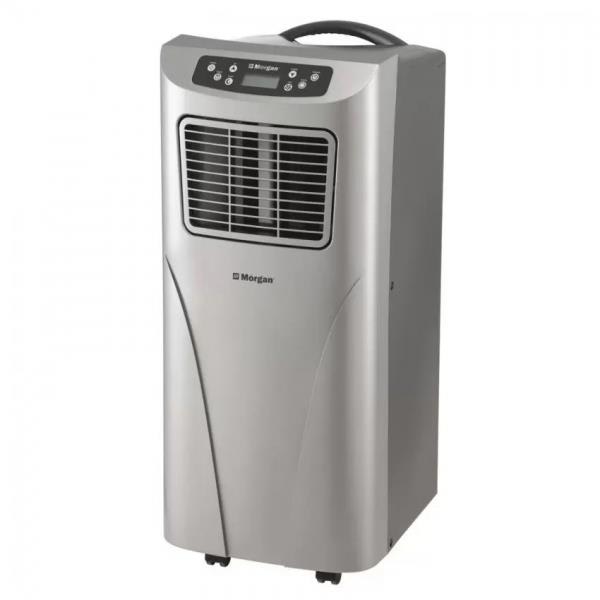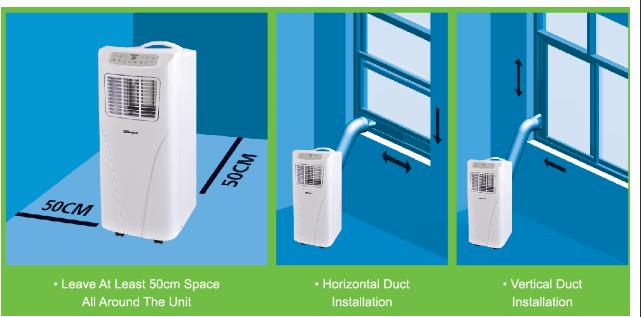 add_circle
Comes with wheels
add_circle
Additional window mounting kit
add_circle
5-year local manufacturer warranty on the compressor
add_circle
Easy to clean, washable filters
remove_circle
A little on the pricey side
remove_circle
Compressor may be noisy for some
Yes, here we have another Malaysian brand, Morgan. If the name sounds familiar, it's probably because you may have seen billboard advertisements of their air fryer along a few major highways here. Incepted in 2006, Morgan is a trademark owned by DKSH that provides a range of household appliances which are affordable and of top-notch quality.
It Comes with Wheels
In case you haven't noticed, this is also the first portable air conditioner on the list with wheels, making it easier for you to move the unit around if needed. Of course, if you don't intend to move your air conditioner around often, then one without wheels would suffice.
Comes with a Window Mounting Kit
The Morgan MAC-091 comes with an additional accessory – a window mounting kit. If it's your first time buying a portable air conditioner, it's crucial to know that it needs to be placed nearby a window so that the hot air can be released via a hose. This mounting kit would be a big help when it comes to making the hose stay in place.
---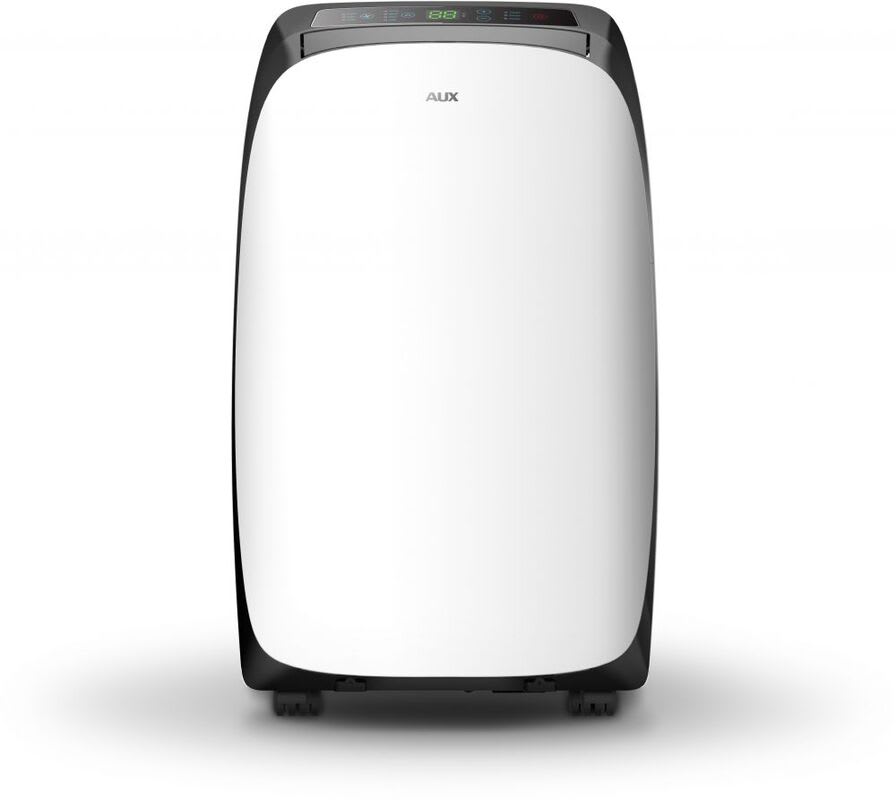 add_circle
Break-resistant body
add_circle
Premium design
add_circle
Touch-screen display
remove_circle
Expensive, even for a 1.5HP unit
Here we have another Malaysian brand – AUX, founded in 2004. They're probably one of the lesser-known local brands but surprisingly export electrical appliances to over 20 countries.
If you've been following our list so far, you would realise that this unit is the only 1.5hp or 12,000 btu portable air conditioner here, making it the most expensive on the list. A 12,000 btu portable AC can cover up an area of up to 550 square feet, making this the better pick if you require the unit for a slightly bigger space.
Break-resistant body
Also, its body is hardy and break-resistant, so you wouldn't need to worry too much about its exterior's lifespan. We're not saying you should take its sturdiness for granted, but if you're a couple with young children running about often, the likelihood of the unit breaking apart would be lesser.
Elegant design and display
With such a price tag, premium-quality build and design is a given. Reportedly designed in France, we love how this AC not only looks elegant, but is the only unit on this list to have a touch-screen display.
---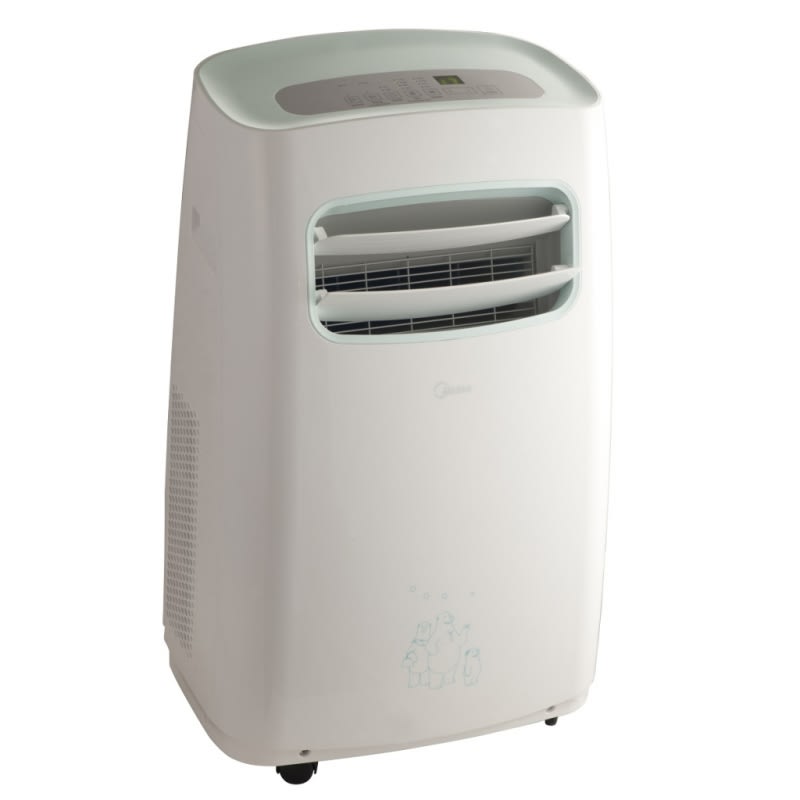 add_circle
Ionizer technology
add_circle
No-bucket design
remove_circle
Buyers complained of poor reception on the remote control
The only brand to appear twice in this list, Midea is here for a reason. If the AUX is out of your budget, the Midea MPF-12CRN1 would do just fine if you're looking for a 1.5 HP portable air conditioner. It might not have as good a build as the AUX, but it has a list of great basic features necessary to cool down your room.
Similar to the Midea 1.0 HP mentioned earlier in this list, it features a no bucket design alongside a self-evaporative system, so that you wouldn't need to manually drain the collected water in the unit. However, this series (PF) has omni-directional casters not found in the series (PH) mentioned earlier in this list.
Ionizer Technology
Another feature this series has is the use of Ionizer technology. Air ionizers remove harmful articles and microbes from the air, making the air cleaner, especially for those suffering from asthma or other respiratory issues. Nevertheless, this technology is a good feature for overall wellbeing.
---
More: Beat the Heat With These Top 14 Air Conditioners
What is a portable air conditioner and how does it work?
A portable AC works the same way a wall-mounted one does, just that it's, well – portable. They're small and usually weigh around 20 – 30+ kg, allowing you to move them around as and when needed. For instance, if there's a particular room (with no AC) in your home that's hotter than usual, you can move the unit over to cool the room down.
So, how does a portable AC work? All portable air conditioners require a window to expel exhaust via a hose, so first things first - you'll need to place your AC near a window and stick the hose out.
First, it pulls stagnant air from inside the room
Then, the motor cools the air for circulation throughout the space
Finally, it funnels excess warm air and moisture outside via the hose
HomeDepot also explains that there are two types of portable air conditioners - single hose and dual hose. All the units listed are single hose ones as dual hose ACs aren't available here in Malaysia.
---
How To Choose the Right Portable Air Conditioner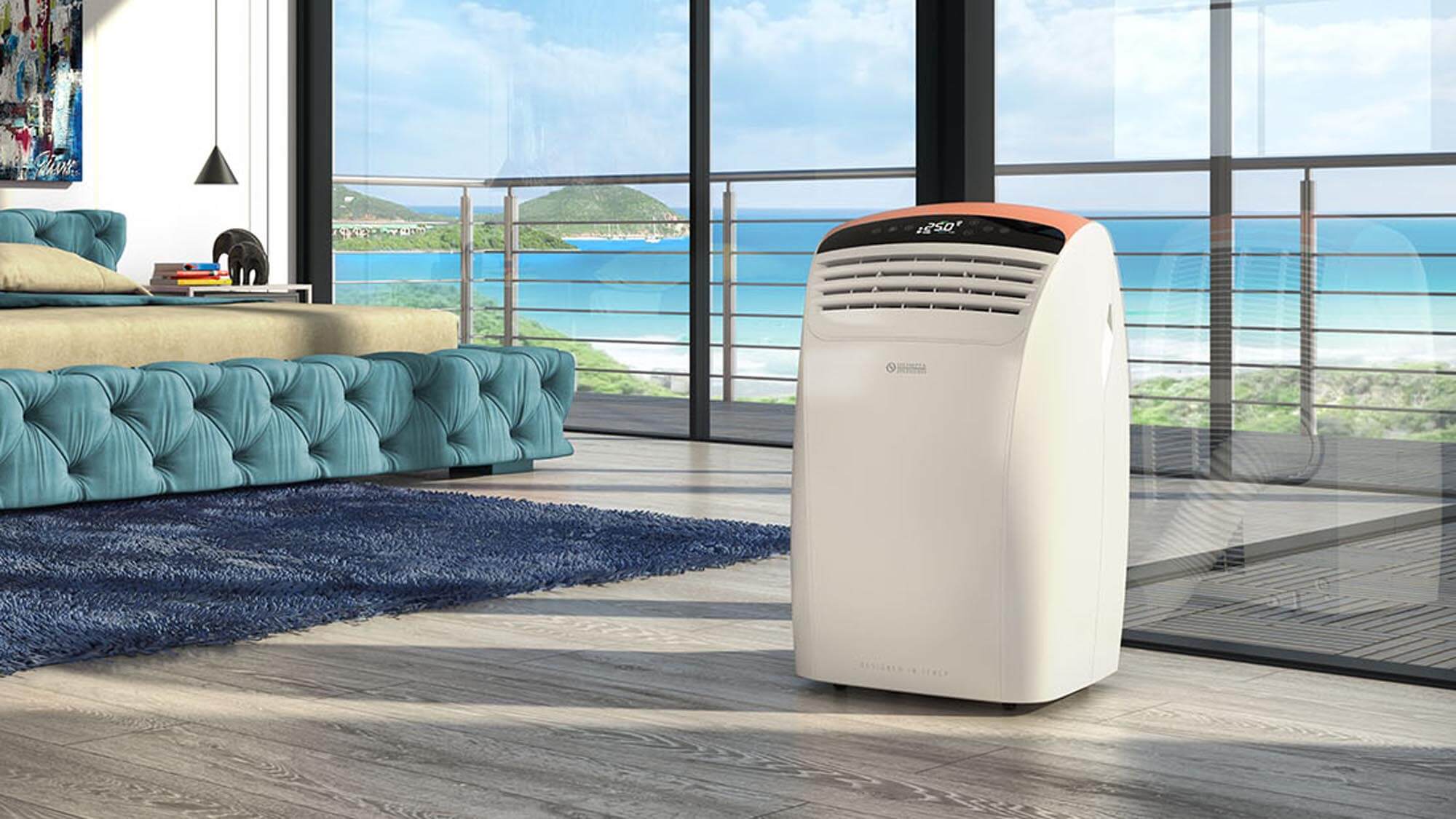 Portable ACs may be cheaper than its regular wall-mounted cousins, but this doesn't mean you should spend less time doing your research. Here are a few things to factor in when looking for the best portable air conditioner.
Size of the room and horsepower/BTU
These are probably the two most important factors to consider, simply because your unit should have enough power to cool the designated area. The horsepower and BTUs of all the ACs listed above range from 1 hp (9,000/10,000 BTUs) to 1.5 hp (12,000 BTUs), which can cover around 400 and 550 square feet respectively. If you'd like to learn more, CompactAppliance.com has a useful chart that lists some general BTU recommendations based on room size
Your needs
Sounds pretty straightforward but many don't usually take this factor into consideration. Sometimes we end up getting things we fancy functions that we don't actually need. Some of the air conditioners we recommended have features like dehumidifiers, touchscreen display and even having cool air following you around. Ask yourself if these are necessary, because if they aren't, then you're just forking out more for a feature you'd probably use once and never again.
Installation area
Portable ACs are a bit more complicated than you think. Unlike air coolers, these units have a hose that you'll have to stick out a window in order to get cool air. This is why some portable ACs come with window installation kits for a better fit and less hassle. Also keep in mind that the unit may take up some space on the floor, depending on its size. Take down its measurements to see if it fits your designated area or room.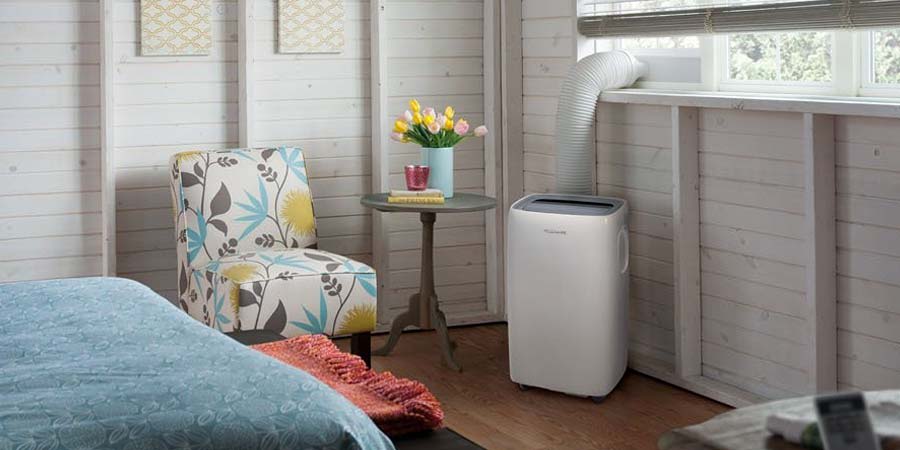 Conclusion
Almost like making a big purchase decision for anything else, lots of thought should be put into getting a portable air conditioner. Based on my own experience, these units end up being much more of a hassle than a relief, mainly because of the tube that needs to be placed outdoors. Hence, if you have a more flexible budget (or situation), it would be better to get a wall-mounted air conditioner instead. Otherwise, we'd recommend the Midea MPH-09CRN1. It's affordable (below RM 1,000), has good reviews, and most importantly – keeps your crib cool.
Disclaimer: The pricing shown is just a good indication of how much these products are worth. The prices could change based on the e-commerce promotions that are going on. If some of the products are not available, do email us at [email protected] Thank you!