After a long day, there's nothing quite like the luxury of your tired body sinking into the soft cushion of a massage chair, and spoiling yourself with a relaxing massage. With proper use of a massage chair in moderation, it helps to relieve stress and aching muscles (on specific body areas) within the comfort of your home.
How often should you get a chair massage?
Although there's no prescribed limitation on how many times a day you can get a massage, chances are you can overdo it. Thus, it is advisable to have chair massages 3-4 times a week while keeping each session under 15 minutes.
Bear in mind that less is more, as a massage chair works the best in short intervals of time for effective massage therapy. Overusing it (more than 30 minutes), however, doesn't give you any additional benefits. Worse still, the continuous intense level of pressure can lead to injuries ranging from bruises to inflamed body tissues.
On a side note, the best massage comes when you need it the most. The key is figuring out how would you incorporate it into your schedule.
During the day, a massage is good for alleviating blood circulations and keeping you energised for the rest of the day. Whereas having a rub-down in the evening helps to relax your mind and ease you into sleep.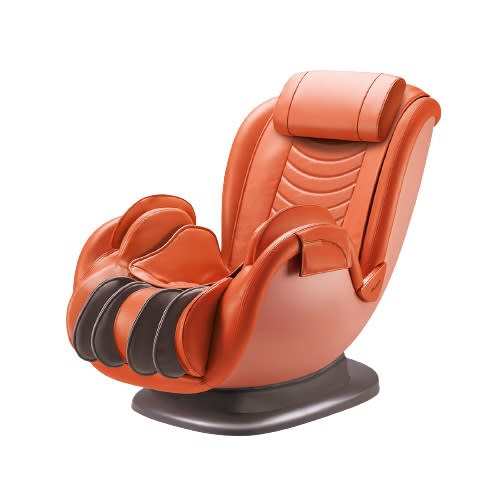 OSIM uDivine Mini 2 Massage Chair
RM 4138.00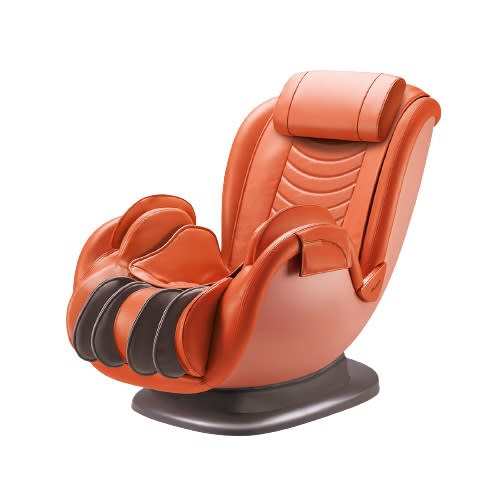 add_circle
Includes a series of massage techniques - airbag, kneading, tapping, dual massage
add_circle
Attractive design
Investing in a massage chair can be pricey especially if you're new to the market. Therefore, you will want to make sure your appliance purchase is worth the money. Lucky you, Osim has an updated version of the uDivine Mini series massage chair to further indulge you in a superior rub-down without compromising on space.
The uDivine Mini 2 massage sofa is 70cm wide and only takes up 0.83m2 of living space. Despite its compact size, this one also comes in two vibrant hues to embrace the aesthetic of your room.
For a better full body massage experience, Osim incorporated two sets of 360° roller balls that targets spots which are easily prone to sore muscles. Even more, the rollers work together with a new elongated L-shaped massage track (117cm) to offer more extensive massage coverage.
Not forgetting; this mini sofa features airbag massage too! The inflated airbags compress hands, hips, and calves to improve blood circulation as well as relaxing muscle tension. Additionally, the airbags are built with adjustable intensities that cater to your personal needs.
All in all, this option offers brand reliability as well as a reasonable price point.
---
More: Give Your Tootsies a Treat with These 8 Foot Massagers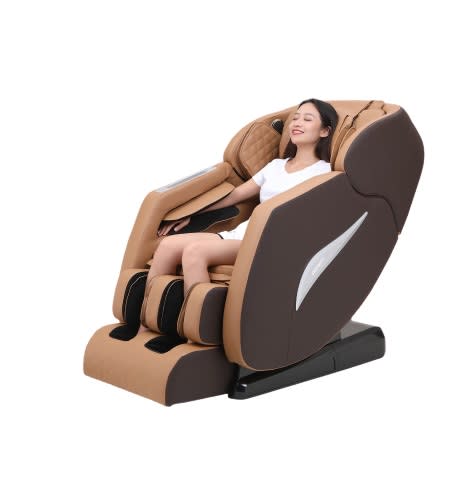 SnowFit Oasis 6D Zero Gravity Smart Massage Chair
RM 2588.00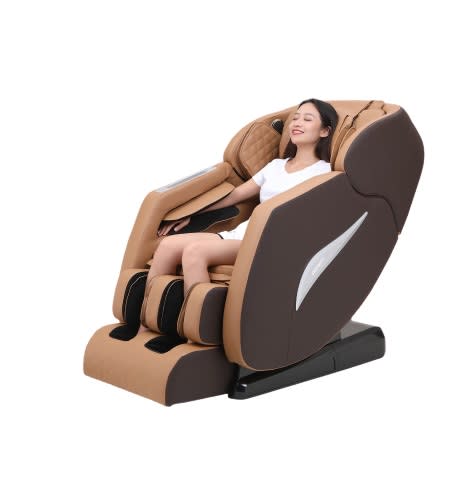 add_circle
Interesting weightless simulation
add_circle
Plenty of massage rollers for a whole back experience
add_circle
No installation needed
add_circle
Value for money
add_circle
Features lots of functions
While a full-on massage chair can cost you a bundle, local brand Snowfit offers an affordable alternative with its Oasis 6D Zero Gravity Smart Massage Chair.
As the name suggests, this chair takes care of your whole body (neck, shoulder, back, waist, hips, legs) with the innovative zero-gravity simulation. The programme removes fatigue off your body by allowing you to experience a relaxing massage as if you're floating. It also features three different levels to give you precisely what you desire.
What's great about this economical pick is that the chair comes with a back heating function. It uses a combination of vibration and heat to stimulate blood flow throughout the body. Furthermore, it provides therapeutic benefits that relieve perennial back pain caused by tight, stiff muscle.
Many users claim that this massage chair is a great deal among its competitors. In addition to the features highlighted, its full-body airbag massage technique excites users even more with an unrivalled massage experience for such a price point.
---
Sokano OC04 Gaming Chair
RM 189.00
add_circle
Adjustable backrest
add_circle
PVC leather (extra comfort, fade-resistant & easy to clean)
add_circle
Multi-directional wheels
remove_circle
Some customers complained that they've received faulty products
remove_circle
The backrest will not bounce back automatically after adjusting the reclining angle
A good gaming chair may be ideal for a pleasurable gaming experience, but a gaming chair that can also massage you is going to bring you to another level. Introducing the SOKANO OC04 Gaming Chair, your best gaming companion to alleviate mild back soreness.
As anticipated, this chair comes with a lumbar pillow that offers a massage function. To use, simply connect the pillow to a USB power port (be it your PC or powerbank). And there you have it, a quick rub to sufficiently relax your tense muscle after long hours of sitting.
This gaming chair is made with premium PVC leather, whereby the design is not only fade-resistant, but is also skin-friendly. For additional comfort and support, it's even built with an adjustable backrest that can recline from 90° to 150°.
Although users are impressed by the full-length recline, some pointed out that the backrest will not bounce back automatically after it is adjusted.
---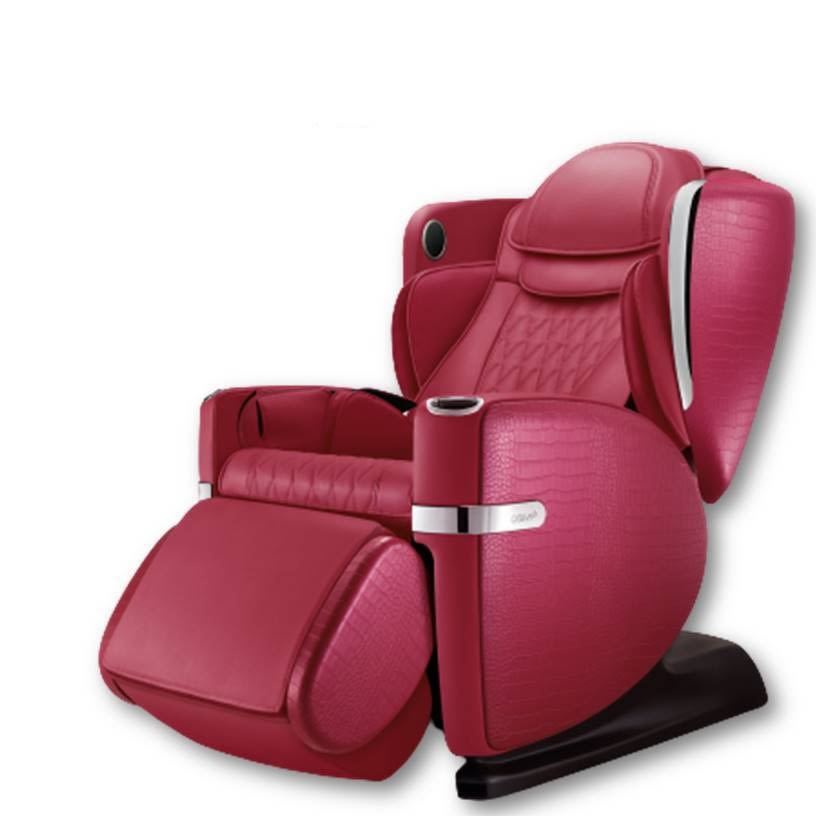 Osim uLove 2 Massage Chair
RM 16919.28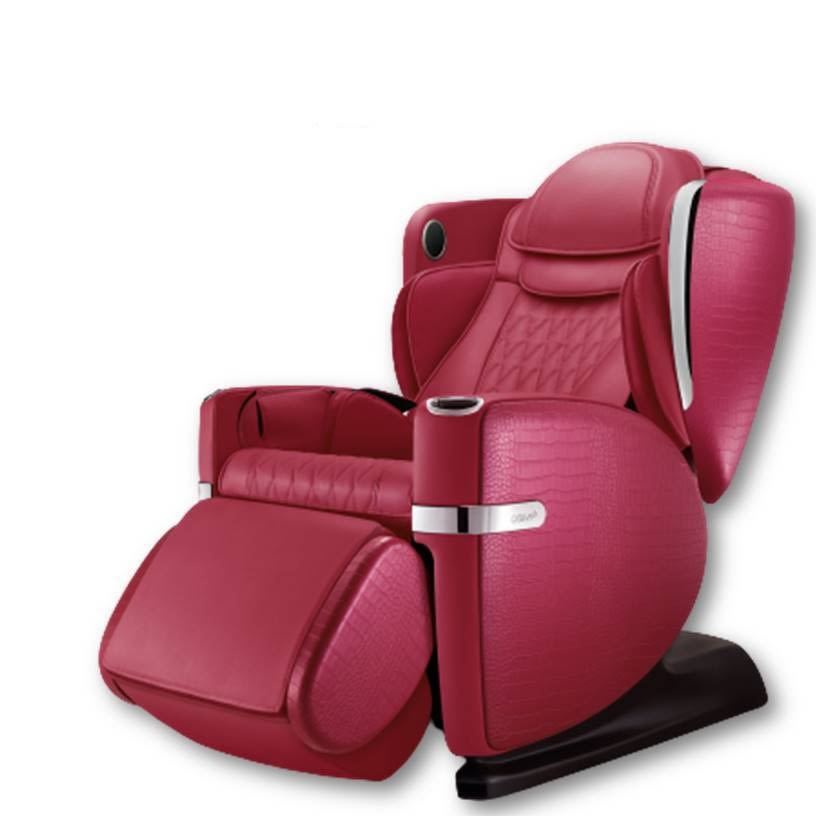 add_circle
4-Hand Massage - features 4 sets of massage rollers to mimic a masseuse's hands
add_circle
V-Hand™ Massage - 720° Roller Balls that rotates in all directions
add_circle
Intelligent auto shoulder detection
add_circle
Has a few safety feature
remove_circle
bulky appearance
If you are hunting for a luxurious, spa-like massage experience, the OSIM's uLove 2 Massage Chair is the ultimate choice for a quality rub-down from head-to-toe.
Engineered with 4 sets of powerful massage rollers, Osim strives to create an extraordinary 4-Hand Massage sensation. With both sets of the rollers working synchronously at the upper and lower part of the body, it easily doubles up the pleasure of your home massage.
Not only that, but the massage sofa is patented with its V-Hand™ Massage technique. This technique uses 720° roller balls that mimics a master masseuse's skilful hands to ease the stiffness of your neck and shoulders. Furthermore, it also includes a smart auto shoulder detection which can customise your very own massage experience according to your physical build.
Other personalised features include massage intensity (shoulders & lumber), expandable upper arm side panels, extendible foot massager as well as backseat and footrest positions. Despite its bulky appearance, this pick received a lot of reviews that praises its comfortability.
---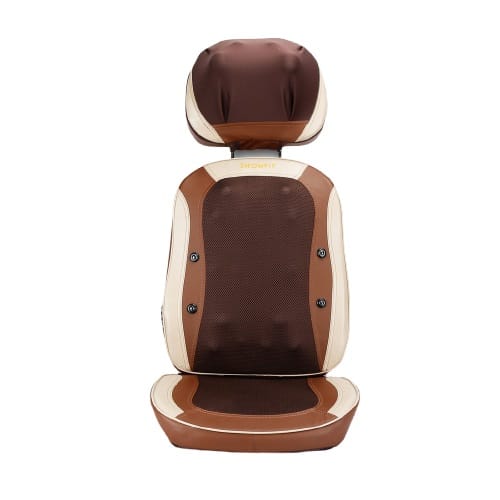 SnowFit SettleBack Portable Massage Chair
RM 269.00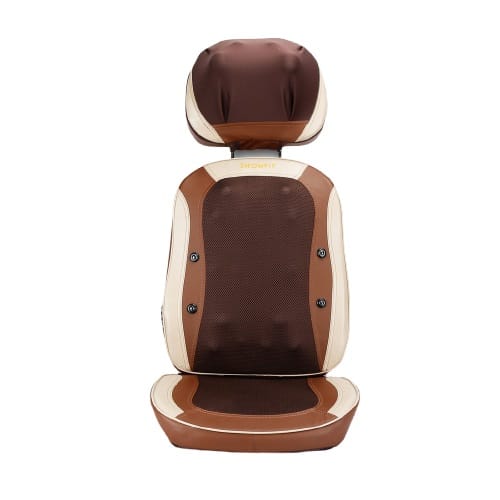 add_circle
22 points massage heads
add_circle
Separate back & hips' control
add_circle
Anticlockwise & clockwise kneading
remove_circle
Noisy vibration pad
If you think the regular full-fledged massage chair takes up too much of your living space (and savings), consider a portable option to suffice your needs. And good news; Snowfit has one that'll perfectly relax your body for a small price portion of a regular massage chair.
Well-equipped with 22 points massage head, the SettleBack Portable Massage Chair assures you a comprehensive massaging experience. It has full coverage from neck to hips and is incorporate with heat therapy for extra health benefits. Heating treatment (therapy) is also known to improve blood circulation as well as providing pain relief to the upper and lower back.
Besides, the massage chair is built with an adjustable head cushion in terms of height and reclining angle just the way you like it. To boot, it includes a mini remote control to perform a series of functionalities.
Other than that, this pick features a high-frequency hips vibration movement to ease aches or tension felt in those regions. However, some customers are unhappy with it as they claimed that the vibration pad is relatively noisy.
---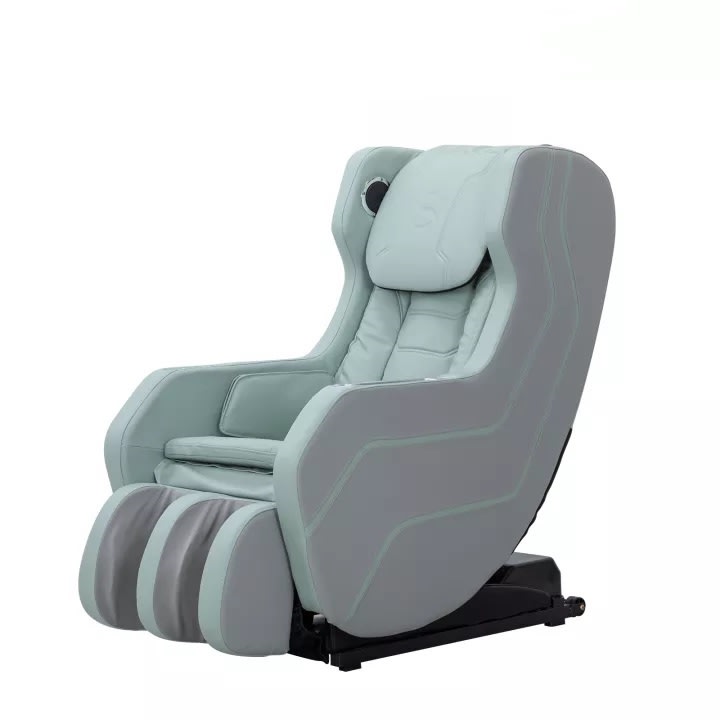 SnowFit Fantasia 4D Zero Gravity Smart Massage Chair
RM 1888.00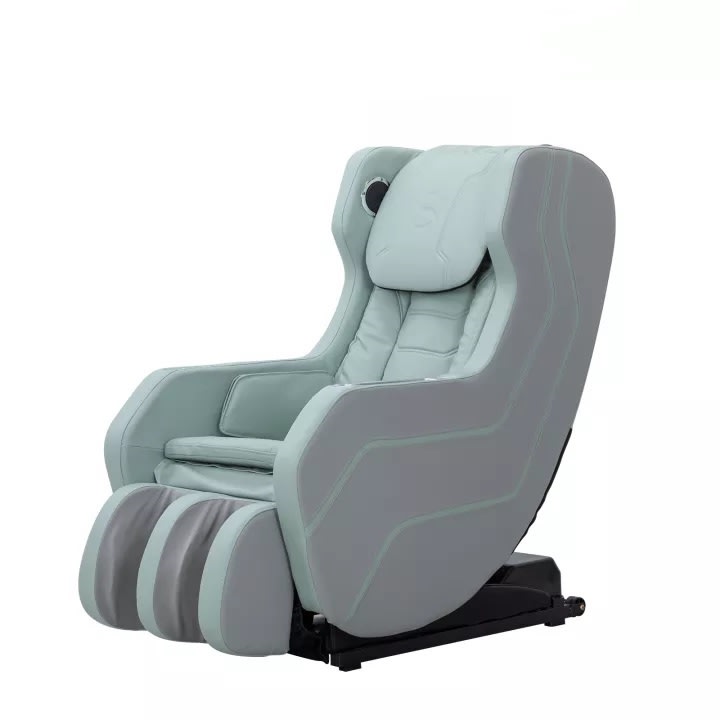 add_circle
Has multimode massage
add_circle
50mm long track massage to cover a larger body area
add_circle
Space saving design
add_circle
No installation needed
remove_circle
Relatively small seat
With the Fantasia 4D Zero Gravity Smart Massage Chair, Snowfit ensures you the exact pleasure and satisfaction of a superior massage at a much more affordable price.
To optimise your comfortability, Snowfit incorporates specially designed 3D rollers into a long, 50cm massage track. With that, it provides wide coverage to support your entire body for the best experience possible. There are also a variety of modes accessible at your fingertips such as zero gravity, shiatsu, kneading, and tapping.
On top of that, the massage chair includes a heating therapy which is exceptionally good for back pain. Even more, it has powerful air pressure bags that fully covers your thighs, hips, and calves. This serves as a great helping hand to soothe sore muscles.
It's also worth mentioning that this pick comes in a space-saving design that only requires a 10cm distance against the wall for it to fully recline. That said, some users state that the massage chair has a small seat which may not fit all physiques.
---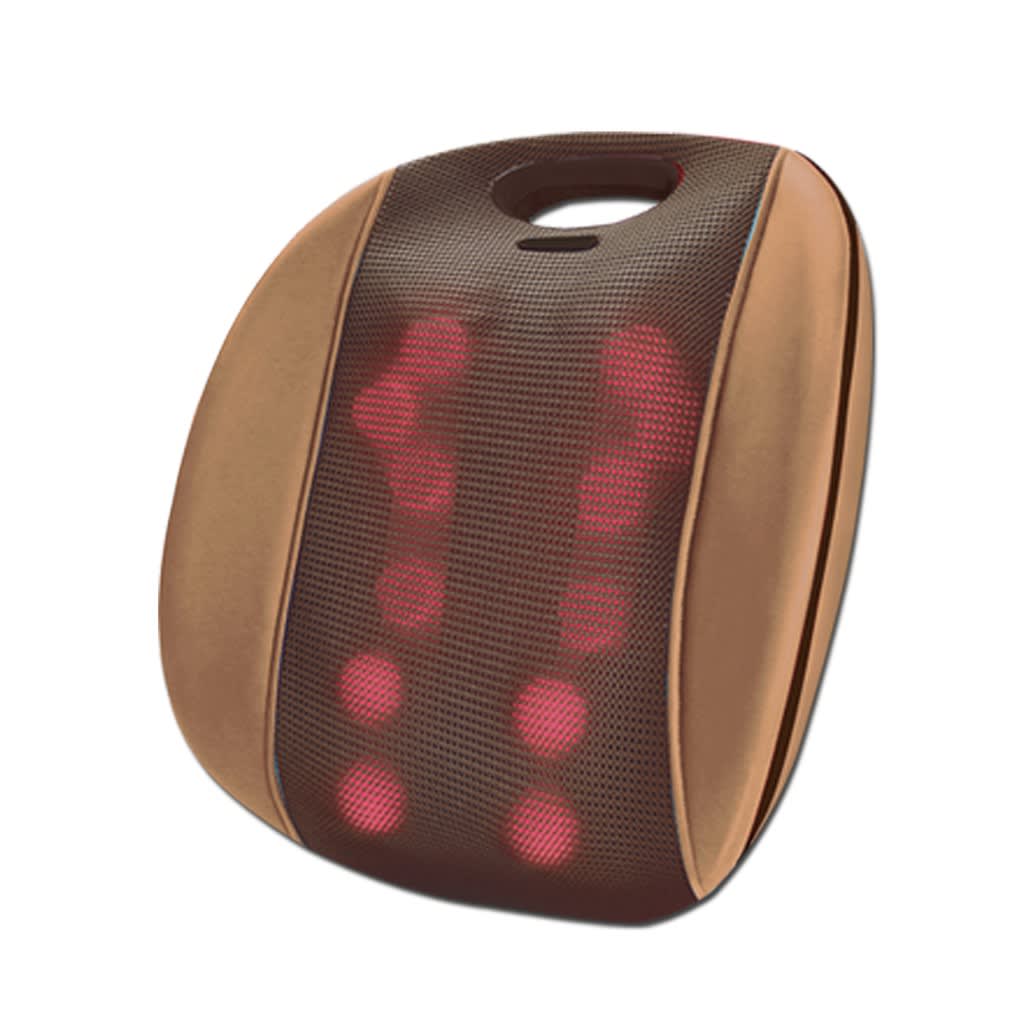 Gintell G-Resto Portable Massage Cushion
RM 368.00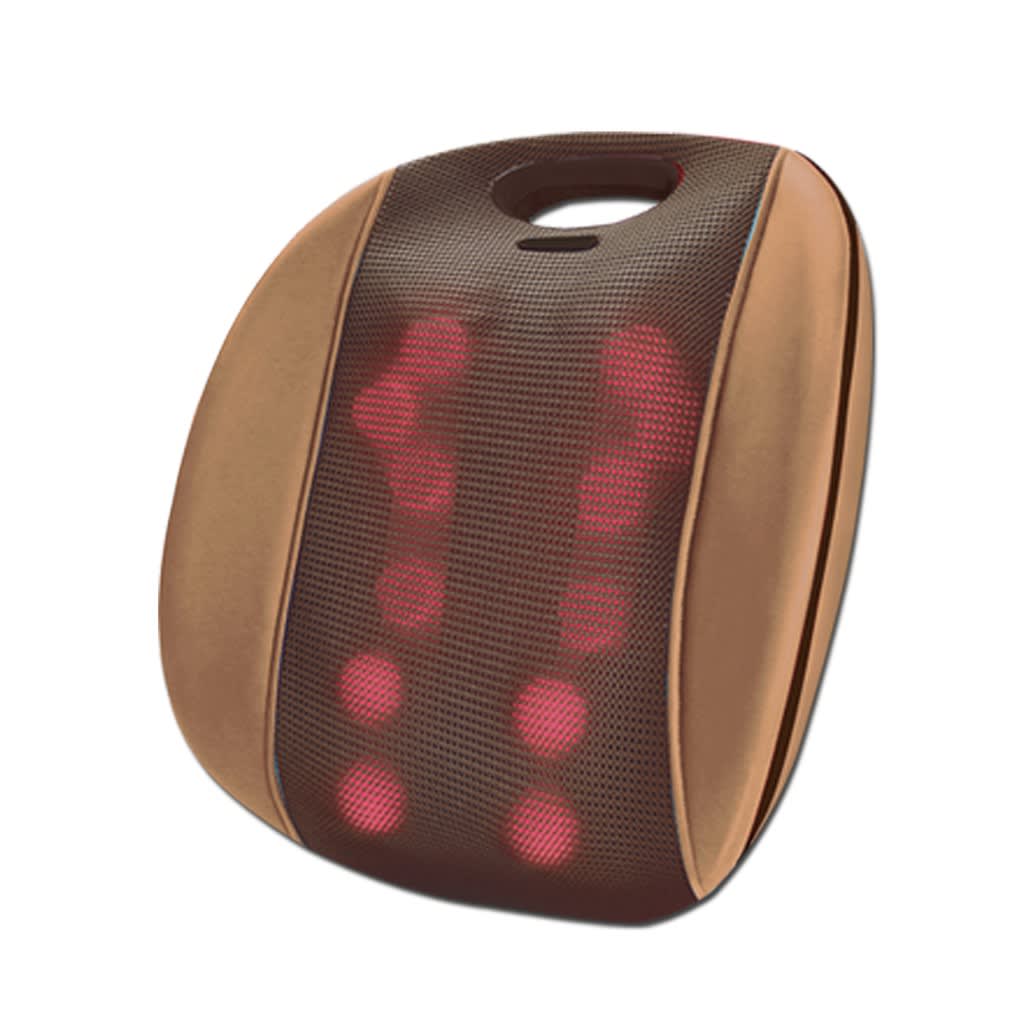 add_circle
12 massage balls to efficiently massage your muscles
add_circle
2 massage modes (morning & night)
add_circle
light & portable
If you are looking for a portable model, Gintell's G-Resto Portable Massage Cushion is the perfect solution with just the right amount of versatility.
This massage chair uses a solid set of 3D massage balls that does a good job of replicating the massage techniques of an experienced masseur. It offers 2 kneading modes (from inside out and vice versa) which deeply massages the key acupuncture points of your body.
Besides, this pick is good for massaging multiple parts of the body all thanks to its unique design. Just place the curved cushion on your arms, legs, tummy, shoulder, back, or lumbar and all you are left with is the pure relaxation that your body yearned for.
Also, it comes with a popular feature - heating therapy. The heated pillow endorses more oxygen and nutrients to body muscle and subsequently helps to improve muscle stiffness.
---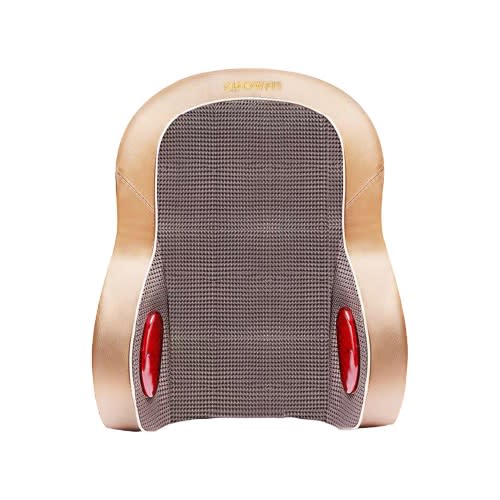 SnowFit SettleBack Mini Massage Chair
RM 199.00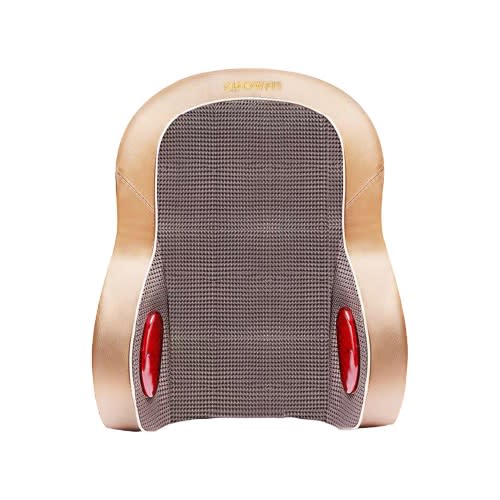 add_circle
multipart massage
add_circle
large area spiral massage
add_circle
multifunctional sychronous massage
add_circle
full back wrap heat therapy
add_circle
high performance pure copper motor
On a budget? The Snowfit SettleBack Mini Massage Chair is a steal given its wallet-friendly price tag and a variety of functionalities.
Scientifically designed to fit your spine's contour, this cushion is suitable for your back and lumbar to massage away muscle soreness. The massage rollers work in both clockwise and anti-clockwise direction to carefully perform different massage techniques such as neck and shoulder kneading. There's also skin rolling open back, back massage, shiatsu massage, and hot compress massage available.
Just like other quality massage chairs, this one comes with an infrared heating therapy too. It is built-in with a red light kidney lamp to take extra care of your lower back. In short, the mini massage cushion eases your back pain with a healing hot compress.
Another feature that stands out is the motor thermal protector. It serves as insulation protection which will automatically turn off the power supply when overheating is detected. If this happens, it is advisable to unplug the device and wait for at least an hour or so before using it again.
---
More: 11 Best Electric Massagers for Your Tired Body and Soul
Disclaimer: The pricing shown is just a good indication of how much these products are worth. The prices could change based on the e-commerce promotions that are going on. If some of the products are not available, do email us [email protected] Thank you!