If you've searched for mechanical keyboards, we assume you already know that it's the best type of board available. These keyboards are made to last and improve your overall performance in both gaming and typing. It has this deep, satisfying "click" on every press, which is quite an old-school feel. And if you're into that, this article will help you choose the best mechanical keyboard for you.
Redragon K561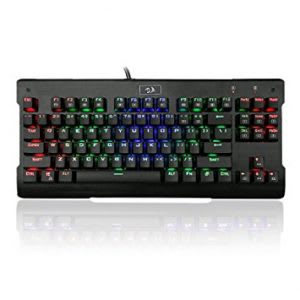 SGD 69.90
Best cheap and simple RGB mechanical keyboard – tenkeyless
First on our list is the most affordable mechanical keyboard of the bunch, the Redragon K561. It comes with 87 fully-responsive keys that have anti-ghosting properties, which means you can press many keys simultaneously.
It's made from metal and ABS plastic, making it durable enough for intensive gaming use. Although it doesn't have a numerical pad, it's still perfect for writing and editing work. It's fairly portable and has 18 backlit modes to personalize it to your liking.
Another feature worth mentioning is that it's waterproof, so you don't have to worry about a few spills here and there. It's an excellent choice for people who're new to mechanical keyboards or just want to try them out.
Obins Anne Pro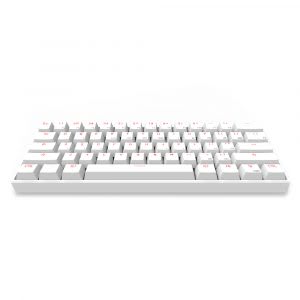 SGD 96.40
Best white portable mini mechanical keyboard
Next on our list is for people who love a bit of gaming but with more emphasis on work while on the go, the Obins Anne Pro. This 60% mechanical keyboard, which has no numerical pad and directional keys, is super lightweight and compact. It weighs only around 800 grams and can still provide the accuracy you need.
Aside from its portable design, it is also wireless using Bluetooth technology. This feature gives you total freedom when bringing it along with you to work or any gaming event.
The only concern is it's one of the noisiest mechanical keyboards on our list. It uses GATERON switches that are made for accuracy, so each click is as tactile as it gets. However, it's loud and might disturb a bunkmate if you go FPS gaming berserk at night.
Razer Blackwidow Ultimate 2016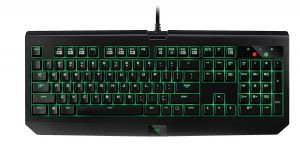 SGD 179.90
Best USB gaming mechanical keyboard – green backlit
If you're focused on gaming, we have nothing else to recommend but the Razer Blackwidow Ultimate 2016. First of all, it's one of those mechanical keyboards that opt for pure function rather than aesthetics. Keep in mind though, it still looks spectacular as a gaming keyboard, but you're just stuck with a regular design and a single color theme.
This keyboard has an on-the-fly macro recording feature. Although it doesn't technically have macro keys, any of the keys can be altered or reprogrammed according to your liking. What we're saying is that all of the keys can be used for macros, which allows the keyboard to stay in the right size than bulking too much like most boards with allocated macro keys. That alone makes it a fully-customizable board for you.
Overall, it's durable and rated to endure about 80 million keystrokes. So you can press till your heart's content! If you want a gaming keyboard that's reasonably priced and will definitely improve your gaming performance, this keyboard is for you.
Logitech G613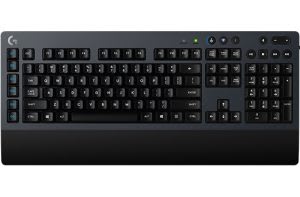 SGD 143.10
Best wireless Bluetooth keyboard with macro keys – ideal for laptops
The only thing that most powerful laptops lack to consider it a "gaming" laptop is its looks and a tactile keyboard for enhancing performance. If you have a laptop that needs an extra pressing boost, then the Logitech G613 is a must-have.
We consider this mechanical keyboard the best when it comes to wirelessness. It uses Bluetooth technology and provides nearly zero latency (1ms). Plus, it has allocated macro keys (G keys) so you can further add some commands without customizing the base keys. It's thin and lightweight (1.4 kilograms) even with its battery. But since it's quite long, it can be quite challenging to bring it with you when traveling long distances.
Aside from the things we've mentioned above, it has a wrist rest to keep your gaming or typing session more comfortable. The only thing you might dislike about it is that it's also a bit loud. Although the Romer-G switches are considered quiet, it is thin profile makes the impact more audible.
Das Keyboard 4 Professional - Brown Switch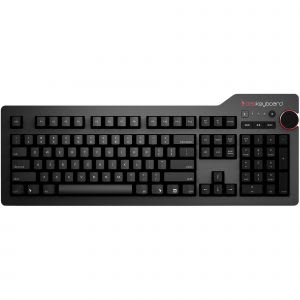 SGD 249.00
Best quiet professional mechanical keyboard – ideal for Mac users
Next on our list is one of the most expensive mechanical keyboards of the bunch, the Das Keyboard 4 Professional - Brown Switch. If you're focused on work and would love to get things done faster, we strongly recommend this mechanical keyboard.
For starters, it's ideal for offices because it's super quiet but still tactile enough to get that accurate vibe on each press. The Das Keyboard 4 Professional uses Cherry MX mechanical key switches and gold contacts for out-of-this-world accuracy. In other words, it has the fastest response time, which helps a lot of designers, writers, and programmers do their work better.
Of course, you can still use this mechanical keyboard for gaming if you like, and it won't let you down. The only thing that will make you hate it is its design. It looks very average and that might be a problem for you when paying about SGD 250.00.
Matias Ergo Pro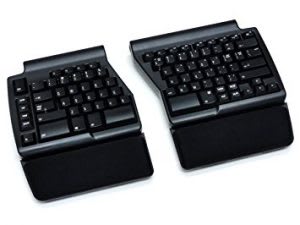 SGD 421.87
Best ergonomic mechanical keyboard with wrist rest for typing
Our last mechanical keyboard is truly special, the Matias Ergo Pro. It's the only keyboard on this list that's split into half to provide the best ergonomics possible. You can angle each piece the way you want to get the most comfortable position. However, it's going to break your bank as it's priced around SGD 420.00, making it a luxury item.
There's only one thing that will make this mechanical keyboard ideal or worth-it for its price, and that's if you use it for typing. This keyboard with a dedicated wrist rest on each half provides super comfort. So it allows you to work day to night without the risk of getting carpal tunnel syndrome or other kinds of repetitive stress injuries.
Each press on this keyboard feels tactile and accurate, which every typist will appreciate. The noise level is just average and doable even in a quiet office environment. As for gaming, it's still excellent but you might find it awkward to use at first. Overall, it's a mechanical keyboard that will catch everyone's interest and attention that provides incredible performance, function, and comfort.
Disclaimer: The pricing shown is just a good indication of how much these products are worth. The prices could change based on the e-commerce promotions that are going on. If some of the products are not available, do email us at [email protected] Thank you!