Nowadays, as things have progressed, keyboards no longer need to be tied to your device. Sometimes, it's an experience to bring them to a distance and still input commands. Not only is it comfortable, but it also reduces the chance of accidentally dragging your desktop or laptop when you choose to move them somewhere else. If that's what you like, then surely one of these seven boards is for you.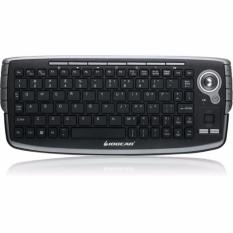 Our first product, Iogear GKM681R, is the keyboard we recommend for couch potatoes. For starters, it's not bulky, it has a trackball (no need for a mouse), and it has media controls on its side, which allows you to ditch your TV's remote!
This keyboard is easy to set up on almost all modern smart TVs. Aside from that, it has an outstanding 10-meter range. So with it, you're going to be in control even when you're at the farthest couch in the living room.
One thing we hate about it though is it's not that great for work (desktop or laptop use). Since it lacks a numerical pad, and its keys aren't that soft, you should just stick to it as a smart TV remote controller upgrade.
---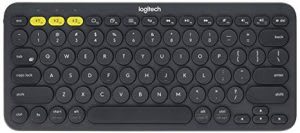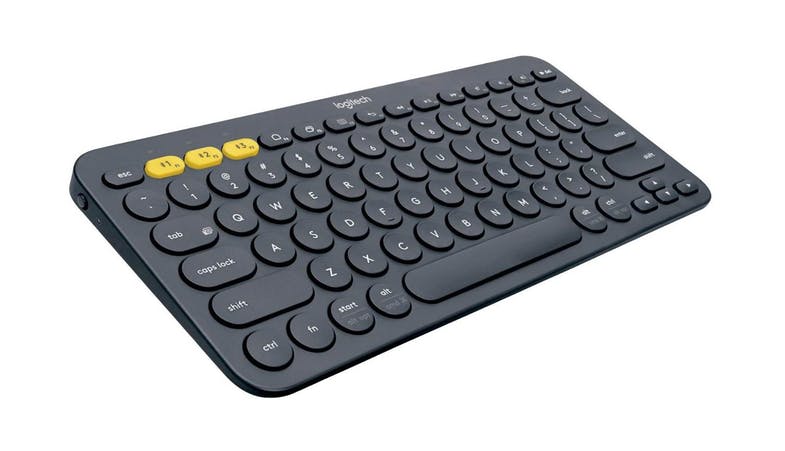 If you want a portable wireless keyboard that can control multiple devices at once, then the Logitech K380 is for you. It connects via Bluetooth, so tablets, smartphones, and laptops can be the perfect pair for the K380.
It's small, but it is durable with a solid plastic build. And like we've mentioned, you can connect it to multiple devices all at once (three maximum). Plus, you can switch controls easily.
Its keys, however, isn't really ideal for typing. Unlike the traditional square keys, it has circular ones, which is quite hard to press. But if you want to control a lot of things and manage accounts and the likes, this keyboard is worth it.
---
Our next wireless keyboard is for absolute gaming, the Logitech G613. For starters, you will appreciate this keyboard's latency, which is 1 millisecond. That means it's almost the same as a wired keyboard. Aside from that, it's a mechanical one that allows you to precisely feel each press.
With the G613, you have powerful G-keys. It allows you to program or customize the keyboard and save it in one of its G-keys. This feature allows you to have a set of keys for each game you competitively play. You can customize it to your advantage, allowing you to significantly boost your performance.
The only thing it lacks though is a gaming appearance. It is a gaming keyboard, but it can't compete with wired ones that have backlit keys when it comes to style. It's designed that way to preserve battery life. With only a pair of AA batteries, it can power the G613 for 18 months, adding backlit keys will power it for less than a month.
---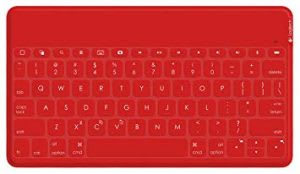 If you want something that's lightweight and compact, we recommend the Logitech Keys-To-Go. One quick thing to know though is that this keyboard only works on iOS devices. Ideally, this keyboard is the perfect pair for an iPad.
The Logitech Keys-To-Go is incredibly thin at only one-fourth of an inch. Its size allows you to carry it almost anywhere; you can even slip it inside a notebook. And although it looks fragile, we guarantee you it is durable and even water-resistant.
This keyboard is perfect for individuals who love to write and travel at the same time. If you need to write something while on the go, and you only carry your iOS device most of the time, then this keyboard is a solution.
---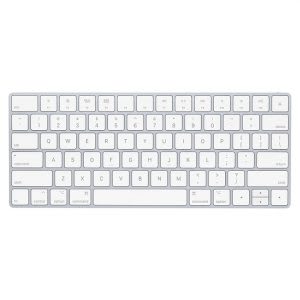 Compared to the last product, this one is more of its bigger brother, the Apple Magic Keyboard. For starters, it's also small but significantly larger compared to the Logitech Keys-To-Go. It's best paired with Mac desktops although it also works with other iOS devices such as an iPad.
This keyboard lacks a numerical pad, but it still is a great board for typing. It has soft keys and is super quiet. You'll also love its stunningly beautiful minimalistic design. And since it's portable, it's an ideal keyboard for offices.
---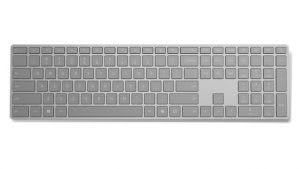 Quite similar to the previous product, we have the Microsoft Surface Cupido. But unlike the Apple Magic Keyboard, this one is a full-sized keyboard and only works on a Windows computer. And another distinct feature is that it has firmer keys and a bit of click in each press, too.
In a nutshell, this keyboard is perfect for productivity. Anyway who loves to write or does coding will appreciate its design and functionality. Although it is quite expensive (the most expensive keyboard on this list), it does provide superb quality.
---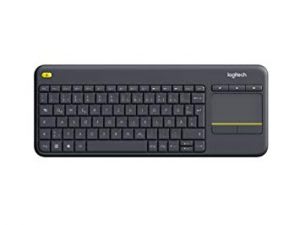 Last on our list is the cheapest of the bunch, the Logitech K400. It's a bit similar to our first product when it comes to its ideal use, which is for smart TVs. However, instead of a trackball, it has a touchpad that replaces its numerical pad.
If you want a more keyboard-like experience than a remote, and you prefer a touchpad to do the navigating on your smart TV, then the Logitech K400 is perfect for you. It has better keys for typing, but the downside is that it doesn't have any integrated media control, so you have to use your TV's generic remote for that.
---
Disclaimer: The pricing shown is just a good indication of how much these products are worth. The prices could change based on the e-commerce promotions that are going on. If some of the products are not available, do email us at [email protected] Thank you!