We know about the many health risks that stem from staring at your screen all day. Sadly, you and probably half of your peers are experiencing some eye strain or posture issues, especially when working on your laptops. But, there's something to help with that…
Built to reduce visual and physical strain as well as provide height support, laptop stands will put an end to all of that.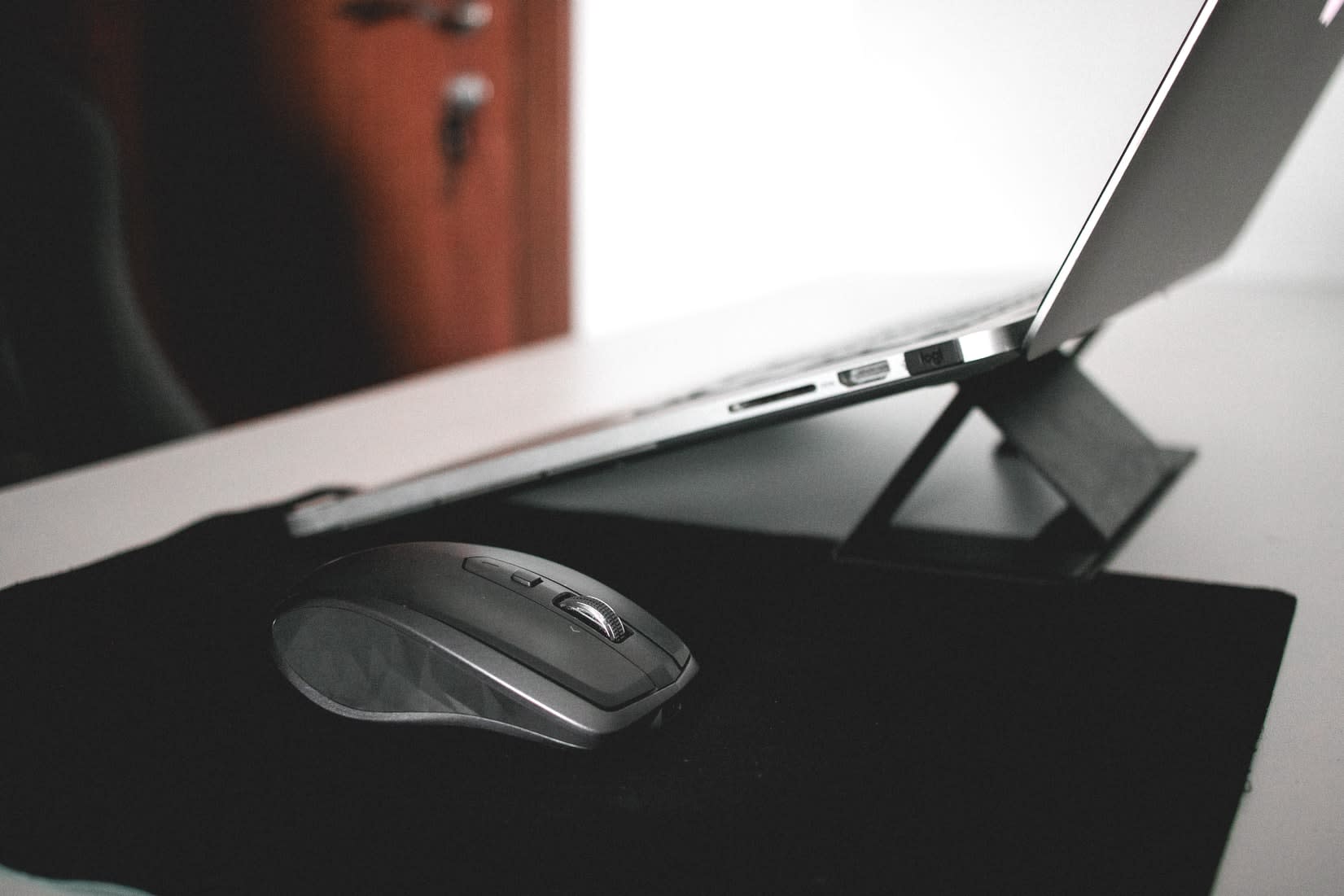 Still, not all laptop stands are built the same. And over the past decade, there have been endless innovative and ergonomic designs developed just for us who frequent our laptops. Gone are also the days where these stands are bulky. Instead, many today are made to be portable along with your laptop so you can have the optimum viewing angle at any time.
Below, we'll share with you everything from portable and foldable stands to adjustable and gaming-friendly options that technology has to offer.
More: 8 Best Laptops in Singapore You Can Buy Right Now
---
Index:
Benefits of a laptop stand
The best laptop stands in Singapore
What to consider before choosing a laptop stand
Conclusion
---
Benefits of using a laptop stand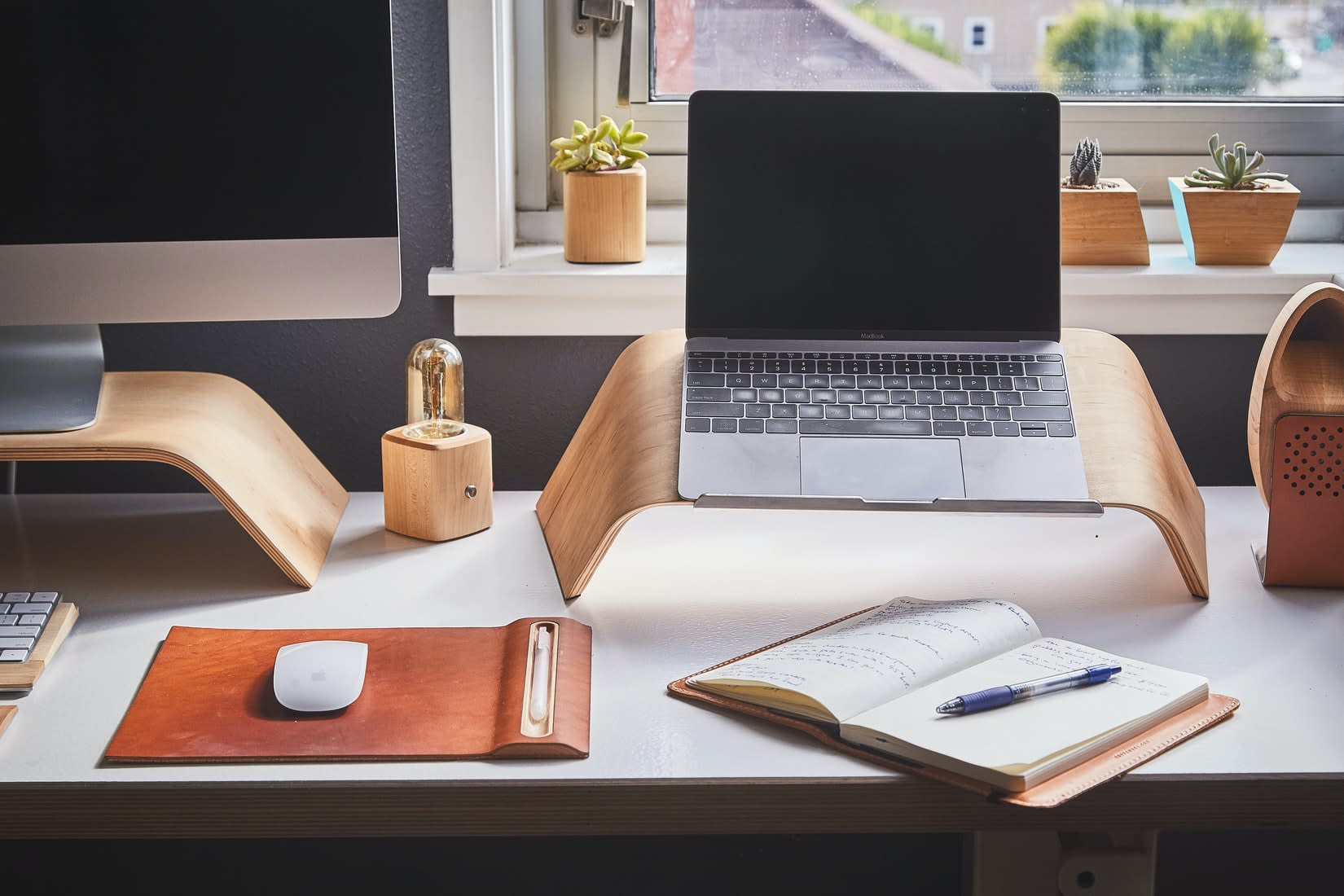 If you're still not sure about how a laptop stand benefits you, here's a breakdown on how:
By elevating your laptop, your eyes are positioned directly in front of the screen, which eliminates hunching (hovering over your screen).

Gives you a better viewing angle of your laptop screen overall. This includes eliminating glares which may cause you to squint your eyes.

By eliminating hunching, your body experiences a better state of comfort, which helps you focus better and thus, boost productivity.

Foldable laptop stands let your laptop stay cool underneath, lowering the risk of overheating which can cause sluggish performance.
There's so much to get out of when you buy the right laptop stand. Buying them, however, isn't as easy as it seems. There are the sleekness, stability and even its adaptability. You won't have to worry about all of that, because we've got you covered.
More: 8 Best Laptops for Students of Every Need & Major in Singapore
---
Here are the best laptop stands you can get now in Singapore: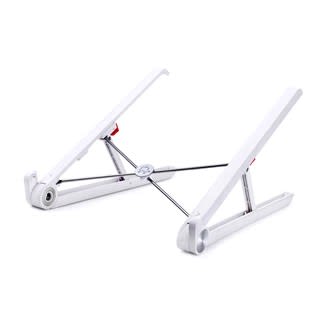 XGear X1 Laptop Stand
SGD 18.89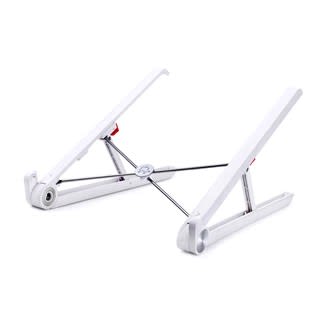 add_circle
Lightweight and sleek
add_circle
Support up to 15kg in weight
add_circle
Expandable blocker is good for a variety of laptop thickness
add_circle
Suitable for laptops up to 17 inches in width
remove_circle
Frame may feel plastic-y due to steel-aluminium material
remove_circle
Stand seems small for laptops below 14-inch (but no issue with support by customers thus far)
Affordable and easy to set up, the XGear X1 captures the essence of what a sleek and sturdy laptop stand should be. Also lightweight and portable, the X1 is wonderfully convenient to travel with.
This stand offers laptops maximum stability as its triangular structure can bear up to 15KG loaded on its reinforced steel-aluminium frame. Not to worry if your laptop will topple, as the stand can support laptops of 17-inch and below as well.
Designed with simplicity in mind, you can adjust your laptop's viewing angle easily with the 26 to 30 degrees hinge at the bottom which, as it does not utilise any plates below, this also enables natural airflow to keep your laptop cool. Moreover, we find the expandable blocker which sits right near the ends of the stand towards the user to be a smart design as this allows even for thin laptops to stay on without slipping off. This blocker can be expanded at up to 2.2 inches which is great for most laptops.
We're not the only ones who think this stand is a good buy. For the price, most customers on Shopee and Lazada have agreed that the stand is pretty strong, even though it feels plastic. Moreover, the stand seems small for laptops below 14-inch in width. But as earlier said, because of the steel-aluminium material used, this makes up for a lightweight yet effective stand to support most laptop weight and sizes.
---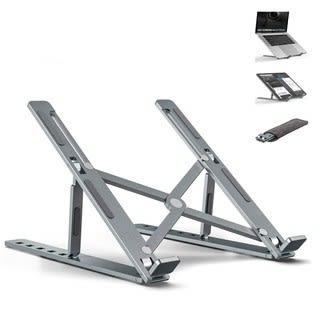 Mono Dsign aluminum Foldable Compact Laptop Stand
SGD 19.54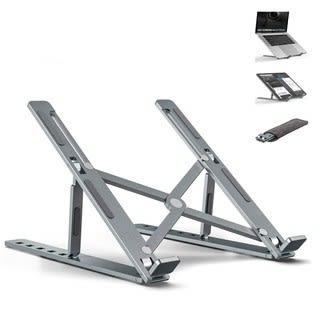 add_circle
Robust built-quality
add_circle
Folds in very small
add_circle
Comes with laptop sleeve
add_circle
Can also fit tablets from 6-inch in width onwards
remove_circle
On the higher spectrum for pricing
remove_circle
For laptops of 15-inches in width and below
Bulky and restricting laptop stands are a thing of the past. Sporting compact designs, a majority of modern laptop stands now have foldable features – such as the Mono Dsign laptop stand. Compatible with all 11" to 15.6" laptops such as MacBooks and Google Pixel Book, this light-weight stand can be folded easily to fit your on-the-go work life.
Despite weighing 0.29KG, this laptop stand can sustain up to 8KG thanks to its frame that's made of aluminium-alloy material. As if that wasn't enough to convince you, it also features 6 adjustable heights – giving your eyes comfort from 2.3" to 5.7-inch above the table surface. For enhanced stability when a laptop is placed on it, the bottom features rubber grips to prevent slips.
Best of all, because it folds small and lightweight (21.5cm in length, 4.4cm in width), the laptop is fairly easy to bring around with you, whereby you can use the included laptop stand sleeve to travel with.
Reviewers generally think that the built is good and of higher-quality despite the higher price tag. Hinges of the stand are well-made, and although the width of the stand is for laptops of 15-inch in width and below, some have attempted to place laptops that are larger with successful results. Of course, we think the best results will be reserved for laptops that are within the advertised range.
---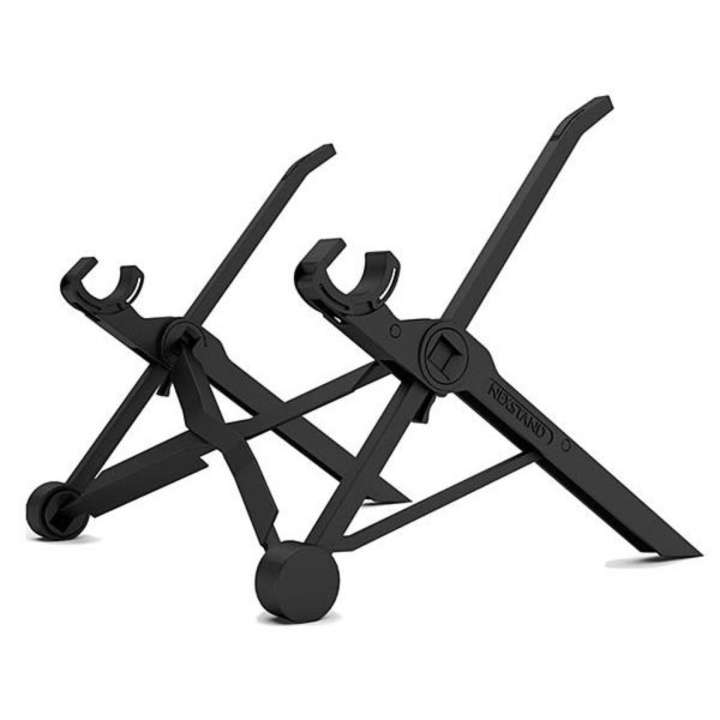 Nexstand K2 Portable Laptop Stand
SGD 19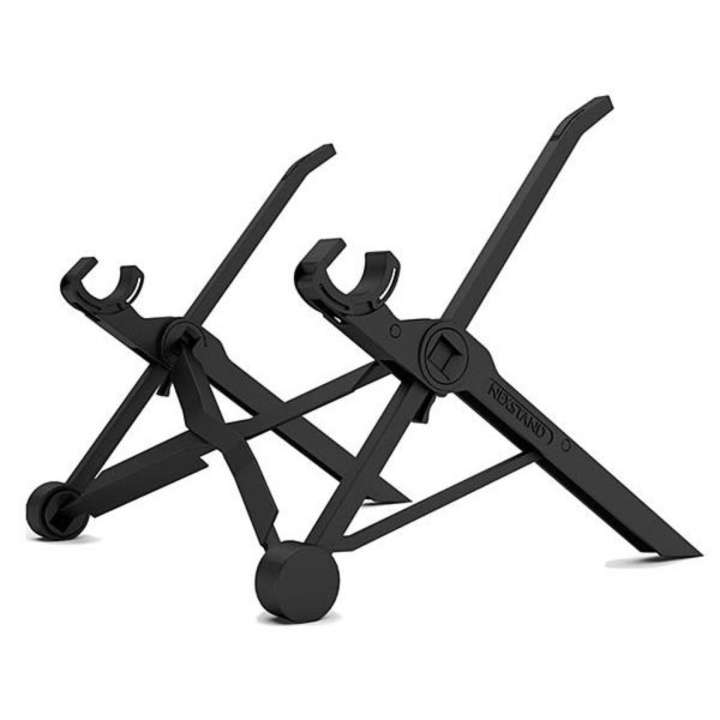 add_circle
8 adjustment viewing angles
add_circle
Good elevation of screens at up to 12.6-inch (32cm)
add_circle
Satisfactory weight support of up to 9kg
add_circle
Comes with a sleeve/pouch for easy portability
remove_circle
Quality is average - one or two reviewers said that theirs went out of shape
The NEXSTAND K2 is a great option for if you're looking for to elevate the height of your laptop screen greatly. This beautifully-compact stand improves your productivity just as well when on-the-go. With 8 height adjustment options, the K2's flexibility lets you raise your screen to an optimal eye level to prevent eye strain. You should be able to elevate your screen 5.5" – 12.6" above tabletop for maximum comfort.
"Steady as a rock" is commonly used to describe to K2's structural design. But what's astounding is that the stand weighs in at only 8 ounces (0.23kg). And its portability comes from the weight and compactness when folded – letting you take it anywhere with ease.
Despite being able to support 9kg in weight, we recommend this best for laptops on the lighter side (below 5kg) in order to keep the stand in tip-top condition. This is because one or two users have said that although support is great, for some reason, their stand goes out of shape or that it just feels flimsy. But in general, the stand can support heavy laptops as claimed by reviewers. More notably, the stand is very easy to set up with.
---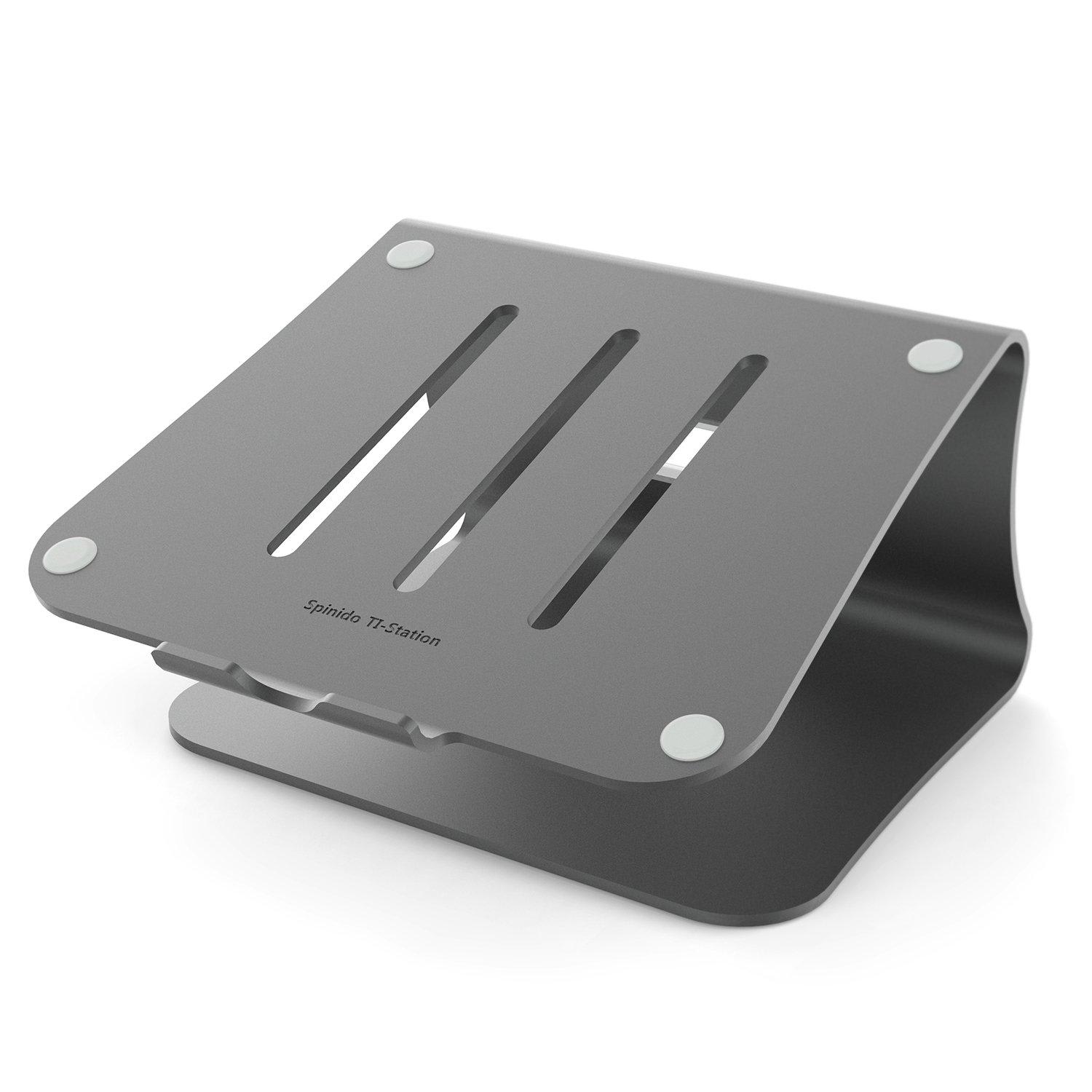 TI-Station Laptop Stand
SGD 39.99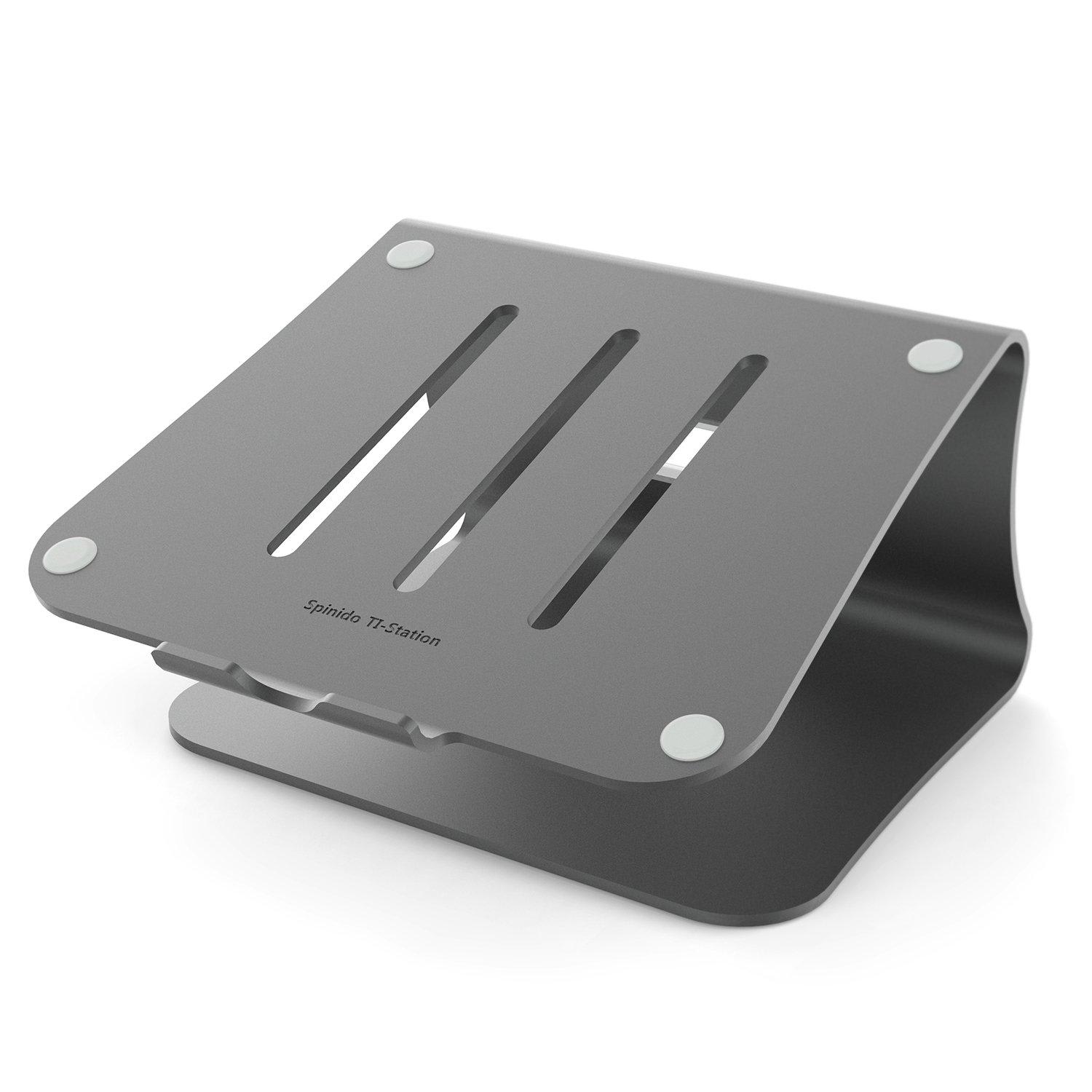 add_circle
Solid and sturdy piece
add_circle
Good choice of material used
add_circle
Elegant looking
add_circle
Supports laptops of 17-inches and under
remove_circle
Not adjustable
The TI-Station Laptop Stand is outstanding for its ergonomically excellent features. Although it's not adjustable, the stand makes a good permanent addition to your desk without compromising on space while providing an optimal viewing angle. Like that, your laptop gets elevated and prevents you from hunching over your desk all day.
Made from aluminium, the metal frame is naturally cool and thus, acts a heatsink for the body of the laptop. As it is a laptop stand of a single and solid design, this lends an attribute to it being an even more stable stand than many other types despite being thin. The stand provides an elevation to the screen height of about 6-inches, which is something to note about as you cannot fold or adjust the piece.
On a lighter note, one great thing that you should know is that space at the bottom that promotes desk organisation; you can just stash your keyboard underneath your laptop when not in use.
---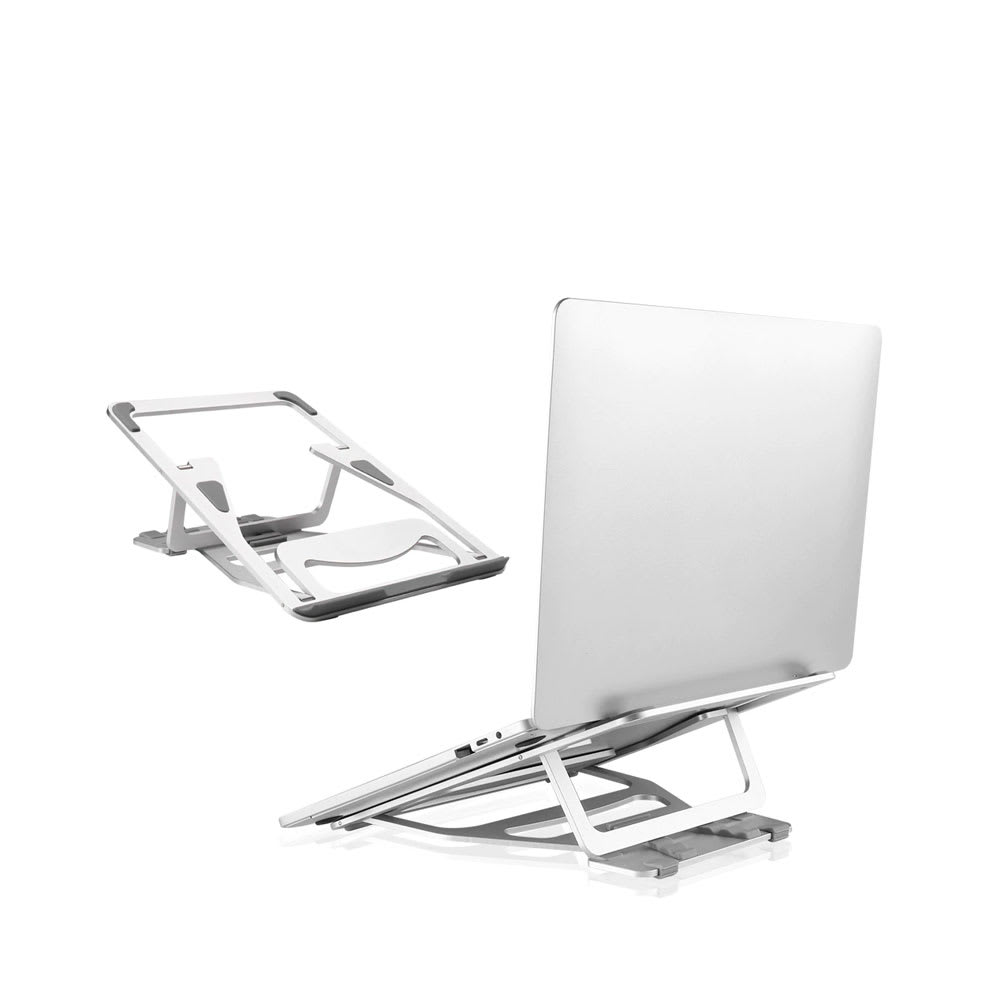 Wiwu Portable Foldable Aluminum Laptop Stand
SGD 29.9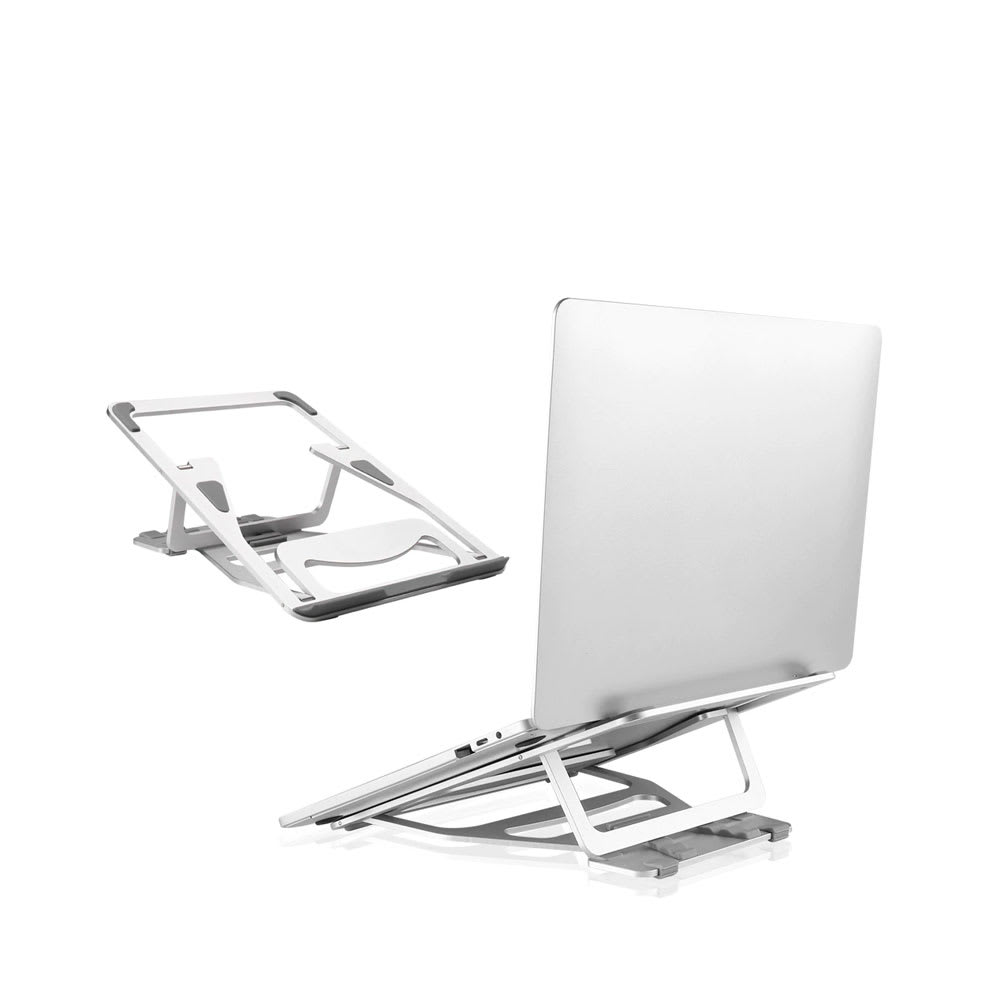 add_circle
Sufficient elevation
add_circle
Sturdy base to provide sufficient support
add_circle
Material used is good to dissipate heat from laptop
remove_circle
Limited adjustments
If you've used your laptop on fabric before, you'd notice the rapid overheating that occurs. Laptops placed on beds tend to face issues dissipating heat due to being trapped underneath and unable to flow out. This situation may result in hardware issues sooner than average if prolonged. Thankfully, we have the WIWU Portable Foldable Aluminium Laptop Stand.
The WIWU comes with adjustable heights by folding the piece at various degree angles from 12 to 30, essentially also increasing airflow under the laptop. In terms of elevation to the screen, it can go from 7.5cm to 10.5cm.
Not only is the stand made of strong aluminium alloy which can support laptops of up to 15.6-inch, but because of the base which consists of a larger support piece, the stand is great to be used on beds or couches without topping over your laptop. Also, the bottom is fitted with non-slip rubber pads for extra stability as you toss and turn in bed.
Moreover, the aluminium panel also draws heat away from the laptop, keeping your laptop running smoothly.
---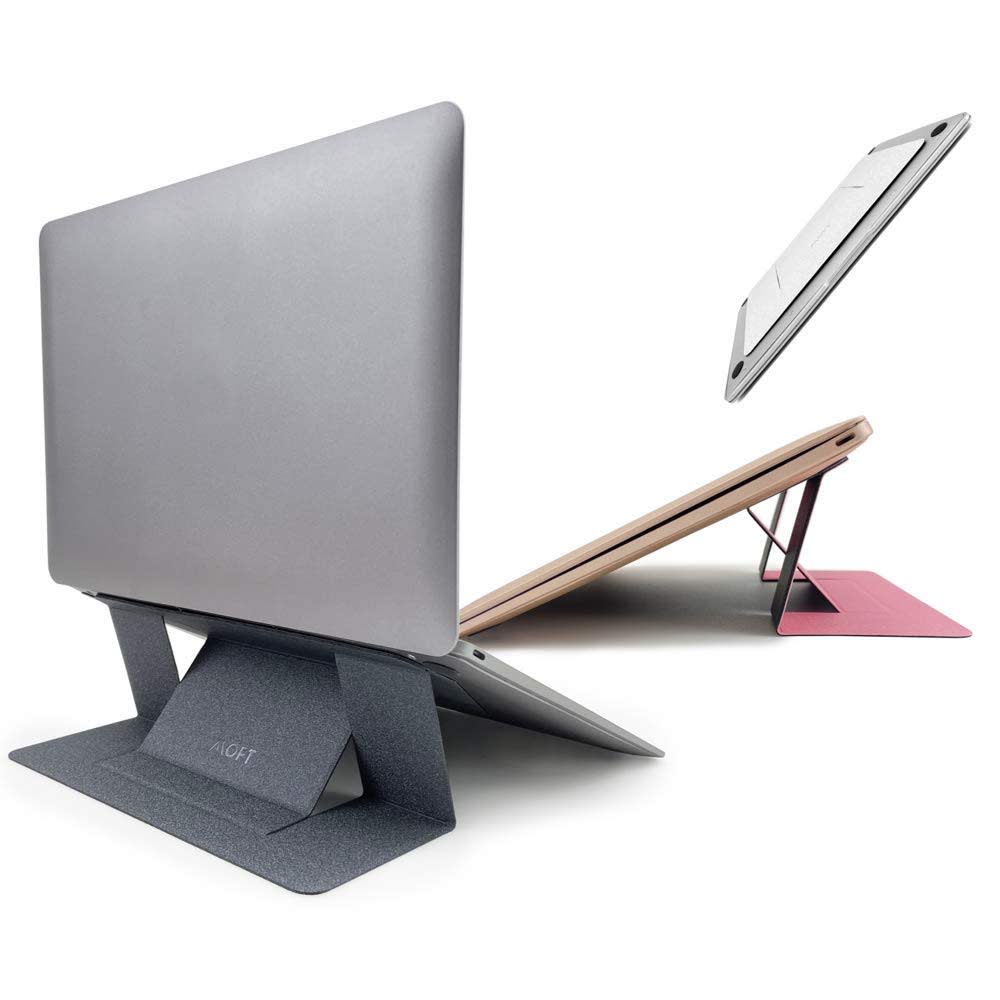 Moft Laptop Stand
SGD 28.99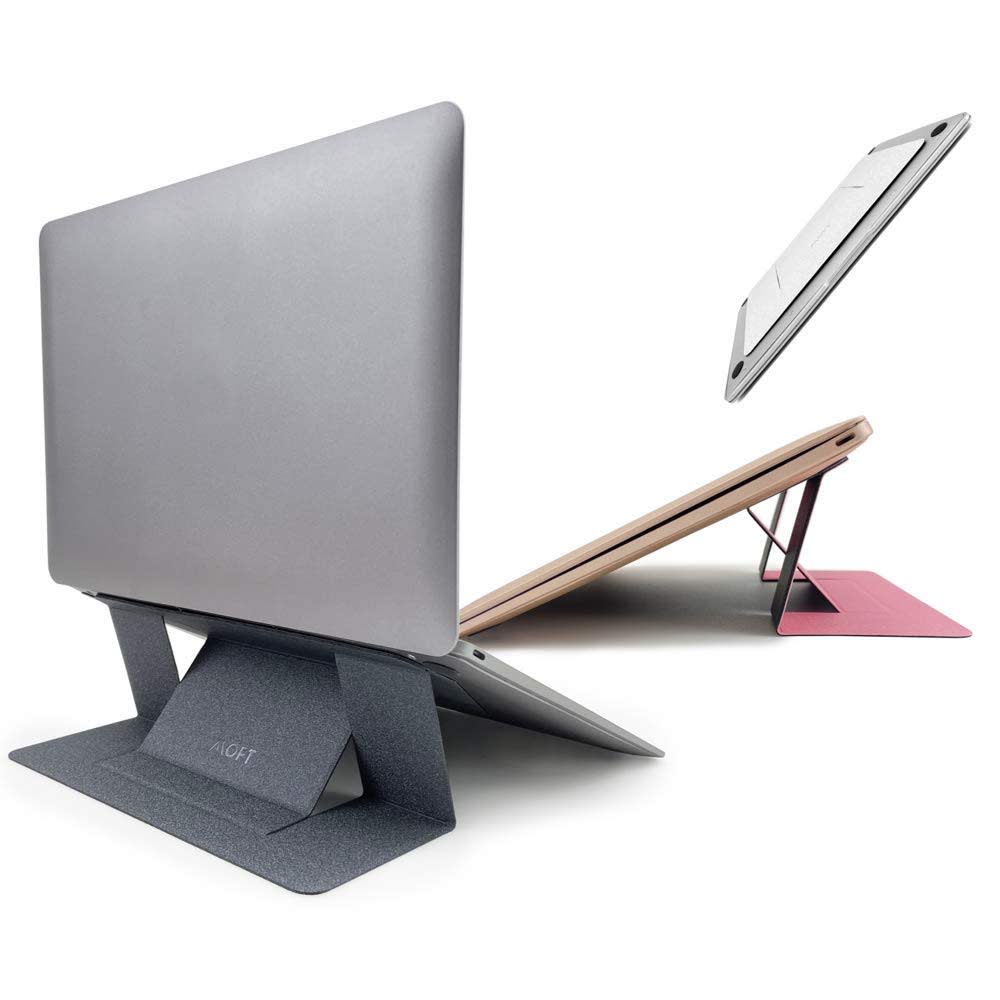 add_circle
Slim and elegant design - perfect for travelling
add_circle
Sturdy despite not being made of metal
add_circle
Little to no extra weight added
remove_circle
Only has 2 adjustment angles
remove_circle
Intended for only one laptop
MOFT, which stands for "Mobile Office for Travelers", are experts in the field of mobile computer accessories. Although its material is of paper-fibre-cloth-based, this laptop stand will steadily hold your device while you work, no matter the angle of adjustment.
Besides the material used for this stand, what makes the MOFT variant different from many others is that it stays hidden when not in use (as it sticks and stays beneath your laptop). Otherwise, the stand has only 2 adjustable options to prop up your screen. When in use, you can enjoy an elevation in screen height of about 5cm with the 15-degree angle or 9cm with the 25-degree angle (as measured by us personally).
Back to the material used; although it's not made of metal, the stand is quite nice and elegant looking, and it's definitely durable enough to support weights of up to 8kg. We do recommend this laptop stand to complement slimmer devices such as a Macbook or Windows Surface Laptops. And because of its foldable and lightweight built, it's definitely a great portable tool for those that are on-the-go.
The stand is able to support laptops perfectly of up to 16-inch in width.
---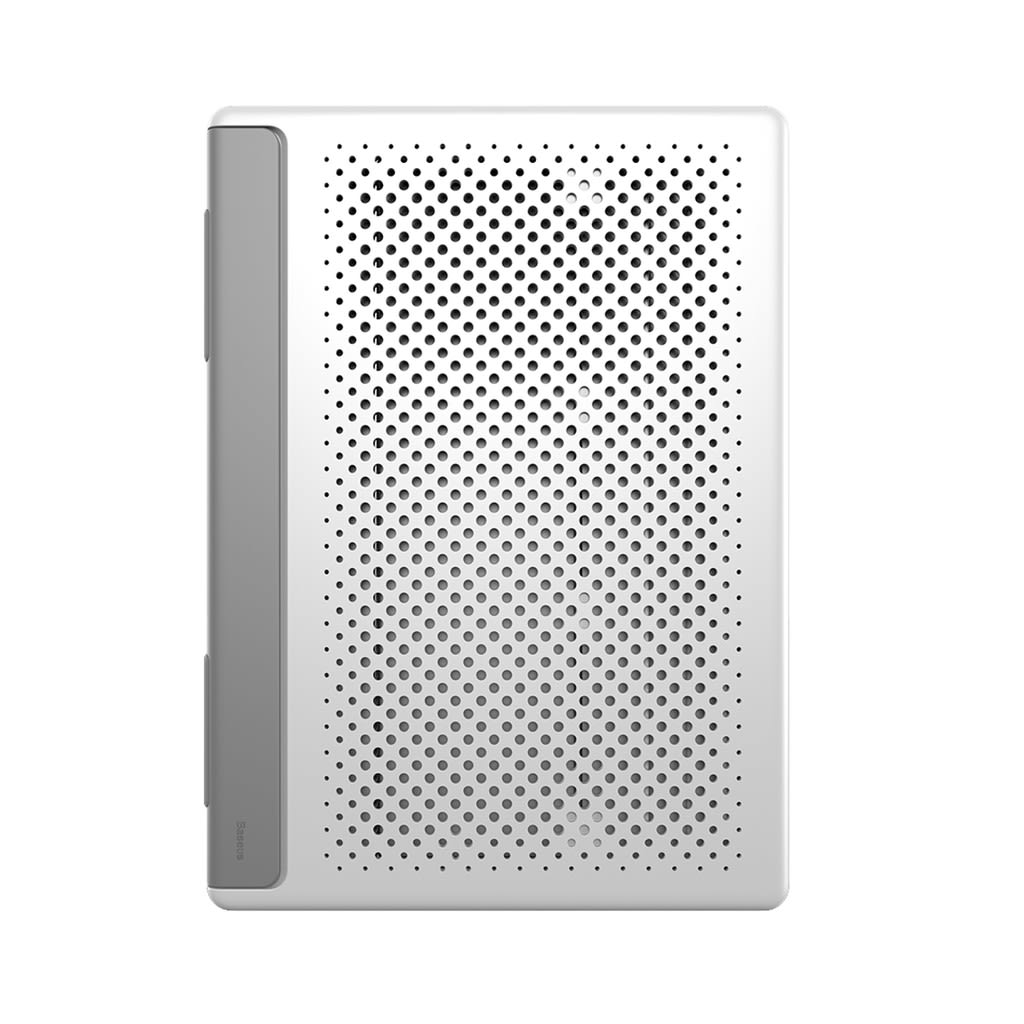 Baseus Mesh Laptop Stand
SGD 22.9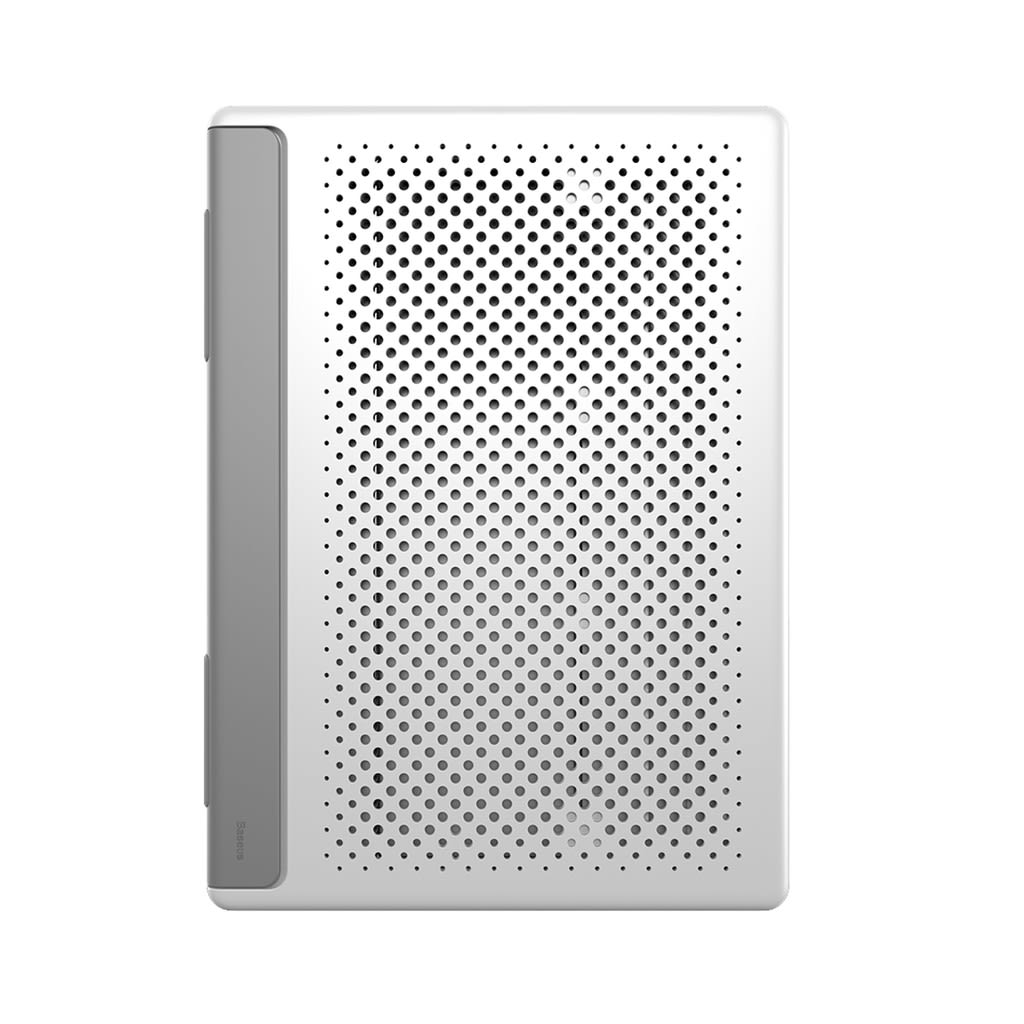 add_circle
Metal chassis for stability
add_circle
Slim and simple design
add_circle
5 adjustment options for varying elevation
remove_circle
Best for lighter/smaller laptops (under 5kg)
For those that want a slim and simple stand to go with their laptops, can consider the Baseus Mesh Laptop Stand due to its sturdy and clean built.
Made of metal which allows for a naturally cool temperature throughout use, the stand has a hollowed mesh design on its laptop resting surface. Together with the metal material used and this design, the stand promotes quick heat dissipation to prevent your laptop from overheating, which is one of the main cause for sluggish laptop performance.
Despite a slim profile, the portable stand is compatible to support laptops of up to 16 inches. It provides 5 varying angles to prop up your laptop's screen height. Not forgetting, but the silica gel components at the base allow for a non-skid experience when in use; perfect for when you need to move things around on your desk.
In terms of real-life performance, reviewers, in general, said that the stand is able to support their laptops. However, some have also claimed that it is not as sturdy as they'd like, and it seems to be mainly due to the weight or size of the laptop. Therefore, we recommend this best for ultrabooks and whatnots.
---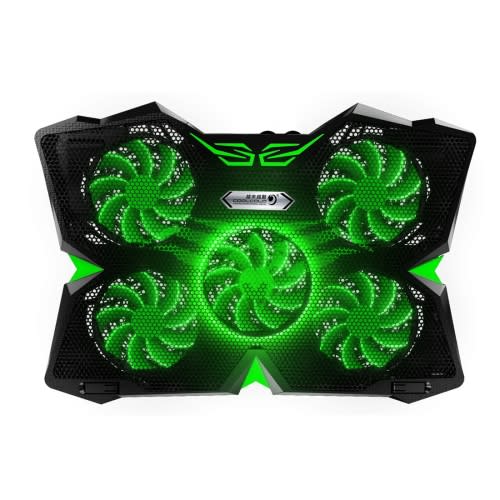 Cool Cold Ice Troll 2S Gaming Laptop Stand
SGD 20.9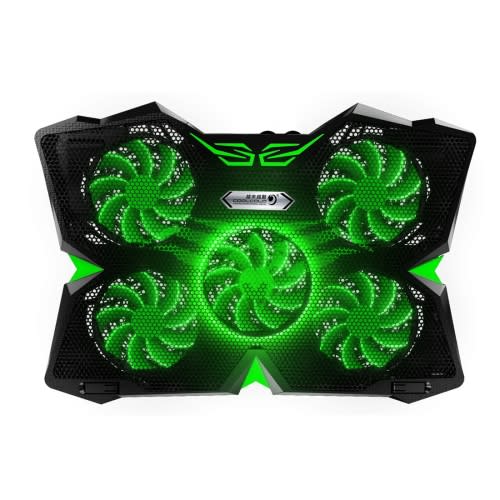 add_circle
Strong fan performance
add_circle
Operates silently
add_circle
Sturdy ABS material used to support laptops (17-inch and below)
remove_circle
Fixed angle
When gaming for long hours, overheating will result in reduced performance. Therefore, it's common to utilise laptop stands for ventilation to allow for cooler operation. For an added boost in power-hungry setups, the CoolCold Ice Magic 2 is a laptop stand that belongs in a hard-core gamer's essential accessories kit.
This particular stand is angled at 28 degrees for minimal ergonomic viewing and is backed by 5 strong LED fans (which is powered via USB-A), offering outstanding cooling performance. The fans are also divided into sections, and each section can adjustable with different speeds that can go up to 1400RPM. So, expect superior airflow that effectively lowers heat on your laptop.
Construction-wise, the laptop is able to support laptops from 12 to 17 inches wide and non-slip base to support laptops.
Overall, the stand is well-received, as it is reported to operate silently even on maximum fan speed. Moreover, the fans are strong in power, and together with the sturdy material used, several reviewers concur that it is a good buy for long-lasting use.
---
More: 14 Best Gaming Laptops For Every Type of Budget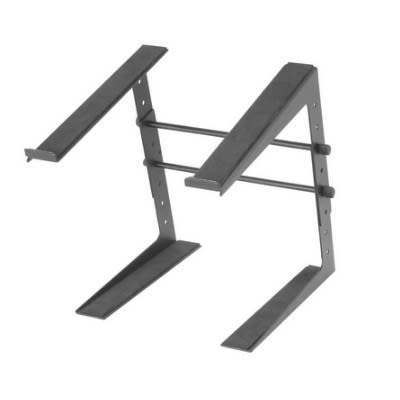 OnStage LPT5000 Laptop Stand
SGD 39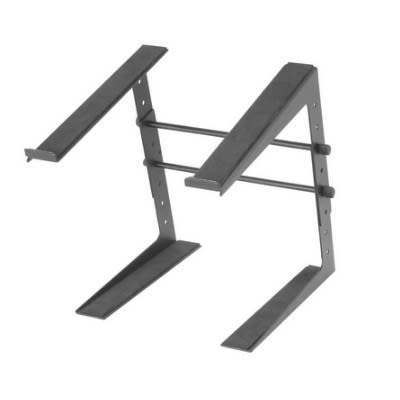 add_circle
High-quality equipment for studio and stage use
add_circle
Good height elevation of up to 10.9 inches
add_circle
Lightweight and portable
remove_circle
Not more than 3.6kg in laptop weight
remove_circle
Fixed angle
Not all laptop stands are compatible for popping up on certain base when your work is a, well, non-office setting. Hence, looking for the right stand is crucial to handling your job well such as for DJ-ing.
On-Stage introduces LPT5000, a sturdy pair of studio-quality L brackets for you to mount your laptop. Even if it's best to not place a laptop that's more than 3.6kg, but the stand can go onto audio equipment safely without compromising your position when DJ-ing. Its stable brackets are height adjustable too, which gives maximum flexibility when you're doing your DJ gig while standing up.
Sadly, the platform angle is fixed, but a good thing is that you get about a height elevation between 6.3 inches and up to 10.9 inches. The combination of height and ergonomic angle provides you with an enjoyable viewing angle of the crowd easily. Not to mention, the sleek, black powder-coated stand has a light and portable built, which makes it perfect for the artist on-the-go!
---
Considerations to have before getting a laptop stand
What would your usual laptop set up be? It's easy to think that you need a laptop stand. But different stands can also provide a different experience. Obviously, if you just need one for your office, a solid, non-foldable piece would do just fine whereas if you're constantly on-the-go, you may want to figure out how compact the stand can fold into.
Adjustment angles are very important. While solid pieces are generally more stable and durable, you'll have to live with only one angle option. So this type of stand would fit a basic, fixed setting whereas if you constantly change your work setting, consider one with at least two to three angle options.
A laptop built is also important in determining the right stand for you. In short, a wide laptop stand will provide a sturdier (and less scary) experience. More often than not, laptop stands in the marketplace usually accommodate to 15-inch laptops (and smaller) users. So smaller laptops are more flexible in the varieties available, whereas bigger laptops (especially 17 inches) may need a wider stand, even if the laptop meets the stand's maximum weight support.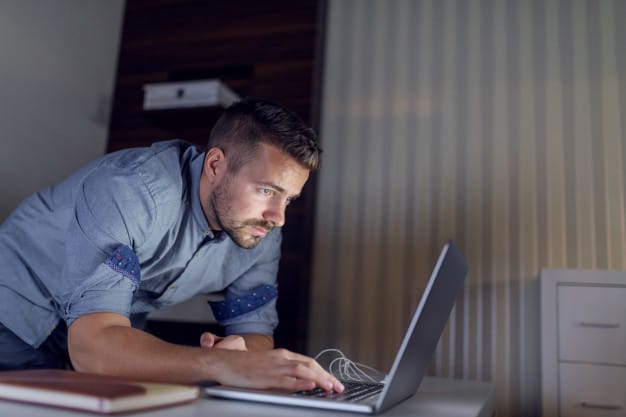 ---
Conclusion
Laptop stands are one of the best things you can invest in especially if the laptop act as a main driver in your daily life. Not only do you support a better body posture, but it'll also affect your overall body health (think, your eyes will benefit from the reduction in harsh viewing angles) and thus, boost overall productivity.
---
Disclaimer: The pricing shown is just a good indication of how much these products are worth. The prices could change based on the e-commerce promotions that are going on. If some of the products are not available, do email us at [email protected] Thank you!