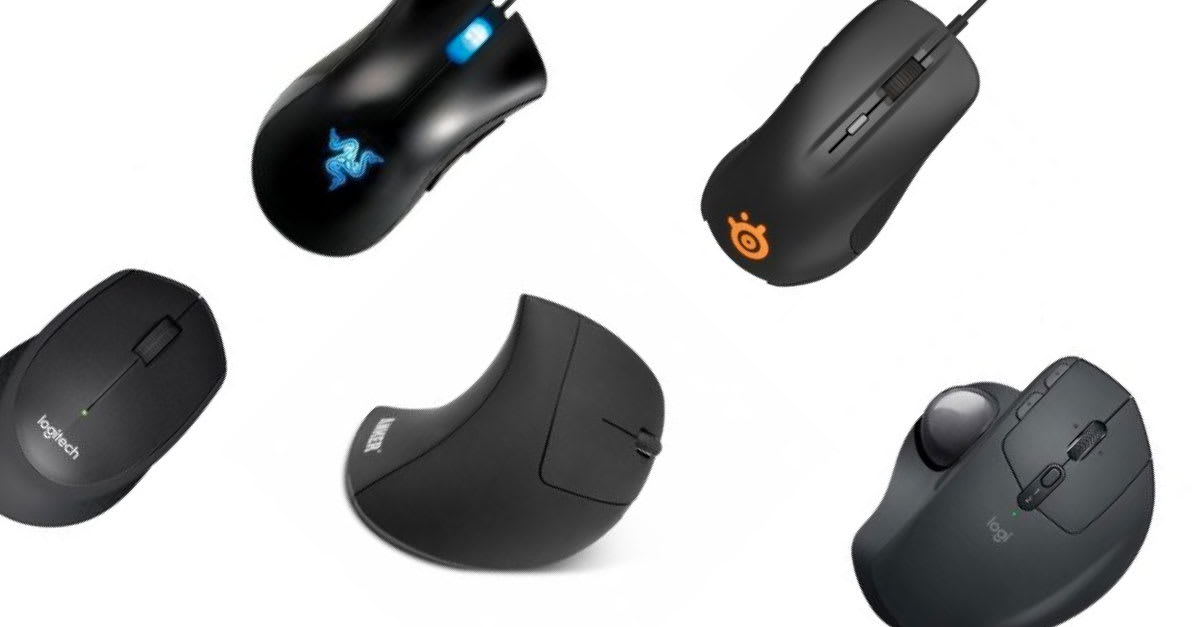 There's no question that a decent mouse can improve your productivity and gaming experience. However, using it for more than a few hours can put some toll on your wrist, causing pain and discomfort. You do have a choice though. You can either endure the uneasiness and risk having tendon problems in the future, or you can get one of these ergonomic mice.
Best cheap ergonomic mouse for thumb pain
Price from SGD24.88
Okay, our first product is the cheapest ergonomic mouse on this list, Logitech M331 Silent Plus. It's simple but does the job smoothly and efficiently - whether it's work or gaming.
One of its best features is its quietness; you won't be hearing clicks no matter how hard you smash those buttons. Aside from that, it also gives a solution to people who are experiencing thumb pain due to surface friction. And that's all thanks to its rubbery soft thumb rest.
The M331 is a high-quality mouse that's comfortable to use. Although it doesn't have a lot of surprising features, it's one worth having - especially when you're on a budget.
Best vertical mouse for carpal tunnel syndrome sufferers
Price from SGD62.00
Some of you might have problems when using a regular mouse. It could be due to a weak joint, or you're suffering from carpal tunnel syndrome, which is quite unfortunate. But fret not because this mouse will fix your pain and discomfort, the Anker 2.4G.
First of all, the Anker 2.4G is a weird-looking mouse. It doesn't even look like a computer mouse at all. It's vertical; inclined towards a 70-or-80-degree angle. However, this trait puts your wrist in a completely relaxed state. So you're never going to experience any tension in your hand.
If you're okay with its funny appearance and the need to practice navigating using it to improve your accuracy, this mouse is for you. It's durable, reduces your discomfort to a whole new level, and reasonably priced.
Best wireless ergonomic mouse for work
Price from SGD134.10
First things first, this mouse uses a trackball to control your cursor. If you don't want to use your thumb to navigate, then this mouse isn't for you. But if you want an ergonomic mouse where your wrist isn't going to move at all, then you'll want the Logitech MX ERGO Advanced.
The MX ERGO Advanced is designed for work. To be honest, you're going to have an incredibly difficult time using this mouse for gaming. But when used for work, you'll find yourself moving your thumb to select things here and there with minimal to no effort at all.
You can use it on two workstations at once, and you can shift by merely pressing its shift button. Furthermore, you can do both vertical and horizontal scrolling, which is super handy when dealing with spreadsheets and sophisticated programs for coding. The MX ERGO is one of the most comfortable mice on this list that has a customizable angle to suit your preference.
Best left-handed mouse
Price from SGD142.82
One of the rarest things in the world is "things" that are meant for left-handed people. That said, this mouse is no exception, the Razer DeathAdder Essential. It's the only reliable left-handed mouse today that will significantly improve your performance in gaming or work.
First of all, it has an ergonomic shape that's meant for your left hand. It's different from an ambidextrous mouse, so if you're the only lefty person at home, no one else can use it. It's accurate and has a changeable DPI (dots per inch) setting.
The only downsides are its limited feature and high price. For around SGD 140.00, you only have five customizable buttons and a single light color display. Nonetheless, it's the best solution for left-handed people who are enduring a regular mouse or wanting to upgrade from an ambidextrous one.
Best ambidextrous ergonomic mouse
Price from SGD129.90
Now, if you're neither left-handed nor right-handed, then you're part of the superior 1% of the population, ambidextrous. If you can use a mouse without any difficulty on both hands, you're better off using the Razer Taipan.
It's ergonomically designed with two thumb rests for both hands. Furthermore, you'll enjoy customizing nine buttons that are in perfect place for whatever hand you'll decide using for the day. And aside from that, anyone can use this mouse. So it's also an ideal mouse for the entire family.
Overall, the Razer Taipan is versatile and accurate enough. And as a side bonus, it's aesthetically beautiful and durable as well. Although it's a wired mouse, which it shouldn't be for its price range, it's still a great purchase.
Best ergonomic gaming mouse
Price from SGD149.00
Next on our list is the best mouse for gaming, the Corsair Glaive. For starters, it's super accurate and has very tactile clicks on each button (a bit noisy though). Plus, since each gamer has a different grip, it has three changeable thumb rests. This feature allows you to tailor your grip according to your style for maximum comfort.
The Glaive is also one of the few mice that has a fully customizable DPI setting. That means you're not left with presets, but you're able to make presets. To make it simpler, instead of swapping 16,000 DPI to 14,000 DPI, and then 2,000 DPI, you can set whatever number you want. So you'll have better precision over other players.
Although this mouse is the most expensive one on this list, we guarantee you that it's worth buying with all its bells and whistles. If you want to improve your gaming performance, then the Glaive is a must-have for you.
Best for small hands with wrist pain
Price from SGD71.60
Let's face it; some people are average Joes who only want to have a versatile mouse that can do a bit of everything. However, a few of them are born with small hands, which makes it quite hard to find a mouse that will suit their needs. If you have small hands, there's no need to worry though as the Microsoft Sculpt Ergonomic Mouse is here for you.
First of all, it's super easy to use. It's more of a typical mouse but with a slight 45-degree angle to reduce wrist tension. This mouse is also durable and has a circular shape. Its shape allows smaller fingers to grip it better. The only thing we dislike about it though is its texture. It's too glossy so it easily stains and catches dust. But nonetheless, it's an ideal mouse for people with smaller hands.
Best ergonomic mouse for large hands
Price from SGD72.90
Last product on our list is a complete opposite of the previous mouse, the SteelSeries Rival 300. Well, if there are people with small hands, there are also people with large hands. And some mice aren't good enough to provide you comfort if your hands are too big.
With the SteelSeries Rival 300, your palm will rest well on this mouse's base. It also has a textured, long thumb rest so you can grip it comfortably. And if your other fingers are too long, it also has an extension to keep them in place.
This mouse has six buttons and a customizable DPI setting up to 6,500. The only thing we dislike about it is its weight. It's a bit on the heavier side but totally understandable and shouldn't be an issue if you have large hands.
Disclaimer: The pricing shown is just a good indication of how much these products are worth. The prices could change based on the e-commerce promotions that are going on. If some of the products are not available, do email us at [email protected] Thank you!