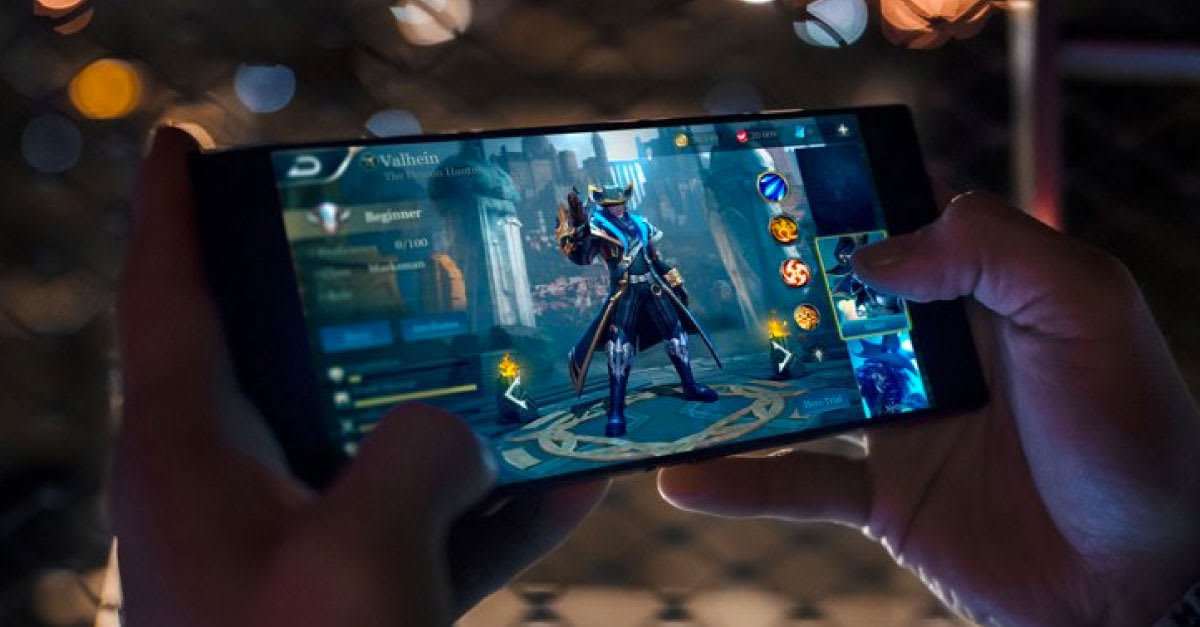 As unexpected as it is, gaming on mobile is now something that should be treated more seriously in the e-sports industry. A lot of smartphone games are now MMOs (Massively-Multiplayer Online) such as PUBG and Mobile Legends. It just shows that there's a bright future ahead for phones and tablets to be used as an additional medium in gaming.
So if you want to compete and be exceptional at it, investing in a powerful phone is a decent start. Here are seven smartphones that we consider to be the best when it comes to gaming.
Best cheap smartphone for gaming
Price from SGD329.00
First on our list is a budget phone that will give everyone a decent experience in mobile gaming, the Samsung Galaxy J7 Pro. To clear it up early for you: Yes, you can play PUBG mobile but only on its lowest settings. There's a bit of lag, but it's bearable and will still allow you to shoot your opponents with accuracy.
Other games, those on the lighter side, will play smoothly on this device – especially casual and offline adventure ones. To help you choose which games are best for this phone, see that it fits with a couple of these specs: 1.6GHz processing speed, 3GB RAM, and 32GB of storage.
Overall, it's relatively cheap and has a decent front and rear 13-MP camera. It's a dual-SIM phone as well, allowing you to use two networks at a time. This device is ideal for those working in an office that loves to play, too, and it comes from a reliable brand.
Best Apple phone for gaming
Price from SGD1,888.00
If you're an Apple fan, and you love gaming, then nothing can beat Apple's current flagship, the Apple iPhone X. For starters, it can play or run anything available on the App Store. Aside from its powerful engine, you'll also appreciate its dual 12-MP cameras that provide stunning images.
The only concern with this device is its price. It's by no means cheap and is actually the most expensive one on this list. But if money isn't an issue for you, then you're going to be more than satisfied with its high-speed performance and features.
With the iPhone X, you'll enjoy a button-free screen. By just swiping, you can navigate through everything. Plus, it has a reliable facial recognition system to keep your phone locked. Your face is the actual key. If you think that's awesome, then this phone is for you.
Best gaming phone with a big screen
Price from SGD780.00
Next on our list is for those who love a bigger screen but narrow enough to provide that phone-like experience, the Samsung Galaxy S8 Plus. This phone will provide you with an intense gaming experience due to its long 6.2-inch screen. Not only is its display stunning but also its performance, thanks to its octa-core processor with 4GB of RAM.
Aside from the wide but narrow screen design, you'll also appreciate its slightly curved bezel. This feature allows you to hold the device more comfortably and get more out of what you see on its screen. When it comes to aesthetics, this phone is undoubtedly one of the best there is on the market.
The Galaxy S8 Plus is reasonably priced and can play high-end mobile games smoothly. Although some games that are super new and demand quite a lot of memory might need to be set to medium settings for better performance. The only thing you might dislike about it though is its camera. Although it's not bad, it's just not that great for its price.
Best for gaming and camera
Price from SGD1,098.00
Next on our list is a phone that provides you with an excellent gaming experience and a professional-grade rear 20-MP camera, the LG V30 Plus. This phone has also a huge 6-inch display. But what makes it stand out is that it's waterproof at 1.5 meters in depth for 30 minutes, which is quite fascinating.
Since it has a superb camera, you'll enjoy taking pictures day in and out. Plus, if you and your friends would decide to go to the beach or pool, you have no worries about getting this phone wet. And you can even play your favorite games while being cozy in the bathtub, too.
Overall, it's a smartphone that can handle a lot of things. It's versatile and can run high-end games without a problem. The only concern though that it's not a selfie phone. For some of you that love taking selfies, you're going to hate it for its front 6-MP camera – the super opposite of its rear.
Best game phablet
Price from SGD698.00
Some of you prefer a tablet, some prefer a phone, and a handful would like the best of both worlds. If that's something you'd want, then this phablet would be perfect for you, the Huawei Mate 10. This device has a wide 5.9-inch screen, giving you that spacious tablet-like experience.
When it comes to performance, even though it's only SGD 698.00, you get to enjoy an octa-core processor (HiSilicon Kirin 970) with a 4GB RAM. In simpler terms, it's fast and reliable. This phone is ideal for MOBA games like Mobile Legends as it provides you more display advantage over regular, narrow-display phones.
Aside from its awesome performance, it also has a surprisingly powerful rear 20-MP camera with a decent front dual 12-MP camera. The only problem though is that the images it produces are quite raw. It's more of an all-rounder phone.
Best smallest gaming phone
Price from SGD999.90
Next on our list is small in size but big on surprises, the Google Pixel 2. For starters, it only has a 5-inch screen display. Although opting for this phone will give you a bit of disadvantage due to the smaller screen, it does compensate for its outrageous responsiveness.
The specs are similar to the previous product; the only thing that makes it faster is because of the smaller screen display. It also has a longer battery life, too. Aside from that, you'll be surprised that it's also waterproof for up to a meter for 30 minutes.
The Pixel 2's cameras are decent. The rear, of course, gets more power at 15 MP while the front is at 8 MP. And since there's more room due to its smaller screen, it has bigger speakers that provide better sound than most on this list.
Best Android phone for gaming
Price from SGD1,068.00
Last on our list is the one that's truly made for gaming, the Razer Phone. It's the first phone that was manufactured by a global gaming hardware manufacturing company, Razer. When it comes to its specs, nothing can come close to its Qualcomm® Snapdragon™ 835 Mobile Platform Processor that's accompanied by 8GB of RAM (LPDDR4, 1866 MHz).
You can play every game available for mobile on high settings. Aside from that, it has a powerful 4000 mAh lithium-ion battery that should give you a three-hour gaming session on high settings.
And to make your experience even better, it's the only device that has two amplifiers, one for each speaker. This phone literally provides a decent bass, which is incredibly rare. So you can ditch your headphones and enjoy the sound straight from the device. Lastly, its design is very masculine that catches everyone's attention at just a quick glance.
Disclaimer: The pricing shown is just a good indication of how much these products are worth. The prices could change based on the e-commerce promotions that are going on. If some of the products are not available, do email us at [email protected] Thank you!