Who says you need to break the bank just to get a reliable smartphone that has all the top features? You should not be easily put off with the 'budget' title as there are plenty of affordable options on the market that has great overall quality in its performance and even camera setups.
In today's article, we shortlisted the top budget phones aimed at giving you a healthy selection of affordable mobile devices to suit a variety of applications.
---
Choosing a budget smartphone
Below are a few tips to help you out when shopping for a new budget smartphone:
1. What do you want out of your phone?

Each phone comes with different specifications and features to support various applications. If you're a photography enthusiast, then you should look for a phone with an impressive camera and similarly, one with a powerful processor if you love gaming.
2. Are you a heavy user or light user?

Heavy users should go for smartphones with a longer-lasting battery and faster charging. This way, you won't need to worry about your devices running out of juice mid-day. For those who only need a phone to support you through daily tasks then a phone with 3,000mAh (if the screen is beyond 5-inch) should be enough to last you a full day with no issues.
3. What size phone are you comfortable with?

Latest smartphones are getting bigger with some reaching 6 inches or more. While there are customers who feel comfortable with larger phones, others may find it a bit too awkward to hold such a large device. Therefore, it is best to head to a mobile store and hold the device in your hands to get a good feel of it before making that purchase.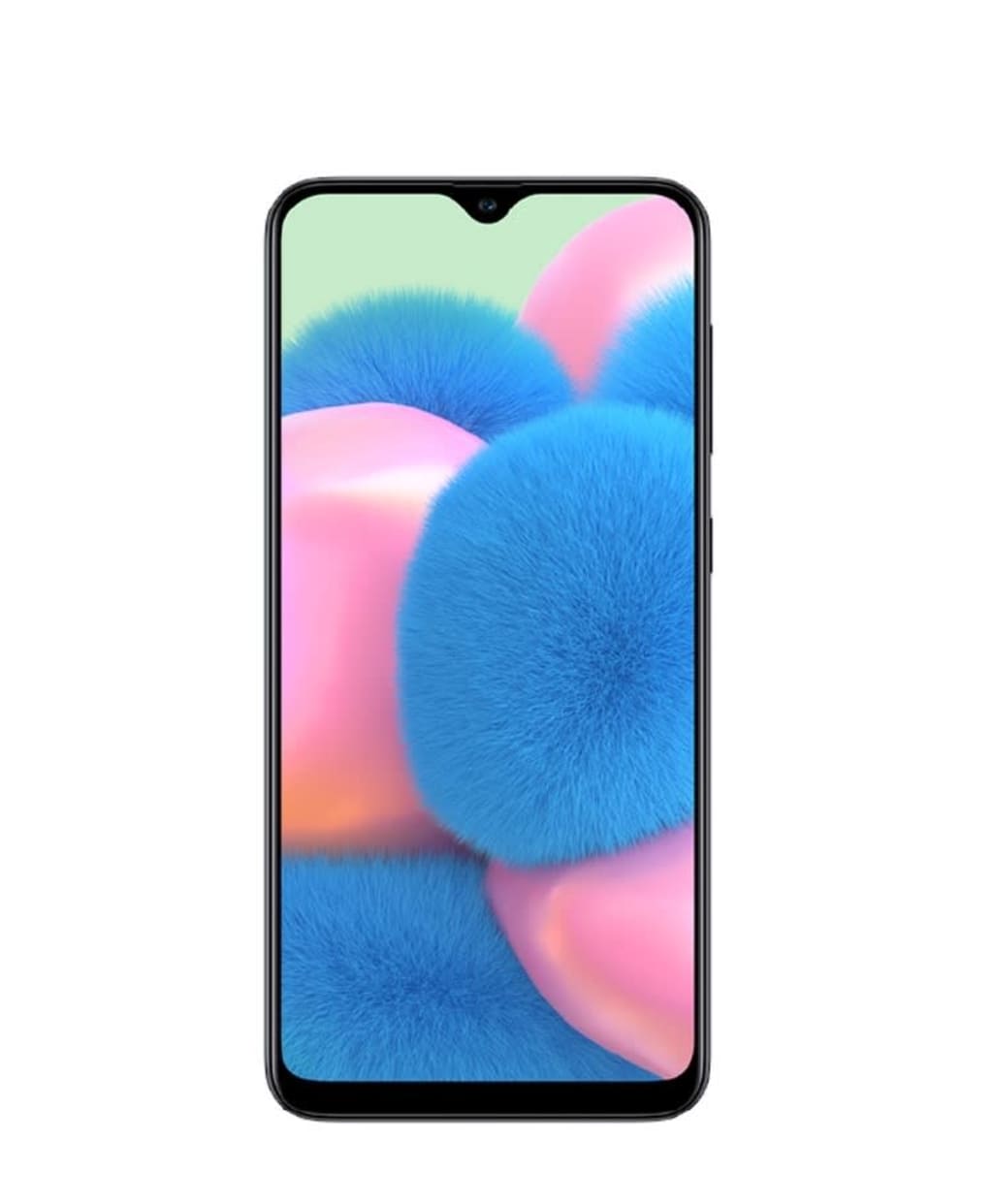 add_circle
Has AMOLED screen
add_circle
Good, solid hardware
add_circle
Updated processor
remove_circle
Low density PPI of 268
CPU: Exynos 7904, octa-core
GPU: Mali-G71 MP2
RAM: 3GB / 4GB
Storage: 32GB / 64GB / 128GB
Main camera: 25MP (wide), 8MP (ultrawide), 5MP (depth)
Front camera: 16MP (wide)
Screen: 6.4-inch, 720 x 1560 pixels, Super AMOLED
Battery: Li-Po 4000 mAh battery, non-removable
Connectivity: USB-C, 3.5mm headphone jack
OS: Android 9.0 (Pie), upgradeable to Android 10, One UI 2.0
Samsung has long been churning out high-quality phones for all kinds of budgets, and the Galaxy A30s holds the baton for the title as one of Samsung's best budget smartphones out there.
For starters, the body looks sleek and very well-made; a feature that many now look for in budget smartphones. The diamond-cut look offsets the plastic back, making the phone look premium. This feature also pairs well with the Super AMOLED screen that spans 6.4 inches. Although the resolution is 720p, the screen still looks alright, given that AMOLED does give a little sharpness effect (but the impact isn't that big).
For connectivity, you'll probably be glad that there's still a headphone jack for you to use, so you can alternate between wireless and wired audio peripherals.
Moving on; you get a triple camera setup, with the primary lens at 25MP (+8MP and 5MP) and an aperture of f/1.7 - not too bad for a budget phone in this day of age. As the depth sensor offers an aperture of f/2.2, portrait photos with creamy bokeh are possible. The front camera, meanwhile, holds a 16MP camera.
On its CPU, Samsung Galaxy A30s utilizes an octa-core Exynos 7904 chipset and a Mali-G71 MP2 for GPU. The CPU model shows that this won't be a phone that's meant to handle power-hungry apps and games. But with a GPU that's built to handle battery juice well, decent RAM capacity and an octa-core chipset, this phone should be alright for multitasking.
Overall, the phone offers good value, mainly for the nice screen (which has an in-screen fingerprint sensor) and satisfactory camera setup.
---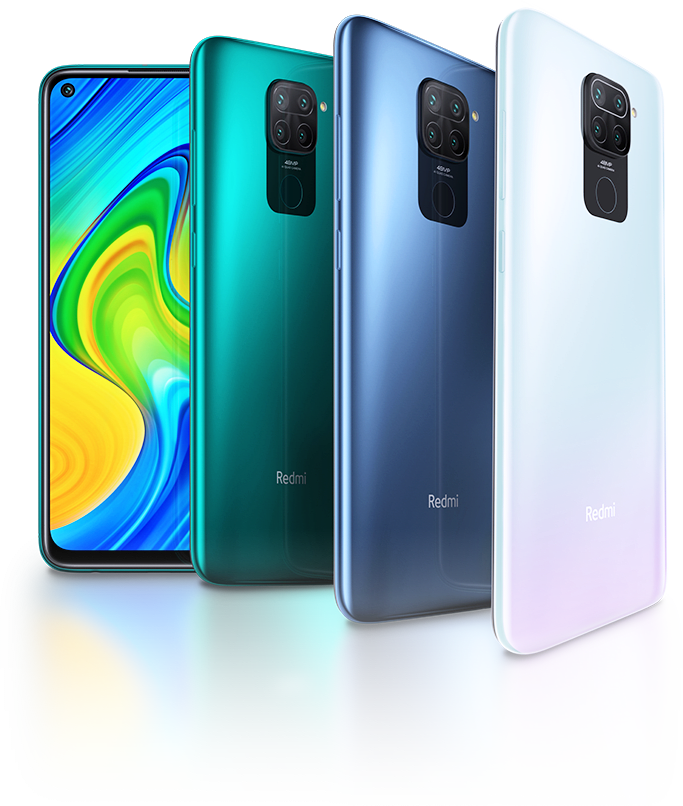 add_circle
Mid-range gaming possible
add_circle
Nice camera setup
add_circle
Big battery life
CPU: Helio G85, octa-core
GPU: Mali G52 MC2
RAM: 3GB / 4GB
Storage: 64GB / 128GB
Main camera: 48MP (wide), 8MP (ultrawide), 2MP (macro), 2MP (depth)
Front camera: 13MP (wide)
Screen: 6.53-inch, 1080 x 2340 pixels, IPS LCD
Battery: Li-Po 5020 mAh battery, non-removable, fast charging (18W), reverse charging (9W)
Connectivity: USB-C (2.0), Bluetooth 5.0
OS: Android 10, MIUI 11
For under S$300, you get a lot of premium features with a good mix of budget-friendly components that makes up the Note 9.
What you'll love is the fact that this phone is equipped with a mid-range gaming CPU. Although the entry tier only offers 3GB of RAM, the octa-core chipset should be able to handle better-than-average spec-devices. It should offer lag-free gaming sessions and also good efficiency in handling power even on heavy apps/games. Other than that, the chipset supposedly offers greater navigation accuracy and better multi-tasking performance than its predecessors.
In terms of camera, you get a satisfactory quad-camera set up consisting of a 48MP shooter as the primary lens. Not only that, but there's also a macro shooter albeit, it's only 2MP so don't expect amazing shots of little critters.
As for battery performance, reviewers are pleased with the big battery life. Gaming reviews can attest that normal use of the phone should be about 2 days, but less than that for gaming. However, many concur that the Redmi Note 9 endures well in battery efficiency compared to several other higher-end models.
One clear fact that we do appreciate is sufficient space being provided in the entry tier. Should you have additional money to spend, we recommend the 128GB storage option especially if you're one to pack your phone with apps and photos.
---
add_circle
Well-balanced in specs
add_circle
Good battery life
remove_circle
Camera setup could've been better
remove_circle
No full Google App store support
CPU: Mediatek Helio P22, octa-core
GPU: PowerVR GE8320
RAM: 3GB / 4GB
Storage: 32GB / 164GB
Main camera: 13MP (wide), 5MP (ultrawide), 2MP (depth)
Front camera: 8MP (wide)
Screen: 6.3-inch, 720 x 1600 pixels, IPS LCD
Battery: Li-Po 5000 mAh battery, non-removable, reverse charging
Connectivity: Micro USB (2.0), Bluetooth 5.0
OS: Android 10, EMUI 10.11 (no Google Play)
As one of the world's top-leading smartphone brand, Huawei fits a satisfactory computer into a budget device called Huawei Y6P.
Under the brand's entry-level series, Huawei Y6p utilises an octa-core processor of Mediatek Helio P22 which can power you through most popular games like PUBG and Mobile Legends thanks to its GPU Turbo capabilities. However, reviewers do note that drops in frame rate are evident. But with a CPU choice that is able to handle efficiency well, the phone will have no problem multitasking but is still prone to stutters.
On the triple-camera setup, is where Huawei has stepped back a little to offer a more affordable price-tag. With its primary shooter at 13MP, photos taken by several reviewers are said to be satisfactory albeit a little more saturated than expected. Moreover, there's no night mode, so photos may look slightly washed out in the dark (and grainy). Nevertheless, it still performs alright.
Other than that, you get a good amount of 5,000mAh battery life and a 6.3-inch Dewdrop screen which can go quite bright even in the sunlight. But doing so will leave de-saturated colours. We do have to give it to the beautiful colour options of the phone. Although the cover is not made of metal, it does look premium and should leave budget users happy with the balanced-budget phone, given that it's just only slightly over S$200.
---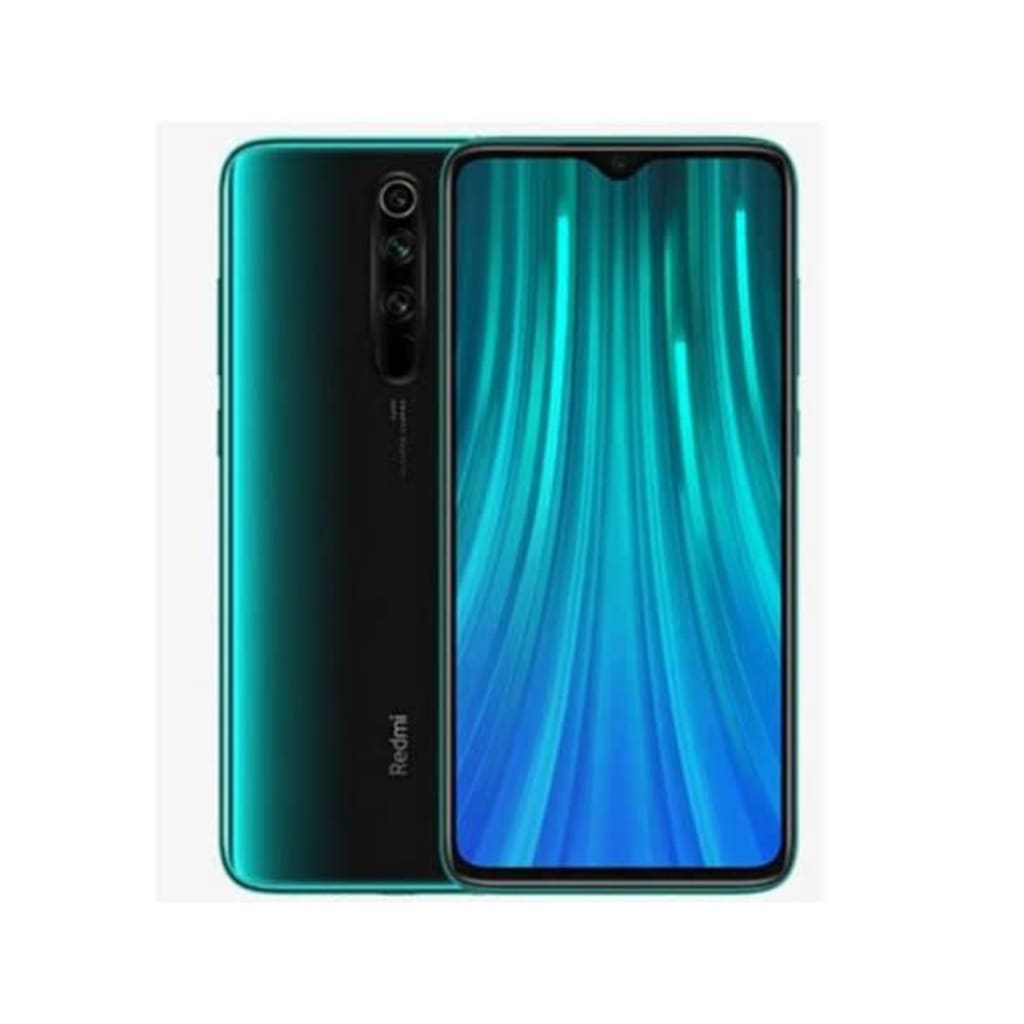 add_circle
Good all-rounder performance
add_circle
64MP Camera setup
add_circle
Good screen despite the use of an LCD screen
add_circle
High-settings are possible for games
remove_circle
Battery efficiency is just average when gaming
CPU: Helio G90T, octa-core
GPU: Mali-G76 MC4
RAM: 6GB / 8GB
Storage: 64GB / 128GB / 256GB
Main camera: 64MP (wide), 8MP (ultrawide), 2MP (macro), 2MP (depth)
Front camera: 20MP (wide), HDR
Screen: 6.53-inch, 1080 x 2340 pixels, IPS LCD, HDR
Battery: Li-Po 4500 mAh battery, non-removable, fast charging (18W)
Connectivity: 3.0 USB-C, 3.5mm headphone jack
OS: Android 9.0 (Pie), upgradeable to Android 10, MIUI 11
Thank goodness for budget brands like Xiaomi, who continue to bless us with great value items like Redmi's Note 8 Pro. First released in late 2019, the phone not only notoriously became the first phone to have a 64MP camera sensor but also did it in a mid-range phone.
The phone features MediaTek's powerful octa-core Helio G90T processor with a Mali-G76 MC4 for GPU. With that, we see that Redmi Note 8 Pro is able to power through most popular games like PUBG and Asphalt without much noticeable lag through tests by several reviewers. With a built-in cooling pipe in the phone, the phone is acceptably warm at most, hovering at about 40 degrees when on high settings.
Note that MediaTek had a rocky ground previously for their bad CPU efficiency, which resulted in many users choosing not to buy the phone. But according to reviews, this chipset seems to be much more improved and efficient.
But it has been tested by many reviewers that the current CPU handles battery life rather averagely, so Xiaomi counters this with a big battery of 4,500mAh battery. Additionally, the CPU carries support for MediaTek's own fast-charging system so all hope is not lost.
Gaming aside, other things to look forward to about the Note 8 Pro include the astounding quad-camera setup which handles low-light photos well, the HDR-supported LCD screen of 6.5-inch and an old friend; the 3.5mm headphone jack. All in all, Redmi Note 8 Pro is a fine device to set up the bar another level higher for a terrific mid-range phone.
---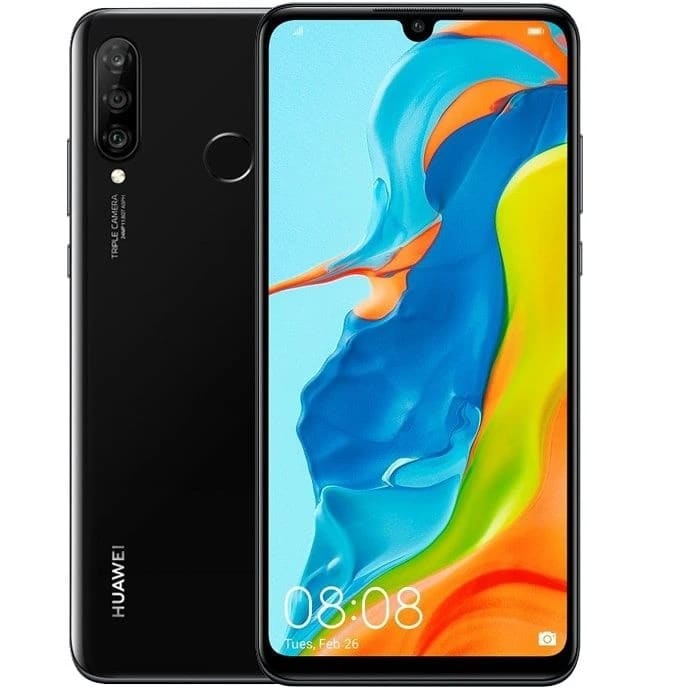 add_circle
Good multi-tasking capabilities
add_circle
Good amount of storage
add_circle
Nice choice of RAM
remove_circle
Average battery life
CPU: Kirin 710, octa-core
GPU: Mali-G51 MP4
RAM: 4GB / 6GB / 8GB
Storage: 128GB
Main camera: 28MP or 48MP (wide), 8MP (ultrawide), 2MP (depth)
Front camera: 24MP or 32MP (wide), panorama support
Screen: 6.15-inch, 1080 x 2312 pixels, IPS LCD
Battery: Li-Po 3340 mAh battery, non-removable, fast charging (18W)
Connectivity: 2.0 USB-C, 3.5mm headphone jack
OS: Android 9.0 (Pie), upgradeable to Android 10, EMUI 10
There are many budget phones out there that sports a good camera set up, with some even holding a higher megapixel primary sensor. But how many of them have an equally great secondary camera sensor?
The Huawei P30 Lite is probably one of the only budget phones that has a really high-megapixel front camera, offering the choice of 24MP or 32MP for the front, and 28MP or 48MP at the front across 3 models. Although the primary shooter's native sensor is a 12MP, what the P30 Lite does is combine multiple shots and fuse them into one equivalent to 48MP. This explains the low price tag. But don't be disheartened by what you've just read; its camera is promising.
Many reviewers agree that despite the huge processing power needed to create a 48MP picture quality, the phone snaps and processes images fast. There's also ultra-wide mode, a night mode (thankfully bright enough though with some noise), portrait mode that produces clear photos, and even an HDR-dedicated mode that delivers nice dynamic range in images.
Additionally, the front camera supports panorama mode, which will definitely be fun for those who love to take selfies.
For the most part, the phone comes with expandable storage though the 128GB is already sufficient, as well as an average 3,340mAh battery life, and at least 4GB of RAM in the entry tier which is paired nicely with a nice mid-range octa-core Kirin 710. Lag is seldomly experienced by reviewers, and gaming with mid settings will also be smooth-sailing.
---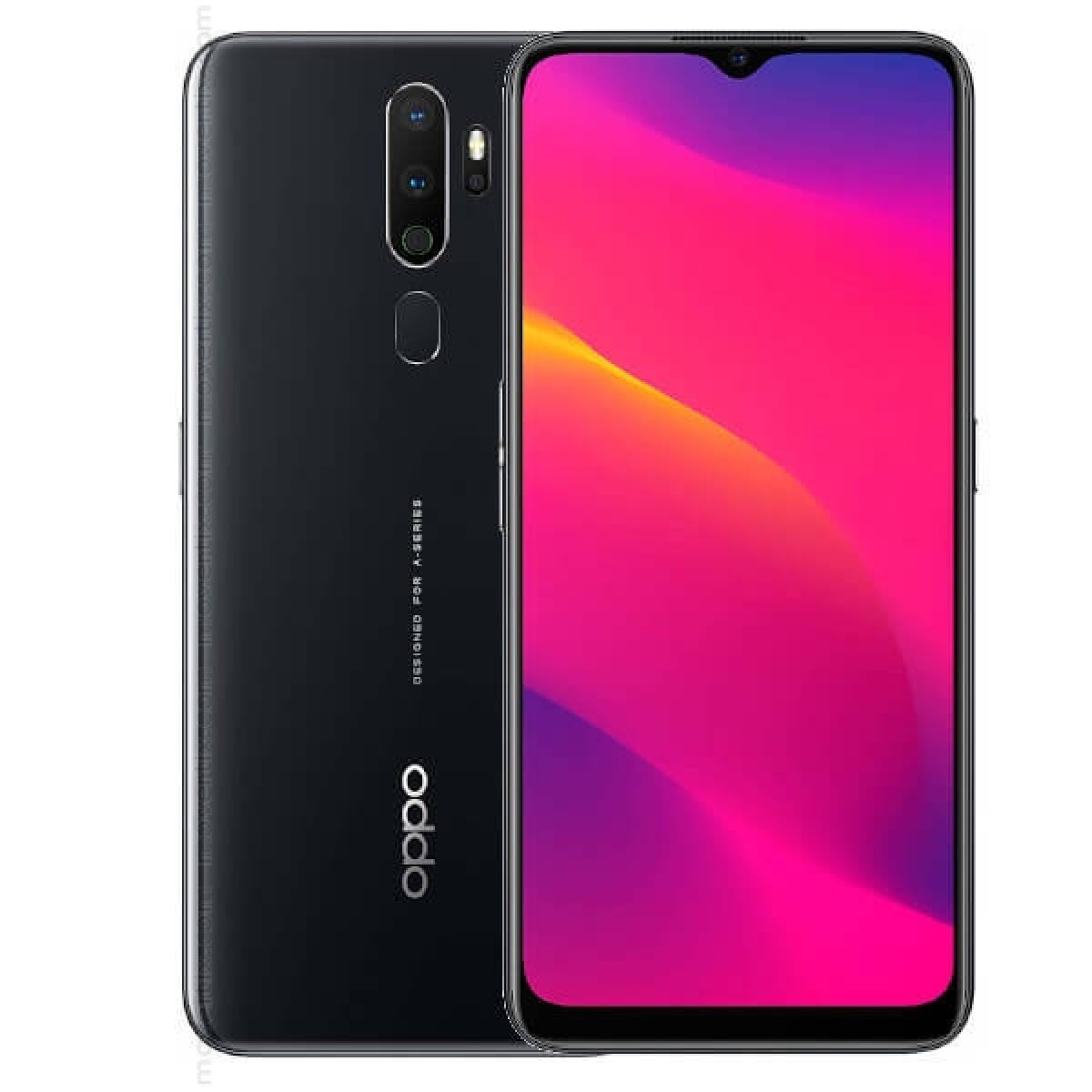 add_circle
Good audio quality
add_circle
Surprisingly bright screen
add_circle
Adequate camera performance
remove_circle
Average performance overall. Recommended not to use demanding apps
CPU: Snapdragon 665, octa-core
GPU: Adreno 610
RAM: 3GB / 4GB
Storage: 64GB / 128GB
Main camera: 12MP (wide), 8MP (ultrawide), 2MP + 2MP (depth)
Front camera: 8MP (wide), HDR support
Screen: 6.5-inch, 720 x 1600 pixels, IPS LCD
Battery: Li-Po 5,000 mAh battery, non-removable, reverse charging
Connectivity: 2.0 USB-C, 3.5mm headphone jack
OS: Android 9.0 (Pie), ColorOS 6.1
With a huge 5,000mAh battery, the Oppo A5 2020 edition is a great buy for those who are after an affordable phone that can last them the whole day or two without a recharge. How does it fare? Well, in real-life tests, some users have got to watch shows in over 1 and a half-hour on full brightness, and the battery merely dropped only 12%. That's great news for anyone who's sticky with their phone. And it's all thanks to the LCD screen which isn't demanding of battery.
However, there's a catch. In terms of overall performance, the A5 is just alright in day-to-day tasks. It comes with a respectable Snapdragon 665 chipset and 3GB RAM in its entry-tier for smooth operation with minimal lag. But don't expect to play power-hungry games on this machinery. If you can get past that, its ultra-wide quad-camera which can snap plenty of realistic panoramic images together with the above-average audio quality makes the phone quite alright overall.
If you're okay with the average performance of this phone, you'll love it for its stellar battery performance and other hardware. However, if you need both power and battery, we recommend the Samsung Galaxy A70, which is pricier.
---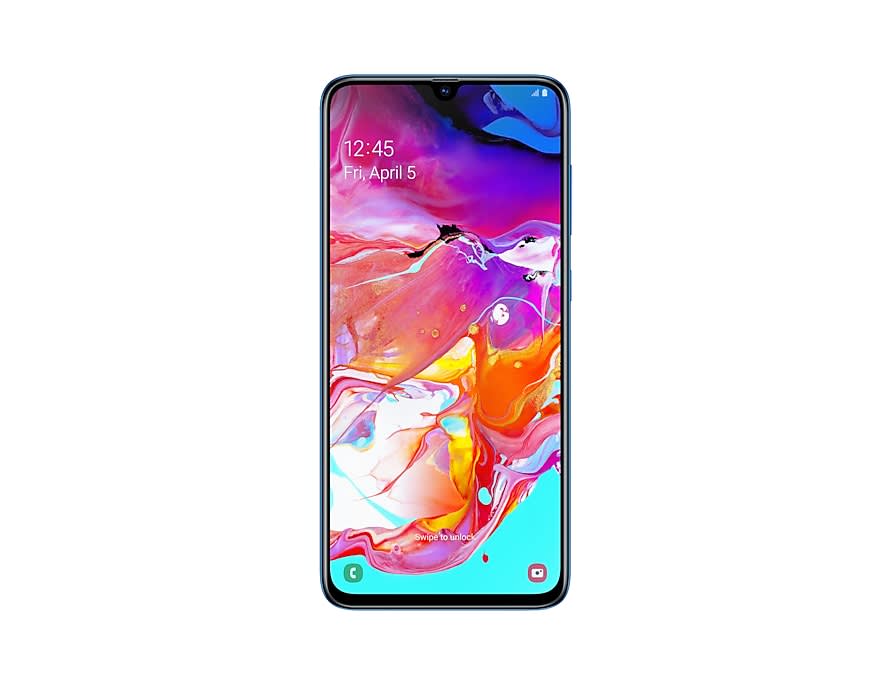 add_circle
Big AMOLED display
add_circle
Premium looking
remove_circle
Overall processing power is still alright, just not as strong as we'd hoped
CPU: Snapdragon 675, octa-core
GPU: Adreno 612
RAM: 6GB / 8GB
Storage: 128GB, microSD
Main camera: 32MP (wide), 8MP (ultrawide), 5MP (depth)
Front camera: 32MP (wide)
Screen: 6.7-inch, 1080 x 2400 pixels, Super AMOLED
Battery: Li-Po 4500 mAh battery, non-removable, fast charging (25w)
Connectivity: USB-C, 3.5mm headphone jack
OS: Android 9.0 (Pie), upgradeable to Android 10, One UI 2.0
For those who'd like a big battery and display + some good processing power, Samsung Galaxy A70 is what you should look at. The A70 is classified as an upper-mid-range phone that gets to enjoy premium hardware and a captivating AMOLED screen. It uses a powerful Snapdragon 675 chipset for good multi-tasking performance albeit paired with an okay-ish GPU, which is alright.
But what makes the screen slightly lacklustre is the fact that full HD content doesn't look as sharp due to the huge 6.7 inches screen. So, the immersive experience is there but sharpness is just okay. Despite the big body, however, the phone is ergonomic and easy to handle.
Still, the reason for the full HD screen support is to maintain a friendlier budget as well as a less power-demanding feature. Speaking of which, the battery can comfortably last you at least 2 days, and that is thanks to the choice of the FHD screen. Moreover, there's a very fast 25W charging support to our delight.
Lastly, camera performance is pretty good too, capturing photos with details and clarity from the many photo samples across the internet. Accuracy in sun exposure is also noted in some reviews, but its low-light capability falls short a little.
---
add_circle
All-day battery life
add_circle
3.5mm headphone jack
add_circle
Sharp and clear photos
remove_circle
Just okay, day-to-day performance
CPU: Snapdragon 439, octa-core
GPU: Adreno 505
RAM: 2GB
Storage: 16GB / 32GB, microSD
Main camera: 13MP (wide), 2MP (depth)
Front camera: 5MP (wide)
Screen: 5.7-inch, 720 x 1520 pixels, PLS TFT
Battery: Li-Po 3,000 mAh battery, non-removable
Connectivity: 2.0 USB, 3.5mm headphone jack
OS: Android 10, One UI 2.0
Surprise! The cheapest phone on our list is not from any small fry, but a big player in the mobile industry.
As expected, for a price of under S$150, you kind of get the necessities to support your mobile needs. It has an updated OS, 16GB of storage for the entry tier (but it's expandable), 13MP dual primary camera and an octa-core mid-tier processor that performs alright (but can be slow at times, according to reviewers online).
There's also more to squeeze out of this super affordable phone; you have a 3.5mm headphone jack, which is very much welcome especially for budget users, and a decent all-day battery of 3,000mAh. Although the camera doesn't seem interesting on paper, but real-life tests claim that the phone does produce clear and colourful photos. The 8x zoom is a nice addition, though photos do get washed out (as expected) the more you zoom in.
Moreover, there's a portrait mode for you to enjoy but it seems to be inconsistent according to online reviews. Fortunately, Samsung is looking into this.
You already know; this isn't the speediest phone to use. But performance is alright, and should get you through the day with minimal multitasking capabilities. Not to worry as many have said that the sometimes-experienced lag is not enough to make you rage quit.
Is the Samsung Galaxy A01 a must-buy for budget users? We aren't sure. But it's definitely the best one for those who are seriously tight on their budget and needs a decent phone.
---
Bonus: Best value iPhone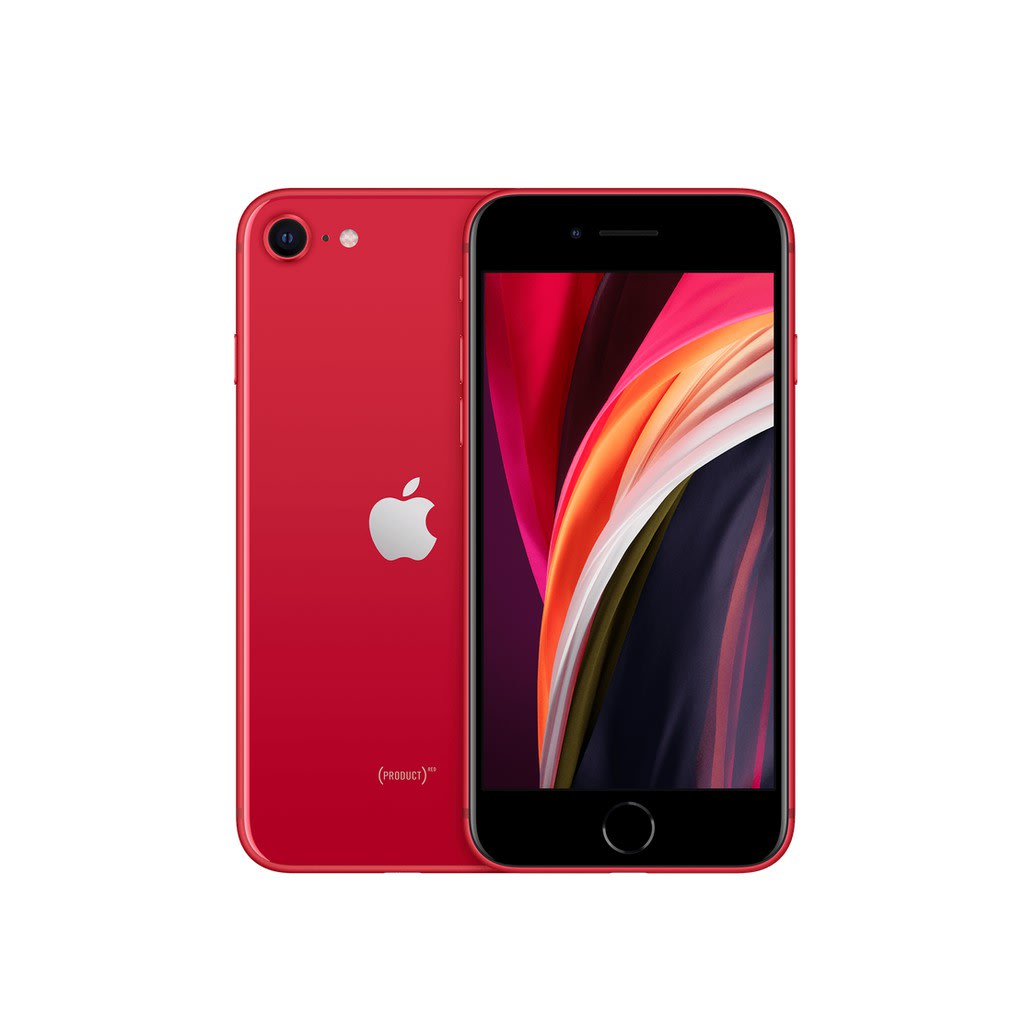 add_circle
Fast processor
add_circle
Good camera performance
add_circle
Wireless charging
add_circle
Water-resistant
remove_circle
Battery life will last only a day (but good efficiency during standby)
remove_circle
No headphone jack
CPU: Apple A13 Bionic, hexa-core
GPU: Apple GPU
RAM: 3GB
Storage: 64GB / 128GB / 256GB
Main camera: 12MP (wide), HDR, panorama
Front camera: 7MP, HDR, panorama
Screen: 4.7-inch, 750 x 1334 pixels, Retina IPS LCD
Battery: Li-Ion 1,821 mAh battery, non-removable, fast charging (18W), Qi wireless charging
Connectivity: 2.0 connector (lightning)
OS: iOS 13
If you rather an iPhone, the iPhone SE from 2020 is definitely your go-to.
For those that aren't familiar; the first iPhone SE from 2013 offered users a "budget" Apple device that lets one enjoy the unique, minimal Apple features. Finally, the current successor exceeds expectations as well. For starters, it offers a powerful performing chipset that powers the iPhone 11 series. By merging the iPhone 11 specifications (aside from the camera) into an iPhone 8 body, you get the new iPhone SE.
The phone utilizes an LCD, Retina HD screen. Although it's not the most impressive amongst Apple phones, you still get to view pretty visuals without compromising on clarity. On the camera, it only has a single-lens, 12MP set up unlike the many phones on this list. But the amazing thing is you still get to enjoy the nice camera quality and colours commonly associated with iPhones. There's also a portrait and HDR mode for you to enjoy. Unfortunately, there's no zoom. But, suffice to say that most reviewers are pleased with the clear photos captured.
In day-to-day tests by most users, the A13 Bionic chipset works fast just like the iPhone 11, and you can even play demanding game titles with ease. The only bone to pick with is the below-average battery life, which will be about a day's worth. But the iPhone SE will be quite efficient in battery usage when on standby mode.
More highlights about the iPhone SE include wireless charging, which many newer budget phones do not have (though you need to get a separate charger), a good amount of onboard storage and a water-resistant body as well.
---
---
How to Choose a Budget Smartphone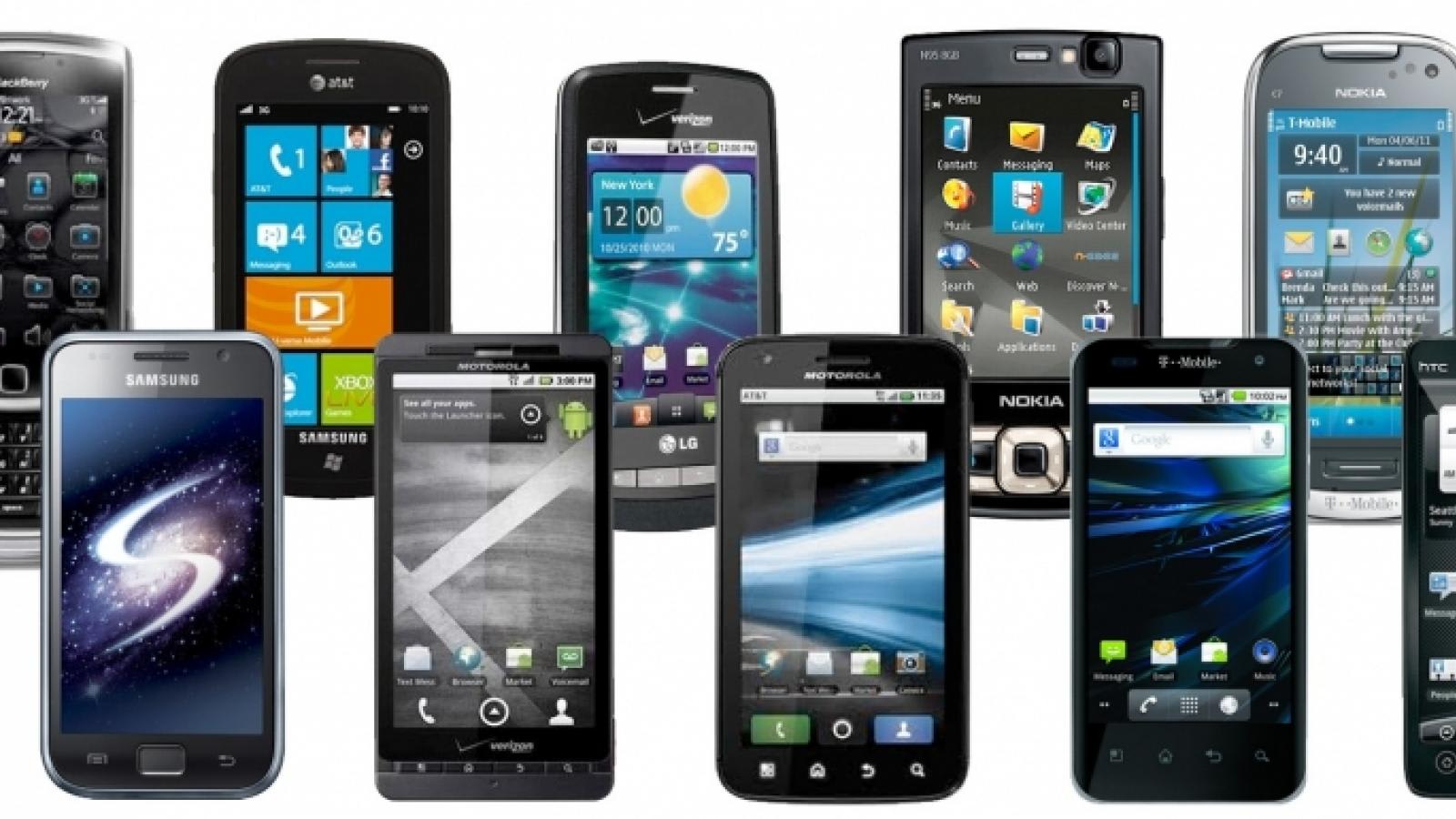 Buying a budget smartphone is pretty much the same as getting any smartphone. However, you're in a situation where you only have a few select pieces to choose from that's within that price range. Plus, these pieces "lack a bit of this but excel a bit of that." It's more of what-you-need-the-most kind of thing. To help you pick the best one for you, here are a few things to consider.
Build
The first thing that most budget phone compromise is the build material or quality. In most cases, they're made out of high-quality premium plastic. They're still reliable, but if you're one to drop your phone sometimes, it'd be better for you to get one with a metallic body with a robust display. You might lose a few attributes such as having a smaller battery, camera quality, or RAM, but it's still going to save you at the end of the day.
Speed
Let's face it; most budget phones will have a bit of lag. It's unnoticeable for the average Joe, but for those who've used flagship phones, it's going to be quite apparent. However, there are budget phones that do not have any lag at all, but they do lack camera quality, screen size, and battery life. There are budget phones that have all of them though and quite balanced, but these budget phones are a dollar more to become a mid-range phone. If you want speed, you have to be ready to drop a few features.
External Features and Aesthetics
Lastly, budget phones aren't classy-looking at most. They are called "budget" smartphones for a reason. However, they don't look bad, especially when compared to the previous models way back in 2015. But what makes them quite off is that most of them are intentionally made to lack the latest external features or design. They lack thinner bezels, compact and responsive fingerprint locks, USB type C ports, and they still have a headphone jack, which is quite outdated for some people. If you can't handle having these in 2019, maybe you're better off with a mid-range smartphone.
---
Conclusion
Budget smartphones can be just as good as flagship phones if you only need one for basic, everyday use. They can't provide the same happiness and experience, but they deliver all the essential functions and more for a fraction of the price.
Disclaimer: The pricing shown is just a good indication of how much these products are worth. The prices could change based on the e-commerce promotions that are going on. If some of the products are not available, do email us at [email protected] Thank you!