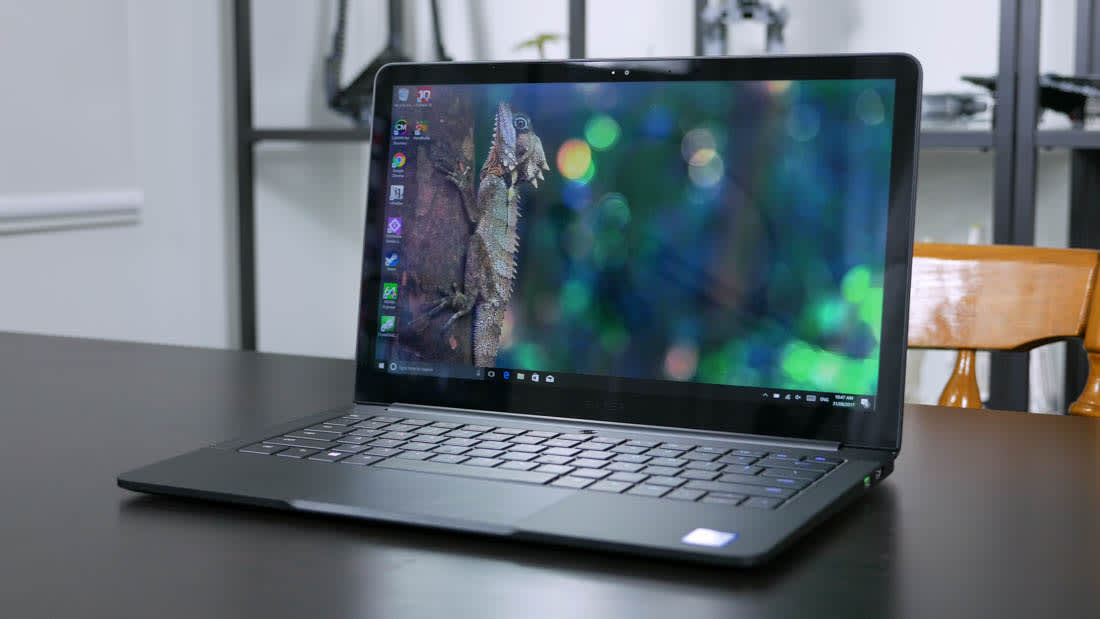 When it comes to gaming laptops, most of them are similar. Obviously, they're designed to run video games, but how well they perform is what sets them apart. Although the price is a huge factor in determining how beast of a machine you get, it's also imperative to consider your actual preference.
You may only want to play well-known titles just for the story and not the magical graphics and gameplay it offers. So buying a three-thousand-dollar laptop might not be a good idea. In this list, we've compiled a selection of the best portable gaming machines to help you purchase the right one that suits you best.
Best cheap gaming laptop
Price from SGD1,395.00
First on our list is the cheapest gaming laptop you can get. It's equipped with a 15-inch screen, an i7-7700HQ processor, 8GB DDR4 RAM, and a Geforce GTX 1050 (4GB GDDR5 VRAM) video card. Without getting into too many techy terms here, this machine can run most well-known games smoothly – just not in ultra settings.
Aside from its performance, it's well built. It's body's design is, in a word, straightforward. This machine is the type that shows everyone it's a gaming laptop but not to the extent that it brags.
If you love gaming and you're okay with playing the newest and biggest titles like Dark Souls 3 in low settings, then this machine is for you. But of course, some older games like Assassin's Creed 1 to 3 can be played without fearing to crank up the settings to high.
CPU: Intel Core i7-7700HQ

Graphics: NVIDIA® Geforce GTX 1050 (4GB GDDR5 VRAM)

Memory: 8GB DDR4 RAM

Storage: 1TB HDD

Screen: 15.6"

Weight: 2.7kg
4 people added this to their wishlist
Specs:
Best lightweight gaming laptop
Price from SGD2,649.00
If you want a portable gaming notebook that's not going to give you any stress carrying it around, there's nothing that can beat the Razer Blade 2017. It is a 14-inch laptop with a full-HD display that only weighs around 1.9 kilograms. Surprisingly, it's still geared with a lot of big guns.
This machine is powered by the same processor as the previous product but with twice the RAM and a superior video card (Geforce GTX1060 6GB DDR5) for better performance. The only downside is it only has 256GB of storage but in SSD, which allows the machine to load everything faster.
The one thing we don't like about it though is its appearance. To be honest, it looks dull or half-baked, borderline minimalistic. But, hey, you can't have everything. It does offer you excellent performance and portability. So if you're into that, this one is a must buy for you.
CPU: Intel Core i7-7700HQ

Graphics: Nvidia Geforce GTX1060 6GB DDR5

Memory: 16GB DDR4

Storage: 256GB SSD

Screen: 14"

Weight: 1.9kg
Specs:
Best for FPS like CS:GO & Overwatch – and probably everything else
Price from SGD5,688.00
Straight to the point, this laptop, the MSI GT75VR 7RF Titan Pro, is the best one you can buy. There is one issue though, and that is its price. But if you have the money and you think SGD 5,600.00 is worth spending on a gaming machine, then by all means, you're not going to have any regrets on this one.
First of all, it's a huge 17-inch laptop. And second of all, which is more important, it's powered by the latest and most powerful gears available in the market today. In a nutshell, it can run any high-spec game today in ultra settings without any lag.
But why did we use such subtitle? Why is there a specific game we'd recommend, right? Well, that's because of its rapid mechanical keyboard, which gives you full sensitivity settings and control. Plus, it's unbelievably tactile. And those attributes are imperative in competitive FPS gaming.
Overall, what we're trying to say to you is: it can replace or outperform the best gaming desktops you can find today. Take note though, it's bulky, but it's still more than worth it.
Specs:
CPU: Kabylake i7-7820HK+CM238 DDR IV

Graphics: GeForce GTX 1080, 8GB GDDR5X

Memory: 32GB DDR4-2400

Storage: Super Raid 4-512GB NVMe SSD +1TB (SATA) 7200rpm

Screen: 17.3"

Weight: 4.56kg
Best for work and gaming
Price from SGD2,471.70
Next on our list is a gaming laptop you can bring to work without being too loud that you're a gamer, the Dell Inspiron 7567. If there's one thing that all the other laptops on this list can't compete with the Inspiron 7567, it's the aesthetics. It looks super beautiful – perfectly mixed with red accents on the right spots.
We recommend this to any professional who needs a laptop for work but would want to enjoy their favorite games, too. It has similar specs with the Razer Blade 2017; the only differences are its RAM (8GB) and slightly less powerful graphics card (GTX1050TI). It does, however, have a bigger storage space – a combination of HDD (500GB) and SSD (128GB). So you'll have enough storage for both work and gaming.
CPU: Intel Core i7-7700HQ

Graphics: Nvidia GTX1050ti 4GB DDR5

Memory: 8GB

Storage: 500GB HDD +128GB SSD

Screen: 15.6"

Weight: 2.6kg
Specs:
Best for MOBA like League of Legends and Dota 2
Price from SGD2,058.00
Of course, one of the most awaited laptops on this list, the subtitle holder of "best for LOL and Dota 2" is the Asus ROG Strix GL702VM. Let's face it; there are a lot of laptops capable of running these games as they're not actually that heavy. However, a few of them, like the Strix GL702VM, performs a lot better and is capable of cranking the game visual settings to its maximum without compromising performance.
MOBA gamers will super appreciate its 17-inch display. In any strategy game, having a huge screen is always advantageous and will boost gameplay performance a lot. When talking about its specs, it's almost identical with the Razer Blade 2017 with the exception of its screen. The processor and GPU are the same, but its RAM is halved.
CPU: Intel Core i7-7700HQ

Graphics: Nvidia GTX 1060 6GB

Memory: 8GB DDR4 RAM

Storage: 1TB HDD

Screen: 17.3"

Weight: 2.7kg
2 people added this to their wishlist
Specs:
Best for light gaming
Price from SGD849.00
Next on our list is more of a borderline gaming laptop. Although it's not marketed as a gaming laptop, its specs say otherwise. The HP Pavilion 14 BS100TX is a powerful computer that can run several games – even a few triple-As and popular ones like CS:GO and Dota 2.
This machine is powered by an i5-8250U processor, a Radeon 520 (2GB) video card, and 8GB of DDR4 RAM. Although it's a few levels lower than the majority of our laptops listed here, it is an ideal computer for those who are just into casual or light gaming. Like we mentioned before, you might just want to enjoy a good story and okay with dealing with low-end visuals and a bit of lag. If that's you, then this laptop is a worth-it purchase.
CPU: Intel Core i5-8250U

Graphics: AMD Radeon 520

Memory: 8GB DDR4

Storage: 1TB HDD

Screen: 14"

Weight: 1.7kg
2 people added this to their wishlist
Specs:
Best for versatility – perfect for WoW and The Sims 4
Price from SGD4,088.00
The last one on our list, the Alienware 17, is more of a general gaming laptop that allows you to play almost every type of game – even the upcoming ones. It's almost identical to the Asus ROG Strix GL702VM, which both are 17-inch machines. The only difference between the two is that this laptop has a more impressive build quality and has a full-HD display.
Aside from the specs, we love its overall gaming appearance and style. The exhausts and ports are located at the back, which is a smart move to solve the common heat issues and messy wires that typical laptops have.
CPU: Intel Core i7-7700HQ

Graphics: Nvidia GTX1060 6GB DDR5

Memory: 8GB DDR4

Storage: 128GB SSD + 1TB HDD

Screen: 17.3"

Weight: 4.49kg
Specs:
Disclaimer: The pricing shown is just a good indication of how much these products are worth. The prices could change based on the e-commerce promotions that are going on. If some of the products are not available, do email us at [email protected] Thank you!