If you've been content with turning on the tap for your daily hydration needs, it might be time to explore the world of water filters. These amazing devices offer a shield against contaminants, eliminate harmful substances, and enhance the taste and clarity of the water you drink.
In this article, we will explore the best water filters out there. Our thorough water filter review covers various categories that might match your need.
---
10 Best Water Filters in Singapore 2023: Latest Reviews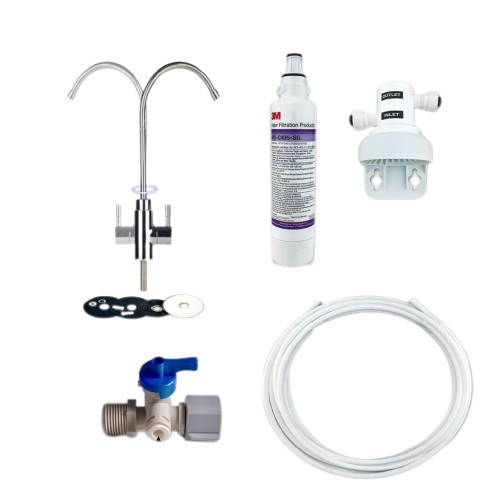 Check 3M Under Sink Water Filter price below:
add_circle
Versatile usage in different scenarios
add_circle
Effective against bacteria
add_circle
Reliable and adaptable
remove_circle
Hard to install
Why It's Our Top Pick
"If you're seeking a compact and cost-effective water filter option capable of removing a wide array of contaminants, this is the perfect choice. It covers the most essential aspects, delivering exceptionally high-quality water purification. The twist-fit cartridges and the design of the filter facilitate swift and effortless changes, enhancing convenience."
Regarding comprehensive water filtration, the 3M Under Sink Water Filter stands tall as the best overall choice. This system boasts the latest mini-filter from 3M, featuring a convenient quick twist-fit mechanism that makes changing the filter every six months easy and dry.
Specifications:
Filter Type: Under Sink

Flow Capacity: 1.9Liters/min
Performance
The 3M Under Sink Filter offers remarkable versatility, accommodating various filtration needs. Its effectiveness against bacteria is ensured by a 0.5-micron thick carbon block, guaranteeing safety. With its heavy metal removal media, it becomes capable of effectively filtering out metals such as lead that could exist in the water. This makes it a reliable and adaptable choice for water filtration.
Why buy this
A standout feature of this filter is its carbon block main body, which excels at removing chlorine along with its unpleasant taste, smell, and odour, as well as particulate sediment and suspended solids. These benefits are packed into a space-efficient, compact filter with a larger capacity.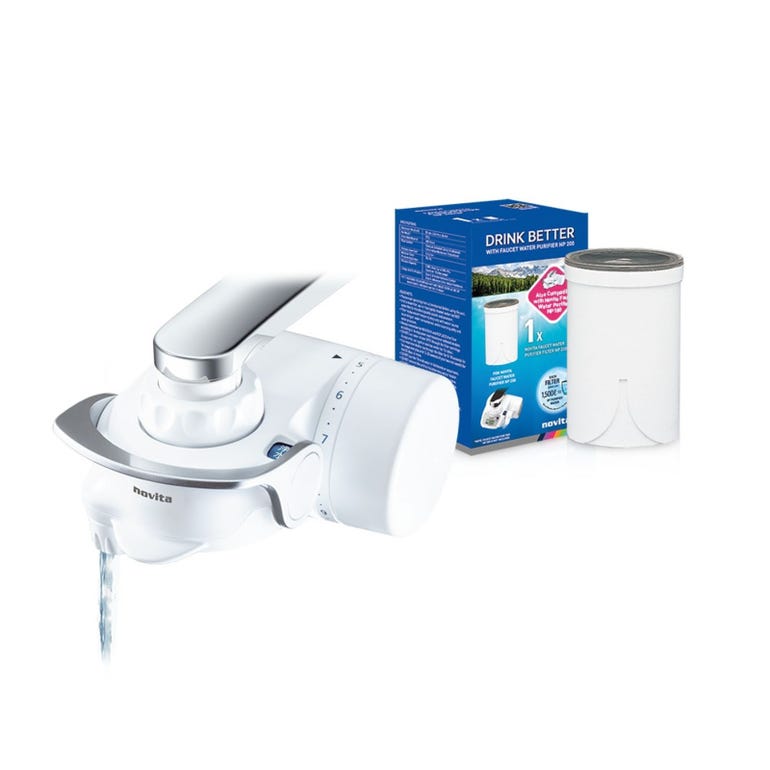 Check Novita NP180 Water Filter price below:
add_circle
Save more water
add_circle
Removes various impurities
add_circle
Sleek and modern design
The Novita NP180 water filter faucet highlights the company's strong dedication to producing environmentally-friendly home products. Utilising granular activated carbon effectively eliminates as much as 99 per cent of chlorine, resulting in enhanced water taste and purity.
Specifications:
Filter Type: Faucet

Flow Capacity: 2 Liters/min
Performance
Incorporating an innovative feature, this model includes a sprinkler system with an impressive 33% reduction in water consumption compared to alternative models. Its advanced two-stage ultrafiltration process sets it apart, capable of eliminating particles as minuscule as 0.1 microns suspended in the water.
Why buy this
Opting for a water-saving sprinkler option is environmentally conscious, as it contributes to conserving resources by potentially reducing water usage by up to 33 per cent. Additionally, the filter unit comes equipped with a convenient indicator that provides insight into its lifespan, ensuring timely replacements for optimal performance.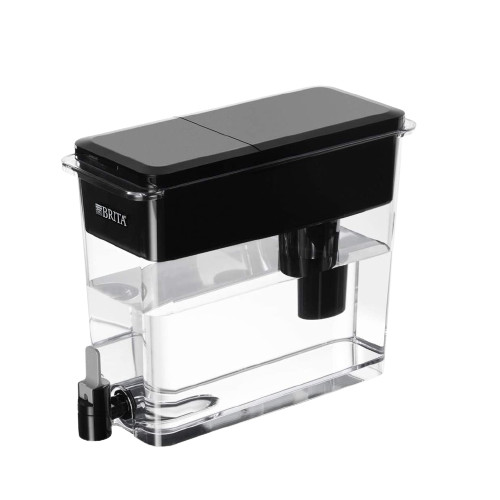 Check Brita Black UltraMax Water Dispenser price below:
add_circle
Enhanced taste
add_circle
Contaminant removal
remove_circle
Handles are quite uncomfortable
The Ultramax Water Dispenser, enhanced with the long-lasting Brita Elite Filter, presents an ideal solution for bustling families and offices. With its extended six-month lifespan, this combination offers unparalleled convenience.
Specifications:
Filter Type: Pitcher

Flow Capacity: 18 cup
Performance
Ultramax is a superb water filter dispenser solution for homes with high water usage. The filters it uses are contained in BPA-free housing and incorporate a revolutionary pleated filter and proprietary active filtering agents. This precise design aims to safely preserve vital, healthy minerals and electrolytes while successfully removing possible pollutants frequently present in tap water.
Why buy this
This water filter Singapore advanced filtration system actively eliminates hazardous elements like copper, mercury, and cadmium, safeguarding your long-term health against potential illnesses.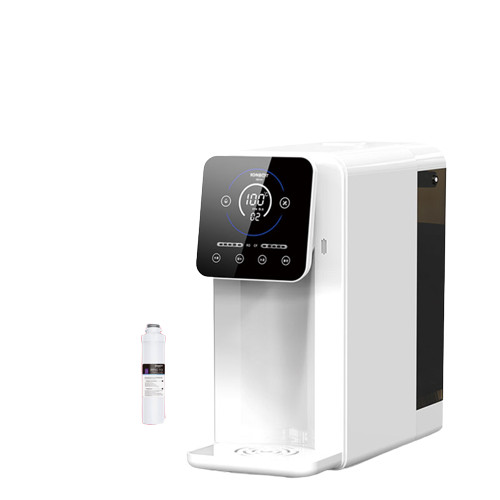 Check Bestar Ionbot S50 price below:
add_circle
Hydrogen-rich water
add_circle
Smart LCD Screen with status alerts
add_circle
Seven preset temperature options
The Bestar Ionbot S50 stands as a testament to cutting-edge water purification technology. Its comprehensive filtration, convenience features, and potential health enhancements make it the ultimate choice for those seeking reverse osmosis water filters.
Specifications:
Filter Type: Desktop

Flow Capacity: 2 Liters/min
Performance
This best water filter in Singapore requires no piping installation and is simple to set up. Simply fill the water tank, plug it in, and enjoy the benefits. The core feature of the Ionbot S50 lies in its 4-Stages Filtration with Reverse Osmosis (RO) Filtration, guaranteeing the cleanest water possible. Its generous 7-litre capacity provides a constant supply of refreshing water.
Why buy this
Monitoring water purification levels becomes effortless through the Total Dissolved Solids (TDS) Indicator, categorising water quality into Excellent, Decent, Good, and Not recommended to consume, ensuring you always have the best water at your fingertips.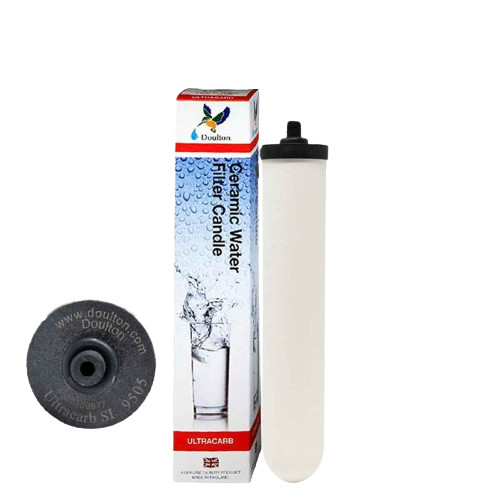 Check Doulton HIP Ultracarb NSF Certified Water Filter price below:
add_circle
Taste and odour improvement
add_circle
Mineral retention
add_circle
Optimal hydration
remove_circle
Limited compatibility
Designed to fit conveniently under your kitchen sink, the Doulton HIP Water Filter System presents a discreet yet powerful water filtration option. It is an advanced water purification solution that addresses a wide range of water concerns.
Specifications:
Filter Type: Faucet

Flow Capacity: 1.9 Liters/min
Performance
This best water filter in Singapore excels in tackling both chemical and microbiological contaminants, ensuring safe and refreshing drinking water. Crafted from food-grade plastic, it guarantees durability and straightforward maintenance. Also, with its substantial capacity of 2300L and a flow rate of 1.9 l/m at 3 Bar, this filter ensures a steady supply of purified water for your needs.
Why buy this
best water filter in Singapore. The Doulton Ultracarb Ceramic Water Filter Candle is at the heart of this system. This component has an activated carbon block insert specially designed for lead removal. Its comprehensive filtration capabilities encompass the removal of particles, pathogenic bacteria, cysts, chlorine, organics, and lead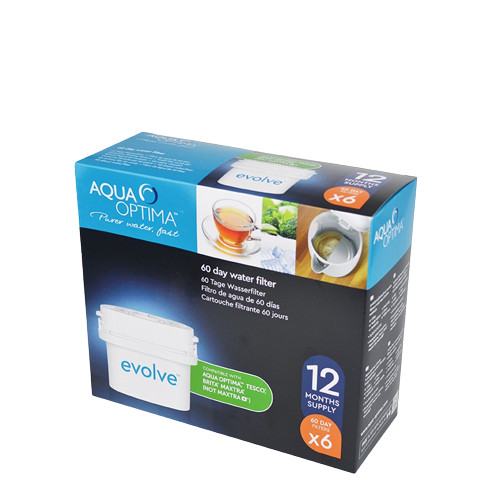 Check Aqua Optima EVD602 Water Filter price below:
add_circle
Portable and lightweight
add_circle
Effective purification on the go
add_circle
Suitable for active lifestyles
The Aqua Optima EVD602 is a wise choice if you're often on the go. This amazing water tap filter can purify your water from harm thanks to its innovative 5-step water filtration mechanism. Weighing a mere 148g, this standout product is the best water filter in Singapore, ensuring you have a trustworthy companion wherever your journey takes you.
Specifications:
Filter Type: Pitcher

Flow Capacity: 1-2 Liters/min
Performance
Say goodbye to routine filter replacements because each Aqua Optima EVD602 filter lasts 60 days or 200 litres. The effect is extensive since it reduces chlorine and limescale by an astonishing 80%. Herbicides, pesticides, lead, and other tenacious heavy metals that remain in water sources are all banished under its effect, so the advantages don't stop there.
Why buy this
Its commitment to maintaining water's natural balance sets this filter apart. There's no compromise in sight, as no added salts are employed. Instead, revel in the assurance of enjoying the water with a pH level that's naturally in harmony.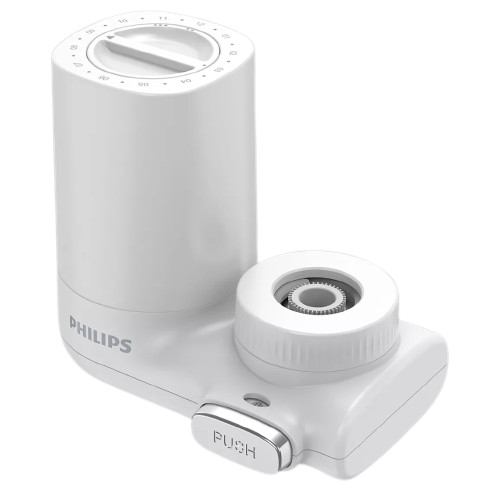 Check Philips On Tap Filtration AWP3753/97 price below:
add_circle
Easy to install
add_circle
4-layer filtration
add_circle
Removes harmful organic compounds
remove_circle
Limited features productnation
The Philips water filter tap makes it simple to get clean water to drink and cook. It is a portable water filter system that is lightweight and simple to assemble. You may now receive clean, clear water whenever you turn on the tap, thanks to the Philips AWP3753/97.
Specifications:
Filter Type: Faucet

Flow Capacity: 1.6L/min
Performance
Swapping between newly filtered and unfiltered water is convenient, making it perfect for drinking, cooking, dishwashing, and other cleaning tasks. The quick twist design for convenient filter change lets one quickly and easily twist in a new filter instead of an old one.
Why buy this
This X-Guard Ultra filter efficiently removes particles as small as 0.1 microns. It utilises a unique activated carbon fibre and hollow fibre membrane to lower chlorine, lead, pesticides, microplastics, and other contaminants. Additionally, it filters 99.99% of germs.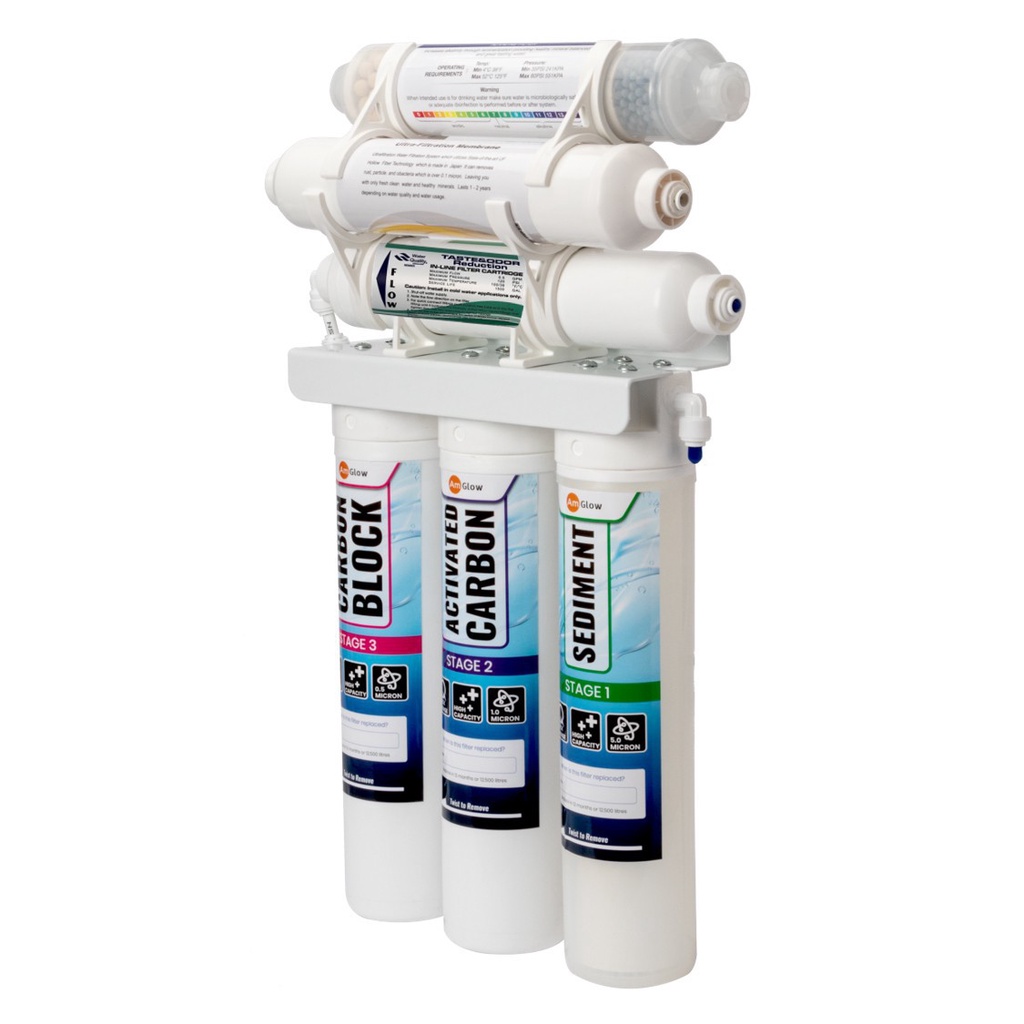 Check AmGlow 6-Stage Water Filter System with Alkaline price below:
add_circle
Alkaline remineralisation filter
add_circle
It comes with a luxury gooseneck faucet
add_circle
Ultrafiltration technology
remove_circle
A little expensive
The AmGlow 6-Stage Water Filtration System is more impressive than a four-stage filtration system. This best water filter in Singapore includes sediment, activated carbon, carbon block, post-carbon filters, and an alkaline remineralisation filter. 
Specifications:
Filter Type: Undersink

Flow Capacity: 2 Liters/min
Performance
The alkaline filter incorporates mineral stone and calcite, introducing essential minerals to the water. This process raises the pH level by 0.5 to 0.8 units, promoting health benefits. A supplementary filter, positioned after the carbon filter, eliminates germs and bacteria from the water.
Why buy this
Despite its intricate components, this system maintains a compact and uncomplicated design, occupying minimal space beneath your sink. Additionally, an added faucet is included, requiring only minor adjustments to your sink setup, enabling you to position it adjacent to your existing faucet.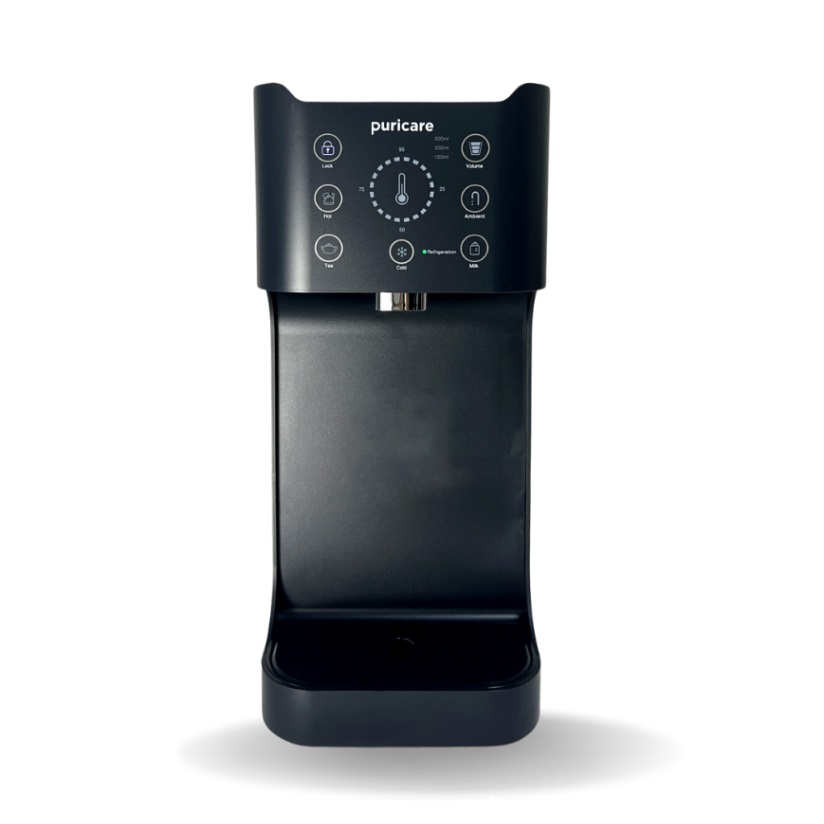 Check Puricare Royal PC288 Water Filter price below:
add_circle
Impressive capacity for hot and cold water
add_circle
Convenient and user-friendly operation
add_circle
UV LED Self Sterilisation for bacteria and virus elimination
If you want to stay healthy and hydrated, ensuring that the water you're drinking is safe and clear is essential. That's why we recommend the Puricare Royal PC288, the best water filter in Singapore. Its multi-stage filtration system ensures the purity and safety of your water supply.
Specifications:
Filter Type: Desktop

Flow Capacity: Hot 20 Liters/hr and Cold 2Liters/hr
Performance
Dazzling with modernity and elegance, the Puricare Royal PC288 presents a slim design that effectively conserves space while adding a touch of sophistication to your environment. Its tankless nature not only maximises hygiene but also minimises clutter. Powered by high-quality filters, this system ensures water meets safety standards and delights your taste buds.
Why buy this
This appliance boasts a remarkable capacity, delivering 20 litres of hot water per hour and 2 litres of cold water per hour. Operating at a voltage of 230V and 50Hz, it accommodates various power configurations. The optimal water pressure range of 0.2 to 0.4 mpa guarantees efficient performance.
Check Novita W38 Countertop Water Filter price below:
add_circle
Instant water access
add_circle
Space-savvy design
add_circle
Cost-efficient
Experience the ultimate convenience in water purification with the Novita Countertop Water Purifier W38, proudly earning its place as the finest 3-staged water filter. This innovative solution eliminates the need for traditional and time-consuming water preparation methods.
Specifications:
Filter Type: Faucet

Flow Capacity: n/ar
Performance
Unlock the power to transform tap water into refreshing and high-quality drinking water, all at a fraction of the cost of bottled alternatives. The true charm lies in its electricity-free operation, not only saving you money but also fostering a greener and more environmentally sustainable lifestyle. It is also a perfect choice for those living in space-conscious places as it effortlessly blends into modern living spaces without occupying precious rooms.
Why buy this
This water filter faucet seamlessly fits into your lifestyle, offering the best of both worlds – HydroPlus Alkaline Antioxidant Water and HydroPure Purified Energy Water. These options allow you to tailor your drinking water to your preferences, and with each sip, you're nourishing yourself and your loved ones with their beneficial properties.
---
Why Consider Using A Water Filter?
Considering the utilisation of a water filter is a prudent choice for multiple reasons. In an era where water quality is increasingly variable, filters offer a reliable means to enhance the safety and taste of your drinking water. By effectively removing contaminants such as bacteria, viruses, heavy metals, chlorine, and sediments, water filters ensure that what you consume is pure and healthful. Furthermore, they contribute to minimising the environmental impact of plastic bottled water consumption, promoting sustainability.
---
Conclusion
A water filter holds great significance in ensuring the quality of the water you consume. It is a reliable shield against contaminants, from impurities like bacteria and chemicals to unwanted tastes and odours. Investing in a water filter is a proactive step towards maintaining your and your family's well-being. 
---
Related Articles