In the current generation when "YOLO" is seemingly the happiest way to live, action cameras have been put in the mainstream. From action cameras for cars to action cameras for diving, the teens and youngsters of today are very much into taking captures of their best and fun moments through photos and videos. Which is why we did a search on the best action cameras to help you decide what device to get in case you're interested to buy your first or new action camera before the year ends.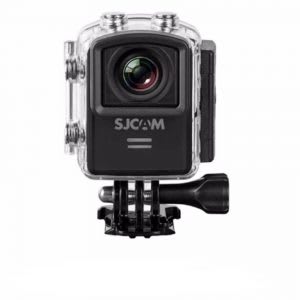 SJCAM M20 WIFI 16MP Sony IMX206 Action Camera
₱ 4398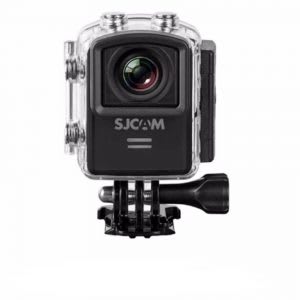 For beginners, we recommend the SJCAM M20 WIFI 16MP Sony IMX206 Gyro Stabilization Action Camera for its low cost but overwhelming specs. For one, it sells less than 5000 pesos. Who would have thought you can get a camera that cheap but boosting with useful features?
SJCAM M20 Action Camera has a built-in gyro with excellent anti-shake ability. So there's no need worrying about shaky videos and blurry photos! Because of its gyro stabilization technology, it is best used as an action camera for car. It could sustain road bumps and rocky surfaces with minimal to no effects on the quality of your footage.
It also comes with a car mode, which allows the camera to turn on automatically when the engine starts and turns off when the vehicle shuts off. It doesn't have a GPS, though. So you have to get a separate device for your GPS needs.
---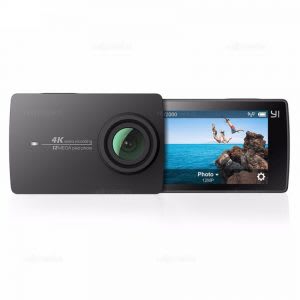 YI 4K Action Camera
₱ 11999.00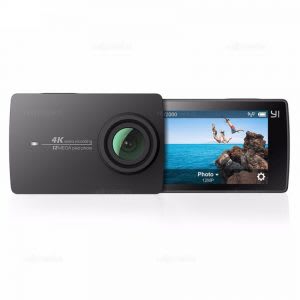 If you're someone who fancies a simple and handy video recording device, then Xiaomi Yi 4K 12mp Action Camera is a good choice. It equips the common niceties of action cameras such as Bluetooth and Wi-Fi, making it easier for you to transfer files from your camera to your mobile phones.
Xiaomi Yi 4K 12mp Action Camera also boasts its minimalistic design that comes with a 12 mp Sony sensor, creating high-quality photographs. Which is why it is a great value for money when choosing an action camera for vlogging.
When vlogging, you need a cam that has a true 4K video recording and live-viewing capability so you can preview your footage as you go. Additionally, you must have a device that can yield the best shots even when exposed to the sun.
And that's exactly what Xiaomi Yi can give you. Capturing moments under the bright sun is no issue when using this camera as its built-in Sony IMX377 image sensor combined with 7 glass lens yields images with natural-looking colors even when facing the sun.
---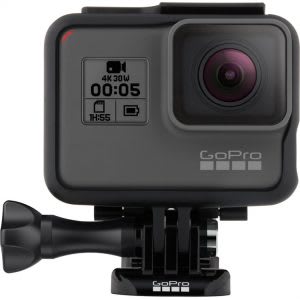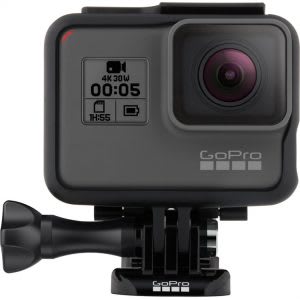 Yes, I know, GoPro Hero5 has been overshadowed by its successor, the Hero 6. But you don't really need the latest if the current satisfies your needs, correct? With its incredibly smooth 4K video recording and waterproof specs, GoPro Hero5 is the best camera for underwater. There's no need buying a waterproof case as it ships waterproof out of the box.
GoPro Hero5 is also a nice pick if you are after an action camera for travel. Whether you're hiking, driving, or walking in the rain, you can command your camera to take photos and videos through its voice activation technology. Moreover, it's boxy shape lets you save space in your luggage. You can even mount it on your body as you please!
---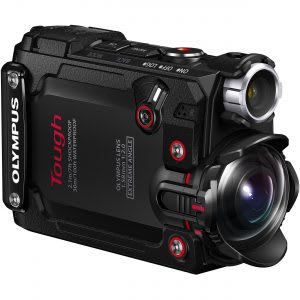 Olympus Stylus Tough TG-Tracker Action Camera
₱ 12990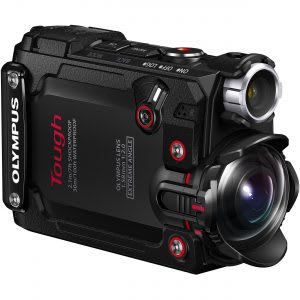 A challenger to GoPro Hero5, the Olympus Stylus Tough TG-Tracker Action Camera
carries almost similar specs. But Olympus ditched the boxy cam shape and went with a camcorder-like design.
It is waterproof, crushproof, freezeproof, and shockproof, which makes it a perfect action camera for sports. If you are into action sports, you don't want to damage your cam when doing strenuous activities, do you? That's why a durable and tough camera shall fit you!
Olympus Stylus Tough TG-Tracker is complete with features necessary for sports enthusiasts. It boasts its GPS, accelerometer, barometer, compass, and thermometer. It also has a unique LED light that you can use for illumination when taking photos and footages in the dark.
Most importantly, it's a good value for money for it is one of the best action cameras with the longest battery life. It can last three hours compared to GoPro and other action cams, which can only run for one to two hours.
---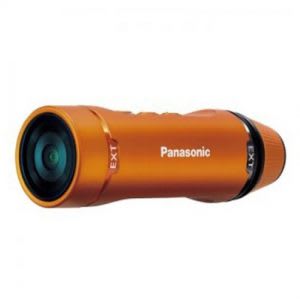 Panasonic HX-A1 Action Cam (Orange)
₱ 17631.45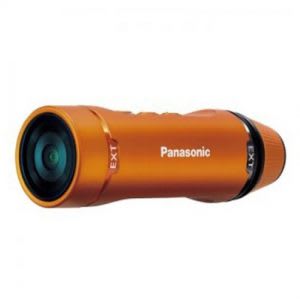 Speaking of filming in the dark, you might be interested to get the Panasonic HX-A1 Action Cam. This ultra-light and compact camera comes with a 0 Lux Nightvision mode out of the box.
In fact, it is the only action cam that can shoot images and videos in total darkness.
It is also dustproof, freeze-proof, and lightweight. However, the camera does not have an on-camera touchscreen. It has built-in controls that do not include the option to change setting such as angle of view, resolution, and frame rates. But you can always have them modified using the app as Panasonic HX-A1 also comes with wi-fi to connect to your iOS and Android devices.
---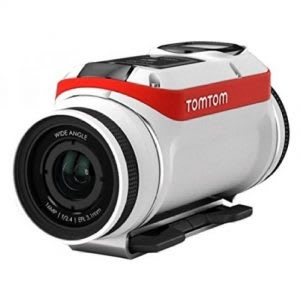 TomTom Bandit 4K Body Mounted Action Cam
₱ 26141.00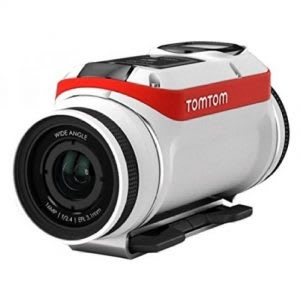 If you want to get out in the old and go in with the new, then TomTom Bandit 4K Body Mounted Action Cam is for you! A running candidate for the best action camera for diving, this device will not disappoint as it comes with a waterproof dive lens cover.
TomTom Bandit ups the trend of bullet-shaped cams today. Its look gives a little nostalgia but the specs are totally way beyond modern. This brand leaves the usual downloading and video editing methods behind. Imagine just by a simple tweak and a quick shake on your phone, any footage from your camera will come out edited in no time! Such a breeze, isn't it?
A total newcomer, TomTom Bandit seemingly sets the record for the best camera action with GPS too. It doesn't only record location but also automatically tags footages when its sensors pick up exciting events.
---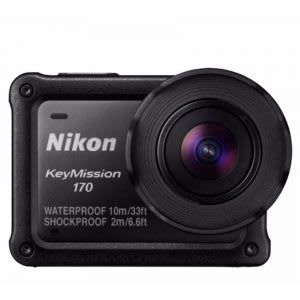 Nikon KeyMission 170 23.9 MP Action Camera
₱ 20900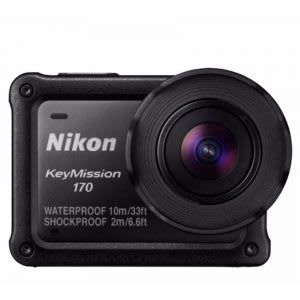 An ambitious move to join the growing trend of action cameras, Nikon released its impressive KeyMission 170 action camera. It sports high-quality image and video output made possible by its remarkable NIKKOR lens with an f/2.8 max. Its cam technology also enables you to capture life even in low light because of its image stabilization feature.
Nikon Keymission 170 also packs a built-in WiFi and Bluetooth, allowing you to control and modify settings using your mobile phones. This super camera also features several other must-haves in action cameras like 4K video recording capability, waterproof body, and vibration reduction technology.
---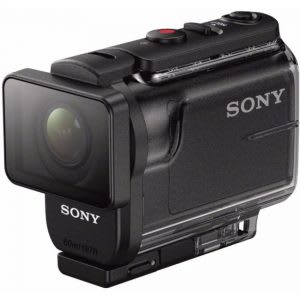 SONY HDR-AS50 Action Cam
₱ 14199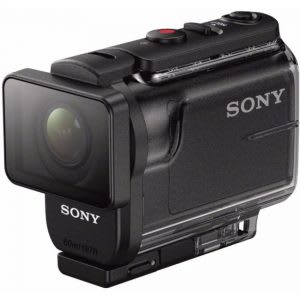 If you are a concert goer, you can't go without an action camera that can mount memories of your favorite artists on your electronic devices. So we included in this post one of the best gadgets you can use to record the best moments when attending a concert - Sony HDR-AS50 Action Camera.
This super camera boasts its SteadyShot technology that you can depend on when it comes to shooting objects in the dark.
If you intend to use your Sony HDR-AS50 as an action camera for concerts, you will find great advantage in its adjustable field of view setting. It also has an Exmor R CMOS sensor that captures stunning videos outdoors without affecting footage quality. As for images, its Sony, so you're sure you'll only get HD 1080p quality!
---
Disclaimer: The pricing shown is just a good indication of how much these products are worth. The prices could change based on the e-commerce promotions that are going on. If some of the products are not available, do email us at [email protected] Thank you!