Laptop stands are undoubtedly a better way of looking at laptops and working. They provide the convenience of raising your device on an elevated platform, thus avoiding strains in your neck. In addition, they also serve as a cooling system for your device due to the air being able to circulate freely underneath it. Here are the 12 best Laptop Stands in the Philippines. 
---
11 Best Laptop Stands in Philippines 2023 - Top Brands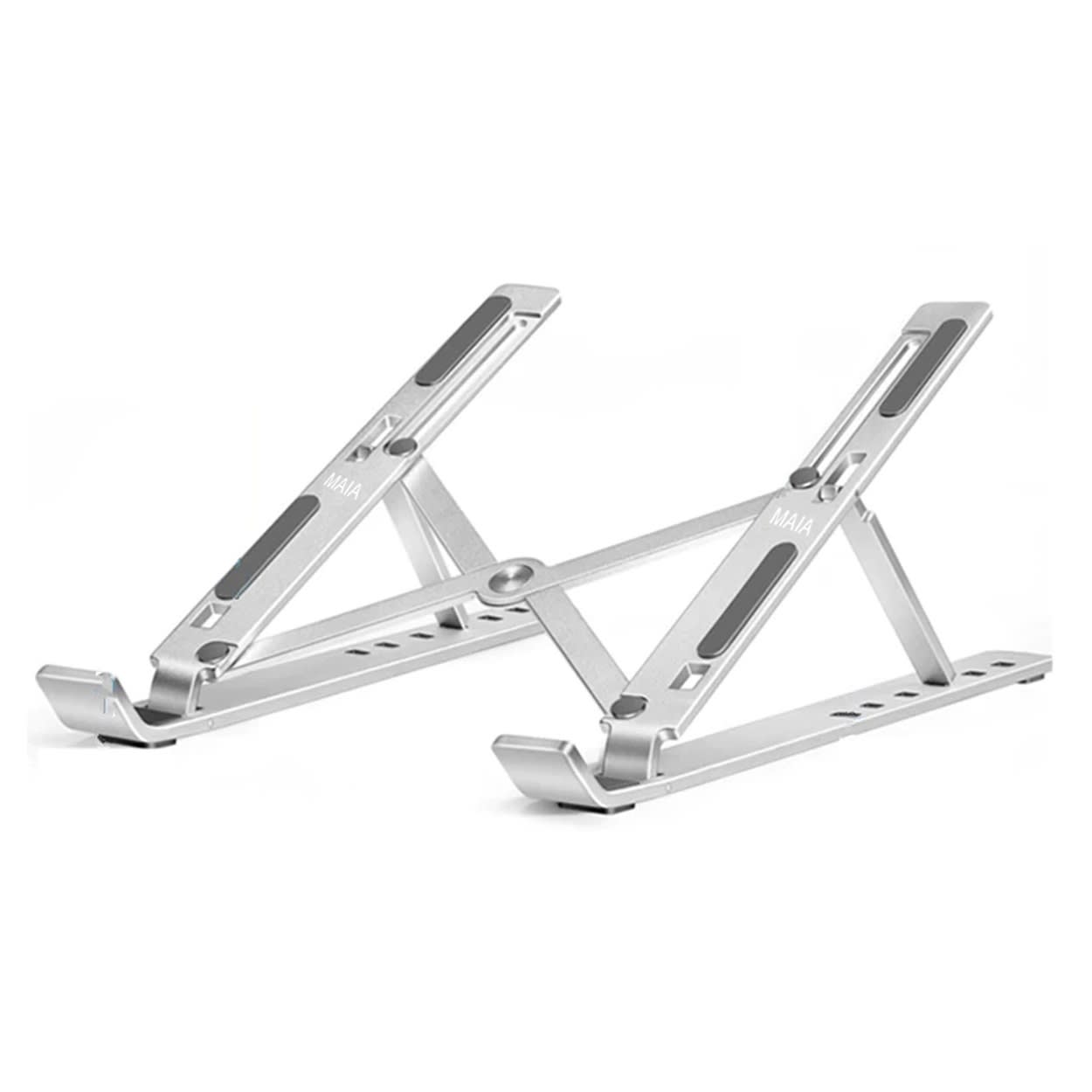 Check MAIA Aluminium Alloy Tablet Stand Bracket Laptop Stand price below:
add_circle
It is portable and durable
add_circle
It does have a stylish design
add_circle
It is easy to use
remove_circle
There are no cooling fans
Why It's Our Top Pick
Why should your laptop be the only one on top of the world? This laptop stand is ultra-portable and stylish, so no matter where you take it - from desk to couch - you'll have a stable place for your device. A laptop stand from MAIA is innovative in its design, sturdy in construction, and portable to lug around wherever you go. 
This laptop stand combines two great features. It is made out of light and textured aluminum. The triangular support base provides sturdy support for the laptop, making it easy to carry around everywhere you go.
Performance 
This portable laptop stand is sturdy and durable. It is compact, light, and portable to use. It can make your working or gaming experience more convenient and comfortable.
Why buy this 
This laptop stand is made of aluminum alloy, and its max load is 5 kg. It's suitable for laptops up to 15 inches in size. The size fits the widest point of your laptop.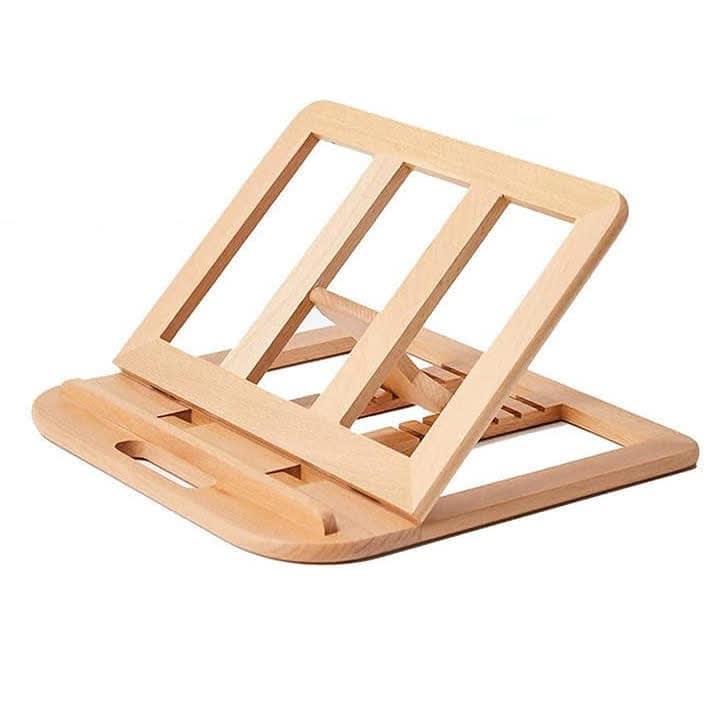 Check Wood Laptop Stand price below:
add_circle
Classic-looking design
remove_circle
Easy to break
The Wood Laptop Stand offers the best adjustable wooden laptop stand by providing an adjustable shelf with six different angles. It is a handmade, natural material laptop stand equipped with non-slip mats to ensure optimal positioning for all laptops.
Performance
This laptop stand can reduce neck and shoulder pain and provide comfort. The wooden construction makes it easy to clean, which is essential in all businesses that work in offices or cafes.
Why buy this
Perfect for watching videos and reading in bed, a laptop stand is the most practical way to work, rest and play.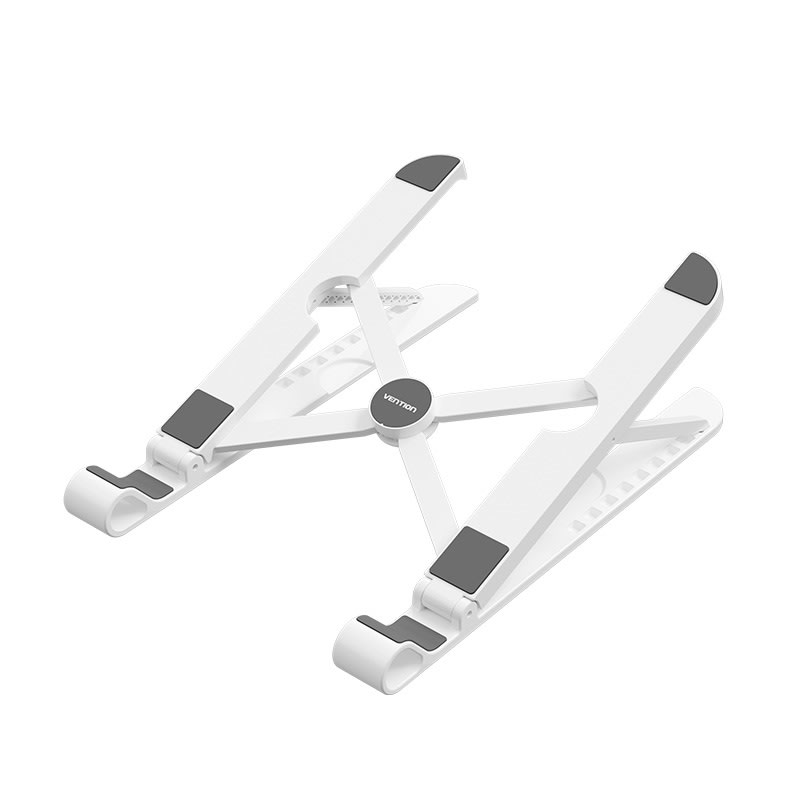 Check Vention Laptop Stand Adjustable Foldable Laptop Stand price below:
add_circle
It provides an ergonomic view
add_circle
It has nine gear adjustment
add_circle
Stable holding
remove_circle
Can't carry heavy devices
Vention is the best portable laptop stand to use for various work purposes.
The most notable feature of the Vention Laptop Stand is its silicone, non-slip design. It's also foldable and easy to transport. This adjustable laptop stand enables users to adjust it at any angle.
Performance
Feel the difference with a laptop stand to improve your perspective, reduce neck strain and relieve back pain. With six height adjustments, it's easy and quick to find your perfect position for typing. The hollow cooling structure, multi-size compatibility, and comfortable viewing angle make your workstation more relaxing. 
Why buy this
This laptop stand will hold up your device easily. It has a firm grip and is light enough to carry around when needed. With a 12-month warranty and a static load of 5 kg, this laptop stand should last you for a long time.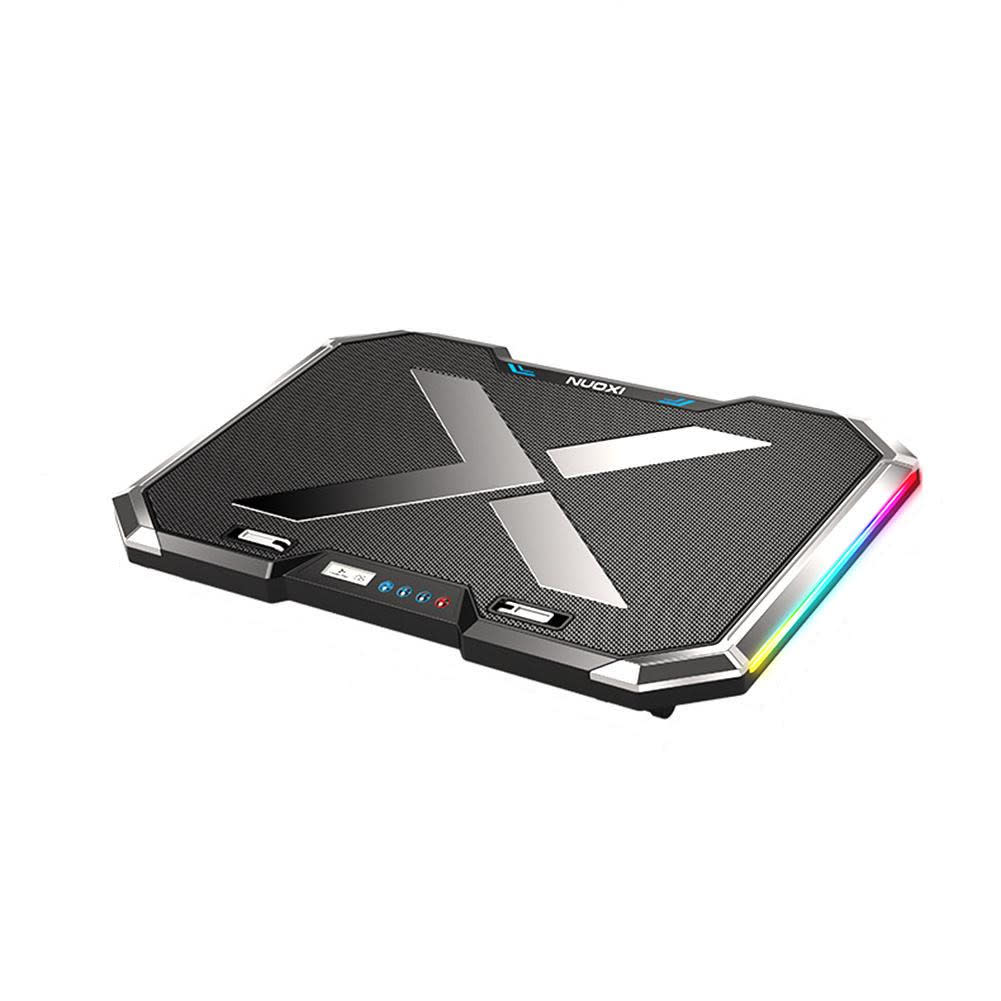 Check NUOXI Gaming Laptop Cooler price below:
add_circle
Effective cooling
add_circle
Led light design
remove_circle
The lights are too bright
This laptop stand is light, compact, and super portable that makes a perfect traveling gadget for everyone. It has six fans which will keep your laptop cool, even in hot weather. It's compatible with laptops up to 15-20 inches
Performance
NUOXI Laptop stand has a metal surface and a 6-core Deep Cooling system, which makes it ideal for gamers. It has the most advanced RGB light with seven kinds of light effect modes to let you enjoy the game more realistically. It is like an ergonomic laptop/gaming desk stand that will allow you to enjoy your favorite games in different dimensions.
Why buy this
This laptop stand is the ideal gaming accessory for everyone because it is lightweight, small, and incredibly portable. Even in hot weather, the six fans it features will keep your laptop cool.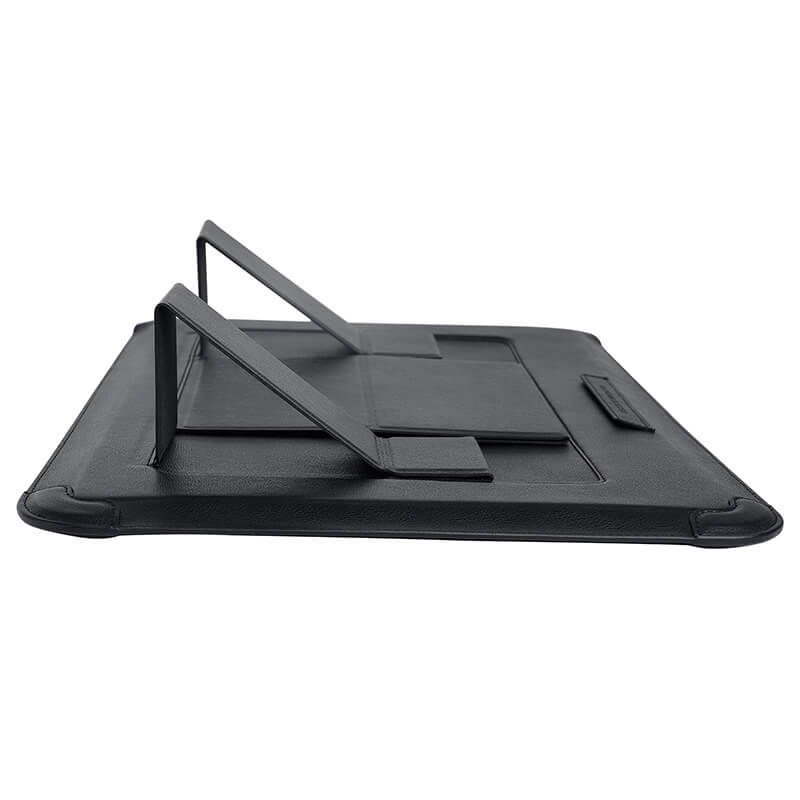 Check Nillkin Versatile Laptop Sleeve Case Laptop Stand price below:
add_circle
Protects your device entirely
add_circle
Has built-in mousepad
add_circle
Simple and Elegant style
remove_circle
No sizes for larger laptops
Nillkin Versatile Laptop Sleeve Case is a laptop sleeve designed to be foldable. It has 3-in-1 functions - a laptop sleeve, a stand, and a carry-to-go. The high-quality leather material gives it a luxurious look that makes it the best foldable laptop stand to have in your daily work. It's also easy to carry around and convenient as you can use it anywhere.
Performance
If you love your laptop and need a place to store it while working on your desk, this is the product for you. It protects your device from damage and has a built-in mousepad that allows you to use both hands for productivity.
Why buy this
This laptop stand is the perfect addition to any desk space. It has a quick-release mechanism that allows you to bring your device wherever necessary.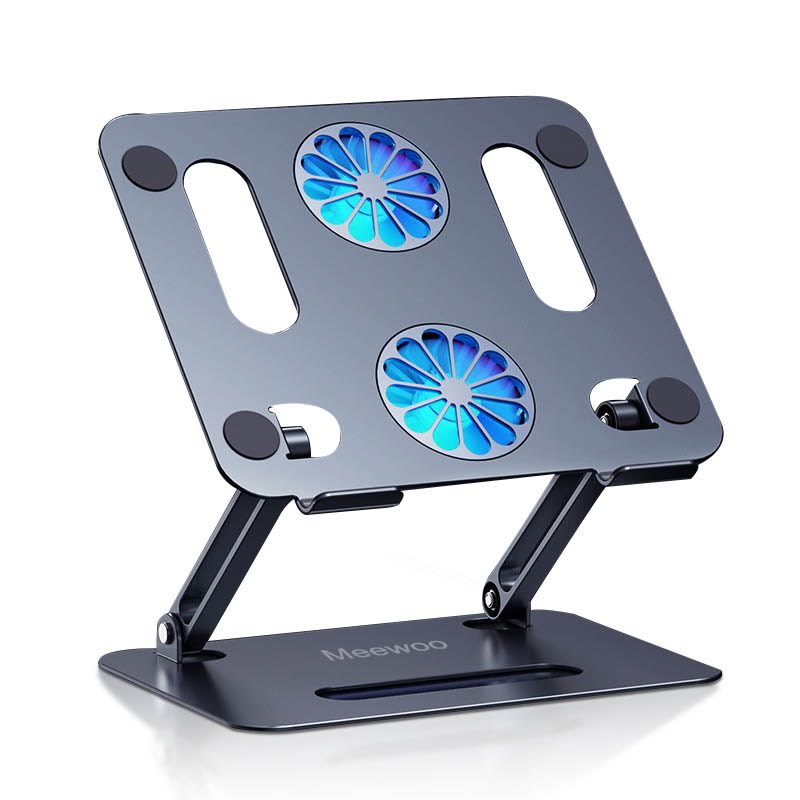 Check Meewoo Laptop Stand With Fan price below:
add_circle
Cooling effectivity
add_circle
Can carry Large devices
The Meewoo Laptop Stand with Fan is a perfect solution for heavy laptops. It is made of high-quality aluminum that ensures durability even after frequent use. It can carry up to 10 kg and has adjustable support, making it suitable for every laptop size. It has a diameter fan wind wheel for maximum airflow and double turbocharged drive.
Performance
It is designed to help with cooling and stability. It allows you to use your laptop for long hours without discomfort or overheating. The frame of this product has an ergonomic design, giving it a great look that you can display on your desk or in the kitchen.
Why buy this
This laptop stand will keep your device cool and stable. This is the perfect stand for large devices.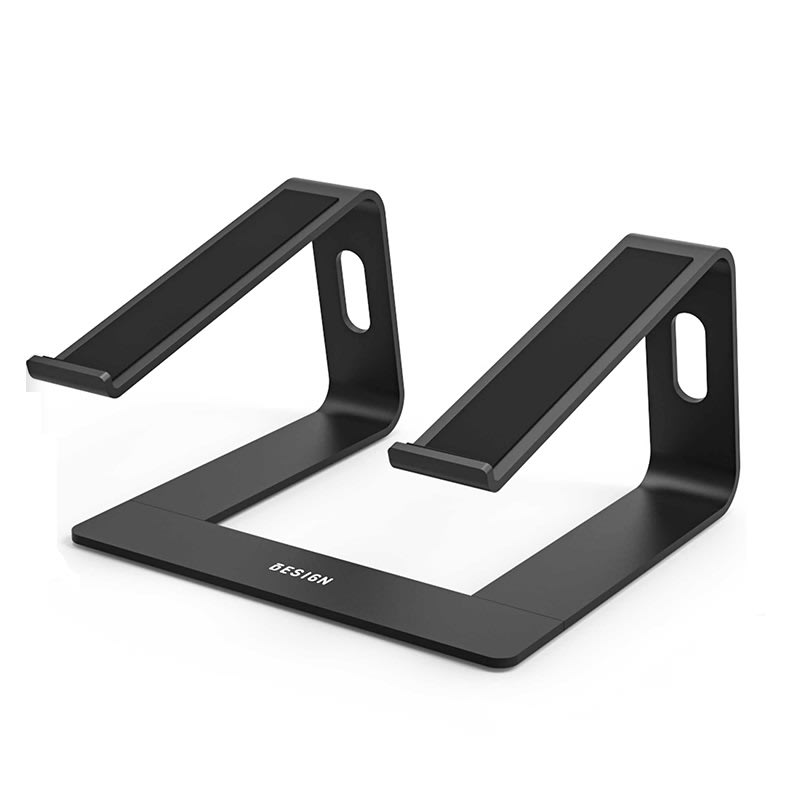 Check Kopec Ergonomic Laptop Stand price below:
add_circle
Space Efficient
add_circle
Meshed Cover Cable
add_circle
Wide Compatibility
remove_circle
Can not fold
This excellent ergonomic laptop stand is compatible with 10- 15.6-inch laptops and uses less space than other brands. With its broad compatibility, you can also use the Kopec Ergonomic Laptop Stand on any desk, so it won't take up any extra space while you're working. 
Performance
With a wide range of ergonomic designs, Kopec provides a highly versatile laptop stand that fits every need and budget.
Why buy this
Because it is portable and lightweight, the laptop stand is simple to take with you wherever you go. You can use it without concern on your smartphone or laptop because it is compatible with any laptop between 10 and 15 inches in size.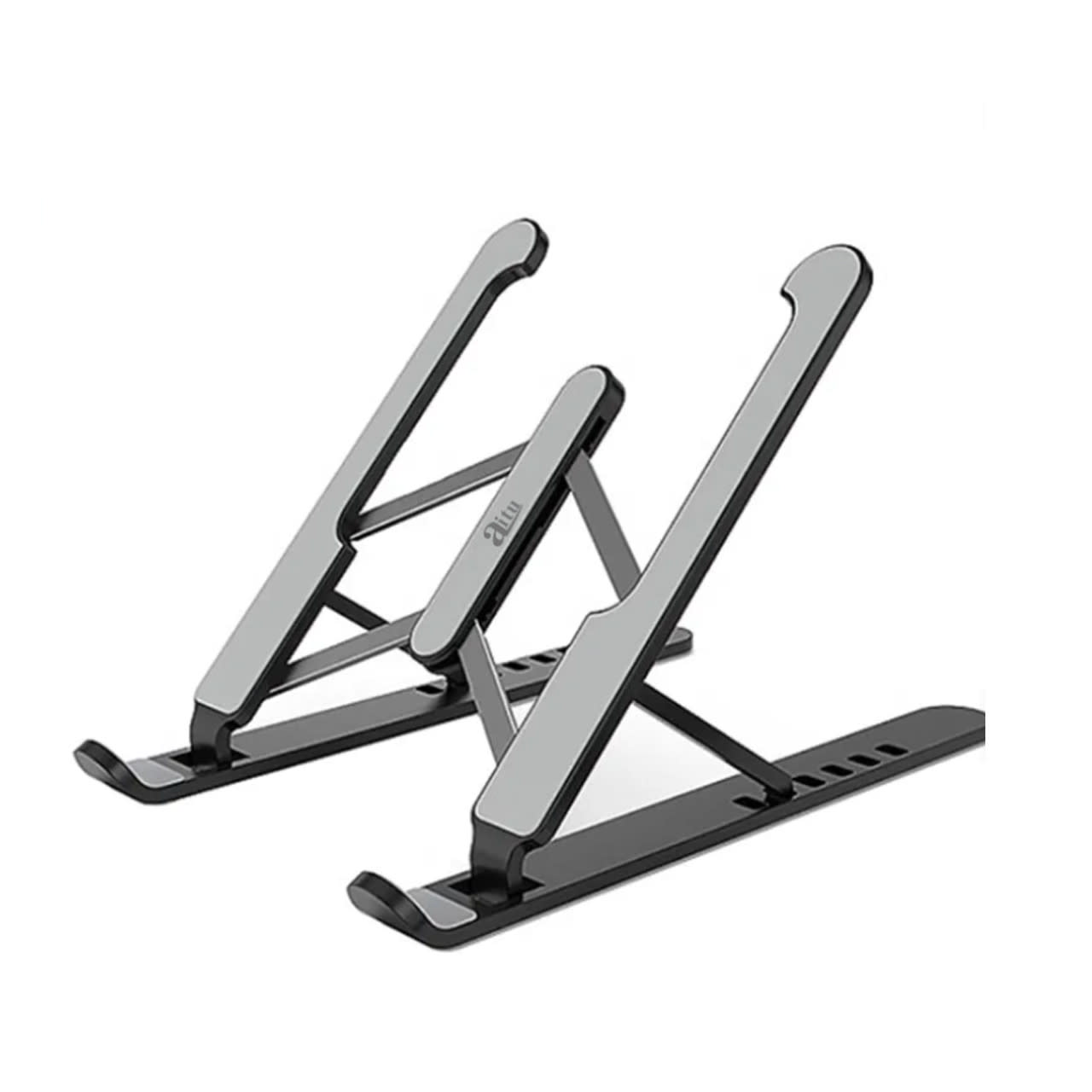 Check AITU ZJ03 Adjustable Foldable Laptop Stand price below:
add_circle
Wide anti-slip pads
add_circle
Foldable and portable
add_circle
Stable on heavy laptops
remove_circle
No cooling fan
The ZJ03 is an adjustable laptop stand designed for both laptops and tablets. The triangular support design is the key feature of this stand, which provides a good balance at any height. It is widely known to be the best laptop stand with anti-slip, portable and foldable, silica gel non-slip, and multi-level height adjustment.
Performance
Features a sleek, minimalist design made from high-quality ABS and Silica gel to keep your laptop safe and secure. This stand is perfect for anyone who needs their desk space back.
Why buy this
Compatible with 10-15" laptops and tablets, this stand is a compelling buy for those looking to increase their productivity on the go.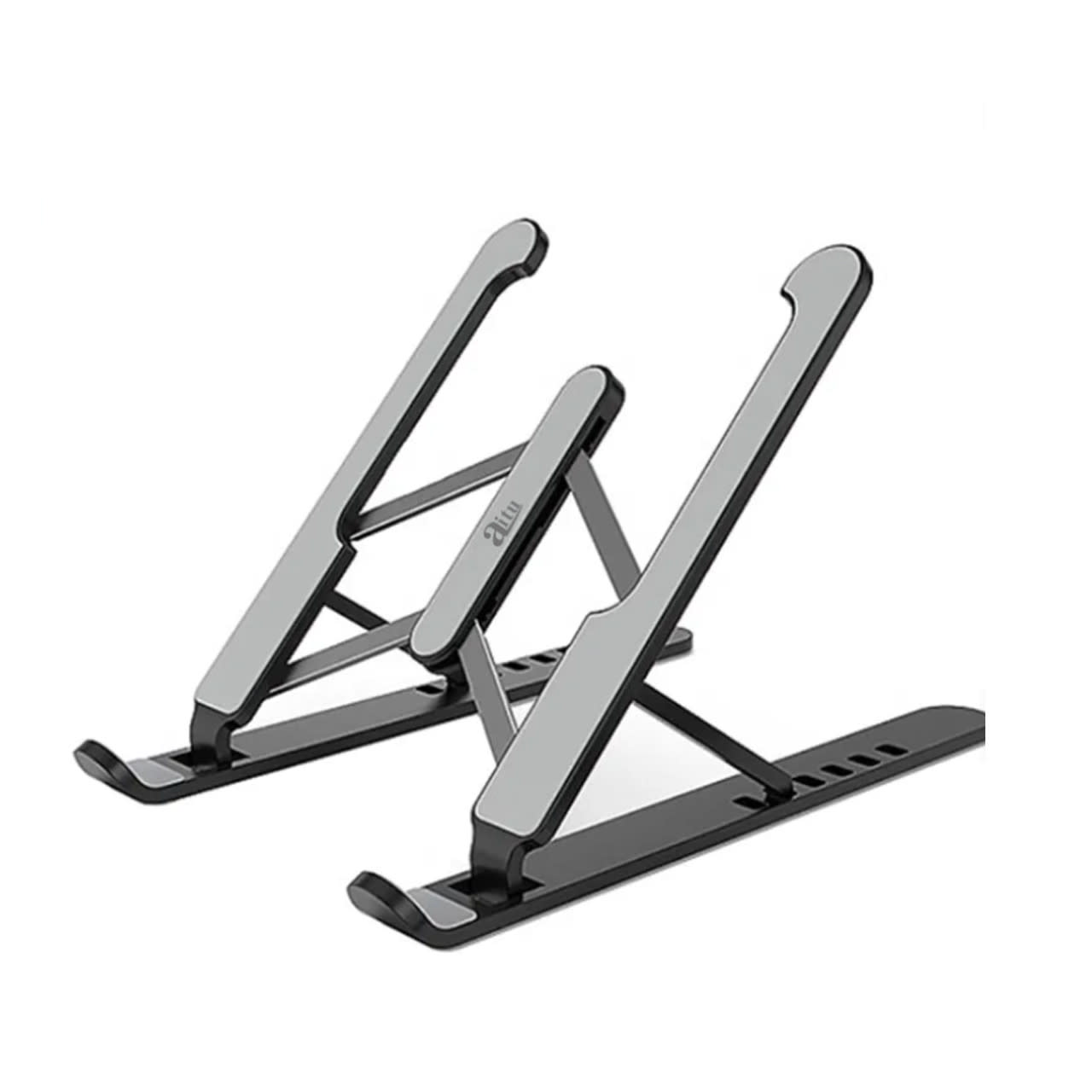 Check Vertux Glare Quiet Cooling Laptop Stand price below:
add_circle
RGB LED lights
remove_circle
Slips occasionally because of the vibration of fans
Vertux Glare Quiet Cooling Laptop Stand is one of the best laptop stands with cooling fans. It provides superior airflow, high cooling, and stable positioning, perfect for gaming or just surfing on the web. It also has a handle that prevents your laptop from slipping off and some anti-slip grips to maintain stability. 
Performance
The Vertux Glare Quiet Cooling Laptop Stand can be an option for people who want to cool their computers without making noise that would bother people around them.
Why buy this
You can ideally use this laptop stand everywhere. It's the best solution for your home or office, whether you want to be comfortable, easy to use, save space, or get serious work done. Most importantly, it's easy to pack up and take places!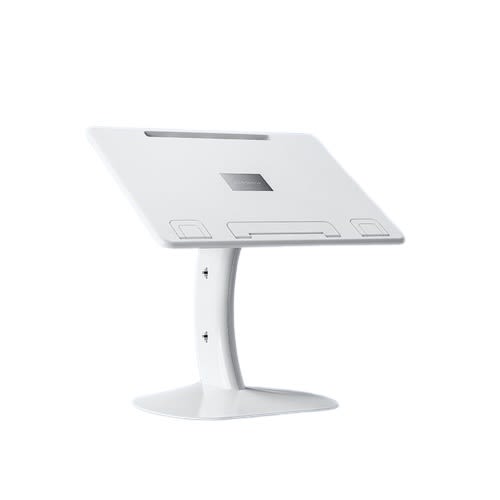 Check OATSBASF Portable Laptop Stand with Fan & LED Light price below:
add_circle
Multi-functional
add_circle
Long battery life
remove_circle
Fan and light while reading can be a distraction
OATSBASF Portable Laptop Stand is the perfect laptop stand for your workstation. This adjustable laptop stand comes with a desk light and six-panel adjustment. The speed of the wind can be adjusted as well so that it suits your needs. 
Performance
This stand is great for users who have trouble finding time to charge their laptops but also want to make their work desk area more stylish. The battery capacity of this laptop stand is 3600 mAh.
Why buy this
Be productive anywhere with this powerful, rechargeable laptop stand. Adjust the angle to find your ideal angle and keep your laptop cool for all-day computing.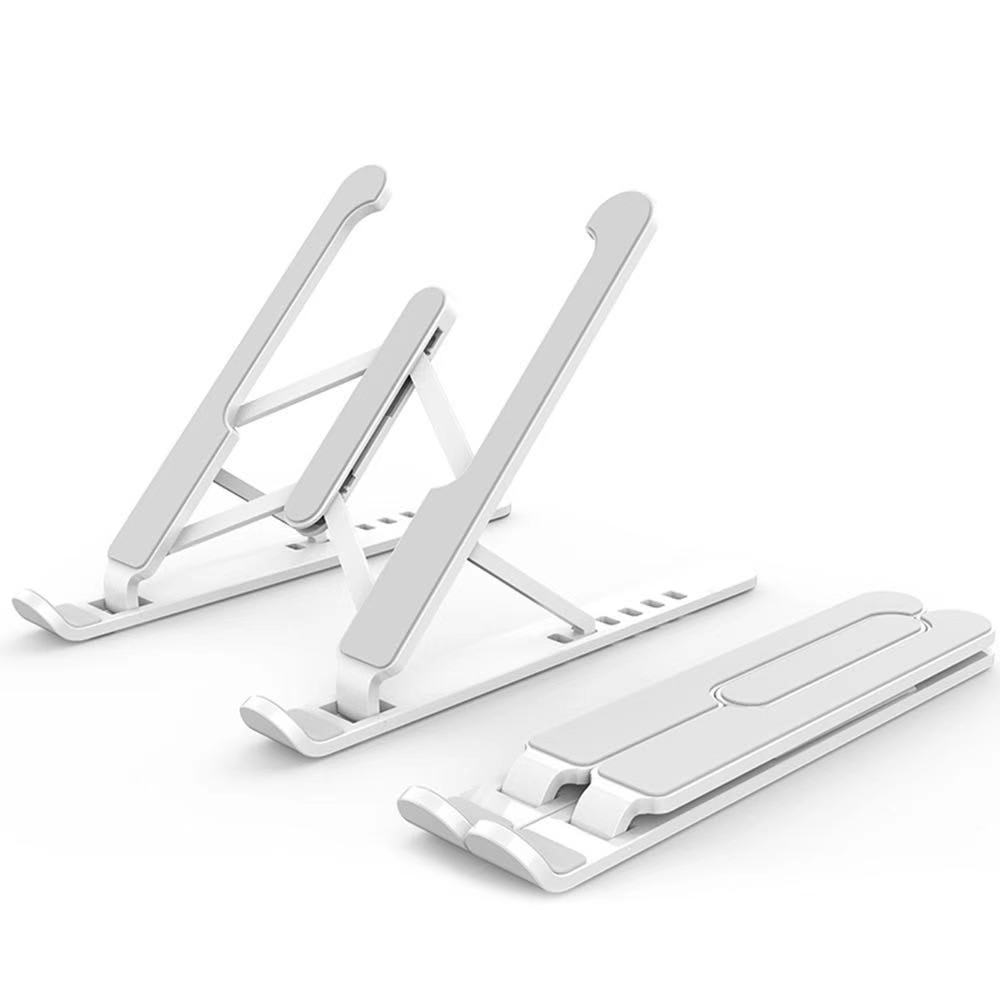 Check JHC Portable Laptop Stand price below:
add_circle
Anti-slip pads work well
add_circle
Hollow bottom heat dissipation
remove_circle
Can't handle heavy devices
JHC Portable Laptop Stand is a laptop stand folds easily and can carry anywhere. This stand is relatively cheap and is the best affordable laptop stand on the market.
Performance
Its foldable design lets you store it in your backpack or bag without any trouble. It is also made with ABS plastic, making it lightweight. It has a versatile design, as you can use it for different laptops of different sizes.
Why buy this
Simple but effective design, this laptop stand is made from ABS plastic and can hold your laptop 5 – 10 inches screen size. It's lightweight and portable so you can take it anywhere. 
---
What is a Laptop Stand?
A laptop stand is a device to raise your laptop. It can hold the device at eye level so you can use it comfortably. They help increase airflow and cooling and give you a comfortable typing experience.
---
Uses and Advantages of Laptop Stand
The laptop stand has a variety of ways. They come with a flexible height adjustment, better airflow, and portability. As you can see, these laptop stands are more than just a tool.
Improve your typing posture in less time.
 With the help of the laptop stand, it will be easier to set the right height that suits your working style. You can type with better posture and reduce muscle tension on your neck, back and arms.
Flexible size adjustment
 The various sizes of the laptop holder allow you to choose the right one according to your computer needs. Make sure that you have enough space around your keyboard for your keyboard when using this product.
Better airflow
The adjustable design of the stand allows for better airflow between the device and the desk surface.
More portable
This design allows easy movement from one place to another.
---
Buying Guide: How to Choose a Laptop Stand
Laptop stands are crucial for maintaining the laptop's performance and everyday usage. If you need a laptop stand that meets your requirements, consider these factors:
According to your needs - if you're into gaming or you just need a riser for comfort,
Check your device size - pick a stand perfect for your laptop's size and weight.
Portability - The laptop stand can be folded and carried with you.
Materials used for durability - always check the materials used and whether your laptop stand can carry the weight of your device.
Cooling effect on your device- if the laptop stand has good airflow.
---
Best Laptop Stand Brands in the Philippines
You are probably having a tough time searching for the best laptop stand in the Philippines because many options are available today. Don't worry. We have done all the hard work for you and listed some of our country's best laptop stand brands today.
Senda
The Senda offers portable adjustable laptop stand holders that are ultra slim, portable, folding, and flexible laptop table stand. This stand is sturdy and can fit any dimension of laptops, iPads, and tablets. 
Wooden Laptop Stand
The Wooden laptop stand is one of the best and most affordable. It's lightweight, foldable, and has a lovely wooden design that will match any room!
Stance
Crafted for both the modern desk set and the workers constantly on the go, this laptop stand brand offers a comfortable and ergonomic way to elevate your computer. 
Seker
This stand is designed to be sturdy and made of thick aluminum alloy. The holder's hands have silicone pads to ensure your laptop's stability on the frame.
Maia
This laptop stand brand is perfect for improved ergonomics and comfort when working or gaming at your desk.
---
Lap Stand Price Range here in the Philippines
The adjustable laptop stand  Philippines price range from ₱50 to ₱5,000, including the famous laptop cooling pad. You can find various laptop riser brands and varieties in a very affordable range.
---
Where to Buy Laptop Stands in the Philippines
People looking for the best laptop stand in the Philippines will find plenty of options online. Online merchants provide various prices, verified reviews, and reliable suppliers and items. Shopee and Lazada are the most popular places to look for a laptop table in the Philippines.
---
What is a Laptop Stand?
If you are looking for an external accessory to prevent your laptop from overheating, sliding off, or elevating your working experience, a laptop stand is something that you should consider. 
Initially, a laptop is an essential tool that allows you to modify the height of your laptop screen to maintain proper posture and work efficiency. 
---
Uses and Advantages of a Laptop Stand
Working in front of our screens can sometimes be tiring and discomforting. And as a result, people nowadays often experience muscle strain and pains throughout their body. 
Using a laptop stand can elevate the height of your screen. 

In addition, it can also act as a cooler to help prevent your laptop from overheating.

Laptop stands are proven to help maintain proper posture when working. 
---
Buying Guide: How to Choose a Laptop Stand
Choosing a laptop stand can sometimes be challenging since there are lots of models and units out there in the market that offers various functionalities. But worry no more, because we are here to help you know what kind of laptop stand is suitable for your needs. 
When choosing a laptop stand, it is essential to pick a type of laptop stand depending on your needs, whether it be for gaming, studying, or even working.

Also, check the size and weight of your laptop.

Moreover, it is also important to know the material used for the laptop stand's durability.

Try considering those stands with additional features such as built-in cooling fans, detachable phone holders, and anti-slip qualities.
---
Best Brands of Laptop Stands in the Philippines
With such a wide variety of laptop cooling pad brands on the market, you can surely take your time and choose the best one. The following laptop stand brands highlight the highest quality of the best laptop stands in the Philippines.
RGB -  From computer accessories to quality gaming products, RGB has always been one of the best brands that assure excellent quality, design, and performance, which is why numerous well-known gaming personalities also recommend it. 
Moft - With its extensive choice of electronic accessory products, Moft takes pride in providing quality and performance. But in addition to that, this brand also offers durable goods that are extremely reasonably priced.
Wanderskye - If you're looking for a perfect travel buddy who can withstand anything along the way, then Wanderskye is the one you are looking for. This brand prides itself on producing the best quality products exclusively designed to provide comfortability while on a journey. 
NUOXI - Ready to turn your dream gaming setup into reality? If you are, this brand is something you should not miss out on. NUOXI is a brand that offers sleek and modern-looking that never goes out of trend. But the best thing is, their products are also known for delivering high-quality, smooth performance, which is an excellent heavy-duty addition. 
Monsy - Known for offering affordability yet excellent functionality, Monsy is a startup brand that delivers a wide range of gadget accessories you should check out. 

---
Price Range of Laptop Stands in the Philippines
The price of the best laptop stand in the Philippines ranges from ₱ 150 to ₱ 2,500, depending on the brand and the model itself. The laptop stand price is very affordable; you must try and see for yourself.
---
Where to Buy Laptop Stands in the Philippines?
Shopee and Lazada, two of the Philippines' most popular online stores, are excellent places to look for the best laptop table and laptop riser. They offer a wide range of prices for price-conscious customers and adjustable laptop stand reviews from trusted customers, genuine vendors, and laptop table products.
---
Conclusion
Many people know the importance of having a laptop stand. But, what might be surprising is that it's not just a necessity but also an essential tool for productive work.
With the help of laptop stands, people who have to do their job on the go can have their devices positioned in a way that allows them to work while standing up and staying focused. These laptop stands come with various options and designs to provide what a person needs, whether they are looking for something lightweight or heavy-duty.
One thing about these laptop stands is how stylish and sleek they tend to be so you can stay focused on your work without distractions.
---
Related Articles