A keyboard, whether it's for your laptop, computer, Mac or even your mobile devices, is generally used for typing purposes. But there are others made specifically for gamers or come with extra features like macro keys, wrist rest and touchpad. With plenty to choose from, here are the top 10 keyboards for your specific needs.
This reasonably-priced gaming keyboard ticks most of the essential boxes: an aesthetically-pleasing red backlighting, dedicated keys for media controls & game mode, and a tactile Cherry MX Blue switch. Its keyswitch is particularly suitable for hardcore gamers as well as those who like the feel of typing on clicky keys to hear that distinctly audible and click sounds.
---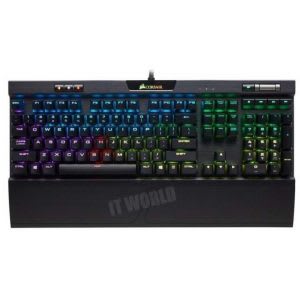 Although originally designed for gamers, the Corsair K70 RGB is also beneficial for regular typing or daily computing purposes. Here's why; It belongs to a type of mechanical gaming keyboard, which is known for its quick response times and amazing tactile feedback.
Best of all, it comes equipped with a Cherry MX Brown switch. It is suitable for those who prefer their typing experience both precise, accurate and quiet at the same time. The latter, of course, allow them to place more focus on their task without the aural interruption of "clicky" noise.
---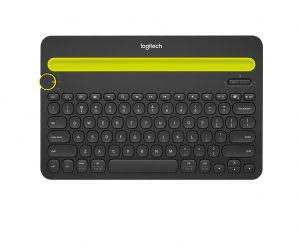 The iPad itself may have a touchscreen keyboard. But let's face it, if you want a more tactile experience, you can never beat the presence of an actual keyboard.
Which brings us to the Logitech K480, a portable multi-device keyboard that allows you to slot your iPad either horizontally or vertically. It can support up to three mobile devices using a Bluetooth connection. And yes, this keyboard fits on most iPad models including the 12.9" iPad Pro.
---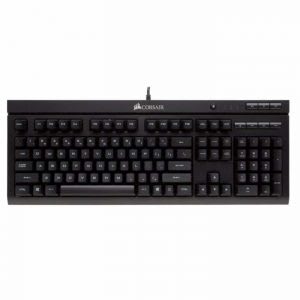 The Corsair K66 may look like an ordinary-looking, basic full-size keyboard. But in reality, this is actually a mechanical keyboard, which comes complete with a Corsair Utility Engine (iCUE) software.
Made suitable for programmers, it allows you to customise various commands such as recording different keyboard macros and shortcuts. It even has a Cherry MX Red switch that gives you a fast response time whenever you press the key.
---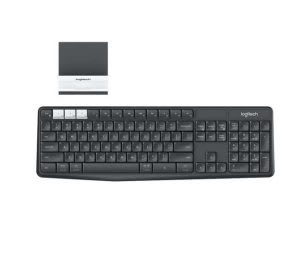 The Logitech K375S offers the best of both worlds for the price of one; a wireless keyboard and a dock for smartphone or tablet. But let's talk about the keyboard instead. It's easy to set up by just using a USB dongle to connect to your PC, laptop or even a Mac.
The keyboard comes complete with adjustable stands for a more comfortable typing experience. It is also designed for multitasking purposes, thanks to its Easy-Switch button that enables you to type on your mobile device using the keyboard. Other highlights include a spill-resistant design and a long-lasting battery life of up to two years.
---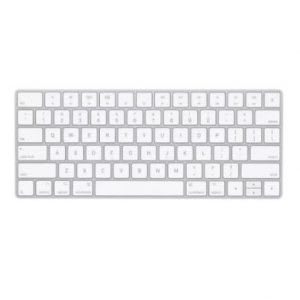 This compact yet portable keyboard is designed specifically for Apple products including Mac, iPad and iPhone models. Pairing the keyboard with a Mac is instantaneous as it uses an easy-to-setup Lightning-to-USB cable and Bluetooth connection. The keys utilise the low-profile scissor mechanism, which makes it ideal for those who like their typing experience reasonably quiet.
---
Some users prefer to operate their keyboard with an external mouse, while others are comfortable enough with an all-in-one variety that has a built-in touchpad. One such keyboard is the Logitech K400 Plus. It is ergonomically designed with a responsive 3.5-inch touchpad on the left side of the keyboard, mimicking the experience of having a mouse by your side.
The keys are equally silent, ensuring your typing experience feel less intrusive. The Logitech K400 Plus is packaged with two AA batteries, which claims to last up to 18 months. Setting up the keyboard is easy-peasy; just plug in a small receiver into a USB port of your laptop or computer and start typing away!
---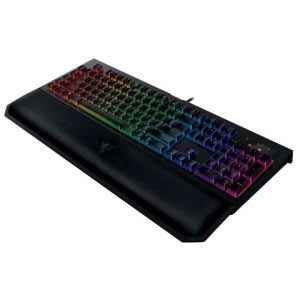 A keyboard with dedicated macro keys is particularly beneficial for gamers, programmers and graphic designers who want a faster managing control or setting up shortcuts for specific tasks.
One of them is the Razer Blackwidow Chroma V2, which comes complete with 5 sets of macro keys. You can assign them by adding, selecting or editing different sets of commands at your disposal. The keyboard itself is built tough for long-lasting uses, making it suitable for either prolonged gaming or working purposes.
---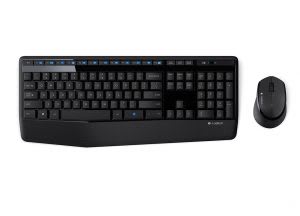 Looking for a full-size keyboard with number pad? Here's one for you: the Logitech MK345 Wireless Combo. It's a well-designed keyboard that has the keys evenly spaced out from each other, which eliminates the congested feel during the typing process. It also functioned wirelessly using two pre-packaged AAA batteries that able to last up to 4 years!
If that's not enough, the Logitech MK345 comes with a mouse made ergonomically to fit the contour of your right hand. It offers all the long-lasting comfort you need upon moving and scrolling the mouse.
---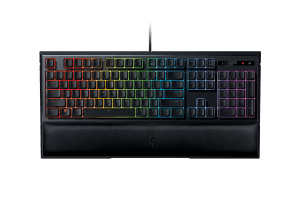 Let's face it, prolonged gaming or working sessions using a keyboard can hurt your wrists in the long run. An ideal solution to prevent this or at least to minimise the annoying wrist pain is to get a keyboard with a wrist rest.
Among them is the Razer Ornata Chroma, which comes with a detachable magnetic wrist rest that clips easily onto the bottom side of the keyboard. The wrist rest itself is even equipped with a leatherette foam, which gives you an added cushy comfort while resting your wrist on it as you type the keys.
---
Disclaimer: The pricing shown is just a good indication of how much these products are worth. The prices could change based on the e-commerce promotions that are going on. If some of the products are not available, do email us at [email protected] Thank you!