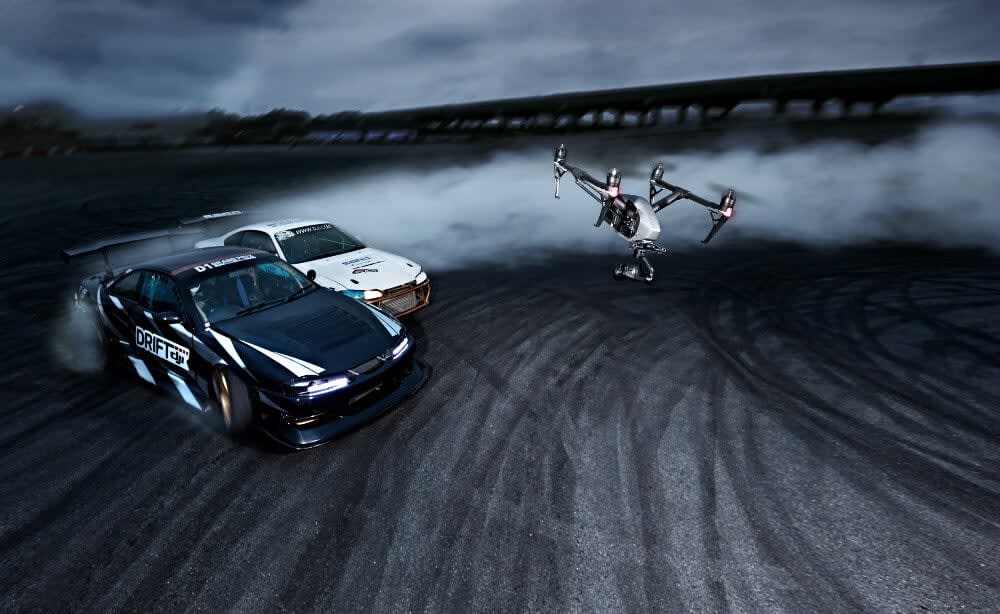 This year has brought a flurry of new models of drones with cameras flooding the market, giving drone enthusiasts many new and exciting options to choose from.
The wide variety of brands and choices means that there are drones for every level of expertise as well as use. Here are our picks of the best camera drones in Malaysia.
Best affordable camera drone on the market
Price from RM138.00
The Elfie is designed for taking selfies, as the name suggests. Being about the size of an average modern smartphone, one can easily utilize the 'foldable arms' and safely put it in a pants pocket while walking around. The Elfie connects to a smartphone via a 2.4 Ghz Wi-Fi connection that allows up to 40 meters of flight range.
The Elfie features a barometer to perform 'altitude holds' and achieve stable flights that should result in high-quality aerial shots, as well as a 'headless' mode for easy manoeuvrability and a stress-free learning experience. Charging time takes 120 minutes which will give 7-8 minutes of flight time. However, it's all worth it for those looking at getting a decent camera drone on a budget.
3 people added this to their wishlist
More: 7 Affordable Drones You Can Get Just Under RM 700
Best for beginners
Price from RM400.00
If taking selfies are a bit too boring and tame, then one might want to consider the GTE Parrot Mambo. Adding a bit of fun into the mix, a cannon can be attached to the top, enabling the pilot to go into 'combat' mode and practice hitting stationary or moving targets, while a 'grabber' can be attached to the bottom of the drone to lift light objects (up to 4g) off the ground. Equipped with an advanced autopilot, the Parrot Mambo will always stay hovering even without any control inputs, making it a suitable candidate for a fledgeling drone pilot to hone his or her skills.
Younger pilots who are into 'STEM' and coding will savour the fact that GTE has partnered up with Tynker, a code-learning platform used by 50 million students worldwide as well as an activity book to use with the Apple Swift Playground. To tie it all together they have also created a whole platform for people to share all of it, making the Parrot Mambo a suitable teaching and a learning tool.
4 people added this to their wishlist
Best for photography and real estate
Price from RM3,355.00
If size and portability is not the main concern, and the main goal is to get that oh-so-perfect, flawless aerial shots, then look no further than the Yuneec Q500 Typhoon. The Q500 Typhoon features the CGO3-GB; a 4k, 30fps UHD camera mounted on 3-axis gimbal. 1080p at 120fps is also possible to get that awesome slow-motion footage.
Equipped with a non-distortion lens, the Typhoon's video resolution, white balance, and light exposure are fully customizable to get that perfect shot. It can fly up to 122 meters (14 feet) vertically and features a flight time of up to a whopping 25 minutes and captures photos at 16 megapixels.
Best professional camera drone for travel and commercial use
Price from RM2,199.00
DJI is arguably 'the' brand when it comes to ultra-portable drones. The Spark Quadcopter features foldable arms for easy storage and portability. Coupled with being super lightweight, it can reach speeds of up to 50kmph in sport mode. A 12 Megapixel Full HD camera on a 2-axis gimbal, alongside its QuickShot mode, ensures amazing pictures and videos with cinematic composition. One of the few drones in the market to recognize faces, it can also take off from on top of a person's palm and detect obstacles as to avoid collisions.
Control it using a smartphone, a standard remote control, or 'palm control'. That's right, the DJI Spark Quadcopter recognizes hand gestures and can return to the owner and land on his or her palm. All of these awesome features are jam-packed into a small form factor with a powerful battery to power it on flights that last up to 16 minutes.
4 people added this to their wishlist
Best with GPS to buy
Price from RM6,380.00
Imagine a drone that senses 'all' of its surroundings. Well, one does not need to imagine anymore because that drone exists in the form of the Phantom 4 pro. State of the art environment sensing capabilities puts the Phantom 4 on an unprecedented level way above any of its competitors. It is capable of detecting obstacles in 4 directions; forward, rearward, and to both sides. It detects obstacles as far out as 30 meters (98ft) in front and literally plans the most suitable flight path to avoid them.
In the case of emergencies, it is also capable of simply hovering to protect itself from harm. With a 6-camera navigation system made up of three sets of dual vision sensors, the Phantom 4 has the ability to track any moving object flawlessly by calculating the speed and distance of the said object. The Phantom 4 Pro is designed to precisely and safely take off from precarious positions such as balconies and edges of cliffs with minimal pilot control. Recording indoors, in tight spaces, as well as flying through windows shouldn't be a problem for the Phantom 4 Pro.
Best camera resolution for movie-filming
Price from RM25,112.00
Considered to be the pinnacle of commercial drone technology by far, the Inspire 2 features an all-new image processing system that records up to 5.2K in CinemaDNG RAW and Apple ProRes format among others. Zero to 80kph (50mph) in five seconds makes the Inspire 2 the perfect drone for recording car stunt scenes. A maximum speed of 94kph (58 mph), and descend speed of 9 meters per second gives the Inspire 2 unparalleled speed and agility unheard of amongst its competitors.
The Inspire 2's 'FlightAutonomy' feature has seen a major upgrade compared to its predecessor, providing two directions of obstacle avoidance. And with dual batteries, the Inspire 2 can remain in flight for 27 minutes before having to be charged or have its batteries swapped. It also features Spotlight Pro, an intelligent flight mode that gives a solo pilot the ability to create complex shots without the help of a 2nd person operating the camera.
Although, having a 2nd person means that the upgraded video transmission system can be utilized. This new system features a dual transmission across dual channels of both the FPV camera as well as the main camera which enables better collaboration between the pilot and the camera operator.
2 people added this to their wishlist
Disclaimer: The pricing shown is just a good indication of how much these products are worth. The prices could change based on the e-commerce promotions that are going on. If some of the products are not available, do email us at [email protected] Thank you!