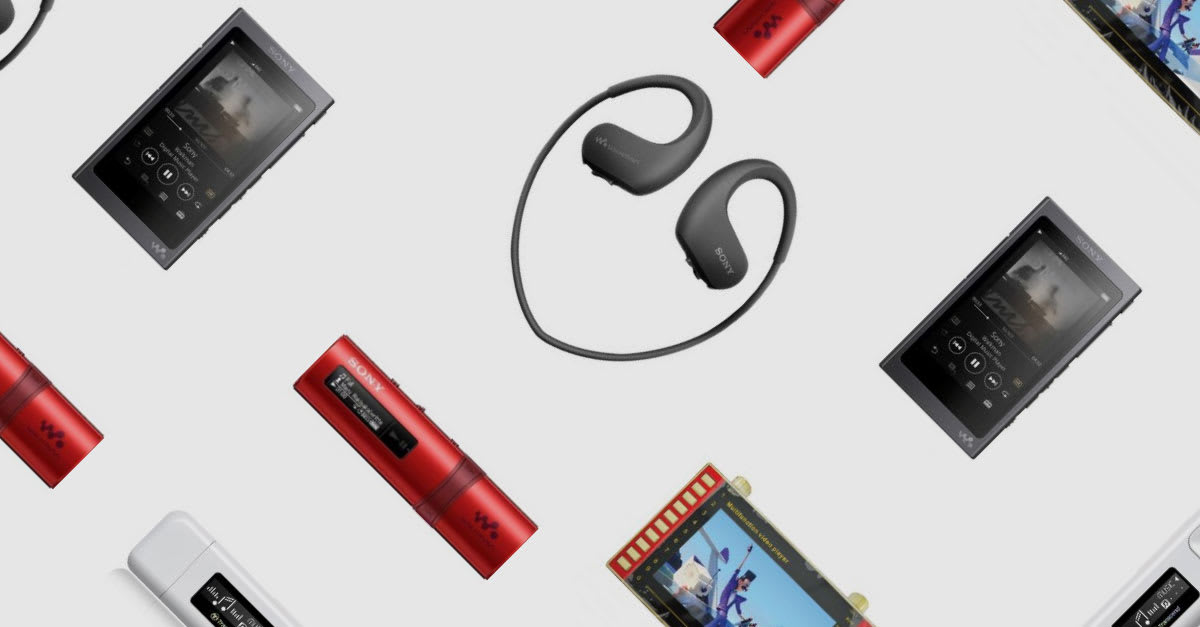 In this day of age, with smartphones being so versatile, it's a wonder that there are still MP3 player manufacturers out there. Longtime music-tech giants such as Sony, have rebranded the Walkman into a small, portable music player and have introduced a whole slew of MP3 devices from budget to audiophile.
Aside from the features and hardware in the players listed below, the sound quality is also heavily dependent on many external factors including environment and earphone quality. This list is our researched review of some of the most enticing MP3 players available on the Malaysian market for those who need music on-the-go.
1. Sony NW-WS413 MP3 Player Waterproof 4GB
Best waterproof MP3 player for runners and sports
Price from RM309.00
The NS-WS413 is part of Sony's line of Walkman devices. This Walkman is specially crafted to be able to withstand the rigours of sports and action activities. The device is IP65/68 rated for being waterproof, dust-proof and salt waterproof as well as enduring a wide range of temperatures.
Weighing in at just 32 grams, with 4 GB of storage space and up to 12 hours use on a single full charge, this Walkman is tailored to bring you music while indulging in any other sporting activities without worrying about damaging your MP3 player.
2. SONY NW-A45 HiRes Walkman Player 16GB
MP3 player with best sound quality
Price from RM619.00
The NW-A45 features a responsive 3-inch touchscreen with a 30 FPS user input so that you can scroll through your music fuss-free. Even so, there are physical buttons on the side of the unit if you prefer. The player supports most popular sound formats and has built-in Bluetooth support.
There's an integrated 16GB of storage expandable via micro SD card up to 200GB. The player features the S-Master HX digital amplifier to create pure sound quality as well as Digital Noise Cancelling and ambient sound mod to ensure purity of audio delivery.
3. Sony Walkman NWZ-B183F/R 4GB
Best mini USB MP3 player
Price from RM138.00
If you need a no-frills, affordable and robust mini USB MP3 player, then this Sony Walkman may be the one for you. The player can play up to 20 hours on a full charge and has a quick charging feature that yields up to 90 minutes of playtime from a single 3-minute charge. There's even a built-in FM radio for added value, and you can also record songs off the receiver to be played back later.
4. Full HD SM-999 MP4/MP3 10-Inch Video Player
Best MP3 video player for downloaded Youtube videos
Price from RM149.90
The HD SM-999 is a multi-format player which can play both videos, pictures and sound files in a variety of formats. The player comes preloaded with over 200 videos including popular kid's shows and Islamic Learning Videos which can be deleted if you aren't interested.
There's 8 GB of storage available which is adequate countless videos and music. The device also supports USB Pen drives and Micro SD card. It can also stream movies up to 720P without conversion so that you can watch YouTube videos easily. There's even a built-in FM radio as a bonus.
5. Transcend MP330K 8GB MP3 Player
Best MP3 player with radio
Price from RM134.00
If you need a portable MP3 player with good built-in FM radio, the Transcend MP330K has got you covered. Coming in with a built-in FM radio tuner with 20 preset stations, you can also record music off the radio to store in the player to listen to later. The unit also functions as a voice recorder for recording notes or conversations. The LCD screen can also display song lyrics karaoke style with the synchronised lyrics display.
The player supports 14 different languages and has an 8 GB size built-in storage which can store up to 2000 songs. There is also a line in function to allow audio recordings from external devices such as DVD players and computers.
6. MAXGear Car Bluetooth MP3 Music Player
Best for car
Price from RM38.90
If you already have a set-up music system that you don't want to replace, the MAX Gear Car MP3 Music Player is a cheap way to complement your music system. The device works by streaming MP3 songs to the FM Chanel of your car radio. It fits into the lighter socket of your car, drawing power from it and can also act as a Bluetooth Hands-free device.
You can play music from a variety of sources including TF Card, Pen drive, your phone or even another MP3 player via the line-in socket. It has a digital display to show details of the current playing song, making it easy for you to select songs.
7. Apple iPod Touch 32GB (6th Generation)
Price from RM799.00
The iPod Touch is the perfect multimedia device for everyday use. You can listen to music, play mobile games, and take photos, view videos and surf the internet with any available Wi-Fi connection. The main difference between an iPod and an iPhone is the iPod can't use a cellular network, other than that the features are similar.
This all-in-one device is of the highest standards and quality as to be expected of an Apple product. The improved iSight camera at 8 megapixels is stunning and the powerful A8 chip allows smooth gameplay for your mobile gaming needs. A great all-rounder.
Disclaimer: The pricing shown is just a good indication of how much these products are worth. The prices could change based on the e-commerce promotions that are going on. If some of the products are not available, do email us at [email protected] Thank you!