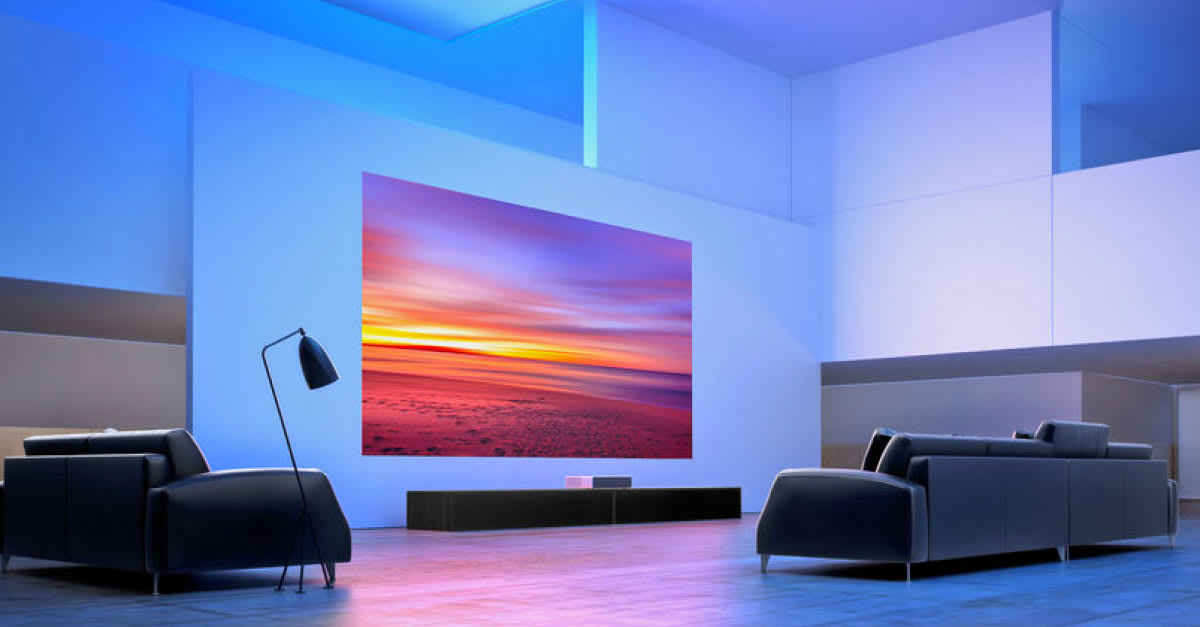 Nothing beats watching one of your favourite movies on the big screen. Obviously, this is an experience reserved for the cinema – but what if you're at home?
Consider getting a projector. What's even better is this – projectors aren't just for movies. You can use them for playing video games or showcasing your work presentations.
Keep reading below as we round up eleven of the best projectors based on different needs.
1. Epson EH-TW5350
Best 3D projector
Price from RM2,899.00
Affordability is the best word to describe this projector from Epson, which is able to display both 2D and 3D videos with equal excellence. The projector is also equipped with 3D Dynamic and 3D Cinema for versatile colour adjustments. Finally, the brand's 3LCD technology offers you amazing clarity in both brightness and contrast.
2. ViewSonic PJD5155
Best projector with HDMI
Price from RM1,499.00
This projector from ViewSonic comes equipped with an HDMI port, enabling you to project 3D content from PCs and even Blu-ray videos. The brightness level is decent, thanks to its 3,300 ANSI lumens, while the all-black body gives this projector an elegant, business-like look.
3 people added this to their wishlist
3. BenQ W1070+
Best DLP projector
Price from RM3,708.94
The BenQ W1070+ gets a terrific boost from its crystal-clear Full HD display, which is great for those who like to watch movies or play video games. Then, there's the brightness performance that's able to perform well – even in daylight. This is, of course, made possible with the BenQ's 2,200 ANSI lumens light output.
4. Acer H6517ST
Best short throw projector
Price from RM3,499.00
Sometimes, you don't need a large room to project an equally large screen. With Acer H6517ST, this short throw projector able to display a big picture even if you are in a small space. It also supports a Full HD resolution and features the brand's ColorBoost 3D, which gives you a vivid 2D or 3D image.
5. Optoma UHD60
Best 4K projector
Price from RM9,699.03
The Optima UHD60 offers you a top-of-the-line 4K Ultra High Definition (UHD) projection system, with richer and more vibrant colour reproduction. It's almost as if you're part of the experience! It can project images up to 140 inches (that's 11 feet!), which allows you to enjoy the vivid 4D display even if you sit far from the screen.
6. Xiaomi Mi Laser Projector
Best laser projector
Price from RM5,949.00
Although Xiaomi is primarily known for their affordable high-end smartphones, they're no slouch either when it comes to the projection business. Here, the Xiaomi Mi Laser Projector boasts an ALPD 3.0 laser light source technology, which gives you excellent colour reproduction, as well as better contrast and brighter images.
The Xiaomi Mi Laser Projector is also compact enough to be carried or moved around without the usual bulkiness of a typical laser projector. It supports both Full HD and 4K resolutions, while the sound system is blessed with a theatre-like Dolby 30 W dual DTS speakers.
7. Sony MP-CL1A/HK
Best portable mini projector with WiFi
Price from RM1,702.00
Are you constantly on the go from one place to another? Then you should consider the Sony MP-CL1A/HK, a projector with a smartphone-like portability. Despite its size, this projector is made tough with a matte black aluminium body. It also packs a host of essential features such as WiFi and Bluetooth connectivity as well as a USB port.
8. Philips PicoPix PPX2055
Best pico pocket LED projector
Price from RM1,458.43
Weighing at just 114g, this pico projector is lightweight and tiny enough to carry with you in a backpack or even fit in your pocket. The Philips PicoPix PPX2055 is also easy to use: just connect the USB to your PC or laptop and you can begin projecting your images and videos in no time.
9. ViewSonic PJD7720HD
Best cheap HD projector
Price from RM2,699.00
If you're on a budget but still insist on a decent-quality HD projector, check out the ViewSonic PJD7720HD. It scores well in terms of brightness with the help of ViewSonic's very own SuperColor™ 6-Segment Color Wheel RGBCYW feature. If that's not enough, it also comes with different brightness settings such as Movie Mode and Dynamic Mode.
Best of all, the ViewSonic PJD7720HD is blessed with a true Full HD 1080p resolution. Whether you're projecting a movie or a visual presentation to your clients, the projector gives you an amazingly clear, vivid display of both colour and contrast.
10. Sony VPL-HW45ES
Best home theatre projector
Price from RM7,988.00
Turn your living room into the ultimate home theatre experience with the Sony VPL-HW45ES. It boasts a superb video quality, thanks to Sony's Reality Creation feature that makes the picture sharper and crisper on a Full HD mode. The inclusions of Bright Cinema and Bright TV modes ensure the colour of your video are bright and accurate.
Sony VPL-HW45ES also comes equipped with a Motionflow technology, which allows you to witness every detail of fast-paced movements with less blur regardless of sports like badminton and F1 racing or action movies.
11. Epson EB-945H
Best wireless 3LCD projector
Price from RM3,599.00
The Epson EB-945H offers you the wireless flexibility to share texts and images from your smart devices with the help of Epson iProjection app. It's also equipped with a built-in 16W speaker, a 1.6x zoom lens and a Multi-PC projection that enable you to project up to 4 displays simultaneously.
Disclaimer: The pricing shown is just a good indication of how much these products are worth. The prices could change based on the e-commerce promotions that are going on. If some of the products are not available, do email us at [email protected] Thank you!