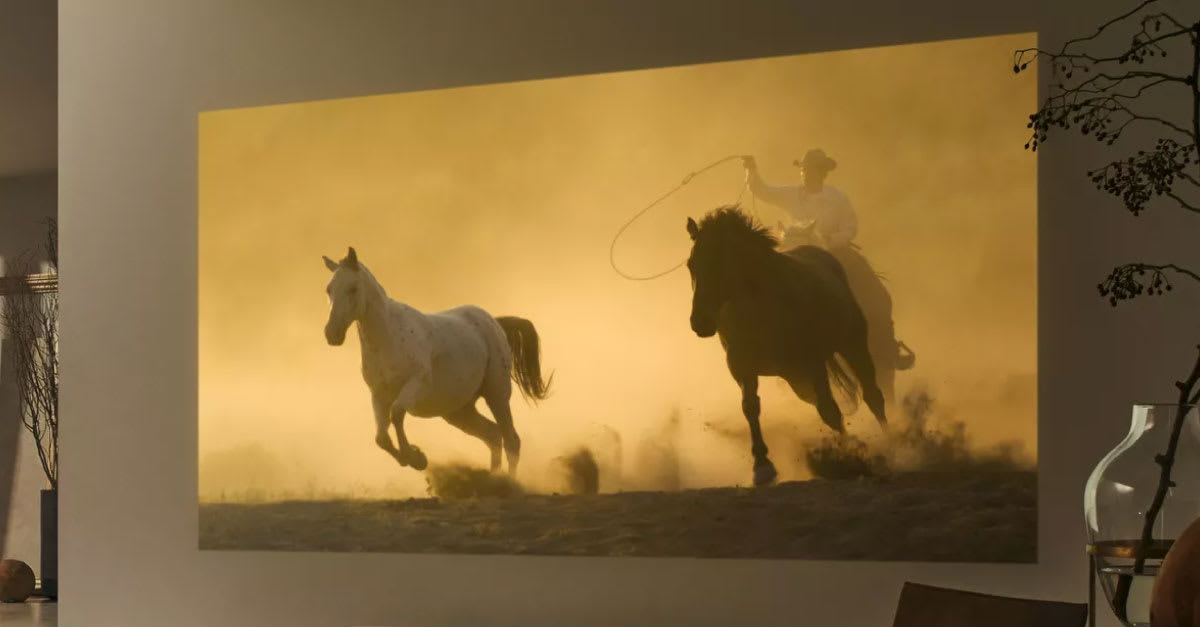 4K, also known as Ultra HD, in general, refers to a resolution of 3,840 x 2,160 pixels which is four times greater than a full HD. The purpose is to deliver a clearer and more defined picture. Although a large flat screen TV can give you a good viewing experience, only a projector can truly emulate the sensation of a cinema screen in your home.
There's nothing like a big screen in a darkened setting. If you're ready to upgrade to a true home theatre experience in 4K, we've rounded up some of the best projectors available in Malaysia to suit a wide range of budgets and applications.
1. Epson Home Theatre EH-TW8300
Best 4K projector with active 3D
Price from RM12,630.00
First up on our list is Epson's Pro Cinema line of projectors with 4K support. The EH-TW8300 is equipped with the propriety "4K e-Shift4" that quadruples the pixels from the native 1080p resolution.
That's not all, the projector also supports active 3D, with each purchase including 2 free pairs of Bluetooth 3D glasses. With a brightness of 2,500 lumens and wide colour gamut, this projector can display an expanded dynamic range of contents in an explosion of bright and clear colours.
2. Optoma UHD65 4K Home Cinema Projector
Best for home theater
Price from RM13,499.00
Optoma's UHD65 4K home cinema has been crowned the king of 4K projectors by many internet users. Like its predecessor, the UHD60, UHD65 offers stunning true 4K output with ultra-bright 3,000 lumens.
With HDR10 technology implemented, the UHD65 can produce stunning whites, darkest blacks and frame interpolation which all adds to a highly realistic output on the screen.
The Optoma's built-in contrast ratio has been upgraded to 1,200,000:1 higher than its predecessor which allows for sharper images to fully realize the 8.3 million pixels images on a screen.
3. BenQ W1700 DLP
Best 4K projector with 3D
Price from RM6,401.03
As it stands, the BenQ W1700 is the best value for money when it comes to True 4K resolution projectors with 3D support built in. As part of the BenQ CineHome range, the W1700 utilises a single chip 4K Ultra HD DLP chip.
The 4K resolution is achieved by a unique high-speed mirror flashing technique, allowing movements of the internal mirror to 4 times per frame to create a 4K image. There is also support for 3D projections at 1080p although you may want to consider getting 3D glasses for this.
4. JVC DLA-X9000 Home Entertainment Projector
Best 4K projector with HDR for color grading
Price from RM39,999.00
JVC's merge with Kenwood has resulted in a top-of-the-top line of JVC projectors. The X9000 being JVC's flagship model was crafted with the finest optical elements which are handpicked of the production line by JVC engineers.
The result is a peerless projector in its class, having an industry leading contrast ratio of 150,000:1 and HDR as well as colour prowess previously unseen in consumer grade products.
Although costing quite high, it's more affordable in comparison to the high-priced SIM2. Moreover, it can produce the blackest blacks and brightest whites as well as a huge range of crystal clear colours in 4K resolution.
5. Acer H7850 Home Cinema Projector
Best for bright conference rooms
Price from RM7,498.00
Taiwanese IT giant Acer's cheapest offering in the 4K range is the H7850. The ultra-light H7850 uses a 0.66" 4K UHD DLP chip to achieve this resolution and also features HDR at a rated 1,000,000:1 contrast ratio.
It is simple to setup and boasts ultra-bright projections even on very large screens up to 220". It's greatly suitable for brightly lit rooms such as conference rooms.
6. Optoma UHD60 4K Ultra High Definition Projector
Best 4K projector with HDR
Price from RM10,999.00
When it was first released to replace Optoma UHD50, the Optoma UHD60 topped on many lists as the best all-rounder 4K projector. Although it has since been surpassed by the UHD65, it is still a great buy especially due to its significant price cut.
The Optoma features the same engine as the UHD65, utilising two Texas Instruments' 4K 0.66 "DLP chips with a native 4K resolution, 3,000-lumen brightness with a lamp life of 4,000 hours and is also HDR compliant.
The UHD60 is still one of the most excellent high-performing 4K projectors with true CTA certified 4K Resolution now that it comes at an even greater value.
7. Optoma UHD50 4K Home Theater Projector
Best budget 4K projector
Price from RM6,599.00
With the release of their newer UHD65 model of 4K projectors, the older UHD60 and 50 models by Optoma has seen a significant decrease in pricing. Although superseded, the UHD50 still offers the same reliable and detailed cinematic output and is easy to setup and connect to various video sources.
The UHD50 utilizes a 0.47 DLP chipset and offers lens shift which many projectors within this price range do not. It has a very low noise level and is HDR compliant although it does not feature frame interpolation like the higher spec UHD65.
It may not be as powerful compared to other choices, but it's still a great value for money due to its high brightness, CTA certification and Texas Instruments' 4K UHD DLP technology that helps bring your movies to life.
8. BenQ TK800 4K UHD HDR Home Entertainment Projector
Best 4K projector with low input lag - for gaming on Xbox One & PS4
Price from RM5,699.00
While some may find that the BenQ's TK800, which utilises pixel shifting to achieve 4K resolution, is not a true 4K projector, rest assured that it's a certified 4K UHD projector. So, you still get to enjoy a screen of 4K without breaking the bank.
https://www.youtube.com/watch?v=_7_aZrebRjY
The projector's low input lag makes it great for both sports and video games. Of course, if you want a 4K projector utilising a native 4K DLP chip, be prepared to pay at least double the price of the TK800, which uses the DLP XPR chip by Texas Instruments to achieve the 8.3 million pixels at an affordable price.
Disclaimer: The pricing shown is just a good indication of how much these products are worth. The prices could change based on the e-commerce promotions that are going on. If some of the products are not available, do email us at [email protected] Thank you!