As a gamer, you would have spent a fortune on your gaming machine, especially if you belong to the PCMR subculture. That being said, it would be a shame if you're only using a RM 50 keyboard-mouse combo to complement your impressive war machine, right?
While most gamers are not as particular as compared to the mechanical keyboard community, owning a gaming keyboard with the perfect feel and function is vital. Well, it is, technically, a matter of life and death, so to speak.
So gamers, let me bestow onto you our collective knowledge of keyboards so you can level up your computing and gaming experience!
Standard Features
Features such as anti-ghosting, software customisation, and macro recording are present in most, if not all, keyboards. But, our main point of comparison here is the type of switches they use, additional features, or features that cater to specific types of gamers or games.
Most keyboards have RGB or at least some form of lighting, though some do have better implementation over the others. Now that you're more familiar with the types of keyboards find out which one is best for you.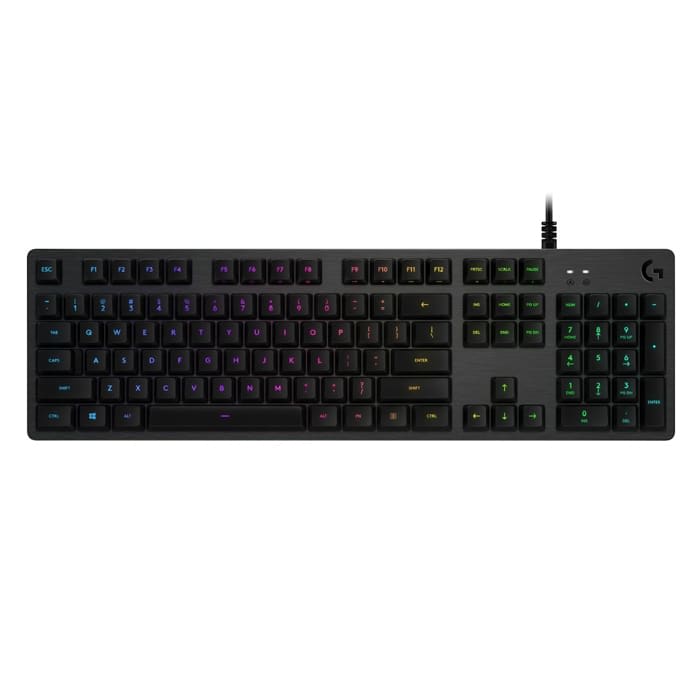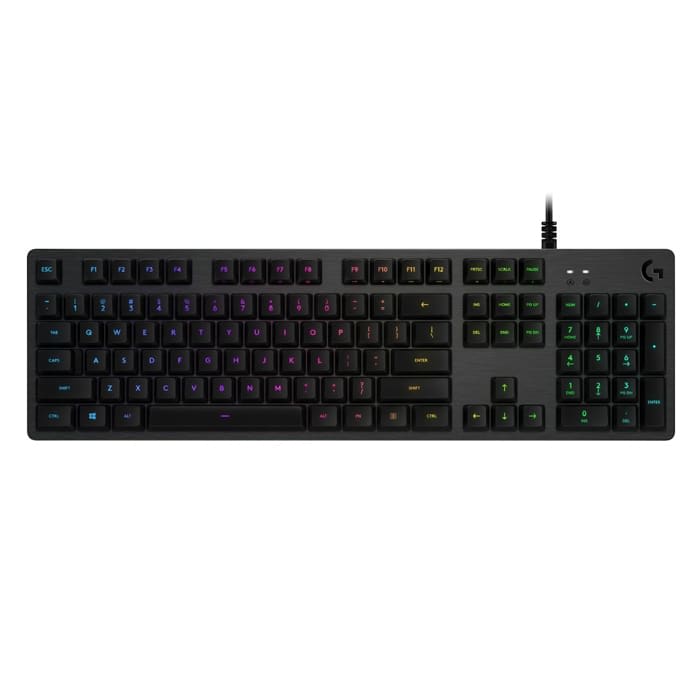 add_circle
Value for money
Logitech's G512 features the Romer-G Tactile mechanical switch, which provides gamers with obvious actuation point they can feel no matter gaming or typing for long hours. The switches are also carefully tested and rated for a 70 million click lifespan to be durable and reliable.
With Logitech's LIGHTSYNC technology, it features customizable lighting driven by games and audio to deliver the most immersive RGB experience ever for avid gamers up to 16.8 million colours. Crafted from the incredibly strong and durable 5052 aluminium-magnesium alloy, it provides a sturdy yet non-slip chassis that creates both minimal and beautiful design.
---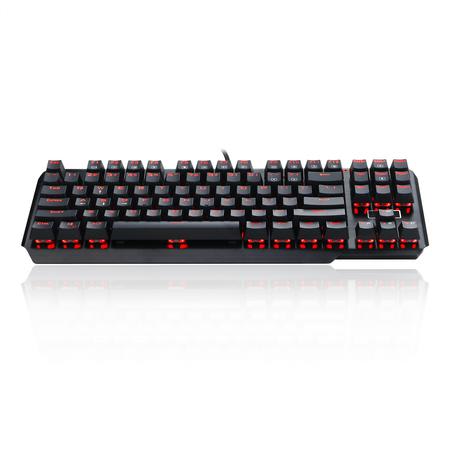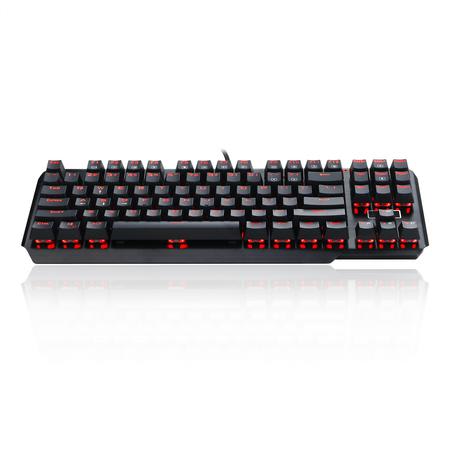 add_circle
Real mechanical switches
add_circle
Great build quality
add_circle
Value for money
remove_circle
Sub-par Software
remove_circle
Software don't support macOS
remove_circle
Loud key switches
Layout: Tenkeyless | Switch: Mechanical (MX Blue Equivalent) | Durability: Unknown | Backlit: Red | Media Keys: Via function keys | Passthroughs: None | Other Features: None
Redragon is not a household name in the gaming world, but the Redragon K553 is a mechanical keyboard with a compact steel housing and durable keycaps; their website claims that it is "built like a tank". They also claim to have "Cherry MX Blue" equivalent switches, but still feels pretty close.
Quality aside, if you are looking for a keyboard with full RGB illumination, you are not in luck. The K553 only comes in red backlights, but you can adjust the brightness and it even comes with a breathing effect!
---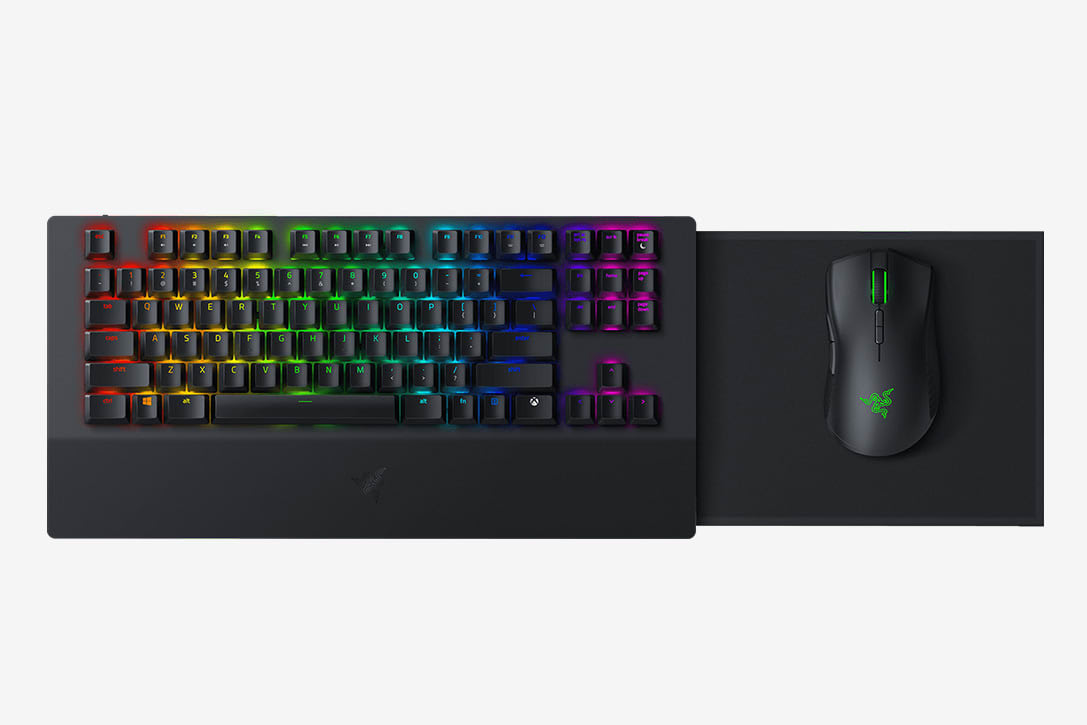 Razer Turret for Xbox One
RM 1888.47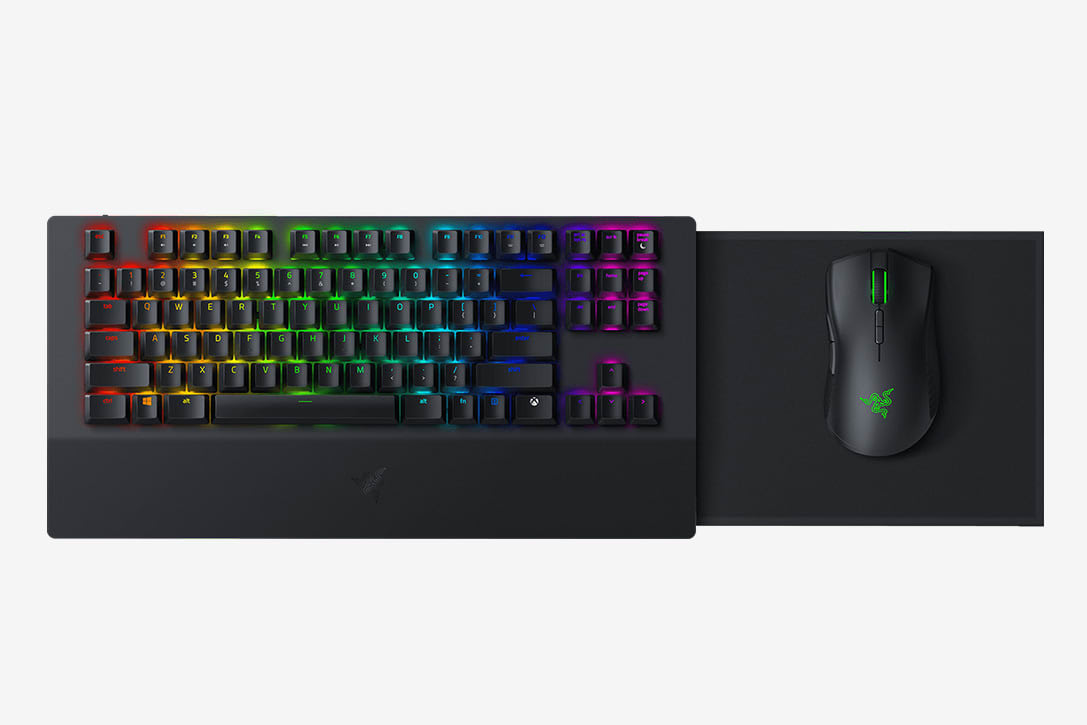 Razer partnered with Microsoft to build the world's first wireless keyboard and mouse exclusively designed for Xbox One, giving users a new way of gaming on a console. The Razer Turret features a built-in ergonomic wrist rest and a retractable mouse mat for comfort, especially during long gaming hours.
This keyboard also has customizable lighting for games to sync to your gameplay, as well as a dedicated Xbox key button to allow users to access Xbox One's dashboard right away. With just a single charge, this keyboard offers up to approximately 40 hours of battery life.
---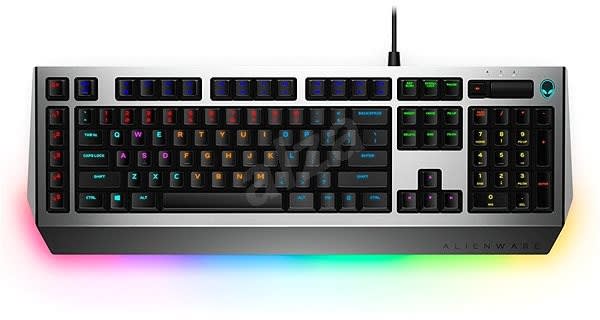 Alienware Pro Gaming Keyboard: AW768
RM 386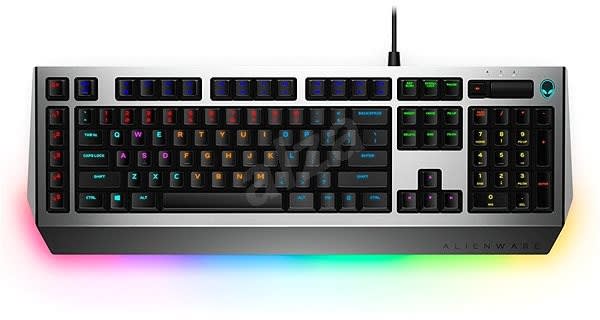 Alienware's design brings users closer to the world of immersive gaming with its impressive, vibrant lighting effects. Speed, control and accuracy in gaming have never been more accurate thanks to their anti-ghosting and N-key rollover built into the mechanical switches.
Aside from all of those, this keyboard consists of 50 million keyboard life cycle in which means it is made to lasts longer. One can also maximise their comfort with three adjustable feet angles and an included palm rest attached magnetically.
---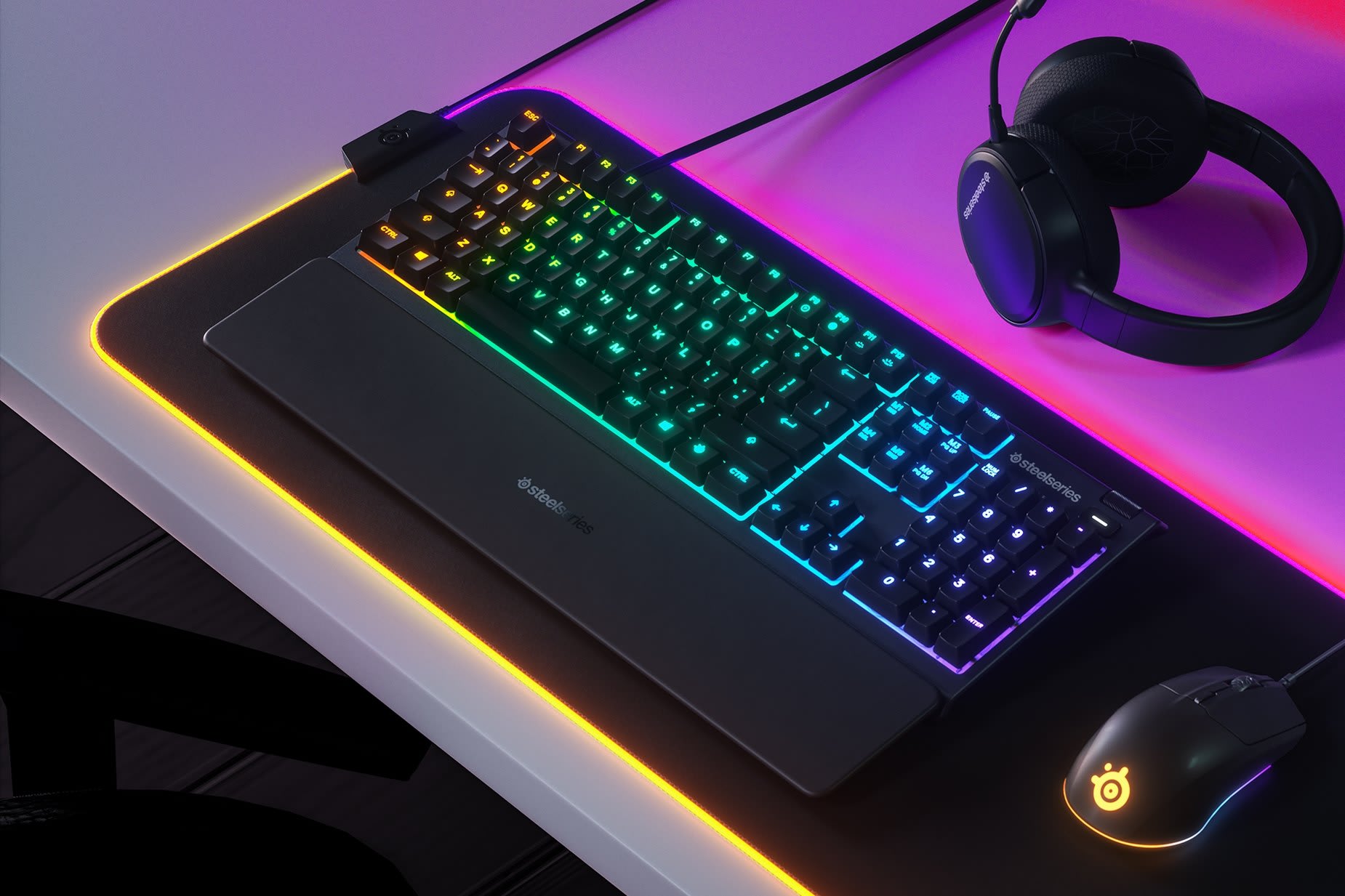 Steelseries Apex 3
RM 285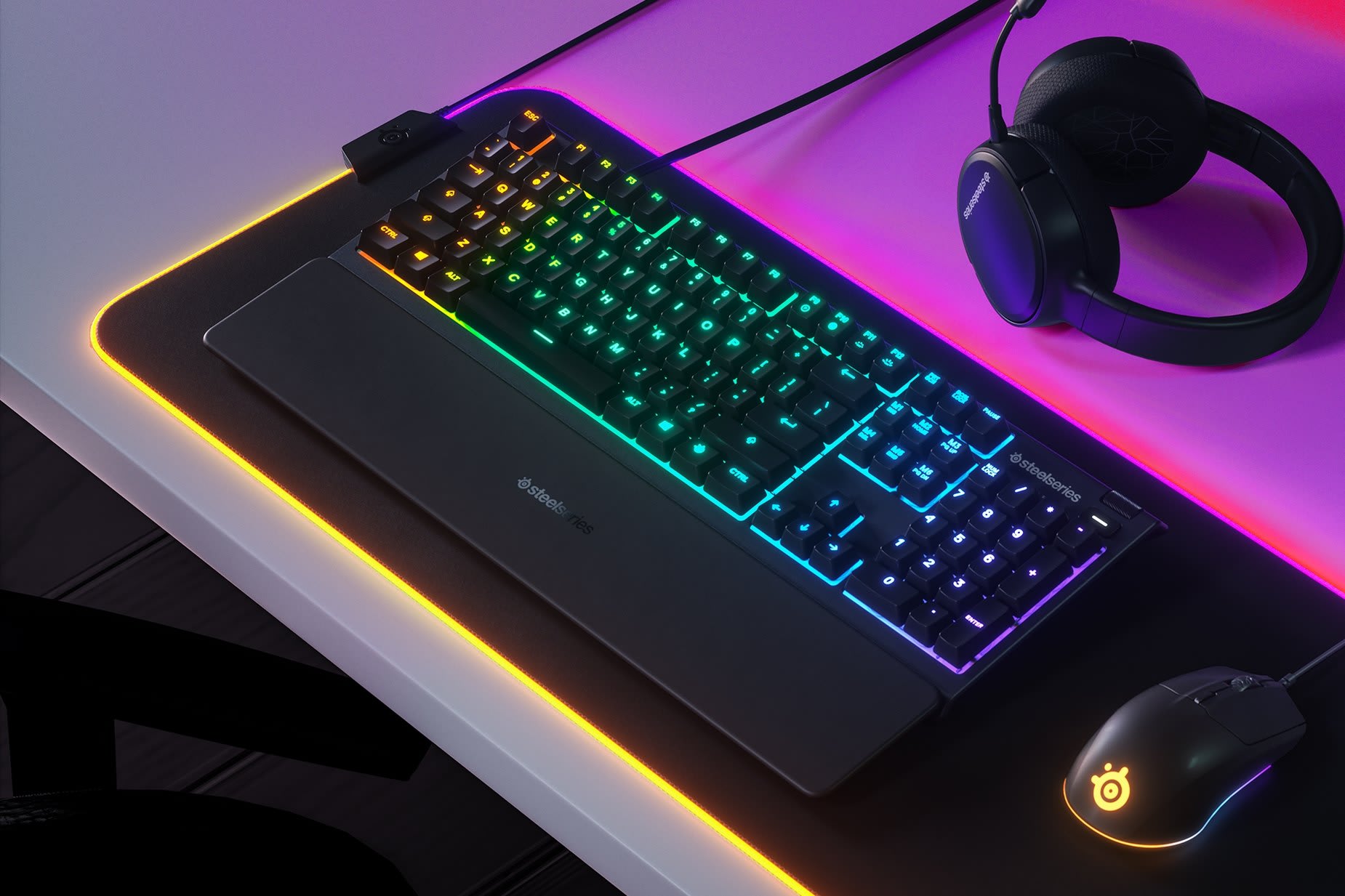 add_circle
Quiet switches
add_circle
Value for money
add_circle
Dedicated media keys
add_circle
Cable routing channel
remove_circle
Membrane switch's mushy actuation
remove_circle
No USB passthrough
remove_circle
Non-braided cables
Layout: Full-size | Switch: Membrane | Durability: 20 million keypresses | Backlit: RGB | Media Keys: Yes | Passthroughs: None | Other Features: IP32 Water resistance
Search for any decent gaming keyboard, and you'll find that they easily cost RM 500 up to RM 900, which makes the Steelseries Apex 3 such a great mid-range option. The Apex 3 is a full-featured keyboard, completed with full-range RGB, dedicated media keys, and even IP32 water resistance. Sure it's not a mechanical keyboard, but it's still pretty decent and doesn't make a lot of clicky noises.
If you prefer a mechanical option, there's also the HyperX Alloy Origins
---
Razer Cynosa Chroma
RM 198.88
Layout: Full-size | Switch: Membrane | Durability: Unknown | Backlit: RGB | Media Keys: Via function keys | Passthroughs: None | Other Features: None
The Razer Cynosa Chroma is a great option for someone who does not want to spend a fortune on a gaming keyboard, but still wants all the RGB goodness from Razer. It's unique membrane switch is fast and great enough for gaming, but don't expect it to perform as well as an actual mechanical keyboard.
The switches are surprisingly tactile, however, and it is also perfectly quiet - perfect for that casual midnight gaming marathon. Aside from the usual customisation (yes, including full RGB control) that you can do via Synapse, however, there's no other fancy features here.
If you absolutely dislike Razer or their software, however, you can also check out one with similar features and price for the SteelSeries Apex 3
---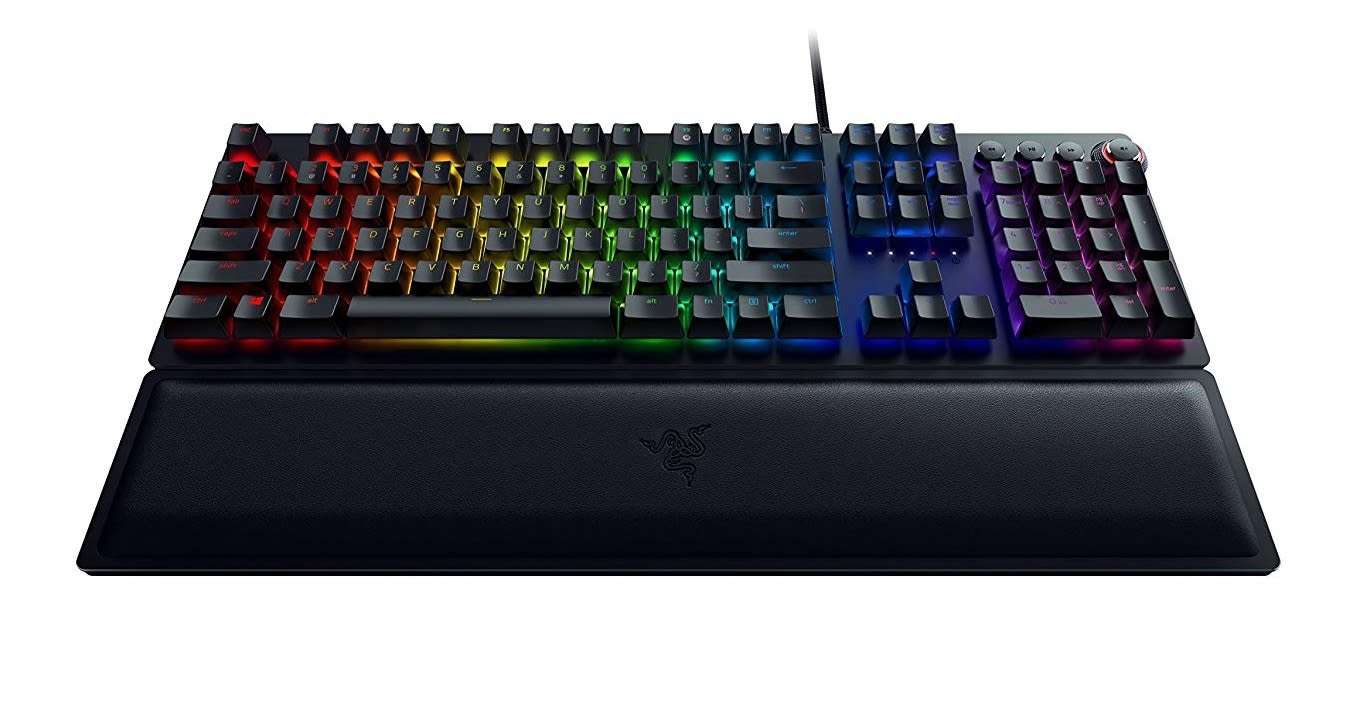 Razer Huntsman Elite
RM 999.00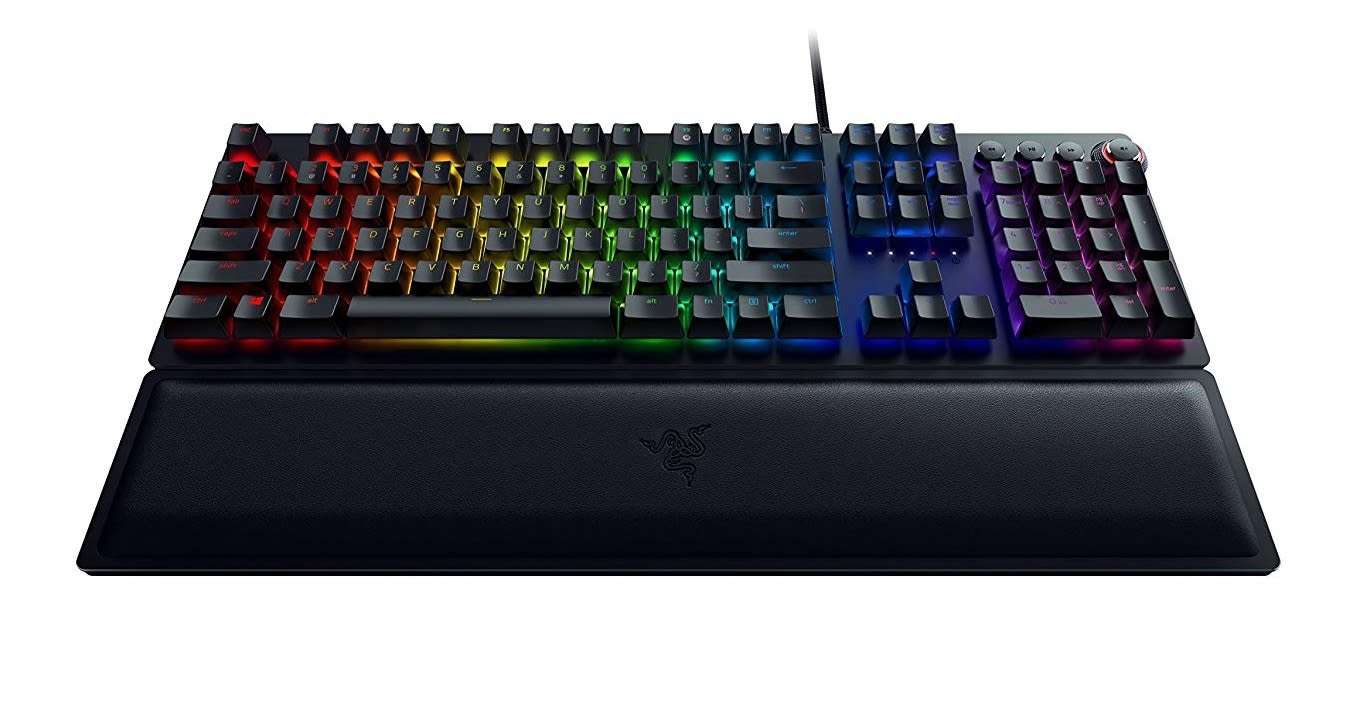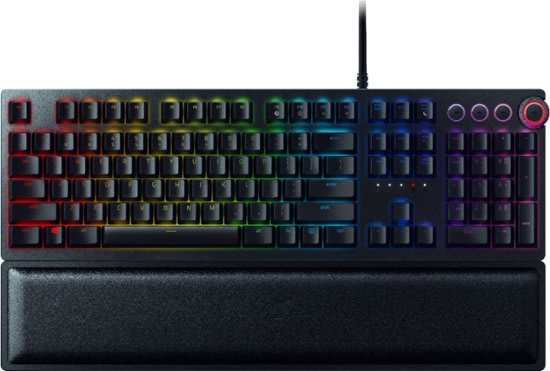 add_circle
Very fast and responsive
add_circle
Dedicated, programmable media keys
add_circle
RGB wrist rest
add_circle
Minimalistic design
remove_circle
Prohibitively expensive
remove_circle
No USB passthrough
remove_circle
Software don't support macOS
Layout: Full-size | Switch: Optical-Mechanical (Razer Purple, Red) | Backlit: RGB | Durability: 100 million keypresses | Media Keys: Yes, with programmable wheel | Passthroughs: None | Other Features: RGB wrist rest included
If you want the absolute best and money is not an issue, look no further than the Razer Huntsman Elite. It is made out of Razer's new optical switches, which uses light sensors to detect key presses, making these the fastest and the most durable switches right now. The keyboard is available in clicky (purple) or linear (red) options, and it comes with an RGB powered wrist rest.
However, note that this keyboard needs 2 USB slots for power, and doesn't come with a USB or 3.5mm audio passthrough. The Razer Synapse software also does not have a macOS version, so macOS users will lose all the customisation that Windows users can enjoy.
If Synapse is not your thing, or you want additional macro keys, you can also consider the equally awesome (and bank-busting) Corsair K95 Platinum XT
---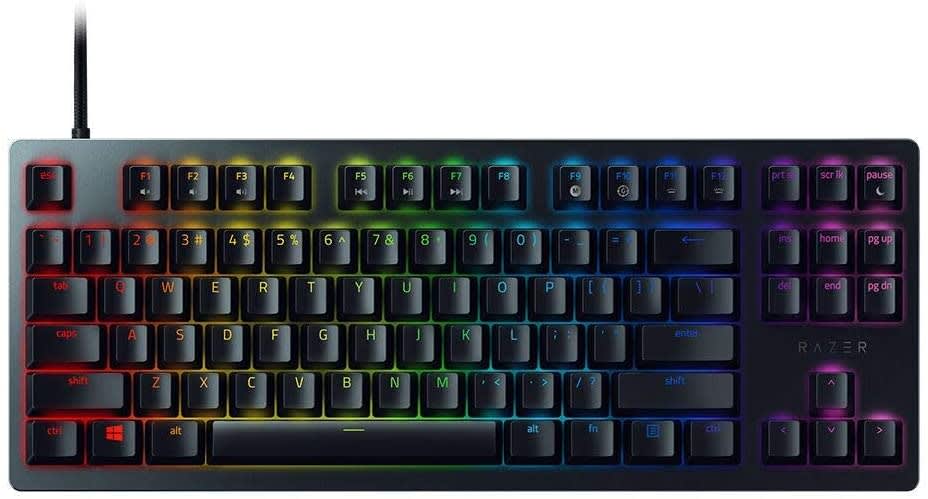 Razer Huntsman Elite Tournament Edition
RM 528.88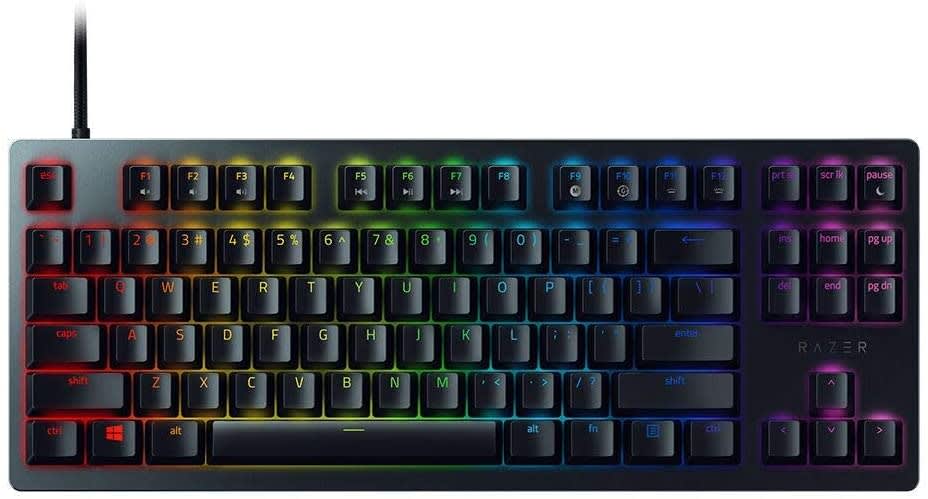 Layout: Tenkeyless | Switch: Optical-Mechanical (Razer Purple, Red) | Durability: 100 million keypresses | Backlit: RGB | Media Keys: None | Passthroughs: None | Other Features: Detachable USB Type-C cable
Tenkeyless or TKL means that the keyboard does not have a Numpad - which means more space for your mouse to move! One of the best options you can find right now is the Razer Huntsman Tournament Edition.
It has the same optical switch as the bank-busting Huntsman elite but stripped off all the unnecessary luxuries and the numpad. The other difference is that it comes with a detachable USB-C cable - which doesn't matter much to most unless you carry your keyboard around.
Honestly, I'd say this is one of the best keyboard options right now if you can forgo the media keys and numpad. Alternatively, check out the Logitech G Pro keyboard.
---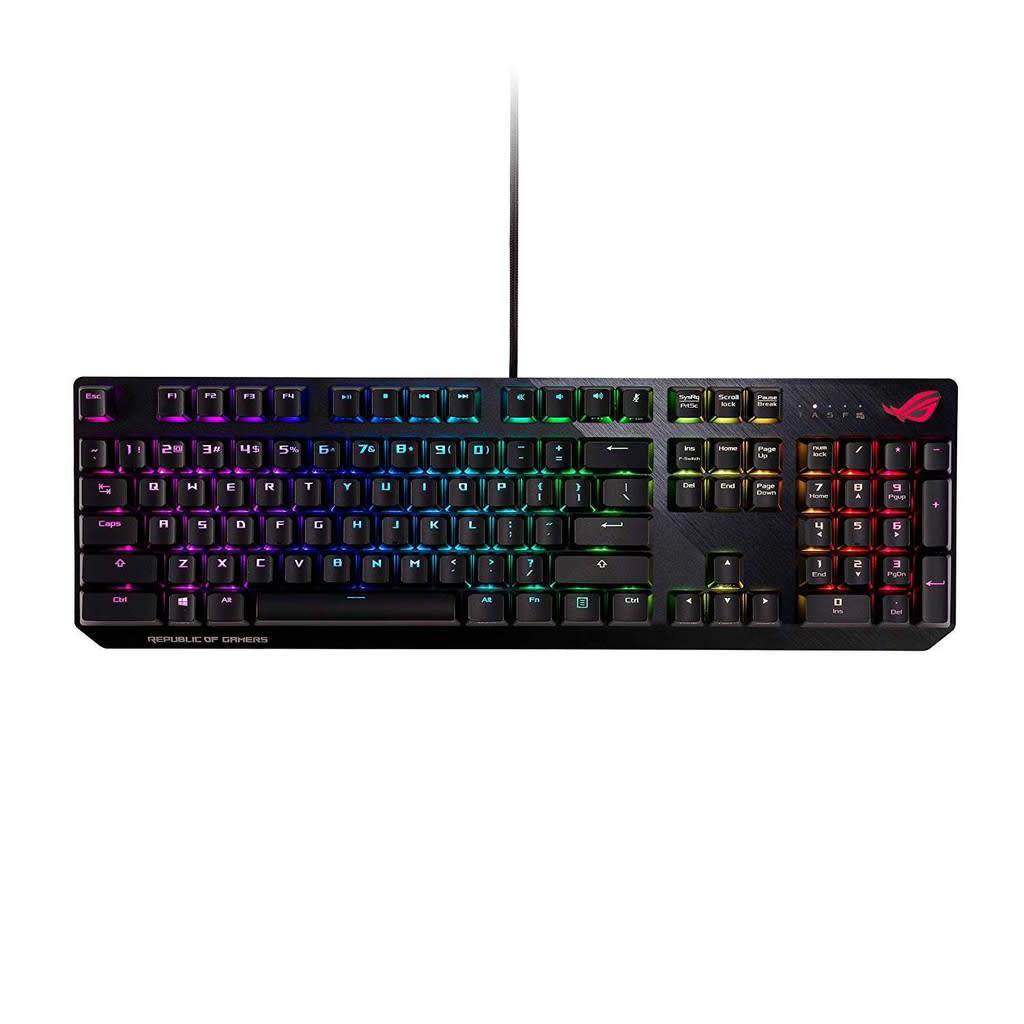 ASUS ROG Strix Scope RGB
RM 549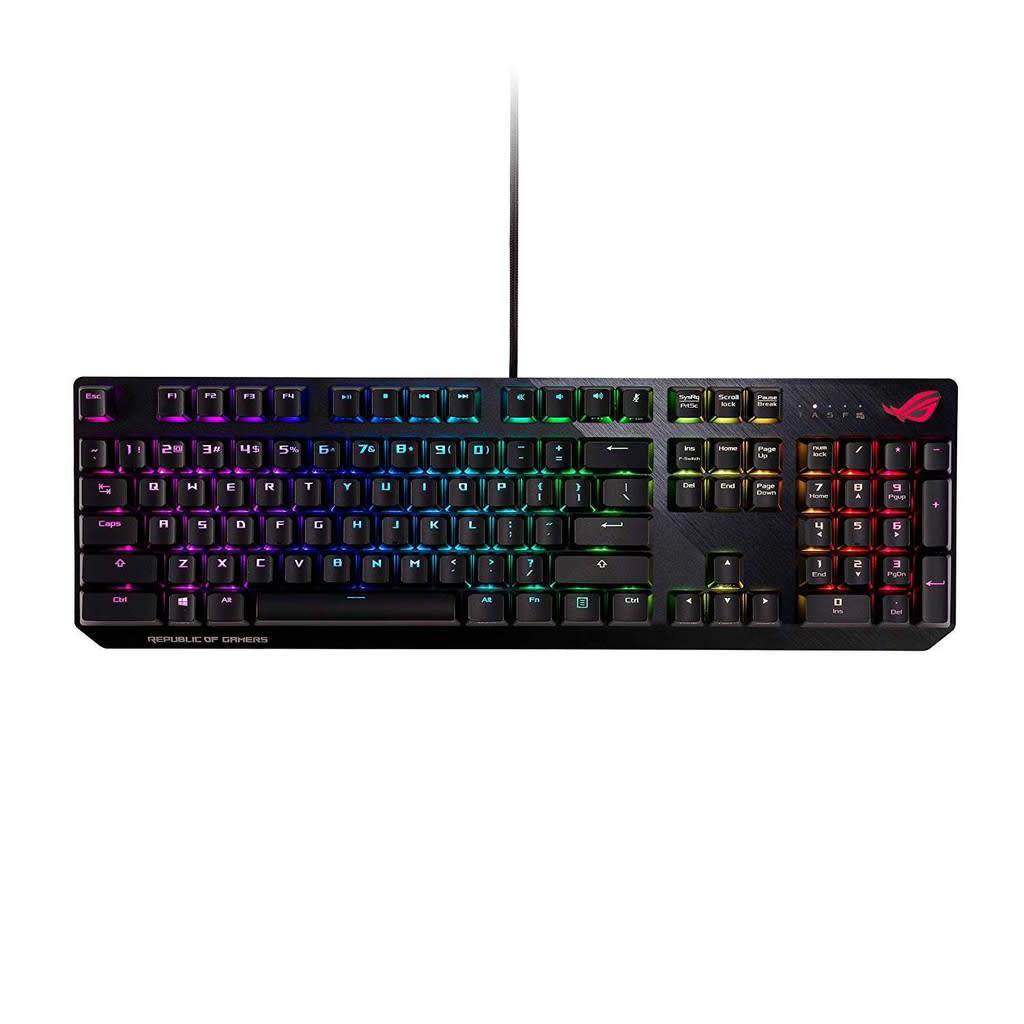 Layout: Full-size | Switch: Mechanical (Cherry MX Red, Brown, Blue, Black, Speed, Silent Red) | Durability: 50 million keypresses | Backlit: RGB | Media Keys: Yes | Passthroughs: None | Other Features: Extra keycaps, dedicated "privacy" key
For fast-paced gaming, the one thing you want is a fast keyboard, as one with Cherry MX Speed/Silver. The Asus ROG Strix Scope not only has that option but also comes with a compact design that is perfect for FPS gameplay. That means more space for your mouse to move, and it's also easy to carry around if you're planning to go pro. Additionally, there's an extra privacy key-function that mutes your speakers and hides all apps, for, um, privacy reasons.
You can also assign commands to the keys via the Asus Armoury software, although we have to say we don't enjoy Asus's confusing UI design. You may appreciate, however, that the ROG Strix Scope comes with additional WASD keys.
If tenkeyless (TKL) is what you're looking for, you can also check out the awesome Razer Huntsmen Tournament Edition
---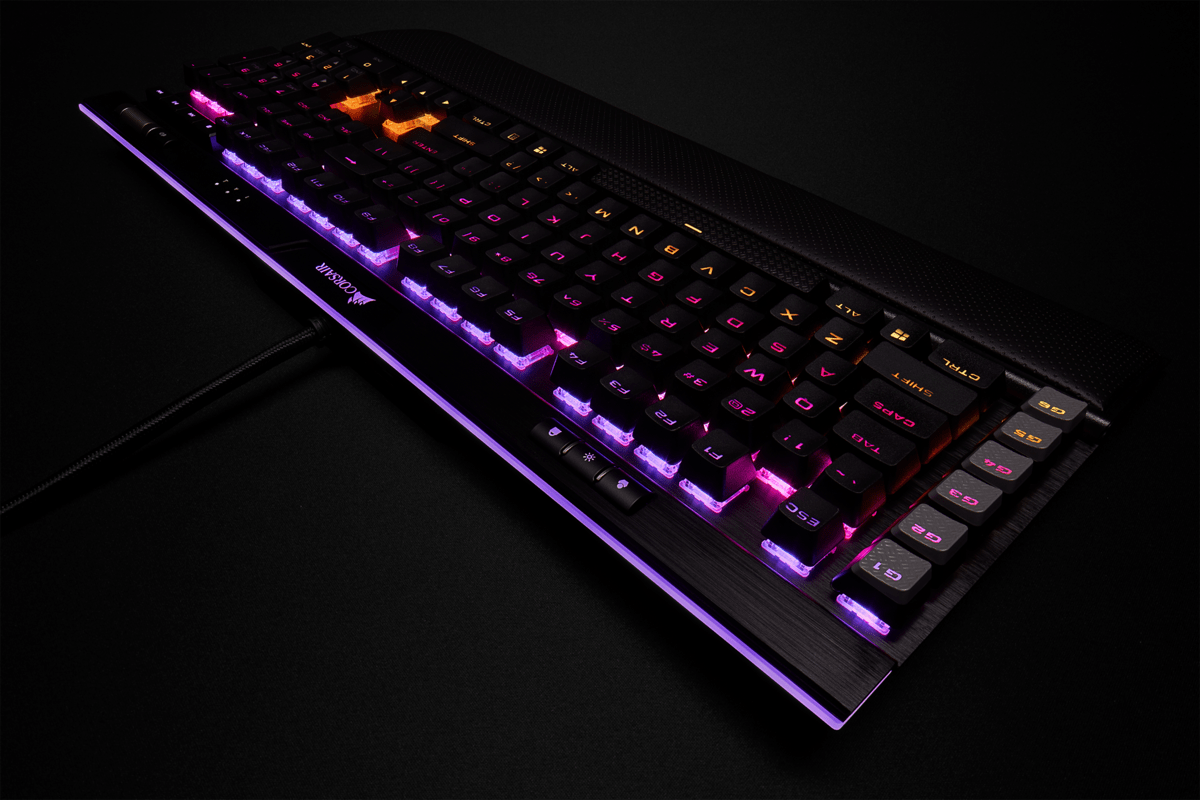 Corsair K95 RGB Platinum XT
RM 849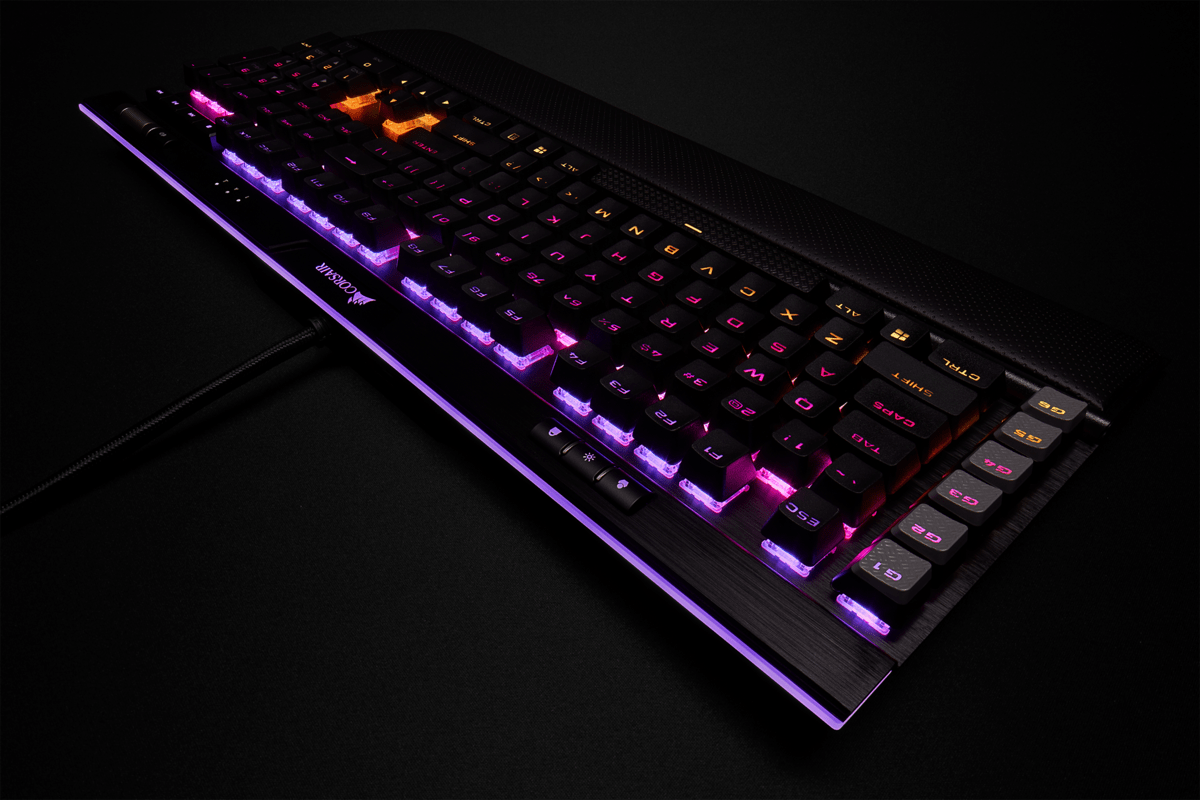 add_circle
Key switch options
add_circle
Dedicated media keys
add_circle
USB passthrough
add_circle
Software support
add_circle
Elgato streamdeck support
remove_circle
Prohibitively expensive
remove_circle
Wrist rest could be better
Layout: Full-size | Switch: Mechanical (Cherry MX Blue, Brown, Silent) | Backlit: RGB | Durability: 50 million keypresses | Media Keys: Yes, with volume roller | Passthroughs: 1x USB 2.0 | Other Features: Wrist rest included, extra keycaps, dedicated macro keys
If RGB is your thing, then Corsair's iCue is a very safe choice for you. The K95 Platinum XT is one of their top-end keyboards, and boy, the RGB is heavenly. Although Razer is pretty good when it comes to lighting, Corsair has so many more PC parts and peripherals that it is just so much easier to sync everything for an epic light show via the iCue software.
As Corsair's top of the line keyboard, the K95 Platinum XT is fantastic - the body is made of aircraft-grade aluminium, you have a large selection of Cherry MX switches, media keys, and a volume roller. What we like is the programmable macro keys on the left, which we love even for non-gaming purposes. Better yet - the buttons are Elgato streamdeck compatible, so you can use Elgato's software to manage your streams!
Of course, there are other Corsair options out there, but we also like Logitech's implementation of RGB, which you can get on the Logitech G512, or if you like you can also check out the Razer Blackwidow Elite
---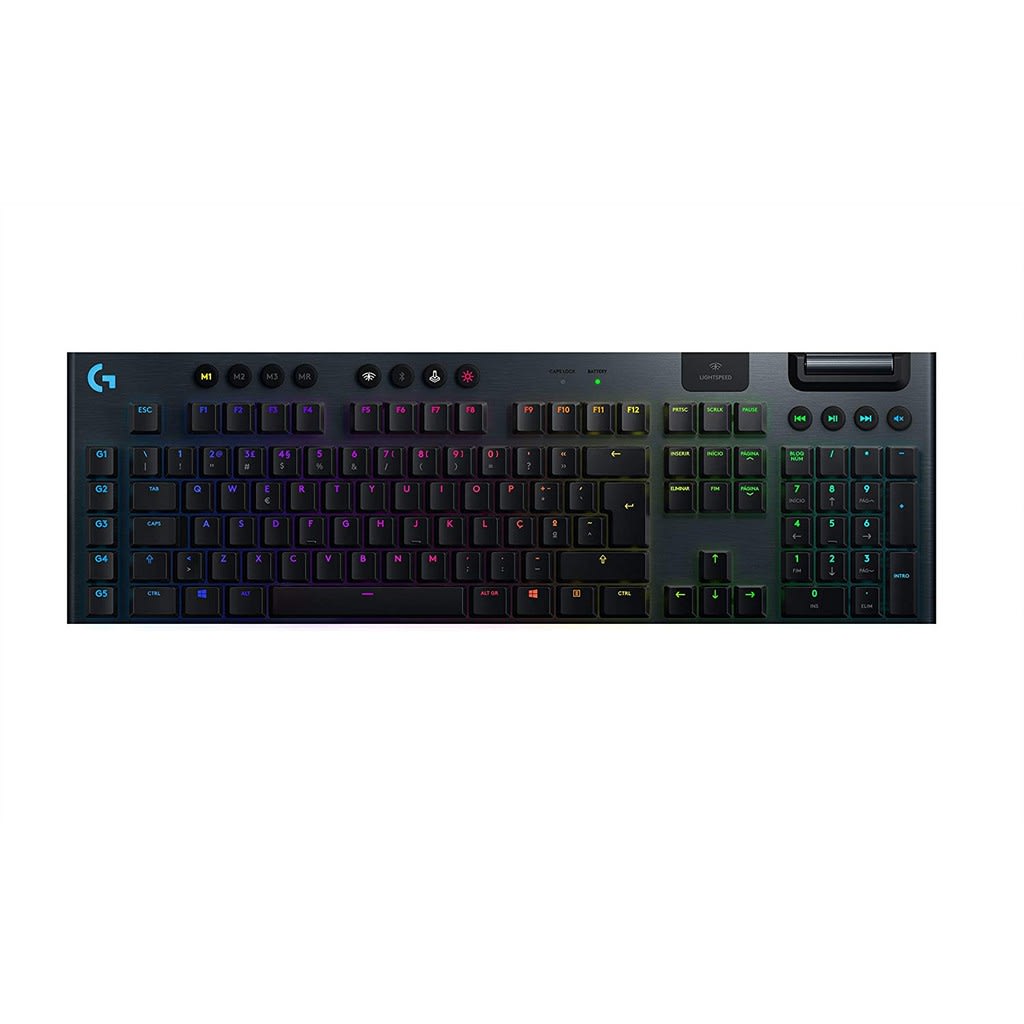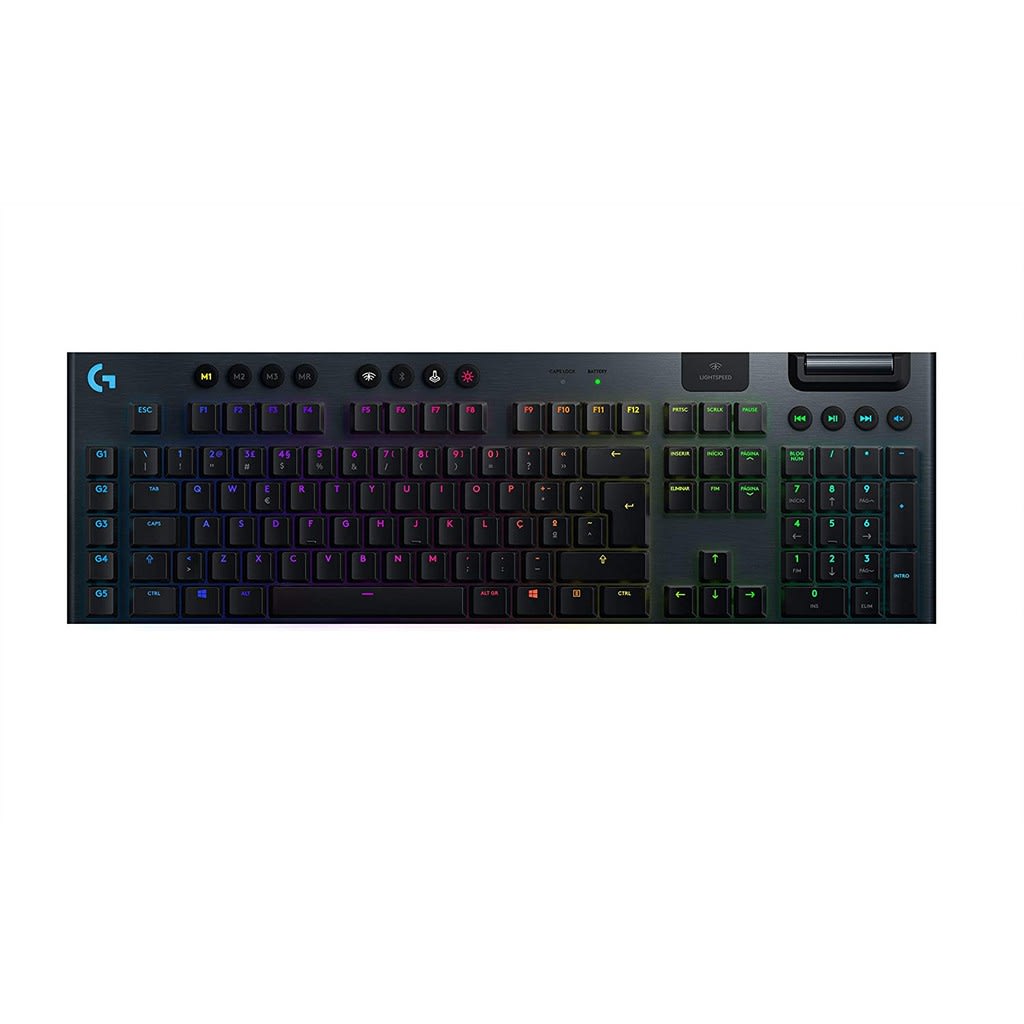 Layout: Full-size | Switch: Mechanical (Low profile GL Clicky, Tactile, Linear) | Durability: Unknown | Backlit: RGB | Media Keys: Yes | Passthroughs: None | Other Features: Wireless bluetooth or Lightspeed via dongle, dedicated macro keys, 30 hour battery with 100% brightness
Logitech's Lightspeed wireless technology is one of the best I've experienced, and this translated really well onto the G913 (or G915 in some markets) wireless keyboard.
It does come at a cost, yes, but it has everything you love from Logitech - low profile GL switches in Clicky, Tactile or Linear options, as well as dedicated media and macro keys. Yes, it also has RGB that you can control via Logitech's GHub software.
The battery life is also impressive - Logitech claims it can stay on for 12 days with RGB on, and 135 days with lighting turned off!
One only complaint we do have, however, is that the Romer-G switches are non-standard, so it can be challenging to customise or replace keycaps aside from buying dubious ones on Aliexpress.
---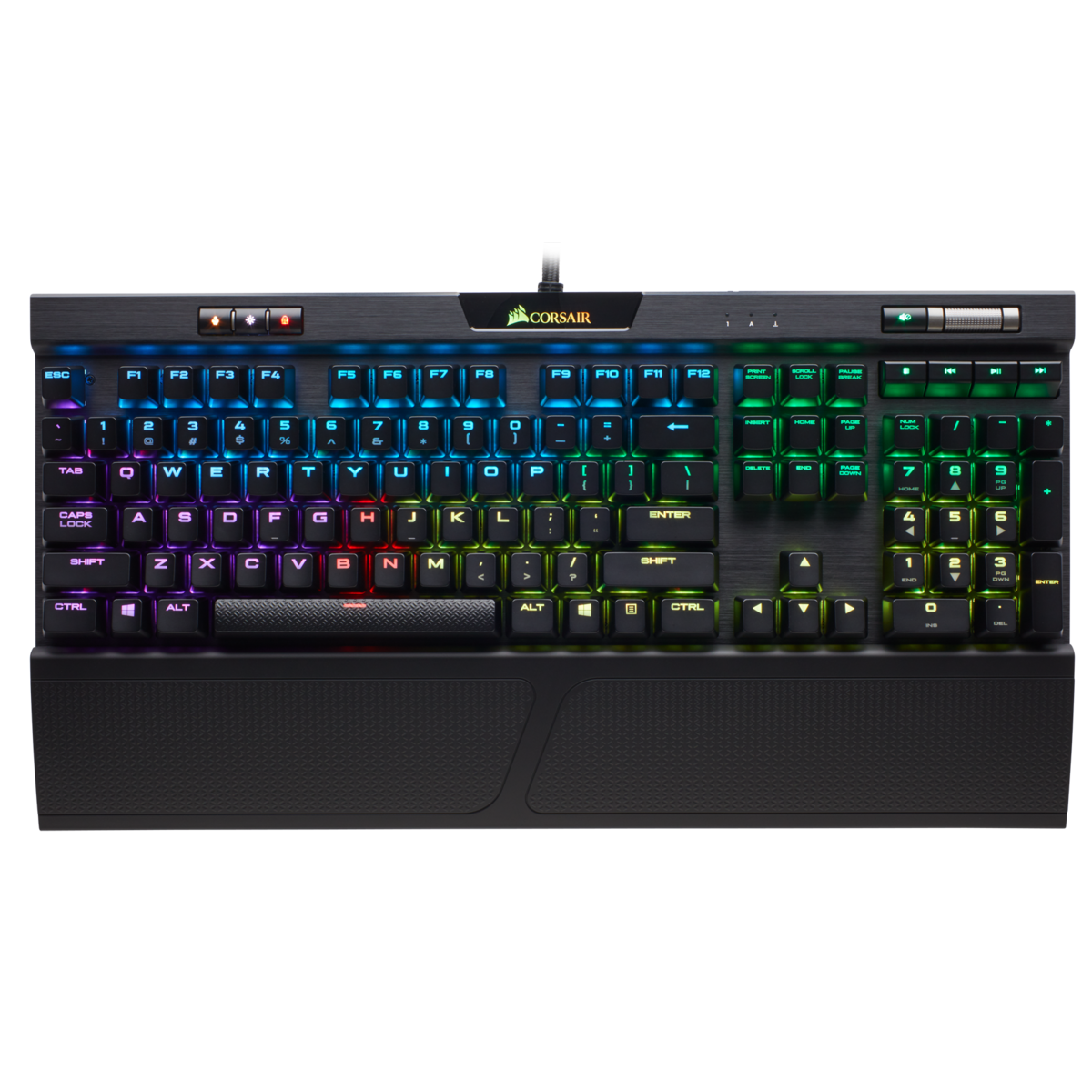 Corsair K70 RGB Mk. 2
RM 659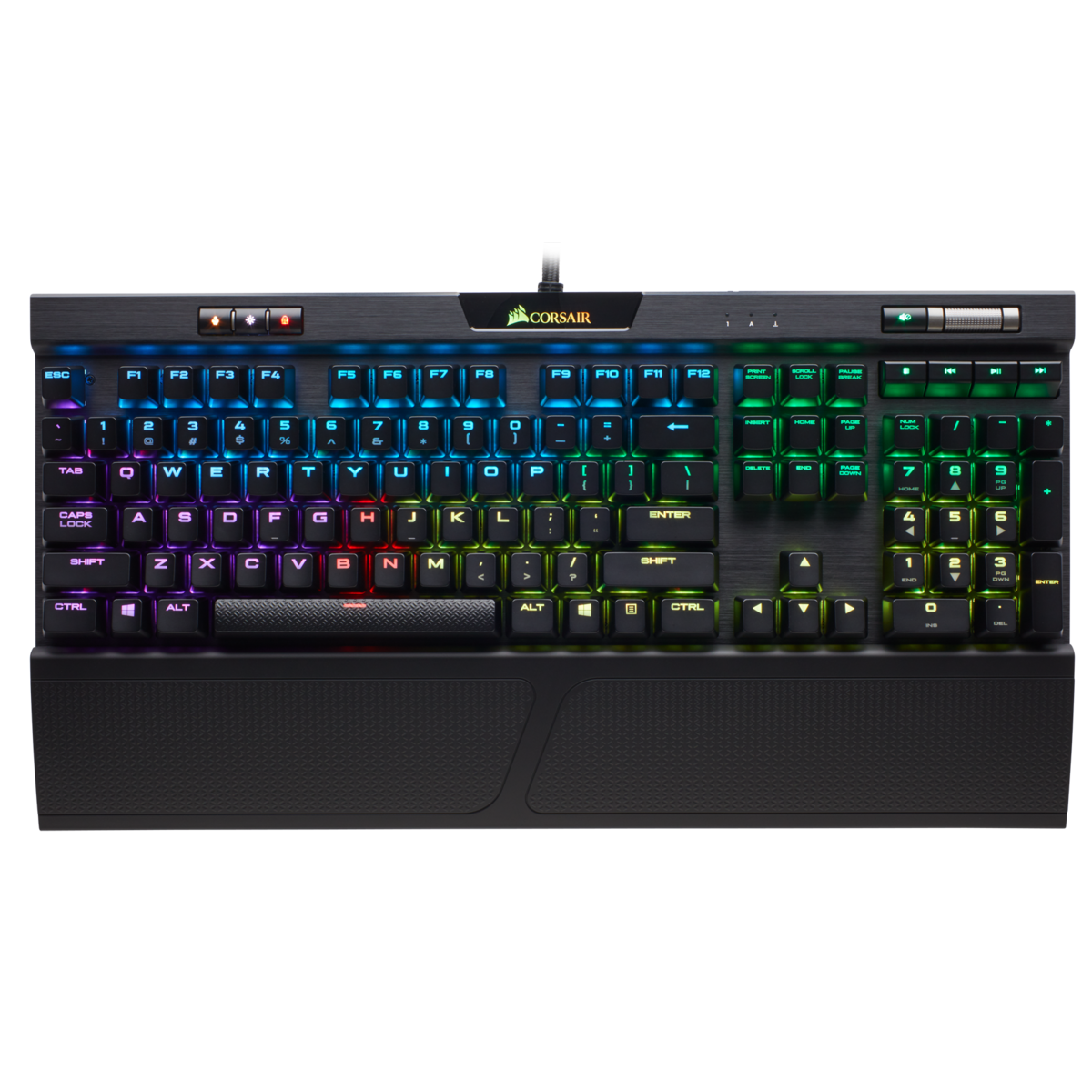 add_circle
Key switch options
add_circle
Dedicated media keys
add_circle
USB pass-throughs
add_circle
Software support
remove_circle
Wrist rest could be better
Layout: Full-size | Switch: Mechanical (Cherry MX Red, Blue, Brown, Silent) | Backlit: RGB | Durability: 50 million keypresses | Media Keys: Yes, with volume roller | Passthroughs: 1x USB 2.0 | Other Features: Wrist rest included
If you are sharing space with someone, having a mechanical keyboard can be a source of their nightmares. Well, now you don't have to worry about that as there are great options with silent switches like the Corsair K70 Mk.2 with Cherry MX Silent/Silver. MX Silent comes at a premium, so you might want to go MX Reds, which are pretty quiet as well to save some money.
Aside from being quiet - the K70 Mk.2 is also one of the best mid-range keyboards we've encountered. It has all the features you will need: a USB 2.0 passthrough, media keys with a volume roller, and a detachable wrist rest. Generally, we have no complaints, but we do prefer Razer's wrist rest over theirs.
On the software side, we prefer Corsair's iCue over Razer's, and you can make a light show out of your setup if you also use Corsair's parts in your PC.
If Corsair is not your thing, though, you either go membrane or pick a Razer's orange switches, like the BlackWidow Elite with orange switches.
---
How to Pick a Keyboard
There are multiple types of keyboards, but essentially they are split into two simple types - membrane and mechanical. While most enthusiasts swore by mechanical keyboards, technologies on membrane had significantly improved over the years. If you are unfamiliar, the information below will help keep you up to speed.
Membrane Keyboards
Membrane keyboards are typically lighter, cheaper, and much quieter, but the typing experience doesn't feel as good, and it registers each press slightly slower.
That's fine for general office work but during an intense shoot-out, you will be at a disadvantage. Then again, there are membrane switches that have been customised for gaming - and the membrane keyboards here all feature custom switches.
That aside, membrane keyboards generally do not last as long compared to mechanical switches. Don't let that fool you, though, as Cherry MX claims their switches last around ~50 million keystrokes, and that will take around 40 years to wear out. Membranes typically last around 20 million, so do your math.
Mechanical Keyboards
Mechanical keyboards were the first types of keyboards ever used, and are still considered one of the best types of keyboards today. It is much faster, and it feels much better to type on and generally lasts much longer. Yes, it probably has more RGB too.
It comes in three distinct flavours: linear switches that are buttery smooth, tactile switches that give you a "bump" when pressed, and clicky which are the same as tactile, but produces a clicking sound. If you are really interested, here's a pretty good guide to differentiate all of them. Do note that clicky switches may be very annoying to people around you, so don't say we didn't warn you.
Gaming vs. Typing
Not all keyboard switches are made equal. Some are more tuned for gaming but might not work as well for typing. Having sensitive switches like Razer's might be great for FPS, but the same switch might trigger more typos than you'd like. If you need both game and type, as a general rule of the thumbstick to less sensitive switches like Cherry MX brown or red.
Software
Gaming keyboards from major brands are also usually customisable via their companion software, which allows you to customise the lighting (RGB, sigh) as well as some or all the keys on the keyboard.
Most might also have macros, which allows you to execute several keypresses, with just a press of one key, like pressing F1 to execute 'ctrl+shift+del'. You can probably manage different profiles, which means you get to set dedicated settings for different games or software - which can be extremely useful even outside of gaming.
Ultimately, we recommend that you stick to one brand, especially when you do not have a monster of a PC, as having too much software may have an impact on your gaming performance.
Razer
Razer's Synapse software is extremely popular, and while it is not the easiest to use, I can say it generally works for what you want to achieve. It also works pretty well with MSI's Mystic Light, so if you have a full MSI PC setup, you easily sync the lighting of your PC with the rest of your peripherals. I've not tried it yet, but I also know that it syncs with Philips Hue if you're looking to do a crazy light show.
Overall while it works, the UI is not as intuitive as the rest. Additionally, Synapse lacks MacOS support at the time of writing, which is frustrating because while it works with my Macbook Pro, the lack of support means I am unable to customise the keyboard.
Logitech
Logitech has recently moved all their new peripherals to their new G Hub software, with a modern UI and many more options to customise. Functionality wise, their screen sampler RGB to me, is one of the best forms of RGB implementation, and I can easily customize all the macros and features without fiddling with too many options.
Well, at least, when it works as intended. The software is known to have some bugs, with many users complaining about how the app would not start up, or having their profiles wiped out after a software update. Logitech also lacks the 3rd party support that Razer has, or the extensive range of products that Corsair has, so their RGB implementation is also the most limited.
Corsair
Aside from the standard peripherals, Corsair also produces a large range of PC components such as RGB enabled PC fans, cases, and even RAM or SSD modules. That means it is super easy to go Corsair and have an RGB light show without having to sync each component manually.
UI-wise it is also pretty acceptable (we prefer GHub's design), and it's generally easy to customize your profile specific to each application or game. Like Razer, iCue also syncs with Philips Hue to work with all your smart Philips lightings. The only caveat is that there are reports that the software triggers the anti-cheat system on some games.
Third-Party RGB Software
If you already have peripherals from multiple brands and you want an easy time to sync your lighting, you're in luck. We have recently discovered several third-party software that supports most of the popular peripherals and can easily sync their lighting without much headache. You should check out the JackNet RGB or Project Aurora.
Disclaimer: The pricing shown is just a good indication of how much these products are worth. The prices could change based on the e-commerce promotions that are going on. If some of the products are not available, do email us at [email protected] Thank you!
Like writing about great products? We're hiring! Learn how you can write for us!