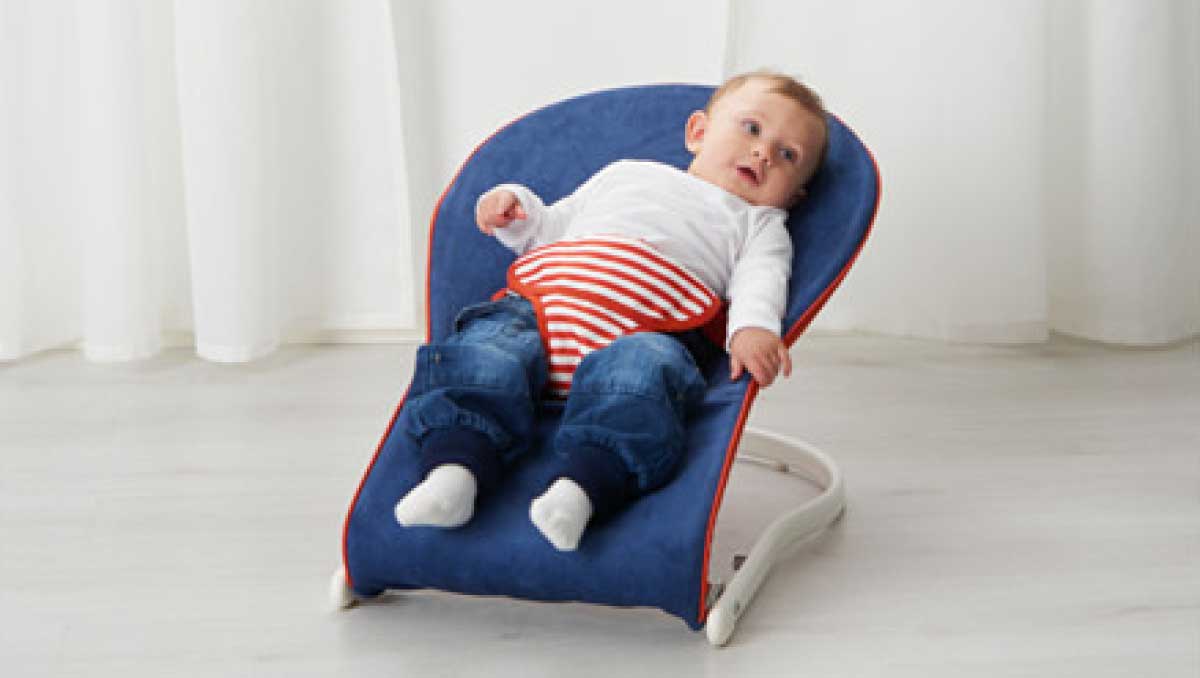 Expecting parents need baby bouncers for so many different reasons, it could be to put their baby somewhere while they finish up some work or something that can help rock their baby to sleep. And today, all baby bouncers are extremely soothing and comfortable. Parents only have to decide on which type of bouncer they would prefer for their child: the old fashion rockers which our parents got for us or something more modern?
1. Ikea Tovig Baby Bouncer
Best Cheap Baby Bouncer
Price from RM255.00
Ikea's Tovig is a simple bouncer which does the job. It looks cute and will serve its purpose for the first eight months of a baby's life. With this baby bouncer, your baby will feel comfortable sitting around and being involved with their parents during any on-going activities at home.
The bouncer is foldable and light which allows you to carry it with you wherever you go, whether it's to visit a friend or family member at home. Besides that, the fabric is removable and can be machine washed.
2. Nuna Leaf Curv
Best Baby Bouncer
Price from RM1,699.90
The Nuna Leaf Curv is one of today's new and improved bouncers. One of its latest features includes side-to-side swaying. It grows together with your child and it is solid. This bouncer is the latest style of baby bouncers in the market. The Nuna Leaf Curv will be able to fulfill any parents' needs.
It is quiet, stable, small and looks good too. Give your baby the chance to start their life with some style!
1 people added this to their wishlist
3. BabyBjorn Bouncer Bliss
Best For Travel
Price from RM809.00
Parents who travel frequently would need a foldable baby bouncer – something light and portable which makes it easy to be carried around. The BabyBjorn Bouncer Bliss gives your baby the support they require and can be used until your child is two years old.
The bouncer will also be able to assist with rocking your baby when they kick or move and can be changed into three different positions. Definitely a good buy for travelling parents!
4. Ingenuity SmartBounce Automatic Ridgedale Bouncer
Best Automatic Baby Bouncer
Price from RM692.92
Baby bouncers with automatic features do exist! The Ingenuity SmartBounce comes with a cradling seat made from premium fabrics to keep your baby comfortable in the bouncer. It automatically bounces your baby for 30 minutes. The bouncer provides two different speeds that will make your baby feel like they are still in their mother's arms.
It comes with music too! To be more specific, it has about eleven different melodies, volume control, and nature sounds that will keep your baby calm and put them to sleep. It's a free and easy bouncer for mothers who need some me time every now and then.
5. Stokke Steps Bouncer
Best Baby Bouncer Chair
Price from RM700.00
Today, you are able to purchase multipurpose baby bouncers. The Stokke Steps Bouncer looks so comfy and is suitable for newborns from birth. There is extra ergonomic newborn support for extra comfort for your baby. It also has an extremely smooth cradling motion that is appropriate for newborns. You can also mount it on a highchair which is sold separately.
1 people added this to their wishlist
6. Diorbaby Baby Bouncer
Best Electric Baby Bouncer
Price from RM439.00
The Diorbaby automatic, electric baby bouncer rocker chair comes with a remote that helps you to control the type of movement as well as the music being played. It can be used until your child turns to the age of two years old. It comes with a harness to keep your baby in the bouncer.
Newborns are always so warm and tend to sweat a lot, which is why the Diorbaby automatic comes with a baby cooling summer mat. This is a good option for mothers who constantly have things to do around the house.
7. Comfort Curve Bouncer
Best Baby Bouncer Which Vibrates
Price from RM189.90
The Fisher-Price Comfort Curve Bouncer comes with an additional vibrating feature, which helps keep your baby entertained. The Comfort Curve bouncer comes with overhead toys that help distract your baby to help them sleep. The calming vibrations are soothing for your baby too!
It comes with padding which makes the seat super comfy and can be used as a bouncer or just a place for your baby to be entertained.
3 people added this to their wishlist
Disclaimer: The pricing shown is just a good indication of how much these products are worth. The prices could change based on the e-commerce promotions that are going on. If some of the products are not available, do email us at [email protected] Thank you!