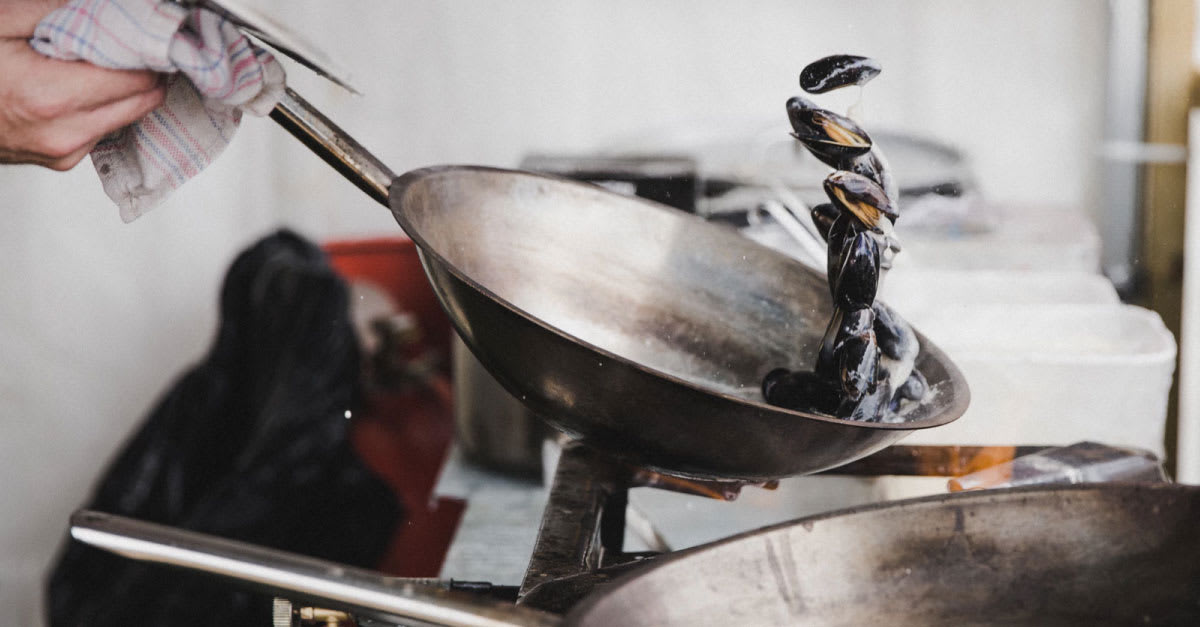 Woks have been used to cook food at high temperatures for centuries and are a staple of Asian kitchens to cook stir-fried, deep fried and even simmered and steamed dishes. If you plan on cooking an Asian or Chinese traditional dish, the chances are that you'll need a wok to complete the job properly.
There are two variants of the wok: one being the traditional round bottom wok and the other being the flat bottom wok specially designed to suit modern electric and induction stoves better. Nevertheless, all woks have typically sloped walls.
In terms of construction materials, traditional woks often use carbon steel or stainless steel whereas modern woks feature ceramic, non-stick and aluminium construction. Different woks are best suited for different tasks so we've rounded up a list of some of the best woks you can buy here in Malaysia.
This 34cm wok is one that is extremely popular. For less than RM20, the wok features a surprisingly thick 1mm metal construction which makes it more durable and allows heat to be transmitted evenly.
With a traditional wooden handle, it won't heat up no matter how long you use the wok for, making it safe to use. It also has an easy to clean design, and the rounded traditional bottom makes it great for whipping up a quick plate of fried rice.
---
You can't get a wok more traditional than the Cap Buaya wok. Made of high-quality carbon steel with traditional double ear-like holders which traditional and professional Chinese cuisine chefs prefer, this wok's design has served households for centuries, and this remains unchanged. After all, if it's not broken, why fix it? Choose from wok sizes of 8 inches up to 30 inches.
---
Areikan is a Korean brand of cooking utensils, recently introduced into the Malaysian market. Their Stoneware Korea King Magic Wok is a 40cm wok made from stainless steel overlayed with a non-stick double coating. This ensures long-lasting durability of the product even under prolonged heavy usage.
The exterior of the wok features a lovely Stoneware design, and it comes with a stainless steel cover, steaming rack, oil strain rack and spatula. The multi-uses of this wok makes it great to have in your home for a wide range of cooking tasks.
---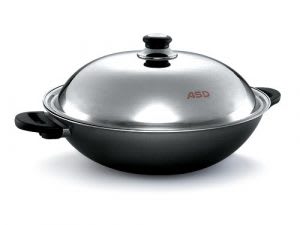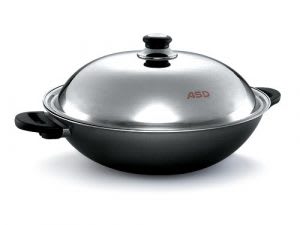 If you plan to cut down on cooking oil, this 40cm wok features Teflon non-stick coating with both a stainless steel body and lid. The wok is designed with a flat-bottomed silver spiral base to allow for quick and fast heat distribution. It also has a phenolic handle which remains cool to touch even after extended usage of the wok.
The flat-bottomed design sports extra thickness, making this selection especially effective to use on an electric stove.
---
This 40 cm dishwasher safe steel wok features a triple-ply bottom to allow you to cook at even higher temperatures. With a non-stick interior surface, you can reduce oil yet be assured your food won't stick to the wok.
It is safe to use on most types of stoves including gas, electric and induction cookers and comes with a stainless steel lid equipped with a steam vent to allow you to use the wok as a steamer. The deep wok and thick bottom paired with the vented lid also makes it suitable for deep frying foods.
---
This Maifan wok from OKO is 32cm in diameter and suitable for a wide range of cooking applications. The 12cm handle with anti-scald cover makes it easy to move around even when cooking on high heat.
The base of this wok is extra thick to make sure it is durable and can be used on a wide range of stoves including ceramic hobs. It comes with a durable glass lid which doubles as a stand cover so it won't tip over when you put it aside after cooking your meals.
---
Chefology's 32cm wok is an aluminium die-cast wok that has non-stick coating both inside and out. This long-lasting food safe ceramic marmar coating makes cleaning the wok a breeze. Additionally, the glass lid not only seals in the flavours of your dishes but also speeds up the cooking process and protect you from accidental splashes.
---
Maifan is a stone-based material similar to Teflon which produces a non-stick surface that is heat resistant and easy to clean. With Maifan coating, this 32cm Korean-made wok has highly efficient thermal conductivity, heating food fast and evenly without producing excessive smoke.
This wok is safe to use and works efficiently on a wide range of stoves including induction cookers. Available in an attractive pink or red colour, this wok also comes with a wooden spatula and a glass lid for you to keep an eye on your food as they cook.
---
Tefal is one of the most well-known brands available when it comes to non-stick cookware. Their precision-engineered non-stick wok is an upgrade on the traditional wok design. With black ceramic for the exterior and expert non-stick interior coating, riveted handles for extra grip and oven safe heat capacity of up to 180ºC, this wok is made to last.
---
Disclaimer: The pricing shown is just a good indication of how much these products are worth. The prices could change based on the e-commerce promotions that are going on. If some of the products are not available, do email us at [email protected] Thank you!