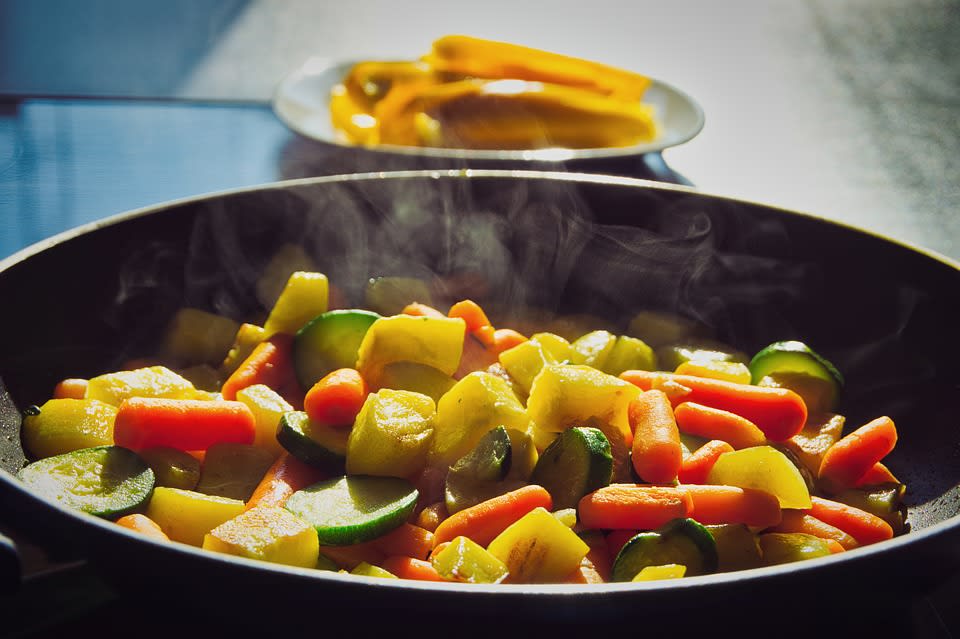 How do you describe a cast iron pan? Most other kitchen tools are either chemical-coated or come with plastic parts but cast-iron cookware is an extremely versatile utensil made of a single material, and can be handed down through generations. Cast iron pans have survived for more than a century, thanks to their durability and heat retention properties.
Nowadays, selecting the best cast iron pan is like finding the perfect balance between tradition and innovation. We've selected the best cast-iron pans on the market – thank us later.
Best pre-seasoned cast iron
Price from RM139.00
Hailing from Lodge, the century-long cookware manufacturer in the U.S, this 8-inch cast iron skillet is pre-seasoned so you can use it right out of the box. Whether you want to fry a chicken, cook your delicious veggie meal or bake your favourite pizza, you're good to go with this one.
It features two handles for heavy lifting and two subtle side lips for pouring, with an elegant black colour that will look good in your kitchen. Searing your meat at higher temperatures and keeping your sumptuous meal warm for a long time is no longer a big hassle.
8 people added this to their wishlist
Best cast iron pan nonstick for frying and deep frying
Price from RM89.00
This non-stick cast iron pan is 9cm deep and 30cm diameter, making it best used for high-quality deep frying. It consists of three layers steel for practicality and durability. The nonstick coated pan is EU and FDA certified and is highly regarded as an eco-friendly product.
The ergonomic design on the other hand featured a stay-cool, 20 cm long handle. Fry with no worry as your food will not stick to the nonstick pan and cleaning it will not be an issue.
5 people added this to their wishlist
Best cheap & small cast iron pan
Price from RM45.90
This mini cast iron pan is paired with heat resistant wooden serving stand and a lid, making it the ultimate choice for an individual starter, soup, and broth. Why spend more on a bigger pan when you can dine in style with this 10 cm wide pan that serves you the perfect personal portion?
Take the cute little pan directly from the oven to the table during dinner parties and surprise your guests. It's also easy to clean, and with minimal upkeep, it can outlive even you.
5 people added this to their wishlist
Best cast iron skillet pan cum baking pan
Price from RM79.90
This cast iron skillet's use isn't just limited to sautéing, but works wonders to sear, fry, bake and stir fry your dinner. This is a pre-seasoned pan and is ready-to-use right away; the seasoning will enhance the food's flavour.
With the skillet's superior heat retention and uniform cooking properties, you can now cook like a professional chef. Stop worrying about ruining your skillet, and use it almost everywhere, be it grills or campfire, stovetop or oven.
2 people added this to their wishlist
Best cast iron grill and roasting pan
Price from RM319.00
This 26cm square solid cast iron grill pan is the ideal choice for low-fat grilling of meat, fish, and vegetables. As cast-iron cookware is renowned for their heat retention properties, this pan is also suitable for long-cooking stews or braised dishes.
It's also the perfect choice for baking as it's oven safe. Given the extra-large sized pan, this is a must-have utensil for those annual family barbecues! It's a sound investment for you as this pan is brutally tough for decades of cooking.
1 people added this to their wishlist
Best cast iron enamel-coated and steak pan
Price from RM360.00
This extra-large enamel coated cast iron grill plate might seem way too big to fit your kitchen but is actually the perfect choice if you have get-togethers every now and then. The grill pan is adequately sized to serve at least eight meal portions.
Grill your steak at home or roast your barbeque dishes during your family day, this grill pan can cater to you and your loved ones in one go. Equipped with metal handles for grip, this Lava cast-iron pan is one of the rare bargains at your doorstep.
1 people added this to their wishlist
Best cast iron bread pan
Price from RM206.87
You've always tried to make your own bread but sometimes, the crust just doesn't work out. Now, you're guaranteed a delicious crust with this pre-seasoned bread pan by the well-established cast iron manufacturer.
Bake your favourite bread with that delicious, golden-brown crust you've always yearned for and surprise your family and friends. The decorative handles are added for your convenience.
More: Prepare Mouth-watering Dishes with These 9 Amazing Cookware Sets
Disclaimer: The pricing shown is just a good indication of how much these products are worth. The prices could change based on the e-commerce promotions that are going on. If some of the products are not available, do email us at [email protected] Thank you!