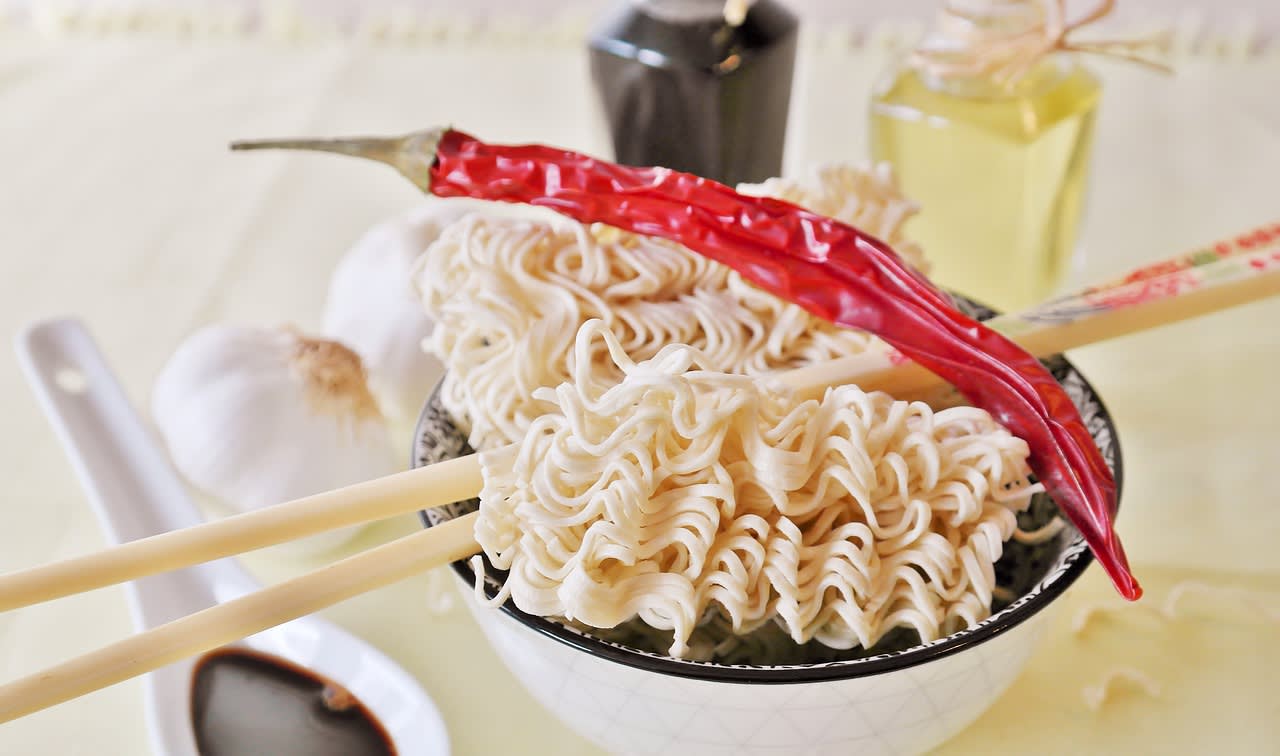 It's normal to be financially challenged a few days before payday, but cup noodles will always be our saviour. Over the years many new flavours have been introduced to the Malaysian market, and these varieties can be overwhelming. Hence why we've rounded up some of the best for you to sink your teeth into.
1. Uni Imperial Big Meal Instant Noodles Bowl
Best cup noodles from Taiwan
Price from RM8.90
The Uni Imperial Big Meal supersized cup noodles is available in four exciting flavours: chilli beef, hot beef, spicy beef and chilli pork. Each packet is more than enough per serving. Besides, each different flavours comes with real dehydrated beef or pork along and veggies.
1 people added this to their wishlist
2. Mamee Express Cup Curry
Best cup noodles for breakfast
Price from RM1.39
The Mamee express cup noodles come in a wide range of delicious flavours. It's low in price, small in size and cooks in under one minute. This makes a good choice for a fast breakfast on the go.
3. Maggi Pedas Giler Tom Yum Bowl
Best tom yam cup noodles with shrimp
Price from RM3.50
Maggi introduced their new range of extra spicy dry noodles which is tastier than their regular 'mee goreng'. This Tom Yam is especially yummy with the excellent tongue-numbing heat of Malaysian 'Chili Api', real shrimp paste and kafir lime. All these awesome flavours coupled with extra springy noodles - you'll have one hell of a meal.
4. Maggi Hot Cup Curry (Six Cups)
Best spicy cup noodles for pregnant ladies
Price from RM9.56
Maggi Hot Cup Curry comes garnished with real dehydrated vegetables and a blend of 11 aromatic curry spices. It's not too overwhelming and has the signature Maggi scent. These cup noodles are safe to eat, even for pregnant ladies who crave for some spicy instant noodles.
5. Nissin Mug Cup Noodle
Best cup noodles from Japan
Price from RM11.90
If most Malaysians grew up to the taste of Maggi instant noodles, then the Japanese equivalent would be Nissin. These cup noodles come in a pack of four with two different flavours: soy sauce and seafood. Try out these top flavours if you love the taste of Japan.
6. Maitri Vegetarian Seaweed Flavour Cup Noodle
Best vegetarian cup noodles for diet and weight loss
Price from RM2.50
If you're on a diet but still can't stay away from your love for instant noodles, then you should try this cup noodles. Maitri's Vegetarian Seaweed Flavor Cup Noodle is made with real seaweed and vegetables. Taking one cup as a meal replacement won't do your diet any harm.
7. Nissin Cup Noodle Cream Of Chicken
Best chicken cup noodle for cold and acid reflux
Price from RM4.70
Nissin is the world's leading brand in ramen noodles, and their cream of chicken cup noodle is to die for. Made with real chicken stock, a piping hot cup of these instant noodles will chase your cold away. Think homemade chicken soup that's good for the soul. Those prone to acid reflux can safely consume this noodle as well. Its soup base will not irritate your stomach.
8. Paldo Cheese Rapasta King Cup
Best cup noodles with cheese
Price from RM5.50
The Korean-made Paldo Cheese Rapasta King Cup noodles will satisfy your cravings. It's easy to prepare and serves within minutes. All you have to do is add hot water to soften the noodles first. Then drain and mix in the cheese sauce, and you're good to go.
9. Topokki Cup Han-Q Authentic Korea Instant Noodles
Best halal Korean cup noodles
Price from RM23.00
Han Q Topokki is a unique rice-based instant cup noodle. Think Korea's iconic street food "tteokbokki" or stir-fried flat rice cake noodles. This one tastes just like the real deal and is super easy to prepare. Just pour the contents into the cup and add the suggested amount of water. Put it in the microwave for two minutes and enjoy. Also, this product is certified Halal, so everyone can try it.
10. China Nongshim Shin Ramyum
Best Chinese cup noodles for hangover
Price from RM5.00
Although Nongshim has its roots in Korea, this one right here is made in China. This is the domestic version of their popular Shin Ramyun in spicy beef flavour manufactured in the Shanghai factory. Just like their Korean counterpart, this one contains extra spicy beef stock that is an excellent cure for hangovers.
Disclaimer: The pricing shown is just a good indication of how much these products are worth. The prices could change based on the e-commerce promotions that are going on. If some of the products are not available, do email us at [email protected] Thank you!