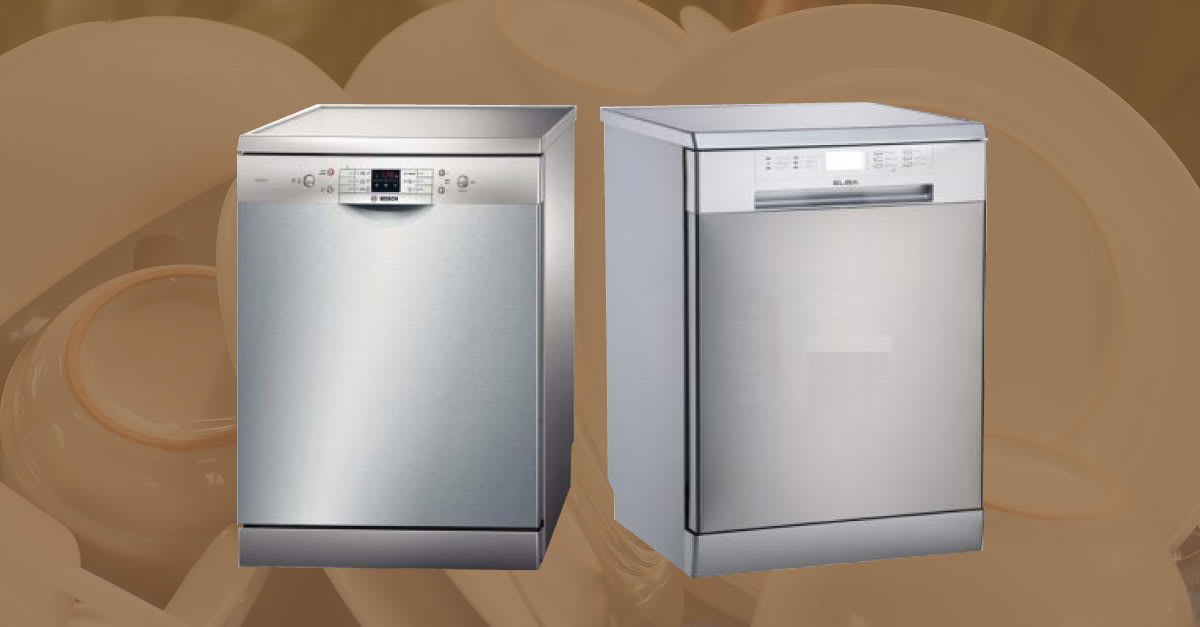 Admit it: Who likes washing dishes after finishing a meal at home? Unless we are fortunate enough to have someone to clean them (nag-free), chances are, you have to do the dishes one way or another. But there's always a convenient solution to this never-ending problem. The answer? Dishwashers!
However, like any other kitchen appliances, not every dishwasher is created equal. If you are wondering which one suits you best, keep reading as we bring you a list of the best dishwashers below.
1. Panasonic Table Top Dishwasher NP-TR8HQMY
Price from RM2,580.00
Best compact tabletop dishwasher
Not everyone has the luxury of owning a big kitchen. But that doesn't mean you can't fit a dishwasher in a smaller or limited space. Take Panasonic Table Top Dishwasher NP-TR8HQMY, for instance. It only measures at 55 cm width and 56.4 cm in height, making it compact enough to place on most kitchen counters.
But the space-saving size isn't the only contributing factor here. This tabletop dishwasher only uses 20% of water, which not only save water but your monthly bill as well. Also, don't let the size fool you: it can accommodate sufficient washing loads for up to a family of five.
2. LG 14 Place Setting Inverter DD Dishwasher D1452WF
Best stainless steel dishwasher
Price from RM2,392.00
Durability is the best word to describe the LG D1452WF dishwasher, thanks to its stainless-steel construction which helps to prevent unwanted odours and stains. It also comes equipped with the brand's Smart Rack™ system, allowing you more flexibility to load and adjust any types of dishes with minimum fuss.
2 people added this to their wishlist
3. Bosch SMS63L08EA Dish Washer
Best automatic dishwasher
Price from RM2,899.00
Hate fiddling around complicated settings just to operate a dishwasher? With Bosch SMS63L08EA, operating a dishwasher is just like a walk in the park. It comes with pre-set automatic programmes, enabling you to clean your dishes worry-free. This includes everything from water adjustment to time of rinsing and drying your dishes.
2 people added this to their wishlist
4. Elba EDW-B1462D(SS) Dishwasher 12 Place Setting SS
Best apartment size dishwasher
Price from RM2,734.00
With a standard-size of 60 cm in width and 84.5 cm in height, the Elba EDW-B142D(SS) is made suitable to fit most apartment or condo kitchens. The dishwasher is built using a high-quality stainless-steel interior to make it last longer against corrosion and even able to withstand heat, particularly when comes to higher water temperature.
This Elba dishwasher is also equipped with a third layer cutlery basket, offering you plenty of room for your cutlery and utensils.
5. Electrolux Compact Dishwasher - ESF6010BW
Best countertop dishwasher
Price from RM2,299.00
A countertop dishwasher may have been smaller in size. But just because it's not a regular full-sized dishwasher, it doesn't mean quality is compromised. In fact, countertop varieties, such as the Electrolux ESF6010BW, comes with a wealth of features.
This includes six pre-set programmes which allow you to wash your dishes at different temperatures from 45°C to 70°C. It also has an anti-flood device, which ensures you a peace of mind upon opening the door without worrying about water spillage.
6. Panasonic NP-6F1MLQMY Dishwasher 14 Place Setting
Best budget standalone dishwasher
Price from RM1,980.00
Let's face it, a dishwasher doesn't usually come cheap. But thankfully, you still able to own a reliable and branded one that costs below the RM2,000 range. One of them is Panasonic NP-6F1MLQMY, a well-integrated dishwasher designed for both small and big families. It operates in a quiet mode, allowing you to enjoy noise-free environment during the dishwashing process.
It also comes with 8 different washing settings, ranging from a quick 90-minute wash to an intensive cycle for hugely-soiled dishwares like pots and pans. This dishwasher even comes with an A++ Energy Efficiency Rating, which means you don't have to worry about high electric bills by the end of the month.
3 people added this to their wishlist
7. Easy Dish Household Mini Dishwasher
Portable mini dishwasher
Price from RM29.00
Forget about the nuisance of traditional handwashing method. With Easy Dish Household Mini Dishwasher, it helps to ease your daily chores. It comes with two separate compartments, including one side that holds clean water and another one with thousands of nylon bristles.
All you have to do is dip your dirty dishes one at a time on the bristle side using detergent of your choice. Then, simply transfer them into clean water on the other side. The mini dishwasher also comes with another bristle specially created for cleaning glasses, cups and bottles inside out with minimum fuss.
3 people added this to their wishlist
Disclaimer: The pricing shown is just a good indication of how much these products are worth. The prices could change based on the e-commerce promotions that are going on. If some of the products are not available, do email us at [email protected] Thank you!