Given our climatic situation in Malaysia, the scorching heat of the Sun every time we head out can be very damaging to our skin. The temperature and weather play a huge role in how the condition of our skin turns out to be at the end of the day. Here we have listed some of our best body lotions that you can slap on for you to give your skin that needed boost.
For all you preggo mummies out there, stretch marks are a common issue that worries you. Nobody wants to have to deal with stretch marks that make the bikini lines look tattered and unattractive. During pregnancy and after pregnancy, extra TLC will need to be taken to overcome stretchmarks and make them disappear.
This Aveeno Daily Moisturizing lotion has a unique active natural colloidal oatmeal formula that prevents and provides relief for dry and scaling skin. It is also brilliant for preventing and fading stretch marks while keeping skin feeling nourished, soft and healthy looking. This fragrance-free and non-greasy formula is dermatologist recommended and will not be dangerous for pregnant mothers to use.
---
We all know how Bath and Body Works products smell like a dream – sensual and luxurious on the skin! Mad About You has top notes of sparkling cassis, blackcurrant, mid notes of ginger lily, peonies, jasmine and dry notes of vanilla musk, patchouli and amber wood which combined, delivers a lingering floral and musk scent that lasts for longer than 8 hours.
Not only does it smell divine, it also contains shea butter that helps moisturize and hydrate your skin to keep it looking supple and beautiful all day.
---
Today, coconut is widely known as the fruit which contributes to better hair and skin with constant use. This coconut body lotion has a sweet and fruity scent that adds freshness to your skin care. The natural coconut extract alongside Vitamin E and Vitamin B5 in this lotion helps to moisturize and hydrate the skin.
This lotion is also organic and does not contain any parabens, colorants, and phthalates.
---
The fabulous smelling Yves Rocher Bourbon Vanilla body lotion not only has a beautiful fragrance but also combines all natural and organic products that are not damaging to the skin. The lotion also has shea butter in it which is an excellent moisturizer for the skin.
---
The Body Shop is famous has been listed by PETA as one of the few cosmetic and beauty brands that do not test on animals. Made with natural ingredients, their body butters are also widely used because of the rich and heavenly feel it gives you.
This body butter is made with almond milk and honey that helps soothe dry, itchy, and sensitive skin with its moisturizing properties.
---
Vaseline can easily be obtained at any drugstores in Malaysia and can be used for all skin types. This Vaseline Cocoa Radiance contains pure cocoa butter that helps moisturize the skin from deep within. It absorbs really quick without leaving any greasy residue on your skin too. Give your damaged and dehydrated skin some lovin'!
---
Himalaya Herbals is an Indian herbal healthcare brand that contains no parabens and is made with natural Indian herbal products which are good for your skin. They have also vowed against animal testing and is cruelty-free. My personal favorite is this Aloe and Cucumber Refreshing Body Lotion.
It is a light lotion that cools the skin – perfect to be applied on a hot day. Aloe is known for its antibacterial healing and intense moisturizing properties while cucumber is extremely cooling and acts as a natural sunscreen which helps protect the damaged skin.
---
Younger looking skin is the dream of many. It is best to take preventive measures and begin taking care of your skin at a young age to avoid premature aging. Wrinkles formation does not only occur on the face but also the body especially on areas such as the elbow, hands, and knees.
It is best to start with body lotion in which the ingredients incorporated in the lotion itself has anti-aging properties. The Eucerin PH 5 lotion has dexpanthenol properties that can help accelerate cell generation and renew old aged skin. It also contains Vitamin E which is the main ingredient in reducing the premature aging process that could be caused by harsh UV rays.
---
This lotion – apart from screaming luxury – is also vital in overcoming dry skin such as eczema. Its moisturizing properties help restore dry and dehydrated skin when used consistently every day.
The green tea extract provides a subtle yet fresh fragrance while leaving the skin super supple.
---
This L'occitane body lotion contains shea butter and cherry extract from the Luberon region of Provence that not only smoothens and moisturises the skin but also leaves it lightly perfumed with a slight shimmer. Apply on clean and dry skin whenever you feel like you deserve a little pampering.
---
Shaving with a razor blade or going through a waxing procedure is often a woman's main concern. During any hair removal process, there is a harsh pressure applied to the skin to remove the hair follicle. This process can leave our skin dry, harsh and uneven.
Palmer's Cocoa Butter can help soothe the inflamed and rough condition of the skin when applied right after shaving is done to allow all the Vitamin E to be absorbed into the skin. This will enable smooth and toned skin that is supple and moisturized.
Applying Palmer's Cocoa Butter Lotion right after shaving or waxing allows the Vitamin E to be absorbed into the skin. This helps soothe the inflamed and rough condition of the skin, hence giving you smooth and toned skin that is supple and moisturized.
---
When you reside in Malaysia, it's extremely important to protect your skin from the harsh rays of the sun. Nivea Body Nutri White Firming Lotion with SPF20 does exactly that. Besides UV rays, air conditioning can also damage our skin and cause it to look less radiant. The Nutri 10 White in this lotion helps to moisturize and protect our otherwise abused skin.
If you have dull skin, this is also a good pick as the high content of Vitamin C in this lotion will help you achieve fairer skin. This lotion is suitable for all skin types and is safe to be used every day.
---
Vaseline's Total Moisture Aloe Fresh Body Lotion is a best seller amongst its collections because it is cheap and does not break your bank. It's also perfect for oily skin. When you suffer from skin that gets greasy easily it's important that when applying body lotion, the lotion does not add to the greasiness and absorbs quickly into the skin.
This lotion is perfect for that and moreover, has a Stratys 3 multi-layer moisture property that keeps the skin fresh and looking soft.
---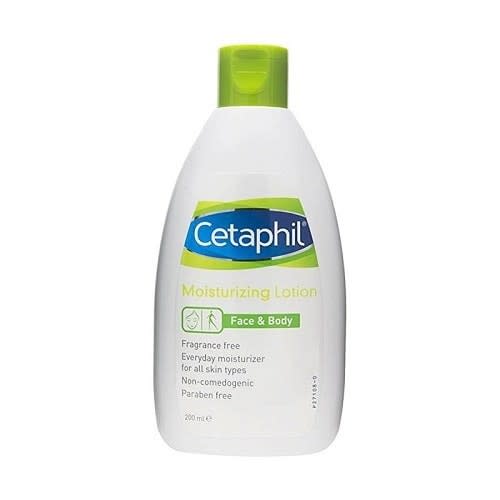 This Cetaphil lotion is suitable for men because of the simplicity of the lotion that adds moisture to the otherwise rough skin of men. As a bonus, it is fragrance-free because men generally do not like using products on them that might smell too strong or feminine.
This lotion can be used to rejuvenate both face and body which comes in handy because men do not usually spend too much time taking care of their skin.
The macadamia nut oil in this body lotion can soothe extremely dry skin and is recommended by dermatologists as safe to use for all skin types with no side effects or reactions.
---
Disclaimer: The pricing shown is just a good indication of how much these products are worth. The prices could change based on the e-commerce promotions that are going on. If some of the products are not available, do email us at [email protected] Thank you!