Expert In This Title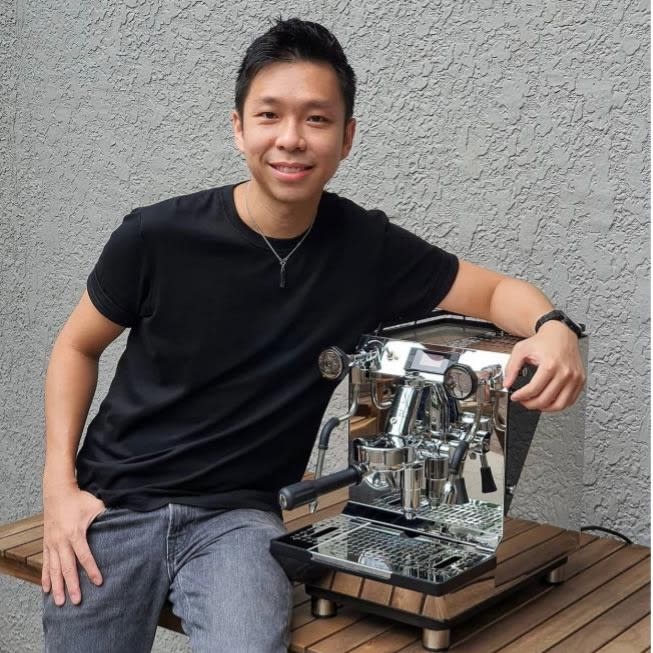 Barista & Café Owner
Jason Loo
Jason Loo is the co-founder of Yellow Brick Road Café, with 10 years of experience in the coffee industry. His experience speaks for itself, having clinched the title of Malaysia Barista Champion 3 times. Besides, he was one of the Top 7 Semi-Finalists of the 2017 World Barista Championship.
"Though having a coffee machine isn't a must in every household, having one has tremendously benefited me. It gave me the chance to hone my skills and discover different types of coffee recipes while indulging in my love for coffee. If that appeals to you, then getting a coffee machine is a no brainer." - Jason Loo
So, you've decided to get serious about your coffee. Maybe the instant stuff just isn't cutting it anymore. Maybe you're finding it increasingly difficult to justify that hole that Starbucks is burning in your wallet. Whatever your reasons may be, the solution is the same, and that solution is a brand-new coffee maker!
We've combed through countless reviews to present to you our guide on the finest coffee machines available today. With the sheer variety of quality options on offer, you don't have to be a barista to be brewing your own delicately balanced espresso. From easy-to-use programmable machines to altogether more sophisticated devices, we've included some of the best for certain situations and just some of the best overall. Read on to take your first steps on the road to better coffee.
---
Top 10 Coffee Machines in Malaysia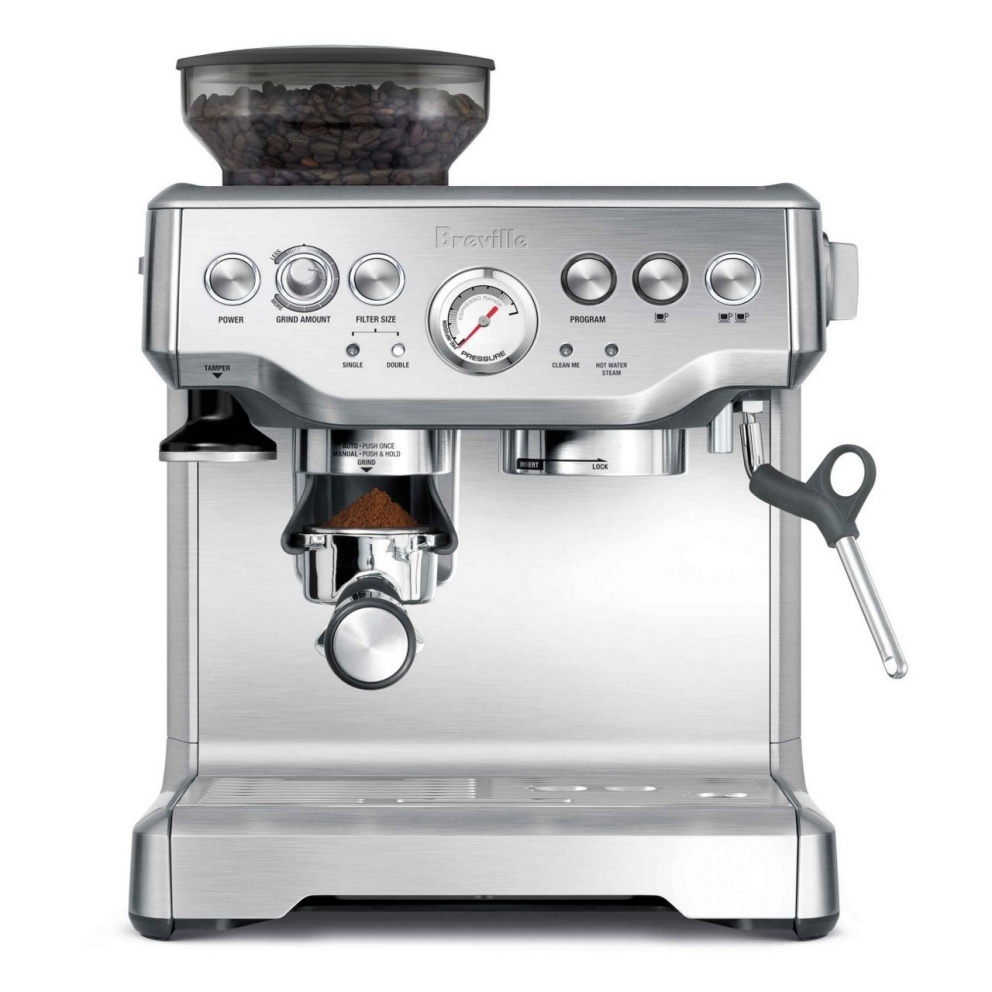 Check Breville the Barista Express Espresso Machine BES870 price below:
add_circle
Has a built-in conical burr grinder with 19 grind settings for mess-free dosing
remove_circle
Might bore more advanced users
Why It's Our Top Pick:
"While you can't go wrong with any of these picks, if we had to pick a favourite it would be the Breville BES870. The combination of control over your coffee it offers and the ease of use at this price point makes for an unbeatable proposition."
Overview: 
With a built-in grinder and an array of custom controls, this espresso machine is a great first step to a more hands-on approach to your coffee and at a great price too.
- Has a delicate balance of grind size and brew time to create great tasting espresso in under a minute
- Comes with a steaming wand to craft your desired latte flavours
- Bean hopper is easy to clean and replace
Performance: 
Ever seen a barista skilfully extract an espresso into a dainty little cup and wished you could give it a shot? Well, with the Breville the Barista Express Espresso Machine BES870, now you can. This fantastic piece of engineering is our pick for the best espresso machine and really, the best overall in this list.
Specifications:
Power: 1500W
Weight: 8kg
Servings: 1-2 cups
Milk Frother: Yes
Milk Capacity: 0.26L
Water tank capacity: 2L
Pressure: Up to 15 bars
Available settings: Lungo, Espresso, Creamy Latte
Dimensions: 37.1 x 24.6 x 43.3 cm (LxWxH)
Bean hopper/coffee bean capacity: 250g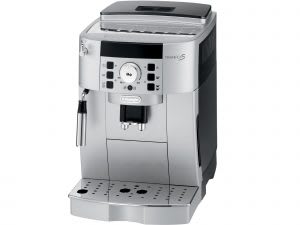 Check Delonghi Magnifica S price below:
add_circle
Thirteen grind sizes
add_circle
Excellent milk frother
add_circle
Rapid heating boiler
remove_circle
Somewhat dated technology
Are you particular about your coffee? Like, almost unreasonably particular? Well, then here comes the DeLonghi Magnifica S with more grind sizes than you can shake a stick (or a stirrer) at.
Overview:
The DeLonghi Magnifica S is a super-automatic coffee machine that, considering its price, might just be the best bang for your buck, bean to cup machine out there. With a ridiculously impressive thirteen grind sizes to choose from, the DeLonghi Magnifica S ensures you can fine-tune the taste of your coffee to the nth degree.
You can control and adjust the aroma button to activate the coffee smell for your loved ones as an alarm that the sun is up and for them to wake up.
- Built-in indicator that helps signal low water level
- Automatically rinse, clean, and remove limescale and hard water residue by running the descaling program
Performance:
Its milk frothing system may take a bit of practice, but once you've got that down, you can make nearly any speciality coffee your heart desires. The possibilities with this machine are endless.
Specifications:
Power: 1450 W
Weight: 9kg
Servings: 1-2 cups
Milk Frother: Yes
Milk Capacity: -
Water tank capacity: 1.8L
Pressure: Up to 15 bars
Available settings: Lungo, Espresso
Dimensions: 13.8 x 9.3 x 16.9 cm (LxWxH)
Bean hopper/coffee bean capacity: 250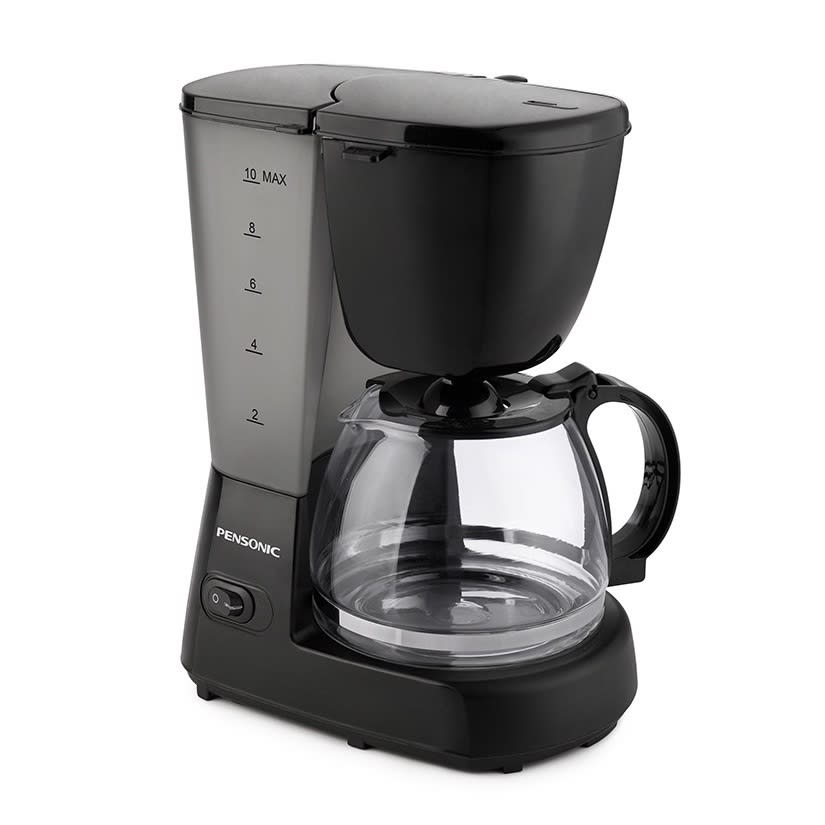 Check Pensonic Coffee Maker (1.2 L) price below:
Overview
Coffee machines don't have to be a fancy affair, and sometimes sticking to basics is just as good as the big machines. This Pensonic Coffee Maker is a simple coffee machine with a built-in anti-drip function, meaning you can have a cup of coffee from the jar at any time you want. 
It also has a swing-out removable filter basket, allowing you to easily clean it out after every use. The added benefit of this machine is that you can also place your favourite coffee beans in with no fuss of capsules or drip bags.
Details
Power: 750 W

Weight: n/a

Servings: 10-12 cups

Milk Frother: No

Milk Capacity: n/a

Water tank capacity: 1.25L

Pressure: n/a

Available settings: n/a

Dimensions: n/a

Bean hopper/coffee bean capacity: n/a
Who is this for?
You can't get a lower price point than this, and for what it's worth, this machine can serve the simplest of coffee needs without any frills. If all you want is a quick cup of coffee that'll hit the spot, then this is it.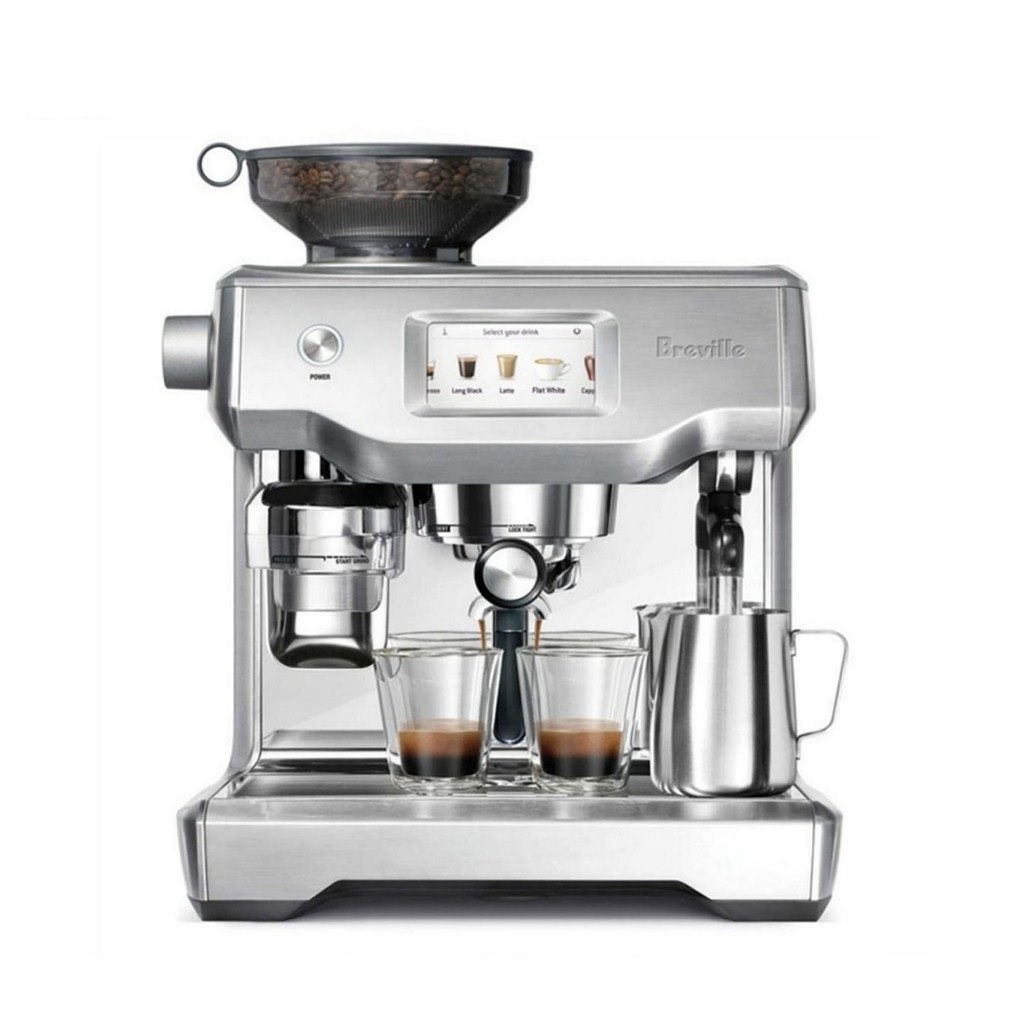 Check Breville The Oracle Touch Espresso Coffee Machine BES990 price below:
add_circle
As close as you'll get to professional-grade coffee in a home appliance
add_circle
Adjustable levels of complexity
remove_circle
Very expensive
Expensive? Very. Worth it? Absolutely. If you won't settle for anything less than cafe-quality, if your taste buds rebel against the ordinary, this is the machine to pick. 
Overview: 
Somewhere between home appliances and professional-grade machines, this device lets you get as involved as you like in the coffee-making process. With this machine, you won't need to splurge on mediocre coffee at cafes. This machine is for the discerning drinker.
- Touch screen operated
- A self-cleaning steam wand 
- Level of bitterness can be controlled by adjusting the pressure valve.
Performance:
Maybe you once had dreams of becoming a barista. Maybe life got in the way, grabbed your hand, and led you elsewhere. With the Breville The Oracle Touch Espresso Coffee Machine BES990, you might not exactly be living out your dreams, but you can at least make the kind of coffee you would've made in them.
Specifications:
Power: 1700W
Weight: -
Servings: 1-2 cups
Milk Frother: Yes
Milk Capacity: -
Water tank capacity: 2.5L
Pressure: Up to 15 bars
Available settings: Espresso
Dimensions: 30.48 x 38.1 x 35.56 cm (WxDxH)
Bean hopper/coffee bean capacity: 0.5L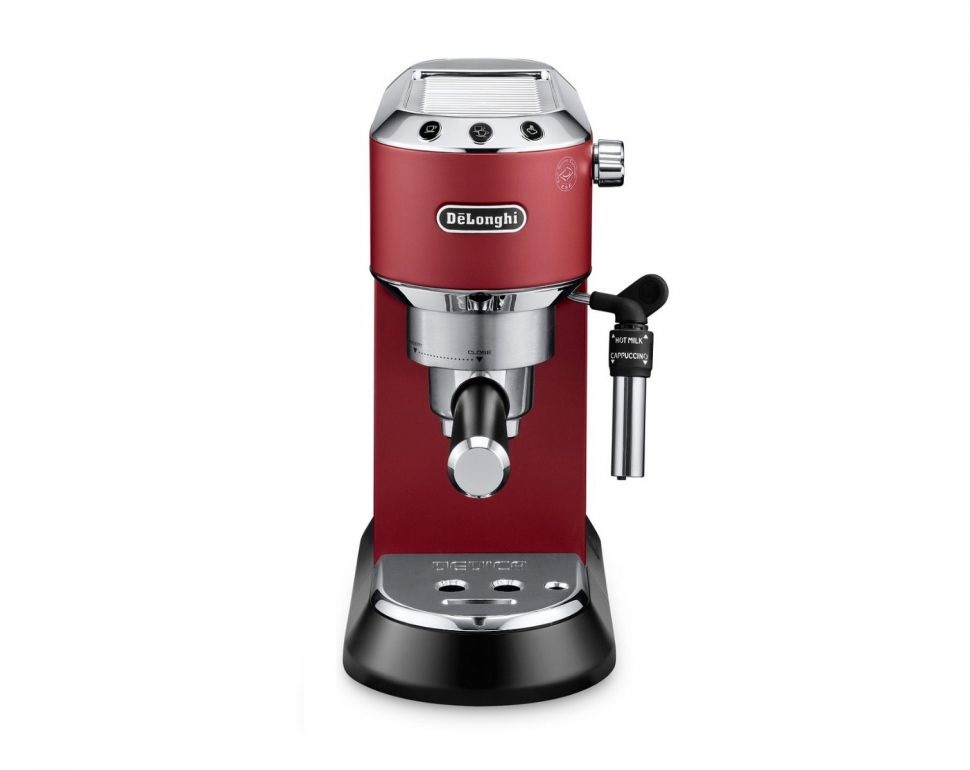 Check DeLonghi Dedica price below:
add_circle
Compact and space-efficient, Compatible with ESE capsules
remove_circle
Boiler sometimes overheats
Home is where the heart is, and it can be where good coffee is if you opt for the DeLonghi Dedica. The ideal companion to help you through those difficult mornings when you just need an hour or two before you go out there and take on the world.
Overview: 
The DeLonghi Dedica is compatible with ESE capsules so you can pop one in if you're feeling a little lazy and don't want the hassle of grinding coffee beans that day. With its versatility and eye-catching design, this coffee machine will be right at home, in your home. 
- Removable drip tray can accommodate mugs or glasses up to 12 centimetres in height
- Unique thermoblock technology maintains the water at the optimum temperature
Performance: 
Picking a good coffee machine for the home is tricky as different people have different preferences but we feel that the DeLonghi Dedica will suit most just fine. A compact and handsomely designed machine, this coffee maker not only looks good in the kitchen, but it produces good coffee too.
Specifications:
Power: 1450W
Weight: 4kg
Servings: 1-2 cups
Milk Frother: Yes
Milk Capacity: -
Water tank capacity: 1.1L
Pressure: Up to 15 bars
Available settings: Espresso, latte, cappuccino
Dimensions: 14.9 x 33.0 x 30.5 cm (WxDxH)
Bean hopper/coffee bean capacity: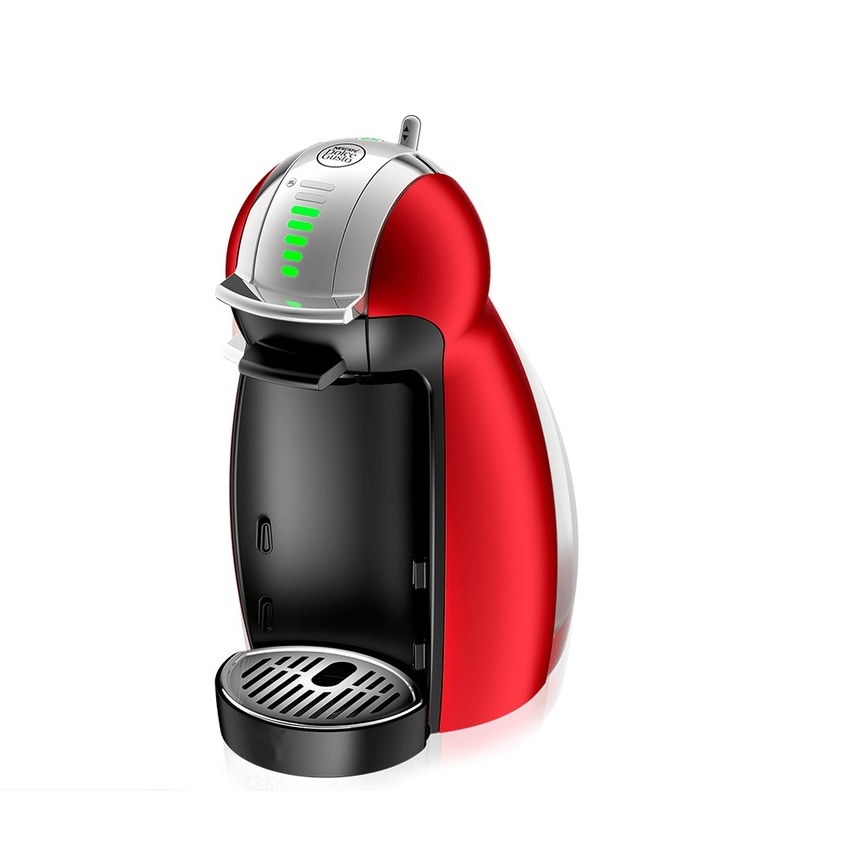 Check Krups Nescafe Dolce Gusto Genio 2 price below:
add_circle
Smart capsule keeps coffee fresh
remove_circle
Pod availability is unreliable in some areas
Simplicity is the ultimate sophistication. The Nescafe Dolce Gusto Genio 2 embodies that saying to a T. Coffee doesn't have to be complicated, as this beginner-friendly coffee machine will most certainly prove.
Overview: 
With unique looks that make it stand out and add to its appeal, it does look like it could be R2-D2's coffee-making cousin. With up to 15 different coffee options, this coffee maker packs quite the punch.
- Removable drip tray
- Water level indicator
- 2-year local supplier warranty
Performance:
If you're new to the world of coffee machines, there are few better starting points than the Nescafe Dolce Gusto Genio 2. This little device is popular, for good reason. An automatic capsule coffee machine with a user-friendly interface, it's simple and unintimidating to the less initiated.
Specifications:
Power: 1500W
Weight: 2.7kg
Servings: 12 cups and above
Milk Frother: Yes
Milk Capacity: -
Water tank capacity: 1L
Pressure: up to 15 bars
Available settings: Espresso
Dimensions: 17 x 30 x 26 cm (WxHxD)
Bean hopper/coffee bean capacity: -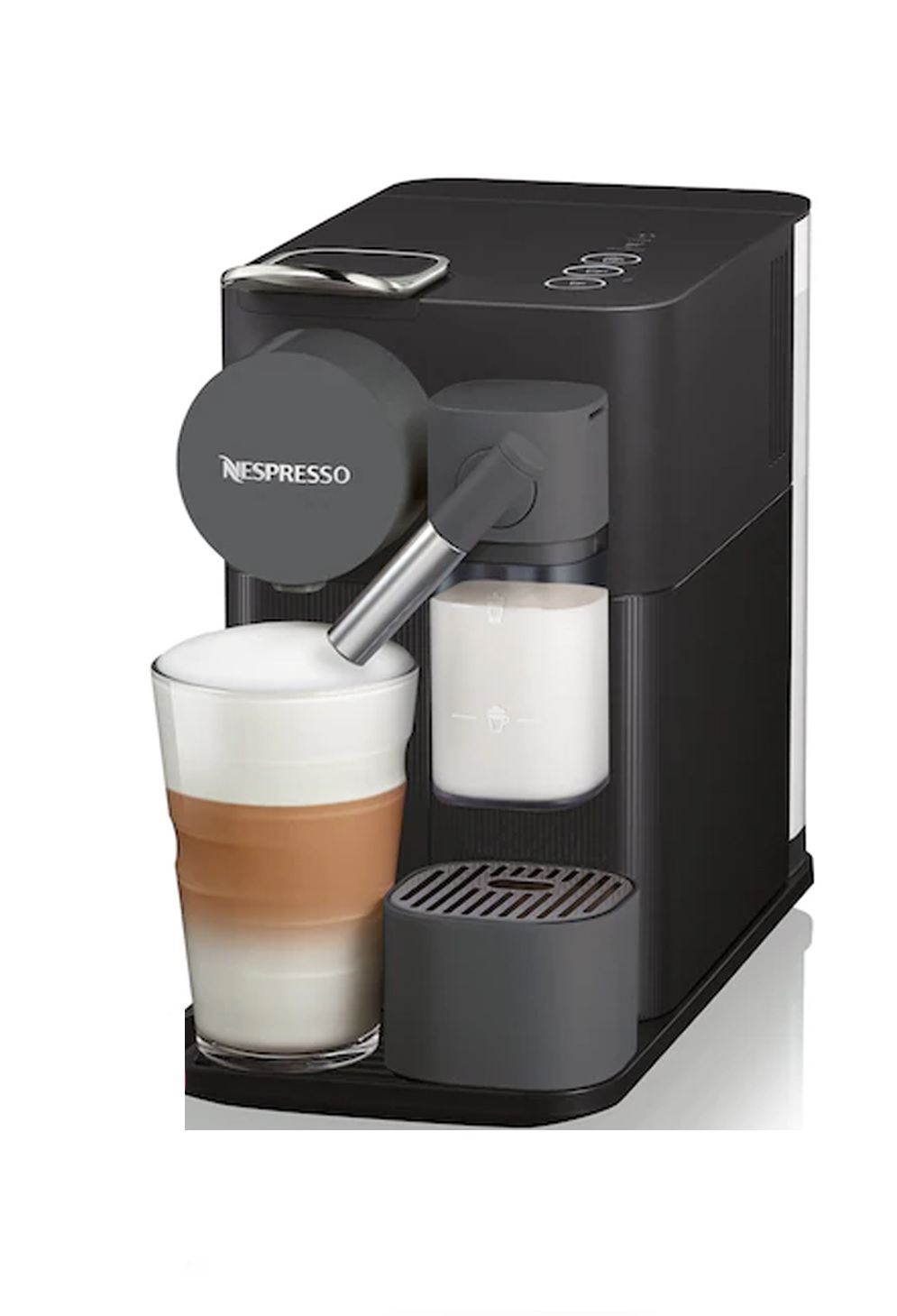 Check Nespresso Latissima One price below:
add_circle
Consistently good espresso
add_circle
Large water tank
remove_circle
Pricey for a coffee pod machine
Straight out of the prolific Nespresso labs comes the Latissima One. With its sleek looks and slight form, this machine is a welcome upgrade to its already impressive predecessors.
Overview: 
A lightweight and compact coffee machine that churns out good espressos, time after time with the push of a button. The automatic milk system also means that if you prefer a latte instead, you can make it just as easily.
- Comes with an eco mode that switches off after 9 minutes of inactivity
- Has a programming coffee quantity that can brew between 40 ml to 150 ml in a single shot
- Built-in illuminating buttons handy for those times when you want to grab a shot late at night or first thing in the morning
Performance: 
If you're looking for a coffee pod machine, you're probably looking for convenience and ease of use. The Nespresso Latissima One has both of these things in spades. If you just want your coffee right away with no questions asked, it simply doesn't get easier than the Nespresso Latissima One.
Specifications:
Power: 1400W
Weight: 4.3kg
Servings: 1 cup
Milk Frother: Yes
Milk Capacity: 0.12L
Water tank capacity: 1L
Pressure: Up to 19 bars
Available settings: Lungo, Espresso
Dimensions: 15.4 x 32.4 x 25.6 cm (WxLxH)
Check Petrus PE3320 price below:
add_circle
Very affordable
remove_circle
Basic features
If a Vespa were a coffee machine, it would be the Petrus PE3320. Classic style, miniature cool, the Petrus PE3320 is a delightful little espresso machine at a scarcely believable price.
Overview:
Featuring a cup warmer, an adjustable steam knob, and a very usable steam wand, this machine ticks all the boxes that a basic espresso machine should, and of course, its retro-chic looks don't hurt its case either.
Has a clear, detachable water tank that lets you see how much water is still in there.
- Removable drip tray
- Detachable water tank
- Adjustable steam knob
- Precise temperature control
- Stainless steel steam wand
Performance: 
An espresso coffee machine for under RM 350? You can believe your eyes when it comes to the Petrus PE3320. Though Espresso machines generally tend to be more expensive than the other kinds,  Petrus has somehow been able to put together a competent package at an irresistible price point. 
Specifications:
Power: 850 W
Weight: 4.5kg
Servings: 4 cups
Milk Frother: Yes
Milk Capacity: -
Water tank capacity: 0.8L
Pressure: Up to 20 bars
Available settings: Cappuccino, Latte, Mocha, Espresso
Dimensions: 21.7x 28.9 x 29.1 cm (LxWxH)
Bean hopper/coffee bean capacity: -
---
Our Tried & Tested Choices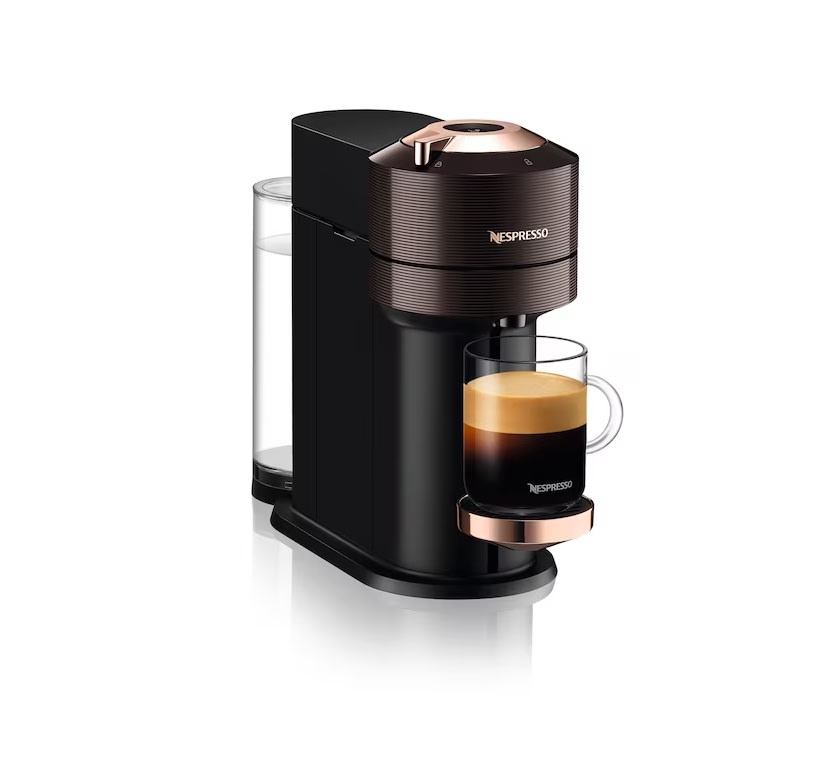 Check Nespresso Vertuo Next price below:
add_circle
Clean, smooth coffee taste (not as acidic as many others)
add_circle
Easy to operate and clean
add_circle
Various coffee amount options available (up to 535ml)
add_circle
Good Crema (stays for a long time)
remove_circle
The line does not come with any milk frothers
remove_circle
Not compatible with original line capsules
Overview
Nespresso's machines are made to offer consistent taste, cup after cup.
Their original line uses 19 bar pressures to extract your coffee, so the mechanism and maintenance will require a bit more reading and some learning curve.
Belonging to the Vertuo line, this machine uses capsules that have barcodes on them, dubbed the Intelligent Brewing Technology, which the machine will read in order to use the correct temperature, brewing time and even the size of your drink according to the type of coffee being brewed. Vertuo machines also use a more acute mechanism to carefully screw an opening (Centrifusion) to apply enough pressure and extract coffee.
Moreover, Vertuo capsules are able to make coffee from as little as 40ml for espresso, all the way to 535ml for caraffe.
In short, this is a very easy, high-end coffee machine to use. Just plug it in, pop a capsule in, and you're done.
Specifications
Dimensions: 14.0 x 42.9 x 31.6 (CM)
Weight: 4kg
Material: Recycled plastic
Heat Time: 30 seconds
Water Tank Capacity: 1.1L
Used Capsule Capacity: 5-6 (depending on capsule sizes)
Others: Automatic power off; 2 years warranty
In Our Experience - Live ProductNation Review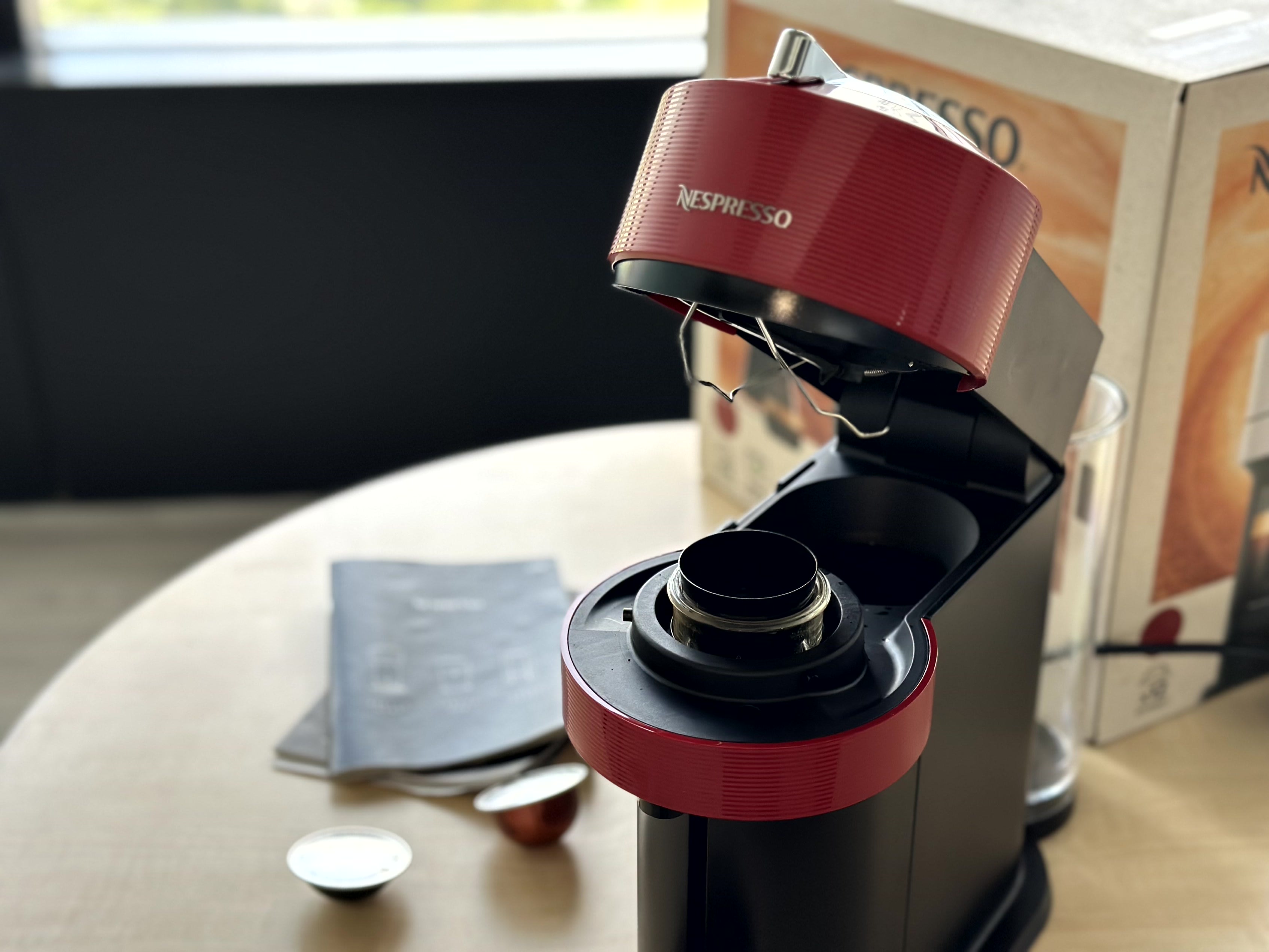 Upon review and finding out that there is just a single operating button, we knew that this is for coffee lovers who prioritise simplicity and large amounts of coffee with the right strength.
The Nespresso Vertuo Next comes in packaging made of sustainable material alongside a batch of manuals and warranty papers. To note, every Nespresso Machine comes with a 12-capsule Tasting Kit.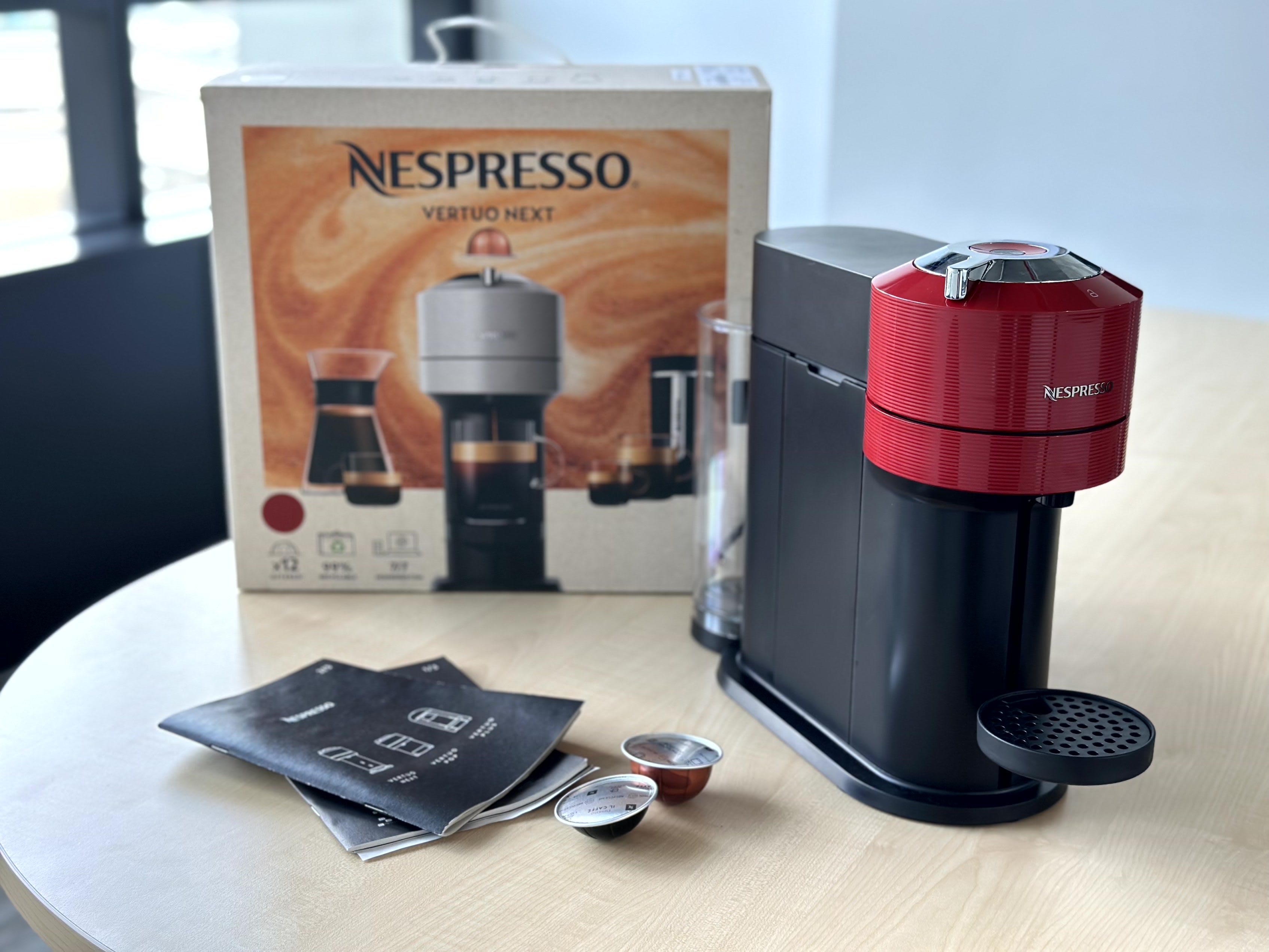 Available in 3 colours: Black, White and Cherry red; each comes with a black primary body and silver finishes. The material of the body is not heavy, nor does it feel light to seem flimsy. In fact, it feels quite solid and is made of good plastic with a touch of matte surface. 
In terms of adding the pod into the machine, there's a turn-lock to twist open the machine's head where you can insert the coffee capsules. A minor issue we had was that unlocking the head didn't feel smooth or steady, so a one-hand operation to insert the capsule can be tricky.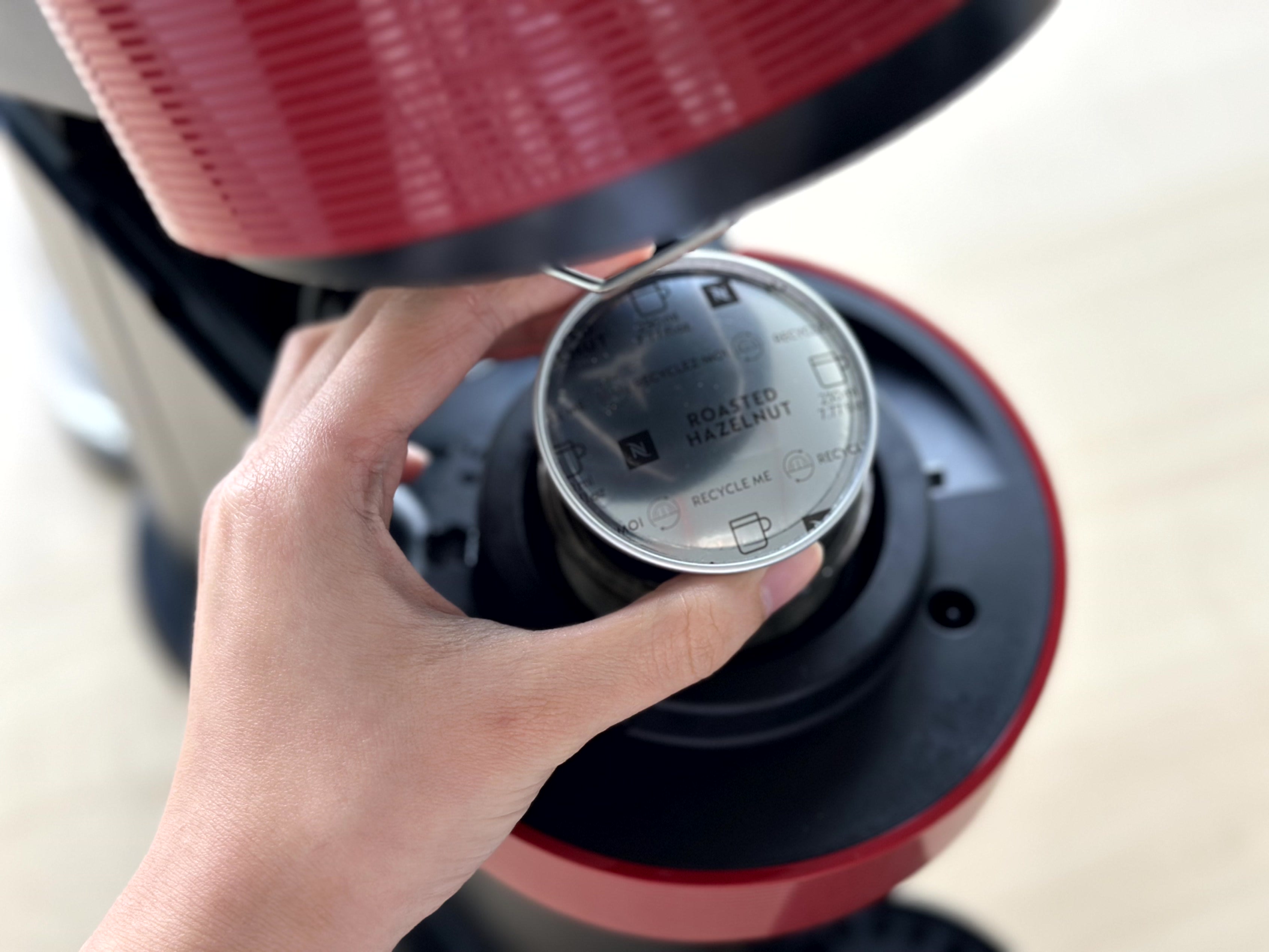 Otherwise, using the machine was pretty straightforward. Just unlock the machine head, add the capsule, lock it back down and turn on the button. Your coffee should be extracted in a timely manner of under 30 seconds.
When it comes to taste, there's not much of a difference from the original line. At least to us, the "americano"-sized coffee seems less acidic, yet a cup also tasted less intense in flavour. Nevertheless, the taste profile for Vertuo capsules is still clean and smooth.
Who is this for?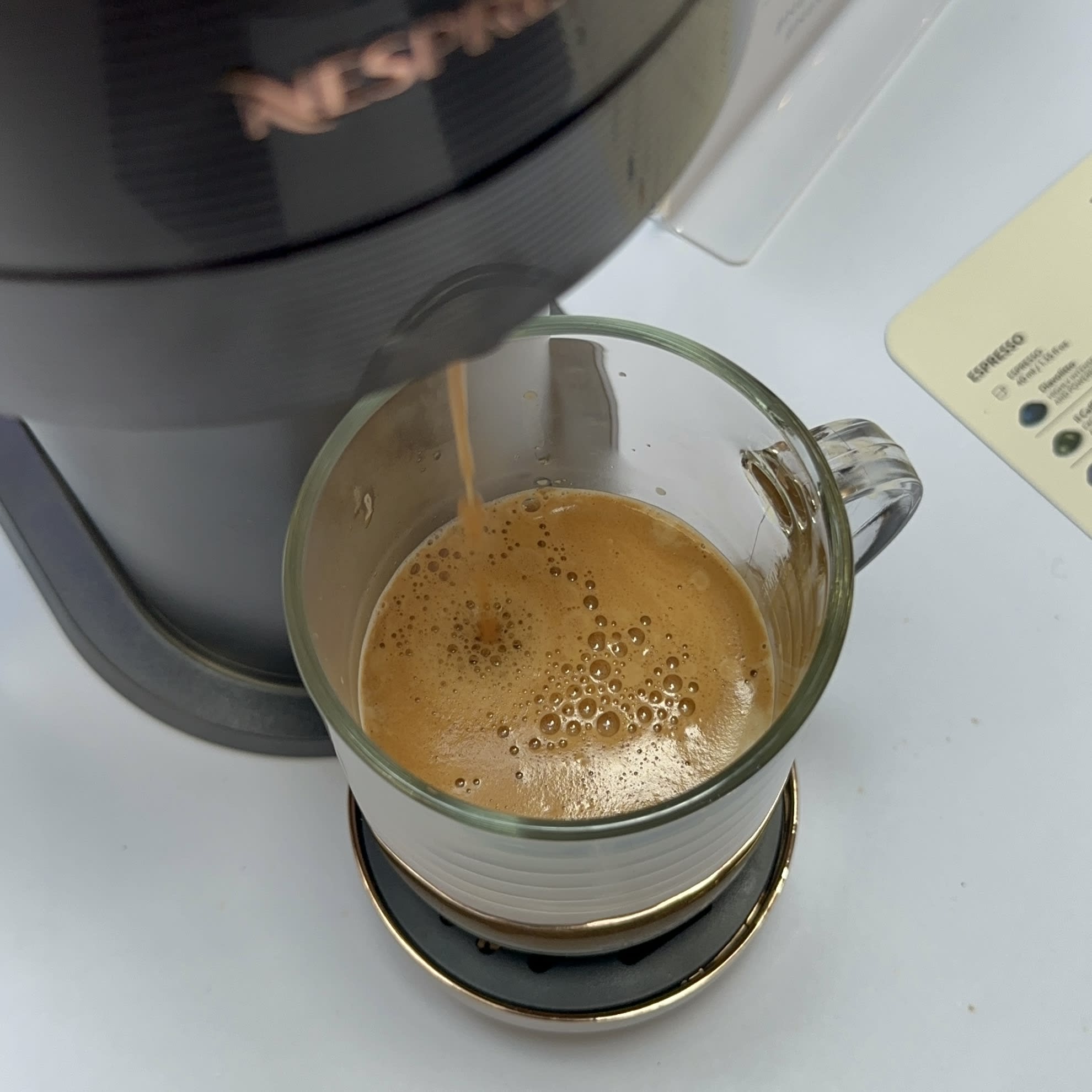 Because all Vertuo machines do not come with milk frothers, a machine like the Vertuo next is best for black coffee and espresso lovers. But fret not; you can still make your usual latte. Just add milk before you brew your coffee!
The fact that it can even make a large amount of coffee (up to over 500ml!) means it's also great for those who want to serve a large amount of coffee often.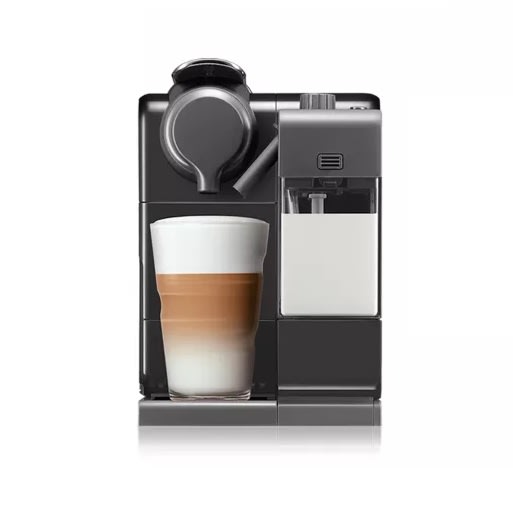 Check Nespresso Lattissima Touch Black Coffee Machine price below:
add_circle
Easy to clean & maintain
add_circle
6 built-in recipes for espresso & milk-based coffee
add_circle
Automatic power-off
add_circle
Adjustable milk foam density
Overview
Espresso machines are not cheap due to the amount of pressure and acute machinery required to create perfect beans extraction. Luckily, the Nespresso Lattissima Touch makes it possible to enjoy espresso drinks whenever at home.
The Lattissima Touch is a mid-range Nespresso machine that is meant to meet the demands of a family or small office. It is designed to be beginner friendly, utilising a one-touch system to operate. That's not to say that this is a simple machine; it has 6 one-touch button recipes, letting you have the pleasure of creating many coffee & milk recipes. 
Specifications
Weight: 2.3 kg
Removable water tank: 0.6 L
Used capsule container capacity: 6
Pressure: 19 bar Bars
Automatic shut off after 9 mn| Programmable
Dimensions (WxDxH): 11cm x 32.5cm x 20.5cm
In our experience - Live ProductNation Reviews
For us, the Lattissima One home coffee machine has the perfect design to make lattes, cappuccinos, creamy lattes, latte macchiatos or even just espresso shots. With its very simple control interface, you still get 6 one-touch coffee selections.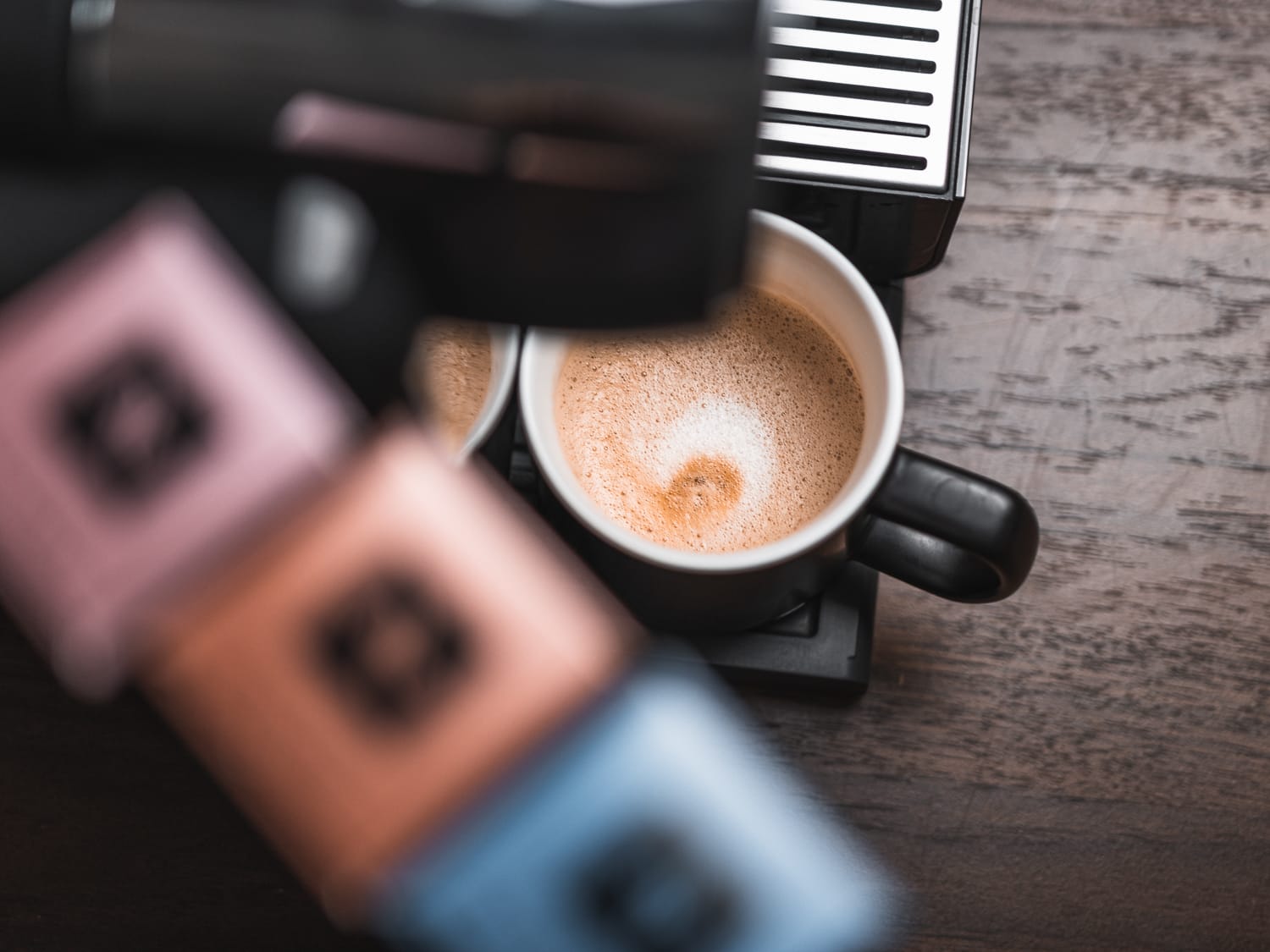 In our stint of review, each up of expresso was consistent in taste and never under-extracted. Whether you have experience making coffee with a Nespresso machine or not; as long as you have the right pod to match your taste, you'll never get a "less than perfect" cup of coffee, but a cuppa that's "just right".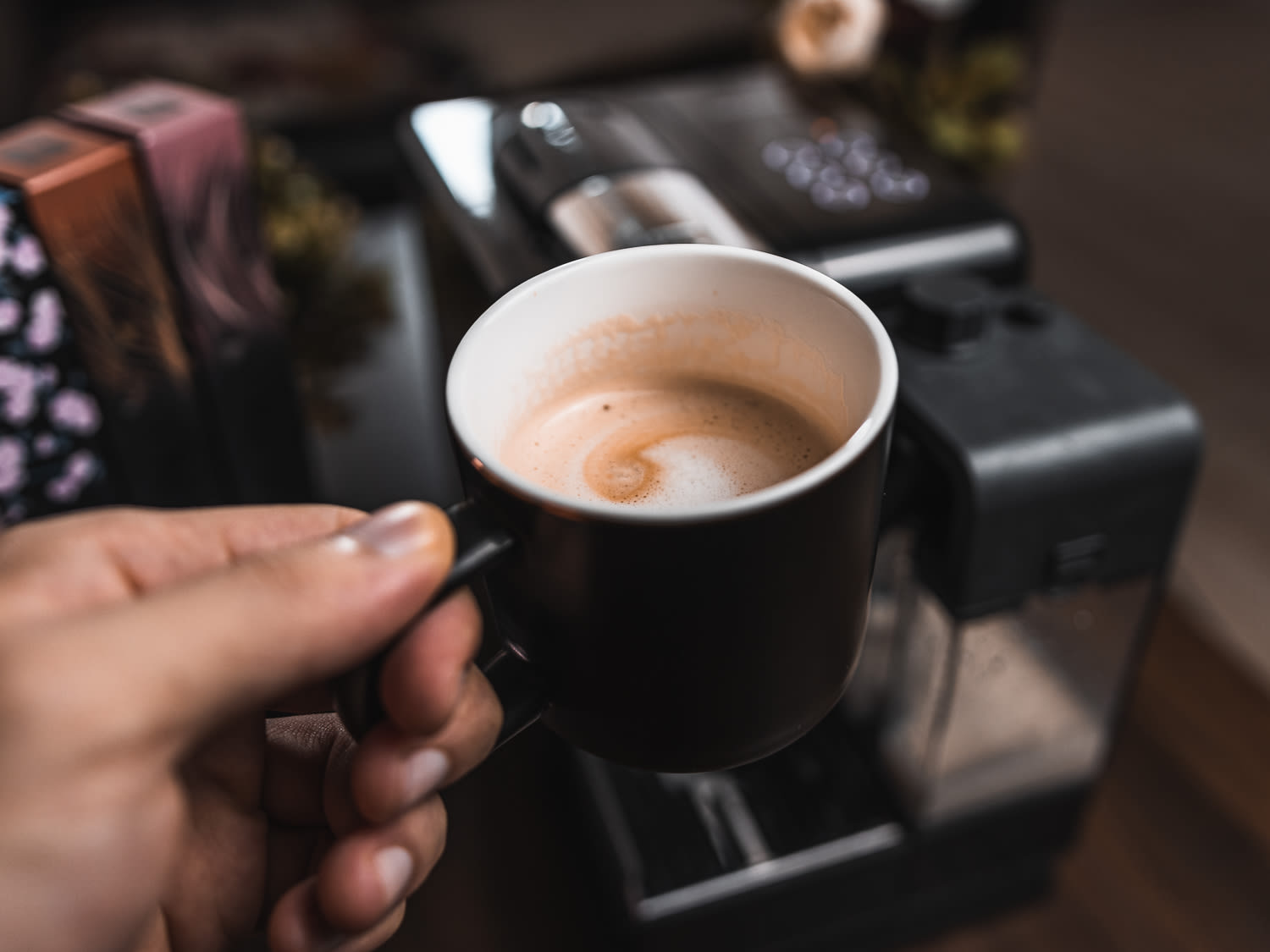 Another reason for beginners and coffee enthusiasts to get the Lattissima One? If you're like us, who are bad at making milk-based coffee, the milk drink recipes offered by the machine's guide are great too.
Who is this for?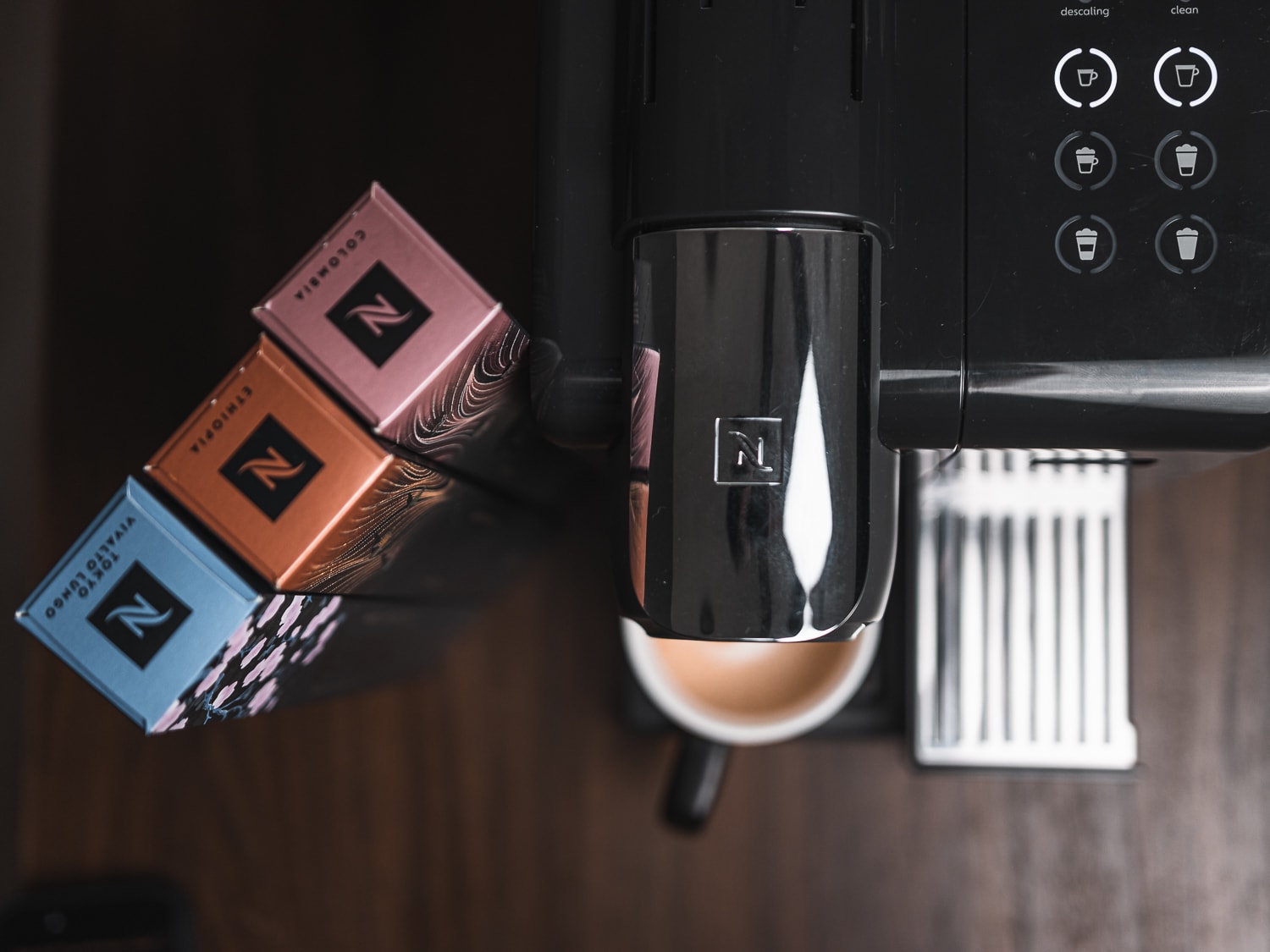 Despite the price of over a grand (RM), we'd say that the Nespresso Lattissima Touch is actually worth the price tag. With the quality of consistency and ease of use, this is great for anyone new to espresso machines.
FAQs
- Types of coffee machines
Broadly speaking, there are two types of coffee machines: coffee makers and espresso machines. A coffee maker is a machine that uses filter paper or filter mesh to brew coffee. And due to its basic function and minimal features, the coffee maker is nearly always the cheaper option.
On the other hand, an espresso machine is a machine that uses high pressure to extract espresso coffee, which is the base of many coffee beverages such as lattes, cappuccinos, and long blacks.
Essentially there are three categories of espresso machines:
Fully automatic — Where you can extract coffee and milk simply by pressing a button

Semi-automatic – Similar to those found in cafes, with a preset volume and an automatic milk frothing system.

Manual – This is a non-digital system that relies entirely on the talents of the barista to extract coffee and froth milk
---
- What makes a good coffee machine?
According to Jason, these are the few things that people should consider while shopping for that perfect coffee machine:
Machine function
A versatile coffee machine will have more features that will allow you to do more. Besides looking for the ones that incorporate smart technologies, you might want to consider looking for machines with removable components for long-term use and self-cleaning capabilities for easy maintenance.
Reliable brand
When buying from well-known manufacturers, you'll have peace of mind that if your machine fails, you'll be able to get replacement parts or have it serviced for free if your equipment is covered by a warranty. This is especially significant when purchasing a high-end model.
Customer service
Before you buy a coffee maker, do some research on the brand. This will allow you to observe how customer service representatives interact with their clients.
Regardless of how promising the product looks, stay away from ones with bad customer service reviews. Likely, their after-sales service is indeed lacking and your queries or complaints will be left unanswered.
---
- How long do coffee machines last?
Technically speaking, an espresso machine can last between five and fifteen years on average. The brand, type, complexity, frequency of usage, etc., are some of the factors that impact the lifespan of your machine.
On average, a good coffee maker has a 5-year lifespan. The machine can last longer -- up to ten years, with proper care which involves cleaning and descaling it regularly.
---
- Maintenance and cost of coffee machines
Yes, coffee machines need to be maintained. This involves daily maintenance and cleaning after each use. Machine maintenance services such as the replacement of certain parts due to wear and tear are usually necessary within a year or two depending on the usage.
Generally speaking, it's not very costly but the service fee might exceed the cost of the parts.
---
- Benefits of owning a coffee machine
Owning a coffee machine allows you to make different types of coffee at home. In the long run, it's more economical and convenient too. Besides, if you're a coffee enthusiast, you'll be able to gain experience and master the art of coffee making.
Related articles