Having your very own coffee grinder at home limits your trips to coffee joints since you can have freshly brewed cups of coffee daily at minimal cost! Once you have whole coffee beans, you're set to play barista and grind them fresh every day!
Sounds tempting? Browse through our list of the best coffee grinders you can find in Malaysia so you can get your brew on!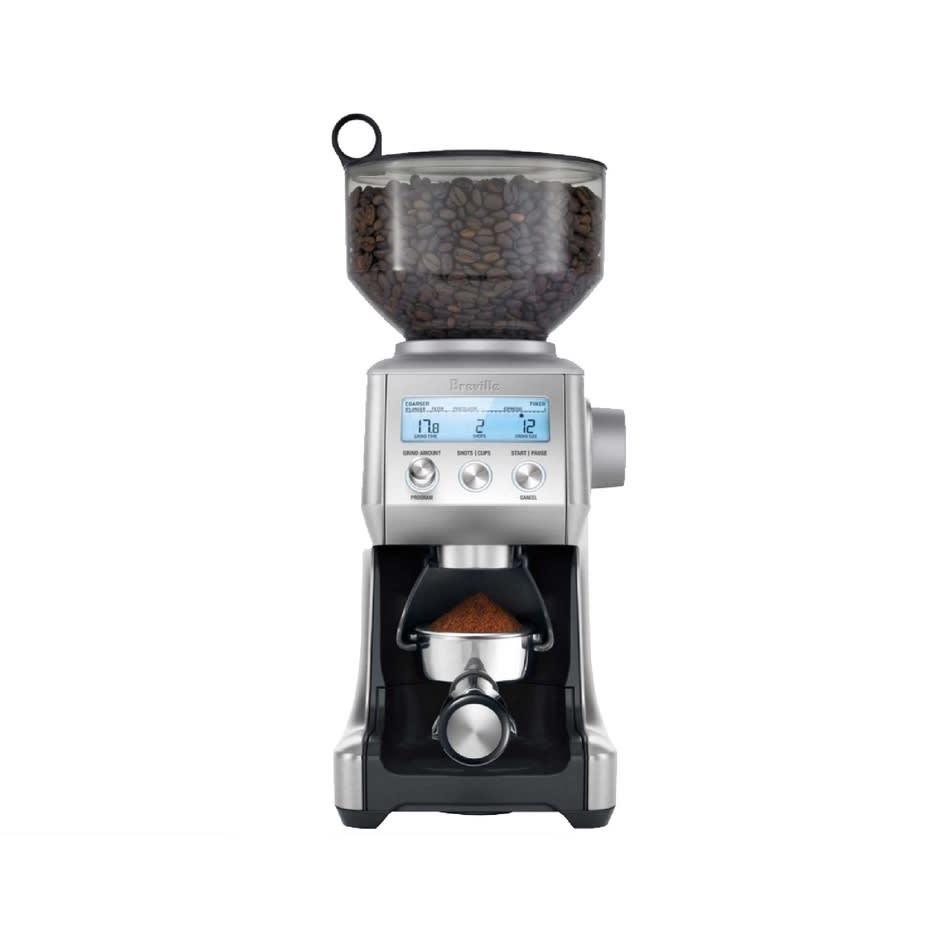 Check Breville the Smart Grinder Pro Coffee Grinder BCG820 price below:
add_circle
1-year warranty
add_circle
Suitable for beginners
add_circle
Variety of adjustable options
Why It's Our Top Pick:
"Creating up to 60 different coffee grinds at 450g each with its pro-stainless steel conical burr technology, this coffee grinder took the coveted top pick spot on our list! 
The Smart Grinder Pro allows you to grind directly into either the portafilter, airtight container, gold-tone filter, or paper filter. Whatever suits you!''    
Overview   
Showcasing an LCD, this coffee grinder enables you to set the setting, timer, and number of shots or cups accordingly. Besides, its pre-programmed settings allow you to achieve a nice cuppa Joe, based on how fine or coarse you prefer your coffee beans to be. Using this machine is a no-brainer!
Not to mention, its Precision Digital Time enables you to adjust and set the grind time in 0.2s increments which gives you the right control and perfect dose each time.
Performance   
With 5-star ratings, this coffee grinder is a pretty sophisticated machine that will look great in your kitchen. Its functions and grind settings come at an unbeatable price. Plus, it's easy to clean!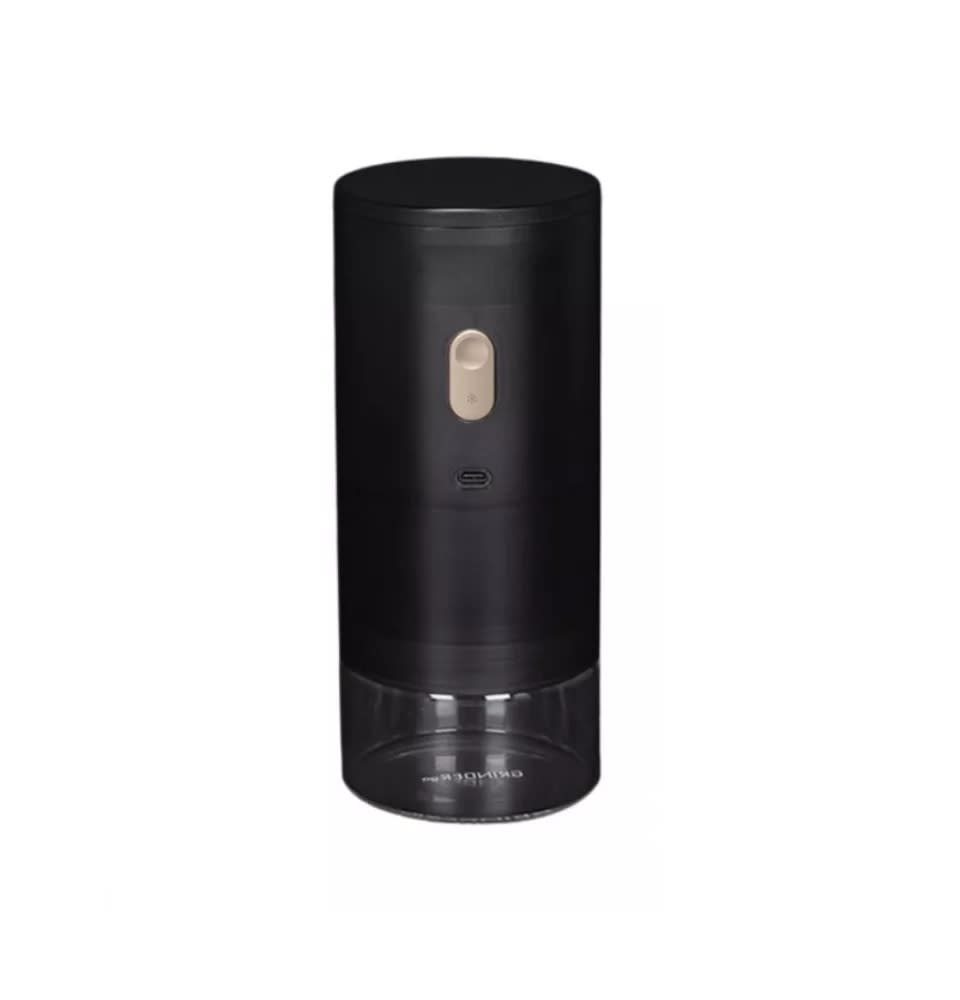 Check Timemore Grinder Go Portable price below:
add_circle
Easy to operate
Measuring 20x8cm, this coffee grinder is perfect to fit into your suitcase for your next outdoor adventure!
Overview    
This coffee grinder allows you to grind 4 servings at one time! It also comes with a built-in battery that makes it convenient for your backpacking trip. You can easily charge it through a USB cable with the use of a power bank, car, laptop, and many more. 
Furthermore, this wireless coffee grinder operates on a high-quality motor system that takes the 30s to grind your beans. The best part is that it automatically shuts off after 10s if there are no more beans left to grind. 
Performance   
Users give this option a thumbs up. It offers good value for money and you can look forward to low noise operation.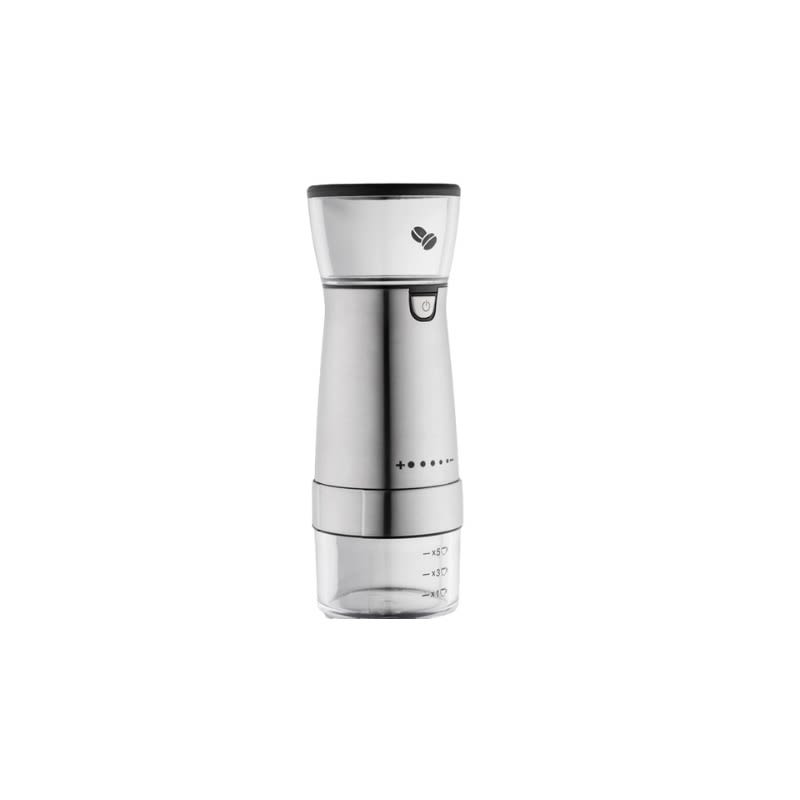 Check BREWISH 304 Stainless Steel Ceramic Burr Coffee Bean Grinder price below:
add_circle
Easy to operate
add_circle
USB-rechargeable
add_circle
Stainless steel wire
With 5 kinds of coarse and fine adjustments, this affordable coffee grinder is one you should check out of your cart!   
Overview  
Complete with a 1200 mAh built-in rechargeable battery, this coffee grinder takes about 10 minutes to grind a cup of beans. It utilizes a ceramic grinding burr core which ensures durability as it will not rust easily due to the acidity of the coffee. 
Furthermore, it is made from an ABS outer shell and a food-grade 304 stainless steel inner liner. Its one-key operation allows you to work on its 4 different modes of grinding that meet your various needs. 
Performance  
Users commented that this coffee grinder is of good quality and is easy to use. Its accompanying instructions are also clear and uncomplicated.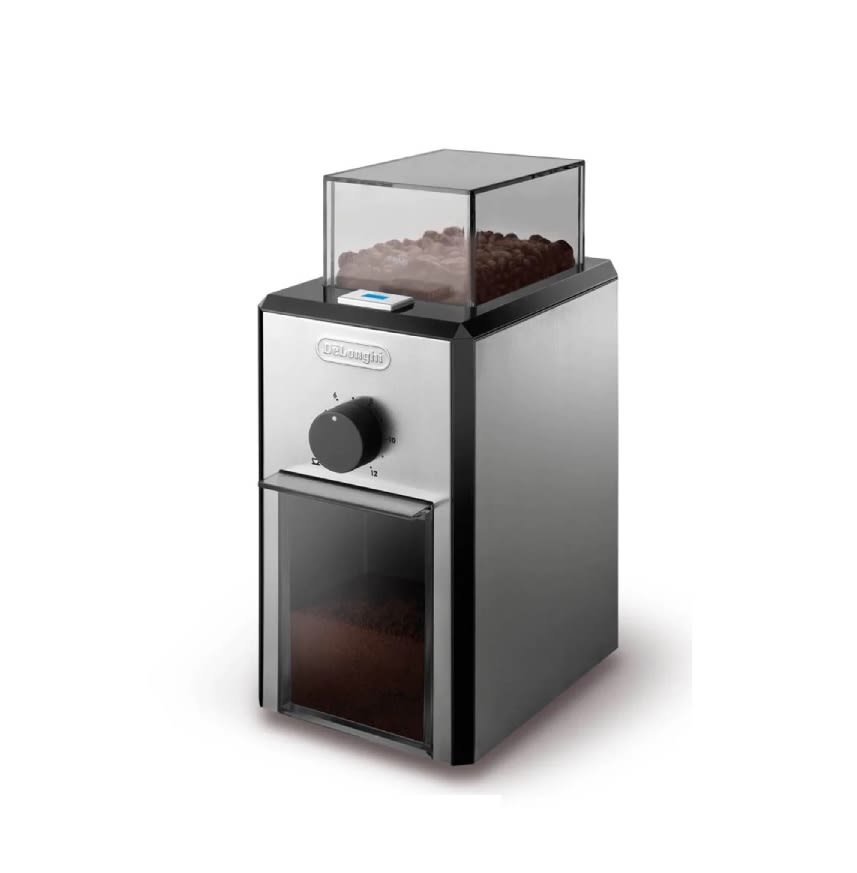 Check DeLonghi KG89 Burr Coffee Grinder price below:
add_circle
Detachable coffee powder cup
add_circle
1-year warranty period
add_circle
Dual-safety system
Want to be your own barista at home? The DeLonghi KG89 Burr Coffee Grinder will be a great companion to start your journey. 
Overview  
DeLonghi Burr Coffee Grinder has a capacity of 120g that can produce up to 12 cups of coffee. It comes with a fineness selector that allows you to choose your preferred ground coffee setting. You can even customize how many beans you want to grind. 
Plus, with its 2 grinding wheels in the burr grinding system, your coffee beans will grind to the texture just the way you want it while preserving the roasted aroma. 
Performance   
This coffee grinder has garnered numerous 5-star ratings with users satisfied with how well it works.
It is a great entry-level option at a reasonable price. It is exactly as advertised and is easy to use.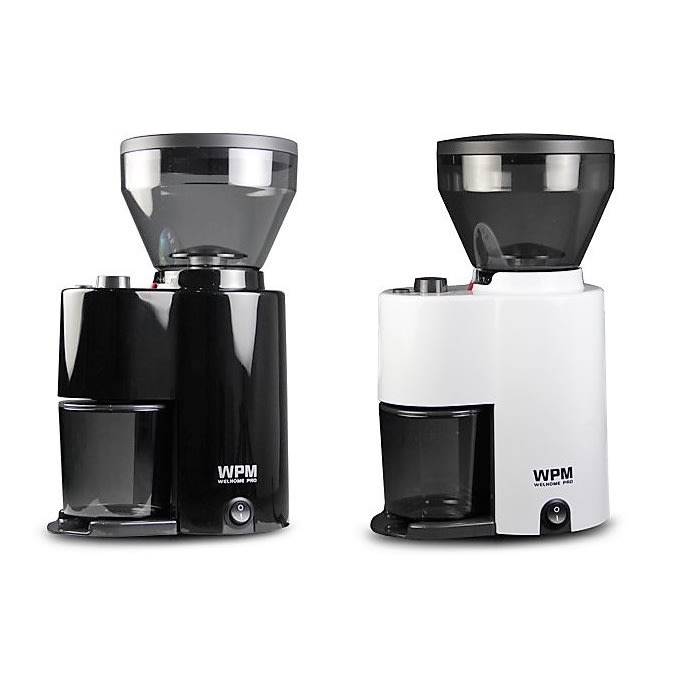 Check Welhome Electric Coffee Grinder ZD-10T price below:
add_circle
Comes with timer
add_circle
BPA-free plastic body
add_circle
20 grind settings
add_circle
Available in black and white
add_circle
1-year warranty
With the capacity to grind up to 200g of coffee beans at one go, this coffee grinder can whip up about 20 cups of coffee which should be great for running a small would suffice at meeting all your customer's orders. 
Overview   
Designed for manual espresso brewing, French presses, and anything else, this coffee grinder comes with stainless steel conical burrs that precisely grind the beans uniformly. Complete with 20 grind settings, this coffee grinder allows you to grind the beans for any brewer and flexibly switch between the settings easily. 
Not to mention, its 250g bean hopper prevents you from constantly having to refill the grinder each time you brew. 
Performance  
Garnering raving positive reviews from users, they complimented that it works well despite its small and compact build. It grinds the beans smoothly without being too noisy.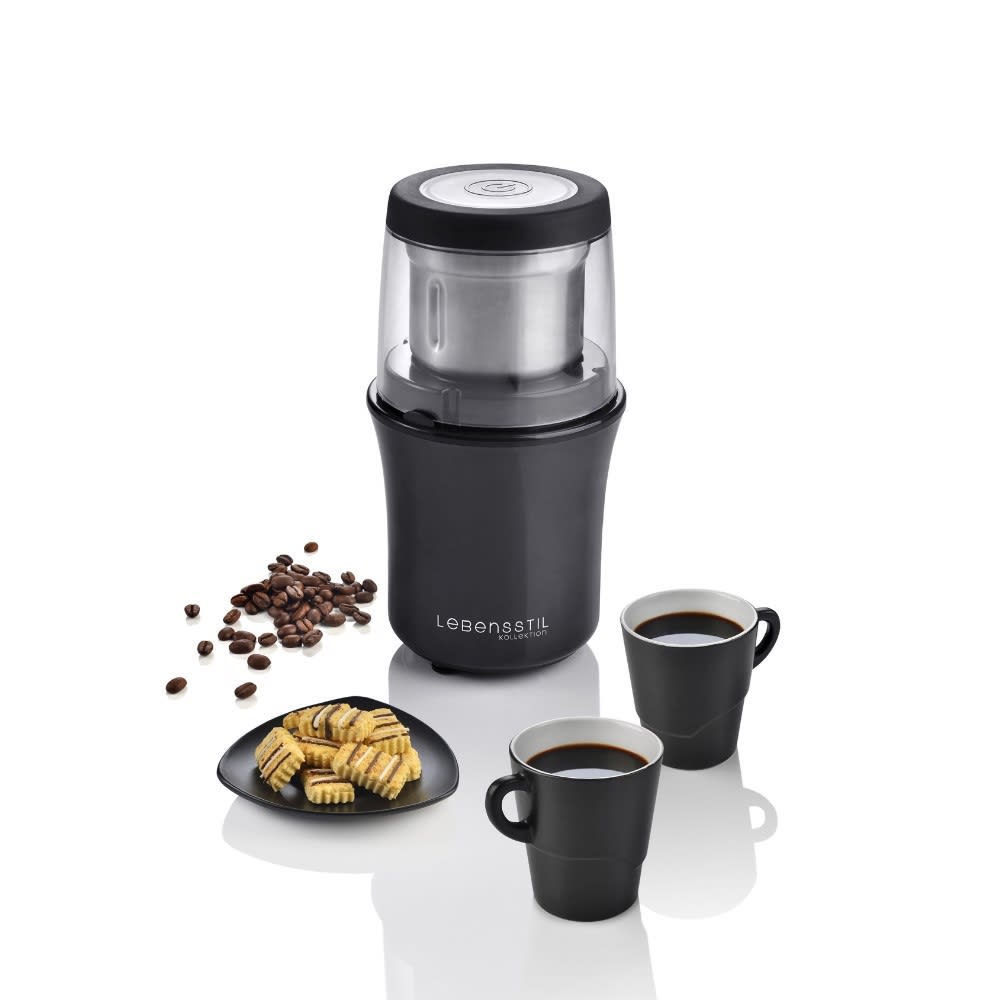 Check Lebensstil LKCG4013X Electric Turbo Coffee Grinder price below:
add_circle
Detachable bowl
add_circle
2-year warranty
Just one press and this gem starts grinding your beans to perfection!
Overview     
Thanks to its transparent cover that prevents the beans from escaping while grinding, you can also easily monitor to see if you're grinding them to the right texture. Accompanied with razor-sharp, stainless-steel blades, this electric coffee grinder pulverises your beans into powder within seconds! 
Performance   
Users gave good recommendations for this one! The Lebensstil LKCG4013X is of good quality and isn't noisy as well. It works well but note that some guesswork is needed to achieve your desired texture and fineness.  
Check LEMONE 600N Electric Coffee Bean Grinder price below:
add_circle
Adjustable 8 grind sizes
add_circle
Smooth grinding
add_circle
Suitable for home use
remove_circle
No warranty
Great for espresso coffee, Moka pot, and French press, LEMONE's electric coffee grinder does it all! 
Overview   
With 8 adjustable grind sizes, you'd be pleased to know that you can have a range of choices to choose from on how fine you'd like your coffee beans ground. This coffee grinder has received an upgrade to its burr blades with an HRC hardness that's above 55. 
Performance   
Users raved that this coffee grinder's price tag is fair given its outstanding quality. Its grinding size is consistent. Not only that, its grinding process too is fast and smooth.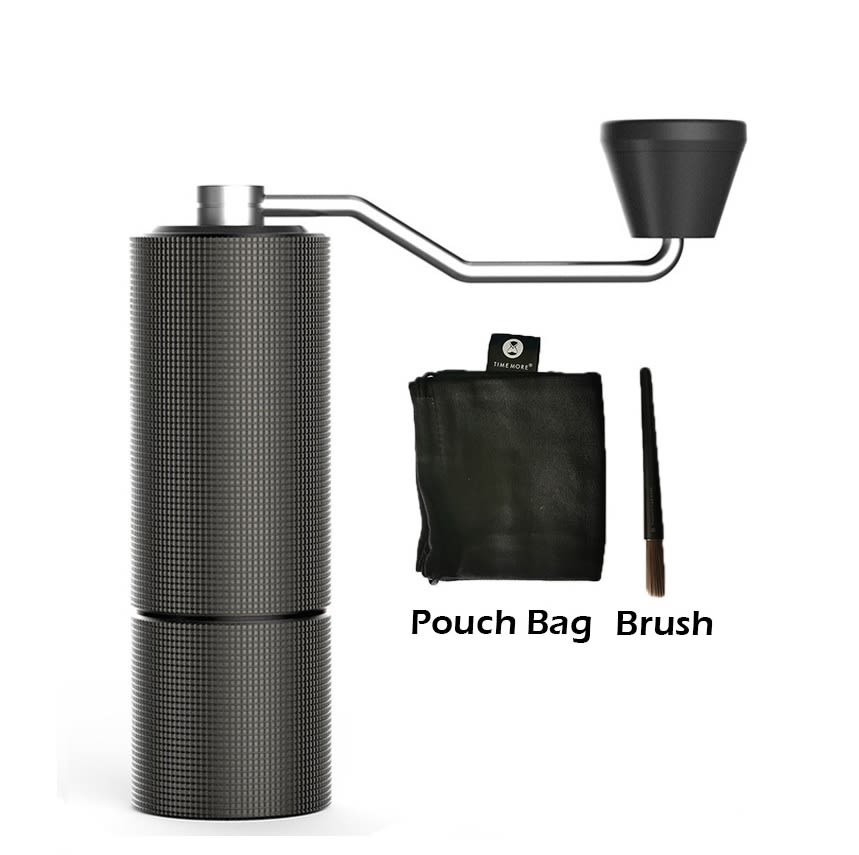 Check TIMEMORE Coffee Manual Grinder price below:
add_circle
Stainless steel burrs
add_circle
Precise coarseness
add_circle
1-year warranty
remove_circle
Cannot be in contact with water
This manual grinder grinds through the beans in an instant, in uniform fashion.
Overview      
Made of superior quality burrs and with high accuracy, this manual grinder offers a tight hand grip to allow you to grind your beans effortlessly. Its sturdy and matte texture makes it easy to grip.
Besides, its stainless-steel burr is a precise CNC cutting moulding which makes grinding your coffee beans a seamless process. The manual coffee grinder also comes with an adjustable coarseness to accommodate your different needs. 
Performance  
Easy to grind and easy to handle, users couldn't be more pleased with this manual coffee grinder. It also yields consistency in its grinding. Some say it's better than a ceramic burr grinder. 
Check LEMONE Espresso Grinder price below:
add_circle
19 adjustable grind sizes
remove_circle
No warranty
This espresso grinder offers 19 adjustable grinding sizes and micro-adjustment. 
Overview     
This minimalistic espresso grinder comes in 2 versions; with and without a timer. Topped with a protection lid, rest assured you won't be making any mess in your kitchen as it prevents the beans from flying out of the container during the grinding process.   
Its LED display allows you to set the timer and temperature accordingly to grind your espresso to perfection! 
Performance    
This espresso grinder is noted to function well. It offers good value for money and consistent satisfactory grinding results. 
What you get: Cleaning brush, coffee bean basket, protection lid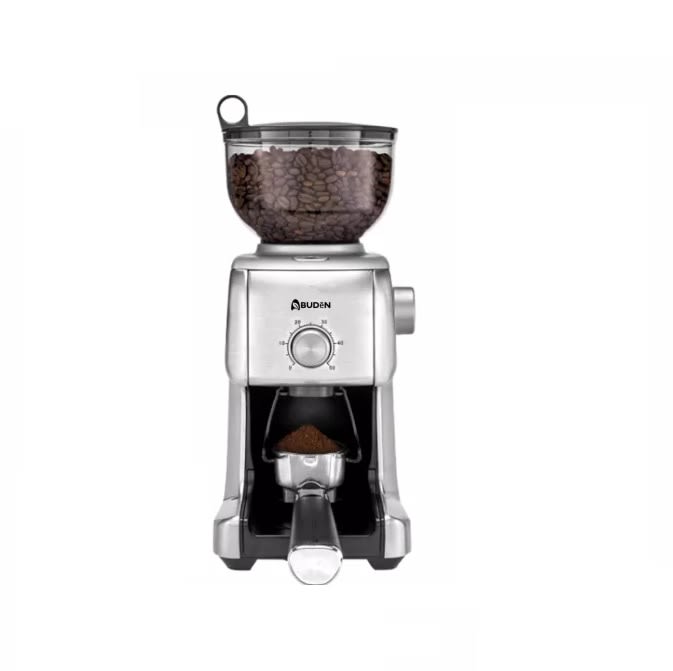 Check ABUDEN Automatic Coffee Grinder Machine price below:
add_circle
SIRIM-certified
add_circle
1-year warranty
add_circle
Stainless steel body
This automatic coffee grinder machine comes with 16 grind settings, allowing you to product 2 to 10 cups within minutes. 
Overview   
Its stainless-steel conical burr produces a consistent size of grounded coffee. Have a go at grinding fine espresso or coarse French press and you won't be disappointed. Its 1-50s-time knob allows you to control the amount of ground coffee that's produced.
You can also choose to grind directly into the portafilter, ground coffee container, and paper filter. Better yet, it automatically turns off once grinding is complete. 
Performance   
With a wave of positive ratings, users praised that this coffee grinder grinds well within 10 to 50 seconds. It is easy to clean and has a pretty sturdy build overall. 
What you get: Coffee grinder, 400g coffee bean holder, 150g ground coffee container, lids, brush, manual, and 2 portafilter brackets, instruction manual
---
Is It Worth Buying A Coffee Grinder?

   
The answer is: YES! For coffee enthusiasts, investing in a coffee grinder goes a long way. Owning a coffee grinder allows you to sip on a quality cup of joe from the comfort of your kitchen.
Simply put, the type of coffee grind determines the quality of your brew, and the right grinder is key. Freshly ground coffee gives much better flavour and aroma making your daily brew all the more delicious.   
Plus, you'll be able to experiment with different brewing methods and grind settings for the perfect brew. Not only that, the right coffee grinder can yield satisfactory grind quality, and consequently a good cuppa without the hassle of driving up or paying costly delivery fees, saving you time and money in the long run.
---
Burr Vs Blade Coffee Grinder

       
Burr coffee grinders are more expensive compared to blade ones. This is because they produce higher-quality grinds for all types of coffee, offering different grind settings to match your needs. Not to mention, they're more durable.
Blade coffee grinders, on the other hand, are much more affordable. Having said that, their lower price range means they often produce poor-quality grind. Also, you will not get grind uniformity, instead getting coffee particles of different sizes. 
Not just that, the blade's friction creates heat that destroys the flavours in the coffee beans, resulting in bitter tasting coffee.
Related articles