As Valentine's Day approaches, many of us must already be thinking of meaningful gifts for our loved one. Sometimes though, getting a suitable gift to convey your love may be pretty tricky and that's when flowers come into the picture. We managed to catch a hold of one of BloomThis' founders, Penny Choo, and she answers a few of our many burning questions about flowers on Valentine's Day.
PN: How long can fresh flowers be kept for, and how can we prolong it?
Penny: The shelf life of the flower depends on the type of flower. I would say in general, we can keep fresh flowers for 4 to 5 days depending on the condition that we store them. For example, we need to keep the flowers away from direct sunlight and preferably display them in a cool place. Like in an air-conditioned environment. It is also recommended to add in flower food to give it more nutrients so that it can prolong their shelf life. We can also trim the flowers in every 2 days in order to keep their stems fresh and to avoid any leaves that might fall into the vase. These leaves can cause bacteria in the water and in the vase that can potentially harm the flowers. It is best to change the water in the vase every 2 days to keep them fresh and healthy.
PN: If someone's on a budget, what's the best main flower to go for?
Penny: The amount of budget really depends and varies between individuals. For some people, they might only have a budget of RM 100. But for other individuals, they might have a budget of RM 300, RM 500 or even RM 1,000. So it is really difficult to put a specific amount on a person's budget. Roses tend to cost more because the demand is really high during Valentine's Day when the supply is very limited. People can opt for a not-so-Valentine-mainstream flower, say if they don't want to compete with everyone else. A good flower to pick during Valentines would also be Gerberas. We do have this collection in our Valentine's series as well. One of it is known as Grace, and another one, hand bouquet called Freye. Both of these designs have very sweet pink Gerberas in them.
PN: What alternatives to roses do you recommend for Valentine's day?
Penny: Some people might think that fresh roses have a short shelf life. For example, they might think that the gift will be gone in 3 to 4 days. So, what is next? What kind of gift can I give that is impactful which creates moments and can be kept longer? An alternative to fresh roses that BloomThis can provide is product range called BloomThis Eternity. BloomThis Eternity is actually an everlasting rose and is encapsulated in a premium acrylic box. What is interesting about BloomThis Eternity is that our rose is everlasting and can be kept up to 2 years with proper condition and care. On top of that, we can engrave your name on the packaging and make BloomThis Eternity uniquely yours. Most people like to display it on the desk or dressing table.
PN: Do you have any Valentine's Day specials?
Penny: We have already launched our Valentine's collection on our website and you can check it out on BloomThis.co We have a wide selection of fresh flowers from Roses, Gerberas, Hydrangeas, Babys Breath to our BloomThis Eternity collection - The Everlasting Flower. We also have bundles of products which come together with our flowers such as wine and chocolates.

PN: What are some of the comments you've received about your flower bouquets? Do you have any interesting stories to tell?
Penny: We receive lots of comments and reviews on a daily basis from our review platforms and these comments actually gave us touching and encouraging moments for us. I remember this one time when we once received an order with a message card saying something like "Dear Patrick, Happy Birthday and I love you." We thought Patrick might be a husband or a boyfriend but when our delivery guy went over, we were surprised that Patrick is actually a dog who was having his birthday party. For us, that was really funny. Even the pets deserve the best too. Another touching was that this guy had to leave Malaysia to work overseas for a long time. In order to leave a piece of him with his girlfriend, he sends our flowers to his girlfriend on a weekly basis without fail ever since we've started this business two and a half years ago. This really shows sincerity and commitment from a guy to a girl, and it really touched our hearts. We also receive comments and feedback regarding our customer service team, about how we saved their lives when they're in trouble. A lot of times, we are too caught up in our busy schedules or with work commitments. Hence, forgetting some important dates. For example, a grand opening or your wife's or girlfriend's birthday. Sometimes these important occasions may slip our mind but we are there to help. We help them to deliver the flowers and convey their love with encouragement and support while helping them create special moments for their loved ones. I think this is the mission that we are set out to do and we are very encouraged when our customers are happy and satisfied with the services that we provide for them.
PN: What are the popular (flower) colors on Valentine's?
Penny: The most popular colour for Valentine's Day is none other than the bright red flowers. But let's say you want to be more creative and more interesting, you can definitely choose colours from champagne, crème white, baby pink colour also a lilac colour. I think these few colours are very subtle, pastel and generally, the younger audience will love it.
PN: Why hat boxes instead of traditional bouquets?
Penny: We do offer a wide variety of flower designs on our platform, from the loose flowers package in a long box to hand bouquets and also to the hat box. The hat box still remains as our top seller and the most popular selection of all options on our site. When we first started this concept of the hat box, we were thinking to do away with the conventional design which includes layers of plastic wrappers to hand bouquets. That is why we thought that we should design a product that can be easily displayed in the living room or reception without having to unpack or unwrap the hand bouquet. When we deliver the hat box it can be readily displayed without having to take out the flowers and put them in a separate vase. The hat box actually serves as a display vase which can be recycled and is very functional as well. In every delivery, we include a small flower care card with information on how to care for the flower in the hat box. For example, they can just simply mist or spray the flower with 100ml of water into the foam itself. This way, the flower will actually last for some time.
PN: What flowers would you recommend giving your partner on Valentine's Day?
Penny: First of all, fake flowers are a big NO-NO to be sent during Valentine's Day. A girl would want to feel loved, appreciated, and they want to feel the sincerity of the giver as well. So, I think the types or colour of the flower that you're going to give a girl really doesn't matter, as long as you give it to her with sincerity. One other way to show sincerity is to maybe find out her favourite colour and favourite flower. Then, top it up with a sweet note on the message card. I think that will hit the bull's eye. Apart from that, I think chocolates are a universal gift to give a girl during Valentine's Day because they are sweet, to begin with, and it makes people really happy when they consume it.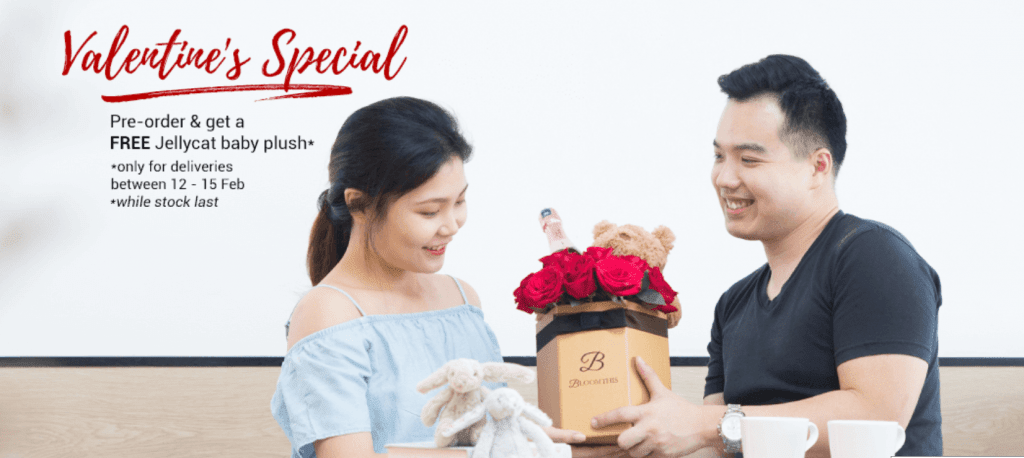 PN: What are the most popular flowers to give in Malaysia? Are they easy to come by?
Penny: I think among so many different flower types and flower varieties, Roses are still the popular one for Valentine's Day. They are pretty easy to get in Malaysia because we do have them locally grown in Cameron Highlands and also imported from overseas, so they're pretty easy to come by.
PN: What piece of advice would you give your customers to avoid disappointment during peak seasons like Valentine's Day?
Penny: We would strongly recommend our customers to pre-book their flowers in order to avoid disappointment. This is because the demand for the Valentines period is really very high and most of the time we are most probably sold out on the 14th of February itself. We strongly that you place your order two weeks before the peak season in order to secure the delivery.
PN: Would the quality of the flower differ whether it's imported or locally sourced?
Penny: I think we do produce good quality flowers both from locally produced and imported ones and we do have really good quality flowers from Cameron Highlands. In terms of quality, locally produced and imported flowers are very much comparable. One of the reasons why people choose to use imported flowers is because they want a certain type and a different variety of flowers that cannot be produced locally. For example, Tulips, Peony, Ranunculus, and Daffodils. These flowers can't grow here due to our weather and that's why we need to import them.
So, there you have it! We hope that Penny has managed to answer some questions you've been meaning to ask. Better place your orders now to secure those Roses for your loved one. If nothing catches your eye, you can also check out some of the best flowers to buy online in Malaysia or Valentine's day gifts for her for other alternatives. Happy Valentine's Day!
More: 11 Flower Bouquets for the Blossoming Relationship This Valentine's Day