Having the right hair dryer that suits both your hair type and needs is essential in achieving a good hair day, all year round. Hairdryers come in various shapes and sizes with their very own unique functions aside from drying the hair.
From basic styling to professional use and multiple settings, there is definitely a wide range of selections in the market that caters to a great number of people with their very own needs and budgets. With affordability, convenience, hair types and functionality in mind, we present to you a list of the best hair dryers in Malaysia today.
---
9 Best Hair Dryers in Malaysia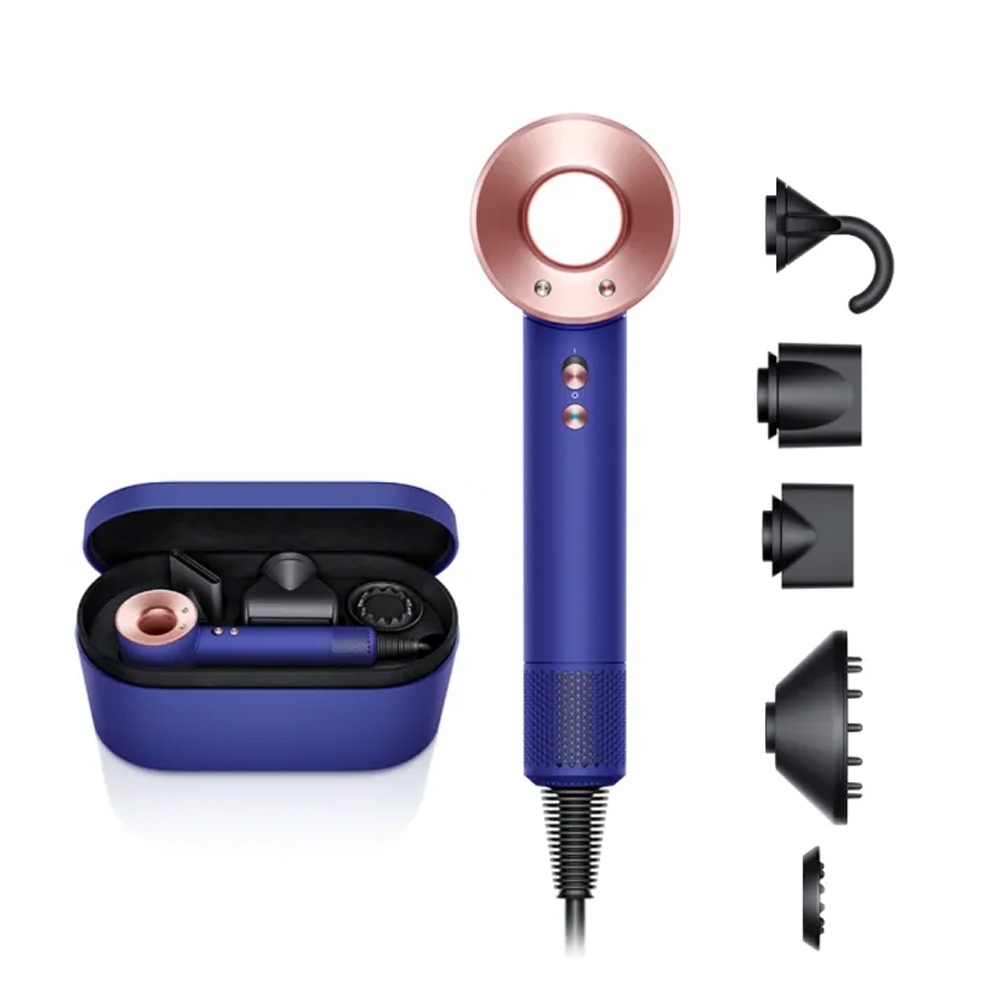 Check Dyson HD08 Supersonic Hair Dryer price below:
add_circle
Heat protection
add_circle
3 heat and airflow settings
remove_circle
Very expensive
Why It Is Our Top Pick?
This product by Dyson stands out as our top pick due to its exceptional performance and revolutionary smart technology. Its ability to hide flyaways in a single pass and provide salon-quality results without intense heat makes it a primary choice for professionals and hair enthusiasts.
Its quiet operation and customizable attachments promise an outstanding and practical hair styling experience even from the comfort of your own home.
Recommended by professional barber Vinsen Loh as a must-have in every barber's hairdressing kit, this silent hair dryer allows you to dry your hair comfortably while having a salon experience.
Overview
Measuring at only 79 decibels, you can be sure to have a peaceful hair drying experience with Dyson Supersonic Hair Dryer. This salon-grade hair dryer comes with 5 attachments with unique uses. The new flyaway attachment hides flyaways to give a smooth, shiny finish with just air while the smoothing nozzle dries hair under controlled airflow to create a smooth, natural finish.
Moreover, the styling concentrator creates a focused, high-velocity blade of air to allow styling of one section at a time with the diffuser stimulating natural drying to reduce frizz while defining waves and curls. It also has a gentle air attachment which is perfect for fine hair and sensitive scalps as it creates gentle and cool airflow.
Details for Dyson HD08 Supersonic Hair Dryer
Cord length: 2.8m

3 precise speed settings: fast drying, regular drying, and styling

4 precise heat settings: fast drying and styling, regular drying, gentle drying, and constant cold
Who is this for?
The Dyson hair dryer is the best choice for those who want salon-quality hair drying and styling results. The Flyaway attachment is ideal for creating a sleek and straight style with a smooth finish.
Besides, the styling concentrator allows for precise styling, while the Diffuser enhances natural curls and waves. Don't worry if you have a sensitive scalp as it has a Gentle air perfect, which provides a gentle and cooler airflow. With multiple speed and heat settings, you can customise however you like for your hair styling.
More: Style Your Hair To Perfection with These 8 Best Affordable Hair Dryers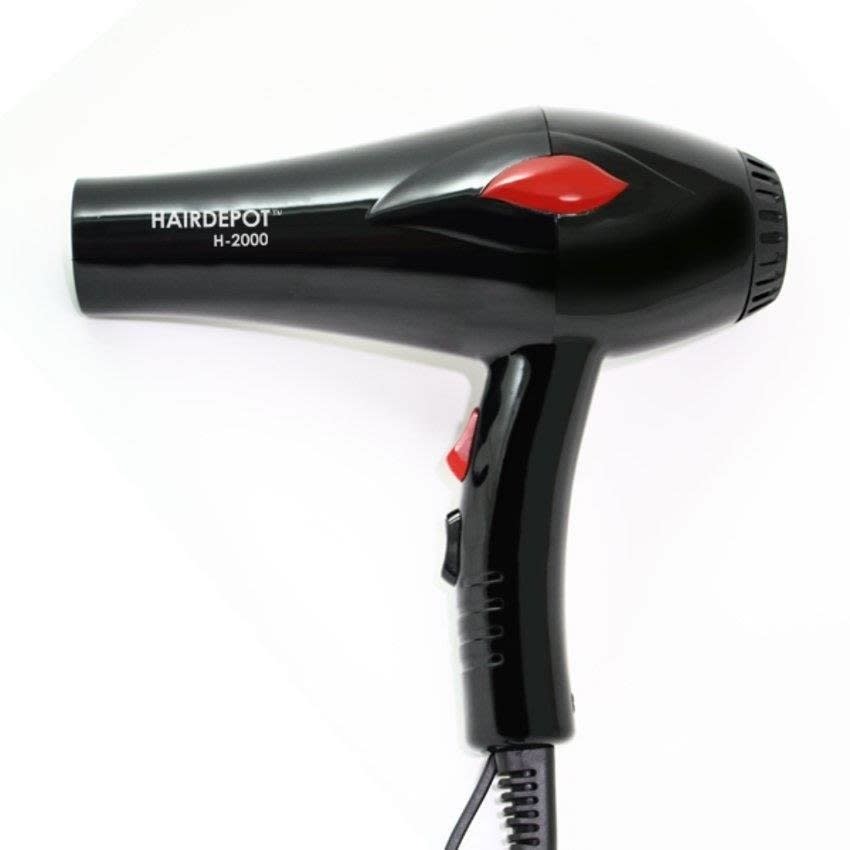 Check HairDepot Hair Dryer price below:
add_circle
Comfortable to grip
add_circle
Blows powerful air
add_circle
Has a powerful motor
add_circle
1-month warranty
Overview
HAIRDEPOT Hairdryer - Salon Professional Air-expert is our recommended hair dryer for long and thick tresses for good reason. At 2000W, this hair dryer packs a punch when it comes to effectively blow drying thick hair. It also comes with multiple settings for thorough and quick drying.
Moving on, this hairdryer is quite lightweight to cater to users with longer and thicker tresses so they will not tire from manoeuvring the hairdryer along with their thick and long hair.
Details
Two nozzles included

Two heat settings (cold and hot)

Three-speed settings (high, low, off)

Low noise operation

Long cable length of approximately 218cm
Who is this for?
Are you struggling to find hair dryers that suit your curly and thick hair? This hair dryer from Hairdepot is a perfect choice as it offers a high-performance motor and turbo force drying capability that ensures quick and efficient drying! Aside from that, it has three speeds and two temperature settings that allow for a customisable drying experience.
Moreover, the lightweight design makes it easy to handle and manoeuvre, which helps reduce fatigue on your arms for prolonged use.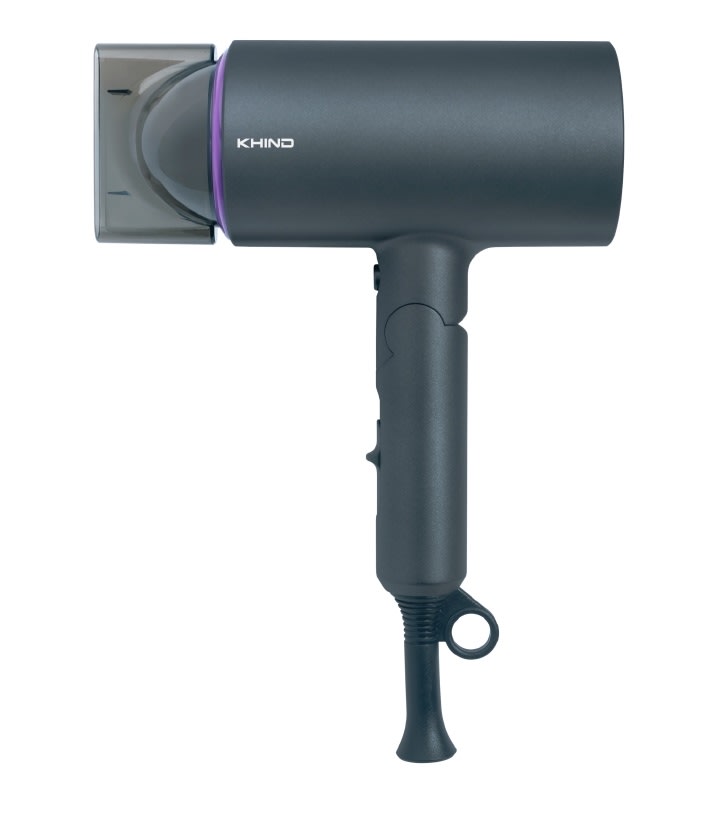 Check Khind Hair Dryer HD1400 price below:
add_circle
Foldable handle
add_circle
1-year warranty
remove_circle
The sound is slightly loud and noisy
Overview
Without compromising on quality or efficiency, Khind Hair Dryer has 3 gears of heat and speed settings along with a cool shot button for easy hair styling. Moreover, storage is made convenient as this hair dryer doesn't consume much space thanks to its foldable handle.
Moving on, this lightweight blow dryer keeps users safe with its heat sensing technology that powers down to prevent overheating of the motor.
Details
Super lightweight design weighing only 473g

1.8-meter cable length for flexibility and convenience

Premium metal honeycomb air-intel grille for even and efficient airflow

3 gears of heat/speed settings and cool shot button
Who is this for?
This hair dryer from KHIND is the best option for those who seek an affordable and budget-friendly hair dryer for their styling routine! The super lightweight construction ensures comfort during prolonged use.
Also, its premium metal honeycomb air-intel grille delivers an efficient flow for effective drying. Whether you are a professional hairstylist or someone who loves styling their hair, this product offers high-performance drying at an affordable price!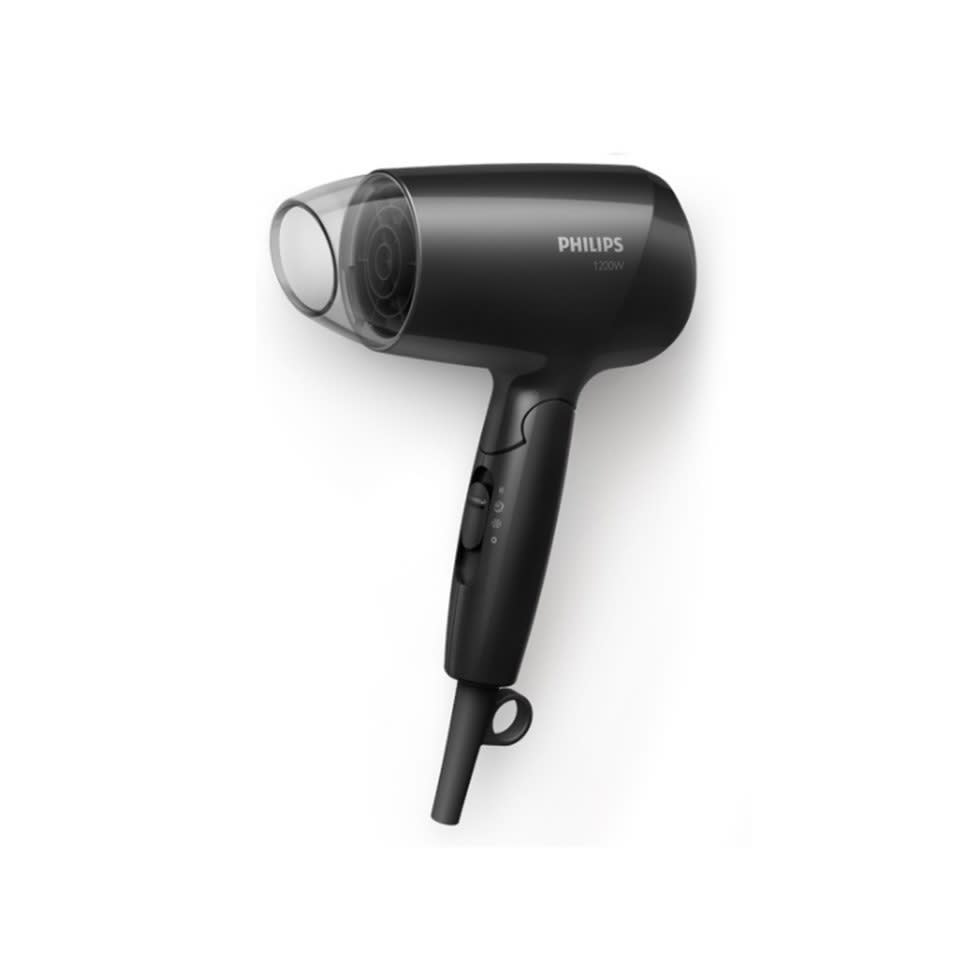 Check Philips Essential Care Compact Foldable Black Hair Dryer (BHC010/13) price below:
add_circle
Foldable handle
add_circle
2-year warranty
Overview
With power at 1200W, this petit hairdryer creates an optimum level of airflow for gentle drying that allows beautiful results in every use. It also has a ThermoProtect temperature setting to give your hair additional protection by providing optimal airflow and heat combination without the risk of overheating the hair.
Aside from that, it also comes with a cool air setting as an additional feature for extra-gentle drying. This feature caters to individuals with fine, dry or damaged hair and it is also the perfect setting during a hot day!
Details
3 pre-selected drying settings: Cool, caring, and quick drying

Compact design for easy handling and carrying

ThermoProtect temperature setting for quick drying without overheating

Cool air setting for extra gentle drying
Who is this For?
Get your hand on this hair dryer and experience convenient and efficient hair drying! It is designed with a foldable handle, making it small and compact for easy portability.
Also, with its 1200W gentle drying power and the ThermoProtect temperature setting, it delivers beautiful results while maintaining the natural moisture of your hair and preventing overheating. This product suits those with fine, dry, or damaged hair as it minimises heat damage so you can use it with peace of mind.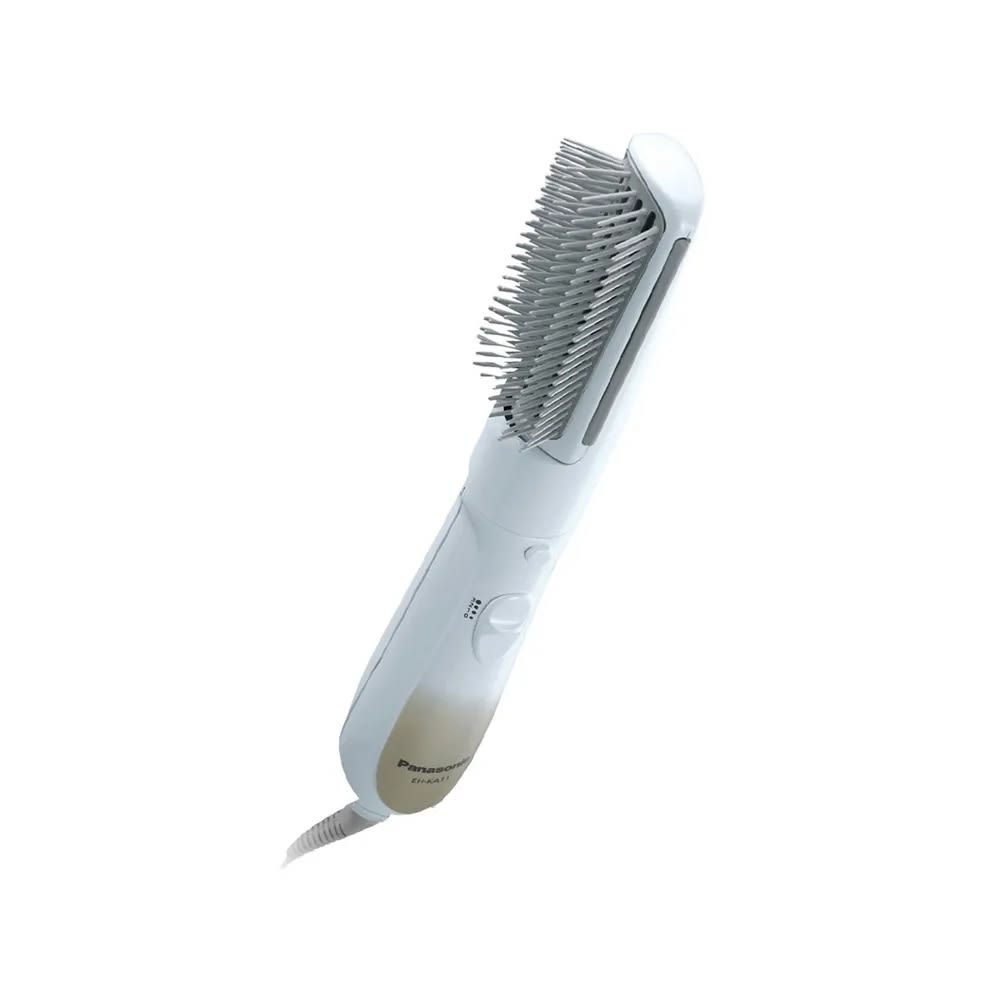 Check Panasonic Hair Styler PSN-EHKA11 price below:
add_circle
Leaves the hair smooth
remove_circle
It may not be suitable for very thick hair
Overview
Style your hair at ease with the Panasonic Hair Styler. It comes with a blow brush with rubbers on both sides of the brush to prevent flyaways which creates a smooth, beautiful and evened-out hairstyle. Furthermore, it uses Silent Operation technology with only 59dB to provide a quiet hair styling experience.
Additionally, its slim body allows easy grip and handling of the tool for a convenient and easy styling process as well.
Details
Silent operation: 59dB at Dry mode

Easy-to-handle design with a slim body for easy grip, handling, and hair styling

3 setting modes: Cool mode, Set mode, and Dry mode

1 attachment: Blow brush

Rubber blow brush that catches hair tips and applies adequate tension
Who is this For?
Do you hate the loud noise that comes from your current hairdryer? This hair dryer makes almost no sound, as it has a silent operation of 59dB in Dry mode for a peaceful drying session without disturbing others.
Furthermore, this product provides three different setting modes that cater to different styling preferences! They also provide a blow brush attachment, and it is perfect for enhancing your hairdo by catching hair tips and providing adequate tension for better control. Whether you want to achieve sleek, straight styles or add more volume, this hair dryer is a fantastic option for you to invest in.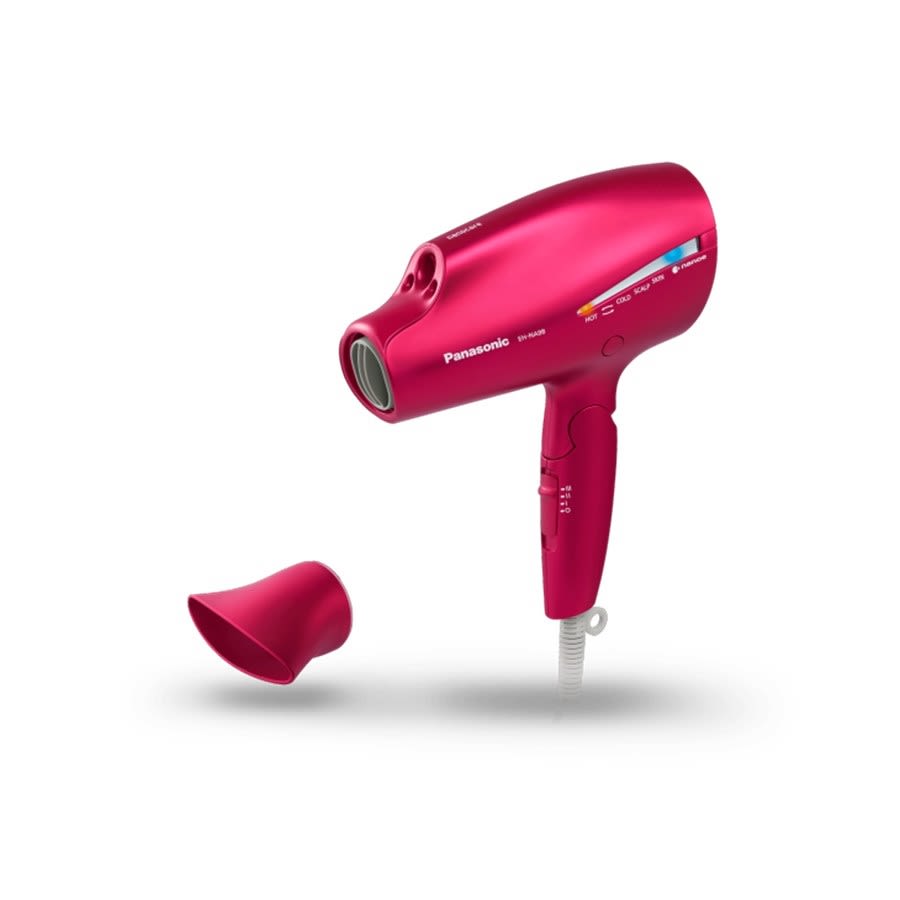 Check Panasonic nanoe & Double Mineral Hair Dryer price below:
add_circle
Great for dry and damaged hair
add_circle
Has Nanoe technology
add_circle
Moisturises and nourishes hair
add_circle
Moisturises scalp with every use
Overview
Panasonic nanoe & Double Mineral Hair Dryer doesn't want you to just dry your hair, but also beautify it. This is made possible as the dryer's equipped with a moisture-rich nanoe™ treatment technology to offer a quick drying experience. 
The secret lies behind its Double Mineral Ions which help to protect hair from harmful UV rays, protecting your hair's natural shine and leave healthy-looking hair.
This popular hairdryer uses an intelligent temperature sensor to monitor and measure the surrounding air temperature which automatically adjusts airflow to a comfortable temperature. It also helps in achieving smooth, lustrous hair by providing a temperature gap that lessens waviness, resulting in a uniformed hair surface thanks to its Hot/Cold alternating mode.
Details
Settings: 3 speeds, 4 modes (Alternating Mode, Intelligent Temperature Control Mode, Scalp Care Mode, Skin Care Mode)

Quick-dry nozzle: Yes (Built-in)

Foldable: Yes
Who is this For?
Do you think your hair is damaged beyond repair, and the only way to avoid it from deteriorating is by avoiding heat at all costs? Fear not, as this hairdryer is made for dry and damaged hair. With its Nanoe™ and Double Mineral technology, your overall hair, scalp, and skin remain healthy and moisturised.
Also, it features intelligent temperature control and quick-dry, efficiently drying out your hair without damaging it. This product is perfect for replacing your old hair dryer in your hair care routine!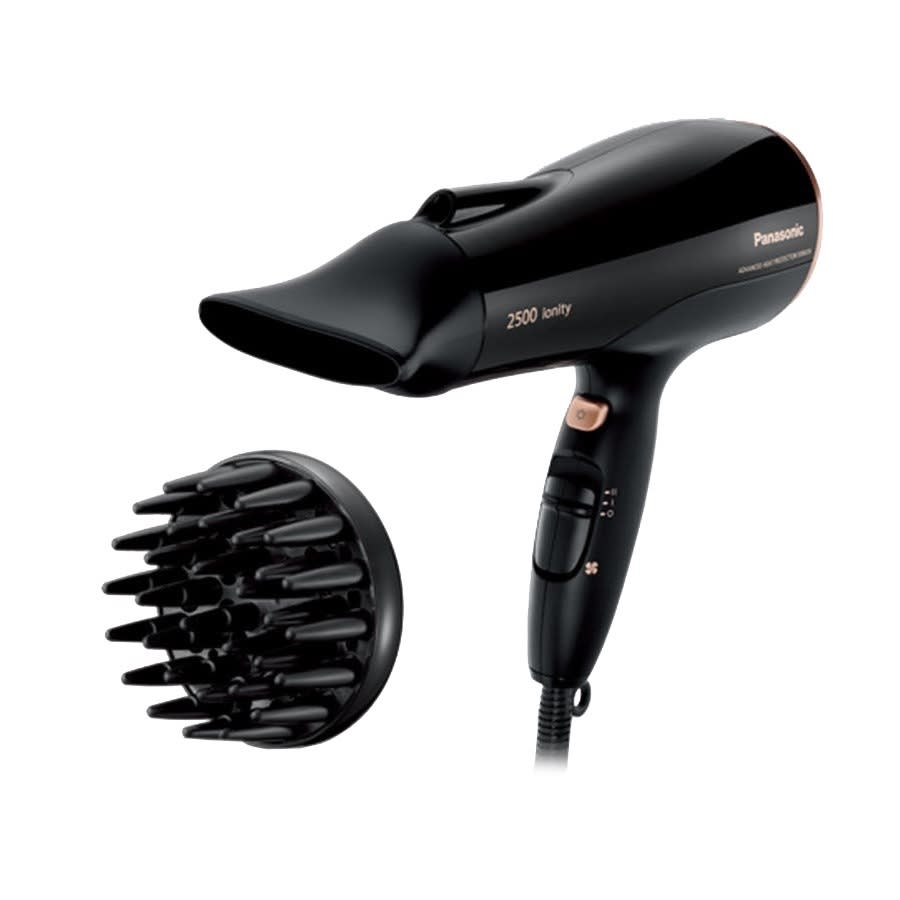 Check Panasonic Hair Dryer EH-NE82 with Diffuser price below:
add_circle
Detachable diffuser
add_circle
Has a heat protection sensor
remove_circle
Non-foldable handle
Overview
If frizzy hair is something you get annoyed with, using a hairdryer with an ion feature might help. The Panasonic Hair Dryer EH-NE82 uses external ion outlets to keep the ions separated from heat so that they don't dry out, as well as soothe frizziness by neutralising its electrical charges. 
Equipped with a diffuser and a nozzle, it gently and evenly blows hot air to the roots of your hair, which helps with thorough drying. Additionally, the attachments of the hair dryer are also made removable for easier storage and cleaning.
Details
Power: 2500W

Speed Levels: 2

Temperature Settings: 3

Product Dimension: 92 x 222 x 216 (mm)(W x H x D)

Weight: 540g (without core and nozzle)

Warranty: 1 year
Who is this for?
You and your family won't have bad hair days with this hair dryer, as its suitable for all types of hair, paired together with its lightweight design.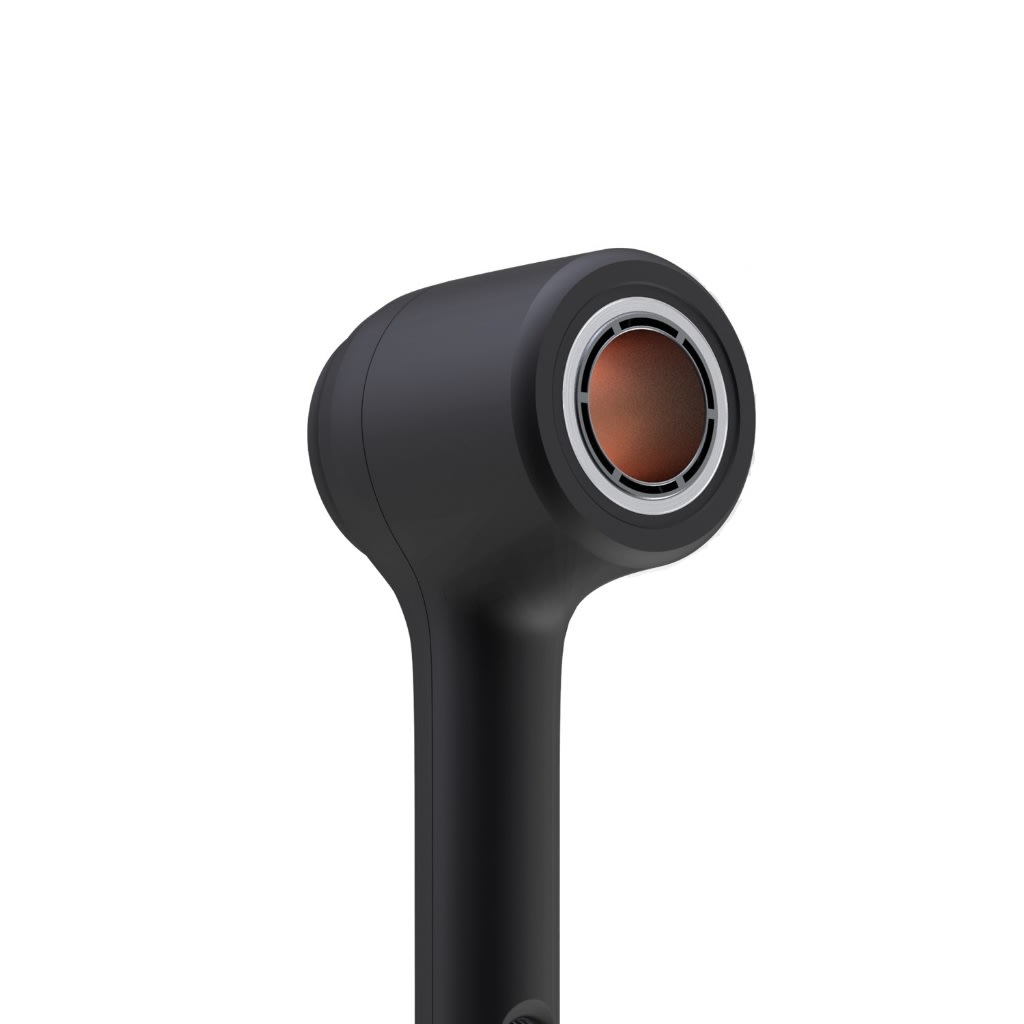 Check Tenka Ryohin Hair Dryer Yuuko Y6 price below:
add_circle
Compact, small design
Overview
Tested and proven to save your hair-drying time by 40%, Tenka Ryohin's Yuuko Y6 has effective noise reduction featured in its elegant design. By equipping it with Five Fold Noise Reduction, this hair dryer made sure to minimise the user's risk of hearing damage. 
Furthermore, this hair dryer might be designed to be small, but it also comes full of the necessary features and accessories – one of which is to utilise 300 million negative ions to neutralise your frizzy hair while drying it at the speed of 20 m/s.
Details
Power: 1500W

Speed Levels: 3

Temperature Settings: 3

RPM Rate: 120,000

Noise: <70dB

Speed: 22.312 m/s

Warranty: 2 years
Who is this for?
The power is strong enough to properly dry all types of hair but for those with shorter hair, including men, the usage of this hair dryer is sufficient to dry and take care of your hair as quickly as possible!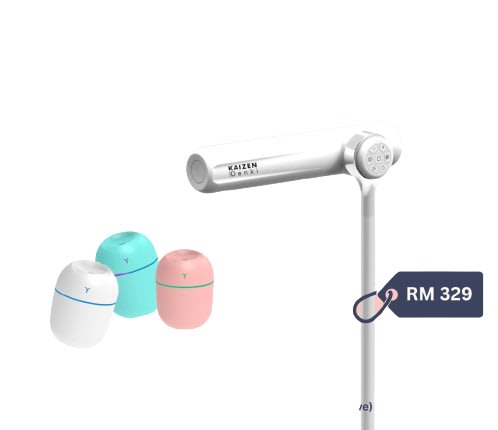 Check Kaizen Denki Standing Hair Dryer TSUNE 15 price below:
add_circle
Allows hands-free drying
add_circle
Dispenses 20 million negative ions
remove_circle
Might take up too much space
Overview
The intelligent circulation system built into the TSUNE 15 Hair Dryer from Kaizen Denki prevents heat damage, as it alternates between cold and hot air to dry your hair. It has a considerably rare design, with a flexible height and a 180-degree tiltable head to tailor to its user.
The convenient use of this hair dryer is made even better with its negative ion technology that allows 20 million negative ions to lock moisture, smoothen frizzy hair and reduce dehydration in your hair.
Details
Power: 1700W

Speed Levels: 3

RPM Rate: 120,000

Dimension (L x W x H): 100.00 x 30.00 x 14.99cm

Weight: 9 kg

Warranty: 1 year
Who is this for?
This standing hair dryer is your lifesaver, especially if you are tired of holding your hair dryer up all the time and bearing the weight only to end up with unevenly dried hair
---
FAQ
- How to choose the right hairdryer?
There are a few things to take note of before searching for the perfect hairdryer. 
First of all, it is imperative to understand your hair type as there are several types of hair dryers made just for hair types like dry, frizzy, treated or damaged hair.
Secondly, it is wise to know your requirements and expectations for the hairdryer. Ask yourself an important question on what type of hair dryer you are looking for. Do you just want to dry your hair quickly or are you looking for high-tech salon hair dryers for styling purposes?
Once you understand your needs then you can easily list out your criteria in purchasing the best hair dryer for you. A few things to look out for in a hairdryer would be the power, the presence of a cool shot button, attachments, heat and power control and tourmaline or ceramic technology.
Power

– The higher the power, the quicker the drying process. A great option for those with thicker hair or individuals who wish to minimise the time for hair drying.

Cool shot button

– Cold air helps to retain the hair's moisture (as heat will dry it out). Therefore, this is a must to help to set the hair for styling purposes.

Attachments

– This feature aids in concentrating airflow to achieve multiple looks be it on your bangs or sideburns.

Heat and power control

– A good feature to have for dry or damaged hair. It manipulates the settings to dry and style the hair carefully.

Tourmaline or ceramic technology

– A must-have feature for those with frizzy hair - this reduced the cause of frizzy hair.
- How and when to use hair dryer?
A hairdryer is considered one of the essential items for your hair care routine. It is because blow-drying helps with styling your hair. However, you must use it correctly to prevent damage to your precious hair! Below are some of the tips that you can follow. 
Start with damp hair (80% dry): Before using a blow dryer, gently towel dry your hair to remove excess moisture. It will reduce the heat required and minimise the time your hair is exposed to heat.
Use hair protectants: It provides a barrier between your hair and the hair dryer, which will seal in the moisture to avoid breakage and frizz.
Adjust the heat setting: Each hair type requires different heating adjustments, and hair dryers usually have multiple heat settings. Fine or thin hair may need a lower heat, while thicker hair may need slightly higher heat. Start with the lowest heat setting and gradually increase it if needed.
Maintain distance: Hold the dryer at least 6-8 inches from your hair. Keeping a safe space, it will reduce the risk of heating damage. Directing concentrated heat to a single spot for prolonged heat exposure may lead to damage to hair.
Use a diffuser attachment: If you have curly or wavy hair, using a diffuser attachment can help disperse the airflow and minimise frizz.
Take breaks: Allow your hair to cool down between blow-drying sessions.
Avoid over-drying: Stop using the hair dryer once your hair is about 80-90% dry and let it air dry naturally to maintain its health and moisture.
Timing: Take your time with blow-drying your hair, as it may lead to ineffective drying and potentially damage your hair.
Remember, everyone's hair is different. Hence, knowing how your hair reacts to heat styling is essential. If you notice excessive heat damage like dryness, brittleness, or split ends, it is best to reduce heat exposure or consult a professional hair stylist for guidance.
Related articles