If you ask me for a mouse or keyboard recommendation, Logitech is probably one of the first brands I'd think of. Logitech has been a renowned name where PC peripherals are concerned for, well, just about ever, and their offerings have always been decent and reliable. 
Just recently, the brand launched their new pro gaming series, the Logitech G Pro X Series, a set of gaming peripherals consisting of the Logitech G Pro X Headset, the Logitech G Pro X Superlight Mouse, and the Logitech G Pro X TKL Mechanical Keyboard.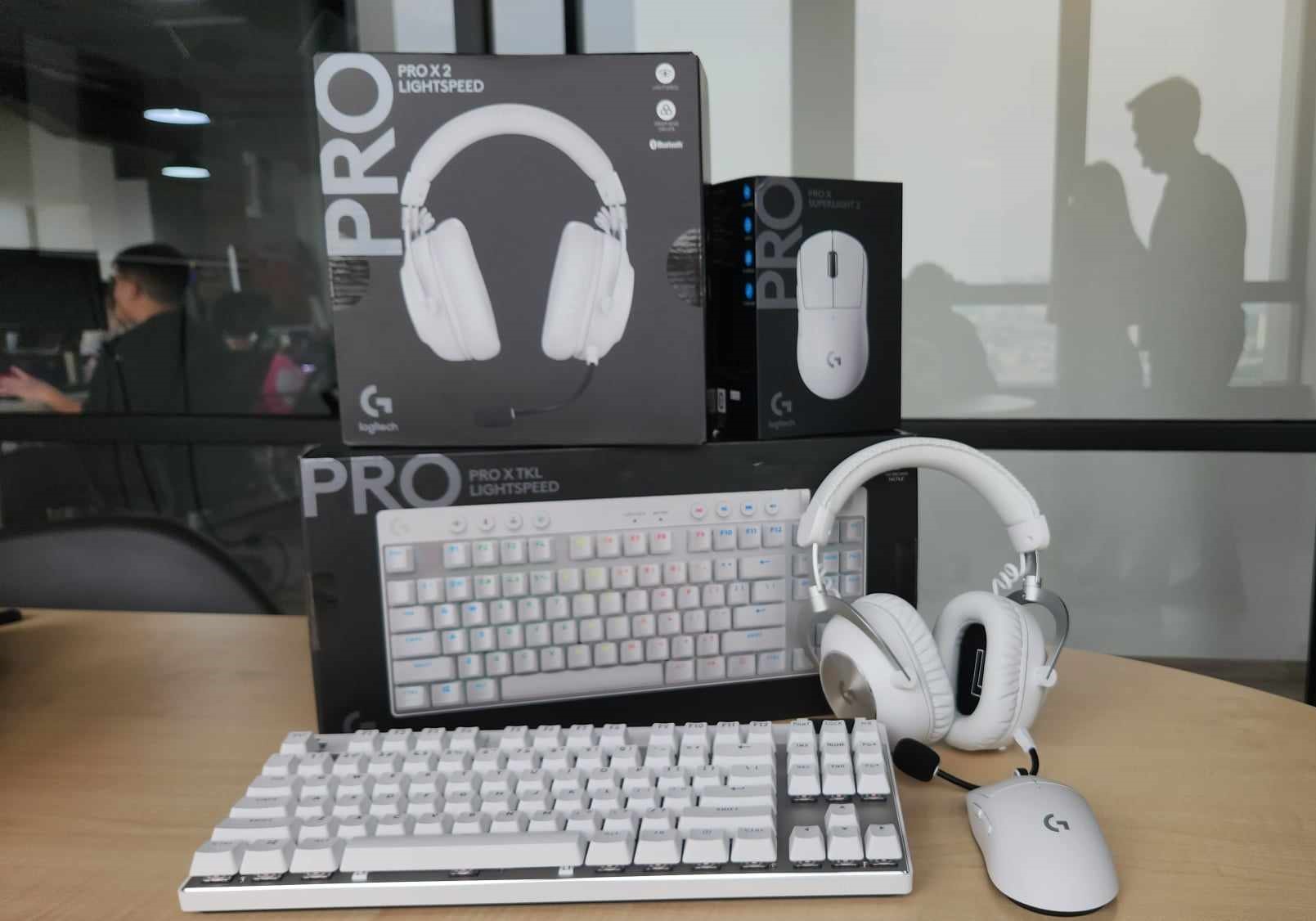 It's only been a week since we received the full set for review, and colour us impressed: the whole setup was not only amazing in terms of performance, but also aesthetically pleasing as well—if you like an all-white, minimalist aesthetic, that is, which we did. These devices are placed firmly on the high-end market, with prices that some might consider outrageous, but the quality more than makes up for the price.
There's a full in-depth review about the devices coming up soon, but we're excited enough about the Logitech G Pro X series that we just can't wait to share our opinions. So, here's a quick unboxing and first impression of the set!
---
Logitech G Pro X 2 Lightspeed Headset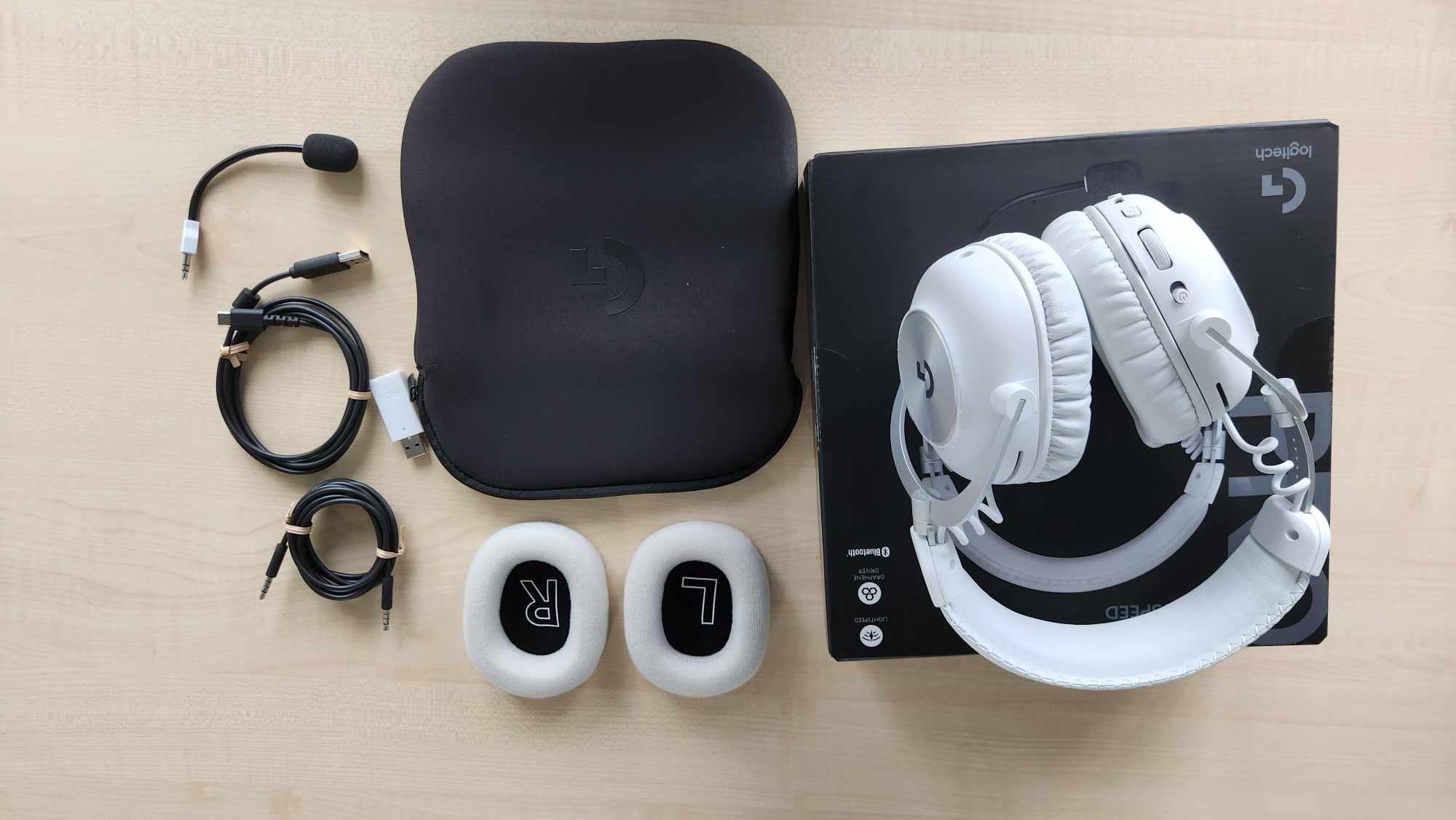 What's In The Box?
x1 PRO X 2 Lightspeed Headset

x1 Detachable mic

x2 Memory foam cloth ear pads

x1 USB-A to 3.5mm wireless adapter

x1 USB-A to USB-C cable

x1 3.5mm cable

x1 soft storage bag
The Logitech G Pro X Headset is incredibly well-built, with a metal frame and thickly cushioned earcups and headband. Out of the box, the earcups are fitted with leatherette ear pads, which are pretty comfortable on their own, but you can also switch them out for cloth pads if you prefer.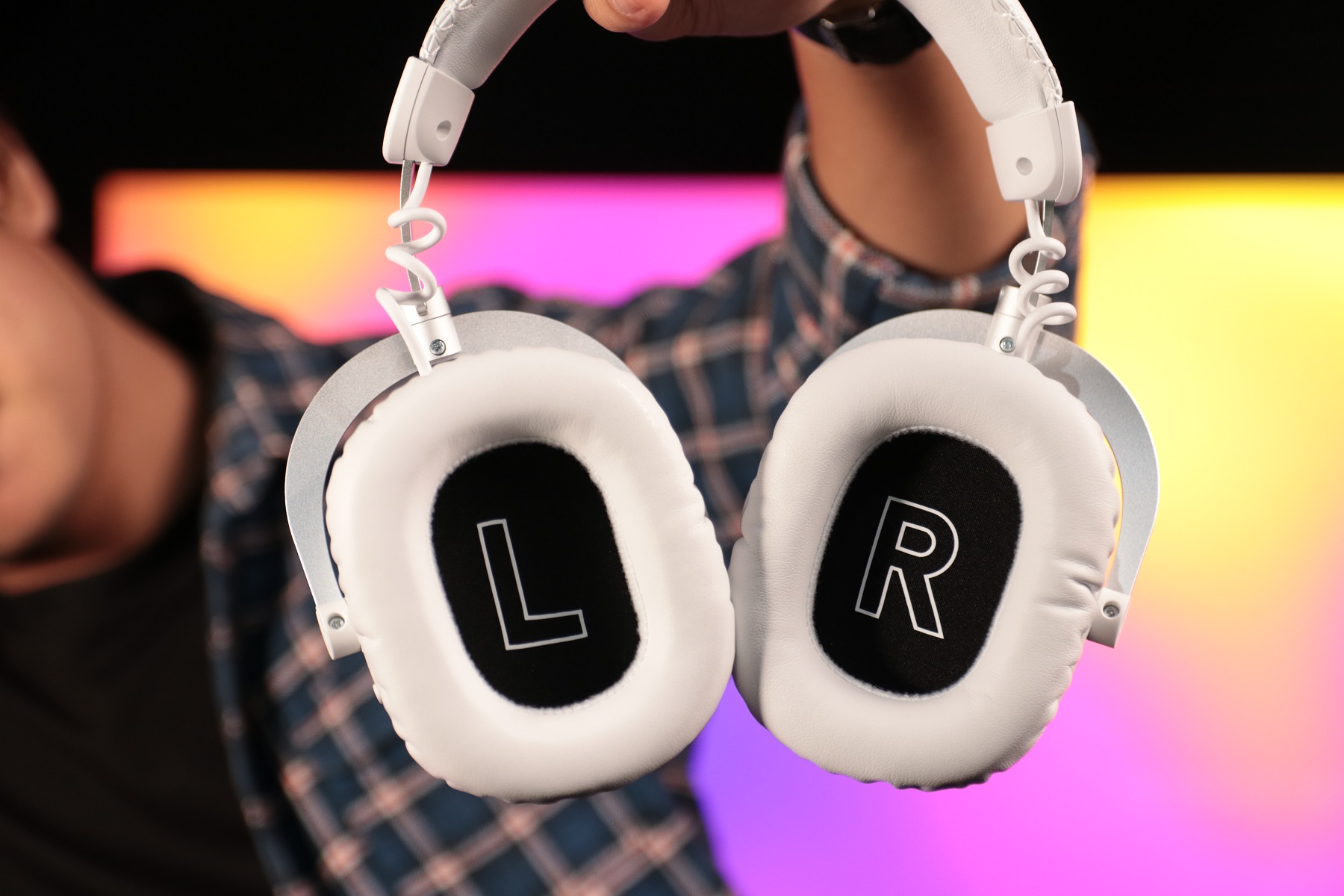 The earcups are large enough to go right over the ears, so it's incredibly comfortable to wear even for long periods of time. They also swivel up to 90 degrees, so the headset conforms to your head better. Even though the headset does not come with Active Noise Cancellation (which is a pity), the noise isolation is pretty good enough for most situations.
That said, it is a pretty bulky headset. Made for gamers who probably don't really move around much during gaming sessions, that's forgivable, but I definitely wouldn't wear this while commuting or travelling. While it's comfortable to wear on the head, wearing it around the neck as one does while travelling just gave me a very uncomfortable, Elizabethan-ruffled-collar look. The thin and unfortunately flimsy soft bag provided in the box provides virtually no protection at all. 
The headset is mostly controlled by the on-device buttons, located on the left earcup. They do most of what you need them to do: power switch, volume rocker, a microphone on/off button, Bluetooth button, the microphone port and the USB-C charging port. There's only one port on the right earcup, which is the 3.5mm port. As you've probably guessed by now, you can use the headset both wired and wirelessly.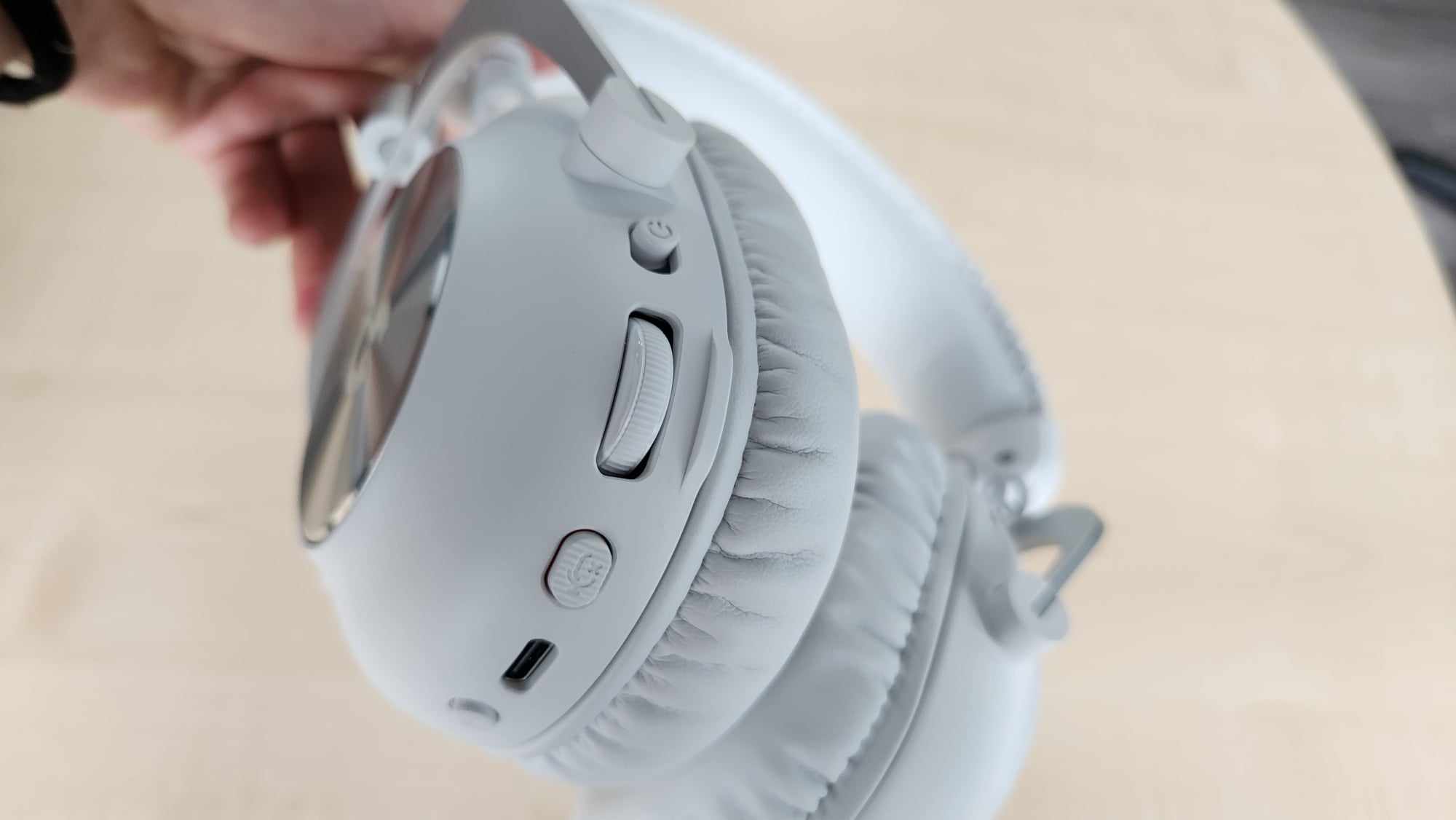 I've paired it with my laptop, smartphone, and Steam Deck so far; connectivity wasn't an issue, and latency isn't much of a problem as of yet. The only thing I wished it could have is dual connection or simply an easier way to switch between devices. For now, I have to manually click into my device's Bluetooth menu to change the audio output.
My first impression of the audio quality was quite good as well. With the Logitech G Pro X 2 Lightspeed connected to my Steam Deck, I played Don't Starve, which is a game that relies heavily on audio cues to signal upcoming enemies and/or challenges; I'm happy to report that all the sounds came through clear and balanced, even the subtler sounds like the Deerclops growls.
---
Logitech G Pro X Superlight Mouse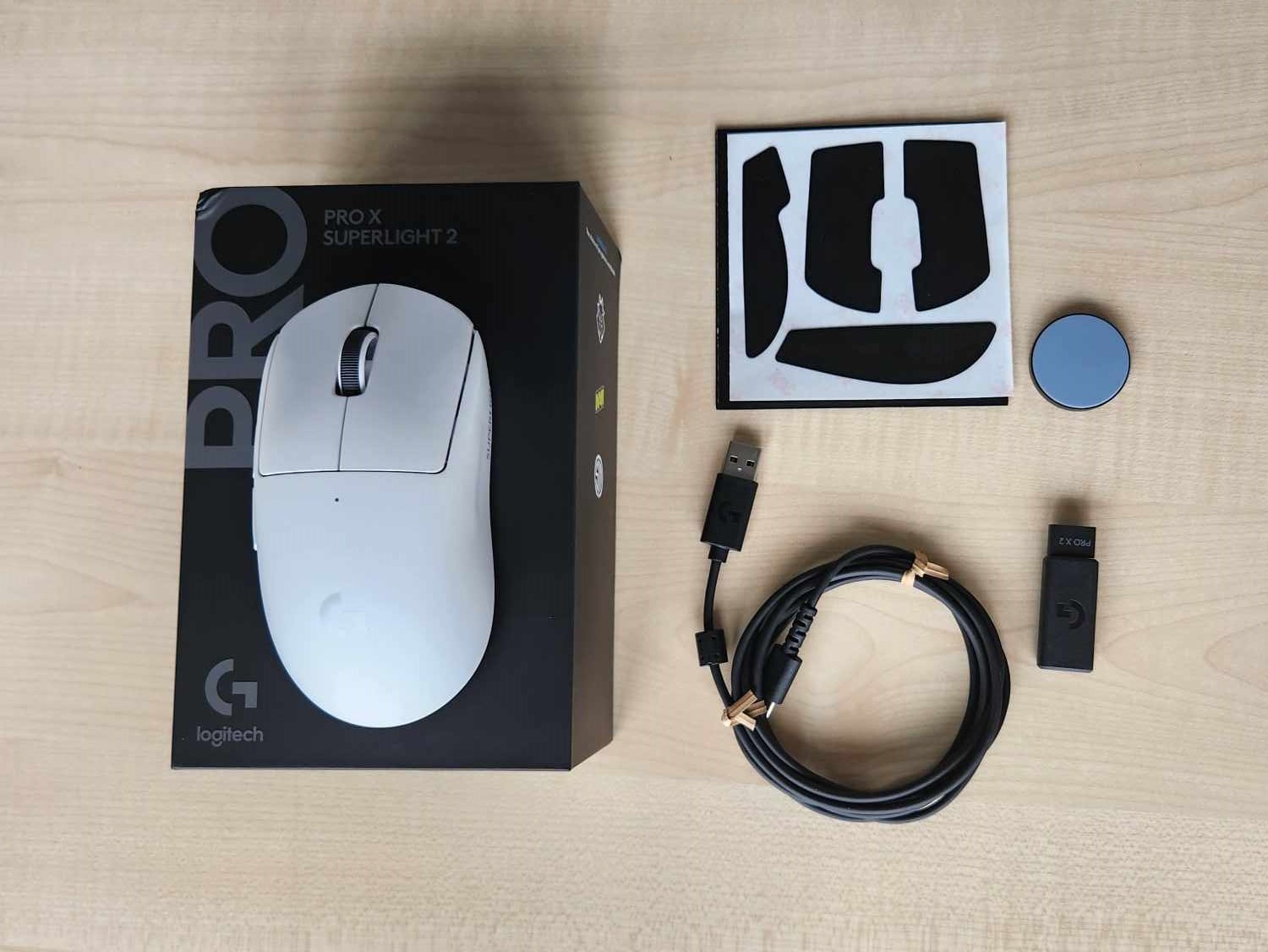 What's In The Box?
x1 Pro X Superlight Wireless Gaming Mouse

x1 Lightspeed wireless receiver

x1 USB-C Charging/data cable

x1 set grip tape

x1 cloth

x1 aperture door with PTFE foot
The Logitech G Pro X Superlight Mouse doesn't look like much at first glance; sporting a sleek and minimalist design, it looks pretty much like every other mouse out there. Pick it up, though, and you'll be able to tell where the name comes from: the mouse really is superlight.
Now, our first reaction was that it feels hollow; that's how light it really is. The mouse weighs less than 63g and feels just a smidge more than nothing in hand. For someone who uses a mouse all day long (and sometimes close to all night long too), the almost-weightless design is a blessing on my wrist.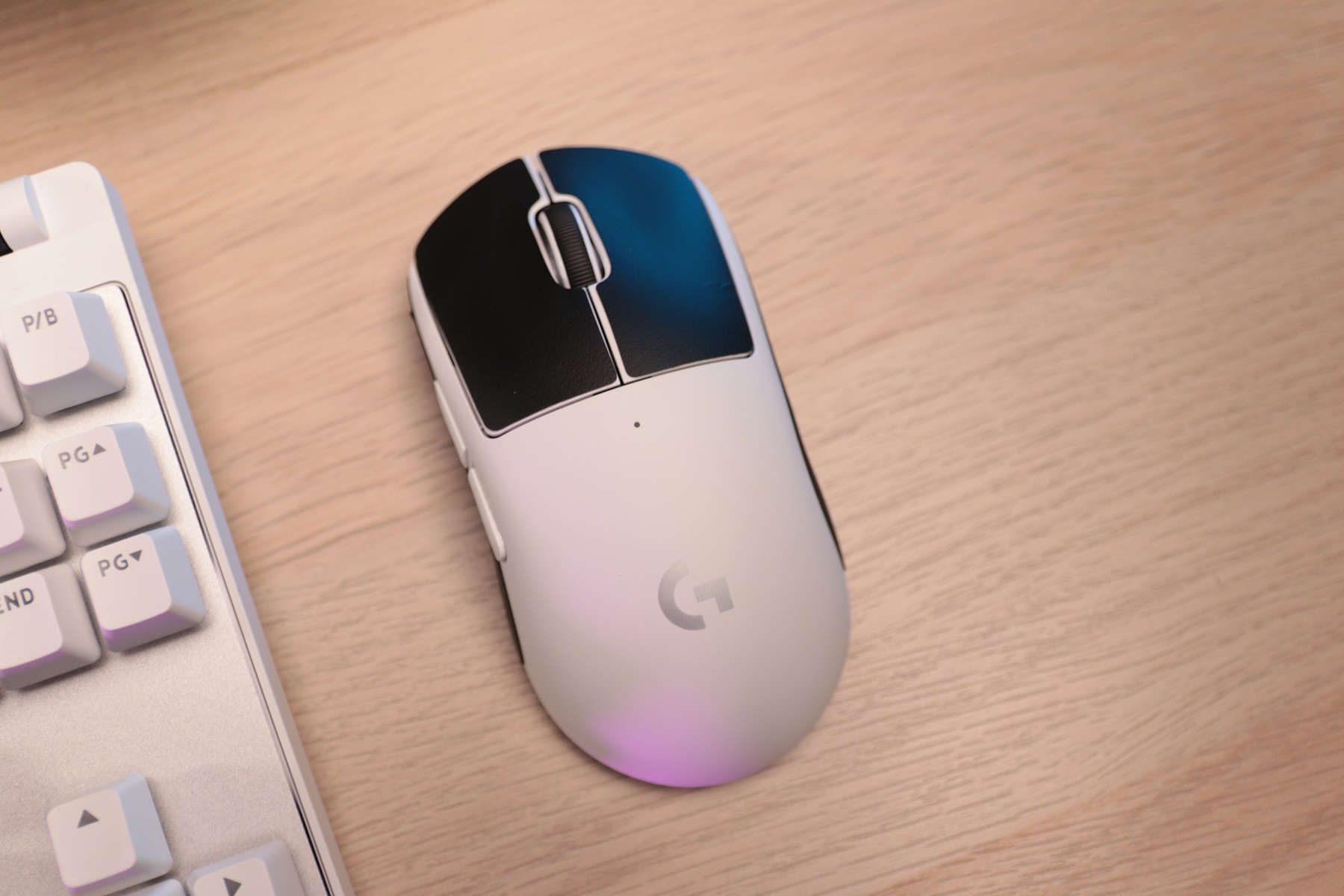 The plastic casing is smooth and feels pretty great, but sweaty palms might find it a little slippery to hold. God forbid it flies out of your hand during an intense gaming session, right? The grip tape included in the box helps somewhat in this, though unfortunately the black tape kind of ruins the all-white aesthetic.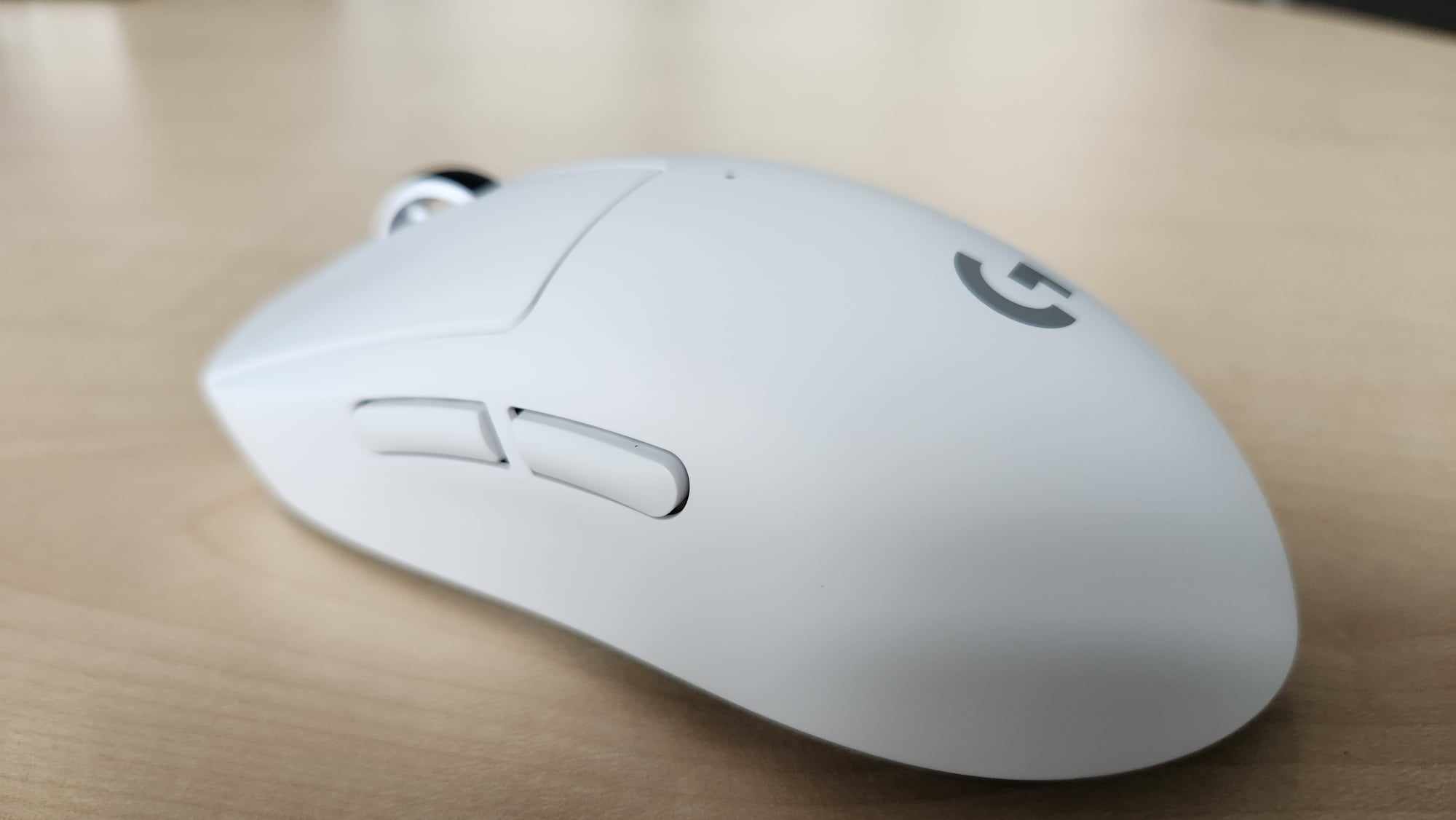 Speaking of aesthetics, the Logitech G Pro X Superlight would definitely appeal to minimalist decor. It even has minimal buttons; just the two side buttons on the left apart from the main and wheel buttons. The main buttons are satisfyingly clicky.
Disappointingly, Logitech has decided to do away with the DPI button, which is a little annoying for me. To change the DPI, I'd have to download the Logitech G Hub and change it from there. Now, the G Hub isn't the biggest problem, as it provides controls for the other devices in the series as well, but I prefer a faster DPI and it gets annoying when the mouse resets to its default DPI (800) whenever I reboot my laptop.  
Other than that, the mouse has been performing exceptionally well in all other areas. The sensor tracks well, and the light form factor makes for buttery gliding over a mousepad and bare tabletops alike. It connects via a 2.4 GHz dongle, not Bluetooth, so there's no worry of latency.
---
Logitech G Pro X TKL Keyboard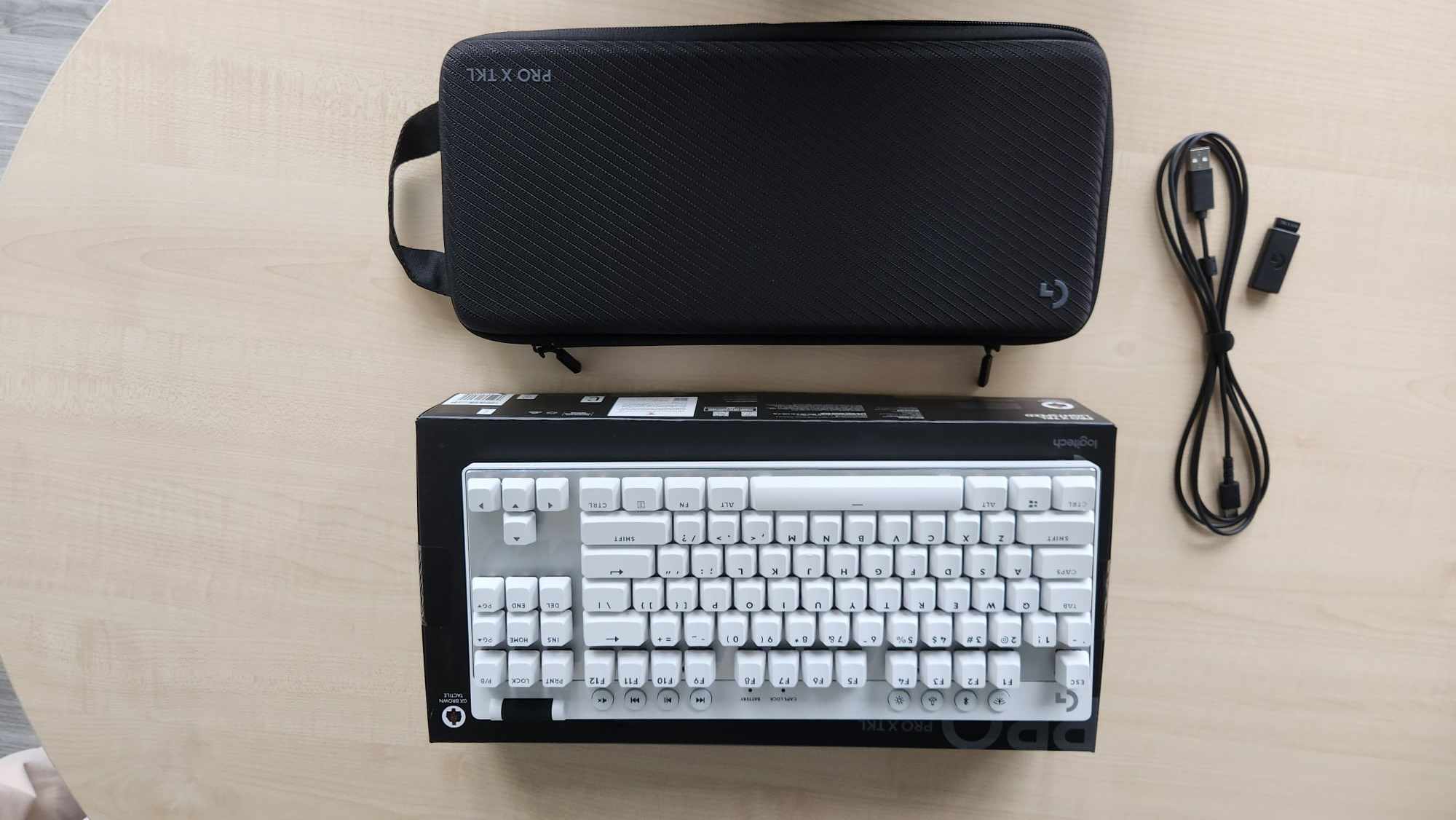 What's In The Box?
x1 Pro X TKL Gaming Keyboard

x1 USB Lightspeed adapter

x1 adapter extension

x1 USB-A to USB-C charging and data cable

x1 carrying case
The Logitech G Pro X TKL keyboard is a veritable mechanical keyboard and is, to our delight, fully hotswappable. Not that the switches needed any swapping out (at least for now); the keyboard came with the Logitech GX Brown switches that are tactile yet quiet with white PBT keycaps that feel absolutely amazing. Suffice to say, we were very impressed with it when it came out of the box.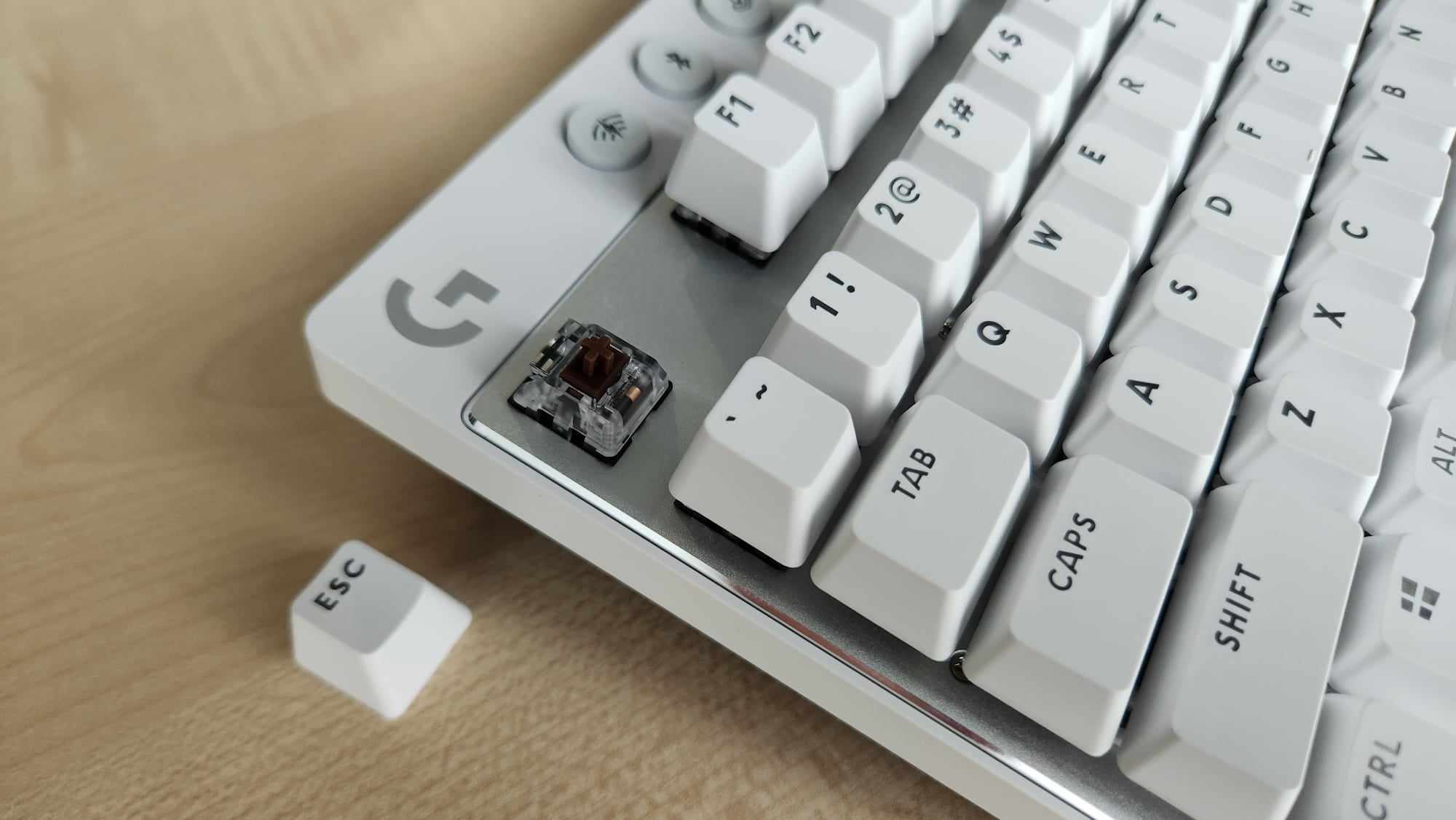 Once the amazement passed, there were a couple of things that began to stand out: the first being the absolute heft of the keyboard itself. Despite what the carrying case might suggest, this is not a keyboard that you would want to lug around. It is, in fact, heavier than my Steam Deck, and the chassis was pretty thick, so my wrist was hanging in mid-air while typing. Thank goodness for wrist pads, indeed.
The tenkeyless layout is pretty standard, and it also comes with a set of media and setting keys across the top along with a volume roller on the right—always a welcome feature in any keyboard. It connects via Bluetooth, a 2.4 GHz dongle, or the ol' faithful USB-C cable.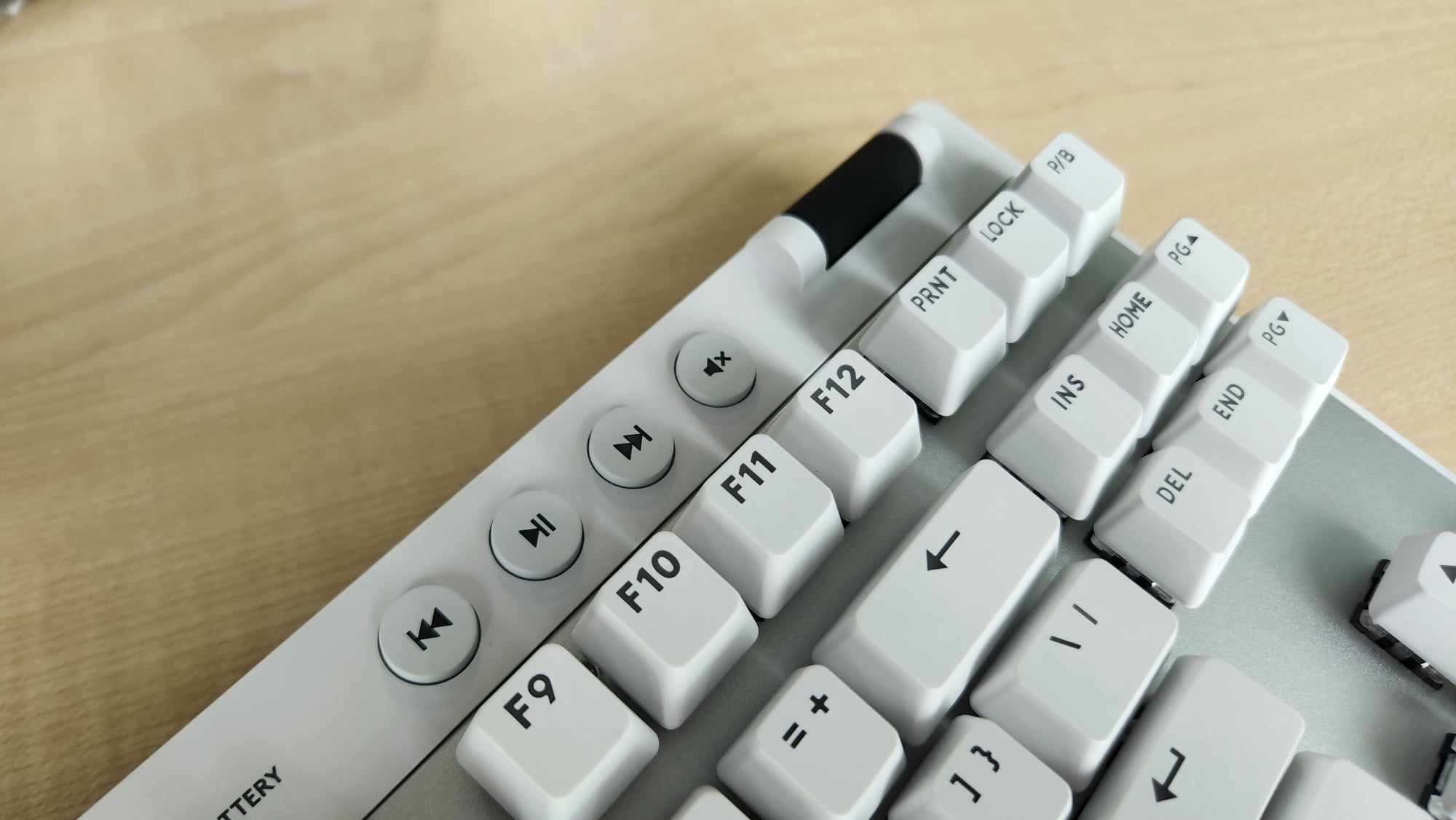 Our favourite part of the keyboard, hands down, is the lighting. The Logitech G Pro X TKL has vibrant RGB lighting that can be customized in the Logitech G Hub, where you can set your own colours, lighting mode, and speed or use one of the presets. 
Most interestingly, there's an audio-sync function that syncs the keyboard lighting to your audio. We tried it out with some epic classic music, and the lights actually throb and run across the keyboard according to the mood and rhythm of the music. We were absolutely delighted with the results—it's like a mini light show, and would definitely be stunning when actually playing epic RPG games. Stay tuned to our report on what that looks like; we can't wait to test it out too!
Related articles