Gaming has become one of the most common hobbies among Malaysians. However, it is no secret that gaming may require a big load of money as gaming laptops and accessories do not come cheap.
With the main gadgets already breaking your bank, a budget option for accessories such as a headset wouldn't be a bad idea. To find cheap options that are good in terms of quality and performance would require plenty of effort and research into specific models, especially with thousands of variations available on the market.
For your convenience, we have done all the heavy legwork for you by researching and shortlisting great budget headsets currently available on the market. Below is a complete list of the best budget gaming headsets that you can get your hands on now.
Table of Contents
---
12 Best Budget Gaming Headsets in Malaysia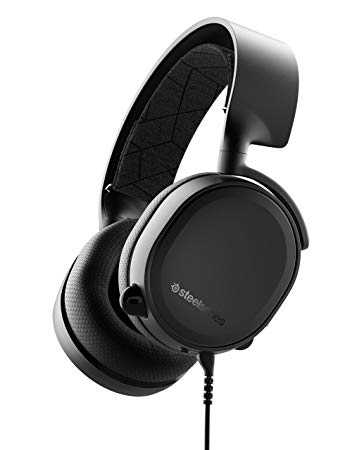 Check SteelSeries Arctis 1 All-Platform Wired Gaming Headset price below:
add_circle
Affordable price tag
add_circle
Solid audio performance
add_circle
Good-performing microphone
remove_circle
Cheap and plasticky build quality
The SteelSeries Artics 1 is an all-platform wired gaming headset that is compatible with any gaming station including mobile phones to act as your new favourite on-the-go headphones. Featuring the same signature soundscape functionality as the award-winning Artics 7, this model emphasises the subtleness of critical sounds to provide you with a greater audio advantage.
Features:
On top of that, the Arctics 1 is even built with a steel-reinforced headband for longer-lasting usage. Despite feeling like it's built with heavy metals, it's quite lightweight yet steady and durable which may surprise you (for good). In addition to its durability, the headphones come with a convenient set of on-headset controls for you to adjust your volume level as well as muting and unmuting the microphone with just a flick of a switch.

Supporting your gaming need, the headphones come with a detachable ClearCast noise-cancelling microphone. That detachable feature is extra useful and convenient especially when you're using it as an on-the-go accessory.
Performance:
The one drawback to this headphone is its adjustable headband. While the company claims that it is able to fit all head sizes, there have been reviews with ill-fitting issues. Nevertheless, the overall review of this particular headset is impressive in terms of sound quality and convenience.
---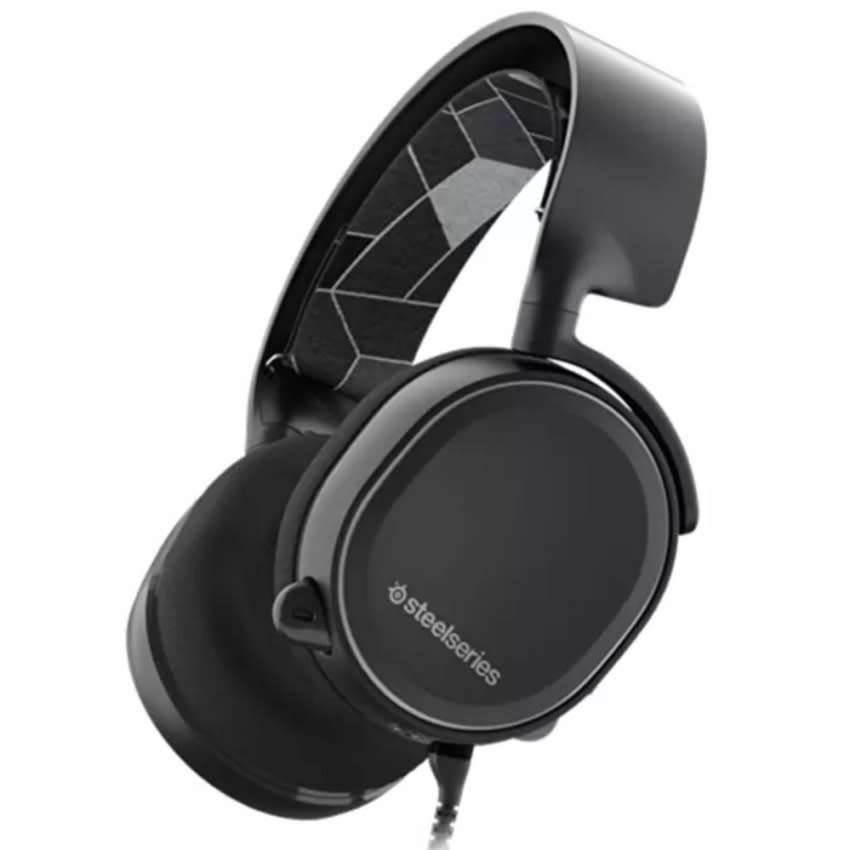 Check SteelSeries Arctis 3 price below:
add_circle
Comfortable fit
add_circle
Good sound quality
add_circle
Decent noise-cancelling microphone
remove_circle
Music sounds great only on PC
remove_circle
Hard to customize
Similar to the Arctis 1, the Arctis 3 comes with the company's signature soundscape that emphasizes critical sounds to give users an advantage be it in-game or even for general media consumption. It is also compatible with all gaming platforms including Xbox ONE, Nintendo Switch and mobile via their detachable 3.5mm cable.
Features:
The Arctis 3 also features a ClearCast noise-cancelling microphone that has a bidirectional design for superior noise cancellation and better voice clarity. This design is also used by aircraft carrier deck crews, therefore proving its high-quality construction and reliability.
Other than that, the cushions of the earpiece have also been proven by esports members to remain comfortable even during the longest gaming session. This is due to the fact that the cushions are lined with athletics-inspired AirWeave fabric. Said-fabric will keep your ears cool and dry the entire time without having to experience any discomfort from your ears.
Additionally, the Arctis 3 has a design option that is compatible with the - native surround sound feature built into Windows 10 PCs and Xbox ONE consoles.
Performance:
However, it is worth noting that there are reviews online that mention how the quality of music is only great when paired with a PC. So, if you're wanting to get a great pair of headphones for PC gaming, then these would be the ones to go for.
---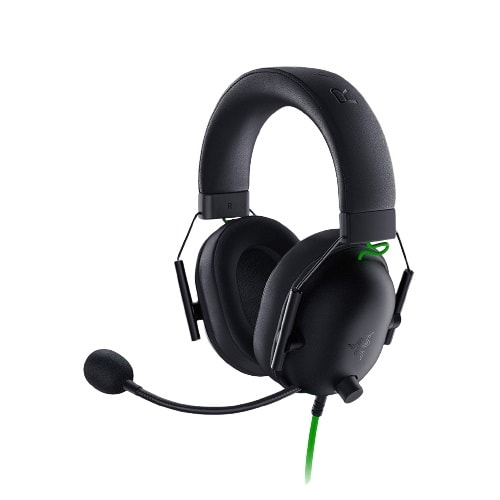 Check Razer BlackShark V2 X price below:
add_circle
Lightweight and comfortable fit
add_circle
Well-cushioned ear-pieces
add_circle
Decent noise cancellation
add_circle
Does well for most audio types
remove_circle
Average mic quality
Razer which originated from the US is, without a doubt, one of the most famous brands in the Esport industry. They have been successful with most of their products, especially with their award-winning gaming mice. Hence, it is no surprise to see that their headphones make a great addition to your gaming setup too.
Features:
The Razer BlackShark V2 X features cross-platform compatibility and can be used on any gaming platform including mobile devices given that they come with a 3.5mm port. These headphones come with 7.1 surround sound that allows you to pinpoint exactly where every sound is coming from for heightened awareness during gaming.
Razer has also incorporated their all-new patented design into the headsets which allow their engineers to custom tune each driver for better audio replication. You can expect that all three high, mid and low audio frequencies will have greater trebles, sounds and powerful bass.
Pairing with 7.1 surround sound functionality, the advanced passive noise cancellation shuts out any unwanted noise from the outside world thanks to the special closed earcups that fully covers your ears. These earcups are further enhanced with plush cushions to form a closer seal.
On top of that, the ear cushions are padded with improved memory foam and wrapped in a combination of breathable fabric as well as plush leatherette for ultimate comfort.
Finally, the optimized microphone housing and hyper clear cardioid mic adopt a minimal obstruction open design to deliver an improved sound clarity for a closer recreation of your voice.
Performance:
Even so, reviews have shown that the mic quality still has some space for improvement. All in all, the Razer BlackShark V2 X is an amazing headphone set for a truly immersive gaming session.
---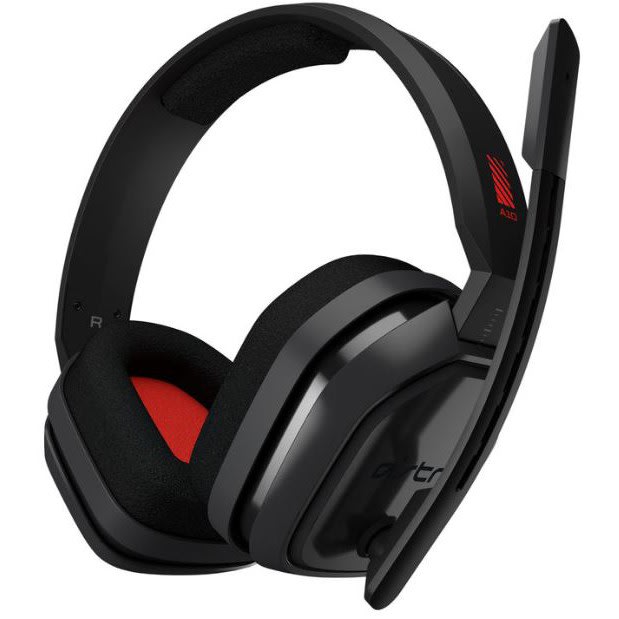 Check Astro Gaming A10 Gaming Headset price below:
add_circle
Good clarity and bass
add_circle
Clear microphone
add_circle
Long-lasting and durable built
remove_circle
May fit a little too snug at first
This ASTRO audio accessory has been specifically tuned for gaming as the A10 headset ensures the delivery of clarity precision from your game and teammates. Although the A10 does not come with other fancy features, they do provide a flip-to-mute, uni-directional microphone and in-line volume control for all of your communication needs.
Features:
One major advantage of the A10 headset is its style and design that lets you enjoy your game while looking stylish at the same time. With various combinations of colour options, you have the ability and freedom to pick one that best suits your gaming setup and preference.
Logitech has placed a significant focus on ensuring the A10 deliver long-lasting pressure-free comfort for long gaming durations. Moreover, the earpieces are also padded with cloth ear cushions to rest your worries of headset fatigue interrupting. Not sacrificing on quality, the A10 headset is built with a durable steel headband and damage-resistant rubberized cover.
Performance:
Though Logitech thrives to deliver maximum comfort to their customers, it has been reported that the A10 may provide a snug fit at the beginning. However, the earpieces are expected to soften with continued use to result in a comfortable fit.
---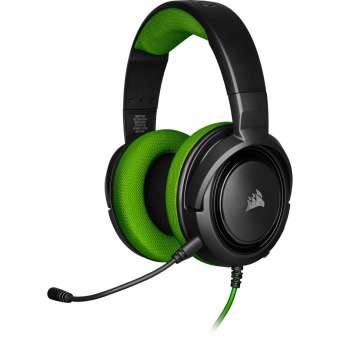 Check Corsair HS35 price below:
add_circle
Stylish and looks expensive
add_circle
Comfortable mesh and memory foam ear cups
add_circle
Lightweight design
remove_circle
No 7.1 surround sound
remove_circle
Audio quality could be better
Having one headset for different devices would really be a great advantage, and this is what the Corsair HS35 has to offer. With multi-platform compatibility, the HS35 can be used with any gaming platform as long as they come with a 3.5mm connector.
Features:
Featuring custom tuned 50mm neodymium speaker drivers, the headset is designed to deliver loud yet satisfactory audio quality. This bigger driver will benefit gamers in catching sounds within the game that competitors may miss.
Aside from the sound quality, the design and style of a gaming headset also play an important role in ensuring a comforting fit. Fortunately, the Corsair HS35 features an eye-catching and impressive design that looks more expensive than it really is.
The HS35 headset also comes with a Discord-Certified microphone to deliver loud and clear sound that feels as if you're right next to your teammates. This microphone is also optimized for voice clarity while working to cut out excess ambient noise.
Performance:
One minor setback that we can find for the HS35 is that it does not come with 7.1 surround sound system. Nonetheless, the Neodymium speaker driver ensures a superior quality to make this a top choice among gamers.
---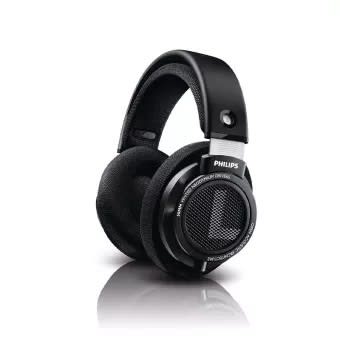 Check Philips SHP9500 Headphones price below:
add_circle
Comfortable to wear
add_circle
Lightweight build
add_circle
Exceptional sound quality
remove_circle
Prone to sound leakage
This HiFi stereo headset from Philips is engineered to deliver the full spectrum of sound thanks to its 50mm neodymium speaker drivers. The special acoustic open-back feature also enhances sound transparency and smoothens extended high frequencies by eliminating air pressure build-up behind the driver.
Features:
To further enhance the sound quality, the SHP9500 has been specially designed to fit the ear's natural geometry and directly channel the sound waves into the eardrum. This not only ensures a more precise and accurate sound but also creates a dynamic and authentic audio experience.
However, it has been noted by reviewers that the headset does not properly isolate the sound coming out which may result in noise leakage.
Other than providing superior sound quality, this pair of headsets is also designed to deliver great comfort. Featuring deluxe breathable ear pads, the SHP900 improves breathability as well as pressure and heat dissipation to allow a long-wearing session without any discomfort.
Performance:
Though most do like the model, one negative point for this headset is that the earpads are non-replaceable, which means you'll have to replace the entire headphones if they get damaged.
Overall, the Philips SHP900 ensures a great audio experience for an immersive gaming experience without breaking your bank.
---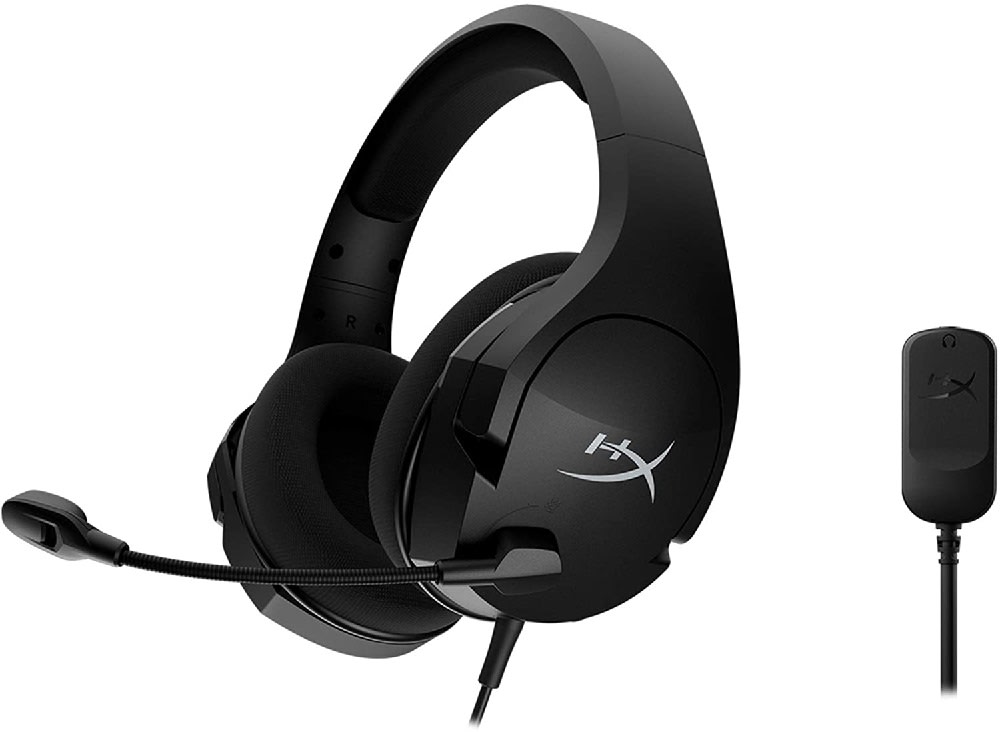 Check HyperX Cloud Stinger Core 7.1 price below:
add_circle
Lightweight and sturdy construction
add_circle
Comfortable for long usage
add_circle
7.1 surround sound
remove_circle
Software experience could be better
Paring the NGENUITY software with a virtual 7.1 surround sound system, the Stinger Core is set to offer an immersive in-game experience. This pair of HyperX headsets even has 50mm, directional drivers, to deliver high-quality sound and pinpoint audio precision.
Features:
On top of great audio quality, the Stinger Core is also designed to provide users with great comfort. Featuring HyperX's signature soft pliable leatherette and dense memory foam, this allows gamers to enjoy long game marathon sessions without experiencing any discomfort.
Despite a flexible and sturdy steel slider construction, the headset remains suitably lightweight such that it will not weigh you down as much during gaming. Other than that, the earcups also come with a 90˚ rotating feature so that they can rest comfortably around your neck when not in use.
To ensure a clear line of communication, the Stinger Core is equipped with a noise-cancelling mic to eliminate any background noise. It also has a swivel-to-mute function for users to easily mute their mic by swivelling it upwards.
Performance:
While there are reports that the software system experience has some room for improvement, the HyperX Cloud Stinger Core 7.1 is an overall great pair of headsets for gaming on a budget.
---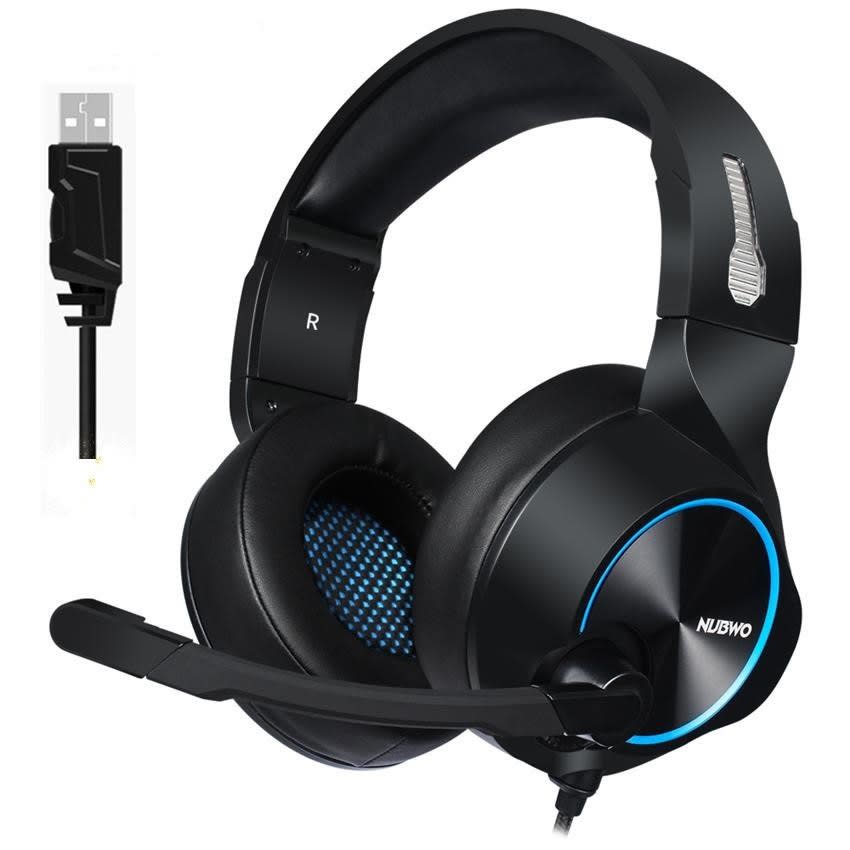 Check Nubwo N11 Gaming Headset price below:
add_circle
Good for gaming
add_circle
Reviewers find it enjoyable for action games with loud sound effects
add_circle
Soft comfortable leather padding design
remove_circle
Not suitable for those who are particular about their music
Nubwo N11 is a China-made product that is both comfortable and convenient to use. Despite the very affordable price, the quality of the headphones have been reviewed to be of high standards and that it delivers everything that it promises to do.
Features:
The headphone comes with a 1.7 meter-long braided cord for increased durability as well as give users more movement freedom even when plugged in. Said-cord even comes with a controller to allow for easy audio adjustments including a button to quickly mute and unmute the mic.
Talking about the microphone, we're quite impressed to find that it has a flexible range of 360 degrees to better capture voices from every angle. On top of that, the mic features noise isolating technology to prevent any sounds coming from the headset or ambient noise and interfere with the gamer's speech.
That's not the only noise-cancelling feature that the headset has; the over-the-ear design earpads are made with soft material that's both comfortable and breathable for superior comfort while effectively cutting out unwanted noise.
Popular among competitive or FPS gaming, this headset is also suitable for other gaming platforms including the Nintendo Switch and mobile devices with a 3.5mm connector.
Performance:
A couple of reviews online have shown that this pair of headphones is decent and reliable. However, there have been comments stating that the headphones will not deliver the best experience when used for listening to music. Nonetheless, if you're solely planning on getting a headset for high-intensity and FPS gaming, then this headphone is for you.
---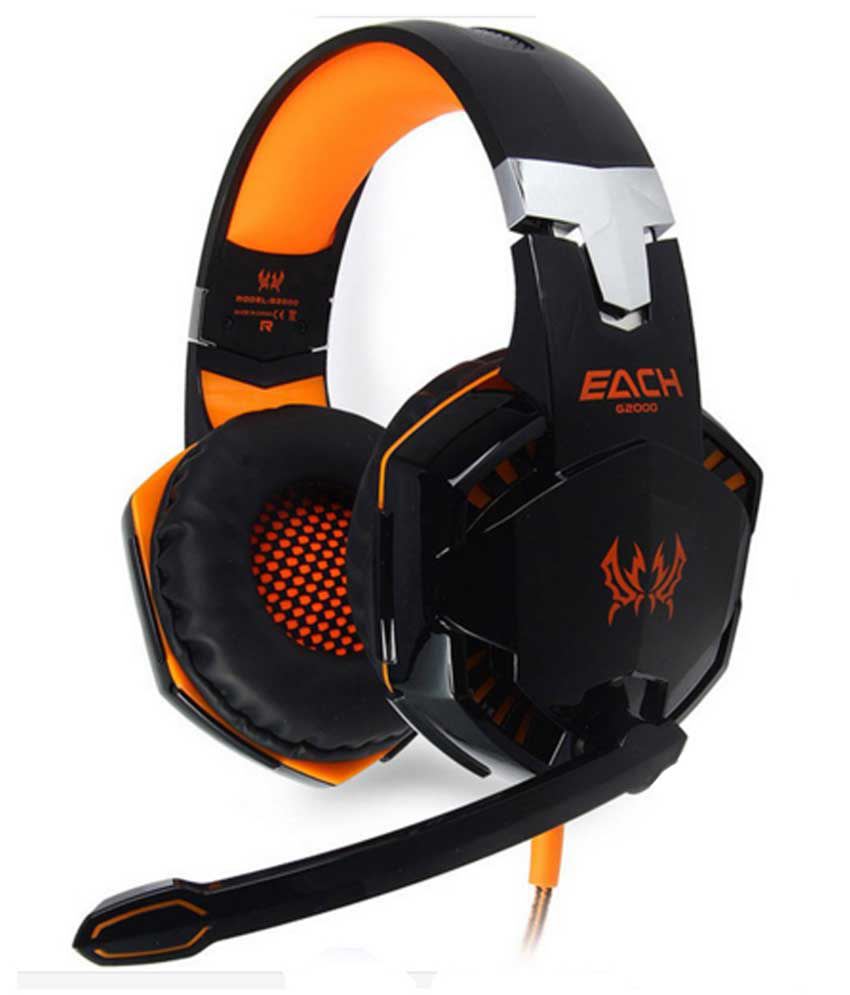 Check Kotion Each G2000 price below:
add_circle
Good audio quality
add_circle
Loud and full sound
add_circle
Nice LED lighting
add_circle
Soft padded leather ear-pads feel extremely comfortable
remove_circle
No control over the microphone's position
Yet another one from China, the Kotion Each G2000 features a 50mm big driver unit that can deliver clear audio and deep bass. The LED lights around the comfortable and breathable earcups make the overall headset appearance stylish and eye-catching.
Features:
In terms of compatibility, the Kotion Each G2000 has a 3.5mm audio jack that can accommodate older versions of the Xbox One, PSP and a desktop computer. You will also find a USB port but that's that is only used for the optional LED back-lighting feature.
Moving onto audio performance, our research has found that the headset has impressed many with its amazing audio quality that is both loud and full. The 50mm magnetic neodymium driver within the headset delivers 3D surround sound for a truly immersive in-game experience so much so that you would be able to feel the full force of an explosion or a grenade blast.
The large earcups on the G2000 will completely cover the ears to prevent any sound leakage and for better noise isolation. Meanwhile, on the cord, you'll find a volume adjustment wheel that you can conveniently use to control the volume and microphone. Beside it is a button to control the LED light.
Other than that, the noise-cancellation microphone available is omnidirectional, adjustable and flexible to help you catch voices from any angle you want.
Performance:
However, some users reported that the microphone is a little too far from the face. As such, they needed to speak louder for teammates to hear them clearly. Nonetheless, it's a minor issue and can be solved via the audio setting on your device or within a game.
Overall the Kotion Each G2000 delivers great audio quality for such a low price. Aside from some minor drawbacks that can be manually adjusted within the games or software, this would make for a really great pair of gaming headphones that won't cost you an arm or a leg.
---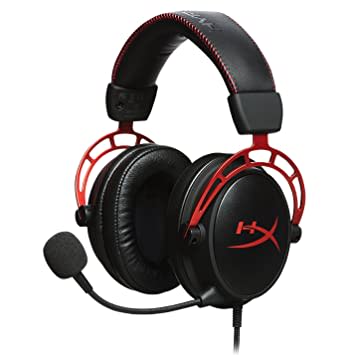 Check HyperX Cloud Alpha price below:
add_circle
good audio quality
add_circle
leatherette covered memory foam ear cups for comfort
add_circle
removable cable
add_circle
good microphone
remove_circle
no sound setting customization
remove_circle
hassle to travel
remove_circle
7.1 sound adapter sold separately
The multi-platform compatible HyperX Cloud Alpha headset is definitely one you should consider.
Features:
For starters, it features HyperX's new dual-chamber drivers that are built to reduce sound distortion and intensify the clarity of your audio. The dual chambers are designed to separate the bass from the mids and highs for optimal tuning in order to churn out cleaner and smoother audio.
To achieve crystal clear communication, the Alpha utilizes a noise-cancellation Discord and TeamSpeak certified microphone. This microphone is even detachable to make it super convenient and mobile for on-the-go use.
Aside from great audio clarity, HyperX tops it off with large padded earcups made from softer and more pliable leatherette to ensure comfort. With a durable aluminium frame, the HyperX headset is set to last users a very long time without breaking down. Another interesting feature worth noting is their tough, detachable braided cable that offers in-line audio control for greater convenience.
Performance:
In conclusion, if you're after something to bring out a deeper bass while gaming, then you certainly need to give the HyperX Alpha Cloud headphones a closer look.
---
Check Corsair HS70 Wireless Gaming Headset price below:
add_circle
long lasting battery life
add_circle
great sound quality
add_circle
removable microphone
add_circle
impressive 7.1 surround sound
remove_circle
non-removable earcups
remove_circle
compatible with PC and PlayStation 4 only
The Corsair HS70 is a wireless headset with impressive 16-hour battery life to last through even the longest gaming session. Its wireless design also provides gamers with the freedom to walk around for a little break while still remaining connected to the game thanks to an improved 40ft range through the low latency of a 2.4GHz wireless system.
Features:
Similar to the HS35, the HS70 consists of specially tuned 50mm neodymium speaker drivers that deliver superior sound quality with a wide range of frequency and accuracy. A major plus point is that the HS70 comes with a 7.1 surround sound system for a truly immersive multi-channel positional that have you feeling like you're right in the centre of the action.
Paired alongside the high-quality sound system is a Discord-Certified microphone that delivers crystal clear voice to other gamers on the receiving end. This optimized unidirectional microphone is built to reduce ambient noise that would ultimately enhance the overall voice quality. Another great feature is that they are detachable, making them a convenient choice for on-the-go use.
Other than that, Corsair is known to build their headsets to last long. The HS70 features metal construction for enhanced durability while the plush memory foam and adjustable earcups ensure maximum comfort.
Performance:
However, one thing you ought to take note of is that the earcups are non-removable and you'll have to replace the entire set when the earcups deteriorate. Nonetheless, these still make for an amazing pair of wireless headsets for a superior gaming experience.
---
Are cheap gaming headsets worth it?
It's natural to think that most of your money should go into funding your game (or collection) and your gaming setup. However, you should treat audio just as important as your monitor and the likes of it.
By choosing a budget gaming headset over earphones, you:
Increase your ability to capture audio better which is highly useful for competitive gaming such as fast-paced shooting games and even battle royales.
Get better focus as most headphones help to block out most external sounds even if there's a lack of proper noise cancellation.
Have better wear comfort due to the nature of plush ear cushions used (that's less rest needed, longer gaming sessions!).
---
Cheap vs expensive gaming headphones?
Now that you're past the stage of deciding on a proper pair of headphones versus earphones, it's time to make a decision. What, you don't know if they are worth it since headphones are expensive? Well...
Expensive headphones:
Are often equipped with several connectivity options. Many offer a mix of wireless and wired connections.
They will also offer several advanced features such as a dedicated amplifier system, 3D soundstage support, Active noise cancelling and voice assistant access.
On the other hand, cheaper headphones:
Offer satisfying music quality that is neither bad nor great sounding.
These days, several budget brands do offer multi-connectivity options.
A trade-off you might have with budget options is that the longevity is shorter compared to pricier headphones.
In short, it's up to what you're looking for in a pair of headphones.
Especially for mainly gaming purposes, you might do just fine with a budget or mid-range headphones whereas those who would be able to appreciate a great pair of headphones for audiophiles, may consider pricier options.